Firm Profile > Irwin Mitchell > Manchester, England
Irwin Mitchell
Offices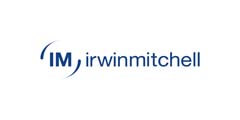 Irwin Mitchell
One St Peter's Square
MANCHESTER
M2 3AF
England
Irwin Mitchell > The Legal 500
Rankings
Irwin Mitchell >
Firm Profile
Nationally acclaimed, future focused, innovative and supportive, Irwin Mitchell understands that whether it's business or personal, everyone's situation is different. When it comes to legal advice and support with financial planning they're the expert hand, with the human touch.
Irwin Mitchell employs over 3,000 staff and has 15 offices throughout the UK. By offering personal and specialist services to national and international organisations and institutions, small and medium-sized businesses and individuals, they help to navigate life's ups and downs.
On top of its commitment to reducing its environmental impact and providing pro bono legal advice to those who cannot afford access to justice, the Irwin Mitchell Charities Foundation (IMCF), the firm's independent registered charity, has made over £2.5m of charitable donations since its formation in 1997. In 2019, the IMCF donated more than £418,900 to 13 good causes around the UK, through Irwin Mitchell's Charity of the Year programme.
Irwin Mitchell has the largest online market share for personal injury and medical negligence, and the greatest share of voice in legal editorial coverage in the UK media. Their reputation as a leading firm for litigation work has been acknowledged by the Lawyer magazine who named them as the third most active firm in the UK. They are the Official Legal Partner to England Rugby .
They're recognised in The Times' list of the best 200 law firms in England and Wales and are officially a Great Place to Work, ranking as number one in their industry. Some of their recent award wins include Employment Law Firm of the Year, Catastrophic Injury Team of the Year and Excellence in Client Service.
Priding itself on being diverse and inclusive, Irwin Mitchell was recently named as one of the most inclusive employers in Britain by LGBTQ equality charity Stonewall.
Market
As one of the largest law firms in the UK, Irwin Mitchell provides a wide range of legal and financial services to thousands of individuals and businesses. In these times of unprecedented change their focus remains the same; to support their colleagues, clients and communities. Their track record and expertise, coupled with a reputation as a litigation powerhouse makes them stand out from the crowd.
They understand that consumer needs are changing and combine the latest technology and excellent service to deliver impressive results, and build long lasting relationships. This was demonstrated perfectly by the way they reacted to the Covid-19 pandemic, temporarily closing 15 offices and moving to home working in a matter of weeks, so that they could continue to support their clients.
As the leading personal injury and medical negligence practice in the UK, they support thousands of families whose lives have been turned upside down by the unexpected. With a national public law team and the UK's leading Court of Protection practice they work tirelessly so their clients have everything they need. Their in-house asset management division supports the work they do by providing tailored financial planning and investment advice.
Irwin Mitchell's private client offering specialises in residential property, family, wills and tax, trusts and estate disputes. This is supported by experienced wealth management advisers that help people of all ages prepare for their current and future financial needs. Their prestigious client base includes high and ultra-high net worth individuals including business owners and entrepreneurs, corporate executives, investors and multi-generational families.
They offer a wide range of commercial services and have expertise in several other sectors including manufacturing, technology, finance, consumer businesses, education, media and sport. Their strength comes from offering so much more than legal advice. They understand the current climate and are committed to helping businesses grow while managing risk in a volatile market.
Main Contacts
| Department | Name | Email | Telephone |
| --- | --- | --- | --- |
| Group chief executive | Andrew Tucker | | |
| Group chairman | Glyn Barker | | |
| Chief executive, personal legal services | Craig Marshall | | |
| Chief executive, business legal services | Vicky Brackett | | |
| Group finance director | Richard Allen | | |
Lawyer Profiles
| Photo | Name | Position | Profile |
| --- | --- | --- | --- |
| | Ailsa Anderson | Associate | View Profile |
| | Roy Beckett | Partner Regional managing partner of Irwin Mitchell's North West business legal services… | View Profile |
| | James Betts | Associate solicitor | View Profile |
| | Jonathan Betts | Partner Managing the serious injury team in the Manchester office of Irwin… | View Profile |
| | Richard Biggs | Senior associate Expertise in: Brain Injury Spinal and complex orthopaedic injuries Spinal… | View Profile |
| | Matthew Brown | Partner Matt has practiced exclusively in the field of catastrophic injury litigation… | View Profile |
| | Geraldine Coombs | Partner Geraldine joined Irwin Mitchell in January 2006. She was one of… | View Profile |
| | Mathieu Culverhouse | Senior associate Specialises in court of protection, human rights, care, health and… | View Profile |
| | Keith Cundall | Senior associate | View Profile |
| | Matthew Garson | Matthew is a senior associate and has acted for clients in the… | View Profile |
| | Steven Green | Partner and head of costs team. The Irwin Mitchell costs team is… | View Profile |
| | Nathaniel Groarke | Nathaniel is a partner specialising in all areas of private family law… | View Profile |
| | Paula Hanlon | Senior associate | View Profile |
| | Laura Harper | Partner | View Profile |
| | Deirdre Healy | Deirdre is a brain injury specialist in the Serious Injury team in the… | View Profile |
| | Gillian Hitchen | Partner Gillian deals with all aspects of property and affairs work for… | View Profile |
| | Damian Hodkinson | Partner Damian acts as a professional deputy for people who have lost… | View Profile |
| | Duncan Hope | Duncan has considerable experience of advising clients on a varied caseload of… | View Profile |
| | Ayse Ince | Associate | View Profile |
| | Kris Inskip | Partner | View Profile |
| | Adam Kaucher | Partner | View Profile |
| | Dina Lambourne | Dina is a Senior Associate in the Medical Negligence department in Irwin… | View Profile |
| | Katrina London | Senior associate | View Profile |
| | Geraldine McCool | National head of military claims. Geraldine works on serious personal injury claims,… | View Profile |
| | Nazia Nawaz | Senior associate | View Profile |
| | Lucy Nicol | Partner Lucy acts as a professional deputy for clients who have received… | View Profile |
| | Cheryl Palmer-Hughes | Senior associate Cheryl is a partner in Irwin Mitchell's International Personal Injury… | View Profile |
| | Claire Petricca-Riding | Claire is our National Planning Partner and Head of Environment at our… | View Profile |
| | Heather Roberts | Associate solicitor | View Profile |
| | Margaret Ryan | Senior associate | View Profile |
| | Kevin Saul | Senior associate | View Profile |
| | Hannah Saxe | Senior associate Hannah provides advice on all legal issues arising from relationship… | View Profile |
| | Sarah Sharples | Associate | View Profile |
| | Lara Tucker | Associate | View Profile |
| | Sharon Williams | Senior associate | View Profile |
| | Lindsay Wise | Head of department for medical law and patient rights at the Manchester… | View Profile |
Staff Figures
Number of partners : 249 Number of other UK fee-earners : 1,500+
The Lex 100 Verdict
'One of the biggest full-service law firms in the UK,' 'its impressive credentials' and 'the vast number of personal legal services opportunities, in particular public law' are just some of the qualities that drew trainees to Irwin Mitchell. With 15 offices, Irwin Mitchell is widely distributed across the UK. One current trainee was attracted to Irwin Mitchell 'due to its strong focus on and reputation for claimant work and personal legal services. I knew that this was where I wanted to focus my career, and I felt that my values truly aligned with those of the firm'. The 'focus on client service and sense of community' was a common theme, as well as the ability for trainees to choose between a personal law or business law work stream within their training contract. One trainee 'chose this firm because I wanted to join a large firm while still being able to practise law working with individuals rather than corporate entities'. Respondents highlight that there can be a difference in the style and 'quality' of training in difference departments. There are also complaints about the pay and benefits being below some rivals. Yet the feedback is mixed; some trainees approve of the work/life balance and the quality of the supervision offered. As one trainee comments, 'the quality of the work is fantastic with exposure to exciting cases, some of which are at the forefront of legal developments'. If you are looking for a top-tier firm within your local area, odds are that Irwin Mitchell is there; with its reputation for both personal and business services, it's a strong candidate.
Top Tier Firm Rankings
Firm Rankings