Mr Louis de Gaulle > De Gaulle Fleurance & Associés > Paris, France > Lawyer Profile
De Gaulle Fleurance & Associés
Offices

De Gaulle Fleurance & Associés
9 RUE BOISSY D'ANGLAS
75008 PARIS
France
Mr Louis de Gaulle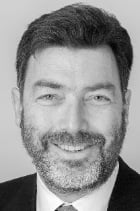 Work Department
Operations Division: The transactional and litigation activities of the Operations Division cover industrial and commercial activities and more generally clients' operations (sourcing, sales, promotions, concessions and public procurement contracts) and the defence and optimisation of their immaterial assets.
Position
Firm partner, Louis de Gaulle is involved in matters requiring diverse and extensive legal experience both in litigation and transactions. He regularly appears before civil, administrative and arbitration courts. Louis de Gaulle's legal strategy acumen and innovative capacity in the management of cases is praised by his clients. He specialises in intellectual property, new technologies, commercial law and public law. He is a certified specialist in Intellectual Property and Commercial Law at the Paris Bar and lectures on Intellectual Property at Sceaux University (chaired by Pr Sirinelli). Louis de Gaulle regularly authors articles on intellectual property, new technologies and competition law and is also a member of the Club des Juristes (French legal think tank) within the Digital Commission.
Languages
French, English.
Memberships
Louis de Gaulle was admitted to the Paris Bar in 1993. International Intellectual and Artistic Property Association (ALAI); International Trademark Association (INTA).
Education
Postgraduate degree (DEA) in Intellectual, Artistic and Industrial Property Law (Paris-II University, 1989); Master's degree in Business and Tax Law (Paris-II University, 1988).
Lawyer Rankings
France > Industry focus > Industry focus: IT, telecoms and the internet
De Gaulle Fleurance & Associés is currently acting for a major TV broadcaster in a dispute with a group of internet providers arising from a change in the client's business model which now imposes the payment of royalty fees on parties distributing ISP and TV service packages in France. Louis de Gaulle and Georgie Courtois recently advised Groupe BCPE on the negotiation with Apple of the contractual aspects of a contactless biometric payment system in Europe, as well as on the setting up of an API banking platform in France to allow financial applications to connect with the client's banking networks. Also notable are Cécile Théard-Jallu and Jean-Marie Job, who advised on the regulatory and data privacy aspects of the launch of an e-health company's connected nutrition scanning device in France and the US. Practice co-head Julien Horn, 'very accurate and excellent' senior counsel Matthieu Dary and Jean-Sébastien Mariez are also key contacts.
France > Intellectual property > Intellectual property: copyright
Louis de Gaulle and Julien Horn jointly head the copyright offering at De Gaulle Fleurance & Associés, which was recently strengthened by the arrival of Sandra Strittmatter from LMBE. The group is currently advising on a copyright infringement claim brought by two authors against the client, a major cinema production studio, and an international publisher instructed the team to represent it in an action filed by the heir of a famous individual regarding the use of posthumous materials in a biography. Charles-Edouard Renault is also a key name to note within the practice and recently oversaw non-contentious mandates in the television and cinema sector such as co-production agreements and output deals.
France > Intellectual property > Intellectual property: Patents
De Gaulle Fleurance & Associés advises on the negotiation of R&D agreements, the intellectual property aspects of corporate transactions and the implementation of employee-inventor policies. The team is jointly led by Louis de Gaulle and Francine Le Péchon-Joubert and represents clients such as Groupe Cahors, R Santé and Alstom. In recent highlights, a large team of partners handled the intellectual property aspects of a joint venture between a rail company and a regulatory agency for the development of a new generation of high-speed trains, including patents and know-how. Other key names include Cécile Théard-Jallu, Blandine Fauran and Julien Horn.
France > Intellectual property > Intellectual property: Trade marks and designs
De Gaulle Fleurance & Associés' client roster includes enviable names such as Château de Versailles, which recently instructed a team led by Julien Horn to oversee the administration, licensing and prosecution of its worldwide trade mark portfolio, as well as a dispute with an ex-licensee on the grounds of the fraudulent registration of trade marks. Other notable names include Louis de Gaulle, Francine Le Péchon-Joubert and Serge Lederman, who is currently representing Mango in separate copyright, unregistered designs and models infringement proceedings brought by Chloé and Gas Bijoux. The arrival of Sandra Strittmatter from LMBE significantly strengthened the offering following Philippe Moncorps' arrival from TF1 in 2017. Palais des Thés, Skechers, Haribo and Etam are also names to note among the practice's blue-chip clients.
France > Media and entertainment > Media and entertainment: advertising
The multi-disciplinary practice at De Gaulle Fleurance & Associés covers the full gamut of media and entertainment sectors and represents heavyweight clients such as Stade Français, Paramount and 20th Century Fox. Julien Horn, Louis de Gaulle and Philippe Moncorps acted for a major TV broadcaster in a dispute with a telecom operator which filed trademark and copyright infringement proceedings, and 'great leader' Charles-Edouard Renault – who 'can make things move quickly in a slow-moving landscape' – advised a global technology company on a range of issues including French law matters pertaining to the production of an original series. Rhadamès Killy represented an athlete in his club transfer as well as in defamation litigation against a rival fan in the criminal court of Ajaccio. Also notable is Jean-François Vilotte, who is assisting the national ski instructors union with several matters including criminal charges, and is currently guiding a major sports federation through litigation proceedings brought against an illegal match ticket reseller.
France > Industry focus > Industry focus: Healthcare and life sciences
De Gaulle Fleurance & Associés recently acted for Icade on the contractual and regulatory aspects of its telemedicine project – particularly with regard to GDPR compliance – and an international medical device manufacturer instructed the group to negotiate several public tender offers with French entities for the supply of its products. Louis de Gaulle is currently handling litigation pertaining to the alleged unfair termination of a distribution contract, while Blandine Fauran and Francine Le Péchon-Joubert are jointly handling a matter arising from claims of misleading advertising. Other key names to note include Jean-Marie Job and Cécile Théard-Jallu, who advises an enviable client roster on a wide array of issues including R&D agreements, licensing arrangements and technology-related matters.
France > EU, competition and distribution
The antitrust team at De Gaulle Fleurance & Associés was recently reinforced by the arrival of Thierry Titone and senior counsel Matthieu Dary, who 'has the ability to think outside of the box but always with one purpose: to serve the interests of his clients'. Louis de Gaulle led the advice to Cegedim on a multi-jurisdictional follow-on claim arising from the client's condemnation by the FCA on the grounds of abuse of dominant position. In other highlights, the team handled merger control notifications on behalf of clients such as Spir Communication.
France > Administrative and public law
De Gaulle Fleurance & Associés acts for public and private sector entities. The firm is notably involved in several key transport infrastructure projects in French Guiana. It is advising the French Guiana Authority on several development and modernisation projects, including the creation of a cross-border river link with Suriname and the construction of the first road in the hinterland. The practice is also involved in two high-profile projects in the railway sector, and regularly advises on key matters in the sport, IT and healthcare sectors, including dealing with litigation. Frédéric Destal  and Jean-François Vilotte head the practice, and Agnès Macaire  and Louis de Gaulle are also recommended.
Paris > Secteurs et industries > Santé et sciences de la vie
De Gaulle Fleurance & Associés a récemment accompagné Icade concernant un projet de télémédecine, dans la gestion des aspects contractuels, réglementaires et de conformité au règlement européen RGPD. Le cabinet a aussi assisté un fabricant de dispositifs médicaux dans sa réponse à plusieurs offres de marchés publics. Louis de Gaulle a géré un contentieux en matière de rupture de relations établies. Blandine Fauran et Francine Le Péchon-Joubert conseillent un client dans une affaire soulevant des accusations de publicité trompeuse. Sont également des figures centrales de la pratique: Jean-Marie Job et Cécile Théard-Jallu, qui conseille ses clients pour leurs questions d'accords de licence et de R&D.
Paris > Secteurs et industries > Technologies de l'information, informatique, internet et télécoms
De Gaulle Fleurance & Associés représente une grande chaine de télévision dans un litige face à plusieurs fournisseurs internet, s'opposant au nouveau modèle commercial du client et notamment au paiement de royalties. Louis de Gaulle et Georgie Courtois ont assisté Groupe BCPE dans ses négociations contractuelles avec Apple, concernant l'adoption d'un système de paiement biométrique en Europe, ainsi que sur la mise en place d'une plateforme de paiement en France. Cécile Théard-Jallu et Jean-Marie Job ont assisté une entreprise d'e-santé pour le traitement de questions réglementaires et de données personnelles liées au lancement d'un nouveau système connecté en matière de nutrition, en France et aux Etats-Unis. Julien Horn, 'l'excellent' Matthieu Dary dont le 'jugement est sûr' et Jean-Sébastien Mariez clôturent la liste des principaux intervenants au sein du cabinet.