ALTIUS > Brussels, Belgium > Firm Profile
ALTIUS
Offices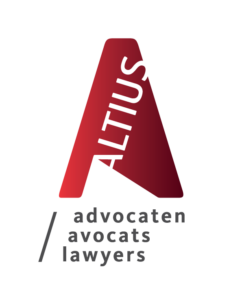 ALTIUS
HAVENLAAN, 86C B414
AVENUE DU PORT
1000 BRUSSELS
Belgium
ALTIUS > The Legal 500
Rankings
A key name for clients seeking representation in sports law, the arts, media, and leisure, the team at
ALTIUS
also works with a diverse array of leading clients from the worlds of music, gaming, publishing and film. Patent infringement litigation, personality rights, data protection and high-profile sports talent transactions are all key workflows for the reputed team. Co-practice head
Sven Demeulemeester
 is praised by clients for his 
'commercial and hands-on approach' 
in sports litigation and arbitration, handling instructions both within Europe and throughout the Middle East, the Far East, and Africa.
Grégory Ernes
consistently works with athletes, sponsors, clubs, and governing bodies on a host of EU sports law matters.
Olivier Vrins

stands out for his wide-ranging IP rights expertise in the music and video-gaming sectors. Libel and defamation specialist
Alexander De Bleeckere
is also noted.
Fielding a '
solid team with great technical expertise
',
ALTIUS
' full-service retail and consumer goods practice is regularly called upon by various leading retailers, manufacturers, and suppliers for assistance in domestic and cross-border mandates. The team has strong capabilities in the full scope of sector-specific issues, including IP enforcement, merger clearance, local market entry, and site leasing contracts – including emergency Covid-19 response actions. The sizeable practice is jointly led by the '
hands on
' competition and distribution expert
Carmen Verdonck
 and
Lieven Peeters
, a real estate  and construction specialist with a keen focus on retail-focused developments.
Alexander Hansebout
focuses on multi-jurisdictional disputes before the national courts, the European Court of Justice, as well as ICC and CEPANI-governed arbitrations, representing clients in insolvency proceedings and tort liability matters.
Fielding one of the largest IP practices in Belgium, ALTIUS is highly regarded by blue-chip corporations, professional associations, and sovereign governments, both in Belgium and beyond. The versatile team's far-reaching expertise is especially concentrated in patent enforcement, anti-counterfeiting measures, trademarks, geographical indications, plant variety rights and software piracy. Litigation – representing clients before various Belgian, Benelux, and European courts – is also a core competency. The team is jointly led by three partners: Christophe Ronse, who focuses on patent law and life sciences; Olivier Vrins

, an expert in trademarks and anti-counterfeiting; and Phillippe De Jong, who specialises in parallel import issues and IP regulatory work in the life sciences and agri-food sectors. Sophie Lens is noted for her broad capabilities that encompass trade secrets and software piracy. Kirian Claeyé concentrates on patent litigation for pharmaceutical companies.
Working in tandem with a number of departments with the firm, the '
proactive and dedicated'
team at
ALTIUS
handles a multitude of employment matters for various high-profile corporate clients, and maintains a close working relationship with the benefits and compensation team of the Belgian tax firm
Tiberghien
. Practice head
Philippe De Wulf
is a port of call for many blue-chip multinational corporations seeking assistance in cross-border workforce restructurings and social security disputes.
Sven Demeulemeester
is a highly experienced practitioner who is well regarded by clients for his capabilities in collective dismissal procedure and his broad knowledge of sports law. Managing associate
Emma Van Caenegem
is recommended for her broad domestic and cross-border capabilities, including experience in large restructuring mandates.
A number of major producers, industry associations, agri-biotech companies, and foreign governments seek out the team at
ALTIUS
for its wide-ranging experience in the agri-food sector. Underpinned by the firm's strength in IP and life sciences, the cross-practice team regularly handles both contentious and advisory instructions, including cross-border patent litigation, geographical indications, and regulatory annulment proceedings. Intellectual property specialist
Phillippe De Jong
has extensive regulatory knowledge in the life sciences and agri-food industries and
Olivier Vrins

works with various luxury champagne and cognac producers on geographical indications and designations of origin, appearing before the Benelux Courts and the EUIPO.
Led by patent litigation specialist
Christophe Ronse
and agri-food expert
Philippe de Jong
,
ALTIUS
' multidisciplinary team acts for a number of transnational pharmaceutical conglomerates, medical device manufacturers, biotech companies, and foreign governments on cross-border disputes and proceedings before the domestic and European courts. The team also has niche expertise in the application of EU-wide compliance regulations and patent enforcement actions. The '
genius'
Kirian Claeyé
is a key contact within the team for parallel import/distribution support and IP portfolio management across the life sciences sector.
ALTIUS
handles the full gamut of transactional, advisory, and disputes-based work for a multitude of key international and Belgian market players. In recent months, the team has represented some of the world's largest tech companies in proceedings before the Belgian Courts and the Belgian data protection authority. The practice is jointly led by two partners:
Gerrit Vandendriessche
, an experienced computer law and commercial law specialist; and
Jérôme Vermeylen
, who works with various IT clients on a range of corporate transactions.
Louis-Dorsan Jolly
and
Jan Clinck
are noted for their capabilities in data protection litigation.
ALTIUS
offers a multidisciplinary service to insurers, reinsurers, and intermediaries, advising on M&A, disputes, regulatory compliance, and data protection concerns. The team has expertise in regulatory and legislative frameworks for the insurance sector, is able to handle cross-border contracts and transactional work, and handles a combination of insurance and indemnities litigation. The team is led by
Alexander Hansebout
, a specialist in complex international disputes and litigation, alongside
Jérôme Vermeylen
, who focuses on transactions, corporate law, and restructurings.
ALTIUS
' cross-disciplinary practice works with a strong mix of not-for-profits and their corporate affiliates – both Belgian and international – on the full gamut of issues, including legislative advisory, IP, EU and Belgian regulatory frameworks, employment and litigation. Tax and VAT advisory is a further core strength, underpinned by the team's strategic partnership with
Tiberghien
.
Jérôme Vermeylen
advises various organisations and corporate clients on strategic questions, as well as the set-up, status, and running of various entities.
Carmen Verdonck
stands out for her expertise in competition law compliance, advising both non-profit associations and health institutions on their activities.
Olivier Vrins

and
Jan Clinck
are also noted.
Primarily active in the mid-market,
ALTIUS
is a prolific adviser on domestic M&A, and also regularly acts as Belgian counsel on complex cross-border transactions, enjoying productive relationships with a number of international law firms. Alongside transactional work, the team also has expertise in restructurings, finance, and corporate tax issues. The team is jointly led by
Jérôme Vermeylen
, who focuses on M&A, joint ventures, and reorganisations, M&A specialist
Tom Vantroyen
, and
Marie Brasseur
, who advises on cross-border transactions, private equity investments, and restructurings.
ALTIUS
has an active merger control practice, handling domestic and cross-border deals both on behalf of its M&A team and other national and international firms, alongside complex joint ventures. The firm also has notable expertise in IP-related competition issues such as infringements and damages, and represents clients in antitrust proceedings relating to cartel activity and abuse of dominance. The practice is led by
Carmen Verdonck
.
Best known for its capabilities in the life sciences, healthcare, pharmaceutical, and media sectors,
ALTIUS
is regularly engaged by high-profile domestic and multinational companies for representation in a range of disputes. In recent work, the team has handled a growing number of retail sector insolvency claims, cartel damages claims, and distribution matters. Practice co-head
Alexander Hansebout
is a highly regarded arbitrator. Fellow co-head
Christophe Ronse
is an experienced litigator with key expertise in patent and life sciences proceedings.
ALTIUS
handles business restructurings, creditor claims, insolvency litigation, and judicial reorganisations proceedings, working in close collaboration with the firm's employment and corporate teams. Practice heads
Alexander Hansebout
and counsel
Bart Heynickx
have a strong focus on insolvency law, specialising in litigation and business transfers respectively.
ALTIUS
' clients include domestic and international private equity and venture capital funds, equity investors and mezzanine providers, alongside sector-specific funds and other investors. The firm handles cross-border and Belgian buyouts, recapitalisations, and exits, as well as early-stage venture capital investments and financing transactions. The '
flexible
' and 
'transparent
' team is led by
Tom Vantroyen
and
Marie Brasseur
, both experienced in complex transactions.
ALTIUS
handles contracts, transactional, and regulatory issues for real estate clients in the logistics, hospitality, housing, and leisure sectors, with areas of strength including PPP projects, construction, and complex transactions such as sale-and-leaseback arrangements, divestitures, and asset and share deals.
Lieven Peeters
specialises in transactions and commercial contracting, advising developers on all aspects of major acquisitions, while
William Timmermans
focuses on regulatory matters, including planning, environmental issues, and permits.
ALTIUS >
Firm Profile
ALTIUS is one of the largest Belgian independent law firms. Established in Brussels and Louvain-la-Neuve, the firm advises Belgian and international companies on the legal aspects of transactions, projects and disputes. For all tax related issues, ALTIUS maintains an operational relationship with the niche firm Tiberghien.
ALTIUS helps its clients navigate through often-complex legislation and regulatory environments and provide clear solutions to a wide range of legal issues. In addition to its specialist legal knowledge, ALTIUS focuses on thinking creatively with its clients to offer tailor-made solutions. ALTIUS's aim is to turn, through careful listening and awareness, strategic questions into clear, straightforward answers.
Meet The Team(s)
Diversity
At ALTIUS we feel responsible for the development of a fairer, more inclusive, and more sustainable society, both within and outside our firm. Therefore we conduct our business in a way that is consistent with our values.
Diversity
ALTIUS acts with integrity towards its lawyers and support teams. We foster openness and transparency at all levels within our firm. Mutual trust and respect are essential to us.
Diversity and multi-culturalism are at the heart of our business and help us to respond better to our clients' needs. Our belief is that diversity creates a positive workforce environment and that our clients only want to work with law firms who respect their lawyers and employees and share their values.
ALTIUS is a founding member of the Legal Diversity & Inclusion Alliance (LDIA), an association created by various law firms in Belgium that aims to promote, develop and implement knowledge and best-practice exchange on diversity and inclusion. We are committed to building a diverse and inclusive workplace in which everyone benefits from equal treatment and opportunities, irrespective of race, ethnic or social origin, gender or sexual orientation, age, disability, language, religion, political preference or any other grounds of personal discrimination.
We "walk the talk". For more than 14 years, ALTIUS has been led by female managing partners. Female lawyers compose 45% of our practitioners and are well represented at all levels within the firm.
In addition, we regularly organise workshops and debates about diversity and inclusion in the workplace and never miss a chance to celebrate special days such as the International Women's Day.
Society
At ALTIUS we highly value ethical entrepreneurship, not only by embracing its spirit in our daily work but also by supporting ETION, the forum for committed entrepreneurs. ETION's values of warmth, strength, thoroughness and openness, are very much like ALTIUS' ones. We are a proud sponsor of this organisation that supports and train entrepreneurs.
Caring for society means also caring for its less privileged members. That is why ALTIUS is a proud sponsor of several associations active in the fields of access to education (Cunina, thanks to which ALTIUS is the 'godmother' of 5 young girls in Uganda, Kinderarmoedefonds), research and support for children and families affected by cancer (Kinderkankerfonds, Olivia Fund, KickCancer) and culture (Friend of AB).
Via initiatives such as the Legal Run and de Warmste week we also 'put on our running shoes' each year to raise money for various associations.