Doing Business in...
Turkey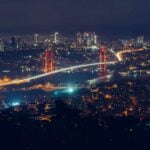 WHAT HAS CHANGED IN THE LAST YEAR THAT HAS IMPACTED THE WAY BUSINESS IS CONDUCTED? With its wide production possibilities, qualified workforce, strategic location, modern logistics infrastructure and incentive packages that can meet every need, in addition to these commercial advantages, Turkey located on the east-west line of energy resources, in Europe, is one of …
Contributed by KILINÇ LAW & CONSULTING
Read More...
Legal Market Overview
As the global pandemic has endured, Turkey's economic fortunes have been mixed. On the one hand, it has been one of the few economies continuing to grow despite the pandemic, with more rapid growth forecast after an initial slowdown in 2020. However, the value of the Turkish lira has fallen dramatically prompting President Recep Tayyip Erdogan to ready plans to help savers by paying the difference between the value of savings in lira and equivalent dollar deposits. He has also continued to cut interest rates, a move that has been divisive. The weak lira has meant overseas investment into Turkish companies have been more common instructions for corporate and M&A practices, while domestic transactions have stagnated. These difficulties have only served to deepen the political divide in Turkey, Erdogan's regime continually coming in for criticism from without and within. Aforementioned foreign interest in investment is tempered by wariness of being seen to actively back the Erdogan government.
The IT and technology sectors have been the source of the most interesting transactional matters in the Turkish legal market recently and are keeping firms on their toes as regards regulatory issues too. Most notable are the regulations applicable to social media companies to whom Turkey's leading firms are providing regular counsel to ensure compliance, with further regulation expected. Fintech is also becoming an increasingly important and complex sector with the shift towards blockchain and alternative investment methods being hastened by the volatile value of the lira. The traditionally strong energy and infrastructure sectors have continued to generate work for project financing teams in Turkey, long-term projects needing attention while new investments have slowed. Renewable energy is expected to become the foremost sector for project financing soon, while the airport, road, railway and infrastructure sectors are seeing a number of PPP projects as the Turkish government promotes independent investment in these areas.
The legal market is dominated by internationally-affiliated firms, with GKC Partners (in professional association with White & Case), Esin Attorney Partnership, Member of Baker & McKenzie International, and Balcioglu Selçuk Ardiyok Keki, an affiliate of Dentons, all having a notable presence across the major practice areas. Key domestic firms include Paksoy, Hergüner Bilgen Özeke, Moroglu Arseven and Gün + Partners. Most prominent firms are full-service, handling both contentious and non-contentious work across a variety of sectors, while a number of smaller, often boutique firms handle specific areas such as IP, dispute resolution, competition and insurance work, for domestic and international clients.