Survey Results - Trainee feedback on
Akin Gump Strauss Hauer & Feld
The lowdown - Trainees (in their own words) on Akin Gump Strauss Hauer & Feld
Why did you choose this firm over any others? 'Sector focus', 'small trainee intake, international presence', 'left the best vacation scheme impression', 'I wanted to have greater visibility and responsibility as a trainee', 'I had several offers but Akin was the most open-minded firm, with very entrepreneurial people who I found inspiring', 'the smaller working groups, remuneration, quality of work and financial restructuring output'
Best thing about the firm? 'Level of responsibility given', 'the culture and collaborative spirit', 'the people', 'the collegiate working environment and the high-quality work', 'there's no 'scary partner' that everyone avoids or is afraid to work with, and all the teams are generally very approachable and happy to chat about anything', 'its active effort to support and nurture talent'
Worst thing about the firm? 'The social element', 'the limited secondment opportunities (both client and international) at the moment', 'the coffee machine always runs out of milk!', 'long working hours on occasions', 'the hours can sometimes be long (but I think that's true about any large, commercial law firm)', 'the hours, though manageable, can be long', 'the culture is changing as a result of a number of lateral hires'
Best moment? 'As part of a pro bono initiative, successfully submitting an application to the Home Office for a child to be granted citizenship', 'being given the responsibility to manage a small project in my first seat', 'closing the first deal I ever worked on', 'working on a precedent-setting restructuring plan case where arguments I suggested were raised by our barrister during the hearing', 'working directly with partners'
Worst moment? 'Getting bad (but constructive) feedback on a piece of work I didn't do my best on', 'all of the Zoom socials we had to do whilst home working', 'working on the weekend occasionally', 'dealing with a difficult colleague', 'quiet periods: supervisors will say 'there's always something to do' but where teams are lean and you're junior, it is the case that they aren't always able to pass things down to you'
The Legal 500 Future Lawyers verdict on Akin Gump Strauss Hauer & Feld
Akin Gump Strauss Hauer & Feld 'only does complex, interesting work'. The US firm 'pays very well but also has a very nice culture' and has been awarded Future Lawyers Winner medals for salary, job satisfaction, living up to expectations, quality of work and international secondments. Thanks to the modest trainee intake and working in small teams, recruits feel like 'valuable members of any department', enjoy 'more contact with partners, clients and senior members of the office' and are 'given meaningful work and challenging tasks'. Colleagues are 'supportive and approachable' and 'always keen to give you time to talk through interesting things they're doing or answer questions'. In fact, 'it's quite easy to make friends in the office; the atmosphere is friendly and not very formal'. Although trainees are expected to work long hours at times, respondents assured us that 'there is no face-time culture, so you're not expected to hang around in the office for no reason or sit at your desk at home 'just in case''. In any case, the workload does fluctuate and some respondents experienced 'periods of not having much work' and 'quieter moments where I didn't have much to do'. One downside of training at Akin Gump is that 'because of the informal and flexible nature of the training contract, the lack of structure can sometimes mean that as a trainee you are a bit in the dark about how things will play out'. Highlights include 'visiting a client on my own to execute some documents' and 'assisting a client who had been in prison for a number of decades with a parole application that ultimately led to his release'. To be a 'valued member of the team' and 'given meaningful work, client exposure and challenging tasks', research Akin Gump.
A day in the life of... Gunel Latifova, trainee, Akin Gump Strauss Hauer & Feld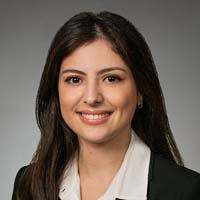 Departments to date: Taxation (first seat), Financial restructuring (current seat)
University: London School of Economics University of Oxford University of Law
Degree: Law LLB; MSc Taxation; LPC LLM
9.30am: I log on and check all the emails that have come in since yesterday. Early morning is when I receive all the news articles and updates from the various research platforms that I have signed up to – I read what is going on in the market and check whether there is any news that needs to be distributed to the wider team.
10.00am: I attend a training session. Today's session is the fortnightly presentation which is presented by a trainee to the other trainees on a topic of our choice, namely a new legislative update that is relevant to our practice area, or a particular document or anything of interest that has come up in practice. Today's one is on US and UK class actions from a trainee sitting in our financial regulations department.
11.00am: I attend a client conference call to go through the latest draft document that we are working on and take notes. After the call I update our workstreams tracker and make a list of immediate action items and distribute them to the team. I then make various updates to the document based on the discussion we had on our call, give the document a proofread and compare it against the previous version, before circulating it to the rest of the team for further comments.
12.30pm: I attend our fortnightly team lunch in one of our conference rooms. Over lunch, we often have external speakers come in, for example a barristers' chambers, to talk about a specific case or a new restructuring plan that has been introduced in a specific jurisdiction, but today we are catching up as a team and giving updates on the various deals that we are working on and sharing insights on particular issues. This is a great opportunity to get a holistic view of the team practice and the work that is coming into the department.
1.30pm: I begin research on the government's consultation on the proposed implementation of new recognition rules in the UK for the cross-border recognition of judgments associated with insolvency proceedings. I am due to give a presentation on this development to the wider team next month and begin compiling any updates on the topic and reading the various model regulations that are set to come into force, while thinking about how best to present this.
3.00pm: I get a call from a partner I am working with who asks me to insert a governing law and jurisdiction clause into an agreement we are drafting. I pull together some standard precedent clauses and amend them to fit the facts of the matter and send the updated agreement to the partner for review.
3.30pm: I catch up with the other trainee in my department over a cup of coffee; we discuss how our day's been going and what each of us are working on and have a general chat.
4.00pm: My supervisor discusses the background of a new matter with me and asks me to run a definitions check of an NDA that we are putting together.
5.00pm: I attend a Zoom webinar that the one of the firm's diversity and inclusion resource groups (FRG – the Women's FRG) is hosting. The talk is an insightful 'fireside chat' with Kim Koopersmith (our firm's chairperson) who is telling the audience about her experiences over the span of her career and the years she has spent as a female chairperson, followed by a Q&A.
6.00pm: My supervisor and I have a chat about the status of the deals that I am working with them on, as well as what the various next steps would look like.
6.30pm: After checking my emails and updating my to-do list, I log out for the day.
About the firm
The firm: Akin Gump is a global law firm with more than 900 lawyers and advisors who pride themselves on dedication to their clients and their communities. With 18 offices worldwide, the firm is renowned for numerous market-leading practices, its strengths in complex transactions and restructurings, high-stakes litigation, public policy and regulatory matters, and its unyielding pro bono commitment.
The firm is intentional about fostering a diverse and inclusive workplace where all employees are supported and given the tools to succeed. Akin Gump is focused on recruiting and nurturing the next generation of exceptional legal talent and is proud that its recruitment and professional development efforts are recognised as among the best in the industry.
The deals: Acted as English, Hong Kong, German and UAE counsel, and international antitrust counsel, to the ad hoc group of noteholders in relation to the financial restructuring of UK offshore drilling contractor Valaris plc and its outstanding debt liabilities of approximately $7.1bn; advised an ad hoc group of creditors of Premier Oil in connection with the merger of Premier Oil with Chrysaor Holdings Limited and the restructuring of Premier Oil's $2.7bn of debt; advised CIIG Merger Corp. SPAC through the completion of its merger with Arrival as NASDAQ-Listed Shares Debut; advised Coller Capital, one of the leading European secondaries houses, on the restructuring of Permira's fourth fund and various related co-investment interests, one of the most important GP-led restructurings of 2020, with a value of $800m+; advised Royalty Pharma plc, the largest buyer of biopharma royalties and a leading funder of innovation across the biopharmaceutical industry, on its $2.5bn initial public offering and listing on the Nasdaq Global Select Market.
Senior partner: James Roome
Managing partner: Sebastian Rice
Other offices: Abu Dhabi, Beijing, Dallas, Dubai, Fort Worth, Geneva, Hartford, Hong Kong, Houston, Irvine, Los Angeles, New York, Philadelphia, San Antonio, San Francisco, Singapore, Washington D.C.
Who we are: Akin Gump's London office is the hub of the firm's international offices, partnering with clients from established industries and cutting-edge markets to deliver creative solutions to business-critical issues, helping them seize opportunities and anticipate challenges. Driven by the firm's forward-thinking leadership, Akin Gump has built a strong culture of innovation and collaboration as well as a talented and diverse workforce committed to the success of its clients and each other.
What we do: Market-leading practices include financial restructuring, corporate transactions (including mergers and acquisitions and joint ventures), private equity, finance (including debt finance and project finance), energy including renewables, debt and equity capital markets, financial services regulatory, disputes, international arbitration, investment funds (including hedge and private equity funds), international trade – including in relation to the new National Security & Investment law – as well as EU competition and tax.
What we're looking for in a trainee: We look for deep-thinking, motivated individuals keen to take on early responsibility for fast-paced, sophisticated client matters. You'll need to demonstrate intellectual curiosity and be a team player who enjoys seeking commercial solutions in an immersive learning environment.
What you'll do: You'll experience on-the-job experiential learning which will allow you to develop a keen commercial awareness and to take on responsibility and ownership of tasks for each practice area you work in. Examples of tasks you may be involved in during your training include, but are not restricted to, legal research, preparing client communications, attending client meetings, organising deal closing checklists and preparing trial bundles. You'll receive supportive supervision from England and Wales-qualified practitioners with valuable ongoing feedback and two substantive evaluations during each seat.
You will also be provided with formal training which includes in-house seminars on relevant areas of law and practical competency skills. You will also join webinars and training sessions run by external training providers.
Akin Gump prides itself on a friendly, approachable culture and a strong support network. Our graduate recruitment team and dedicated development partners will coach and guide you throughout the two years. We also have a buddy system, providing you with a peer mentor who can tell you things that formal training can't and junior associate mentors to support you within each practice area. We have an in-house 'Be Well' counselling service which offers unlimited one-on-one support, as well as regular group training sessions.
Perks: Season ticket loan, health insurance, income protection insurance, life insurance, travel insurance, dental insurance, pension, annual eye exam, employee assistance programme, on-site wellbeing adviser, discounted ClassPass and gym rates, fitness reimbursement programme, cycle scheme.
Sponsorship: Successful applicants will be required to complete the PGDL (if applicable) and LLM Legal Practice (SQE1&2) to equip them with essential skills prior to starting their Qualifying Work Experience. Our legal education provider is The University of Law and studies will be funded by the firm. We provide a maintenance grant of £15,000 per year of study to our future trainees.
Diversity and inclusion
https://www.akingump.com/en/careers/uk-students/diversity-inclusion.html
Akin Gump was formed in 1945, after other law firms excluded our founders on the basis of religion. Founder Bob Strauss never forgot how that felt, and he made diversity and inclusion (D&I) a bedrock of the new firm. From that date to this, our commitment has evolved and strengthened. Today, led by Kim Koopersmith, one of the few women to chair a major global law firm, we continue expanding our efforts to provide diverse perspectives for our clients and vibrant career opportunities for all our lawyers and professionals.
To guide our efforts, the firm has a D&I strategic plan with the following four goal areas:
Leadership commitment and engagement
Recruiting and diversity pipeline
Professional development and inclusion
Strategic partnerships
Some examples of our recent efforts in executing our D&I strategy include:
In 2022 we hosted our inaugural Diverse Lawyers Summit in Washington D.C. The summit brought together Akin Gump lawyers, policy advisors and summer associates from around the firm and the globe for two days of networking, learning, and sharing.
Restructuring our long-standing firm-wide DEI council to be chaired by Chairperson, Kim Koopersmith and include some of the most senior partners of the firm to ensure leadership engagement and accountability.
Roll-out of practice group specific diversity & inclusion action plans.
Implicit bias training for lawyers and business services professionals. This also included follow-up sessions with key groups of firm leadership such as the management committee and practice group leaders, to identify and minimise the impact of bias in key firm processes.
The firm has local DEI Councils and Resource Groups that provide an opportunity for both lawyers and business services team members to proactively communicate questions, concerns and ideas to firm management and are also responsible for the development and implementation of diversity and inclusion related initiatives in their offices. In 2021 we launched our London Social Mobility Resource Group, which joins established groups covering Women, BAME, LGBTQ+, Abilities, Parents and Caregivers.
In 2020, we launched the London Lawyers' Mentoring Programme, which aims to help counterbalance more informal mentoring relationships that are often less accessible to those from minority and low socio-economic backgrounds.
The launch of three new inclusive workplace policies: a fertility policy, a menopause policy and a transgender equality policy.
In London, recruitment for our trainee solicitor programme is supported by partnerships with external organisations such as Aspiring Solicitors and Bright Network. We also participate in an annual internship/mentoring scheme with The Social Mobility Foundation and City Year's Bridge Builder programme.
Partnering with clients to further D&I in sectors and industries through initiatives such as the Women in Secondaries network.
Through our sponsorship of AS Foundation we continue to provide financial support for those pursuing a career in law.