Firm Profile > Gasparini, Nogueira de Lima e Barbosa Advogados > São Paulo, Brazil
Gasparini, Nogueira de Lima e Barbosa Advogados
Offices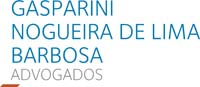 Gasparini, Nogueira de Lima e Barbosa Advogados
Avenida Paulista 1842
Ed. Cetenco Plaza - Torre Norte - 2º andar, Cerqueira César
São Paulo, SP – CEP 01310-923
Brazil
Gasparini, Nogueira de Lima e Barbosa Advogados > The Legal 500
Rankings
Gasparini, Nogueira de Lima e Barbosa Advogados >
Firm Profile
Founded in 2004, GASPARINI, NOGUEIRA DE LIMA E BARBOSA ADVOGADOS is a Brazilian full-service law firm committed to excellence in rendering high-quality and effective legal services. Its local and international clients can rely on a team of expert attorneys with solid legal knowledge and multidisciplinary expertise, graduated from the most prestigious institutions in Brazil and abroad, who offer legal services in Portuguese, English, Italian, French and Spanish.
The in-depth legal expertise of GASPARINI, NOGUEIRA DE LIMA E BARBOSA ADVOGADOS' team of attorneys has led the firm to become a reference in the Country, thus demonstrating the solid foundations of its corporate structure.
The firm's multidisciplinary team, comprising 12 partners and 40 other lawyers, provides comprehensive legal services to national and foreign companies in different business sectors, such as Manufacturing, Industrial and Services; Construction; Education; Retail and Consumer Goods; Technology; Agribusiness; Life Sciences, Pharmaceutical and Healthcare; Military and Defense; Food and Beverages; Energy; Entertainment and Third Sector.
The members of the firm are constantly interacting and exchanging information among themselves, which has contributed to maintaining the firm's high professional standard and excellence throughout the years.
Main Areas of Practice:
M&A; Corporate Law; Tax; Contracts; Civil Litigation; Arbitration and Mediation; Capital Markets; Environment and Sustainability; Technology and Innovation; Labor; Compliance and Anti-Corruption; Bankruptcy and Restructuring; Family Law; Public and Administrative Law; Employment and Benefits; Real Estate; Regulatory Affairs and Insurance.
Main Contacts
| Department | Name | Email | Telephone |
| --- | --- | --- | --- |
| Mergers and Acquisitions and Estate Planning | Marcus Phelipe Barbosa de Souza | mph@gnblaw.com.br | 55 11 2171 1341 |
| Dispute Resolution & Arbitration and Mediation | Pedro Paulo Wendel Gasparini | ppa@gnblaw.com.br | 55 11 2171 1316 |
| Tax Law and Estate Planning | Francisco Nogueira de Lima Neto | fra@gnblaw.com.br | 55 11 2171 1316 |
| Labour & Employment Law | Ricardo Christophe da Rocha Freire | rif@gnblaw.com.br | 55 11 2171 1355 |
| Corporate Law and Contracts | Felipe Mavignier | mav@gnblaw.com.br | 55 11 2171 1313 |
| Litigation, Arbitration, Administrative Law and Infrastructure | Maysa Abrahão Tavares Verzola | mtv@gnblaw.com.br | 55 11 2171 1309 |
| Litigation and Family Law and Succession | Ana Lygia Tannus Giacometti | alg@gnblaw.com.br | 55 11 2171 1310 |
| Technology and Innovation | Jorge Miguel Arruda da Veiga | jmv@gnblaw.com.br | 55 11 2171 1323 |
| Tax Law | Fernando Grasseschi Machado Mourão | fgm@gnblaw.com.br | 55 11 2171 1306 |
| Mergers and Acquisitions and Agribusiness | Paula Taira Horiuti | pta@gnblaw.com.br | 55 11 2171 1346 |
| Environmental | Lourdes de Alcantara Machado | lam@gnblaw.com.br | 55 21 3514 8300 |
Lawyer Profiles
| Photo | Name | Position | Profile |
| --- | --- | --- | --- |
| | Mr Marcus Phelipe Barbosa de Souza | Partner in charge of the Corporate and M&A team, serving various domestic… | View Profile |
| | Mr Ricardo Christophe da Rocha Freire | Mr. Ricardo Freire is responsible for the Labor Law team. His expertise… | View Profile |
| | Mr Pedro Paulo Wendel Gasparini | Mr. Gasparini leads the disputes practice and has 28 years of experience… | View Profile |
| | Mrs Ana Lygia Tannus Giacometti | Mrs. Giacometti has 16 years of experience representing national and foreign clients… | View Profile |
| | Mrs Paula Taira Horiuti | Mrs. Horiuti has 10 years of experience in contractual and corporate law. | View Profile |
| | Mr Francisco Nogueira Lima Neto | Partner, head of tax practice. Acting in tax consulting and tax litigation.… | View Profile |
| | Mr Felipe Mavignier | Responsible for M&A, corporate and contract teams. | View Profile |
| | Mr Victor Miranda de Toledo | | View Profile |
| | Fernando Grasseschi Machado Mourão | Mr. Mourão has nearly 20 years of experience in tax law. He… | View Profile |
| | Mr Jorge Miguel Arruda da Veiga | Mr. Veiga is the Head of Technology and Innovation. He provides strategic… | View Profile |
| | Maysa Abrahão Tavares Verzola | Maysa Verzola has over 19 years of experience in strategic litigation, domestic… | View Profile |
| | Lourdes de Alcantara Machado | | View Profile |
Staff Figures
Other fee-earners : 40 Total staff : 15
Languages
English Italian French Spanish Portuguese
Top Tier Firm Rankings
Firm Rankings