Firm Profile > Beccar Varela > Buenos Aires, Argentina
Beccar Varela
Offices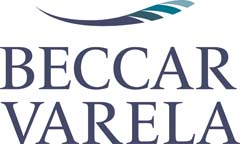 Beccar Varela
EDIFICIO REPÚBLICA, TUCUMÁN 1, 3RD FLOOR
C1049AAA CIUDAD AUTÓNOMA DE BUENOS AIRES
Argentina
Beccar Varela > The Legal 500
Rankings
Beccar Varela >
Firm Profile
Founded in 1897, Beccar Varela is a leading full-service law firm in Argentina. It advises local and international companies in all areas of corporate law across all industries. Its team consists of over 160 lawyers specializing in different areas of law, many of whom have studied or worked in the world's business capitals and 33 of whom are partners. They are supported by paralegals, trainee lawyers and professional assistants in delivering top-tier client services.
Throughout its history, the firm has forged alliances with international networks that bring together highly reliable worldwide law firms. It is an active member of World Services Group (WSG), Interlex, International Network of Boutique Law Firms (INBLF) and Alianca de Advocacia Empresarial (ALAE), and a founding member of the Club de Abogados de Iberoamerica. BV has a certified German desk and various country desks. Beccar Varela is the first and only full-service law firm in Argentina to have joined the United Nations Global Compact through which, among other objectives, it hopes to contribute to clients' value chains as a responsible service provider.
Clients: The firm combines its understanding of global and local business cultures to provide strategic tailor-made solutions to top-tier multinationals, national companies and individuals, as well as start-ups and not-for-profit organizations. Its client portfolio includes leading blue-chip industry companies, both national and international, which invest and operate in Argentina. Beccar Varela has been serving many clients for nearly a century or more, such as Citibank since its first global expansion in 1914, and Unilever since the early 1920s.
Areas of practice: The firm deals with agribusiness, arbitration, art law, banking and financial institutions, bankruptcy, insolvency and restructuring, capital markets, company law, competition and antitrust, compliance, consumer protection, corporate advice, energy, entrepreneurship, environmental law, family business governance, healthcare and life sciences, insurance, intellectual property – patents and trademarks, international trade and customs, labor and social security law, litigation, mergers and acquisitions, microfinance, mining, oil and gas, private clients, private equity, product liability, project finance, public law, real estate and hospitality, sports law, tax law, TMT (telecoms, media, technology), trusts and trust services, white-collar and corporate crime.
Languages: Spanish, English, French, German, Italian, and Portuguese.
Lawyer Profiles
| Photo | Name | Position | Profile |
| --- | --- | --- | --- |
| | Mr Oscar Aguilar Valdez | Oscar Aguilar Valdez is a partner at Beccar Varela. He co-heads the… | View Profile |
| | Mr Gaspar Arturo Aguirre | Gaspar Aguirre is an advisory partner of Beccar Varela. He is the… | View Profile |
| | Mr Tomás Allende | He is a partner of Beccar Varela. His practice areas include private… | View Profile |
| | Ms Micaela Aranciva | Micaela Aranciva is an associate of Beccar Varela, having joined the firm… | View Profile |
| | Mr Manuel Beccar Varela | Manuel Beccar Varela is a partner of Beccar Varela. He is the… | View Profile |
| | Mr Horacio Esteban Beccar Varela | Horacio is the managing partner of the firm. His practice areas include… | View Profile |
| | Mr Emilio Beccar Varela | Emilio is Partner of Beccar Varela. His practice areas include general corporate… | View Profile |
| | Ms Patricia Browne | Patricia Browne is a senior associate of Beccar Varela, having joined the… | View Profile |
| | Mr Juan Pablo Chevallier-Boutell | Juan Pablo Chevallier Boutell is an advisory partner of Beccar Varela and… | View Profile |
| | Mr Roberto H Crouzel | Roberto H. Crouzel is a partner at Beccar Varela, where he co-heads… | View Profile |
| | José Carlos Cueva | José Carlos Cueva is a partner at Beccar Varela since 2001. He… | View Profile |
| | Gonzalo García Delatour | Gonzalo García Delatour is a partner of Beccar Varela. His practice areas include… | View Profile |
| | Ms Luciana Denegri | Luciana Denegri is a partner at Beccar Varela, having joined the firm… | View Profile |
| | Agustín Duarte | He is senior associate of Beccar Varela. His practice areas include insurance… | View Profile |
| | Mr Maximiliano Nicolás D'Auro | Maximiliano D'Auro is a partner at Beccar Varela, having joined the firm… | View Profile |
| | Mr Ignacio Flores | Ignacio Flores is a partner of Beccar Varela. He joined the firm… | View Profile |
| | Mr Roberto A Fortunati | Roberto A. Fortunati is a partner at Beccar Varela and a member… | View Profile |
| | Mr Eduardo José Güemes | Eduardo Güemes is a partner of Beccar Varela and the head of… | View Profile |
| | Mr Álvaro J Galli | Álvaro is a partner of Beccar Varela. His practice areas include Labor… | View Profile |
| | Ms Dorothea Garff | Dorothea is a senior associate at Beccar Varela. She joined the firm… | View Profile |
| | Martín Gastaldi | Martín Gastaldi is a partner of Beccar Varela and the head of… | View Profile |
| | Ms Valeria Kemerer | She is a senior associate of Beccar Varela. She focuses on company law… | View Profile |
| | Mr Rafael Marcelo Lobos | Rafael Lobos is a partner of Beccar Varela. His practice areas include mergers and… | View Profile |
| | Ms Pilar Lodewyckx Hardy | Pilar Lodewyckx Hardy is a senior associate at Beccar Varela, having joined the… | View Profile |
| | Mr Javier Luis Magnasco | Javier L. Magnasco is a partner of Beccar Varela. His practice areas include… | View Profile |
| | Ms María Fernanda Mierez | María Fernanda Mierez is a partner of Beccar Varela. Her practice areas include… | View Profile |
| | Mr Santiago L Montezanti | Santiago Montezanti is partner of Beccar Varela. He is the head of… | View Profile |
| | Mr Marcos Moreno Hueyo | Marcos is a senior associate of Beccar Varela. | View Profile |
| | Mr Ramón I Moyano | Ramón I. Moyano is a partner of Beccar Varela and a member of… | View Profile |
| | Mr Juan Crisóstomo Murga | Juan C. Murga is an advisory partner of Beccar Varela. He focuses… | View Profile |
| | Mr Pedro Nicholson | Pedro Nicholson is a partner at Beccar Varela, where he heads the… | View Profile |
| | Mr Gustavo Papeschi | Gustavo Papeschi is a senior associate at Beccar Varela since 2014, having… | View Profile |
| | Mr Alejandro Poletto | Alejandro Poletto is a partner of Beccar Varela. He joined the firm… | View Profile |
| | Mr José Miguel Puccinelli | José Miguel Puccinelli is a partner at Beccar Varela, having joined the… | View Profile |
| | Ms Victoria Rabasa | Victoria Rabasa is an associate at Beccar Varela, having joined the firm… | View Profile |
| | Mr Jorge Rassó | Dr. Rassó is an advisory partner of Beccar Varela. He focuses on… | View Profile |
| | Mr Miguel Carlos Remmer | Miguel Remmer is a partner at Beccar Varela, having joined the firm… | View Profile |
| | Ms Florencia Rosati | Florencia Rosati is a partner at Beccar Varela. She co-heads the firm's… | View Profile |
| | Ms Yanina Salemme Duprat | Yanina Salemme Duprat is a senior associate at Beccar Varela, having joined… | View Profile |
| | María Shakespear | María Shakespear is a partner at Beccar Varela. She is a member of… | View Profile |
| | Mr Miguel María Silveyra | Miguel Silveyra is a partner at Beccar Varela, having joined the firm in… | View Profile |
| | Ms Casiana Silveyra Perdriel | Casiana Silveyra Perdriel has been a partner of Beccar Varela since 2007.… | View Profile |
| | Mr Federico Sosa | Federico Sosa is a partner at the firm, having joined Beccar Varela… | View Profile |
| | Mr Juan Antonio Stupenengo | Juan Antonio Stupenengo is a partner at Beccar Varela. He co-heads the… | View Profile |
| | Mr Pablo J Torretta | Pablo Torretta is a partner at Beccar Varela, having joined the firm… | View Profile |
| | Mr L. Augusto Vechio | Augusto Vechio is a partner at Beccar Varela. He co-leads the International… | View Profile |
| | Mr Emilio Nicolás Federico Vogelius | Emilio N. Vogelius is advisory partner of Beccar Varela, having joined the… | View Profile |
| | Agustín Waisman | Agustín Waisman is a partner of Beccar Varela. He joined the firm… | View Profile |
| | Mr Eduardo de la Rúa | Eduardo is an advisory partner of Beccar Varela. His practice areas include… | View Profile |
Staff Figures
Other fee-earners : 130 Total staff : 250
Languages
Spanish English French German Italian Portuguese
Other
Partners : 33
Top Tier Firm Rankings
Firm Rankings