Firm Profile > Troutman Pepper > New York, United States
Troutman Pepper
Offices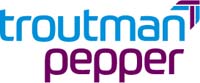 Troutman Pepper
The New York Times Building, 37th Floor
620 Eighth Avenue
New York, NY 10018-1405
United States
Troutman Pepper > The Legal 500
Rankings
Troutman Pepper
has broad expertise in the energy sector, with recent work covering generation and transmission rate regulatory proceedings, antitrust, M&A and corporate transactional work, and restructuring-related matters in the electricity market. The team acts for several well-known energy transmission and generation companies as well as major utilities companies. It is also recognized for its experience in the hydropower space, where it advises on FERC relicensing proceedings, license implementation and compliance, dam safety, and federal energy and hydropower policy initiatives. Washington DC-based
Amie Colby
is a contact for integrated utilities and transmission-related issues, while
Brandon Marzo
 in Atlanta represent utilities clients before state regulatory commissions.
Practice head(s):
Amie Colby; Brandon Marzo
Key clients
PacifiCorp
Santee Cooper
Dominion Energy
Duke Energy
National Hydropower Association
City of Seattle
Ameren Corporation
NorthWestern Energy
WEC Energy Group
Southern Company
NiSource, Inc.
Wisconsin Electric Power Company (WEPCO)
Berkshire Hathaway Energy
Public Service Company of New Mexico
Portland General Electric
GridLiance
Following Pepper Hamilton's merger with Troutman Sanders in July 2020, the firm was renamed Troutman Pepper and has expanded its capabilities and geographic reach. The team litigates individual cases and has particular expertise in mass torts. It defends pharmaceutical and medical device companies as national or regional trial counsel, takes on key roles in MDLs, as well as acting as counsel in multistate attorney general investigations. Practice head Sean Fahey is based in Philadelphia, as is 'trailblazer' Nina Gussack, a widely recognized expert of the pharmaceutical and medical device defense bar.
Other key lawyers:
Nina Gussack; Barry Boise; Eric Rumanek
Testimonials
'The team is very focused on understanding client business and legal needs. Deep expertise in pharma. Experienced with the key plaintiff's lawyers.'
'The best in the business are Nina Gussack, Tom Gallagher, Barry Boise, Andy Kantra and Sean Fahey.'
'The strength of the team stems from the Pepper Hamilton merger and adding the Troutman team will add to and enhance that team. '
'They very much have a unique approach to looking at the resolution of a large litigation at the very beginning when planning the strategy. They have been at the forefront of document review through "predictive coding". They produce high quality work product.'
'I have worked with many Pepper Hamilton attorneys over the years. Nina Gussack has been a trailblazer. She is stepping back a bit but the group is in great hands with Sean Fahey as the group's head. Sean is a strategic thinker, a zealous advocate (when strategically it's called for) and an extremely practical lawyer looking for solutions, not reasons to fight. Barry Boise is a very high quality lawyer who excels at science issues, strategy and being a tough negotiator. Ronnie Fuchs is very good at working with experts and mastering the science.'
Key clients
GlaxoSmithKline
Eli Lilly and Company
Medtronic
Johnson & Johnson
Becton Dickinson
Collegium Pharmaceuticals
LivaNova
Sun Pharmaceuticals Industries
Sanofi
Noted for the variety of its client base and its breadth of expertise, Troutman Pepper's construction team has continued to strengthen its position in the market. Among the team's recent highlights, New York-based practice co-head Aaron Abraham advised Brookfield Properties on a variety of design, construction, and technology issues, and also negotiated agreements for JPMorgan in relation to its new corporate headquarters. Other names to note in New York are Kevin Wallace and associate Alana Sliwinski, both of whom have experience of residential, commercial and infrastructure developments. In Los Angeles, construction and commercial litigator Marion Hack has handled claims involving construction defects and unpaid invoices, and, in Atlanta, Jason McLarry was involved in arbitration concerning a wind energy project, and also handled a cross-border dispute for a luxury travel company. Michael Subak in Philadelphia jointly chairs the practice group.
Practice head(s):
Michael Subak; Aaron Abraham
Other key lawyers:
Marion Hack; Kevin Wallace; Jason McLarry; Alana Sliwinski
Key clients
Brookfield Properties
The Related Companies
SL Green Realty Corp.
JP Morgan
AECOM
The Herrick Corporation
VCC, LLC
Johnson Controls
State System of Higher Education (California University of Pennsylvania)
Strabag SpA
Southern Power Company
Belmond LTD
Portman Holdings
Dollar Tree
In July 2020, Troutman Sanders and Pepper Hamilton merged to form Troutman Pepper, which runs an e-discovery and data management group (eMerge) as a wholly-owned subsidiary. Managing director of eMerge Alison Grounds is based in Atlanta and heads a team of technologists and attorneys. Grounds combines deep experience in litigation and e-discovery to provide practical defense strategies to top international clients. The wider team is well versed in the technological aspects of a broad range of disputes, including business torts, product liability litigation, antitrust litigation, government investigations and class actions, among others. As part of its full-service offering, the group often acts as national coordinating counsel in large multi-district and multi-plaintiff cases.
Key clients
Zurich NA
Virginia Polytechnic Institute and State University
Southern Company
UCB
Steeped in the electric power business since the firm's inception, Troutman Pepper has followed the needs of its clients, including developers, finance providers, utilities, investors and IPPs, as they have increasingly focused on renewable sources of energy to generate electricity. Consequently, the firm, which deploys a multi-disciplinary approach (and draws from the expertise of lawyers on the East and West coast with project finance, environmental, real estate, tax and regulatory capabilities) has developed a strong understanding of work in the space and is well placed, by virtue of its underlying sector knowledge and substantive legal expertise, to effectively advise clients throughout the life cycle of a project. As well as regularly advising on solar and wind projects, the firm has also been at the vanguard of projects implementing battery storage, as well as hydrogen technology, in part due to its representation of numerous funds and utilities, including NextEra, that have been first movers in the space. 'Very knowledgeable' Los Angeles-based partner John Leonti is particularly well versed in advising clients on a range of financing structures, including tax equity and hedging products. New York-based partner Craig Kline co-heads the team alongside Leonti.
Other key lawyers:
Hayden Baker; Adam Kobos; Christine Byrnes; Vaughn Morrison
Testimonials
'The team displays very good knowledge on energy hedges.'
'John Leonti displays great knowledge and leadership.'
Key clients
Duke Energy Renewables
Southern Power Company
Wells Fargo
Broad Reach Power
NextEra Energy Resources
Fifth Third Bank
Competitive Power Ventures
Geronimo Energy (National Grid)
The Huntington National Bank
Spruce Finance
EDF Renewable Energy
Consolidated Edison Development, Inc.
Dominion Energy
BNRG Renewables
Generate Capital, Inc.
Leandlease Energy Development LLC
M&T Bank
I Squared Capital
Troutman Pepper
handles compliance and permitting matters for a wide variety of natural gas facilities and commercial energy operations. In this regard, the team acts for a variety of regional and nationwide pipelines, shippers, transmission and storage companies. The key figures in the team are
Catherine Little
in the Atlanta office, and
Daniel Archuleta
in Washington DC. Lisanne Crowley retired in July 2020.
Practice head(s):
Amie Colby; Catherine Little; Brandon Marzo
Other key lawyers:
Daniel Archuleta; Annie Cook
Testimonials
'The best pipeline regulatory compliance practice in the US'
'Their knowledge and background in the industry means I do not have to spend time educating them.'
'The Troutman team assists with PHMSA matters–from unique compliance related questions to potential violations and enforcement. This is a technical practice area, and involves several regional offices of PHMSA. Consistency of enforcement and interpretation may not be consistent across all offices, but Troutman has good relationships with each and gives effective advice.'
'Catherine Little and Annie Cook are excellent. I consider them to be experts in all matters PHMSA–they have great relationships with PHMSA and are highly respected at the agency. This adds credibility to our team, and most often leads to resolution of issues quickly. Both seem to make a technical area easy to understand, and they are great at explaining things in layman's terms to our business clients. They are always very responsive, have lots of experience dealing with pipeline issues, and their advice is always very practical. '
With lawyers strategically located in major markets across the US, Troutman Pepper is well placed to handle litigation concerning federal, state and local environmental law nationwide. Recent highlights included serving as trial and regional counsel in mass tort cases, representing clients from high-risk industries in multi-district class actions, and acting in the defense of citizen suits. Atlanta-based Catherine Little and Fitzgerald Veira coordinate the group, which is noted for its strength in federal rule making litigation. Other names to note in the team include Brooks Smith in Richmond, a key contact for enforcement proceedings, and Mack McGuffey in Atlanta, who focuses on Clean Air Act matters.
Practice head(s):
Catherine Little; Fitzgerald Veira
Other key lawyers:
Brooks Smith; Mack McGuffey; Patrick Fanning
Key clients
National Mining Association
Southern Mills Inc. d/b/a TenCate Protective Fabrics
Southern Company & Georgia Power Company
Dominion Energy
DeKalb County, Georgia
Red River Coal Company, Inc.; Virginia Coal and Energy Alliance
Republic Services
Virginia Manufacturers Association and AdvanSix Resins & Chemicals
MFG Chemical
Mar-Jac Poultry LLC
City of Fort Lauderdale, Florida
Kiewit Corporation
Troutman Pepper fields a large environmental team across the country that is capable of handling an array of regulatory issues, encompassing air and water quality, climate change, chemicals and pesticides, natural resources and endangered species. Primarily based in Atlanta, the group is jointly led by Catherine Little, and Fitzgerald Veira, who focuses on issues pertaining to the Clean Water Act and NEPA. Also in Atlanta, Mack McGuffey specializes in the Clean Air Act, and is noted for his strong background in climate change issues arising out of federal and state regulations governing the construction and operation of stationary sources of air emissions. Andrea Wortzel is a key figure in the Richmond office for waste management compliance and landfill permitting.
Practice head(s):
Catherine Little; Fitzgerald Veira
Other key lawyers:
Randy Brogdon; Andrea Wortzel; Greg Blount; Mack McGuffey; Houston Shaner
Key clients
PAE, Inc
Delta Air Lines
Dominion Energy
Georgia Power Company
Southern Power Company
Energy Transfer LP
Public Services Co. of New Mexico (PNM)
Leslie's Pool Supplies
Mission H2O
Colonial Group, Inc
Corporate Environmental Enforcement Council (CEEC)
SUEZ Environment North America
Species, Strategies and Solutions (S3)
Wayne Farms
Providing coast-to-coast environmental law coverage, Troutman Pepper has a deep bench of experts who are well equipped to assist clients with the structuring of M&A and credit transactions to minimize environmental exposure. The team has a strong profile in the energy sector, where practitioners are often retained to advise on the environmental aspects of renewable and infrastructure projects development, site acquisitions and related financing. The environment and natural resources department is jointly led by Catherine Little and Fitzgerald Veira in Atlanta, but the key contacts for transactional work are New York-based Andrew Perel and Hayden Baker. Perel is typically engaged by financial institutions in real estate deals, while Baker counsels clients in the energy, infrastructure and tech sectors.
Practice head(s):
Catherine Little; Fitzgerald Veira
Other key lawyers:
Andrew Perel; Hayden Baker
Key clients
I Squared Capital
BNRG Renewables
Square Mile Capital Management LLC
LMF Commercial
UBS AG
Urban Edge Properties
Troutman Pepper has a strong national presence with eight offices located across the US. The insurance team handles D&O liability claims involving securities and derivatives litigation, M&A litigation, ERISA, antitrust and bankruptcy matters. In addition to professional liability work, the team has extensive experience handling emerging lines, with practice head Richard Pratt based in Washington DC focusing on tobacco and HIV-tainted blood matters.
Key clients
Allied World Assurance Company
Allstate Insurance Company
AXA XL
AXIS Insurance, Inc.
Beazley Group
CapSpecialty
Chaucer (syndicate of Lloyd's of London)
Chubb Group of Insurance Companies
CNA Insurance Companies
Markel Corporation
Navigators Group, Inc. (a brand of The Hartford)
Resolute Management, Inc.
Swiss Re
Tokio Marine HCC
United Educators
At
Troutman Pepper
, the team covers all product types though is particularly well versed in retail, energy and hospitality assets, spreading its practice across acquisition, sale, investment, financing and commercial leasing. The team provides a one-stop-shop service through its close collaboration with the firm's environmental, land use, corporate, partnership and tax attorneys and places a high degree of emphasis on protecting and maximizing property ownership and use rights. In Atlanta,
Anthony Greene
serves as department head and represents a client roster of domestic and international investment trusts, lenders, owners and developers.
Other key lawyers:
Randal Lejuwaan; Patrick Ridinger
Key clients
The Rockefeller Group
Trinity Capital Partners, LLS
Cousins Properties, Inc.
Greenstone Properties
Crescent Communities, LLC
Portman Holdings, LLC
Interwest Capital Group LLC
A.L. Group LLC
Troutman Pepper has a solid borrower-side practice, with experience in a variety of debt finance deals, including note issuances, private placements, acquisition financings and restructuring. Technology is one of the firm's core strengths; it works with companies at all stages of development looking to secure financing. Through 2020, the firm has been busy assisting companies with navigating the Covid-19 pandemic, which has included working on main street and CARES Act loans. The team is led from Atlanta by Harris Winsberg and Hazen Dempster, though it also has key practitioners in Washington DC, Raleigh and Philadelphia. Clients have singled out Lisa Kabnick in particular as a star performer in the Philadelphia office.
Practice head(s):
Harris Winsberg; Hazen Dempster
Other key lawyers:
Bradley Boericke; Ann Brown; Hazen Dempster; Lisa Kabnick
Testimonials
'Lisa Kabnick is our primary contact at Troutman Pepper and she is our legal Fairy Godmother.'
'Act as a true and trusted partner, not transactional.'
'Lisa Kabnick knows the resources which are available at the firm and she does an excellent job of matching our needs with their skill sets as well as their personalities.'
'Troutman Pepper has an exceptional ability to mobilize quickly and adjust staffing dynamically at all times through the process. This yields an end result that is very thoughtful and efficiently developed, a strong value proposition. Troutman's attorneys are universally pragmatic and are well trained to identify risks and gaps. For capabilities that are not readily available in-house, partners have a wide network of connections to outside firms whose work is integrated seamlessly. For matters with higher-than-average complexity, Troutman is my go-to firm, as I trust the quality of their work and the value of how they deliver it.'
'Lisa Kabnick is a gifted attorney and businesswoman who understands trade-offs and never loses sight of the desired end state. She is tireless and cultivates great associates who allow her to tackle massive volumes of complex work.'
Key clients
Resolute Forest Products, Inc.
Baudax Bio, Inc.
AGCO Corporation
Truist Bank
Southern Company Gas
Israel Discount Bank of New York (IDB Bank)
Fifth Third Bank
CIBC Bank USA
Wells Fargo Trade Capital
Mangrove Equity Partner
Troutman Pepper is recognized for its expertise in renewable energy projects, and is particularly well-versed in complex tax equity financings, advising both investors and sponsors on structuring sale-leasebacks, partnership-flip transactions and lease pass-throughs. The team is particularly strong in the battery storage industry, where it advises on financing strategies involving investment tax credit monetization in relation to storage developments. Contacts in the team include practice co-head John Leonti in Los Angeles and New York-based Craig Kline, who jointly leads the team alongside Leonti. Hayden Baker is also recommended in New York. From Portland, Adam Kobos focuses on advising utilities companies, developers and sponsors in the renewables market, while Christine Byrnes in Orange County is developing expertise in tax equity partnership and lease investment structures.
Other key lawyers:
Christine Byrnes; Hayden Baker Adam Kobos
Key clients
Duke Energy Renewables
Southern Power Company
Wells Fargo
Broad Reach Power
NextEra Energy Resources
Fifth Third Bank
Competitive Power Ventures
Geronimo Energy (National Grid)
The Huntington National Bank
Spruce Finance
EDF Renewable Energy
Consolidated Edison Development, Inc.
Dominion Energy
BNRG Renewables
Generate Capital, Inc.
Leandlease Energy Development LLC
M&T Bank
I Squared Capital
Troutman Pepper >
Firm Profile
The firm: Troutman Pepper is a national law firm known for its higher commitment to client care. With more than 1,200 attorneys across 23 US cities, the firm partners with clients across every industry sector to help them achieve their business goals. Read more about the firm's litigation, transactional, and regulatory practices at troutman.com
Main areas of practice:

Capital projects and infrastructure: From high-stakes, transformative deals to smaller investments, the firm facilitates capital and infrastructure projects for investors, utilities, sponsors, private investment funds, lenders, developers and other stakeholders. The team's pragmatic and comprehensive approach helps clients identify, nurture and manage bankable ventures.
Construction: For decades, Troutman Pepper's nationally recognized construction practice has been quickly and effectively handling large, complex problems in a wide range of transactional, project management, and litigation matters. This multifaceted team of attorneys counsel clients on some of the largest, most sophisticated construction projects in the world, handling complex cases in federal and state courts nationwide and in domestic and international arbitration forums.
Consumer financial services: Clients in the financial services industries depend on the firm's top-ranked, national team to resolve litigation, provide regulatory guidance and assist with investigations and actions initiated by government agencies. This team of compliance, litigation, and enforcement attorneys work together in one multi-disciplinary practice to bring a holistic view of the problem drawing upon specialized knowledge, practical guidance and advice of multiple attorneys.
Corporate: Consistently recognized as a top-tier practice, the firm's corporate lawyers regularly handle multi-million- and multi-billion-dollar transactions. The team utilizes a deep understanding of clients' businesses and the competitive markets in which they operate to help them achieve their objectives.
Cybersecurity, information governance and privacy: The firm's national team effectively guides clients through the many challenges involved with their use of technology in their businesses, including the collection and use of regulated information. The team combines its core strengths in regulatory compliance, litigation and corporate law to work with clients to develop innovative and thoughtful frameworks to address potential and actual threats to the security of their data and to mitigate the impact of disputes and government investigations.
eDiscovery and data management: The eMerge team offers clients integrated technology and legal solutions to address complex data-driven problems in litigation, transactional and compliance matters, and government investigations. This innovative team of technology-focused attorneys and technologists collaborate to achieve maximum effectiveness and optimal outcomes.
Employee benefits and executive compensation: The employee benefits and executive compensation attorneys provide employers with practical and creative legal counsel. Together with the firm's enrolled employee plan agents, the team advises clients on the complex issues arising in connection with the design, administration, defense and termination of employee compensation and benefit plans and arrangements.
Energy: Ranked nationally as a top-tier practice, the firm proactively identifies and manages the challenges posed by both federal and state regulations for utilities and other major stakeholders. The firm works closely with clients to develop innovative solutions to their most pressing business challenges and have handled matters with outcomes that have, or will, alter how energy is valued, distributed, stored and sold.
Environmental and  natural resources: The firm's environmental and natural resources attorneys are strategically located in major markets across the United States, and it has handled matters in all 50 states. This team comprises attorneys with valuable government, industry and technical experience, which provides a unique perspective to address the rapidly evolving federal, state and local environmental issues that clients face on a day-to-day basis.
Finance: Regional, national and global lenders, borrowers and other stakeholders turn to the firm's finance attorneys for a wide range of matters, from financing new opportunities to evaluating and implementing restructuring and workout strategies. The team's comprehensive experience enables it to determine the most beneficial course of action for clients, no matter what challenges they face.
Financial restructuring and insolvency: The firm provides clients with creative solutions in financial restructuring and insolvency matters, that prioritize recovery or return on investment. Because this restructuring team works hand in glove with the firm's finance and corporate attorneys, the firm understands the underpinnings of financial and corporate transactions and offer tools to reduce crises or prevent them from arising.
Government and regulatory: The firm's counsel clients in a wide range of legal and public policy matters. For businesses in heavily regulated industries, such as telecommunications, healthcare and insurance, the team offers guidance on compliance and reporting as well as, when necessary, litigation and administrative appeals around regulatory enforcement actions. This experience in government allows the firm's practice to advocate for clients in a wide spectrum of matters because the firm's attorneys understand how the governmental body will perceive the issue or dispute the matter.
Health sciences: Troutman Pepper has a long track record of helping health sciences clients achieve remarkable successes. From the discovery of breakthrough therapies to improving the delivery of patient care, this team supports clients' business goals while guiding them through the unique and ever-changing complexities of the industry.
Insurance and reinsurance: As trusted counsel to insurance companies around the world, our highest priority is to manage risk and resolve matters as efficiently as possible for clients. The firm is widely recognized for representing insurers on some of the toughest matters they face, including complex claims and high-exposure coverage and reinsurance issues.
Intellectual property: This nationally ranked team of attorneys, patent agents and other professionals provides counsel on the development, acquisition, management and monetisation of a company's most important assets: their intellectual property. The firm helps its clients bring their groundbreaking advancements to market across many disciplines, including healthcare products that improve and save lives, mechanical innovations that streamline processes, and high-tech goods that create new global markets.
International: The firm serves its global clients no matter where opportunity leads them. Troutman Pepper's diverse, multidisciplinary approach and long history of cross-border and international experience allows it to deliver integrated legal and commercial solutions to business challenges wherever they arise.
Labor and employment: The firm's labor and employment practice has extensive experience handling the most sensitive workplace employment matters so that clients can focus on running their businesses. From international media companies to local restaurants, clients rely on Troutman Pepper to provide counsel on all types of labor and employment law matters.
Litigation: Whether it is handling high-stakes, bet-the-company cases, sensitive government investigations or complex insurance coverage cases, the firm's attorneys commit to knowing clients' goals from the outset and helping them most efficiently achieve them. The firm's litigators effectively advocate for clients because they prioritize finding the best possible outcome and developing a strategy to achieve that result.
Lobbying and public affairs: The firm's lobbying and public affairs arm, Troutman Sanders Strategies (TSS), is strongly committed to clients, working with and not just for them. Leveraging more than 150 years of cumulative experience, TSS works to identify legislative and regulatory barriers to help craft plans to generate solutions and positive results.
Multifamily housing finance: With unparalleled industry insight and proficiency, the firm helps lenders structure, negotiate, close and service loans that are sold to secondary market investors. Troutman Pepper provides dedicated resources for servicing needs and for deals within the Freddie Mac Small Balance Loan (SBL) and Fannie Mae Small Loan programs.
Private equity: The firm advise private equity clients in the full range of investments and dispositions encountered in the life cycle of an investment fund. Clients benefit from the team's diverse industry experience, including technology, media, telecommunications, manufacturing, retail, energy, healthcare, biotechnology and life sciences, and finance.
Private wealth management: At the firm, family matters are as important as any corporate transaction. The private wealth management practice provides solution-oriented estate planning and related legal services to individuals from across the United States and around the world.
Real estate: Clients continually call on this team for complex real estate transactions because they know that the firm makes their business goals a priority. The firm seamlessly delivers real-time, innovative solutions to help them identify real estate opportunities, increase efficiencies and minimise risk. State Attorneys General All major businesses that deal with consumers face the possibility of close scrutiny from state attorneys general, the Consumer Financial Protection Bureau (CFPB), the Federal Trade Commission (FTC), the Department of Justice (DOJ) and other state and federal regulatory authorities. This team has handled investigations involving all 50 states, and it combines the team's legal acumen with the firm's firsthand experience resolving matters with state attorneys general across the country to bring order to the chaos.
Tax: The firm's tax practice is different from that of most major law firms – the team goes beyond just answering tax questions by providing independent, practical advice, tailored to each client's local and global business objectives. The firm's tax counseling is informed by the team's understanding of the 'big picture,' including the impact of the team's advice on client financial statements.
Technology and venture lending: While the firm prides itself on its extensive knowledge of evolving terms, trends and practices, the firm's main priorities are to advise its lender clients of the risks and benefits of changes to terms and structures, offer them practical solutions, and work with their borrowers to ensure that clients develop and maintain a strong cooperative working relationship with their own clients. Over the past 20 years, this tech lending team has represented lenders in tech lending transactions in excess of $17bn, making it one of the premier practices in the country focusing on financing transactions for early- and late-stage technology companies.
White-collar and government investigations: The white-collar and government investigations team includes former government prosecutors, in-house compliance counsel and seasoned white-collar defense attorneys who proactively resolve sensitive government investigations and proceedings. Drawing upon the firm's significant experience, the team guides clients through an often unfamiliar and complex process.
Chair: Steve Lewis
Vice chair: Tom Gallagher
Managing partner: Tom Cole
Chair, partner compensation committee: Andrea Farley
Top Tier Firm Rankings
Firm Rankings