Firm Profile > Troutman Pepper > Philadelphia, United States
Troutman Pepper
Offices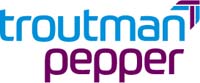 Troutman Pepper
3000 Two Logan Square, Eighteenth and Arch Streets
Philadelphia, Pennsylvania 19103-2799
United States
Troutman Pepper > The Legal 500
Rankings
Acting for pharmaceutical, medical device and health sciences companies, Troutman Pepper has broad-based expertise in litigation, with mass torts being a particular strength. The firm also provides counseling at every stage of the R&D process, including risk evaluation, and related fields of regulatory compliance, clinical trials, marketing and IP protection. Philadelphia-based Barry Boise has experience defending contested product liability litigation, state attorney general litigation, multi-state investigations and consumer fraud litigation. The New York team was strengthened in 2019 by the arrival of healthcare, science and IP specialists Michael Goldman, Gunnar Leinberg and Andrew Zappia from LeClairRyan. Additionally, the Detroit office was boosted by the arrival of Serene Katranji, who joined from Seyburn Kahn, P.C. in 2019.
Other key lawyers:
Key clients
GlaxoSmithKline
Eli Lilly and Company
Medtronic
National Football League
CertainTeed Corporation
Johnson & Johnson
C.R. Bard
Collegium Pharmaceutical
LivaNova
Sun Pharmaceutical Industries
Troutman Pepper has a highly developed FERC practice thanks to the expertise of highly praised Washington DC partner Amie Colby and her wider team. The group is also noted for its hydropower experience and regulatory experience before multiple state utility commissions. In Atlanta, Brandon Marzo frequently represents clients before state commissions in Georgia and the Carolinas.
Practice head(s):
Key clients
Consolidated Edison Energy
PacifiCorp
Georgia Power
Southern Company
Dominion Energy
Duke Energy Progress
Louisville Gas & Electric
Public Service Company of New Mexico
City of Seattle
WEC Energy
Wisconsin Electric Power
Chelan County Public Utility District
Grand River Dam Authority
NorthWestern Energy
The construction practice at Troutman Pepper concentrates on disputes work, both in federal or state court and arbitration forums. Michael Subak chairs the practice from Philadelphia, where he represents owners, construction managers and subcontractors in significant capital projects across the energy, infrastructure and commercial development sectors. Pittsburgh-based Albert Bates and Ralph Finizio provide strong support, along with Marion Hack in Los Angeles.
Practice head(s):
Other key lawyers:
Troutman Pepper comes highly recommended for its cradle-to-grave expertise in renewables projects. The firm has strong teams working out of Los Angeles and New York, with the west coast lawyers perhaps more weighted to the sponsor side, and the east coast lawyers weighted towards the lenders. The team is ultimately praised for its full service offering that encompasses greenfield project finance and tax equity investments, as well as latter stage refinancings, acquisitions, and divestments. Among the partners, Los Angeles-based co-head John Leonti is noted for his  handle on related financial derivatives work, while his New York based co-head Craig Kline has a strong focus on structured finance and tax equity. Other key individuals include New York's Hayden Baker and associate Vaughn Morrison, and up-and-coming partner Christine Bynes in Los Angeles.
Practice head(s):
Other key lawyers:
Testimonials
'The team has great experience with the renewables power sector from all perspectives – advising owners, tax equity investors and lenders. Further, the team has been adding capabilities as the market evolves from utility PPAs to other means of securing project revenues. These new methods come with their own challenges and the Troutman Sanders team is staying ahead of the trends'
'The Troutman team has been universally supportive of our corporate growth and consistently demonstrate their comfort across a wide breadth of legal practices including international renewable energy contracts, financing and complex corporate matters. Equally important; they are fair and flexible when it comes to fees and are open to working within the unnatural rhythm of the project development cycle'
'Experienced, client focused and willing to step out of the way to educate and help clients about issues'
'Very business friendly, diligent and smart. Customers like them'
'Craig Kline and his team represent the gold standard in renewable energy counsel. Together, with John Leonti, the partners pack a punch. Equally impressive are the associates, namely Vaughn Morrison'
Key clients
Southern Power Company
Wells Fargo Bank, NA
EDF Renewable Energy
Consolidated Edison Development
Cypress Creek Renewables
Dominion Energy
Fifth Third Bank
BNRG Renewables
M&T Bank
Geronimo Energy
Generate Capital
Leandlease Energy Development
JP Morgan
The Huntington National Bank
NextEra Energy Resources
Solar Liberty
I Squared Capital
Duke Energy Renewables
Troutman Pepper is highly rated for its connections to the oil and gas pipeline industry and its work on storage, terminal and LNG facilities. The practice advises a significant number of oil and gas pipeline companies, and has experience in the LNG and terminal storage facilities sector; it also has expertise in obtaining FERC authorizations, tariff and rate cases, FERC enforcement proceedings and FERC rule making mandates. Atlanta partner Catherine Little is rated for storage, terminal and LNG facilities regulatory compliance and enforcement defense mandates, Washington DC's Lisanne Crowley specialises in the federal regulation of natural gas, and Amie Colby leads the regulatory and finance department from DC.
Practice head(s):
Other key lawyers:
Testimonials
'Very broad knowledge and experience base covering all areas of our needs including electric, natural gas and hydro.'
'Quick to respond to one-off questions and formal engagements. Very willing to bring in other in house experts if issues are better served by others.'
Key clients
Enbridge
Energy Transfer
SCG/SCANA Group
Iroquois Gas Transmission System
Upper Midwest Shipper Group
Enterprise Products
The Williams Companies / Transco
WEC Energy Group
Spire
Southern Company Gas
DCP Midstream
Troutman Pepper has 'great experience within the renewables power sector from all perspectives - advising owners, tax equity investors and lenders' on their transactional and operational work across solar, hydropower and wind projects. Incorporating a multi-disciplinary approach across corporate, financing, tax and regulatory competences, the team has a 'depth of knowledge and experience' across utility-scale projects and customer-sited distributed generation. John Leonti and Craig Kline co-head the team out of Orange County and New York, respectively, with Leonti providing niche expertise in relation to hedge transactions utilizing renewables-related financial derivatives.
Practice head(s):
Other key lawyers:
Testimonials
The firm has a depth of knowledge and experience in handling situations as the transaction progresses.
The team has a clear grasp of practical ways to solve issues.
It has great experience within the renewables power sector from all perspective – advising owners, tax equity investors and lenders.
The team has been adding capabilities as the market evolves from utility PPAs to other means of securing project revenues. These new methods come with their own challenges and the Troutman Sanders team is staying ahead of the trends.
Key clients
Southern Power Company
Wells Fargo Bank
EDF Renewable Energy
Consolidated Edison  Development, Inc.
Cypress Creek Renewables
Dominion Energy
Fifth Third Bank
BNRG Renewables
M&T Bank
Geronimo Energy
Generate Capital, Inc.
Leandlease Energy Development
JP Morgan
The Huntington National Bank
NextEra Energy Resources
National Hydropower Association
I Squared Capital
Duke Energy Renewables
Berkshire Hathaway Energy Company
Avangrid Renewables
PacifiCorp
Combining strong trial capabilities with thorough environmental experience, Pillsbury Winthrop Shaw Pittman LLP provides legal support to domestic and international clients from a range of sectors, namely chemical manufacturing, mining, energy, public utilities as well as wastewater treatment. The firm fields a strong environmental appeals team, and is proficient in cost recovery actions, air and water pollution control, Superfund and toxic tort litigation, as well as matters involving endangered species and climate change issues. Based in Los Angeles, Mark Elliott chairs the nationwide environmental practice. Elliot's experience covers Proposition 65, CEQA as well as property contamination, toxic torts and the Clean Water Act. Co-head Jeffrey Knight specializes in litigation under the Clean Water Act and Clean Air Act; he is based in Washington DC. The practice is also overseen by Margaret Rosegay in San Francisco and Amanda Halter in Houston. Cross-border contamination cases are an area of focus for Austin-based Christopher McNevin; while Matthew Morrison is a name to note in the DC office for enforcement defense. Enforcement actions are also an area of strength for Michael McDonough, who is based in Los Angeles.
Working in close cooperation with the firm-wide regulatory team, Troutman Pepper's environmental litigation and toxic tort practice acts for clients across a range of industries. Citizen suits, mass tort, class actions and enforcement defense are all typical mandates for the department, which has a proven track record in environmental litigation involving climate change, the Clean Air Act, RCRA and Clean Water Act. Atlanta-based Catherine Little and Fitzgerald Veira jointly lead the team, which also includes Brooks Smith in the Richmond office and Kevin Desharnais in Chicago.
Practice head(s):
Other key lawyers:
Key clients
TopBuild
Arkema
Chesapeake Energy
DuPont
Waste Management
Chevron Corporation
Valero Energy Corporation
BAE Systems
Teck Metals
Western States Petroleum Association
Other key lawyers:
Key clients
Dominion Energy
PacifiCorp
Deere and Company
National Mining Association
City of Fort Lauderdale, Florida
Red River Coal Company
Virginia Coal and Energy Alliance
Remet Corporation
Southern Company; Georgia Power
Murray Energy
Republic Services
Southern Mills (d/b/a TenCate Protective Fabrics)
WASCO
Based in Atlanta, Troutman Pepper advises domestic and international corporates, trade associations, non-profits and municipal bodies on a huge range of compliance and enforcement matters. The team has a broad service offering covering regulatory issues associated with waste water and retail waste management, as well as climate change and endangered species issues. Catherine Little oversees the practice alongside Fitzgerald Veira, who specializes in environmental and nuclear regulatory matters involving the Clean Water Act and NEPA. Randy Brogdon is the name to note for environmental compliance at federal, state and local level, while Byron Kirkpatrick is a contact for environmental policy, permitting and enforcement matters.
Other key lawyers:
Key clients
Arizona Attorney General
Atlantic Coast Pipeline (Dominion Energy)
Delta Air Lines
Enbridge
Corporate Environmental Enforcement Council (CEEC)
Grand River Dam Authority
Kiewit Corporation
SUEZ Environment North America
Deere and Company
PacifiCorp
Georgia Power Company
Mar-Jac Poultry
MFG Chemical
Troutman Pepper stands out in particular for its experience advising oil and natural gas pipeline companies. Indeed, the team is often called upon to act as lead environmental counsel in renewable power projects across the country, counseling on environment and climate change issues surrounding development, acquisitions, financing, among others. The nationwide environmental and natural resources practice is jointly led by Catherine Little and Fitzgerald Veira, both in Atlanta. Other key figures include Raleigh-based Sean Sullivan, who focuses on areas such as brownfield redevelopment, in addition to environmental compliance and transactional due diligence; and Andrew Perel in New York, who advises on environmental risk management and compliance matters.
Other key lawyers:
Testimonials
'The Environmental group is creative and adaptable.  Most issues that arise are not black and white and I have had positive outcomes as a result of this group's ability to utilize resources within the firm to provide practical approaches to complex matters.'
'Sean Sullivan and Lisa Zak make a great team.  Working with both of them has been a pleasure and a true team effort.'
Key clients
Consolidated Edison Development
I Squared Capital
UBS
Societe Generale Corporate and Investment Banking – SGCIB
Resource Environmental Solutions
Duke Energy Renewables
Troutman Pepper handles D&O liability claims involving securities and derivative litigation, professional liability coverage, hedge fund and financial institution claims, and high damages employment matters, in addition to ERISA, antitrust, and bankruptcy litigation. The team has handled coverage matters arising from opioids, tobacco, asbestos, soccer concussions, and environmental contamination. Richard Pratt, who focuses on litigation and counseling for insurers in mass tort lawsuits,  jointly leads the practice with professional liability expert Charles Jones. Both are based in Washington DC, though the group also has offices in New York and Orange County.
Practice head(s):
Other key lawyers:
Key clients
Farmers New World Life Insurance Group
Osprey Underwriting Agency
Beazley
AXA XL
Starr Surplus Lines
Zurich
Chubb
XL Catlin
ACE Europe
Lloyd's of London
Troutman Pepper handles leasing deals in relation to office and industrial properties, in addition to retail leases, including those at shopping centers. Ground leases and sale-leaseback transactions are a further strength, as are acquisitions and dispositions of office, hotel and resort, mixed-use and multi-family properties. Headed by Anthony Greene in Atlanta, the team also has core expertise in development agreements, portfolio management and operation and build-to-suit transactions.
Practice head(s):
Other key lawyers:
Key clients
Cousins Properties
Crescent Communities
PacifiCorp
Walnut Hill Capital
Spectrum Properties
Korea Post
Interwest Capital
Domestic Value-Add Fund
German Pension Fund
Trinity Capital Partners
Parkway Properties
Copper River Country Club/The Tatham Family
Troutman Pepper >
Firm Profile
Chair: Steve Lewis
Vice Chair: Tom Gallagher
Managing Partner: Tom Cole
Chair, Partner Compensation Committee: Andrea Farley
Firm Overview:
Troutman Pepper is a national law firm known for its higher commitment to client care. With more than 1,200 attorneys across 23 US cities, the firm partners with clients across every industry sector to help them achieve their business goals. Read more about the firm's litigation, transactional, and regulatory practices at troutman.com
Main Areas of Practice:
Capital Projects & Infrastructure:
From high-stakes, transformative deals to smaller investments, the firm facilitates capital and infrastructure projects for investors, utilities, sponsors, private investment funds, lenders, developers and other stakeholders. The team's pragmatic and comprehensive approach helps clients identify, nurture and manage bankable ventures.
Construction:
For decades, Troutman Pepper's nationally recognized construction practice has been quickly and effectively handling large, complex problems in a wide range of transactional, project management, and litigation matters. This multifaceted team of attorneys counsel clients on some of the largest, most sophisticated construction projects in the world, handling complex cases in federal and state courts nationwide and in domestic and international arbitration forums.
Consumer Financial Services:
Clients in the financial services industries depend on the firm's top-ranked, national team to resolve litigation, provide regulatory guidance and assist with investigations and actions initiated by government agencies. This team of compliance, litigation, and enforcement attorneys work together in one multi-disciplinary practice to bring a holistic view of the problem drawing upon specialized knowledge, practical guidance and advice of multiple attorneys.
Corporate:
Consistently recognized as a top-tier practice, the firm's corporate lawyers regularly handle multi-million- and multi-billion-dollar transactions. The team utilizes a deep understanding of clients' businesses and the competitive markets in which they operate to help them achieve their objectives.
Cybersecurity, Information Governance & Privacy:
The firm's national team effectively guides clients through the many challenges involved with their use of technology in their businesses, including the collection and use of regulated information. The team combines its core strengths in regulatory compliance, litigation and corporate law to work with clients to develop innovative and thoughtful frameworks to address potential and actual threats to the security of their data and to mitigate the impact of disputes and government investigations.
eDiscovery & Data Management:
The eMerge team offers clients integrated technology and legal solutions to address complex data-driven problems in litigation, transactional and compliance matters, and government investigations. This innovative team of technology-focused attorneys and technologists collaborate to achieve maximum effectiveness and optimal outcomes.
Employee Benefits & Executive Compensation:
The employee benefits and executive compensation attorneys provide employers with practical and creative legal counsel. Together with the firm's enrolled employee plan agents, the team advises clients on the complex issues arising in connection with the design, administration, defense and termination of employee compensation and benefit plans and arrangements.
Energy:
Ranked nationally as a top-tier practice, the firm proactively identifies and manages the challenges posed by both federal and state regulations for utilities and other major stakeholders. The firm works closely with clients to develop innovative solutions to their most pressing business challenges and have handled matters with outcomes that have, or will, alter how energy is valued, distributed, stored and sold.
Environmental & Natural Resources:
The firm's environmental and natural resources attorneys are strategically located in major markets across the United States, and it has handled matters in all 50 states. This team comprises attorneys with valuable government, industry and technical experience, which provides a unique perspective to address the rapidly evolving federal, state and local environmental issues that clients face on a day-to-day basis.
Finance:
Regional, national and global lenders, borrowers and other stakeholders turn to the firm's finance attorneys for a wide range of matters, from financing new opportunities to evaluating and implementing restructuring and workout strategies. The team's comprehensive experience enables it to determine the most beneficial course of action for clients, no matter what challenges they face.
Financial Restructuring & Insolvency:
The firm provides clients with creative solutions in financial restructuring and insolvency matters, that prioritize recovery or return on investment. Because this restructuring team works hand in glove with the firm's finance and corporate attorneys, the firm understands the underpinnings of financial and corporate transactions and offer tools to reduce crises or prevent them from arising.
Government & Regulatory:
The firm's counsel clients in a wide range of legal and public policy matters. For businesses in heavily regulated industries, such as telecommunications, healthcare and insurance, the team offers guidance on compliance and reporting as well as, when necessary, litigation and administrative appeals around regulatory enforcement actions. This experience in government allows the firm's practice to advocate for clients in a wide spectrum of matters because the firm's attorneys understand how the governmental body will perceive the issue or dispute the matter.
Health Sciences:
Troutman Pepper has a long track record of helping health sciences clients achieve remarkable successes. From the discovery of breakthrough therapies to improving the delivery of patient care, this team supports clients' business goals while guiding them through the unique and ever-changing complexities of the industry.
Insurance & Reinsurance:
As trusted counsel to insurance companies around the world, our highest priority is to manage risk and resolve matters as efficiently as possible for clients. The firm is widely recognized for representing insurers on some of the toughest matters they face, including complex claims and high-exposure coverage and reinsurance issues.
Intellectual Property:
This nationally ranked team of attorneys, patent agents and other professionals provides counsel on the development, acquisition, management and monetisation of a company's most important assets: their intellectual property. The firm helps its clients bring their groundbreaking advancements to market across many disciplines, including healthcare products that improve and save lives, mechanical innovations that streamline processes, and high-tech goods that create new global markets.
International:
The firm serves its global clients no matter where opportunity leads them. Troutman Pepper's diverse, multidisciplinary approach and long history of cross-border and international experience allows it to deliver integrated legal and commercial solutions to business challenges wherever they arise.
Labor & Employment:
The firm's labor and employment practice has extensive experience handling the most sensitive workplace employment matters so that clients can focus on running their businesses. From international media companies to local restaurants, clients rely on Troutman Pepper to provide counsel on all types of labor and employment law matters.
Litigation:
Whether it is handling high-stakes, bet-the-company cases, sensitive government investigations or complex insurance coverage cases, the firm's attorneys commit to knowing clients' goals from the outset and helping them most efficiently achieve them. The firm's litigators effectively advocate for clients because they prioritize finding the best possible outcome and developing a strategy to achieve that result.
Lobbying & Public Affairs:
The firm's lobbying and public affairs arm, Troutman Sanders Strategies (TSS), is strongly committed to clients, working with and not just for them. Leveraging more than 150 years of cumulative experience, TSS works to identify legislative and regulatory barriers to help craft plans to generate solutions and positive results.
Multifamily Housing Finance:
With unparalleled industry insight and proficiency, the firm helps lenders structure, negotiate, close and service loans that are sold to secondary market investors. Troutman Pepper provides dedicated resources for servicing needs and for deals within the Freddie Mac Small Balance Loan (SBL) and Fannie Mae Small Loan programs.
Private Equity:
The firm advise private equity clients in the full range of investments and dispositions encountered in the life cycle of an investment fund. Clients benefit from the team's diverse industry experience, including technology, media, telecommunications, manufacturing, retail, energy, healthcare, biotechnology and life sciences, and finance.
Private Wealth Management:
At the firm, family matters are as important as any corporate transaction. The private wealth management practice provides solution-oriented estate planning and related legal services to individuals from across the United States and around the world.
Real Estate:
Clients continually call on this team for complex real estate transactions because they know that the firm makes their business goals a priority. The firm seamlessly delivers real-time, innovative solutions to help them identify real estate opportunities, increase efficiencies and minimise risk. State Attorneys General All major businesses that deal with consumers face the possibility of close scrutiny from state attorneys general, the Consumer Financial Protection Bureau (CFPB), the Federal Trade Commission (FTC), the Department of Justice (DOJ) and other state and federal regulatory authorities. This team has handled investigations involving all 50 states, and it combines the team's legal acumen with the firm's firsthand experience resolving matters with state attorneys general across the country to bring order to the chaos.
Tax:
The firm's tax practice is different from that of most major law firms – the team goes beyond just answering tax questions by providing independent, practical advice, tailored to each client's local and global business objectives. The firm's tax counseling is informed by the team's understanding of the 'big picture,' including the impact of the team's advice on client financial statements.
Technology & Venture Lending:
While the firm prides itself on its extensive knowledge of evolving terms, trends and practices, the firm's main priorities are to advise its lender clients of the risks and benefits of changes to terms and structures, offer them practical solutions, and work with their borrowers to ensure that clients develop and maintain a strong cooperative working relationship with their own clients. Over the past 20 years, this tech lending team has represented lenders in tech lending transactions in excess of $17 billion, making it one of the premier practices in the country focusing on financing transactions for early- and late-stage technology companies.
White Collar & Government Investigations:
The white collar and government investigations team includes former government prosecutors, in-house compliance counsel and seasoned white-collar defense attorneys who proactively resolve sensitive government investigations and proceedings. Drawing upon the firm's significant experience, the team guides clients through an often unfamiliar and complex process.
Lawyer Profiles
| Photo | Name | Position | Profile |
| --- | --- | --- | --- |
| | Mr Barry Boise | Barry Boise's primary emphasis is the counseling and defense of pharmaceutical and medical… | View Profile |
| | Mr Sean Fahey | Sean Fahey is the chair of the firm's Health Sciences Litigation Practice.… | View Profile |
| | Ms Nina Gussack | Nina Gussack's trial practice is concentrated in civil litigation, with a primary… | View Profile |
| | Mr Michael Subak | Michael Subak is chair of the firm's Construction practice group. His practice… | View Profile |
Top Tier Firm Rankings
Firm Rankings