GQ | LITTLER > London, England > Firm Profile
GQ | LITTLER
Offices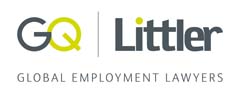 GQ | LITTLER
21 IRONMONGER LANE
LONDON
EC2V 8EY
England
GQ | LITTLER > The Legal 500
Rankings
A 'truly fantastic group of employment law specialists' at GQ | LITTLER is carving out a reputation in the employment sphere, offering the 'experience, technical expertise and quality of advice of a magic circle law firm, but with the personal touch and client-focus of a boutique firm', according to clients. Co-heading the expanding corporate support group alongside Daniel Pollard is the 'highly commercial, very strong technically' Cerys Williams, who advises on the employment considerations of M&A, financings and business restructurings. In addition to its fast-growing transactional support and advisory capabilities, the group is also instructed in investigations, disciplinary proceedings and Employment Tribunal claims. Vastly experienced litigator Paul Quain, international project expert Darren Isaacs and HR requirement specialist Richard Harvey are other names to note.
Practice head(s):
Cerys Williams; Paul Quain; Daniel Pollard; Darren Isaacs; Richard Harvey
Other key lawyers:
Philip Cameron; Raoul Parekh; Sophie Vanhegan; Hannah Mahon
Testimonials
'The GQLittler team has the experience, technical expertise and quality of advice of a magic circle law firm, but with the personal touch and client-focus of a boutique firm. They know our business exceptionally well and can almost anticipate what our legal advice needs are on any given matter. We treat GQLittler as an extension of our in-house legal team, and find their support invaluable.'
'The level of partner attention and participation is what makes the relationship with the firm especially valuable.'
'Philip Cameron, who has been our legal adviser for a number of years, has exceptional knowledge and is highly experienced in his ability to assess the issues that may arise in dealing with our various employment cases.'
'Cerys Williams is excellent; highly commercial, very strong technically, a great negotiator. She's very client delivery-focused and also great fun to work with.'
'This team has deep knowledge in the constantly changing landscape of employment law in the UK. The team took time upfront to learn our business and people processes, and were proactive in advising on the many legal changes implemented by the UK Government over the last year.'
'Raoul Parekh has a fine legal brain and gives wise strategic advice to clients in complex litigation.'
'Darren Isaacs is brilliant. He is very approachable, knowledgeable, and cares about my business and the questions and employment challenges I face. His responses and guidance are timely and thorough.'
'A truly fantastic group of employment law specialists. They are highly responsive and expert at all aspects of their sector.'
Key clients
ArgoGlobal
Commerzbank AG
CSM Bakery Solutions
E. A. Gibson Shipbrokers
Elo Touch Solutions
Morgan Sindall Group Plc
Mimecast
Olympus Corporation
Omnipresent
Overbury
Uber
Work highlights
Defending Commerzbank AG in a high-value Employment Tribunal (ET) claim (whistleblowing, sex and pregnancy and maternity discrimination, harassment and victimisation).
Advised Argo Global on the employment law implications arising from the sale of Ariel Re from the client group to Pelican Ventures and J.C. Flowers & Co for $30m.
Advised a global retailer on a high-profile project involving potential equal pay claims from a group several hundred employees.
GQ | LITTLER >
Firm Profile
GQ|Littler is a leading specialist law firm for employers. The firm was founded in 2010, based on an in-house advising style matching the risk appetite of clients and fostering a culture that prioritises inclusivity and diversity and, from the outset, a flexible and agile workplace.
GQ|Littler offers an alternative to full service firm models and bridges the gap between large, high-cost full-service firms and smaller, lower cost firms that lack the experience of dealing with complex, business-critical matters. We provide a third way – a premium international boutique. Unlike other specialist employment law firms, we are solely focused on advising large, often international, corporate clients.
Over the last 10 years the firm has gone from strength to strength attracting a team of 29 top of the class lawyers. In relation to our global capability we have expanded into Ireland by opening an office in Dublin, including the key hire of Niall Pelly who joins from a leading Irish law firm.
Furthermore, as part of Littler, the world's largest employment law firm with more than 1,600 lawyers in over 100 offices worldwide, we provide a single source solution to international businesses, including cutting-edge technology and research solutions.
In delivering legal advice we see ourselves as risk managers/business consultants as much as lawyers. We seek to identify each client's attitude to risk and internal culture and recommend practical solutions that align with these.
We offer risk-based contentious and non-contentious advice. Our legal expertise includes employment, business immigration, data privacy and employee tax and incentives. Our client base spans a wide range of sectors including financial services, technology, healthcare, professional services and luxury goods, in the UK and internationally.
GQ|Littler's ethos is to resolve complex employment law issues in a user-friendly and commercial way. As a premium boutique, the firm combines the benefits of high-quality full-service law firms with the flexibility, dynamism and personal service of a smaller firm.
In practice, this means:
Top quality, partner-led advice and a single source solution provider to global businesses
Lawyers with a proven track record of handling the most demanding and complex issues
A highly responsive service
A genuine commitment to alternative fee structures
A 'one' approach for international projects: one work product format, one invoice, one responsible partner and one coordinated fee proposal
Proven commitment to diversity with a balanced partnership team
A partnering style that focuses on each client's individual risk appetite and culture
A rewarding and liberating environment for ambitious and entrepreneurial lawyers to develop
Principal areas of work: We are experts in advising on all employment law issues from complex change projects, M&A support, business immigration, litigation (High Court and Employment Tribunal) and senior dismissals, to everyday employee relations issues.
The firm has particular expertise in relation to:
High Court litigation related to any people issues in the workplace including disputes with contractors, restrictive covenants, confidential information, poaching and team moves
High-value Employment Tribunal litigation including discrimination and whistle-blowing
Business restructuring and large-scale redundancy programmes
Trade union, industrial relations, collective bargaining and Works Council issues
Mental health in the workplace
Diversity and inclusion in the workplace (including training)
Executive/senior employee hiring and firing
Complex multi-jurisdictional HR projects
Employment law aspects of M&A transactions, outsourcing, insourcing and off-shoring
Pay and bonuses
Employee incentives and share schemes
Employment Tax, including IR35 expertise
Business Immigration
Lawyer Profiles
| Photo | Name | Position | Profile |
| --- | --- | --- | --- |
| | Caroline Baker | Caroline is one of the firm's partners having been promoted to the… | View Profile |
| | Edward Belam | Edward is a Senior Associate who covers all aspects of employment law and… | View Profile |
| | Mark Callaghan | Mark joined GQ|Littler in January 2018 as an associate, following the completion… | View Profile |
| | Philip Cameron | Philip is a partner of the firm with a wealth of experience… | View Profile |
| | Chris Coombes | Chris joined GQ|Littler in April 2020 as an associate, having trained and… | View Profile |
| | Jon Gilligan | Jon is one of the founders of GQ|Littler and its managing partner.… | View Profile |
| | Richard Harvey | Richard is a partner at GQ|Littler and co-leads the firm's international practice… | View Profile |
| | Asher Iduoze | Asher is an associate who works across a range of contentious and… | View Profile |
| | Darren Isaacs | Darren is a partner at the firm who co-leads GQ|Littler's international practice… | View Profile |
| | Nicola James | Nicola specialises in complex and international transactions including multi-jurisdictional carve outs, mergers… | View Profile |
| | Sanika Karandikar | Sanika has experience across all areas of employment law including advisory, litigation… | View Profile |
| | Laura Lobb | Laura is a partner at GQ|Littler and has over 14 years' experience… | View Profile |
| | Hannah Mahon | Hannah specialises in complex, strategically-challenging employment tribunal litigation, most recently advising a… | View Profile |
| | Deborah Margolis | Deborah specialises in employment and data protection law, having trained at Camfords… | View Profile |
| | Raoul Parekh | Raoul is one of the firm's partners. He works across all areas… | View Profile |
| | Daniel Pollard | Daniel is a partner experienced in advising on a broad range of… | View Profile |
| | Kate Potts | Kate is one of the firm's senior associates. She practices all aspects… | View Profile |
| | Paul Quain | Paul is a senior parnter of GQ|Littler and is well known in… | View Profile |
| | Josephine Rendall-Neal | Josephine regularly provides advice on employment aspects of corporate transactions and reorganisations, including… | View Profile |
| | Kate Richards | Kate is an associate who works across all areas of employment law,… | View Profile |
| | Lisa Rix | Lisa is one of the firm's senior associates. She works across all… | View Profile |
| | Ben Rouse | Ben joined GQ|Littler in September 2021 as an associate, having trained at… | View Profile |
| | Ben Smith | Ben is an associate who works across all areas of employment law… | View Profile |
| | Alison Sneddon | Alison is a Senior Associate at GQ|Littler and practises both contentious and… | View Profile |
| | Megan Todd-Jones | Megan has experience advising NHS trusts, clients in the retail, construction, financial… | View Profile |
| | Sophie Vanhegan | Sophie has extensive experience in both High Court employment litigation and cross-border… | View Profile |
| | Cerys Williams | Cerys is a partner at GQ|Littler who specialises in employment and partnership… | View Profile |
Staff Figures
Number of UK partners : 14 Number of other UK fee-earners : 12
Languages
French Irish German
Memberships
Employment Lawyers Association American Bar Association (ABA) IBA (International Bar Association) Employment Law Association of Ireland
Diversity/Community
GQ|Littler has a strong commitment to equal opportunities for all and diversity and inclusion is a fundamental part of who we are, both in the UK and worldwide as part of the wider Littler family. From our very first days as a law firm, we've believed that a culture that prioritises inclusivity leads to better outcomes – for both us and our clients, and it's why we continue to instil an atmosphere of collaboration in everything we do.
Examples of our commitment to DEI are demonstrated by the following:
Sophie Vanhegan and Hannah Mahon are co-leading Littler's Women's Leadership Initiative in
Raoul Parekh is co-founder of the Race Equality Committee (REC) of the Employment Lawyers
We participate in Littler's pride network and are leading an initiative to extend this network and other affinity groups across Littler's European offices.
We have facilitated agile working across our team for 10 years to offer our team flexibility, support a positive work-life balance whilst continuing to deliver excellent client service.
We have a number of part-time working arrangements in place.
We are working with recruitment agencies to further improve the firm's
A number of partners and associates volunteer at the Employment Tribunal Litigant in Person Support Scheme (ELIPS) clinic providing one-off advice.
We are acting pro bono in targeted cases to assist the deprived and under privileged in the community or to assist charities which support these parts of the community.
We collaborate with Doughty Street Chambers at the Legal Advice Centre in Bethnal Green, providing one-to-one employment law advice to clients of this longstanding pro bono advice centre located in Tower Hamlets.
We fundraise for the London Legal Support Trust and participate in a range of initiatives such as the Great Legal Bake, the London Legal Walk and the Pub
Culturally we aim to achieve high satisfaction scores in our annual employee survey. In our 2021 employee survey (completed by members of the team excluding Equity Partners) all respondents scored their happiness at work as eight out of ten or higher.
We have created an internal DEI committee, led by our Marketing and Operations Director to oversee our firm-wide DEI
We also work together with our global colleagues to implement various Littler diversity initiatives.
Littler is recognised for its commitment to DEI by the following organisations:
Earned 100% Corporate Equality Index rating in the Human Rights Campaign – Best Places to Work for LGBTQ Equality, 2009 –
Ranked 5 on the National Law Journal's Women in Law Scorecard 2021.
Named "Best Law Firms for Women" by Seramount (formerly Working Mother Media), 2011 – 2014, 2016-2021
Certified as a "Gold Standard Firm" by Women in Law Empowerment Forum, 2011- 2021
Ranked 6 by Vault Law 100 for Diversity for Women, 2021
Ranked 8 by Vault Law 100 for Racial & Ethnic Minorities, 2021
Ranked 8 by Vault Law 100 for Diversity for LGBTQ+, 2021
Ranked 11 by Vault Law 100 for Diversity for Individuals with Disabilities+, 2021
Recognised by Yale Law Women – Gender Equity & Family Friendliness for Diverse Leadership and Part-time Work Options, 2021
See Littler's full recognition list here.
Client Testimonials
CLIENT: Matthew Blake, Chief People Officer
COMPANY/FIRM: SThree
TESTIMONIAL:
GQ|Littler are a fantastic legal partner and add value in so many ways to our business. Richard and Raoul act as trusted advisors guiding me and colleagues on strategy and operational matters. They are responsive, flexible and have always met the objectives of the matter at hand. Having worked with many different legal firms, GQ|Littler provide me with the confidence to take a rounded view of issues and devise a strategy rather than take a piecemeal or tactical approach. I also welcome how GQ|Littler don't sit on the fence but give me a view to enable decision making.
---
CLIENT: Vicky Lefevre, Group Head of Talent
COMPANY/FIRM: ArgoGlobal
TESTIMONIAL:
Without exception every member of the GQ|Littler team that we have worked with has fit this description plus bringing a sense of humour and humanity to each problem – a must when you work with human resources. Another real differentiator is that they are connected to a global network of lawyers, who can advise when a matter has implications outside of the UK. We have used this network when establishing offices in new locations, when transferring employees from one location to another and to advise on M&A activity. GQ|Littler essentially operate as an extension of our HR team and we couldn't be happier with the support they provide.
---
CLIENT: Vanessa Markham, Assistant General Counsel
COMPANY/FIRM: Oracle
TESTIMONIAL:
I have found the GQ|Littler team to be pragmatic and commercial in their advice, with a willingness to adopt a bullish approach in line with this client's culture. I have felt very well looked after by GQ|Littler in terms of response times, knowledge sharing and a strong desire to know their client and adapt their advice accordingly. Paul Quain and Richard Harvey (both of whom I've worked closely with) have been exceptional in their flexibility to be available at short notice and get stuck into often last minute, and technically challenging matters. At the associate level, Lisa Rix shows great promise in following in the GQ|Littler partners' footsteps.
---
CLIENT: Stephanie Wing, HR Manager UK/Spain
COMPANY/FIRM: Enverus
TESTIMONIAL:
I have been working with GQ|Littler for the past 9 months after taking on a role where I was unfamiliar with UK legislation, and they have been nothing short of amazing. They are always quick to respond and provide that little bit of extra, so I fully comprehend the situation and have the knowledge to make the best decision for my employees and company. Throughout the pandemic I really appreciated receiving the COVID updates on where countries stood with regards to vaccination rates, lockdowns and if it was legal to have employees vaccinated to return to the office. I have always had a prompt response to all my questions even if it was just to say it may take a couple days to look into further. Great law firm overall and would highly recommend.
---
CLIENT: Saju Jacob, Senior Lawyer
COMPANY/FIRM: Commerzbank
TESTIMONIAL:
Understanding the law is one thing but deploying that understanding in a manner that serves both strategic and tactical goals is what makes GQ|Littler stand out. The partners at GQ have consistently exhibited this ability and it has served us well in various and difficult litigation in the course of the past year. Special mention should be made of Philip Cameron, Hannah Mahon and Paul Quain – not only are they well-versed in the law but their level of engagement is second to none. Their dedication to their work and attention to detail are faultless. The associates are immensely hard working and diligent with the result that they form the bedrock of a highly valued and respected boutique firm. Ben Smith, Lisa Rix and Mark Callaghan deserve praise.
---
CLIENT: Jonathan Ollivent, Senior Counsel Business & Product Lead | Employment EMEA
COMPANY/FIRM: Uber
TESTIMONIAL:
Over the last 18 months, the GQ|Littler team have become a material external counsel support to Uber (both the driver side of the business and to Uber Eats). During this time, Uber has been through some of the most remarkable changes in its time in the UK, including managing the Supreme Court decision on driver status; a fundamental change to the operational model and recognition of the GMB trade union. Raoul Parekh and Richard Harvey have provided support and guidance across the complex challenges during this period of groundbreaking change for Uber. Senior Associate Kate Potts has been on secondment with Uber for the last 8 months. She has been an incredible support and has become very much part of the legal team at Uber. We find all the lawyers with whom we work at GQ|Littler to be reassuringly responsive and pragmatic while providing excellent counsel and innovative pricing solutions.
---
CLIENT: Shlomit Gotlib, Deputy General Counsel, Legal Director
COMPANY/FIRM: Tosca
TESTIMONIAL:
As an in-house legal director, I very much enjoy working with GQ|Littler. Their work is always at the highest professional level but nonetheless practical from a business perspective. The firm usually assigns the same team of solicitors to provide legal advice, which contributes to the understanding of the company and streamlines the work. The firm has a lot of experience which reflects in their legal advice. The responses are always efficient, quick, and comprehensive, and also include various practical alternatives for solving a legal situation. The firm is always available until the issue is resolved. From my experience with many other law firms, I would recommend this firm to my peers.
---
CLIENT: Steve Hodgetts, Director
COMPANY/FIRM: GLAS Agency
TESTIMONIAL:
GQ|Littler assisted us most recently with a complicated Covid-related termination. The advice was clear and concise, and GLAS was satisfied with the support and assistance it received throughout the process. My main contact (Partner Hannah Mahon) is always available to assist, even at short notice. Hannah provides contacts in other jurisdictions where Littler are represented, this year it was The Netherlands. The GQ|Littler team are experts in their field and have got to know our company and its culture as a result of working together for several years. What stands out most is their responsiveness and attention to detail, always offering clear advice.
---
CLIENT: Robert Blood, Chief Legal Officer & General Counsel
COMPANY/FIRM: Candela Medical
TESTIMONIAL:
GQ|Littler (specifically Hannah Mahon), were instrumental in helping Candela craft strategies to deal with the effects of the Covid-19 pandemic on our company. GQ|Littler were able to assist us in understanding the rapidly changing UK labour regulations as well as coordinate advice for our other direct EU operations with Littler offices throughout the EU. This allowed us to rapidly take advantage of similar programs in other countries and adapt our business due to the pandemic. I enjoy working with GQ|Littler due to their ability to advise on practical risk, cost consciousness and their expert knowledge. Importantly, they understand the worth of a matter and the cost of advice and litigation and properly strike the balance between the two. We proactively seek out their advice on matters and they have become a valuable counselor to the Candela business as we continue to expand our work with them.
---
CLIENT: Alex Ferrario, UK Region Head of HR
COMPANY/FIRM: Whole Foods
TESTIMONIAL:
GQ|Littler recently instructed Whole Foods on the risk of protracted negotiations that could derail a process that had been broadly amicable. We were very satisfied with the result and were given practical support throughout to guide us through to a win-win outcome. What stands out most about GQ|Littler is their understanding of our business structure and influences on decision making. Compared to other firms, there is an absolute transparency and honesty in how advice is given, always delivered in a speedy, timely way that reflects the nature of our industry. The team are knowledgeable and with great commercial awareness. Friendly, fun and great to work with!