Firm Profile > GQ | LITTLER > London, England
GQ | LITTLER
Offices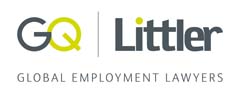 GQ | LITTLER
21 IRONMONGER LANE
LONDON
EC2V 8EY
England
GQ | LITTLER > The Legal 500
Rankings
Specialist employment law firm GQ | LITTLER is continuing to expand  its team in London, with the firm adding a key lateral hire, Cerys Williams, in late 2019 from Brahams Dutt Badrick French LLP. The firm advises on a wide range of contentious and non-contentious matters, and has recently been highly active handling investigations, disciplinary proceedings and Employment Tribunal claims for major clients with an international reach. The team is jointly headed up by name partners Paul Quain and Jon Gilligan, and the co-heads of the international practice Darren Isaacs and Richard Harvey.
Practice head(s):
Other key lawyers:
Testimonials
Knowledgeable, experienced and provide sound legal advice ensuring all options are outlined and risks are clearly understood. They are responsive, always available and will provide any support required, from advising through to drafting documents. We have used other firms but GQ are value for money and invest time in understanding our business. An excellent team with strength and depth in every aspect
Jon Gilligan is clear, concise, commercial and a genuine partner to our leaders. He makes time for us and his advice is hugely appreciated.
Sophie Vanhegan is considered and provides sound advice. She has supported us with some tricky cases and her calm approach ensures we reach the appropriate outcomes.
Paul Quain, Hannah Mahon, Philip Cameron and Lisa Rix (associate) are all excellent lawyers, have a detailed understanding of the law and provide sound advice and judgement.
Cerys Williams is fantastic to work with and is everything I look for in an adviser. She is incredibly commercial, pragmatic, knowledgeable and great fun to work with. She feels like an extension of your team and provides the full range of incredibly helpful advice and insights from individual cases through to equipping managers and leaders on the key skills they need.
They are a bespoke practice who take the time to know their clients' business and needs. They also provide additional useful information on numerous topics and provide interesting and helpful seminars where clients get the opportunity to meet other members of the team and network.
Philip Cameron is always professional, direct, helpful and his diligence is invaluable to us and has helped us on all occasions when we've needed legal input. In a nutshell he is, in our opinion, a leader in his field of expertise.
Darren Isaacs- responsive and understands the business. Commercial and precise advice. Great at working with lawyers in other jurisdictions to provide succinct advice.
GQ | LITTLER >
Firm Profile
GQ|Littler is a leading specialist law firm for employers in the UK, which recently celebrated its 10-year anniversary. Our team of 27 lawyers in London equals or exceeds the employment law capability of most full-service City firms in size, experience and expertise. We are part of Littler, the world's largest employment law firm with more than 1,600 lawyers in over 100 offices worldwide, providing a single source solution to international businesses, including cutting-edge technology and research solutions.
Offering risk-based contentious and non-contentious advice our legal expertise includes employment, immigration, data privacy and employee tax and incentives. Our client base spans a wide range of sectors including financial services, technology, healthcare, professional services and luxury goods, in the UK and internationally.
GQ|Littler's ethos is to resolve complex employment law issues in a user-friendly and commercial way. As a premium boutique, the firm combines the benefits of high-quality full-service law firms with the flexibility, dynamism and personal service of a smaller firm.
In practice, this means:
Top quality, partner-led advice and a single source solution provider to global businesses

Lawyers with a proven track record of handling the most demanding and complex issues
A highly responsive service
A genuine commitment to alternative fee structures
A 'one' approach for international projects: one work product format, one invoice, one responsible partner and one coordinated fee proposal
Proven commitment to diversity with a balanced partnership team
A partnering style that focuses on each client's individual risk appetite and culture
A rewarding and liberating environment for ambitious and entrepreneurial lawyers to develop
Principal areas of work: We are experts in advising on all employment law issues from complex change projects, M&A support, litigation (High Court and Employment Tribunal) and senior dismissals, to everyday employee relations issues.
The firm has particular expertise in relation to:
High Court litigation related to any people issues in the workplace including disputes with contractors, restrictive covenants, confidential information, poaching and team moves

High-value Employment Tribunal litigation including discrimination and whistle-blowing
Business restructuring and large-scale redundancy programmes
Trade union, industrial relations, collective bargaining and Works Council issues
Mental health in the workplace
Diversity and inclusion in the workplace (including training)
Executive/senior employee hiring and firing
Complex multi-jurisdictional HR projects
Employment law aspects of M&A transactions, outsourcing, insourcing and off-shoring
Pay and bonuses
Employee incentives and share schemes
Employment Tax, including IR35 expertise
Immigration
Lawyer Profiles
| Photo | Name | Position | Profile |
| --- | --- | --- | --- |
| | Caroline Baker | Caroline is one of the firm's partners having been promoted to the… | View Profile |
| | Dónall Breen | Dónall works across all areas of employment law including advisory, litigation and… | View Profile |
| | Mark Callaghan | Mark joined GQ|Littler in January 2018 as an associate, following the completion… | View Profile |
| | Philip Cameron | Philip is a partner of the firm with a wealth of experience… | View Profile |
| | Chris Coombes | Chris joined GQ|Littler in April 2020 as an associate, having trained and… | View Profile |
| | Jon Gilligan | Jon is one of the founders of GQ|Littler and its managing partner.… | View Profile |
| | Richard Harvey | Richard is a partner at GQ|Littler and co-leads the firm's international practice… | View Profile |
| | Darren Isaacs | Darren is a partner at the firm who co-leads GQ|Littler's international practice… | View Profile |
| | Sanika Karandikar | Sanika has experience across all areas of employment law including advisory, litigation… | View Profile |
| | Hannah Mahon | Hannah specialises in complex, strategically-challenging employment tribunal litigation, most recently advising a… | View Profile |
| | Deborah Margolis | Deborah specialises in employment and data protection law, having trained at Camfords… | View Profile |
| | Raoul Parekh | Raoul is one of the firm's partners. He works across all areas… | View Profile |
| | Daniel Pollard | Daniel is a partner experienced in advising on a broad range of… | View Profile |
| | Kate Potts | Kate is one of the firm's senior associates. She practices all aspects… | View Profile |
| | Paul Quain | Paul is a senior parnter of GQ|Littler and is well known in… | View Profile |
| | Kate Richards | Kate is an associate who works across all areas of employment law,… | View Profile |
| | Lisa Rix | Lisa is one of the firm's senior associates. She works across all… | View Profile |
| | Ben Smith | Ben is an associate who works across all areas of employment law… | View Profile |
| | Sophie Vanhegan | Sophie has extensive experience in both High Court employment litigation and cross-border… | View Profile |
| | Cerys Williams | Cerys is a partner at GQ|Littler who specialises in employment and partnership… | View Profile |
Staff Figures
Number of UK partners : 14 Number of other UK fee-earners : 12
Languages
French Irish German
Memberships
Employment Lawyers Association American Bar Association (ABA) IBA (International Bar Association) Employment Law Association of Ireland
Diversity/Community
GQ|Littler has a strong commitment to equal opportunities for all and diversity and inclusion is a fundamental part of who we are, both in the UK and worldwide as part of the wider Littler family. From our very first days as a law firm, we've believed that a culture that prioritises inclusivity leads to better outcomes – for both us and our clients, and it's why we continue to instil an atmosphere of collaboration in everything we do.
Examples of our commitment to diversity include the following:
Two of our partners have launched the Littler Women's Leadership Initiative in Europe to promote gender diversity across Littler's European offices.
We are full participants in the Littler pride network. The firm has strong LGBT representation throughout and is majority LGBT owned.
We operate a highly flexible workplace, which allows individuals to determine when they work their hours and whether they work from home or the office balancing their personal and family needs with the needs of the business. This emphasises work-life balance and makes it easier for working parents (as well as our broader workforce) to work in a way which suits them. A number of our team also have in place part-time working arrangements.
We are committed to increasing the opportunities for those in minority communities or from deprived and under-privileged backgrounds. To this end we partner with the Social Mobility Foundation (SMF) to offer a work experience scheme targeted at these groups. The SMF is a charity which aims to make a practical improvement in social mobility for young people from low-income backgrounds. The SMF opens up professions for students who have the ability to join them in the future, but who do not necessarily have the means or network to get there. They have strict eligibility criteria to ensure that only highly deserving, highly able students gain access to the programme.
A number of partners and associates volunteer at the Employment Tribunal Litigant in Person Support Scheme (ELIPS) clinic providing one-off advice. We also run a pro bono program, acting pro bono in targeted cases to assist the deprived and under privileged in the community or to assist charities which support these parts of the community. This includes acting for Women in Innovation, a women's networking organisation, where we have recently supported in the hiring of their first paid employee. We have also just begun a collaboration with Doughty Street Chambers at the Legal Advice Centre in Bethnal Green, providing one-to-one employment law advice to clients of this longstanding pro bono advice centre located in Tower Hamlets.
Annually, we fundraise for the London Legal Support Trust and participate in a range of initiatives such as the Great Legal Bake, the London Legal Walk and the Pub Quiz.
We work together with our global colleagues to implement various Littler diversity initiatives. Littler lawyers are involved in and support numerous diverse organisations (see examples here: https://www.littler.com/diversity-inclusion). Littler diversity initiatives worldwide have won multiple awards from a wide range of industry and media organisations.
Littler has recently been recognised for its commitment to diversity and inclusion by the following organisations:
Named a "Best Law Firm for Women" by Working Mother magazine for the eleventh time.
Ranked No.4 on the National Law Journal's Women in Law Scorecard 2020.
Earned 100% Corporate Equality Index rating in the Human Rights Campaign – Best Places to Work for LGBTQ Equality, 2009 – 2020.
Ranked No.1 Best Law Firms for Women, 2017 – 2019.
Named top firm for Flexible Work Options in Yale Law Women 2020.
Ranked No.5 for Diversity for Minorities 2020 in Vault Law 100. See Littler's full recognition list here.
Client Testimonials
CLIENT: Helen Mason (General Counsel)
COMPANY/FIRM: Morgan Sindall Group
TESTIMONIAL:
As is often the case, it was a sudden event of adversity which brought Philip Cameron into the business at short notice. Philip was not at all fazed by this (in fact he thrived on it) and very quickly stepped into the role as our trusted adviser and supported our HR team through the biggest set of redundancies we had ever processed, right in the midst of the Covid outbreak. He has become the 'go to' person for the division; he is responsive, commercial, technically brilliant and an asset to our team.
---
CLIENT: Saju Jacob (Senior Lawyer)
COMPANY/FIRM: Commerzbank
TESTIMONIAL:
GQ|Littler provides a boutique service which has meant continual and welcome partner involvement in complex and difficult contentious and non-contentious matters. But the manner of that involvement is what stands out: pro-active, concordant and always with the client's best interests at heart. Special mention should be made of partners Hannah Mahon, Philip Cameron and Paul Quain. Having already worked with the latter two during their time at CMS Cameron McKenna and Linklaters respectively, I have found that their wealth of experience and knowledge of the law are tremendous assets. As for Hannah Mahon, her dedication, attention to detail and quality of advice have proved themselves time and time again. The firm also relies on a number of associates and paralegals. Lisa Rix, Mark Callaghan and Ben Smith in particular have impressed with their capacity for hard work and helpfulness. Their support has undoubtedly played a significant part in the quality of the firm's service. All in all, an excellent employment law firm with partners and employees who are an absolute pleasure to work with.
---
CLIENT: Nigel Richardson (Managing Director)
COMPANY/FIRM: E.A. Gibson Shipbrokers Ltd.
TESTIMONIAL:
E.A. Gibson Shipbrokers Ltd have been using the services of Philip Cameron as our employment legal adviser and lawyer for over 14 years. During this time, we have encountered some very challenging cases, most recently these being spread over three offices worldwide. Thanks to Philip and his team, it was their skill, legal acumen and knowledge of our business, that has guided us successfully through the process. We value Philip's knowledge highly and his ability to assess the issues that may arise in dealing with our various employment cases. Philip and his colleagues at GQ|Littler have always been very helpful and friendly. They are quick to assist and provide any information we may need. With a number of overseas offices, we very much benefit from Philip and GQ|Littler finding us a legal expert in those countries. Philip has always been very accommodating and presents his advice in a clear and concise manner making our understanding of employment legalities efficient and objective.
---
CLIENT: Christopher Dollase (VP, Deputy General Counsel, Chief Compliance Officer)
COMPANY/FIRM: Mimecast
TESTIMONIAL:
As part of a larger global partnership with Littler, GQ|Littler is our "go-to" employment law advisor for the UK. Working primarily with Caroline Baker and Deborah Margolis as well as Richard Harvey, Hannah Mahon and Raoul Parekh, GQ|Littler has supported Mimecast in all aspects of UK employment law, including employee disputes, compliance matters and settlements, trainings and best practices for our HR team. The team is always incredibly responsive and provides timely advice that helps us balance the underlying legal issues with our risk profile, which leads to the right business result for Mimecast. I highly recommend the firm to other inhouse legal departments as an outstanding business partner.
---
CLIENT: Corinne Gittens-Noel (HR Business Partner)
COMPANY/FIRM: BuzzFeed
TESTIMONIAL:
Our company has had a number of unpredictable and unprecedented challenges due to Covid-19; GQ|Littler has been a Godsend during this pandemic. We have had to tackle organisational structure changes, furlough and employee relation matters. GQ|Littler provides comprehensive advice and solutions, no matter how big or small the concern is. They are extremely reliable and respond in a timely manner. Our contacts Philip Cameron and Mark Callaghan are friendly, personable and very patient! We trust their sound knowledge and judgement. GQ|Littler has been the best UK employment law firm that we have used thus far and we look forward to our continued collaboration with them.
---
CLIENT: Adam Berry (General Counsel)
COMPANY/FIRM: HotSchedules
TESTIMONIAL:
Starting this year as a company in transition, we were suddenly faced with the additional challenge of the global pandemic and needed immediate expertise from the skilful attorneys at GQ|Littler. The timely and thoughtful guidance by Deborah Margolis, Raoul Parekh, and Richard Harvey was a tremendous asset during these tumultuous times. Their ability to quickly process the changes in the UK and global employment laws and then apply it to the specific issues in our business was remarkable. They acted as a seamless extension of our legal team and helped us navigate through some very complex matters.
---
CLIENT: Alex Ferrario (UK Region Head of HR)
COMPANY/FIRM: Whole Foods Market
TESTIMONIAL:
Facing a complex and time-consuming challenge, Philip calmly analysed the relative risks. The solutions were presented in a clear manner that allowed for engagement of business stakeholders to reach a conclusion. The level of support for managers and member of the HR team facing into a problem of this nature for the first time was excellent. All commented on their confidence having grown both through and after the process. There is an appreciation for our company values and ethics.
---
CLIENT: Elizabeth Fischer (General Counsel)
COMPANY/FIRM: BitSight Technologies
TESTIMONIAL:
We are a U.S.-based company, but have a presence throughout Europe, so we do not have a Legal or HR person based in the UK and we do not have deep expertise in-house in UK employment issues. When we have HR-related issues in the UK, I know I can reach out to Darren Isaacs and I will get a quick, thoughtful and practical response that I can act on immediately. Recently, we learned that a new law was enacted and that our employment agreements in the UK were old and out of date. Darren immediately emailed me and called me to explain what was and wasn't likely to be of real concern and worked quickly to help me update our template for a new hire and create an addendum for current employees. The work was fast, efficient and something I can just roll out without edits, etc., saving me valuable time that I can spend on other issues. I refer GQ|Littler to my colleagues all the time since it's really impossible for a small legal/HR department to stay on top of laws all over the world and it's inefficient to engage a separate law firm for each issue that could come up (particularly when we frequently have only one or two employees in a jurisdiction). Having one relationship with global reach has been invaluable in enabling us to scale.
---
CLIENT: Robert Blood (Chief Legal Officer & General Counsel)
COMPANY/FIRM: Candela Medical
TESTIMONIAL:
Hannah Mahon and Deborah Margolis were instrumental in helping our company craft strategies to deal with the effects of the Covid-19 pandemic on our company. With Littler's offices and associations throughout the EU, they also coordinated similar background information and advice for our other direct EU operations so that we could rapidly adapt our business due to the pandemic. I enjoy working with GQ|Littler due to their ability to advise on practical risk, cost consciousness and their knowledge of local labour and employment regulations and processes. They are able to use their expert knowledge and wealth of experience to advise clients in an efficient manner on the practical versus theoretical risks of issues and be one step ahead in litigation matters to best position their client for a favorable resolution – whether in court or in settlement. Importantly, they understand the worth of a matter and the cost of advice and litigation and properly strike the balance between the two.
---
CLIENT: Charlene Cowen (Director| People and Wellbeing)
COMPANY/FIRM: MJ Hudson
TESTIMONIAL:
Our largest concern is how to deal with employment related issues in the most time efficient, cost effective and commercial manner when they arise. GQ|Littler provide pragmatic commercial advice that allows our business to deal and resolve such challenges. The team are friendly, efficient, reliable and always on point – it's a great comfort knowing that we are in safe hands. We have used GQ|Littler for several years so relationships with the team are strong – many feel like trusted colleagues rather than lawyers we have instructed.
---
CLIENT: Vicky Lefevre (Group Head of Talent)
COMPANY/FIRM: ArgoGlobal
TESTIMONIAL:
The UK HR team at Argo have been working with the team at GQ|Littler for over 15 years as external employment counsel and we have built a trusted working partnership through that time. The whole team can be relied upon to give commercial, pragmatic advice and are highly responsive with a quick turnaround time. They are a pleasure to work with and are almost an extension of our HR team at this point! I would not hesitate to recommend the team to any organisation for all employment law related matters.
---
CLIENT: Steve Hodgetts (CEO)
COMPANY/FIRM: GLAS Agency
TESTIMONIAL:
GLAS is an independent financial services administration company with approximately 100 employees operating from 4 locations globally. Our Human Resources function is primarily outsourced however when faced with certain difficult employee matters, we work with specialist employment lawyers which in the UK is GQ|Littler, and in particular Hannah Mahon. There have been two recent situations which Hannah has been extremely helpful in bringing to swift conclusions. She is always available to discuss the matters often at short notice and provides clear explanations and advice. One of the big advantages of working with an employment law firm like GQ|Littler is their global footprint. Hannah has proved to be very helpful in providing introductions to various GQ|Littler partners in other jurisdictions when we were looking for advice and I would have no hesitation in recommending them.
---
CLIENT: Matthew J. Cates (Senior Corporate Counsel)
COMPANY/FIRM: Epiq
TESTIMONIAL:
GQ|Littler has recently supported and advised us on several complex topics that have helped our business line further expand into the UK market. Having Raoul Parekh and Lisa Rix help us understand and navigate the nuances of regulations such as TUPE made it possible for us to operate and secure new business. Raoul and his team are experts in this area, and they took the time to understand our business' risk profile and incorporate that into their advice. Above all, Raoul and his team are extremely responsive in responding to inquiries, making them a valued partner in the UK.
---
CLIENT: Jasmine Lea (Senior HR Business Partner)
COMPANY/FIRM: Hannover Services (UK) Ltd
TESTIMONIAL:
GQ|Littler have successfully supported us through many cases and situations of varying sizes on a global scale. Their knowledge and legal acumen is second to none and the advice they give is always presented to us in a way that we understand and can practically apply as well as being commercial for the business. What makes the service even better is the fact that they know and understand the complexities of our business so well as if they were an extension of our team. We use GQ|Littler in a variety of ways, more recently they worked with us to design and deliver our workplace behaviour training which was received very well by our employees and senior leaders. They have also supported the IUA committee by delivering a lunch and learn on D&I with practical tips and advice on how the insurance industry can bring this important matter to the forefront – it is the extracurricular activities like this where the firm really go above and beyond for their clients and show their value not only to Hannover Services UK Ltd, but the insurance industry as a whole.
---
CLIENT: James Howarth (HR Director)
COMPANY/FIRM: Huntsworth Health
TESTIMONIAL:
My biggest concern when involving lawyers is always will it escalate a dispute that could otherwise have been resolved internally. The thing I value most about GQ|Littler compared to other firms is their ability to not only second guess what opposing counsel will come back with and preempt matters escalating, but also listening to what you are trying to achieve commercially and having a razor sharp read on your organisation's risk profile. The legal advice itself is a given which is reassuring and how they help you navigate the pros and cons of following what may seem to be the obvious legal path.
Top Tier Firm Rankings
Firm Rankings