GQ | LITTLER > London, England > Firm Profile
GQ | LITTLER
Offices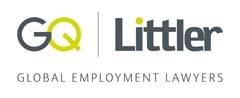 GQ | LITTLER
125 Wood Street
LONDON
EC2V 7AN
England
GQ | LITTLER > The Legal 500
Rankings
Providing '
boutique employment advice with global coverage'
GQ | LITTLER
has a deep bench of advisory expertise coupled with a history of success representing employers in litigation. As part of the Littler Global network, the firm undertakes a significant amount of cross-border mandates, and has seen an increase in instructions from US based law firms seeking UK employment advice on large scale global transactions. It also recently launched a new service offering English employment law advice in French. Early 2022 saw the arrival of partners
Laura Lobb
 and
Nicola James
, both specialising in employment aspects of international transactions. Senior litigator
Paul Quain
launched the Littler Pride network for Europe, aiming to foster and maintain an inclusive work environment for LGBTQ+ lawyers and non-lawyers alike. For transactional support,
Cerys Williams
,
Darren Isaacs
and
Daniel Pollard
are the go-to lawyers.
Raoul Parekh
and
Richard Harvey
co-lead the international employment offering.
Practice head(s):
Cerys Williams; Paul Quain; Daniel Pollard; Darren Isaacs; Richard Harvey
Other key lawyers:
Testimonials
'Undoubtedly the best boutique firm specialising in employment law for employers in London. They are creative, tenacious, and really user-friendly. They have an unbelievable following among some of the biggest corporate clients, and are involved in enormously important litigation.'
'GQ Littler is an exceptional boutique employment practice specialising in disputes involving top executives and high earners. The quality of their legal skills and strategic thinking really is first-rate.'
'A boutique firm that has the expertise and coverage of a city firm and is equally adept at employment tribunal and high court litigation as well as non-contentious advisory work. GQ Littler has recently increased its capacity in the M&A sphere and is excellent on cross-border matters.'
'Boutique employment advice with global coverage.'
'Paul Quain is an excellent performer – complete integrity and tactically astute.'
'Dan Pollard is particularly impressive on the transactional employment side. He is a great project manager with an impressive grasp of international employment issues and can get the key points quickly.'
'Cerys William in particular is superb – an experienced practitioner who is a great pleasure to work with.'
'Raoul Parekh is a superstar. One of the best solicitors in employment law around. His meteoric rise to partnership is well-deserved. '
Key clients
ArgoGlobal
Commerzbank AG
CSM Bakery Solutions
Cytel
E. A. Gibson Shipbrokers
Elo Touch Solutions
Epiq Systems
Enverus
Morgan Sindall Group Plc
Mimecast
Olympus Corporation
Omnipresent Group
Overbury
Uber
ZOLL Medical Corporation
Work highlights
Representing Elo Touch Solutions in defending a high value Employment Tribunal claim.
Defending a high value Employment Tribunal claim (whistleblowing, sex, and pregnancy and maternity discrimination, harassment and victimisation) for Commerzbank AG.
Advising the asset management division of a FTSE listed banking group in a complex redundancy situation where the potentially redundant employee has alleged race, disability and sex discrimination and bullying against her line manager.
GQ | LITTLER >
Firm Profile
GQ|Littler is a leading specialist law firm for employers. The firm was founded in 2010, based on an in-house advising style matching the risk appetite of clients and fostering a culture that prioritises inclusivity and diversity and, from the outset, a flexible and agile workplace.
We have developed a business model based solely on how best to help businesses solve employee related issues. Our model enables us to attract and retain top talent, to provide clients with greater partner involvement and to use technology solutions, providing clients with a more personal, risk-based and solutions-focused service.
Over the last 12 years the firm has gone from strength to strength attracting a team of 33 top of the class lawyers in London and a growing team in Dublin. As part of Littler, we are the largest global employment practice more than 1,700 lawyers practising across 27 countries in over 100 offices worldwide. GQ|Littler provides a single source solution to international businesses, including cutting-edge technology and research solutions.
In delivering legal advice we see ourselves as risk managers/business consultants as much as lawyers. We seek to identify each client's attitude to risk and internal culture and recommend practical solutions that align with these.
Offering risk-based advice, the firm's legal expertise includes employment (contentious and non-contentious), business immigration, data privacy, M&A support and employee tax and incentives. Our client base spans a wide range of sectors including financial services, technology, healthcare, professional services and luxury goods, in the UK and internationally.
GQ|Littler's ethos is to resolve complex employment law issues in a user-friendly and commercial way. As a premium boutique, the firm combines the benefits of high-quality full-service law firms with the flexibility, dynamism and personal service of a smaller firm.
This year we have continued to expand our transaction support practice with the appointment of two new partners and a senior associate. We work with a number of the US "white shoe" law firms who do not have employment law capability in London and outside the US on a range of large-scale global transactions, where we provide a single point of contact for all the global employment law issues on a deal.
We have also launched a new service offering English employment law advice in French; our clients can now receive legal advice in either French or English. This is a bilingual and bicultural service which benefits French clients who have a subsidiary in England or are hiring their first employee in the UK. In addition, we have launched an enhanced Data Privacy practice which has grown significantly over the past 12 months strengthening our offering to clients.
In practice, this means:
Proven commitment to diversity with a balanced partnership team
A partnering style that focuses on each client's individual risk appetite and culture
A rewarding and liberating environment for ambitious and entrepreneurial lawyers to develop
Top quality, partner-led advice and a single source solution provider to global businesses
Lawyers with a proven track record of handling the most demanding and complex issues
A genuine commitment to alternative fee structures
A 'one' approach for international projects: one work product format, one invoice, one responsible partner and one coordinated fee proposal
Principal areas of work: We are experts in advising on all employment law issues from complex change projects, M&A support, litigation (High Court and Employment Tribunal) and senior dismissals, to everyday employee relations issues. The firm also has strong business immigration, employment tax and employee incentives/share schemes expertise.
The firm has particular expertise in relation to:
Complex multi-jurisdictional HR projects
High Court litigation related to any people issues in the workplace including disputes with contractors, restrictive covenants, confidential information, poaching and team moves
High-value Employment Tribunal litigation including discrimination and whistle-blowing
Employment law aspects of M&A transactions, outsourcing, insourcing and off-shoring
Business restructuring and large-scale redundancy programmes
Executive/senior employee hiring and firing
Data protection & workplace technology
Trade union, industrial relations, collective bargaining and Works Council issues
Employee incentives and share schemes
Employment Tax, including IR35 expertise
Business Immigration
Mental health in the workplace
Diversity and inclusion in the workplace
Employment law training
Lawyer Profiles
| Photo | Name | Position | Profile |
| --- | --- | --- | --- |
| | Caroline Baker | Caroline is one of the firm's partners having been promoted to the… | View Profile |
| | Mark Callaghan | Mark joined GQ|Littler in January 2018 as an associate, following the completion… | View Profile |
| | Philip Cameron | Philip is a partner of the firm with a wealth of experience… | View Profile |
| | James Champness | James joined GQ|Littler in June 2022, having trained and qualified at leading… | View Profile |
| | Lisa Coleman | Lisa is one of the firm's senior associates. She works across all… | View Profile |
| | Lisa Coleman | Lisa is one of the firm's senior associates. She works across all… | View Profile |
| | Chris Coombes | Chris joined GQ|Littler in April 2020 as an associate, having trained and… | View Profile |
| | Jon Gilligan | Jon is one of the founders of GQ|Littler and its managing partner.… | View Profile |
| | Richard Harvey | Richard is a partner at GQ|Littler and co-leads the firm's international practice… | View Profile |
| | Darren Isaacs | Darren is a partner at the firm who co-leads GQ|Littler's international practice… | View Profile |
| | Nicola James | Nicola specialises in complex and international transactions including multi-jurisdictional carve outs, mergers… | View Profile |
| | Sanika Karandikar | Sanika has experience across all areas of employment law including advisory, litigation… | View Profile |
| | Jessica Lim | Jessica has experience working across all areas of employment law, including advisory,… | View Profile |
| | Laura Lobb | Laura is a partner at GQ|Littler and has over 14 years' experience… | View Profile |
| | Deborah Margolis | Deborah specialises in employment and data protection law, having trained at Camfords… | View Profile |
| | Raoul Parekh | Raoul is one of the firm's partners. He works across all areas… | View Profile |
| | Emily Partridge | Emily works across all areas of employment law including advisory, litigation, and… | View Profile |
| | Daniel Pollard | Daniel is a partner experienced in advising on a broad range of… | View Profile |
| | Kate Potts | Kate is one of the firm's senior associates. She practices all aspects… | View Profile |
| | Paul Quain | Paul is a senior parnter of GQ|Littler and is well known in… | View Profile |
| | Josephine Rendall-Neal | Josephine regularly provides advice on employment aspects of corporate transactions and reorganisations, including… | View Profile |
| | Kate Richards | Kate is an associate who works across all areas of employment law,… | View Profile |
| | Ben Rouse | Ben joined GQ|Littler in September 2021 as an associate, having trained at… | View Profile |
| | Ben Smith | Ben is an associate who works across all areas of employment law… | View Profile |
| | Alison Sneddon | Alison is a Senior Associate at GQ|Littler and practises both contentious and… | View Profile |
| | Megan Todd-Jones | Megan has experience advising NHS trusts, clients in the retail, construction, financial… | View Profile |
| | Sophie Vanhegan | Sophie has extensive experience in both High Court employment litigation and cross-border… | View Profile |
| | Cerys Williams | Cerys is a partner at GQ|Littler who specialises in employment and partnership… | View Profile |
Staff Figures
Number of UK partners : 15 Number of other UK fee-earners : 18
Languages
French Irish German
Memberships
Employment Lawyers Association American Bar Association (ABA) IBA (International Bar Association) Employment Law Association of Ireland
Diversity/Community
GQ|Littler has a strong commitment to equal opportunities for all and diversity and inclusion is a fundamental part of who we are, both in the UK and worldwide as part of the wider Littler family. Since our foundation, we've believed that a culture that prioritises inclusivity leads to better outcomes – for both us and our clients, and it's why we continue to instil an atmosphere of collaboration in everything we do.
Examples of our commitment to DEI and CSR are demonstrated by the following:
We have an internal DEI committee and are working with The Social Mobility Foundation and recruiters to further improve the firm's diversity.
We have formed Littler Pride Europe, a new network for LGBTQ+ staff across Littler's European offices.
We have signed up to the Halo Code initiative – a campaign seeking to end hair discrimination.
Partner Raoul Parekh is co-founder of the Race Equality Committee (REC) of the Employment Lawyers Association.
Partner Sophie Vanhegan leads Littler Europe's Littler's Women's Leadership Initiative.
All employees can spend one day a year of paid time working for a charity of their choice.
We have facilitated agile working across our team for 10 years to offer our team flexibility, support a positive work-life balance whilst continuing to deliver excellent client service.
We have a 60:40 split of female to male lawyers; 42% of our partners are female and 32% of our female lawyers are partners.
We are acting pro bono in targeted cases to assist the deprived and under privileged in the community and to assist charities which support these parts of the community.
We collaborate with Doughty Street Chambers at the Legal Advice Centre in Bethnal Green, providing one-to-one employment law advice to clients of this longstanding pro bono advice centre located in Tower Hamlets.
We fundraise for the London Legal Support Trust and participate in a range of initiatives such as the Great Legal Bake, the London Legal Walk and the Pub Quiz.
We have gone beyond carbon neutral and have signed up to a million tree pledge, planting an initial 100,000 trees in 2022.
We are reviewing all our suppliers to ensure we work only with sustainable providers.
We also work together with our global colleagues to implement various Littler diversity initiatives.
Littler is recognised for its commitment to DEI by the following organisations:
Human Rights Campaign – Best Places to Work for LGBTQ Equality, Earned 100% Corporate Equality Index Rating, 2009 – 2022
Gold Standard Certification from the Women in Law Empowerment Forum (WILEF), 2011 – 2022
The American Lawyer – Am Law 100, Named to Diversity Scorecard, 2016 – 2022
Law360 – Ranked #1 in Gender Equity & Representation in the Glass Ceiling Report – 2022
See Littler's full recognition list here.
Client Testimonials
CLIENT: Lorna Aizlewood, Chief Operating Officer and General Counsel
COMPANY/FIRM: HarrisonParrott Limited
TESTIMONIAL: GQ|Littler assisted us with a delicate situation that needed to be handled carefully with safe and secure advice. We were very satisfied with the advice the team provided which helped us to achieve an excellent outcome. What I value most about working with GQ|Littler is the firm's ability to provide clear concise and practical advice – the level of client care is excellent. I love the accessibility and the pragmatic advice – you don't get the feeling that it's just covering all bases – it is real practical advice. The team provide excellent technical advice with a real sense of commercial knowledge and real-world help.
---
CLIENT: Helen Mason, General Counsel
COMPANY/FIRM: Morgan Sindall Group
TESTIMONIAL: GQ|Littler (notably Philip Cameron) really put in the miles to spend time with us and get to know each business in our Group. Alongside Philip, Chris Coombes is a rising star, having been virtually seconded to one of our businesses for most of the year. What makes the difference is that GQ|Littler understand our business structure and the varying influences on decision making around the companies. The advice is commercial, pragmatic and always turned around very quickly which suits the way we like to handle matters. It goes without saying that the team know their stuff, but with great commercial awareness and a lot of fun to be with too!
---
CLIENT: Head of Legal
COMPANY/FIRM: Banking Client
TESTIMONIAL: I cannot fault the support and expertise provided by the GQ|Littler team. They have been instrumental in supporting our business on restrictive covenant interpretation and an array of employment matters. Their deep knowledge and understanding of our business is impressive and a differentiating factor when compared to others in being able to take a view and provide a truly tailored service offering. Sophie Vanhegan and Alison Sneddon have been exceptional in their responsiveness and flexibility to be available at short notice and their commerciality, pragmatism and technical expertise on quite complex and challenging matters is second to none. I have certainly felt very well looked after by the GQ|Littler team, they are hardworking, diligent and an absolute pleasure to work with.
---
CLIENT: Chris Booth and Paul Brazier, Group Managing Director and Group Commercial Director
COMPANY/FIRM: Overbury
TESTIMONIAL: We employ GQ|Littler through an annual retainer to provide consultative HR support and reactive HR assistance. Their partner Philip Cameron leads the team and has invested time and energy to understand our business structure and culture.  He is well known to our business heads and has forged excellent relationships, thereby allowing him to rapidly deal with situations as they arise within a trusted advisory environment. Philip and his team are engaging and responsive and conclude issues in an expedient manner. The retainer service has proven to be the perfect vehicle to integrate expert professional legal counsel within our business. This has provided a seamless service to our people. As a result, we are able to make informed rapid decisions around any personnel related matters. We value GQ|Littler and feel that they are very much part of our team.
---
CLIENT: Rebecca Wilson, Senior Manager, Human Capital
COMPANY/FIRM: Charles River Associates
TESTIMONIAL: Littler UK recently assisted with a complicated disciplinary matter and navigated the legal and business aspects outstandingly. They took time to learn about our business up front and have dedicated time training and upskilling our HR team. I most value the practical advice I receive and their ability to understand the commercial implications of complex people issues. The team at Littler UK, and Caroline Baker in particular, seem to truly care about our business while also providing exceptional expertise.
---
CLIENT: Corinne Gittens-Noel, Senior HR Business Partner
COMPANY/FIRM: tray.io
TESTIMONIAL: This is my third year partnering with GQ|Littler over two companies and their service continues to be stellar. I work specifically with Philip Cameron, Mark Callaghan and now Ben Rouse – I could not ask for better partners based on the current service. We have had a recent restructure as well as policy reviews and contractual updates that required legal counsel in a timely manner. The team is always very responsive and gives us a holistic approach to advice, from a legal standpoint but also a general HR standpoint – they provide different perspectives that enable us to make well-rounded decisions as opposed to only answering within the premise of the questions we pose.
---
CLIENT: Jessica Foster and Daphne Van de Meerssche, VP, Global Labor & Employment and Senior Counsel
COMPANY/FIRM: Moderna
TESTIMONIAL: The Littler UK team – in particular our core team of Raoul Parekh, Kate Richards and Megan Todd-Jones – has been instrumental in helping Moderna expand its global footprint across the EMEA region. The team, working as our legal project managers and advisors, has worked in close partnership to help us deliver strategic advice and record speed and approach complex problems with a true global view. We would not have been able to be as efficient or effective without their partnership.
---
CLIENT: Ian Schmiegelow, CEO
COMPANY/FIRM: Hamilton Lunn Management Services Limited
TESTIMONIAL: GQ|Littler were instructed regarding a senior management change at our Bank, a sensitive and potentially disruptive matter. The partners at GQ|Littler were practical and speedy in providing appropriate skilled advice, verbal and written, with reference to the particular difficult circumstances. They drafted suitable documentation on time despite timing pressures as well as the inconveniences of the summer holiday period. The need for complete security was achieved throughout the process thereby enabling a clean and swift conclusion to the exercise. Everything was handled professionally, pragmatically and in an extremely friendly and cooperative manner. I cannot recommend the excellence of GQ|Littler's effort on this matter more highly.
---
CLIENT: Stuart Wexler, General Counsel
COMPANY/FIRM: Capitolis
TESTIMONIAL: GQ|Littler has provided us with terrific support for our UK employment needs. They are a (sadly) rare combination of highly technically proficient, business savvy, attuned to actual market practice, service oriented and responsive, practical problem solvers, and genuinely nice people whom it is unfailingly a pleasure to deal with. We have worked with a number of different lawyers at the firm across a number of different challenging matters, and the quality has been unfailingly excellent. Would recommend them in a heartbeat. [Note: the GQ Littler Capitolis lawyer team are: Cerys Williams, Nicola James and James Champness].
---
CLIENT: Nasima Begum, HR Manager
COMPANY/FIRM: AccorInvest UK & Ireland
TESTIMONIAL: Working with GQ|Littler has been a great experience. We have received a professional and prompt service each and every time from Caroline Baker, who provides advice taking into consideration legal risks alongside commercial factors. This is the most valuable aspect of working with this firm and we have been completely satisfied with the service we received from GQ|Littler. If you are looking for a firm that will reasonably look at both sides of a case and provide you with pragmatic advice & actions, GQ|Littler is the firm I would recommend!