Firm Profile > GQ | LITTLER > London, England
GQ | LITTLER
Offices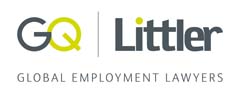 GQ | LITTLER
21 IRONMONGER LANE
LONDON
EC2V 8EY
England
GQ | LITTLER > The Legal 500
Rankings
GQ | LITTLER has continued to benefit from its inclusion in the Littler network, following GQ Employment Law's tie-up with international employment giant Littler Mendelson in 2017. On the back of that deal, international clients and cross-border mandates have become increasingly prevalent for the team. The practice handles the full range of employment work and partnership matters; practice head Paul Quain and Sophie Vanhegan are the key names for employment disputes; Darren Isaacs focuses on TUPE issues and regularly acts for US headquartered businesses; managing partner Jon Gilligan handles senior level hires and dismissals; and Richard Harvey specialises in the insurance, life sciences and retail sectors. Litigator Philip Cameron recently joined the firm from Debevoise & Plimpton LLP.
Other key lawyers:
Testimonials
'Expert advice, sound strategic guidance and strong inter-personal skills. They are a pleasure to work with.'
'In-depth knowledge of our industry sector. In dispute situations they have a great ability to extract the rational, commercial outcome.Their advice always feels well tailored to our business, concise and well-delivered.;
'They tailor their advice and guidance. They take time to understand our business and they have build strong relationships with our business leaders. They are not afraid to challenge us and provide us with practical guidance. They are proactive alerting us to forthcoming legal changes or rulings which may impact our employee framework. They are responsive and deliver a high quality output.'
'The team at GQ Littler are very friendly and professional – their knowledge of our needs as a client is excellent and they are extremely efficient in communicating with us. This is a small firm which manages to maintain a flexible response.'
'We have forged a fantastic relationship with GQ. They are not like other firms, what I love about them is their down-to-earth, realistic approach. I have worked with lawyers in the past who have a more corporate and formal approach and that just doesn't work for us, but the GQ approach definitely does.'
'The events and seminars they hold are fantastic and again are different to other events that I have experienced with other firms. They always choose trendy locations and their approach and delivery is informal, fun but yet always educational. You can tell as a team they really respect one another.'
'The fact that the team also have access to lawyers internationally is also helpful and again the quality of advice and service remains excellent. When we do work with the lawyers outside of London, the guys from London still always know what is going on.'
'Really close knit team – they work harmoniously and collegiately, in contrast to other teams I have dealt with who at times appear to compete.'
'Jon Gilligan is an exceptional employment lawyer – he gives great advice on how to practically manage difficult situations rather than just saying telling you what the law says.'
'Hannah Mahon and Paul Quain are highly dedicated and pay tremendous attention to detail. They both know employment law inside out.'
'Dan Pollard is approachable and very accessible. Dan has really gone the extra mile to provide valuable support to us. Great appreciation of our business and our risk appetite. Has built a strong relationship with senior managers who appreciate straightforward, practical support.'
'Jon Gilligan and Sophie Vanhegan are widely respected by our senior executives. Their practice has grown but they have maintained their close relationship with us. They are always contactable and turn around queries quickly and with the level of detail required.'
'Philip Cameron is an extremely professional and knowledgeable lawyer and is an asset to both GQ Littler and ourselves. He provides us with a first class service which is second to none.'
'Philip Cameron's advocacy experience helps him to be an expert in employment litigation and the provision of strategic advice.'
'Richard Harvey – always involves his team in all matters and ensures he gets their perspective and input so you can tell he is an inclusive manager who wants to develop and upskill his team. He is experienced and provides expert advice.'
'Caroline Baker is always open and honest and gets to the crux of a situation quickly. She is quick thinking and super intelligent and provides you with solutions efficiently. Her knowledge on all matters is exceptional.'
'Deborah Margolis is organised and communicative. She is always aware of what is going on within our company.'
Paul Quain is very approachable and highly balanced. He has excellent judgement.
'Hannah Mahon is direct, personable, highly effective and super efficient.' 
Key clients
Airsys Communications Technology
Buzzacott LLP
Clearbank
Commerzbank AG
DC Advisory
GC Rieber Shipping: Shearwater GeoServices (Shearwater)
Med-I-Pant UK Ltd
Mercer
Time Inc
Wilsons Solicitors LLP
GQ | LITTLER >
Firm Profile
GQ|Littler is a leading specialist law firm for employers in the UK. We are part of Littler, the world's largest employment law firm with over 1,500 lawyers in 80 offices worldwide, providing a single source solution to international businesses, including cutting-edge technology and research solutions.
Offering risk-based contentious and non-contentious advice our legal expertise includes employment, immigration, employee tax and incentives. Our client base spans a wide range of sectors including financial services, technology, healthcare, professional services and luxury goods, in the UK and internationally.
Since its launch in 2010 by ex-Linklaters lawyers Jon Gilligan and Paul Quain, we have grown to a team of 22 lawyers which equals or exceeds the employment law capability of most full-service City firms in size, experience and expertise.
Our goal is to resolve complex employment law issues in a user-friendly and commercial way. As a premium boutique, the firm combines the benefits of high-quality full-service law firms with the flexibility, dynamism and personal service of a smaller firm.
In practice, this means:
Top quality, partner-led advice and a single source solution provider to the global community seamlessly across borders

Lawyers with a proven track record of handling the most demanding and complex issues
A highly responsive service
A genuine commitment to alternative fee structures including a "one" approach which entails one format, one invoice, one responsible partner and one coordinated fee proposal
Proven commitment to diversity with a balanced partnership team
A partnering style that focuses on each client's individual risk appetite and culture
A rewarding and liberating environment for ambitious and entrepreneurial lawyers to develop
PRINCIPAL AREAS OF WORK
We are experienced in advising on all employment law issues from complex change projects, M&A support, litigation and senior dismissals, to everyday employee relations issues.
The firm has particular expertise in relation to:
High Court litigation related to any people issues in the work-place including disputes with contractors, restrictive covenants, confidential information, poaching and team moves

Diversity and inclusion in the work-place (incl. training)
High-value Employment Tribunal litigation including discrimination and whistle-blowing
Business restructuring and redundancy programmes
Mental health in the work-place
Executive/senior employee hiring and firing
International HR projects
Employment law aspects of M&A transactions, outsourcing, insourcing and off-shoring
Pay and bonuses
Employee incentives and share schemes
Employment Tax, including IR35 expertise
Immigration
Trade union, industrial relations, collective bargaining and Works Council issues
Staff Figures
Number of UK partners : 14 Number of other UK fee-earners : 8
Languages
French Irish German
Memberships
Employment Lawyers Association American Bar Association (ABA) IBA (International Bar Association)
Diversity/Community
GQ|Littler has a strong commitment to equal opportunities for all and diversity and inclusion is a fundamental part of the ethos of the firm. We celebrate diversity in all its forms. Examples of our commitment to diversity include the following:
Two of our Partners have launched the Littler Women's Leadership Initiative in Europe to promote gender diversity across Littler's European offices.
We are full participants in the Littler pride network. The firm has strong LGBT representation throughout and is majority LGBT owned.
We operate a highly flexible workplace, which allows individuals to determine when they work their hours and whether they work from home or the office balancing their personal and family needs with the needs of the business. This emphasises work-life balance and makes it easier for working parents (as well as our broader workforce) to work in a way which suits them. A number of our team also have in place part-time working arrangements.
We work together with our global colleagues to implement various Littler diversity initiatives.
We are also committed to increasing the opportunities for those in minority communities or from deprived and under-privileged backgrounds. To this end we partner with the Social Mobility Foundation (SMF) to offer a work experience scheme targeted at these groups. The SMF is a charity which aims to make a practical improvement in social mobility for young people from low-income backgrounds. The SMF opens up professions for students who have the ability to join them in the future, but who do not necessarily have the means or network to get there. They have strict eligibility criteria to ensure that only highly deserving, highly able students gain access to the programme.
We also run a pro bono program, acting pro bono in targeted cases to assist the deprived and under privileged in the community or to assist charities which support these parts of the community.
Client Testimonials
CLIENT: Hately Emma (Director, HR Operations)
COMPANY/FIRM: JLT Management Services
TESTIMONIAL: I have been working with GQ|Littler lawyers (primarily Dónall Breen & Mark Callaghan and Caroline Baker) as they have been supporting us with creating settlement agreements for a variety of employees at all levels. The speed of response has been excellent and they have provided very clear explanations where needed- especially for those who were less familiar with the legal terminology or practices. I quickly felt that we had created a good working relationship and thank them for their patience when we had last minute or multiple changes.
---
CLIENT: Sophie Browning (HR Business Partner)
COMPANY/FIRM: JLT Management Services
TESTIMONIAL:GQ|Littler have recently supported us on a reduction in force project following a large-scale acquisition. The team were approachable and responsive and always provided commercial advice with regard to any matters, big or small. The timeliness of their responses has always been appreciated and has enabled us to resolve issues quickly. They have become true trusted advisors to our business and have worked tirelessly to provide seamless support on a multitude of matters and therefore I would not hesitate to recommend them to colleagues and peers within the market.
---
CLIENT: Helen Mason (General Counsel)
COMPANY/FIRM: Morgan Sindall Group
TESTIMONIAL:Philip's advice is delivered in a very practical and commercial manner. He has a terrific range of experience and this really shows. We have used Philip to advise in relation to very high level employment matters and litigation and regularly recommend him to our industry peers.
---
CLIENT: Nigel Richardson (Managing Director)
COMPANY/FIRM: E.A.Gibson Shipbrokers Ltd.
TESTIMONIAL:E.A. Gibson Shipbrokers Ltd have been using the services of Mr Philip Cameron as their employment legal adviser and lawyer for over 13 years. During this time, we have encountered some very challenging cases and we are grateful to Mr Cameron for his skill, legal acumen and knowledge of our business in successful guiding and representing us. Moreover, his approach with us has always been most accommodating and presented in a clear and concise manner making our understanding of cases and their progress time efficient and objective.
Top Tier Firm Rankings
Firm Rankings