Firm Profile > Tsar & Tsai Law Firm > Taipei, Taiwan
Tsar & Tsai Law Firm
Offices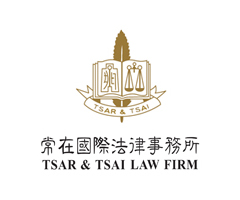 Tsar & Tsai Law Firm
11F, No. 100, Songren Rd, XinyiDist.
Taipei City 11073
Taiwan
Tsar & Tsai Law Firm > The Legal 500
Rankings
Tsar & Tsai Law Firm >
Firm Profile
The firm: Tsar & Tsai Law Firm is a leading Taiwan-based law firm that provides services to local and foreign clients on all aspects of commercial transactions, and on domestic and international dispute resolution and litigation. The firm was founded in 1965 by Ruchin Tsar ( -1993) and Paul C. Tsai( -2013), and has since grown to its present size of over 80 professionals, including lawyers, trademark agents, and patent attorneys and engineers. Tsar & Tsai has long been known as one of the most prestigious law firms in Taiwan. The firm celebrated its 50-year anniversary a few years ago and continues to make efforts to provide practical and good quality of legal service to its clients.
Tsar & Tsai has always maintained a diverse, international character. The majority of attorneys received legal education and training both domestically and overseas in the US, UK, Japan and other major countries. The firm's clientele includes many multinational enterprises and local listed companies. A distinct capability of the firm is that it can deliver direct services in fluent English and Japanese.
Lawyers of Tsar & Tsai actively participate in local legal education, taking important roles in local bar associations, teaching at law schools and frequently contributing to professional and academic publications. The firm established the Tsar & Tsai Foundation in 2018, through which the firm keeps its active engagement in growing legal educational activities such as sponsoring talented law school students, hosting legal forums and symposiums, supporting youth programs and other civil/legal education activities, etc.  The firm is very conscious of its social responsibilities and regularly performs work on a pro bono basis.
Areas of practice: Tsar & Tsai is a full service firm. Other than handling commercial transactions for its clients, Tsar & Tsai has been famous of handling complex dispute cases and IP infringement cases. Its litigation team is highly praised for taking some of the most high profile commercial dispute and criminal defence cases and has worked tirelessly to secure clients' rights. In addition, Tsar & Tsai is famous for its M&A practice, with focus on the high technology sector and financial service industry. Due to its past history, Tsar & Tsai has many experiences in assisting its multinational and PE fund clients to structure, negotiate and consummate cross border transactions.
Main Contacts
| Department | Name | Email | Telephone |
| --- | --- | --- | --- |
| IP litigation | Jennifer Lin | | |
| Fair trade law and anti-trust case | Jennifer Lin | | |
| Arbitration | Lillian Chu | | |
| Civil and administrative litigation | Lillian Chu | | |
| Franchise deals | Wellington Liu | | |
| Tax case and litigation | Wellington Liu | | |
| Civil and administrative litigation | Edgar Chen | | |
| White collar crime case | Edgar Chen | | |
| Merger & Acquisition | Jackie Lin | | |
| Capital market | Jackie Lin | | |
| Cross border transaction | Jackie Lin | | |
| Intellectual property | Joyce Ho | | |
| High technology licensing | Joyce Ho | | |
| Merger & Acquisition | Janice Lin | | |
| Anti-bribery and money laundry case | Janice Lin | | |
| Financing deals | Janice Lin | | |
| Criminal defence and litigation | Josh Fan | | |
| Financing deals | James Cheng | | |
| Merger & Acquisition | Janice Lin | | |
| Criminal defence and litigation | Judie Sun | | |
| Intellectual property | Jeanne Wang | | |
| IP litigation | Jeanne Wang | | |
| Fair trade law and anti-trust case | Matt Liu | | |
| Anti-bribery and money laundry case | Matt Liu | | |
| Insurance | Randy Tsai | | |
| Labor and employment | Randy Tsai | | |
| Capital market | Yvonne Liu | | |
| General Corporate | Yvonne Liu | | |
| White collar crime case | Vincent Lin | | |
| Arbitration | Vincent Wang | | |
| General Corporate | Lynn Lin | | |
| Cross border transaction | Lynn Lin | | |
| High technology licensing | Ray Hsu | | |
Staff Figures
Number of lawyers : 53 at this office : 52
Languages
Mandarin Chinese English Japanese
Memberships
Taiwan member firm of Lex Mundi Its lawyers are members of various international organizations such as IBA and IPBA
Other
Other offices : Hsinchu
Domestic Language Profile
Mandarin
常在國際法律事務所係由蔡六乘律師及蔡中曾律師父子於民國五十四年在台灣設立之國內大型法律事務所之一。常在一貫堅持,並以提供全方位及高品質之法律專業服務為客戶解決問題。憑著這樣的堅持,「常在」擁有豐厚的信譽及口碑。
「常在」 之中文所名,為本所英文名 "TSAR & TSAI" 譯音,亦表示本所隨時可靠之服務,並含「主恩常在」之祝福!
「常在」提供全方位的法律專業服務,範圍包括跨國投資、公司、技術移轉、銀行、金融、保險、公司合併與收購、勞工、稅務、證券、政府採購、交通、電信、電腦、公平交易法、工程、不動產交易、國際貿易、海事、智慧財產權、遺產規劃與遺囑及信託、訴訟、仲裁及其它爭議解決等各方面。
「常在」的法律專家以其多年服務於政府公職或執業的經驗為客戶設計、規劃及處理各類國內外投資計畫及交易,確保客戶的日常營運及各類特殊交易的複雜問題均能迅速有效地解決。「常在」提供法律專業服務一向特重客戶的需求,從特殊策略研擬以至於全面性的法律諮詢服務,「常在」以量身訂作的精緻法律專業服務讓客戶瞭解其所遭遇的問題在法律及程序上所處的立場與宜採行的因應措施,也憑藉「常在」對國內各項立法的熟稔及豐厚經驗,有效地協助客戶擬訂計畫及策略,進行磋商及談判。此等優異的服務特質已為「常在」贏取「質精而優」的聲譽。
「常在」充滿活力且具有前瞻性,一向所標榜服務的品質,不僅吸引國內外企業機構及團體以使用「常在」的法律諮詢服務為榮,也吸引了許多曾在國內外接受訓練,有能力且有責任感的優秀律師加入執業的陣容,「常在」有豐厚的資源與經驗,可以隨時以開創性的態度,為客戶的各類複雜交易及問題,提供高品質的法律諮詢服務。
Japanese
ツァア&ツァイ国際法律事務所は1965年、蔡六乗(ツァア・ロツェン)弁護士と蔡中曽(ツァイ・ツゥンツェン)親子の弁護士により、台湾で開業された国内でも最大級の法律事務所です。クライアントの問題解決のために、ツァア&ツァイ国際法律事務所では、各分野での専門的、かつ質の高いリーガル・サービスの提供に努めています。このような信念故に、ツァア&ツァイ国際法律事務所は内外からの高い評価とクライアントからの厚い信頼を寄せられています。
ツァア&ツァイ国際法律事務所は各分野で専門的なリーガル・サービスを提供しています。業務分野は国際投資、企業法務、技術移転、バンキング、ファイナンス、保険、M&A、労資関係、税務、証券、政府調達、交通、通信、IT産業関連、公正取引、公共工事、不動産売買、国際貿易、海事、知的財産権、遺産関連、信託、国際訴訟、仲裁、及びその他の紛争解決などの多岐に渡っています。
ツァア&ツァイ国際法律事務所の弁護士は政府公職の執務経験、または業界での長年の経験を生かし、クライアントのために、国内外の各種投資計画と売買の企画や立案、そして実務を行っており、クライアントの日常経営と様々な売買に関する複雑な問題を迅速かつ効率的に解決します。当法律事務所が提供するリーガル・サービスはクライアントのニーズに応えることを最重視しています。特殊な戦略策定からあらゆる法律相談まで、当事務所はクライアント毎にオーダーメイドのリーガル・サービスを提供することによって、クライアントが自分の抱えている事例の法律面や手続きに於ける立場とその対応策のより明らかな解決の手助けをします。ツァア&ツァイ国際法律事務所は台湾の立法実務に関する知識と豊富な経験を有し、交渉進行の為のクライアントの計画づくりと戦略策定をサポートします。当法律事務所はこのような質の良いサービスで高い評価を得ています。
ツァア&ツァイ国際法律事務所は活力と先見性に溢れ、その質の高さにより国内外の企業や組織から当法律事務所のリーガル・サービスを御利用頂くことを誇りに思っております。又、国内外での経験豊富で、高い能力と使命感を持った多くの優れた弁護士も、当法律事務所の方針に惹かれてこちらの法律事務所に集まってきました。ツァア&ツァイ国際法律事務所は豊富な経験と人材を有し、常にクリエイティブな姿勢で、クライアントの様々な取引や問題に対応し、質の高いリーガル・サービスを提供しています。