Traple Konarski Podrecki & Partners > Krakow, Poland > Firm Profile
Traple Konarski Podrecki & Partners
Offices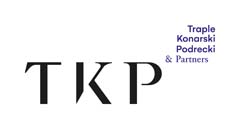 Traple Konarski Podrecki & Partners
KRÓLOWEJ JADWIGI 170
30-212 KRAKÓW
Poland
Traple Konarski Podrecki & Partners > The Legal 500
Rankings
The team at specialist TMT firm
Traple Konarski Podrecki & Partners
has a core focus on all three disciplines and is particularly active in matters regarding internet, e-commerce and telecoms regulations and contentious matters. Kracow-based co-founder
Xawery Konarski
 and
Grzegorz Sibiga
in Warsaw, who has expertise in personal data protection and GDPR implementation, are the practice heads.
Jan Byrski
, who has strengths in financial innovation law, and senior associate
Katarzyna Syska
 are also names of note.
Practice head(s):
Other key lawyers:
Testimonials
'The People, technology and collaboration are strengths of the team.'
Traple Konarski Podrecki & Partners
's IP team supports clients across a range of matters, including trademarks, patents, advertising, copyright and anti-counterfeiting. The team's strength also lies in disputes before the Polish Patent Office, EUIPO and Polish courts, and pre-dispute matters.
Pawel Podrecki
heads the team.
Anna Sokołowska-Ławniczak
 who has '
extensive knowledge of different IP law fields' 
and
Tomasz Targosz
, who is praised for his '
excellent knowledge of the pharmaceutical sector' 
are also lawyers of note.
Practice head(s):
Other key lawyers:
Testimonials
'The lawyers at Traple Konarski Podrecki i Wspólnicy are not only very well prepared to work with a client and cooperate with other entities, but they also have high soft skills, meaning it is easy to conduct a dialogue with them. In their work, they make use of new technologies both when it comes to contact with the client in matters of content and when settling accounts.'
'Always flexible with a business-oriented approach for managing legal tasks, fast responsiveness and a strong team.'
'The staff give a feeling of trust and confidence to their clients, they are operating very fast in a wise way, being effective in their work and being very friendly to the firms and people who entrusted them to solve their problems in a legal way.'
'Very good level of knowledge and experience.'
'Every person in TKP is always keenly interested in the matters which it pursues, they're quick to deal with issues, always thoroughly analyse the facts without skipping any detail, and they're a very competent and helpful team.'
'Tomasz Targosz, thanks to his excellent knowledge of the pharmaceutical sector, especially in view of patent matters, provides a high-end support. His many years of hands-on experience allows him to deal with the most complicated legal cases, including court cases, in a very efficient and orderly way.'
'Tomasz Targosz has also a gift of presenting even very complex legal considerations in a simple and concise manner, which translates into an unambiguous presentation of the situation for business, and as a consequence, shortens and simplifies the in-house decision-making process.'
'I worked with Anna Sokolowska Lawniczak and really appreciated her dedication to the client, care for detail and extensive knowledge of different IP law fields (we worked both on design and patent matters). Certainly a lawyer to recommend.'
Key clients
Lotte Wedel sp. z o.o.
MASPEX Group S.A.
TOUS S.L.
Stowarzyszenie Filmowców Polskich
Voigt
Fundacja Darka Michalczewskiego
Van Pur S.A.
Polfa Tarchomin S.A.
ZF Polpharma S.A.
Totalizator Sportowy
Blachprofil 2 sp. z o.o.
RYŁKO
Work highlights
Acting for Lotte Wedel on various IP matters including litigation.
Representing Maspex Group sp. z o.o. in IP litigation, especially in trademark litigation regarding the TIGER brand.
Advising the Polish Filmmakers Association on the implementation of a raft of laws relevant to copyright, rights applicable to online transmissions and in court proceedings against an entity who runs several dozen cinemas under the brand "Cinema City" in Poland.
Traple Konarski Podrecki & Partners
 handles domestic and international mandates, representing clients before national and EU courts and advising company directors and top-level management on the shaping of distribution networks, pricing policies, antitrust risk mitigation and the development of internal procedures and action planning for unannounced inspections. Co-founder and competition and IP expert 
Pawel Podrecki
 and 
Tomasz Targosz
lead the practice from Warsaw and Kracow respectively. Counsel
Katarzyna Menszig-Wiese
 is also a key team member.
Practice head(s):
Other key lawyers:
Testimonials
'The practice of Traple, Konarski, Podrecki & Partners covers at least 25 large areas of law which allows them to provide complex legal services for the client. One of their key strengths is their availability to combine uniquely academic knowledge with legal practice.'
'The law firm Traple Konarski Podrecki & Partners not only professionally conducts entrusted legal cases and gives opinions on complex, multi-layered legal matters, but also has extensive experience in taking into account the client's business needs. The team is built of real legal authorities, each of whom is an outstanding specialist in their field, both in the legal, scientific area and in legal practice.'
'The law office works very quickly and efficiently, adapts to the needs and timeframes of the client, organises meetings and is open to additional consultations, especially for business people, to familiarise them with the legal issues of the case under review.'
'The services of the law firm always met the previously agreed budget and the highest quality standards of legal services. The law firm offers very favorable hourly rates to regular clients with whom it has been cooperating for many years.'
'Pawel Podrecki is the person that I work with and his services are truly exceptional. Extraordinary availability, unique knowledge and amazing business approach are the key advantages.'
Key clients
Fabryka Farb i Lakierów Śnieżka S.A.
Emitel S.A.
Lotte Wedel Sp. z o.o.
PKN Orlen
Polska Organizacja Handlu i Dystrybucji (POHiD)/ Polish Trade and Distribution Organisation (POHiD)
Stowarzyszenie Producentów Cementu / Polish Cement Association
Stowarzyszenie Producentów Betonu Towarowego / Polish Association of Ready Mixed Concrete Producers
Związek Pracodawców Branży Internetowej IAB Polska/ Union of Employers in the Internet Sector (IAB Polska)
Henkel Polska
Work highlights
Acting for Polska Organizacja Handlu i Dystrybucji in an antitrust case triggered by a complaint about a prohibited anti-competitive agreement between certain banks with regard to the so-called interchange fees.
TMT-focused boutique
Traple Konarski Podrecki & Partners
handles a broad range of mandates spanning Poland and Europe, especially in the telecoms, technology and media sectors, regarding internet, e-commerce and regulatory issues. Data protection, IT and fintech matters are also within the group's capabilities. The practice is led by co-founder and new technologies specialist
Xawery Konarski
. IT lawyer 
Agnieszka Wachowska
; 
Piotr Wasilewski
, who specialises in media and advertising law; data protection expert
Grzegorz Sibiga
; and financial innovation law expert 
Jan Byrski
 are also of note.
Practice head(s):
Other key lawyers:
Testimonials
'The team is composed of lawyers having experience at leading international law firms, in-house legal departments as well as public authorities. They have a great knowledge of regulations. The team is perfect in details, listening to all queries, doubts and opinions. The lawyers are always acting in line with our expectations, perfectly addressing key issues, getting to the point without creating incomprehensible legal stories. The team is also always responsive and flexible. Their professionalism, outstanding experience and knowledge are always a big value for us.'
'The firm delivers the results in a pragmatic manner, always on time and budget. They are extremely reliable and actively share knowledge from other jurisdictions and at EU level to put matters in context and make them understandable to clients and peers in other legal systems.'
'All members of the Traple Konarski Podrecki & Partners team treat every request, project and case with the highest level of professionalism and skill. They all possess wide knowledge of local law and the market and are always willing to find the best approach, specifically suited for our needs and interests. We appreciate their ability to always deliver exceptional results, even under pressure of tight deadlines.'
'Strong academic background linked with the awareness of the financial market, infrastructure support in communication with the financial conduct authority, oversight and supervision, banking outsourcing regulations, new fintech products, data protection and privacy law support, and good value for money.'
'Jan Byrski has very strong knowledge, is ready to share this with clients, is open for new approaches, and is ready to compete.'
'Agnieszka Wachowska combines legal expertise with knowledge of new technologies. Agnieszka has unique knowledge of open-source licensing – it is unique as it is difficult to find specialists on the market advising in that area as it requires a lawyer with advanced tech and IT understanding.'
'Xawery Konarski is one of the most well-versed, tech-savvy, and open-minded lawyers I have had the pleasure to work with. He has tremendous experience and a deep understanding of some of the most innovative areas of technology law. Communication with Xawery is smooth and easy.'
'Xawery Konarski and Piotr Wasilewski deserve to be commended for their legal knowledge as well as client communication.'
Key clients
Agencja Rozwoju Mazowsza S.A.
General Director for National Roads and Motorways (GDNRM)
Polska Izba Informatyki i Telekomunikacji
Polskie Sieci Elektroenergetyczne S.A.
Asseco South Eastern Europe
National Disabled Persons' Rehabilitation Fund
The team at
Traple Konarski Podrecki & Partners
 garners praise for its '
business-oriented, "can-do" approach
', particularly in the fintech arena. The group is noted for its expertise in payment services regulation, as well as outsourcing contracts and data protection issues. It provides regulatory support in proceedings involving financial supervising authorities. Leading the department is 
Jan Byrski
, who works with senior associate
Karol Juraszczyk
.
Other key lawyers:
Testimonials
'Expert local knowledge of the payments market, both Poland / PSD2 europe and expertise in all areas of the payments ecosystem, including EU funding, patents.'
'Business-oriented, "can do" approach. There are no irrelevant questions or problems for them. TKP becomes a part of a project team, working hand in hand with a customer to deliver business value and applicable solution. After finishing the project, they are still open to explain or fine-tune the result.'
'Jan Byrski and Karol Juraszczyk working together constitute a powerful team. Great internal communications, short and precise answers and recommendations.'
'What makes this practice unique is the experience of the lawyers. I think that potential clients would wish to know about the team's experience the most since it is the key capability of the team.'
Key clients
Cashless Trade Development Foundation
Polska Izba Informatyki i Telekomunikacji
Polska Izba Ubezpieczeń
Polska Organizacja Handlu i Dystrybucji
Work highlights
Advised Cashless Trade Development Foundation during legislative activities in Poland connected with amendments to Polish Acts of Parliament (e.g. Banking Law or Regulation on payment schemes) and legislative activities to implement EU regulations into the Polish legal system (e.g. PSD 2, PAD, Interchange Fees Regulation).
Advising Polish Chamber of Information Technology and Telecommunications in relation to support regarding amendments to Polish Acts of Parliament, such as regulation on payment services and on cash registers in the form of software.
Traple Konarski Podrecki & Partners >
Firm Profile
Traple Konarski Podrecki & Partners is one of the leading law firms on the Polish market. The firm's lawyers have been carefully selected on the basis of their knowledge of law, practical skills, fluency in foreign languages and vocational experience gained during apprenticeships and fellowships abroad. Many of the firm's lawyers are considered leading experts in their respective fields in Poland.
The firm often represents clients in court litigation and in administrative proceedings, combining experience in procedural law with a deep understanding of the legal and factual issues relevant for the particular case. Apart from representing given clients, the firm – while serving chamber of commerce – also represents whole sectors (ie FinTech, IT&telco, insurance and Internet). The firm's lawyers have produced numerous publications, including books and monographs concerning civil, intellectual property, internet, advertising and pharmaceutical law.
Intellectual property: The firm's services in the field of intellectual property include in particular:
Comprehensive legal assistance and representation in copyright matters, including enforcing copyright before courts
Drawing up agreements for use of works for producers, publishers, and cultural institutions
Advising entities running digital platforms and providing subscription movie channels
Advising and representing Polish and foreign organisations for the collective administration of copyright and related rights
Drafting agreements dealing with a full range of issues relating to the production of audiovisual programmes
The legal assistance the firm provides with respect to industrial property focuses on redress against IP infringements (patent and trademark rights, domain names), representation before the Polish Patent Office and OHIM in disputes concerning invalidation of exclusive rights, and drafting assignment, licensing, know-how and research and development agreements. In collaboration with patent attorneys the firm also renders intellectual property services, providing representation before the Polish Patent Office, OHIM and European Patent Office in Munich.
Technologies media and telecommunications: The firms TMT practice group is one of the most experienced in Poland, and constantly advises a large number of Polish and foreign entities operating in the sector. At the moment the firm serves more than 50 TMT clients, some of them not only in Poland but – the through CEE Legal HUB – also in 20 CEE jurisdictions. The legal services the firm provides in this area are focused on five main fields:
Telecommunications, radio and television broadcasting
E-commerce
Internet law
Intellectual property and new technologies (e.g. VoD platforms)
E-government
cybersecurity
IT: The firm provides comprehensive advisory services relating to agreements for production and implementation of custom-made IT systems as well as standard systems adapted according to the needs of specific clients. The firm draws up agreements for creation of system specifications, performance of pre-implementation analyses, production and implementation of an IT system and maintenance services (guarantee and post-guarantee). In the field of IT law, our service include:
Audits of the legality of software
Assistance with IT contracts negotiation (in all models of software distribution)
Handling disputes in the IT industry
Ensuring effective protection of IT systems and their components
Implementation of a system for tax deduction of 50% of the cost of revenue in IT companies
Data protection, GDPR: Protection of information, including personal data, has for many years been one of the leading areas of interest for the firm and at the moment the firm serves on a permanent basis more than 60 controllers. The firm has extensive experience in proceedings conducted by the President of the Personal Data Protection Office and in proceedings before administrative courts, including the Supreme Administrative Court. The firm also actively participates in legislative works on new regulations concerning personal data protection, including adaptation of Polish laws to the General Data Protection Regulation (GDPR).
Competition: The firm provides clients with a whole range of services in this regard, including representation in litigation proceedings, legal assistance and advice in negotiations, and representation in proceedings before the Chairman of the Office for Competition and Consumer Protection and the European Commission. The competition practice group provides above all the following services:
Legal analysis of sales networks in respect of their compliance with competition rules
Legal advice on the principles of franchise activities
Legal analysis of partnership agreements in respect of their compliance with competition law
Cases of abuse of dominant position
Preparation of corporate mergers and acquisitions
The firm has extensive experience in unfair competition issues, including advertising and protection of business secrets.
Financial institutions and payment services (FinTech): Financial institutions and payment services (FinTech) is one of the key expertise areas of the firm, both with regard to the relations between financial institutions and supervisory authorities and between institutions and their clients (consumer), as well as outsourcing partners. The range allows the firm to offer legal assistance to:
Banks, crediting institutions.
Clearing agents, acquirer
Providers of payment services, in particular payment institutions and payment services offices
Payment schemes
Mobile payment providers
Agents of financial institutions (outsourcing partners)
Service providers in the area of money transfers and bill payments
Insurance companies and reinsurance companies
Dispute resolution and arbitration: The firm's legal team handles all aspects of court litigation and arbitration proceedings. In particular, the firm represents clients in disputes concerning:
Intellectual property, in particularly copyright, patent and trademark infringements
Unfair competition
General and commercial contract, tort law and real estate
Press law, including cases concerning the protection of personal interests
Antitrust matters
Administrative matters, including disputes before administrative courts concerning investment processes
Criminal proceedings, in particular involving copyright and industrial property
Labour matters
Staff Figures
Number of lawyers : 60
Languages
English Polish French German
Memberships
Polish Chamber of Information Technology and Telecommunications (PIIT) ASPIRE ECTA Eurojuris International Global Leaders Forum (GLF) Internet Advertising Buerau Europe (IAB Europe) International Network of Privacy Law Professionals (INPLP) International Technology Law Association (ITech Law) International Trademark Association (INTA) IG Global International Chambers of Commerce
Other
: :
International capabilities
We coordinate legal services around the world, especially in Central and Eastern Europe. We have forged working relationships with a selected group of the top law firms. This applies to both independent law firms and law firms associated in international networks. Working with our partners in these firms for many years means that we have the capacity to take on the most challenging projects and cases, regardless of jurisdiction.
As one of the few law firms in Poland, we have been coordinating ongoing legal services for Clients in Central and Eastern Europe, based on a long-term partnership with the leading independent law firms in 19 jurisdictions (CEE Legal HUB).
During this time, over 1,000 projects and court cases were handled by us.
The CEE Legal HUB structure enables us to provide our Clients with added value through standardized legal services, both substantively and technically. This is especially useful for companies wanting simultaneously verify legal status in different jurisdictions.
Our lawyers have the skills to provide services in English, French, German and Spanish. This also includes knowledge of the legal systems in individual countries.
How can we help you?
We have many years of experience in advising international companies on locating their operations in Poland. Legal support covers all stages of direct investment. We have advised on both equity and greenfields investments.
In particular, we advise in the following areas:
corporate law
competition and antitrust law
commercial law
tax law
labour law
real estate law.
Our firm also has extensive experience in regulatory matters, including in the financial, life science and telecommunications sectors.
We also advise on IP, IT, GDPR, cybersecurity, media, public procurement and R&D projects and represent foreign investors in litigation and arbitration proceedings.