Setterwalls > Gothenburg, Sweden > Firm Profile
Setterwalls
Offices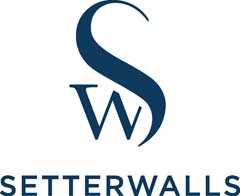 Setterwalls
SANKT ERIKSGATAN 5
PO BOX 11235
404 25 GÖTEBORG
Sweden
Setterwalls > The Legal 500
Rankings
Setterwalls
' deep banking and finance bench houses expert practitioners across the entire range of disciplines. Dominant financial institutions including all major Nordic banks instruct co-head
Mikael Magnusson
,
Carl Lindencrona
handles a range of debt financing transactions, and co-head
Jesper Kuschel
leads on high-value real estate transactions for lenders and borrowers. Showcasing his industry reputation,
Åke Fors

is retained by major government bodies including the Swedish Central Bank to advise on export credit and multilateral lending issues. The regulatory practice, which fields counsel
Andreas Löfholm
, was strengthened by the recruitment of specialist counsel
Tobias Björklund
from the Swedish FSA.
Jonas Frii

also contributes to the practice.
The IT team at
Setterwalls
has expertise in a vast range of data protection and privacy matters, including cybersecurity matters. The head of the IP and technology practice group
Fredrik Roos
 regularly advises on complex privacy matters related to the introduction of modern technologies and services and leads on GDPR compliance projects.
Joacim Johannesson
 assists banks and fintech companies with cybersecurity assessments and consumer data processing requirements. Co-head
Jörgen Axelsson
 handles data privacy issues in the healthcare sector, while
Sophia Spala
 focuses on data protection matters in complex commercial and regulatory environments.
Marc Tullgren
 is also recommended.
The '
fantastic
' team at
Setterwalls
 provides '
razor-sharp legal advice with ease
', leveraging its '
deep industry experience in relation to all aspects of renewable energy projects
', particularly wind energy matters including permitting work and environmental issues. Beyond wind, the group also has experience in biofuel, battery storage, district heating, nuclear, solar and hydroelectricity mandates. In Malmö, transactional specialist
Jonas Frii

and environmental expert
Tove Andersson
 lead the practice alongside
Martin Sandgren
in Stockholm, who is a key contact for international energy and infrastructure projects.
Setterwalls
 '
puts together a very competent and collaborative dynamic team with a holistic approach
' to regulatory, transactional and contentious work including advising on water rights issues, renewable energy projects, operational matters and legislative work. The group acts for a broad range of domestic and global clients and has recently been advising Harvard University on the novel SCoPEx project, which relates to developments in solar geoengineering technology.
Anders Linnerborg

heads up the team and is active in water matters and permitting issues. Other key names include
Tove Andersson
, who was recently appointed as an expert in an inquiry by the Ministry of Environment;
Malin Wikström
, who regularly handles permit applications; and
Linnea Ljung
, who '
provides very sound and solution-focused advice
'.
Setterwalls
provides a full-service healthcare and life sciences offering which combines the expertise of leading partners across a number of key areas. Particularly impressive is
Helena Nilsson
's regulatory practice, as applied to issues of classification, authorisation, market access and distribution in strictly regulated industries including the cosmetics, medtech and food sectors.
Marcus Nivinger
,
Jörgen Axelsson
and
Richard Hammarvid
lead on the breadth of capital markets and corporate activity, and the practice also has an impressive IP element under
Per Lidman
 and
Martin Levinsohn
, in regards to both commercial and contentious work.
Setterwalls
is noted in the market for the breadth of its intellectual property practice, which encompasses matters involving patents, copyrights, and marketing.
Martin Levinsohn
 is the key partner in patent litigation, representing clients in the Swedish elements of cross-border disputes, while
Sophia Spala
and
Per Lidman
 have broad practices across contentious and non-contentious trade mark and copyright law.
Fredrik Roos
 focuses on transactional IP matters, such as licensing work, R&D agreements and joint ventures, with a particular specialism in the technology sector.
The '
friendly, professional and efficient
'
Setterwalls
is a full-service firm that is well regarded in the market for digital transformation and data protection work. It acts for large international clients, as well as smaller domestic players, from its nationwide network of offices.
Jörgen Axelsson
has considerable experience in outsourcing transactions, major systems procurements and disputes, while
Joacim Johannesson
 is a name to note for fintech transactions.
Fredrik Roos
 is recommended for projects involving new technologies, such as AI and the Internet of Things (IoT).
Marc Tullgren
 is another key practitioner.
Setterwalls
' extensive roster of domestic and international issuers instructs the group on main-market IPOs, public share offerings, public takeovers and private placements. Recent stand-out work saw co-heads
Jörgen Axelsson
and
Ola Grahn
 closing major deals in the pharmaceuticals sector, while co-head
Marcus Nivinger
led on impressive listings in the energy sector. The group is also highly active in the technology sector.
Carl Lindencrona
's debt capital market practice focuses on investment-grade issuances.
Setterwalls
' corporate and M&A practice has vast experience in private equity and transactional advisory work alongside handling energy, life sciences, and venture capital deals. Practice head
Ola Grahn
, who focuses on venture capital transactions, assists both venture capital businesses and entrepreneurs on fundraising mandates. Co-head
Anders Holmgren
 specialises in M&A deals in the telecoms, life sciences, and retail arenas, while co-head
Anders Söderlind
 assists Swedish and foreign PE sponsors with cross-border transactions in the cleantech and technology industries.
Johan Hallén

leads the commercial team.
Setterwalls
handles complex issues across the full spectrum of construction law, including disputes, construction contracts, projects, and developments. The firm covers clients from all corners of the construction industry such as developers, construction companies, real estate investment funds, and energy and utility providers. The team is led by
Henrik Trölle
, who focuses on contract negotiations and dispute resolution in court and arbitration tribunals as both counsel and arbitrator. The team is also co-headed by
Hans Dahlberg Kolga
, who is experienced in contract work and construction disputes, and
Erik Svedlund
, who assists companies in the real estate industry.
Setterwalls
has a reputable dispute resolution practice with industry sector expertise in the construction, automotive, energy and insurance industries.
Johan Strömbäck
regularly acts in disputes relating to corporate issues and shareholding, post-M&A and financing matters.
Magnus Berlin
is co-founder of the Malmö office and regularly represents Swedish and international companies before the arbitral tribunals.
Johannes Ericson
 has an excellent record in commercial disputes, while
Magnus Rydberg
 is highly rated.
Setterwalls
regularly advises on the full gamut of issues within employment law including restructurings, M&A, TUPE, redundancies and the employment elements of corporate transactions. The team has a roster of prolific clients across the technology, IT, gaming and software sectors. The firm is regularly engaged in disputes and transactional work with unique expertise in sexual harassment, discrimination and bullying within the workplace claims. Group co-head
Åsa Erlandsson
has experience in misconduct investigations, while fellow co-head
Henrik Kjellander
 is an expert in terminations, restructurings and investigations.
Setterwalls
provides advice to clients on all aspects of restructurings as well as insolvency related matters with a focus on debt restructuring matters which involve loan restructurings, distressed debt trading issues and out-of-court refinancings. The team, headed up by finance and arbitration specialist
Åke Fors

, further advises on contingency planning work, distressed transactions and formal insolvency proceedings.
Carl Lindencrona
and
Mikael Magnusson
act for financial institutions, borrowers and investors on workouts and restructurings and are well versed in a variety of debt instruments.
Setterwalls
has a strong presence in the Swedish insurance market, and with a strategic focus on contentious matters, the practice also provides advisory services, encompassing transactional and regulatory mandates. On the contentious side, the firm is well known for litigation and arbitration proceedings, and disputes concerning insurance coverage. The team is headed up by veteran insurance practitioner
Åke Fors

, who is recommended for transactional work and arbitrations, and has particular experience in the maritime sector.
Johannes Ericson
 is recommended for disputes and is experienced in commercial litigation.
Setterwalls
has a broad practice, advising the suppliers and contracting authorities on the procurement of a wide range of services across a variety of sectors including the IT, healthcare, and energy industries.
Erik Gadman
joined the firm from
Gernandt & Danielsson Advokatbyrå
in 2022 and now leads the team following the departure of Ulf Djurberg; he is supported by
Martin Levinsohn
, who leverages his expertise in life sciences to advise on public procurement work in this sector. Senior associate
Lorentz Reige
is also praised by clients as a '
very skilled lawyer'.
Setterwalls
houses a full-service real estate practice, notable for its consistent involvement in high-value real estate transactions covering matters from land developments to pension fund issues. Department head
Patric Olofsson

 is active on high-profile matters relating to real estate, insurance, and logistics issues. Stockholm group head
Jessica Schönning
 leads on real estate mandates for prominent Swedish public bodies including Sveriges Riksbank and SIDA, while senior associate and Malmö team head
Anders Frick
applies his knowledge to real estate sales and acquisitions. The firm is increasingly active at the international level, and has represented both governmental and international corporate clients.
Jesper Kuschel
 leads the Gothenburg-based practice, and
Magnus Steninger
 was promoted to the partnership in 2022.
Under the leadership of finance and insurance specialist
Åke Fors

,
Setterwalls
' maritime and transport group stands out for its commercial experience and knowledge of shipping insurance issues, acting for a range of P&I clubs in insurance claims. Other areas of expertise include regulatory matters, transport agreements and charter parties.
Håkan Fohlin
 is a key contact for collision cases,
Martin Sandgren
handles charter parties and shipbuilding and sale contracts, and associate
Samuel Pihl
focuses on insurance work.
Under the joint leadership of
Niclas Hermansson
,
Sören Brekell

 and
Christian Sjöqvist
,
Setterwalls
advises on the full gamut of international taxation and VAT matters; corporate taxation and restructurings, incentive programmes, IPOs, customs duties and tax matters related to capital markets issues are all areas of expertise. The firm's successful track record of representing clients in the Supreme Administrative Court also serves to illustrate the team's contentious proficiency. The firm has recently been growing significantly at the junior level, with the arrival of a number of practitioners – including experienced associate
Omar Khalil
, formerly of
Deloitte AB
.
Setterwalls
is highly active in the merger control space, where it advises clients on complex transactions in highly regulated sectors such as the pharmaceuticals industry. In the contentious space, the team handles investigations and follow-on claims.
Erik Gadman
joined the firm from
Gernandt & Danielsson Advokatbyrå
in 2022 and now leads the team following the departure of Ulf Djurberg. The practice provides strategic competition law advice to clients, reviewing their operations and commercial agreements to ensure compliance with regulations;
Bo Berndtsson
focuses on this area.
Martin Levinsohn
 is also noted for his work on merger control issues, while senior associate
Angelica Ström
is praised by clients, and
Rolf Larsson
, who joined from
Gernandt & Danielsson Advokatbyrå
in 2022 along with Gadman, also heads up the group.
Setterwalls >
Firm Profile
The firm: Setterwalls is one of Sweden's leading full-service business law firms, as well as one of Sweden's largest law firms, with some 190 lawyers servicing clients from its three offices in Sweden's largest cities – Stockholm, Gothenburg (Göteborg) and Malmoe (Malmö). Setterwalls is an independent law firm with an extensive, well-established international network. Established in 1874, it is also Sweden's oldest law firm.
Areas of practice: Being a commercial full-service practice, Setterwalls offers clients a complete range of business law services, including within the following areas of practice:
Aviation; commercial; corporate; dispute resolution; employment and labour law; energy and commodities; environment; equity capital markets; EU and competition law; financial markets; financial services regulation practice; infrastructure and construction; insolvency and restructuring; insurance and reinsurance; intellectual property rights and marketing law; life sciences; M&A; private client; private equity; public procurement; public sector; railway; real estate; real estate M&A; shipping; sports and entertainment; tax; technology, media and telecoms; transportation; see the firm's website for more information.
Clients: By combining its legal expertise with extensive knowledge of numerous sectors, Setterwalls attracts clients within a wide range of sectors – from biotech entrepreneurs, clean tech and media companies to private equity firms, game developers and real estate funds – including many of Sweden's, and the world's, leading companies, banks and other financial institutions and government agencies.
International work: Because it is based in Scandinavia, which has one of the world's most globalised business environments, Setterwalls is accustomed to working in multinational contexts – across linguistic and cultural boundaries. All in all, about half of Setterwalls client assignments originate from countries outside of Sweden, including from many of the world's leading companies, banks and other financial institutions.
Foreign desks: Setterwalls has established a number of foreign desks – the China desk, the French desk and the German desk – to meet clients' demand for truly international expertise and legal advice. Each desk consists of a group of lawyers who combine legal specialist expertise with linguistic skills and a deep understanding of the business culture and legal system of China, France, and Germany respectively. See the firm's website for more information.
Main Contacts
| Department | Name | Email | Telephone |
| --- | --- | --- | --- |
| Banking and finance | Jesper Kuschel | | |
| Data privacy and data protection | Fredrik Roos | | |
| Energy | Linnea Ljung | | |
| Intellectual property and media | Fredrik Roos | | |
| IT and telecoms | Fredrik Roos | | |
| Capital Markets | Jesper Kuschel | | |
| Commercial; Corporate | Johan Hallén | | |
| M&A; private equity | Anders Holmgren | | |
| Dispute resolution | Emmelie Tedfelt | | |
| Employment and labour | Emmelie Tedfelt | | |
| Environment | Linnea Ljung; Malin Wikström | | |
| Insolvency and restructuring | Kenneth Nilsson | | |
| Insurance | Kenneth Nilsson | | |
| Public Procurement | Bo Bernrdtsson | | |
| Real estate | Jesper Kuschel | | |
| Shipping | Andréa Jällbrink | | |
| Tax | Christian Sjöqvist | | |
| Construction | Erik Svedlund | | |
| EU and competition | Bo Berndtsson | | |
| Healthcare & Life Sciences | Richard Hammarvid; Hanna Sonning | | |
Staff Figures
Number of lawyers : 190
Languages
Chinese English French German Italian Spanish
Other
Other offices : Malmö Other offices : Stockholm