Doing Business in...
Qatar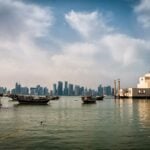 Economy Qatar is one of the wealthiest and most prosperous country in the Gulf Cooperation Council (GCC).  With one of the strongest GDPs in the world, Qatar also has the fastest growing economy in the GCC. The economy of Qatar is largely dominated by oil and natural gas revenues, such that it has the world's …
Contributed by Sharq Law Firm
Read More...
Legal Market Overview
Qatar has experienced a challenging few years since other Arab countries placed an embargo on the country in 2017 over alleged links to terrorist groups. The situation has caused the country to look further afield for trading partners, with major deals recently being done with Turkey and Malaysia. Its booming construction sector, valued at $75bn, has also kept the economy steadily moving, with many projects related to Doha hosting the FIFA 2022 World Cup.
The World Cup is just one example of the country's many efforts to diversify its economy and become less reliant on its finite oil and gas reserves. Major investments have been made in technology, healthcare, transport, tourism and sports. Moreover, the state owns brands that are well known outside of the country, such as its flagship airline Qatar Airways and French football team Paris Saint-Germain.
Key international firms with an office in Doha are Dentons, Simmons & Simmons Middle East and White & Case LLP. Regional firm Al Tamimi & Company In Association with Adv. Mohammed Al Marri also has a strong presence in the region. Allen & Overy LLP recently closed its Doha office but still works in Qatar through its offices in neighbouring countries.