YBK Law Firm in Cooperation with CMS > Istanbul, Turkey > Firm Profile
YBK Law Firm in Cooperation with CMS
Offices
YBK Law Firm in Cooperation with CMS
SÜZER PLAZA
ASKEROCAGI CADDESI NO 6 KAT 15 D 1501
34367 ELMADAG/SISLI, ISTANBUL
Turkey
YBK Law Firm in Cooperation with CMS > The Legal 500
Rankings
Alaz Eker Undar
, who '
always gives clear guidance
', and
Hülya Kemahlı
jointly head the banking and finance practice at
YBK Law Firm in Cooperation with CMS

, which specialises in cross-border project and acquisition finance, restructuring, and multilateral bank lending, while also offering a solid level of expertise handling capital markets mandates.
Döne Yalcin
, who advises on inbound investment into Turkey and outbound investments into the CEE region, is another key contact in the team.
Practice head(s):
Alaz Eker Ündar; Hülya Kemahlı
Other key lawyers:
Testimonials
'They are really professional and good at understanding the expectations of their clients. The timing is always perfect.'
'We are working with Ms. Hulya Kemahlı. Her analytical intelligence makes life easy for clients. She could find a proper approach to the delicate issues.'
'Fast and professional response – good structure of legal opinions – friendly and polite communication.'
'The responses and information provided by Alaz Undar are very helpful and supportive. He always gives clear guidance.'
'We were mostly in connection with Mr. Alaz Undar. He had a positive and responsive approach during our cooperation.'
Work highlights
Advised Denizbank as the lead of a consortium of 13 Turkish banks on a financial restructuring (approx. TRY1.5bn) involving an indebted Turkish construction group.
CMS
 has a significant presence in finance and corporate matters in Turkey through its association with
YBK Law Firm in Cooperation with CMS
, advising international investment groups, banks and multinational companies on inbound and outbound transactions. The team includes practitioners qualified in the UK, Austria and Germany and is experienced in cross-border work, utilising its international network.
Döne Yalcin
, who is admitted in Turkey and Austria, co-leads the team with fellow managing partner
Alican Babalıoğlu
.
Hülya Kemahlı
 and
Alaz Eker Ündar
are key contacts for capital markets and banking and finance matters, respectively.
Practice head(s):
Döne Yalçin; Alican Babalıoğlu
Other key lawyers:
YBK Law Firm in Cooperation with CMS

has strong credentials advising on market exits from Turkey, putting to use the wider firm's corporate/M&A, employment and disputes expertise. The department is also a preferred choice for financial restructurings, an area where
Alaz Eker Undar
leads. Practice head
Döne Yalcin
is particularly experienced in advising on restructuring and reorganisation matters.
Other key lawyers:
Work highlights
Advising a consumer products client on its exit from the Turkish market.
Advising a global technology leader on its restructuring and liquidation process related to Turkey.
Advising a client on its financial restructuring to achieve financial stability as a result of the pandemic.
Döne Yalcin
and
Alican Babalıoğlu
head the practice at
YBK Law Firm in Cooperation with CMS

, which is particularly active in the real estate, infrastructure, insurance, energy, and banking sectors, advising a range of multinational and domestic corporates as well as private equity funds on transactional and regulatory matters regarding their acquisitions or divestments in Turkey.
Alaz Eker Undar
, who was recently promoted to the partnership, is another name to note.
Practice head(s):
Döne Yalçin; Alican Babalıoğlu
Key clients
Howden Broking Group
PPF Group
Discovery Communications LLC
T-Dinamik Enerji Sanayi ve Dış Ticaret A.Ş.
MCI Management S.A.
Salcomp Group
YouGov PLC
Work highlights
Advised PPF Group on the acquisition of 50% of the shares in Temsa Ulaşım Araçları San. ve Tic. A.Ş.
Advised Discovery Communications on the acquisition of 35% of the shares in BluTV İletişim ve Dijital Yayın Hizmetleri A.Ş.
Advised a client on its potential investment in a UK-based IT solutions start-up with an operating subsidiary in Turkey.
Döne Yalcin
heads the '
highly
responsive
' employment practice at
YBK Law Firm in Cooperation with CMS

, which mainly handles contract work, transactional work, including the employment aspects of M&A and asset deals, and is notably solid handling collective labour disputes and mass terminations as a result of restructuring and bankruptcy. Counsel
Sinan Abra
 offers key support.
Other key lawyers:
Testimonials
'Commitment and collaboration at a high level.'
'Sinan Abra – I believe he is a great professional using a lot of his private time to invest in potential future partnerships. Responsive and dedicated to timelines.'
'The team was highly responsive and engaged, ensuring that we had the support we needed when we needed it.'
'They proactively advised us on key issues and gave us the advice we needed to make good decisions and resolve the issues in a positive manner.'
'We worked closely with counsel Sinan Abra and he was absolutely critical to our successful resolution of the case. He was responsive, knowledgeable, thorough, and quickly mastered key technical issues to give us the advice we needed. He did a fantastic job!'
Work highlights
Advised a European steel producer on the removal of its CEO (also acting as the chairman) due to non-compliant behaviour.
Advising a global food producer on various employment law issues, ranging from all sorts of termination issues, government assistance and termination restriction regimes applicable due to Covid-19.
X
YBK Law Firm in Cooperation with CMS >
Firm Profile
Main Contacts
| Department | Name | Email | Telephone |
| --- | --- | --- | --- |
| Corporate and M&A | | | |
| Banking and finance, restructuring | | | |
| Antitrust and merger control | | | |
| Tax | | | |
| Capital markets | | | |
| Dispute resolution | | | |
| IP | | | |
| Employment and pensions | | | |
| Real estate and construction | | | |
| Energy and renewables | | | |
| Commercial | | | |
| Compliance | | | |
| Infrastructure | | | |
| Public procurement | | | |
Staff Figures
Number of lawyers : 4,500
Languages
Turkish English French German
Memberships
CMS is a global top 10 law firm with over 4 500 professionals in 74 offices and 42 countries worldwide.
Interviews
Dr. Döne Yalçın, Managing Partner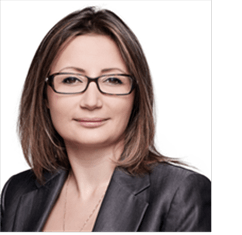 What do you see as the main points that differentiate YBK from your competitors?
Based on client feedback and our high client retention rates, we can confidently say that our teamwork and responsiveness but, coupled with our sector knowledge and ability to work seamlessly with local and international teams, are what set us apart from other Turkish law firms.
Which practices do you see growing in the next 12 months? What are the drivers behind that?
Restructuring is of course is a major area where clients are looking for assistance (please see the financial restructuring example below). Currently we are involved in different type of restructurings including major financial and employee restructurings. Once the Turkish government provides more stability for foreign investors we hope to see an increase in M&As and IPOs to keep our capital markets team busy. Cyber and digitization have been on the rise this year – a trend we expect to see continue. Last but not least, everything around sustainability and how it impacts every practice and sector is here to stay.
What's the main change you've made in the firm that will benefit clients?
We made material investments in AI and LegalTech, where our lawyers and support staff worked together in multidisciplinary innovation teams to invent and build new tech products. This will help us to add value and drive efficiency savings when working for our clients.
Is technology changing the way you interact with your clients, and the services you can provide them?
Yes, as mentioned we have invested heavily in integrating automation, AI, LegalTech and knowledge management into every aspect of how we service our clients. We have launched exciting apps this year for sustainability,data breaches and the insurance sector, with more lined up for 2021.
Can you give us a practical example of how you have helped a client to add value to their business?
As we take the time to really know our clients and their needs as well as their markets and sectors, we are able to add value to our clients. A recent example of how clients require our deep involvement in the commercial aspects of transactions to allow us to add value and assist them in achieving mutually satisfactory arrangements for all parties is this 2020 restructuring deal. The deal was turned around in a month and satisfying from both the lenders' and borrowers' perspectives, crucial in the type of deal and sector.
The YBK banking team, led by myself and Alaz Eker Ündar, provided assistance to a consortium of 13 banks, with DenizBank as lead, with respect to a highly sensitive and comprehensive financial restructuring arrangement for the existing financial indebtedness of a leading Turkish group engaged in construction activities, and the granting of additional financing as part of the restructuring process. Compared to other similar transactions in the market, which have proven to be highly time-consuming, the deal was signed and closed within a month due to the statutory deadlines imposed by the applicable legislation.
Are clients looking for stability and strategic direction from their law firms – where do you see the firm in three years' time?
The trusted advisor role is key – get to know your clients, what drives them, what do heads of legal need to know and do in order to convince their boards of the appropriate course of action. Being strategic thinkers on behalf of our clients and showing them what is ahead in their sector is certainly vital for a lawyer. However; it has to go beyond just legal advice. I anticipate that in the next few years my team will perfect this holistic style of legal services provision, using the best available technology and resources, to give the client the comfort that we are in this together and we are future facing.
Legal Briefings
Doing business in the UAE

CMS's John O'Connor and Harkee Wilson discuss the challenges and issues businesses face operating in the UAE and investigate some of the recent changes in the business environment.