CMS > Lisbon, Portugal > Firm Profile
CMS
Offices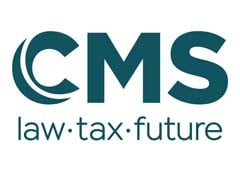 CMS
Rua Castilho, 50
1250-071 Lisbon
Portugal
CMS > The Legal 500
Rankings
Companies turn to the employment and pensions group at 
CMS
 for its highly praised corporate restructuring expertise. Local companies and organisations, and those with operations in Portugal, engage with the firm for advice on pension funds, training, labour disputes, dismissals and day-to-day operations. The group is aided by a dedicated immigration team, which also advises on tax, social security and permit-related matters. Key sectors for the team include industrial, banking, life sciences, insurance and aviation. Employment law experts
Susana Afonso

and
Sofia Mateus
jointly lead the practice, each with over 20 years of experience in contentious and non-contentious employment matters, with the former in restructuring and the latter in litigation. Key support for the restructuring practice comes in the form of
João Gomes
, who heads the firm's Funchal, Madeira office.
CMS
 is trusted by major clients across the entire energy chain, and highly regarded for its in-depth knowledge of '
all matters of regulation and legislation in Portugal
'. The energy and climate change team is entirely dedicated to the energy sector, providing legal support on the implementation of projects, domestic and cross-border transactions, litigation, and an array of regulatory issues involving upstream and downstream oil and gas, power and renewable energy. Practice head
Mónica Carneiro Pacheco

 is a leading authority in the Portuguese market; she has a strong reputation for her regulatory expertise in the sector and track record in headline-grabbing projects.
Bernardo Cunha Ferreira
, whose experience also covers environmental and industrial licensing, excels in the renewable energy space.
Manuel Cassiano Neves
 '
is a great expert in the area of energy and regulation
', and demonstrates particular strength in public tenders and administrative proceedings.
Domestic and international banks, international funds and a number of listed companies turn to
CMS
 for assistance with an array of banking and finance matters, ranging from syndicated finance to bond issues and restructuring mandates involving Portugal and other Portuguese-speaking countries. The banking and finance team's recent workload testifies to its strength in NPL portfolio transactions, real estate finance, structured products and acquisition finance. Sector-related contentious matters are another area of focus for the department, which is led by
António Payan Martins
, who is noted for his cross-border experience.
Francisco Xavier de Almeida
has a good reputation for corporate finance and securities law.
'
Highly rated in the market'
, the corporate and M&A team at
CMS
 is a solid choice for international and domestic investors across a wide range of sectors, including transport, manufacturing, energy and distribution. The team – which had a particularly strong year in 2021 in energy and real estate-related transactions – also has a loyal following of private equity players with an active role in high-value inbound deals. Drawing on the firm's global footprint, the Lisbon-based team regularly advises on cross-border mandates.
Francisco Xavier de Almeida
 is noted for regularly acting in strategic M&A on behalf of an impressive client roster made up of multinationals, financial institutions and state-owned companies. He jointly heads the team with
João Caldeira
, whose experience covers corporate restructurings, M&A, joint ventures and corporate finance.
The '
very proactive team
' at
CMS
 is recommended for its ability to quickly '
grasp legal and expert issues
' in the course of litigation and arbitration proceedings. Covering the entire spectrum of commercial and civil disputes, the department is a go-to choice for several domestic and international clients engaged in cross-border matters. Furthermore, it is well known for its significant experience in large-scale lawsuits involving the banking sector, and international arbitration arising from M&A, shareholder and energy disputes. Co-head
Nuno Pena
 has played a leading role in some of the most high-profile cases in the country involving banking and insolvency issues. He leads the practice with
Miguel Esperança Pina
, who is a key name for arbitration; 
Rita Gouveia
, whose areas of activity include shareholder disputes and post-M&A arbitrations; and
Diogo Castanheira Pereira
, who is regularly sought after by investment funds, financial institutions and real estate companies.
The IP department at
CMS
 undertakes trade mark and patent filing, infringement and portfolio management work on behalf of multinational clients operating in a variety of sectors. Assisting Portuguese companies with the internationalisation of their brands is also a core strength of the department, which has wide-ranging experience in EU trade marks and related litigation. Leading the group is
José Luís Arnaut

, who is the first point of contact for several companies in relation to domain names, patents and trade marks.
João Leitão Figueiredo
 is counsel of choice for several international companies; he specialises in industrial property rights pertaining to the life sciences, technology and media sectors.
CMS
's broad international footprint makes it a popular choice for market-leading multinational companies and domestic clients involved in large-scale transactions. Providing legal support in all areas within tax law, including direct and indirect taxes, transfer pricing and litigation, the team particularly stands out for its in-depth knowledge of VAT matters. Leading the department is
Patrick Dewerbe
, '
an excellent tax expert
' whose areas of expertise include real estate, private equity, M&A and litigation. He is also trusted by several high-net-worth individuals and families. Private wealth and transactional tax matters are key fields of activity for
Nuno Figueirôa Santos
.
Susana Estêvão Gonçalves
, who regularly assists with tax planning in the context of M&A, real estate and financing transactions, is highlighted for her '
in-depth knowledge of the law
'.
A diverse roster of investors, investment banks and financial institutions engages
CMS
's capital markets group on the breadth of equity and debt matters. Its service offering also covers securitisations and regulatory matters.
Francisco Xavier de Almeida
 spearheads the capital markets team; he is regularly sought after by key Portuguese and international clients in matters pertaining to debt and equity instruments, privatisations and M&A.
Data privacy and cybersecurity audits, regulatory compliance and matters involving the processing of personal data are among the typical mandates handled by the privacy and data protection team at
CMS
. Multinational and start-up companies in the technology, communications, life sciences, retail and banking sectors feature on the team's diverse client roster.
José Luís Arnaut

 oversees the team, which also advises on data breaches; clients benefit from access to a mobile app (CMS Breach Assistant) which helps them understand the priority steps that should be taken when faced with a breach.
João Leitão Figueiredo
 is praised by clients for being '
reliable, pragmatic and technically sound on all aspects of data protection work
'.
The '
very methodical and well-structured team
' at
CMS
 possesses
'in-depth knowledge of competition issues in Portugal and Europe
'. The department – which is a popular choice for clients from the energy, TMT and pharmaceutical sectors – is equally adept in handling complex merger control issues and antitrust cases before the Portuguese Competition Authority. It draws on the firm's multidisciplinary offering to provide comprehensive advice in relation to compliance matters, including all aspects of regulatory law.
Luís Miguel Romão
, whose notable areas of expertise include cartels, litigation, merger control and state aid, spearheads the EU and competition group.
Drawing on the strength of the firm's multi-jurisdictional practices across M&A, banking and finance, tax and regulation,
CMS
's team in Portugal is equipped to handle all aspects of restructuring and insolvency matters. A diverse client base – comprising banks, distressed debt investors, private equity firms and corporates in financial difficulties – regularly turn to the team in relation to large restructuring processes, litigation arising from insolvencies and transactional work.
Nuno Pena
 is a go-to litigator for issues pertaining to the banking sector; dispute resolution is also a strong point for
Miguel Esperança Pina
, who is highly regarded for insolvency and restructuring disputes. Other names to note include 
Rita Gouveia
and
Diogo Castanheira Pereira
, the latter of whom is regularly sought by investment funds, financial institutions and real estate companies in restructuring matters.
CMS
 is well versed across a broad array of public law matters, spanning infrastructure projects, regulatory issues, public procurement and administrative proceedings. Specialised in administrative law,
Gonçalo Guerra Tavares
 handles a wide range of transactions, public tender procedures, concession contracts and arbitration proceedings relating to public works.
Duarte Lebre De Freitas
 '
has solid knowledge in matters of public law and administrative litigation' 
and
António Magalhães Menezes
 assists companies and public entities on regulatory matters.
CMS
 handles a range of transactional and regulatory matters related to the media, advertising and technology sectors. The team is typically instructed in matters involving the development and launch of new apps, software licensing agreements, M&A deals and advertising campaigns.
José Luís Arnaut

 heads up the technology, media and communications team, which also features
João Leitão Figueiredo
, who has assisted private and public sector clients in various technology-related matters.
The Angola practice at
CMS
 sits within the firm's wider Lusophone Africa team, and is led by
Alberto Galhardo Simões
. The team works with Angolan firm
LBR Advogados
 to offer a full-service practice across key economic sectors in the region.
Maria Figueiredo
joined the team in January 2021 and has over 20 years' tax experience in Portuguese-speaking African countries, with a focus on the oil and gas and renewables industries. The team is best known for its infrastructure and project finance practice, and can often be found advising on some of the region's high-profile transactions.
CMS >
Firm Profile
Firm Profile:
We are part of the CMS global team, a world leader in the ranking of the Top 10 Global Law Firms with in-depth local knowledge and local experience in over 40 countries.
Clients from CMS Portugal benefit from the experience, the legal know-how, the deep knowledge of several sectors in the industry and also an international coverage, unique in Portugal, that allows us to provide a truly global service with a rapid response capacity.
The high standards required by the digital and traditional world are transforming the markets and boosting new business models. On CMS, we provide a monitoring focused on the client, anticipating the market tendencies in order to develop quick and efficient solutions in the face of constant challenges.
Our office has been active for nearly 50 years combining an international outlook with deep local roots. CMS lawyers are recognized leaders in the field and ranked by the most prestigious international directories.
CMS, the largest organization of law firms in Europe, aims to be the best European organization for legal services, capable of providing legal and tax advice of undisputed quality and agility.
The unique way in which CMS is organized provides its Clients with high quality and consistent advice that is absolutely client-focused and coordinated across borders.
CMS is present in 73 cities, 44 countries.
Main Areas of Practice:
CMS offers a wide range of expertise through 19 practice area and sector groups, providing advice on local, national and international issues. These expert groups are firmly established across CMS.
• Antitrust, Competition & Trade
• Banking & Finance
• Commercial
• Consumer Products
• Corporate/M&A
• Dispute Resolution
• Employment & Pensions
• Energy & Climate Change
• Funds
• Hotels & Leisure
• Infrastructure & Projects
• Insurance
• Intellectual Property
• Life Sciences & Healthcare
• Private Equity
• Public Procurement
• Real Estate
• Tax
• Technology, Media & Communications
Clients:
The firm's clients include large and mid-sized companies, banks, public, national and multinational institutions active in Portugal or conducting crossborder business. They include several important national and multinational enterprises, operating in industries ranging from energy, oil and gas, renewables, construction, steel, automotive, car rental, transportation, pharmaceuticals and electronics, to general and credit insurance, brokerage and banking. It also represents a number of public entities and private individuals.
CMS:
Founded in 1999, CMS is an integrated, multi-jurisdictional organisation of law firms that offers full-service legal and tax advice. With 70+ offices in 40+ countries across the world, employing over 5,000 lawyers, CMS has longstanding expertise both at advising in its local jurisdictions and across borders. CMS offers specialist, business-focused advice to clients – from major multinationals and mid-caps to enterprising start-ups – operating in complex business and constantly changing regulatory environments.
Staff Figures
Number of lawyers : 100+ Number of partners : 25+
Languages
English French German Italian Portuguese
Other
Other offices : Funchal Other offices : Luanda
Legal Briefings
Doing business in the UAE

CMS's John O'Connor and Harkee Wilson discuss the challenges and issues businesses face operating in the UAE and investigate some of the recent changes in the business environment.