CMS > Amsterdam, Netherlands > Firm Profile
CMS
Offices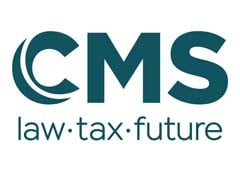 CMS
ATRIUM
PARNASSUSWEG 737
1077 DG AMSTERDAM
Netherlands
CMS > The Legal 500
Rankings
CMS
 fields a multi-disciplinary transport team, led by
Petra Heemskerk
and
Herman Boersen
, who focus on public procurement and tax law, respectively. The group is consistently involved in matters relating to the mobility and automotive sector, with clients including public transport companies, investors, parking management companies and car brand distributors. Its transport financing work relates to assets including ships, trains and aircraft. The team focuses on developments in electric transport, particularly in the automotive sector and related infrastructure requirements, and has broader experience in the aviation, shipping and rail network industries.
CMS
, which fields an interdisciplinary team with experience in banking and finance, corporate, capital markets, cyber security and data protection, advises large retail and investment banks, investors and fintech companies with a specific focus on payments and lending, blockchain and digital assets including cryptocurrency, and securities and financing. The payments and lending and crypto/digital assets teams are led by
Tessa Penninks
and
Clair Wermers
, respectively. Penninks specialises in new technologies and financial products, with additional regulatory expertise. Wermers focuses on tokenisation, coin offerings, financial instruments and related trading platforms.
CMS
' multidisciplinary consumer products team assists a range of clients, including producers, retailers, investors and regulators with matters concerning product liability, contamination, recalls, IP and data protection.
Aukje Haan
and
Mark Ziekman
are the key names for corporate and commercial matters and
Rogier de Vrey
handles patent and trademark disputes. Head of the antitrust, competition and trade team
Edmon Oude Elferink
focuses on cartel, abuse of dominance and merger control matters.
CMS
leverages its global life sciences group in order to provide clients with practical and commercial solutions. The team works on contentious and non-contentious mandates, representing healthcare companies in IP infringement cases and assisting biotech companies with incorporation and IPOs. Regulatory practice head
Ellen Gielen
advises international life sciences companies on a range of product issues including manufacturing and distribution, pricing and reimbursement, and advertising.
Gertie Lintjens
brings further industry-specific experience, assisting with business models and R&D projects.
The team at
CMS
handles a busy and varied workload concerning insurance claims and advisory coverage work across a range of sectors including real estate, construction, financial services, retail and life sciences. Working closely with the firm's insurance teams across Europe, specifically the firm's London office, the group is able to draw on a strong international platform of insurance specialists and is on a number of panels for a range of Dutch and international insurance companies. New developments in the insurance area, including cyber and insurtech, are an increasing focus of the team and it has advised several digital tech companies on market entry into the Netherlands.
Leonard Böhmer
and
Bas Baks
 lead the practice.
The real estate team at
CMS
regularly draws expertise from across the firm to offer comprehensive corporate, finance, tax and funds advice related to international real estate transactions and developments. The firm's experienced civil notaries play an integral role towards advising public and private clients in large real estate deals, including acquisitions, structuring ownership and usage rights. The team also has experience advising on diversions of properties in apartment rights, the creation of limited real rights, and foreclosures of both residential and commercial properties. The practice is headed by
Arnout Scholten
and
Hein van der Meer
, both of whom specialise in high-end property development and real estate transactions.
CMS
is frequently appointed by the Dutch courts as trustee in high-profile insolvency proceedings and continues to offer extensive experience when called upon. The Amsterdam-based team is also active in several restructuring and recovery matters including large-scale bankruptcies, with a focus on real estate funds, consumer products, retail, life sciences, and hotel industries. The team is seated within the banking and finance group to consolidate its corporate backdrop and is part of the firm's wider network of international restructuring and insolvency offices, strengthening its cross-border restructuring capacity.
Marc van Zanten
and
Marcel Groenewegen
lead the practice and
Marlous de Groot
was recently promoted to partner, focusing on court appointed trusteeships particularly in the healthcare and retail sectors. Former practice head
Jan Willem Bouman
 recently retired from the firm.
Led by
Marc van Zanten
and
Eduard Scheenstra
, the banking and finance team at
CMS
has a standout reputation in the real estate space, but it is also noted for its focus on international financial institutions, renewable energy, and the hotels and leisure sectors. In addition to real estate finance, the group is well-placed to handle transactions involving acquisition finance and leveraged finance, project finance, and is often called upon in restructuring matters. In a recent highlight, counsel
Etienne Courbois
and senior associate
Jenny Noordermeer
advised VIA Outlets B.V. on its issuance of €600m senior unsecured fixed-rate green bonds, as well as on a revolving credit facility and the subsequent restructuring.
Tessa Penninks
 is the head of financial services/regulatory at
CMS
, which sits within the wider banking and finance department led by
Marc van Zanten
. The team's expertise spans a number of areas, including market entry, EU passporting, anti-money laundering and financial/security agreements. It has a particularly strong track record in assisting captives and leasing companies in the automotive sector, although it is also instructed by international banks, insurance companies, payment services and consumer credit providers. Another name to note is associate
Laurens Pronk
, who specialises in integrity-related regulations.
The Netherlands-based team at
CMS
draws on the firm's global network to excel in cross-border finance transactions, although domestic matters are equally well-handled.
Marc van Zanten
and
Eduard Scheenstra
head the practice, which has an excellent reputation in real estate finance transactions. Project finance is another area of focus, with the group handling an increased number of sustainability-linked mandates. In 2021, Scheenstra and senior associate
Jenny Noordermeer
were among the advisers to SaarLB on its loan for the development of a wind farm in the Netherlands. The group also covers asset finance, structured finance, leveraged finance and acquisition finance. Another key individual is counsel
Etiënne Courbois
, who has in syndicated lending and debt restructurings.
CMS
's construction and real estate team is equipped to handle an array of complex disputes arising across construction and project development. The team is experienced in dispute management including mediation, litigation and international arbitration and the firm advises on construction agreements with particular focus on monitoring disputes. The team, led by
Jeroen Berlage
and
Arno Moret
, works closely with project finance, insurance and tax practitioners across the firm, and offers contentious construction experience, both domestic and international.
CMS
's privacy and cybersecurity team has a robust cyber incident management practice.
Erik Jonkman
heads the practice, advising cyber insurers on data theft and ransomware. Head of the TMC sector group
Katja van Kranenburg-Hanspians
is a key contact for contract matters relating to technology and data, while
Edmon Oude Elferink
and senior counsel
Simon Sanders
are other key members of the team, assisting on competition issues related to data protection violations and the privacy aspects of innovative technology systems, respectively.
CMS
' energy and climate change group is well regarded by clients including major multinationals, developers, and energy network operators. The team is led by
Cecilia van der Weijden
, who has broad experience in transactional and development work and expertise advising on issues including sustainable heat and carbon capture and storage.
With experience across acquisitions and divestments, financing, and project development,
CMS
' energy and climate change group is well regarded by clients including national and international energy operators and funders. Experienced corporate lawyer
Cecilia van der Weijden
leads the team, while
Martika Jonk
 is a key contact for clients in the oil and gas industry.
Led by junior partner
Luurt Wildeboer
, the administrative law team at
CMS
has experience in permitting and zoning advice as well as litigation. Wildeboer focuses on the interaction between environmental standards and spatial development, and the team's client base includes both local public authorities and private companies.
Advising on antitrust, competition and trade matters,
CMS
is active in merger control, cartel cases, state aid and FDI controls, representing clients before the ECJ, EC, ACM and domestic courts. The firm also has a dawn raid team servicing both Dutch and international clients. Led by
Edmon Oude Elferink
, the team handles merger notifications, state aid, cartel and abuse of dominance proceedings, as well as follow-on litigation. Elferink has a particular focus on the intersection of competition and data protection.
Blockchain, AI and digital transformation of traditional industries forms a large part of
CMS
' broad tech, media, communications and data privacy and protection practice. Head of the employment and TMC sector group
Katja Van Kranenburg – Hanspians
focuses on data protection and the implementation of IT platforms and preparing contracts with third parties. Senior counsel
Simon Sanders
is a key contact for tech-related dispute resolution and assistance with the roll-out of new technologies and ecosystems.
Rogier de Vrey
works on IT matters that intersect with IP, while cybersecurity practitioner
Erik Jonkman
is a name to note for global and domestic security incidents.
Chair of CMS's international commercial group and head of the Dutch company law team Aukje Haan is a key contact in the retail practice, advising well-known consumer products and retail companies on new sales and distribution models. Haan focuses on drawing up commercial contracts, including distribution, agency and franchise agreements and is experienced in litigation concerning product liability. Mark Ziekman assists clients in M&A transactions and Rogier de Vrey is an experienced IP litigator. Edmon Oude Elferink  demonstrates the depth of the practice with expertise in EU competition and data protection law. Counsel Anita Canta is a specialist in dealing with disputes concerning franchisors and franchisees.
Experienced patent litigator
Rogier de Vrey
leads the IP practice at
CMS
. De Vrey has expertise in media and sports as well as life sciences matters.
Willem Hoorneman
and attorney-at-law 
Marcoline van der Dussen
are key contacts, with the latter an expert in the field of consumer goods and soft IP mandates.
Yasar Celebi
is a key associate. The team defends food suppliers in infringement and invalidity proceedings and works on applications for patent protection against counterfeiting. Additionally, the practice advises engineering and transport-sector companies on patent disputes.
With experience across the technology, hotel and leisure, consumer goods, financial services and energy sectors, CMS counts M&A, joint ventures, strategic alliances, and corporate governance matters in its workload. Roman Tarlavski leads the practice and advises on cross-border M&A and structured joint ventures, while Reinout Slot focuses on deals arising out of regulated industries. Pieter Van Duijvenvoorde handles national and international M&A transactions, and Elmer Veenman joined the team from Eversheds Sutherland (Netherlands) B.V. in May 2022.
CMS
' dispute resolution team represents plaintiffs and defendants, spanning insurance companies, financial institutions, energy companies, and directors and officers.
Leonard Böhmer
heads up the litigation and insurance team, while
Peter Soede
focuses on complex legal procedures involving liability law,
Bart-Adriaan de Ruijter
is a key name to note for corporate litigation, and
Petra Heemskerk
specialises in procurement issues involving high-profile tender disputes. Franchise disputes specialist
Anita Canta
and sports expert
Michiel Van Dijk
are also recommended.
Acting predominantly for international companies,
CMS
 leverages its global presence to take on cross-border employment mandates. The firm frequently advises on restructurings and has also seen a recent increase in whistleblower and compliance-related matters. The practice is headed by
Katja van Kranenburg-Hanspians
 and
Michiel van Dijk
; the former focuses on restructurings, dismissals and high-profile litigation, while the latter specialises in sports and employment law.
CMS
's media, entertainment and sports team advises clients on commercial arrangements, corporate transactions and litigation in a range of industries, such as sports, advertising, film, gaming and social media. IP expert
Rogier de Vrey
focuses on disputes concerning the exploitation and enforcement of digital media rights. Sports law specialist
Michiel Van Dijk
advises sports  organisations, associations and international top athletes on a variety of sports mandates. Senior counsel
Simon Sanders
supports clients on the overlap between legal issues and technology, while
Marcoline van der Dussen
is a key support on media and advertising-related IP matters.
Department head
Rogier de Vrey
reflects the multidisciplinary approach of
CMS
's Dutch IP set up; de Vrey advises media, sports and life sciences clients on patents, trade mark, unfair competition and trade secret matters. Patent specialist
Willem Hoorneman
is another name to note for his strategic and pragmatic work in the IP field. Advertising litigator
Marcoline van der Dussen
advises international companies in the field of consumer products, and associate
Yasar Celebi
is a key support on cross-border IP and intersecting competition law issues.
CMS >
Firm Profile
CMS is a leading and long-standing law firm in the Netherlands with 150 lawyers, civil-law notaries and tax advisers. The firm combines expert knowledge and experience with innovation and creativity to ensure clients achieve and secure their business goals. Its specialists form a full-service practice for national and international businesses such as Fortune 500 companies, FT European 500 companies and organisations from the DAX 30.
With the same drive, CMS helps clients turn their start-ups into game changers. The future and technological innovation play a major role for clients and therefore also for the firm. CMS is closely involved in the global energy transition, the regulation of cryptocurrencies and developments around privacy and cybersecurity, alternative food sources and innovations in healthcare through the use of big data.
Meet The Team(s)
Staff Figures
Number of lawyers : 4,800+
Languages
Dutch English French German Hebrew Italian Russian Spanish Turkish Chinese (Mandarin)
Other
Other offices : Brussels Other offices : Amsterdam CMS the Netherlands : 150 lawyers, civil-law notaries and tax advisers CMS locations : CMS is one of the largest law firms in the world, with more than 70 offices in over 40 countries. Managing Partner : Willem Hoorneman
The Legal 500 Future Lawyers Verdict
With an 'international, national and regional presence, a collegiate work culture and approachable senior lawyers' it's easy to see why the current trainee cohort chose CMS.  A 'top reputation in the energy and infrastructure sectors' and an 'amazing client pool' also convinced recruits that this was the firm for them. CMS' commitment to diversity and inclusion came up time and time again in the feedback: 'the firm shows its dedication to diversity by embedding these principles into its culture' and 'you can see this by speaking to anyone at the firm'. The 'hybrid working policy is strong', leading to the firm being awarded a Future Lawyers Winner medal in this category. The people are 'driven, innovative and intelligent but also very approachable' and the work environment is 'described as 'collaborative and encouraging'. Elaborating, one respondent said: 'the social benefits of working at CMS are definitely the best thing. The culture is not what you would expect from an international law firm'. Things that annoy trainees are the 'lack of transparency around seat rotation', that 'Scottish (and other regional office) pay at trainee/NQ level is lacking compared to similarly-placed firms', and that some recruits have to 'split our training contracts across two cities', which makes for logistical difficulties. Best moments ranged from 'closing a multi-billion-pound deal' and 'carrying out research for well-known football club clients' to 'working on a large portfolio property sale'. Worst moments included 'occasional (but pretty major) time squeezes when working for multiple teams', 'silly spelling errors sent in emails', and 'our training being frontloaded, rather than introduced gradually to allow aspects to sink in'. For 'high-level, rewarding work across multiple practice areas' in a firm with a 'global demographic', research CMS.
Press Releases
22nd August 2023
CMS has advised Ignite Thailand Holdings Limited (trading as "Roojai"), a managing general agent developing its own retail insurance products and distributing them digitally on a B2C model in Thailand and Indonesia,
22nd August 2023
CMS has advised Bitdefender, a global cybersecurity leader, on its cross-border acquisition of Singapore-based Horangi Cyber Security to address the growing demand for advanced, streamlined management of cybersecurity, compliance, and governance of multi-cloud environments.
Legal Developments
3rd November 2023
This article is produced by CMS Holborn Asia, a Formal Law Alliance between CMS Singapore and Holborn Law LLC. 
Introduction 
Amidst a high-profile money laundering investigation involving (currently) at least S$2.8 billion in domestic assets, Singapore's government has recently announced plans to introduce additional measures to strengthen Singapore's anti-money laundering ("AML") regime.[1]
8th August 2023
The Oaths, Declarations and Notarisations (Remote Methods) Bill was passed in Parliament on 2 August 2023.
7th August 2023
Introduction
As part of its Smart Nation Vision, Singapore aims to transition into an innovative e-payments society where everyone has easy access to swift, simple and secure payments. To facilitate this transition, the Monetary Authority of Singapore ("MAS") consulted[1] financial institutions, members of industry associations, government agencies and members of the public on proposed initiatives to:
eliminate centrally cleared cheques issued by corporates ("corporate cheques") by 2025; and
assist and encourage remaining users of centrally cleared cheques (including individuals) that are able to switch to alternative payment methods to do so.
2. The consultation began on 2 November 2022, and closed on 13 December 2022. 3.  On 28 July 2023, MAS published its response
[2]
to the consultation in which it evaluated the feedback obtained from respondents and explained how it would incorporate suggestions into its roadmap to terminate the SGD Cheque Truncation System ("
CTS
"). The more pertinent portions of MAS' response are summarised below.
Barriers in switching to non-cheque alternative payment methods
4. Property and legal sectors
Respondents noted that cheques are commonly used in property-related transactions. For example, cheques are often used for the payment of stamp duties to the Inland Revenue Authority of Singapore, and flat purchases from the Housing Development Board. To this end, MAS highlighted that the Electronic Deferred Payment ("EDP") solution, which will be launched by 2025, can serve as a cheque alternative for property transactions. More information on the EDP solution can be in Annex B of MAS' response[3]. The Singapore Land Authority is also developing a Digital Conveyancing Portal ("DCP") that seeks to digitalise the existing manual and paper-based conveyancing process, thereby eliminating cheques from the process as well. The DCP is targeted for full commissioning in 2026.
As for the legal sector, respondents noted that while the Legal Profession (Solicitors' Accounts) Rules has been amended to allow for the use of e-payments in respect of payment of monies out of client accounts, the requirement for such e-payments to be made with the authorisation of two solicitors using biometric authentication made it operationally and technically difficult. In response, MAS highlighted that the Law Society of Singapore has completed its review of the challenges relating to the use of e-payments for the payment of monies out of client accounts and has published a revised Practice Direction 3.3.11 for its members. The revised Practice Direction 3.3.11, which came into operation on 23 May 2023, clarifies the technical requirements for digital payments from client accounts.
Initiatives to eliminate corporate cheques and encourage cheque users to switch to alternative payment methods
5. Charges to be imposed for cheque usage
All Domestic Systematically Important Banks (D-SIBs)[4] in Singapore will impose charges on SGD-denominated cheques by 1 November 2023, while the rest of the banks will do so by 1 July 2024. This will encourage payment users to switch to cheaper and more convenient alternative payment methods, where available. The financial industry will not adopt a baseline rate to be charged in view of anti-competition rules.
There are also plans to implement charges for USD-denominated cheques for both corporate and retail users. Timelines for this and related initiatives will be set out in MAS' second public consultation.
6. Public communication and support MAS will work with the Association of Banks in Singapore and other government and industry stakeholders to raise public awareness of the elimination of corporate cheques by 2025. Together, they will address concerns and provide support for those that may face challenges in their transition to alternative payment methods.
---
Footnotes
[1]
p011_consultation-paper-on-roadmap-to-terminate-the-sgd-cts---eliminating-corporate-cheques-by-2025.pdf (mas.gov.sg)
[2]
response-to-consultation---roadmap-to-eliminate-corporate-cheques.pdf (mas.gov.sg)
[3]
response-to-consultation---roadmap-to-eliminate-corporate-cheques.pdf (mas.gov.sg)
[4]
These banks are Citibank, DBS Bank, HSBC, Maybank, OCBC, Standard Chartered Bank and UOB.
Legal Briefings
Doing business in the UAE

CMS's John O'Connor and Harkee Wilson discuss the challenges and issues businesses face operating in the UAE and investigate some of the recent changes in the business environment.