Headrick Rizik Alvarez & Fernández > Santo Domingo, Dominican Republic > Firm Profile
Headrick Rizik Alvarez & Fernández
Offices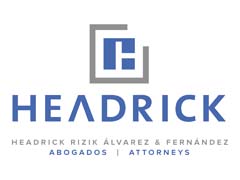 Headrick Rizik Alvarez & Fernández
CALLE GUSTAVO MEJIA RICART NO 106
TORRE PIATINI, 6TH FLOOR
SANTO DOMINGO
Dominican Republic
Headrick Rizik Alvarez & Fernández > The Legal 500
Rankings
Headrick Rizik Alvarez & Fernández has banking and finance as one of its core areas of focus. The firm's client roster includes a significant number of local and international banks and financing institutions, which turn to the team for assistance in day-to-day, transactional and contentious matters. Key practitioner Jaime Senior has a well-recognised practice with elements of both corporate and banking law, with an emphasis placed on disputes related to foreign investments. Founding partner Roberto Rizik co-leads the department; alongside his role as a member of the corporate team, he stands out for his involvement in banking, international finance matters and the encouragement of foreign investment.
Practice head(s):
Roberto Rizik; Jaime Senior
Testimonials
'This office has professionals of the highest level, in addition to vast experience in various areas of law.'
'Francisco Alvarez, Jaime Senior and Julio Camejo are stand-out practitioners.'
Key clients
Banco BHD León
The Bank of Nova Scotia
Citibank
JP Morgan Securities
Wells Fargo Bank
Bank of America
Central American Bank for Economic Integration
Fitch Ratings
Banco Santa Cruz
Work highlights
Acted as local counsel to Scotiabank and a syndicate of lenders in connection with a $485m senior secured term loan facility previously granted to Phoenix Tower International and affiliates.
Acted as local counsel to Dominican borrowers concerning a credit facility granted by Goldman Sachs in the total amount of approximately $105m.
Providing assistance to Citibank regarding launch of a repo transactions product in the local market.
Headrick Rizik Alvarez & Fernández's corporate team is best known for providing a comprehensive service that covers all types of transactional work. Its broad experience in both local and international markets is of benefit for its multinational clients, which operate in a range of sectors including healthcare, air traffic, consumer products and e-commerce, among others. Sales of receivables and asset acquisitions have been very active areas in the past year, while the group also saw an increase in projects relating to the supply and regulation of health products. Commercial agreements, tax matters, financing, corporate reorganisations as well as tourism and industrial free zones investments feature prominently in Jaime Senior's workload. Sarah De León's specialisms include real estate projects, distribution, joint ventures and foreign investments. Roberto Rizik divides his practice between banking and corporate projects; in the latter field he specialises in M&A, insurance law and the execution of contracts that involve public or private entities. The trio jointly lead the practice. Other key contacts include Eileen Jiménez, Mary Fernández and Fernando Marranzini.
Practice head(s):
Roberto Rizik; Sarah De León Perelló; Jaime Senior
Testimonials
'Personalised service, quality of the opinions provided, knowledge of the market.'
'All members of the team are excellent with an outstanding attention to detail and commitment to the client and come with the highest level of recommendation.'
'Mary Fernandez makes herself available, has great knowledge and connections. Mary is a true leader who is extremely professional, compassionate and strategic.'
'They have the required technical knowledge, they understand the client's need, so their advice is adjusted to what is required in practice, and they respond extremely fast.'
'They make the client feel as if their issues are the most relevant, and they care about going that extra mile and providing a service that really serves to solve the situations presented. In addition, they are extremely reasonable in terms of billing.'
Key clients
La Cava Holdings
Panamex Pacific
Imperial Brands
JP Morgan Securities
Johnson & Johnson
New York Yankees
Tabacalera de García
CMFG Life Insurance
Grupo Farach
De La Rue
Work highlights
Advised multinational tobacco company Imperial Brands on the sale of certain Dominican Republic assets as part of a global transaction worth $1.1bn regarding the sale of its premium cigar division.
Advised DiDi Chuxing, which provides app-based transportation services including ride-sharing, taxi hailing and on-demand delivery services, in connection with the launch of its services in the Dominican Republic.
Represented McKinsey & Company in connection with the expansion of its services in Latin America, assisting the consulting services firm with the establishment of its offices in the Dominican Republic.
Noted for its 'excellent analytical capacity' and 'first-rate services', Headrick Rizik Alvarez & Fernández balances an active and broad dispute resolution practice, with expertise across a wide variety of cases, including civil, commercial, labour, administrative, constitutional, consumer, intellectual property, criminal and real estate disputes. The firm is known for defending clients before judicial, arbitral, administrative and constitutional courts including at the highest levels. Founding partner Francisco Álvarez is particularly active in cases involving banking and tax issues, where he is highly regarded. Julio Camejo, who also acts as arbitrator, is active in the energy, manufacturing and banking sectors, and Tomás Hernández is an expert in labour and employment litigation.
Practice head(s):
Francisco Alvarez; Julio Camejo
Testimonials
'Quality of service and security that the issues will be addressed in depth. Highly committed to the client. You feel confident having Headrick as attorneys.'
'Team with excellent analytical capacity, with knowledge of the norms, doctrine and jurisprudence in the matter that allows them to analyse and evaluate the cases that are presented to them, establishing the best strategy, in time.'
'Mary Fernandez and Juan José Alvarez convey confidence given the expertise they possess. Their capacity for deep analysis of situations allows them to define a clear strategy and identify any unforeseen events.'
'Accessibility of each of its members at all times. Effective response. Accurate and quality deliverables.'
'The team has a high degree of specialisation and provides first-rate services at all times. Their attention is warm and responds effectively to customer needs. Their high knowledge of the matter in which they provide services and experience with large transnational companies in the region.'
'They are undoubtedly a great ally for a business and add a lot of value to local operations. The team's ability to adapt to new ways of working derived from the Covid-19 health contingency was excellent.'
Key clients
Frederic Schad
Dominican Tax Agency
Banco BHD
Grupo SID
Citibank
Grupo Punta Cana
Central Bank of Dominican Republic
Nynas AB
Isla Dominicana De Petroleo Corporation
Claro
Zoetis
Opitel
Work highlights
Representing the Dominican Republic Tax Agency in a large tax fraud case filed against  several companies of the Tremols Group, manufacturers of rum and other spirits in the Dominican Republic, for approx. $241m.
Represented Isla Dominicana de Petróleo Corporation in arbitration concerning an alleged breach of contract and damages.
Representing Banco Múltiple BHD León in several claims related to the failed acquisition and financing of the Silver Sun Gallery Hotel and Mall in Santo Domingo.
Headrick Rizik Alvarez & Fernández is praised for its 'unique ability to anticipate potential challenges and anticipate solutions before those scenarios become reality'. Its key IP partners Mary Fernández and Lilly Acevedo lead the sizeable, full-service practice, which handles high-profile matters in connection to trade mark prosecution, patents, copyright and disputes. Trade marks are an area of particular strength; here, the firm acts for a number of clients in the pharmaceuticals and healthcare sectors. Acevedo acts as director of the intellectual property and regulatory affairs department of the firm and focuses on advising companies in the cosmetics and food and beverages sectors, including providing advice on trading, distribution and advertising. Founding partner Fernández is also a highly regarded corporate lawyer.
Practice head(s):
Mary Fernández; Lilly Acevedo
Testimonials
'The whole IP team at Headrick is remarkable, but their leaders deserve a great deal of credit, to keep the gear rolling in synchronicity.'
'The lawyers regularly provide their responses in the appropriate time for what has been required. Provided that they're so knowledgeable on the field and involved with the work that is done by the relevant Government agencies, their advice is always accurate, and is always able to combine the best analysis on the legislation with the practical point of view and current practices.'
'Mary Fernández is a key player in the Dominican Republic for IP services. She is highly respected and known for her expertise and dynamism. Mary is a Senior and Founding Partner of the Firm and throughout the years she has contributed in the enactment of different pieces of law. She is well regarded by her clients for her dedication and the attention that she grants to all of her cases.'
'Lilly Acevedo is very thorough in her opinions, and pragmatic at the same time. She always focuses on the solution, and not the problem itself, trying to harmonise the law, the practices in the market and the levels of compliance that the pharmaceutical companies have to meet. Thanks to her expertise, she is able to come up with new and creative approaches to the issues presented.'
'Exceptional technical knowledge. A unique ability to anticipate potential challenges and anticipate solutions before those scenarios become reality. Multidisciplinary nature of the practice of attorneys and an exceptional database infrastructure and access to information.'
'Marisol Vicens is an exceptional professional talent that can be defined by her integrity, technical capacity and work ethic. In addition to those pillar qualities for a lawyer, Marisol has an unusual sagacity that allows her to anticipate challenges and prepare in advance for their solution.'
Key clients
Johnson & Johnson
Grupo Sid
Mujeres Por La Igualdad De Derechos
Gunk
Mejía Arcalá
Transparency International
Merck
Bigwise
Caesars entertainment
Grupo Puntacana
Work highlights
Represented CAE and Grupo Puntacana before the Court of Appeal, which rendered a favourable decision in a case concerning retransmission of audio-visual work.
Served as main counsel to Grupo Bolim in the recent purchase of all the assets of Pan Pepin, an iconic bread manufacturer in the country, including providing advice on IP aspects.
Assisted Induveca to obtain prima facie protection for the elements integrating a trade dress.
Highlighted for its 'knowledge and mastery' in labour law, Headrick Rizik Alvarez & Fernández focuses its highly regarded labour and employment practice on advising employers. On the non-contentious side, the team is often involved in the implementation and modification of labour and human resources policies, the creation and restructuring of labour benefit policies and counselling in connection with agreements, including with the discussion of union agreements. The group also stands out for its dispute resolution capabilities and its involvement in processes related to the revision and modification of labour legislation and regulatory initiatives. In the latter area, practice head Tomás Hernández particularly stands out, especially for having advised the National Council of Private Enterprise, the Association of Industries of the Dominican Republic and the National Association of Hotels and Restaurants. Telecoms, financial services, free zones, hotels and tourism, food, education and pharmaceuticals are among the firm's extensive list of sector specialisms. Manuel Madera and senior associate Federico Pinchinat are noted.
Testimonials
'Availability and knowledge of the cases they handle, personalised and detailed assistance as well as the knowledge and mastery of the labour field, effectively avoiding conflicts and negative repercussions over time.'
'Tomás Hernández has extensive knowledge of the legislation, strategic vision, personalised treatment and constant availability. Close and personalised relationship with clients, unrestricted availability, strategic thinking and support in every step of the implementation. The implementation of the strategy and the constant research work in order to establish innovative processes with high benefits for the productivity of the company and the business sector in general.'
Key clients
McKinsey & Co
One Park Dominicana
New York Yankees
Philip Morris Dominicana
LA Dodgers
MercaSID
Consorcio Azucarero Central
American Móvil Teleservices
ARS Palic Salud
Isla Dominicana de Petróleo Corporation
Work highlights
Assisting the Los Angeles Dodgers in a labour claim filed by an ex–academy player, whereby he seeks payment of the severance and acquired rights as an ordinary employee in the Dominican Republic.
Acted as counsel to United Petroleum and Transporte Lizandro in a claim by approximately 28 workers who are requesting salary allegedly not paid, as well as damages.
Provides assistance to GlaxoSmithKline with labour matters in the Dominican Republic in connection with the creation of a joint venture with Pfizer to combine their consumer healthcare businesses.
Headrick Rizik Alvarez & Fernández fields a specialised tax practice, which is highly recognised for representing, among others, the Dominican Tax Agency in relation to criminal proceedings involving tax evasion. The case was addressed by the firm's litigators Francisco Alvarez and Julio Camejo as lead partners. This is in addition to its work on the non-contentious side, where the team advises clients on the tax aspects of corporate and commercial operations, including in the establishment of local operations, tax exemptions and corporate structures; Marisol Vicens is a key contact in these areas. Jaime Senior is another name to note.
Practice head(s):
Marisol Vicens; Jaime Senior
Key clients
Dominican Tax Agency
McKinsey & Co.
Lawincontext
Nielsen
The Nature Conservancy
National Council of Private Enterprises
Association of Industries of the Dominican Republic
Playa Grande Golf & Resort
One Park Dominicana
Grupo Ciencia
Work highlights
Representing the Dominican Tax Agency in a large tax fraud case filed against individuals and several companies of the Tremols Group, manufacturers of rum and other spirits in the Dominican Republic, for approx. $241m.
Provided legal advice and support to McKinsey & Company on corporate, contractual, employment and tax matters related to the establishment of its local office.
Representing the Dominican Tax Agency in a criminal case against several individuals and a company in the Dominican Republic, involving approx. $40m.
Headrick Rizik Alvarez & Fernández is regularly involved in major transactions in the energy sector taking place in the Dominican Republic, and also stands out for its assistance in regulatory matters. Practice head Marisol Vicens is particularly recognised for her experience in this field, which she acquired, among other projects, during her work on the privatisation process of the previously state-owned electrical system in the 1990s. Vicens' main areas of activity include investments, public-private partnership contracts, and distribution matters. The team also includes standout practitioners Jaime Senior and associate Carolina Silié, who specialises in permits, authorisations and licences, power purchase agreements and purchase contracts of natural gas, among other areas.
Practice head(s):
Marisol Vicens; Jaime Senior
Testimonials
'Jaime Senior is very knowledgeable about the law and is also very business-oriented and capable of providing sensible advice to resolve the client's problems. He also has an excellent command of English, which makes him very easy to work with.'
Key clients
Green Street Power Partners
CIFI
Puerto Quetzal Power
Work highlights
Acted as legal counsel to Puerto Quetzal Power in the acquisition of the majority of shares of Compañía De Electricidad De Puerto Plata, a power generation company based in the Dominican Republic.
Acting as local counsel to Fondo de Inversión Cerrado Libre para el Desarolllo de Infraestructuras Dominicanas as lenders in relation to a credit facility in favour of Emerald Solar Energy, operator of the 25MW solar energy farm Parque Solar Canoa.
Headrick Rizik Alvarez & Fernández's environment law team is known for the breadth and depth of its advice and representation in dispute resolution. Its expertise takes in environmental regulation and compliance, including impact studies for industrial, conventional and renewable energy, and tourism projects. The department's workload also includes reviews of the new regulation for the granting of environmental permits and authorisations, as well as representation in civil, administrative and criminal cases, especially in connection to liability for damage to the environment. The team is managed by litigation partner Julio Camejo.
Key clients
Fenwal International
MercaSID
Induveca
Industrias Nigua
The Ocean Cleanup
The Nature Conservancy
Grupo Punta Cana
Puerto Quetzal Power
Dominican Twins
Polyplas Dominicana
Work highlights
Provided legal advice and assistance to The Ocean Cleanup in connection with the agreement between the NGO and the Dominican Republic Government regarding its river cleaning system.
Assisting The Nature Conservancy with its project Resilient Islands, an initiative designed to help Caribbean islands cope with the impacts of climate change by promoting ecosystem-based solutions that protect and restore coastal habitats proven to reduce risks.
Providing ongoing legal assistance and support to Fenwal International on matters concerning environmental issues in the Dominican Republic.
Headrick Rizik Alvarez & Fernández is appreciated in the market for providing cross-practice advice and a full-service offering to clients in the real estate and tourism sectors. Key additional areas of expertise include tax, environmental, social security and labour law, among others. The firm often represents large tourism groups and real estate investment firms in complex tourism projects, restructurings of real estate holdings, and concessions. Jaime Senior is an active member of the team, who focuses on M&A, negotiation of commercial agreements, and tourism investments. Mary Fernández and Marisol Vicens are also noted.
Practice head(s):
Mary Fernández; Marisol Vicens; Jaime Senior
Testimonials
'The attention to detail of each case and in the service are excellent. The quality of the response and the professional point of view make them stand out in the market.'
'Mary Fernandez is a senior partner of the firm who worked well, thoughtfully and seamlessly with her litigation colleagues.'
'Jaime Senior is professionally very competent, always responds attentively to any questions and manages to create a very constructive relationship of trust with the client.'
Key clients
Tropicalia
One World Surgery
Parque Zona Franca Las Americas
Grupo Punta Cana
Grupo Campollo
Church of Jesus Christ of Latter-day Saints
Consorcio Azucarero Central
Third Point
Discovery Land Group
Asociacion Dominicana de Empresas Turisticas Inmobiliarias
Playa Nueva Romana
Work highlights
Assisting Playa Grande Holdings in the drafting of all of the contracts, permits and other legal requirements for the development of the Playa Grande Golf Resort.
Acting as counsel to Inversiones Cuatro Estaciones, as borrower, in a multilateral credit facility for the construction and development of a Four Seasons Resort in the Dominican Republic.
Acting as counsel to Grupo Punta Cana in regulatory aspects related to property rights, coastal resources, public domain areas, real estate regulations, environmental regulations and other related matters.
Headrick Rizik Alvarez & Fernández >
Firm Profile
After more than three decades leading the market, Headrick Rizik Alvarez & Fernandez continues to be one of the largest and most distinguished law firms in the country by providing practical experience, responsiveness and commitment to rendering high-quality legal services at cost-effective rates. The firm offers clients a comprehensive legal platform for transactions and litigation in the Dominican Republic. In recent years, the firm has been top-ranked by several organizations in its different practice areas and various attorneys have been individually distinguished in their respective practice areas.
Areas of practice
M&A/corporate: HRA&F has a broad transactional practice, both in domestic and cross-border transactions. The firm recently served as counsel to Centro Financiero BHD in its $5.5bn acquisition by merger of Groupo Financiero Leon, the largest financial institutions transaction in the history of the Dominican Republic. The firm was also counsel to Vinci Airports SAS in its acquisition of Aerodom, the operator of six airports in the country, including that of the capital city of Santo Domingo.
Banking and finance: the firm has participated in transactions involving bank and commercial lending, securities offerings, securitizations, public finance and project finance. Recently, the firm represented industrial concern Diesco in a US $60m secured financing from Goldman Sachs, and Aerodom in US $533m multi-jurisdictional refinancing.
Litigation/alternative dispute resolution: the firm offers clients extensive litigation experience and participates in local and international arbitration processes. The firm successfully defended Nynas AB at the trial court and appellate levels in a complex product liability case involving multiple jurisdictions related to an explosion at the largest electric generating plant in the country.
Intellectual property: the firm is known for its significant IP practice, considered to be among the most innovative in the country. This department has played a leading role in protecting the copyrights, patents and trademarks of many international firms, particularly in the pharmaceutical area (Merck, Pfizer, Johnson & Johnson, Novartis and GSK, among others).
Real estate and tourism: the firm provides a wide array of services in the real estate and tourism market. The firm assists clients in the purchase, lease and other commercial operations for all types of real estate property and tourism-related transactions. The firm represents Inversiones Cuatro Estaciones, part of the Cisneros Group, in the development and financing of the Tropicalia and Four Seasons tourist complex in Miches and leading hospitalilty group Grupo Puntacana on various matters.
Energy: the firm's energy practice concentrates on the negotiation of power supply contracts, power purchase agreements, regulatory matters, construction and operation of plants, and permitting issues. The firm is currently representing a number of developers in renewable energy projects, as well as the construction of large conventional plant projects. It also represents financial institutions in such transactions.
Sports law: the firm assists sports organizations and teams, such as Major League Baseball, the New York Yankees and the Los Angeles Dodgers, in labor matters, litigation, corporate law, real estate and other practice areas. HRA&F also serves as counsel to Dominican baseball and basketball teams.
Pro bono: the firm represents the Alliance for Financial Inclusion, and is actively involved in various initiatives of the NYSBA and The Vance Center.
Main Contacts
| Department | Name | Email | Telephone |
| --- | --- | --- | --- |
| Corporate | Roberto Rizik E: rrizik@headrick.com.do | | |
| Corporate | Sarah de Leon E: sdeleon@headrick.com.do | | |
| Corporate | Jaime Senior E: jsenior@headrick.com.do | | |
| Banking and finance | Mary Fernández E: mfernandez@headrick.com.do | | |
| Banking and finance | Jaime Senior E: jsenior@headrick.com.do | | |
| Litigation/labor | Francisco Alvarez E: falvarez@headrick.com.do | | |
| Litigation/labor | Tomás Hernández E: thernandez@headrick.com.do | | |
| Intellectual property | Mary Fernández E: mfernandez@headrick.com.do | | |
| Real estate and tourism | Roberto Rizik E: rrizik@headrick.com.do | | |
| Energy | Marisol Vicens E: mvicens@headrick.com.do | | |
| Sports | Sarah De León E: sdeleon@headrick.com.do | | |
| Sports | Tomás Hernández E: thernandez@headrick.com.do | | |
| Tax | Marisol Vicens E: mvicens@headrick.com.do | | |
Lawyer Profiles
| Photo | Name | Position | Profile |
| --- | --- | --- | --- |
| | Mr Francisco Alvarez | Founding Partner. Specialist in litigation and arbitration, particularly in the areas of… | View Profile |
| | Mr Julio Camejo | Partner. Specialist in criminal litigation, particularly related to economic or financial frauds… | View Profile |
| | Ms Sarah De León | Partner. Advises on the structuring and negotiation of real estate projects, mergers… | View Profile |
| | Mrs Mary Fernández | Founding Partner. Wide practice in foreign investment, corporate law, banking and international… | View Profile |
| | Mr Tomás Hernández | Partner. Specialist in the areas of litigation and arbitration, with a focus… | View Profile |
| | Mrs Annalisa Jaquez | Partner. er exercise is focused on business matters, including, civil and commercial law,… | View Profile |
| | Ms Eileen Jimenez Cantisano | Partner. Her practice is focused corporate law and mergers and acquisitions, project… | View Profile |
| | Mr Manuel Madera | Partner. His exercise is focused in the areas of commercial, civil and labor… | View Profile |
| | Mr Roberto Rizik | Founding partner. His professional practice is focused in the areas of general… | View Profile |
| | Mr Jaime Senior | Partner. Counsels foreign and local clients in civil, commercial and business organizational… | View Profile |
| | Ms Marisol Vicens | Partner. Coordinates the implementation of investment projects; practices in energy law, negotiation… | View Profile |
Staff Figures
Associates : 31
Other
Partners : 11