Davis+Gilbert LLP > New York, United States > Firm Profile
Davis+Gilbert LLP
Offices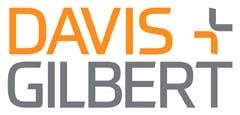 Davis+Gilbert LLP
1675 BROADWAY
NEW YORK, NY 10019
United States
Davis+Gilbert LLP > The Legal 500
Rankings
In New York,
Davis+Gilbert LLP
 has a longstanding and deeply rooted reputation in the advertising and marketing sector. It assists a wide range of clients, spanning from agencies, across brands in all product categories to data-driven services and platforms with the whole spectrum of advertising matters, including in relation to new technologies. 
Ronald Urbach
, who acts the firm's chairman and department's co-head, is highly recognized by the market, as is co-chair
Richard Eisert
, who is particularly known for his work across technology, advertising and marketing, e-commerce, IP and privacy law.
Allison Fitzpatrick
 stands out in the fields of social media, influencer marketing and native advertising, among others.
Joseph Lewczak
focuses on campaigns for innovative technologies, products and services.
Aaron Taylor
is highlighted for his skill in advertising claims and strategies, as well as defending false advertising challenges.
Practice head(s):
Ronald Urbach; Richard Eisert
Other key lawyers:
Key clients
Menchie's
Bridgestone Americas, Inc.
CBS Interactive
JM Smuckers
Coty, Inc.
Little Caesar Enterprises, Inc
Avocado Mattress
Epson America, Inc.
Fiesta Restaurant Group
Claire's
Work highlights
Assisted Little Caesars in its launch of various products, which required regulatory review to ensure claims did not run afoul of any FDA or other laws.
Advised on an Americana-themed promotion for a major US automotive brand and its advertising agency, involving negotiating agreements with an influential TV culinary star and third party food providers, as well as reviewing promotion-specific creative assets.
Assisting a US food brand in its full integration into a US university, including providing scholarships, building a cultural research center and serving its coffee at campus cafes.
'
A great firm for day-to-day copyright matters
', the New York-based
Davis+Gilbert LLP
utilizes the experience of its IP and media practice to safeguard the copyrights of household name clients across a diverse range of industries. The team is led by
Ronald Urbach
, an advertising and marketing specialist representing agencies, media companies, brands and online platforms.
Marc J Rachman
 manages complex copyright disputes involving music, photo, sculptural, pictorial and literary works. Veteran IP litigator
Guy R Cohen
acts for major corporates in the consumer products, advertising, automotive, entertainment and retail sectors. Content creation and fashion expert Sara Edelman advises on potential copyright liability issues.
Ashima Dayal
represents creative professionals, book publishers, authors, filmmakers, and designers, and defends their rights surrounding the usage of third-party material.
Practice head(s):
Other key lawyers:
Testimonials
'D+G is a leader in the advertising and IP fields. I have been extremely pleased with the high-level of attentive service they provide, with speedy turnarounds. The firm's advertising industry knowledge has been critical for us as well. D+G anticipates our needs and gives us business-savvy solutions, in addition to solid legal advice. In my experience, no other firm has the same level of in-depth knowledge and expertise.'
'Davis & Gilbert is the best-in-class of copyright practices. The firm has experts in every facet imaginable, and knowledgable contacts for the odd times when a unique situation calls for the experience another subject matter expert. The firm's commitment to diversity makes them stronger, and gives their clients valuable insights from many perspectives.'
'Ashima Dayal is the problem solver that you want in your corner. I cannot count the times that Ashima has reviewed our ideas that need legal revisions, and has made them creatively stronger.'
'Davis & Gilbert provides highly personalized service that may be more challenging to find with a larger firm. The attorneys at D&G are readily available to provide advice and feedback or to get involved with projects like drafting and negotiation and litigation matters where necessary.'
'I have worked with Marc Rachman, of the the D&G partners, for many years. I find Marc to be extremely responsive and offers very practical advice – not only the black letter law, but with a good sense what is required to weight the risks and balance such risk against real life business needs.'
'I have never encountered such a talented group of lawyers (Ashima Dayal in particular). They have great industry experience and will take the time to walk through issue or offer solutions that are designed to meet business needs.'
'D+G is a great firm for day to day copyright matters, and can handle both small and large litigations. They have successfully negotiated satisfactory settlements for nuisance suits, and have a deep understanding of nuanced copyright issues.'
'I trust Marc Rachman in particular for my copyright (and trademark) litigation matters. He is a rational negotiator and seeks to truly understand the issues facing his clients. He not only handles the matter in front of him, but proactively advises on how to avoid similar claims down the line.'
Key clients
Gordon Ramsay
Hypixel Studios
Little Caesars
ZoCo Productions (The Dr. Oz Show)
Vizio
JM Smuckers
International Cosmetics & Perfumes (The House of Creed)
GrubHub Seamless
ZZ Top
Clean.io
Work highlights
Assisting some of the world's leading fashion brands with critical trademark and copyright issues stemming from key design issues such as pattern selection.
Representing a major video game developer in clearing in-game content for various of its video games.
Representing a advertising agency client in a music copyright infringement claim brought by a music streaming platform.
Davis+Gilbert LLP
's labor and employment team advises a large number of clients, with a focus on preventative management, which involves implementing employer/employee education, procedures and documentation, particularly during reductions in workforce and complex terminations. The firm has been successful in a range of employment-related litigation, including cases involving federal and state anti-discrimination laws, WARN Act, Fair Labor Standards Act, state wage and hour laws, ERISA and whistleblower claims. The team is led by New York–based co-chairs
Gregg Gilman
, who advises blue-chip companies on long-term strategy, and
Daniel A Feinstein
.
Shira Franco
, also in New York, often assists food and technology companies.
Practice head(s):
Gregg Gilman; Daniel A. Feinstein
Other key lawyers:
Key clients
Quartet Health
Turner Construction
Fortress Investment Group
INNOVATE Corp.
Rudin Management
Blue Owl Capital
Rockpoint Group
Drive Shack, Inc.
Horizon Media
Travel Leaders Group
New Residential
Apax Partners
Global Infrastructure Partner
Privacy and data security in relation to digital media and interactive advertising is at the center of
Davis+Gilbert LLP
's department focus. The New York-based team is managed by
Gary Kibel
 and
Richard Eisert
 and provides state-wide regulatory advice, including in California on the California Consumer Privacy Act, the Children's Online Privacy Protection Act (COPPA) and the California Privacy Rights Act (CPRA), among others. Additionally, Kibel leads the team for all breach response matters, while Eisert offers counsel on all aspects of marketing, promoting and selling goods and services. Counsel
Oriyan Gitig
is also highlighted.
Practice head(s):
Richard Eisert; Gary Kibel
Other key lawyers:
Key clients
Vistar Media
Tradeswell
Arcspan Media
GPS Trackit
Magellan AI
Forbes
Roofstock
StackAdapt
Actable Data
Ardsley Media
theBalm
Giant Spoon
Work highlights
Acted as counsel for numerous clients on how best to conduct CRM retargeting and avoid running afoul of the applicable legal limitations, and how best to allocate risks under agreements with CRM retargeting vendors and platforms.
Regularly counseled numerous agencies, advertisers, operators and developers to ensure that their privacy policies, promotions, websites, mobile apps and connected devices comply with COPPA.
Advising various clients on the CPRA, CDPA and CPA and the adjustments that they will need to make to ensure their privacy compliance programs are consistent with the new laws.
Davis+Gilbert LLP >
Firm Profile
Firm Overview:
Legal mastery is critical but not enough. Even the best legal strategies must work in tandem with your business realities. Davis+Gilbert's industry focus and deep insight about the issues that drive your business enable us to provide solutions that make a difference.
Davis+Gilbert's proactive, business-oriented approach stems from our long history of working with key industries not just as advocates but also as counselors. The firm helped guide the marketing communications ecosystem as it evolved from the early 20th century to today's world of data, digital and social media. For many years, Davis+Gilbert has successfully applied that same see-around-corners vision and focus to real estate, financial services, hospitality, technology and other service sector industries, becoming the firm of choice for the market leaders of today and tomorrow.
From its base in New York, Davis+Gilbert represents a diverse range of clients across the country and around the world.
Advertising + Marketing
Our firm grew up with the advertising industry, from its earliest beginnings through every stage of its exponential growth. We have been witness to, and a key participant in, the evolution of advertising and marketing law and the remarkable proliferation of related industries that now form the vast marketing ecosystem. From advertising agencies to major brands, from content creators to tech-forward digital platforms, whether our clients are global publicly traded companies or two-person startups, they depend on us to help achieve their business goals, protect their rights and minimize their legal risks.
Benefits + Compensation
Aside from being one of the top expense items on the books, a company's employee benefits and compensation packages go to the heart of attracting and retaining a strong workforce. That said, these items all operate in a stringent regulatory environment where small mistakes can carry large liabilities.
Our benefits and compensation attorneys understand the business practicalities that drive benefits and compensation issues and decisions. Our clients count on us to design and implement plans that strike the right balance of compliance, cost and administrative ease.
Corporate + Transactions
For companies of all sizes and across all industries, effective growth strategies are a key driver of success in the marketplace. Our transactional attorneys get deeply involved in understanding the business and strategic thinking of our clients, and we take a pragmatic yet long-term approach to determining how we can best support their growth. From early-stage start-ups to global Fortune 100 companies, our attorneys tend to the full range of our clients' corporate, financial and transactional needs.
Insolvency + Finance
The last financial crisis shined a harsh light on the legal exposure of lenders, loan servicers, sponsors and trustees, when investors and other participants in the credit markets incurred losses. The collapse of the subprime mortgage securitization market, in particular, brought a wave of litigation — by investors and deal counterparties claiming contractual breaches and outright fraud — that continues to this day. This litigation has created a roadmap for new plaintiffs to follow, escalating the stakes for defendants.
Our attorneys have been actively representing participants in the credit markets and the litigation they face, gaining deep experience in protecting and enforcing their rights at each stage of a market's evolution.
Intellectual Property + Media
For companies in a number of dynamic industries — particularly media, entertainment and sports — constant change is a given. As the lines between these fields continue to converge and cross, new legal challenges arise, especially in intellectual property law.
Our Intellectual Property and Media practice has for decades been on the front lines of the seismic shift from traditional to digital media, and we are amply equipped to help clients address intellectual property challenges in ways both conventional and innovative. Companies look to us to understand their brands, prioritize their concerns and help them navigate the legal and regulatory risks they face in markets that are constantly redefining themselves.
Labor + Employment
For companies where employees and their talents are by far the most important assets, the business ramifications of labor and employment law hold special weight. Our labor and employment attorneys are uniquely attuned to the practical aspects of managing and retaining essential employees. We serve as primary employment counsel for businesses throughout the United States in various industries tending to the day-to-day legal aspects of their employee relations.
Litigation + Dispute Resolution
The most complex and hardest-fought legal cases tend to center around people, their ideas, their contracts or their workplaces. These disputes frequently involve the movement of talent between competitors, workplace claims, the ownership of intellectual property, false and deceptive marketing practices, the rights and responsibilities of the parties to corporate transactions and controversies over commercial leasing. Our litigation and disputes attorneys handle matters in all of these areas. We assess risk, secure favorable resolutions, and forcefully pursue our clients' interests through trial and appeals. Our clients include major players in the marketing communications, e-commerce, financial services, hospitality and commercial leasing sectors. We also represent prominent advertisers, agencies and their brands.
Privacy + Data Security
The increasingly intertwined concerns of privacy and data security continue to cast a long shadow over the business models of companies in nearly every industry. Both concerns carry considerable risk — legal, financial and reputational — but with proper attention to the statutory and contractual requirements that underlie and inform the risk, they can be turned to competitive advantage.
Our attorneys represent data-driven businesses of all kinds, with particular strengths in the areas of digital media, marketing, ad tech and e-commerce. We work with clients from many industries — including retail, media, healthcare, finance and a broad array of technology businesses — to identify and address the compliance risks associated with data flowing in and out of their organizations. Given our deep understanding of these industries, we advise clients regarding best practices, assess their associated contracts, prevent and respond to data breaches, and defend them in litigation and enforcement actions.
Private Client Services
Davis+Gilbert's private client services practice counsels business owners, executives, hedge fund principals and other successful individuals and families in a variety of issues impacting their personal and business decisions, including business succession issues, estate planning, charitable giving and trust and estate administration.
Real Estate
Our real estate lawyers represent tenants and landlords, as well as buyers and sellers of all sizes, at every stage in the real estate life cycle. Long dominant in the fast-paced New York City real estate market, we have become a key player in national markets as our clients' interests have expanded. Our reputation for toughness and fairness has earned repeat business from sophisticated clients that value a win-win deal where all parties get what they need.
Main Contacts
| Department | Name | Email | Telephone |
| --- | --- | --- | --- |
| Advertising + Marketing | Ronald Urbach | | |
| Advertising + Marketing | Richard Eisert | | |
| Benefits + Compensation | Mark Bokert | | |
| Benefits + Compensation | Alan Hahn | | |
| Corporate + Transactions | Brad Schwartzberg | | |
| Corporate + Transactions | Curt Myers | | |
| Privacy + Data Security | Ronald Urbach | | |
| | | | |
| Insolvency + Finance | Joseph Cioffi | | |
| Intellectual Property + Media | Ronald Urbach | | |
| Labor + Employment | Gregg Gilman | | |
| Labor + Employment | Daniel Feinstein | | |
| Litigation | Michael Lasky | | |
| Litigation | Neal Klausner | | |
| Private Client Services | Alan Kroll | | |
| Real Estate | Robert Karin | | |
| Real Estate | Mark Maltz | | |
| Real Estate | Donald Sonnenborn | | |
| Taxation | Stephen Foley | | |
| Taxation | Brian Gallagher | | |