McGuireWoods LLP > Tysons, United States > Firm Profile
McGuireWoods LLP
Offices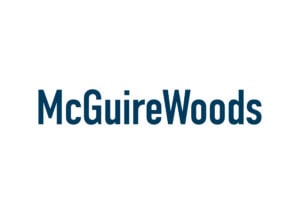 McGuireWoods LLP
1750 TYSONS BOULEVARD
SUITE 1800
TYSONS, VA
VIRGINIA
United States
McGuireWoods LLP > The Legal 500
Rankings
Predominantly out of the firm's Washington DC office,
McGuireWoods LLP
fields a strong team within energy enforcement, having participated in a notable number of Federal Energy Regulatory Commission (FERC) enforcement cases in federal court over the past few years. In a particular highlight, the firm represented Southeast Energy Market Members made up of 17 companies in establishing and obtaining regulatory approval for a new intrahour energy market covering a wide area in the Southeastern United States.
Todd Mullins
 chairs the energy enforcement practice group and represents energy clients in enforcement and compliance matters involving FERC, the Commodity Futures Trading Commission (CFTC), the North American Electric Reliability Corporation (NERC) and other regulators.
Noel Symons
 acts for electric utilities and other energy companies before FERC and appellate courts, and also advises on cross-jurisdictional matters involving other regulatory bodies.
Julia English
represents electric generation and transmission owners, among other players, and handles compliance matters involving FERC, the US Department of Energy (DOE) and the Department of State.
McGuireWoods LLP
handles strategically significant deals for both publicly-traded and private companies present in all core economic sectors, demonstrating particular strength in the energy and technology spaces. Though increasingly engaged in billion-dollar and transformative deals, the middle-market remains a sweet spot for the firm, where it handles M&A, joint ventures, asset and stock purchases, as well as corporate governance matters.
Michael Woodard
in Richmond leads the M&A and energy transactions group, while
Thomas Zahn
in Pittsburgh chairs the corporate and private equity department. Sitting in the Richmond office,
Joanne Katsantonis
is counsel of choice for energy companies of all sizes,
Patrick De Ridder
is particularly skilled in cross-border transactions, and
Brian Hager
is a trusted advisor to public and private companies in Virginia.
McGuireWoods LLP
's transportation practice is consistently mandated by railroad clients in state, federal, regulatory and arbitration forums. It both prosecutes and defends clients in litigation relating to federal pre-emption matters, real estate disputes, private and public crossings, contract enforcement and interpretation issues, and cargo transportation claims. The team is also regularly hired by trucking and logistics companies, particularly in relation to the firm's innovative use of technology through case management applications. Clients additionally benefit from the department's complementary credentials in areas such as energy, natural resources development, land use, real estate and M&A. Another particular selling point for the practice is McGuireWoods Consulting, the firm's government relations subsidiary that provides enviable public policy insight.
Eric Bilik
is a commercial litigation specialist,
Christopher Thanner
's experience includes representing railroads in disputes with state agencies and local governments, and experienced litigator
Bryan Brantley
in Pittsburgh heads up the firm's transportation industry group. Tort litigation specialist
Natalie Zagari
, who serves as national coordinating counsel for a major transportation company, was elevated to the partnership in January 2023. All practitioners listed are based in the firm's Jacksonville office unless stated otherwise.
Led from Richmond by
Diane Flannery
,
McGuireWoods LLP
's overarching products and mass tort litigation group regularly acts as trial and national counsel for transportation clients in the defence of cases brought by plaintiffs, including those based on sophisticated defect theories. Although it handles some work in the aviation sector, the team is particularly well-versed in automotive-related matters, with longstanding relationships having been built over the years with several high-profile manufacturers. Combining deep industry knowledge alongside strong litigation capabilities, the team regularly achieves success at a dispositive motion stage, as well as in jury trials throughout the country, including in so-called "judicial hell-hole" jurisdictions.
Perry Miles
exemplifies these qualities and has become a popular choice among clients in the sector to co-ordinate their litigation strategy and to act as counsel at a trial stage.
Samuel Tarry
 is also recommended.  
McGuireWoods LLP
 provides full-service advice encompassing litigation, investigation and advisory work in all aspects of education law for K-12 schools, public and private colleges, universities and academic medical centers. The team routinely represents colleges and universities in government investigations before federal agencies and represents them in high-stakes litigation, often concerning allegations of sexual assault and harassment. Another strength of the team includes advice on Title IV eligibility and compliance as well as advice on civil rights lawsuits including discrimination and disability claims.
Harrison Marshall
jointly leads the team out of North Carolina with Washington DC-based litigator
Farnaz Thompson
, who previously worked at the U.S Department of Education. The group is complemented by Virginia-based tax expert
Michele McKinnon
who advises non-profit and tax-exempt organizations on federal tax and governance matters, while Atlanta-based
Shelby Guilbert
represents higher education institutions in insurance recovery actions.
McGuireWoods LLP
is known for being a major player in energy enforcement, having represented a number of clients in FERC enforcement cases in the federal court. The team has been involved in rate cases at the federal level and in state jurisdictions which involve novel and important issues, such as witnessing the handling of the nation's first fuel security case and design of a new form of FERC-approved transmission financing.
Noel Symons
(Washington, DC) represents electric utilities and other energy companies before FERC and appellate courts, and also advises on cross-jurisdictional matters involving other regulatory bodies.
Todd Mullins
 is the managing partner and serves as chair of the energy enforcement practice group, having represented multiple energy traders in several FERC investigations, while
Julia English
also focuses on the representation of electric generation and transmission owners in matters involving FERC.
McGuireWoods LLP
has served as lead counsel to a number of complex M&A transactions, such as its recent representation of Dominion Energy in the sale of Hope Gas Inc., its West Virginia-based natural gas utility, to an infrastructure fund launched by Ullico Inc. The firm has increased its work for clients in the renewable energy utilities sector and is home to
Joanne Katsantonis
, based in Richmond, who acts as the deputy managing partner for development and focuses her practice on M&A, energy transactions and financings.
Brian Kelly
, in Baltimore, works on a broad range of transactions including energy project and infrastructure development, M&A, project finance, structured commodity and hedging transactions.
Heather Welch Arbogast
is a strategic corporate advisor to utilities, energy companies, developers and other clients on a broad range of transactions in the power, retail energy, solar, wind and battery storage sectors.
McGuireWoods LLP
 handles a broad range of matters, with particular strengths in cases centered on D&O liability and property, business income losses and wrongful death claims tied to catastrophes including natural disasters and workplace accidents. Alongside its work in the US, the practice has experience in handling cross-border insurance disputes, often working on matters linked to London, Bermuda and Asia. The firm also supports clients seeking to recover losses caused by long-tail issues under commercial general liability primary and excess policies, healthcare claims and cyber liability linked to data breaches. The practice is led by New York-based recovery litigator
Stephen G. Foresta
,
Scott C. Oostdyk
, who handles a range of commercial insurance disputes out of the Richmond office, Atlanta-based
Anthony P. Tatum
, who advises financial institutions on insurance coverage matters, and product and environmental liability specialist
Candace Blydenburgh
, also in Richmond.
Sporting a number of former federal prosecutors, the corporate investigations and white-collar criminal defense practice at McGuireWoods LLP acts for clients stemming from a variety of sectors, such as financial services, pharmaceuticals, and the government. New York-based Noreen Kelly chairs the group and is particularly well versed in matters relating to securities and financial services. In Washington DC, former Deputy Attorney General for the DOJ George Terwilliger has extensive experience leading cross-border internal investigations, as well as representing individual and corporate clients in criminal litigation and enforcement actions. Another key name to note for his expertise in securities is Jason Cowley in Charlotte, while Richmond's John Adams is frequently involved at the investigation, litigation, and appeal stages of white-collar matters.
Displaying a '
thorough approach to engagements',
which includes a detailed knowledge of the substantive and procedural law,
McGuireWoods LLP
provides
'educated and strategic advice' 
to manufacturers across a range of consumer-facing products throughout the life cycle of their litigation. Much of the product liability work is led from its Richmond-based headquarters, although the firm's Chicago office recently received a boost following the arrival in March 2022 from litigation boutique
Swanson, Martin & Bell
 of
Patrick Clyder
, whose trial experience includes product liability cases throughout the country, including before Circuit Court of Cook County, Illinois, one of the nation's most challenging venues for defendants. Team head
Diane Flannery
 leads from the front and regularly co-ordinates large-scale defenses in class action and MDLs, including her continued work for a hardwood flooring retailer in more than 140 class actions and dozens of personal-injury cases stemming from alleged formaldehyde contamination in the company's laminate flooring made in China.
Primarily centered out of its Richmond headquarters,
McGuireWoods LLP
is well-versed in defending clients from a range of sectors, including life sciences, in high-stakes product liability-related disputes. The firm's trial ready approach has led to a raft of victories in state and federal courts throughout the country, while also ensuring that it is well-placed to secure early dismissals and favorable settlements. Key members of the versatile team, include
Samuel Tarry
 and
Davis Walsh
, who as well as handling fee-earning work, recently edited the American Bar Association's Guide on Infectious Disease Litigation – particularly pertinent in light of the recent Covid-19 pandemic.
Diane Flannery
heads the team.
Primarily centred from its Richmond headquarters but also able to add additional bench strength from other offices, including Chicago, should the need arise,
McGuireWoods LLP
has a strong grounding in the defense of clients in class actions and MDLs arising in the context of product liability/toxic tort infractions. Team head
Diane Flannery
 has deep experience in the field and has over many years in practice had lead counsel and trial counsel roles in toxic tort cases relating to asbestos, lead paint and chemicals. She recently concluded a long-running MDL litigation involving more than 140 class actions alleging excessive levels of formaldehyde in Chinese manufactured laminate flooring. A highly regarded litigator in Virginia,
Stephen Busch
also has a very strong track record handling toxic tort cases, particularly with an environmental complexion.
Utilities and infrastructure funds in particular flock to
McGuireWoods LLP
multidisciplinary team for assistance on major transactions in the renewables space, including joint ventures, acquisitions, and the purchase, development, and sale of assets including solar and wind generation facilities. The firm is especially active in the Southeast, with M&A and energy transactional chair
Michael Woodard
and renewable energy sector co-chair
Breenen Keene
, both based in Richmond and noted for their expertise in the range of transactional work, as well as real estate and land-use guidance, respectively. The team, with Woodward as lead counsel, recently represented Dominion Energy on contracts with a value of approximately $7bn to construct the Coastal Virgina Offshore Wind project. Renewable energy sector co-chair
Durham McCormick
in Houston has a strong focus on tax structuring, while
Timothy Callahan
 in Chicago is a key contact for energy-sector M&A.  
McGuireWoods LLP
represent clients in the energy sector across a range of high-stakes, high-profile litigation, in addition to advising on regulatory matters, internal investigations and appeals. The team is frequently involved in bet-the-company litigation relating to subjects including climate change and notably, the firm has a strong nationwide reputation for its handling of catastrophic litigation, often surrounding pipeline explosions and overpressure events. This work is frequently led by
Brian Jackson
, managing partner of the Charlottesville office, who often acts on high-exposure jury cases for energy, transportation and manufacturing companies. In Pittsburgh,
Greg Krock
 handles litigation surrounding contract disputes, unfair competition claims and toxic tort cases.
McGuireWoods LLP
acts for its roster of clients, including major players in the oil and gas market, across the entire value chain of oil and gas projects, including exploration, development, production, storage and transport mandates. Based in the firm's Pittsburgh office,
Anthony Carna
 leads the team and regularly advises public and private energy companies on M&A, joint ventures, project development and mineral conveyancing matters. Pittsburgh is also home to associate
Molleigh Thomas
, who focuses on M&A, asset purchases and lease transactions.
McGuireWoods LLP
leverages longstanding relationships with leading banks in the market, regularly advising the likes of Bank of America and Wells Fargo on investment grade, middle market and leveraged credit profiles. Particularly noteworthy on the lender side, the practice's expertise also extends to borrower representation, with work for private equity sponsors considered a growing area of work.
Kevin McGinnis
heads the team from Charlotte, a hub of the firm's offering, and is backed by Los Angeles-based
Hamid Namazie
and
Chris Molen
in Atlanta.
The 'extremely knowledgeable' team at McGuireWoods LLP exhibits a 'deep understanding' of both contentious and non-contentious matters concerning healthcare M&A, private equity, and compliance related issues. Based in the Chicago office, practice head Holly Buckley - a 'master of her craft' - advises providers on the HIPAA Privacy and Security Rules; and Scott Becker advises ambulatory surgery center chains and private equity funds on transactional matters. The 'outstanding' Kate Hardey possesses 'exceptional expertise' representing physician practices and academic medical centers in matters concerning joint ventures and contractual affiliations, while Bart Walker regularly advises dental services organizations and end-stage renal disease facilities on regulatory issues. Kayla McCann Marty is particularly adept in matters concerning reproductive health and hospitals. All named practitioners are based in Charlotte, unless otherwise specified.
McGuireWoods LLP
has significant experience defending clients in nation and state-wide class actions brought under the FLSA, state wage and hour laws. The practice is particularly well-versed in trade secret litigation, whistleblower cases, non-compete litigation and international employment law matters. Los Angeles-based
Sabrina Beldner
heads the team and has expertise in high-stakes employment discrimination and traditional labor matters.
Christopher Michalik
, operating out of Richmond, represents management in union campaigns and counsels clients on employment policies.
McGuireWoods LLP
's tech and outsourcing team, led by
Rakesh Gopalan
, a specialist securities and technology practitioner based in Charlotte, advises both product vendors and buyers of IT platforms on the full range of mandates, including ITO, BPO, ERP, SaaS and IoT implementations, integrations and deployments. Associate
Casey Kuretich
, in Pittsburgh, leverages her experience of reviewing, drafting, and negotiating commercial sales contracts, including reseller, distributor and service provider agreements for technology vendors in order to advise clients on SaaS licensing and outsourcing deals. The pair advise retailers, trading companies and distributors, asset management firms and healthcare companies on both offshore and onshore outsourcing deals.
The team at McGuireWoods LLP, co-headed by Michele McKinnon in Richmond, regularly acts for clients such as public charities, educational institution, and charitable trusts, on a plethora of federal tax and governance issues. Among its standout lawyers are Jean Gordon Carter in Raleigh, and Gerald Thomas in Atlanta, who heads up the overall tax team. Carter co-heads the firm's private wealth services group, and her expertise includes estate planning and administration, supported by a strong estate planning group, allowing the team to advise on income taxation of estates and trusts.
McGuireWoods LLP
's aviation practice acts for a wide array of clients, including leasing companies, financial institutions, investment businesses, Fortune 500 companies, and high-net-worth individuals. It is routinely sought out for its expertise in financing, leasing, purchasing and selling corporate aircraft; its credentials also cover the acquisition, disposition and management of commercial aircraft portfolios. Focused on transactions involving aviation and other equipment, Charlotte-based
Patricia Hosmer
heads up the team, which features New York's
Deepak Reddy
, who represents airlines, aircraft leasing companies, financial institutions and investment funds in financing, restructuring and leasing transactions involving commercial aircraft. Also in Charlotte,
David Whelpley Jr
. is a key M&A and corporate transactions partner, while the domestic and cross-border deal experience of
Peter Szurley
in San Francisco includes handling aircraft financings and sales.
Acting for a wide range of shipping clients,
McGuireWoods LLP
's maritime practice is routinely mandated to assist with the regulatory issues surrounding transportation assets. The team is also experienced in Jones Act-related work, including in relation to terminal operations, energy matters, offshore wind projects, sale-leaseback transactions, and fleet acquisitions. In the international trade space, the group assists with tariff mitigation strategies, country of origin determinations, anti-dumping and countervailing duty investigations, and the shipping regulations that control how shippers and carriers interact. In Norfolk, the broad practice of founding transportation industry team leader
John Padgett
includes handling major litigation regarding cargo damage and charter disputes, and Pittsburgh-based
Bryan Brantley
, the firm's current transportation industry head, manages a significant litigation portfolio for a Fortune 50 transportation company. Also in Norfolk, civil litigation associate
Jeanne Noonan
 is particularly focused on transportation and maritime issues.
The cartel team at McGuireWoods LLP handles national and international cartel investigations, guiding clients thorough all phases of investigations as well as follow-on litigation. The firm routinely represents individual executives and private companies in high-profile criminal investigations and civil and criminal defense proceedings. Mark Kinghorn, based in Charlotte, chairs the firm's antitrust regulatory practice, while Amy Manning leads on the litigation side, defending companies and senior executives in DOJ investigations, in addition to handling leniency applications and civil litigations. Angelo Russo is an experienced antitrust litigator with an emphasis on government enforcement and private cartel litigation, while Sarah Zielinski advises on antitrust and consumer protection issues. In Richmond, Brent Justus has a broad antitrust practice with a focus on cartel litigation before federal courts. Unless otherwise specified, lawyers are based in Chicago.
McGuireWoods LLP
regularly defends corporations, trade associations and individuals in follow-on treble damage civil litigation and multi-district class actions which concerns allegations of price fixing to exclusive dealing and no-poach agreements.
Mark Kinghorn
chairs the firm's practice and is based in North Carolina. Chicago-based
Amy Manning
is a key attorney who handles criminal and civil antitrust matters particularly in the life sciences, healthcare, and transportation sectors. In Richmond,
Howard Feller
focuses on antitrust litigation and investigations and
Brent Justus
has a broad antitrust practice, focusing particularly on cartel defense and litigation covering vertical conspiracies and boycotts among other claims. In Chicago,
Angelo Russo
handles both criminal and civil litigation across federal and state courts especially for healthcare and life sciences clients, while
Sarah Zielinski
assists clients with antitrust compliance and representation in complex litigation, investigations, and competitor lawsuits.
McGuireWoods LLP
is rated for its frequent advice to Bank of America on multiple debt issuances and its regular engagements from various utilities. Over the research period, the firm advised Bank of America on more than $25bn in debt offerings. It also represented Virginia Electric and Power on a series of high-value debt issuances. Charlotte partners
Greg Kilpatrick
and
Barlow Mann
, along with
Hannah Thompson Frank
in Pittsburgh, are key figures in the team.
McGuireWoods LLP
has a well regarded fintech team that covers many corners of the industry. This includes consumer and business lenders, payment processors, data aggregators, crypto and blockchain technologies and alternative finance. The lawyers advise on the regulatory and transactional aspects of new product launches and partnership agreements, as well as broader corporate M&A and financings. Compliance, litigation, investigations and regulatory advice also feature heavily on the agenda. The team co-chaired by Charlotte-based technology and securities partner,
Rakesh Gopalan
, who has good experience in capital markets and outsourcing deals, and litigator,
Molly White
, in Los Angeles, who is a former SEC prosecutor.
Sarah Zielinski
in Chicago is experienced in class action disputes and compliance matters.
McGuireWoods LLP
 is particularly strong in CAA regulatory and litigation matters, and the regulation of emerging contaminants. Other areas of focus include toxic and mass torts, nuisance claims, environmental resource damage claims and enforcement actions. The team is led by Charlotte's
David Franchina
, and
Vishwa Link
and
Diane Flannery
in Richmond. In Washington DC,
Makram Jaber
is well versed in CAA litigation and EPA enforcement actions, while
Aaron Flynn
 acts for high-profile companies in the utilities, oil and gas, and manufacturing sectors on both litigation and regulatory matters.
McGuireWoods LLP
has recently been active in emerging issues, including the EPA's actions to reduce greenhouse gas emissions from power plants, as well as environmental justice issues and residuals management. The team is also strong in CAA regulatory matters and litigation and is led by Charlotte's
David Franchina
and
Vishwa Link
and
Diane Flannery
in Richmond. Franchina is a key name for solid and hazardous waste, water and air pollution matters, while Washington DC's
Aaron Flynn
and
Makram Jaber
act for utilities and oil and gas companies on a range of environmental regulatory matters.
Amanda Waters
joined as counsel in Richmond from
Aqua Law
 in June 2022.
McGuireWoods LLP
's offering is co-led by
David Finkelson
from its Richmond office and experienced high-stakes trial lawyer
Yasser Madriz
from its Houston base. The team represents well-known clients such as Vans Inc in high-value matters for both claimants and defendants involving alleged trade secret misappropriation, breaches of contract, tortious interference, and breaches of fiduciary duties between employees and employers. Houston-based
Meghaan Madriz
is a key partner to note in the team, with significant experience defending employers in complex litigation, arbitration and administrative proceedings.
McGuireWoods LLP
, a
'knowledgeable'
team of the
'highest caliber'
, is experienced in handling issues related to the design, implementation and maintenance of equity-based and performance-based incentive compensation plans. These arrangements include omnibus incentive plans, stock option plans and stock ownership plans, among others.
Taylor French
, active in the firm's North Carolina office, uses his
'in-depth experience'
to help clients with an array of traditional executive compensation and employee benefits matters. Richmond's
Robert Cipolla
 primarily focuses on qualified retirement plans, health and welfare plans, executive compensation and other related benefits matters. Chicago-based
Carolyn Trenda
is vastly experienced in designing and assisting clients with the ongoing administration of tax-qualified retirement plans.  Charlotte's
Allison Tanner
, who focuses on advising employers on the legal aspects of employee benefit and executive compensation matters arising under ERISA and the Internal Revenue Code, was promoted to partner in 2022, while Richmond's
Robert Wynne
, whose practice includes all aspects of executive compensation and employee benefits law.
Counting financial institutions and private equity firms among its key clients, McGuireWoods LLP's tax and employee benefits group is highly specialized at handling high-value M&A and ESOP transaction, as well as having notable expertise in providing counsel on foreign law compliance in implementing global stock compensation plans, along with solving special problems involving plans for collectively bargained employees. Taylor Wedge French co-heads the team from Charlotte, focusing on representing boards of directors and compensation committees in negotiating and drafting employment and severance agreements, while co-head, Gerald Thomas operates out of Atlanta. Virginia-based Robert Cipolla concentrates on health and welfare plans, and Robert Wynne is also noted. William Tysse retired from the practice in December 2022.
Data protection policies and governance programs for nationwide clients are frequent mandates for
McGuireWoods LLP
. Virginia-based
Andrew Konia
 regularly assists clients on data breach remediation and security issues pertaining to vendor contracts and private equity transactions.
Janet Peyton
, also in Virginia, is the go-to for intersecting intellectual property and data matters as well as EU and US cross-border data transfers. Pittsburgh-stationed counsel
Anne Peterson
 handles data breach responses across a plethora of industries.
Alicia Baiardo
in San Francisco routinely advises clients on compliance strategies in line with the CCPA and CPRA.
Rodger Heaton
has departed the practice.
McGuireWoods LLP
has developed a prominent track record in representing investors, including private equity funds, strategic buyers and banks, on high value M&As, joint ventures, IPOs and financings where IP is a key asset. The team is also active in standalone technology transactions, including IP licensing and transfers, and broader collaboration, software-as-a-service and outsourcing agreements. Sector strengths include fintech, artificial intelligence, blockchain and the internet-of-things. In addition to technology companies, the firm also represents end-users.
Rakesh Gopalan
 leads the team from Charlotte, with Richmond-based corporate partner,
James Anderson
, also active in the space.
McGuireWoods LLP
is particularly proficient in the energy, financial services, and white-collar sectors, as well as commercial litigation.
Jonathan Blank
in Charlotte focuses on the energy sector, in particular natural gas litigation, and has also litigated antitrust, construction, fraud and mineral rights cases.
Robert Muckenfuss
also works from Charlotte and focuses on business and financial services litigation and has advised significant financial institutions in a breadth of consumer related lawsuits, including nationwide mortgage litigation.
Yasser Madriz
is the managing partner of the team's Houston office and is an accomplished trial lawyer who is well-established in federal and state court litigation, as well as in arbitrations, with expertise in technology and IP disputes, trade secret theft, and unfair competition claims. Chicago's
Amy Manning
,  
Cheryl Haas
in Atlanta, and
Diane Flannery
in Richmond are also notable names.
McGuireWoods LLP
has a strong presence in transactions in the energy sector, advising clients including financial institutions, developers, and private equity and infrastructure funds involved in the financing and development of projects in solar and wind in particular. Baltimore-based energy industry team lead
Brian Kelly
 has broad M&A experience, while
Brennen Keene
in Richmond and
Durham McCormick
in Houston co-head the renewables team. Other key practitioners include transactional partners
Timothy Callahan
 and
Evelyn Kim
, who are based in Chicago and San Francisco, respectively.
McGuireWoods LLP
is deeply involved in the middle-market and handles a diverse range of private equity transactions for investors, sponsors, family offices, and portfolio companies. Despite having a particular specialism in healthcare, spearheaded by Chicago-based co-head
Geoffrey Cockrell
, the practice has a broad industry focus which spans from technology and IP to tax and real estate.
Thomas Zahn
is also a leading figure in Pittsburgh, regularly representing funds on add-on acquisitions, leveraged buyouts and minority investments. In Dallas,
Jon Finger
brings extensive knowledge of the pharmaceutical, tech, and financial industries, while
Gregory Hawver
 handles a steady stream of M&A, recapitalizations and joint ventures from Chicago.
McGuireWoods LLP
' full-service transactional practice represents lenders in the origination and sale of multifamily mortgage loans to Fannie Mae and Freddie Mac, and recommended for its work in affordable housing deals. From New York,
Dennis Mensi
represents institutional lenders in originating and servicing of commercial mortgage loans secured by all asset classes, and also advises lenders on servicing of mortgage loans.
Craig Harmon
in Richmond, Virginia acts for real estate investors in connection with mezzanine loans, A/B notes, subordinated debt and other structured investment arrangements.  
Ava Lias-Booker
–
McGuireWoods LLP
McGuireWoods LLP >
Firm Profile
McGuireWoods, one of the world's leading law firms, has earned the loyalty of its many longstanding clients with deep and broad legal experience; a passion for understanding their businesses and markets; innovative delivery of practical, business-minded solutions; and unmatched service. McGuireWoods' continuing success comes down to one simple fact: The firm listens to its clients.
Clients consistently place McGuireWoods among a small group of elite firms in surveys such as BTI Consulting's Client Service A-Team, an annual ranking derived from unprompted feedback by general counsel and top decision-makers at Fortune 1,000 companies. 2023 marked the 17th time McGuireWoods has been singled out for excellence on BTI's Client Service A-Team, this year earning a No. 4 overall ranking.
One aspect of McGuireWoods' value proposition is its ability to address client issues from multiple angles by partnering with affiliate McGuireWoods Consulting, ranked by The National Law Journal as one of the top 20 Washington, D.C., government relations firms. By working closely with its consultants, McGuireWoods can augment its legal work with powerful experience and connections in strategic communications and government relations.
Also setting the firm apart is its longstanding commitment to innovation in the delivery of legal services. Financial Times has consistently honored McGuireWoods as one of North America's most innovative law firms in its prestigious North America Innovative Lawyers report. The firm invests in technology and staff to enhance its productivity and efficiency, including building an outstanding in-house e-discovery infrastructure. McGuireWoods was quick to embrace legal project management and has developed proprietary tools for budgeting and matter management, even helping clients establish their own in-house systems. And the firm is a pioneer in the creative use of alternatives to the billable hour to help clients control legal costs without sacrificing quality. BTI recognized McGuireWoods as one of only a handful of firms named by legal decision-makers at top companies as the absolute best at developing and implementing AFAs for their corporate clients.
The firm partners with clients to give back to communities and advance their mutual desire to increase diversity and inclusion in the profession. McGuireWoods was a finalist for Outstanding Firm for D&I, Outstanding Firm for Pro Bono and Outstanding Firm for Veterans Advancement in the 2022 Chambers Diversity & Inclusion Awards: North America. The firm's diversity and inclusion efforts have been recognized by Law360, the Minority Corporate Counsel Association and the National Asian Pacific American Bar Association, among others. As part of the firm's commitment to community service, its lawyers provide thousands of hours of pro bono work each year, helping children, battered spouses, the elderly, veterans and nonprofit groups.
Main Contacts
| Department | Name | Email | Telephone |
| --- | --- | --- | --- |
| Antitrust and trade regulation | Mark W. Kinghorn | | |
| Complex commercial litigation | Robert A. Muckenfuss | | |
| Corporate and Private Equity | Thomas E. Zahn | | |
| Data privacy and security | C. Andrew Konia | | |
| Debt finance | Kevin A. McGinnis | | |
| Energy | Brian J. Kelly | | |
| Financial services litigation | Cheryl L. Haas | | |
| Government investigations and white-collar litigation | Noreen A. Kelly | | |
| Healthcare | Holly Buckley | | |
| M&A and Energy Transactional | Michael B. Woodard | | |
| Private equity | Geoffrey C. Cockrell | | |
| Securities & capital markets | Greg R. Kilpatrick | | |
Other
Chairman : Jonathan P. Harmon Managing Partner : J. Tracy Walker IV Offices : Atlanta Offices : Austin Offices : Baltimore Offices : Brussels Offices : Charlottesville Offices : Houston Offices : Jacksonville Offices : London Offices : Los Angeles – Century City Offices : Los Angeles – Downtown Offices : New York Offices : Norfolk Offices : Pittsburgh Offices : Raleigh Offices : Richmond Offices : San Francisco Offices : Shanghai Offices : Tysons Number of Attorneys Firmwide : 1,100