Borden Ladner Gervais LLP > Vancouver, Canada > Firm Profile
Borden Ladner Gervais LLP
Offices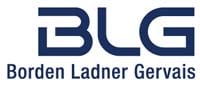 Borden Ladner Gervais LLP
1200 WATERFRONT CENTRE
200 BURRARD STREET, PO BOX 48600
VANCOUVER, BC V7X 1T2
Canada
Borden Ladner Gervais LLP > The Legal 500
Rankings
Borden Ladner Gervais LLP
is a well-established leading force in the labour and employment law market, with it fielding a sizeable team that handles the full gamut of matters. One area in which it particularly stands out is in its advice to public and private sector clients on collective bargaining. In addition, the group works with other departments to assist with pensions and benefits issues, as well as immigration matters. On the contentious side, the firm is prominent in disputes ranging from wrongful dismissal claims to employment suspensions. The team is notably active in the retail sector, as was recently evidenced by 
Matthew Certosimo
 acting for Loblaws in a judicial review of an arbitral reward.
André Royer
 leads the national practice group from the Montréal office, which is also home to labour relations expert
Robert Bonhomme
.
Danny Kaufer
frequently acts for clients in high-profile certification matters. Another name to note is 
Maryse Tremblay
, who has experience of acting for federally-regulated employers.
Katherine Poirier
has niche expertise in industrial accidents and occupational illness cases, as well as occupational health and safety. In Toronto,
Clifford Hart
has been particularly busy in some of the practice's foremost cases. 
Marie-Pier Emery
in Montréal is a standout lawyer at associate level.
One of the oldest marine law practices in Canada,
Borden Ladner Gervais LLP
acts for shipowners, operators, shipbuilders, insurers, and charterers. It has a broad national practice, with expertise covering East Coast, Great Lakes, Arctic and West Coast shipping lanes. Disputes are a core practice area for the firm, which is frequently involved in major collision matters, cargo claims, ship arrests and customs disputes. Other areas of work include advising on transactional and regulatory issues.
Jean-Marie Fontaine
leads the team out of the Montreal office, acting for major clients on both transactional and litigation matters. Other key names are
Dionysios Rossi
and
Graham Walker
, both based in Vancouver.
Borden Ladner Gervais LLP
's dispute resolution offering has a strong presence across the country, where it acts for a broad client base that includes multinationals and domestic heavy-hitters from a variety of industries. In Western Canada, the Calgary office is frequently engaged in commercial litigation and regulatory disputes in the energy and oil and gas sectors, with
Randall Block
a standout lawyer in that office, along with regional group manager
Michael Marion
. Class actions are among the strengths of the firm's disputes group in Vancouver, where
Brad Dixon
was part of a cross-region team acting for the Bank of Nova Scotia in certified competition class action litigation relating to merchant acceptance fees in credit card transactions. Transportation law, environmental law and insurance claim defence are among the team's other strengths in British Columbia;
Robert Deane
 and
Michelle Maniago
have been particularly active in these areas and others recently.
David Di Paolo
heads the national dispute resolution group from the Toronto office and specializes in securities litigation, class actions and shareholder disputes, and senior counsel
Guy Pratte
, noted for his expertise in class actions and complex constitutional law, splits his time between Ontario and Quebec. A dedicated fraud law group distinguishes the Montréal office in the market, and it is also recommended for its strengths in bilingual class actions.
Mathieu Piché-Messier
and
Patrick Plante
are among the key contacts there.
With bench strength nationally, Borden Ladner Gervais LLP draws upon the legal expertise of all groups within the firm to provide comprehensive services to financial institutions and major, mid-tier and junior mining companies operating across all segments of the sector in Canada and internationally. Led by Fred Pletcher in Vancouver, the department handles a significant volume of high-value M&A transactions, securities and capital markets deals, though it is also active in dispute resolution and tax-related matters. In the same office, Graeme Martindale is experienced in disclosure obligations, M&A and equity and debt financings. Andrew Powers, who is based in Toronto, is skilled at handling domestic and cross-border public and private offerings, with an emphasis on the mining and precious metals sector.
Borden Ladner Gervais LLP
acts for a stellar client base, comprising project proponents, Indigenous groups and the Crown, in a host of Aboriginal law and treaty rights mandates, most notably project permitting and approval issues. Recent areas of growth include advising Indigenous-owned businesses operating in the oil and gas, energy, infrastructure, banking and cannabis industries in relation to strategic partnerships with industry clients. The team's impressive litigation track record is also noteworthy, as is its ability to assist with Northern Land Claims Agreements. The indigenous law group is spearheaded by
Cherie Brant
 in Toronto, whose experience covers transactions, financing and land development on First Nations territories. Montréal-based 
Nadir André
 is go-to counsel for both Aboriginal clients and corporations involved in land claims' negotiations in Québec and elsewhere in Canada, and in connection with natural resources development.
Patrick Foy QC
 in Vancouver has notable expertise in appellate and judicial review matters involving Aboriginal law.
Borden Ladner Gervais LLP
 provides support to clients throughout all stages of construction and infrastructure projects, including procurement, governance, financing, development and disputes. The practice demonstrates strength in both the public and private sectors, where it acts for an array of contractors, sponsors, governmental entities, lenders and equity investors. Department head
Robert Shouldice
 excels in project and procurement planning, especially in the energy, transportation and public infrastructure spaces. He receives key support from a specialized team, that includes
Douglas Sanders
, who is seasoned in PPP projects, construction and industrial EPC contracts. Project finance and development are core ares of activity for
Sarah Bird
, who has acted as lead counsel for proponents and lenders in all phases of social infrastructure and transportation projects.
Known for its high-quality litigation bench,
Borden Ladner Gervais LLP
acts for insurers and insureds on a number of key disputes. The team is involved in a number of cases relating to business interruption as a result of Covid-19, with
Patrick Heisen
representing Lloyds Underwriters, HDI Global Specialty SE and Grenville mutual in separate class actions. It often acts on behalf of large insurers' national programs but is also known to act for large entities including municipalities, hospitals and school boards. The firm also offers regulatory services. The team is headed by
Rebecca Bush
and
Donna Spagnolo
in Toronto and
Graham Walker
in Vancouver. Other key names include regional group manager 
Kevin McGivney
in Toronto and
Jean-Maire Fontaine
in Montreal. Cyber insurance expert
Eric Charleston
joined from
Miller Thomson
.
With a notable lender-side practice,
Borden Ladner Gervais LLP
advises on banking matters across all five Canadian legal markets, as well as acting in cross-border matters. The group was instrumental in the establishment of key business relief funds guaranteed by the Canadian government, most notably advising Export Development Canada on the C$55bn Canada Emergency Business Account program. It also offers a solid financial regulatory practice, which is particularly known for its work with non-traditional lenders, including credit unions and private equity, and is increasingly active in the fintech space. Toronto-based
Gus Karantzoulis
is noted for his work for the Bank of Nova Scotia and others in a broad range of sophisticated lending transactions. Also in Toronto is
Howard Silverman
, who often acts for borrowers. Its Montreal-based lawyers include transactional and regulatory advisory expert 
Olivier Tardif
, as well as national and regional group heads
Claudine Millette
and
Stephen Redican
.
Borden Ladner Gervais LLP
fields a business immigration team that provides the full range of immigration and visa services to a client base that stands out for its comprehensive coverage of the media and entertainment sectors. Practice head
Brian Dingle
in Toronto is a go-to name in that field but he also has strong experience managing immigration issues in IT, mining, oil and gas, finance, and sports. In Montreal,
Valérie Marcas
and
Darren McGuire
are key contacts, while in Calgary immigration-focused labour and employment partner
Brian Portas
is the name to note.
Borden Ladner Gervais LLP
's oil and gas lawyers balance a busy workload with a significant proportion of its matters involving regulatory issues, litigation and corporate transactions in the sector, with an emphasis on the midstream segment. On the contentious front, the group has the ability to assist oil and gas clients in disputes involving court and administrative proceedings.
Peter Bryan
 in Calgary leads the national oil and gas group; he primarily advises on sector-related financing, M&A and projects. Also in the Calgary office,
Alan Ross
 is skilled at handling national and provincial regulatory proceedings, while
Michael Marion
 oversees the litigation offering. Vancouver-based
Rick Williams
 assists clients with a mix of environmental law, indigenous issues, and dispute resolution.
The environmental law practice at Borden Ladner Gervais LLP offers legal support to clients operating in a variety of sectors, including transport, manufacturing, energy and waste management, on a multitude of business transactions, regulatory matters and in litigation. Contentious issues are a key strength for the group, which is equipped to handle civil environmental claims, contaminated sites litigation, administrative proceedings and judicial appeals. Rick Williams oversees the national team from Vancouver; the practice head is singled out for his experience in environmental issues pertaining to project development and permitting, with a special emphasis in the oil and gas segment. He receives key support from other practitioners based in Vancouver: Dionysios Rossi has a strong track record in federal and provincial environmental assessment processes and pollution-related matters, while Graham Walker leads on tort cases. Jonathan Cocker, who focuses on environmental compliance issues, recently joined from Baker McKenzie.
Borden Ladner Gervais LLP
assists an eclectic client base of domestic and multinational companies with strategic acquisition and IP protection matters across North America and internationally.
Jason Howg
heads the national department from Calgary while over at the Toronto office,
Justine Wiebe
runs a specialised trademarks practice, distinguished through her focus on non-traditional marks, pharmaceutical marks and trade dress.
Borden Ladner Gervais LLP
's cross-practice pensions and benefits group comprises of lawyers whose experience spans employment, corporate, finance, tax and litigation. Its areas of strength include pension plan and fund governance, plan transactions, and support on corporate and commercial matters.
Andrew Harrison
leads the department from the Toronto office, which is the base for most of the team. 
Sonia Mak
 acts for a range of stakeholders, including employers and their non-Canadian parent companies. 
Scott McEvoy
 is another name to note in Toronto. 
Frédéric Massé
 is a key contact in Montréal.
Borden Ladner Gervais LLP
 is known for undertaking restructuring and insolvency mandates on behalf of energy sector and retail clients. In addition, the firm is noted for its work on behalf of the big four banks and other key financial institutions, particularly in the context of formal and informal workouts. Its team also advises court officers and other stakeholders on cross-border Chapter 11 and other bankruptcy proceedings.
Alex MacFarlane
and
Marc Duchesne
lead the team out of the Toronto and Montréal offices respectively. Other key practitioners are based in Alberta and British Columbia.
Known for its contentious offering,
Borden Ladner Gervais LLP
represents aircraft operators, manufacturers and insurers in major disputes and claims cases. The team handles all forms of major litigation regarding aerospace operation, construction and ground handling, including a wide number of insurance claims work as well. Other work includes aircraft restructuring and insolvency cases, with recent involvement in various bankruptcy proceedings.
Leon Beukman
leads the aviation team from Vancouver, offering over 30 years of experience in civil litigation for aviation stakeholders.
Borden Ladner Gervais LLP
handles a range of matters across the road and rail sectors. It counts among its clients a number of major railways and rail operators, urban transit authorities, shippers and other key industry stakeholders. The group is particularly known for work on infrastructure projects, handling regulatory and planning approvals.
Robert Shouldice
 leads the regulatory and commercial arm out of Vancouver.
Robin Squires
leads the litigation team from Montreal; his practice focuses on commercial disputes and insurance claim in the transport industry.
With particular strength in the hospitality sector, Borden Ladner Gervais LLP fields a team of lawyers specialised in real estate transactions, financing, leasing portfolio management and construction law. Vancouver-based David Longcroft manages the national commercial real estate department, steering the team on a range of transactions and development matters on behalf of developers, publicly listed real estate companies and institutional investors. Patricia Morrison in Calgary, who has a wealth of experience in large-scale infrastructure, industrial and commercial projects, leads the nationwide construction group. Brennan Carroll is a key contact in Toronto for municipalities, commercial and retail players.
Borden Ladner Gervais LLP
 undertakes a wide ambit of contentious and non-contentious tax work, under the leadership of 
Craig Webster
 in Toronto, who has particular expertise in the investment management industry. In addition to representing clients in tax litigation, the team advises clients on the tax aspects of M&A, restructurings, foreign direct investments and finance transactions, as well as employment, pensions and benefits issues. 
Steve Suarez
provides tax support on major corporate transactions, while Calgary-based partner 
Laurie Goldbach
 offers dispute resolution expertise, with experience before all levels of court.
Borden Ladner Gervais LLP >
Firm Profile
As the largest full-service Canadian law firm, Borden Ladner Gervais LLP (BLG) delivers the most comprehensive legal solutions and client services for domestic and international clients – across more practice areas and industry sectors – than any other Canadian firm.
With over 750 lawyers, intellectual property agents and other professionals, BLG services businesses and institutions across all of their legal needs – from M&A and capital markets; to complex disputes, financing, and trademark and patent registration.
BLG is the largest of Canada's few AmLaw Global 100 firms, with five full-service offices located in each of Canada's principal business markets, and the nation's capital. As a bilingual English-French firm, BLG excels under both the common and civil law systems in Canada.
BLG has a legacy of 'firsts' – from being Canada's first-founded law firm, to one of the first in North America to implement client service standards, and receives numerous legal industry recognitions for innovation in client service and value.
BLG takes great pride in the communities it serves, and supports a variety of initiatives including pro bono legal services, fundraising and volunteer programs, such as the BLG Reads to Kids Program.
International work
BLG provides business law, dispute resolution and intellectual property solutions to a wide range of clients internationally in virtually every area of law. Special expertise includes mergers and acquisitions, infrastructure and public-private projects, financings, international trade law, commercial litigation and arbitration. BLG has acted in international banking transactions (including sovereign risk lending); international insolvencies, liquidations and restructurings; international joint ventures, reorganisations and acquisitions; commercial contracts; and international and multi-jurisdictional disputes.
Diversity
Diversity and inclusiveness are critical to the firm's success. The principles of employment equity, diversity and human rights are an integral part of our culture. As Canada's Law Firm, BLG champions diversity and inclusion in the workplace and in the wider legal community. BLG actively participates in and promote programs aimed at improving and celebrating diversity within the legal profession and the broader business community, including our robust Transgender Accommodation and Inclusivity Policy, BLG's mental health strategy, unconscious bias training, and the development and continued growth of the Driven By Women™ initiative. BLG is a proud partners of Catalyst Canada, Canadian Council for Aboriginal Business, Canadian Centre for Diversity and Inclusion, Canadian Gay & Lesbian Chamber of Commerce and Pride at Work Canada.
Clients & Community
BLG is proud to support its clients and communities. The firm provides insight to domestic and international public and private corporations across all business sectors. BLG advises governments, governmental organisations and agencies, as well as trade groups and broader public sector clients. The firm's ability to make a positive impact in the communities in which it lives and works directly connects to how it cultivates its relationships, both inside and outside of the office. BLG supports nearly 200 different non-profit organizations annually, ranging from local charities and grassroots community initiatives to international charitable missions. The firm's cross-practice and cross-country firm provides more than 20,000 pro bono hours of legal support to nearly 200 not-for-profits and vulnerable individuals.
For further information, visit blg.com.
Main Contacts
| Department | Name | Email | Telephone |
| --- | --- | --- | --- |
| Banking and financial services | | | |
| Securities and capital markets | | | |
| Mergers and acquisitions | | | |
| Litigation and arbitration | | | |
| Insurance and tort liability | | | |
| Competition and antitrust | | | |
| Energy, oil and gas and mining | | | |
| Infrastructure and PPP | | | |
| Labor and employment | | | |
| Tax | | | |
| Intellectual property | | | |
| Real estate | | | |
| Construction | | | |
| Transportation | | | |
| Environmental law | | | |
| Privacy, cyber and data security | | | |
| Public policy and government relations | | | |
| Information technology | | | |
| Life sciences | | | |
| Health law | | | |
| Charities and not-for-profit | | | |
Staff Figures
Number of Partners : 372 Number of Other Fee-Earners : 331
Languages
Africa and Asia Armenian Bosnian Albanian Croatian Czech Dutch Englisch Farsi (Persian) Finnish French Gaelic Filipino/Tagalog German Greek Hindi Hebrew Hungarian Italian Japanese Korean Kurdish Mandarin Cantonese Macedonian Polish Punjabi Russian Serbian Spanish Tamil Ukrainian Urdu Vietnamese Yoruba