Firm Profile > Rodrigo, Elías & Medrano – Abogados > Lima, Peru
Rodrigo, Elías & Medrano – Abogados
Offices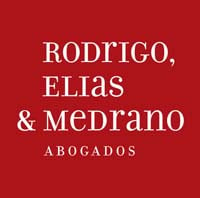 Rodrigo, Elías & Medrano – Abogados
AVENIDA SAN FELIPE 758
LIMA 15072
Peru
Rodrigo, Elías & Medrano – Abogados > The Legal 500
Rankings
Rodrigo, Elías & Medrano – Abogados >
Firm Profile
The firm:  Rodrigo, Elías & Medrano Abogados is a full-service firm with over 30 practice groups, covering all areas of law. All of its teams are recognised as leading practices in the market and regularly participate in the most complex and sophisticated matters, including crossborder deals and international arbitration claims. The firm has represented clients in most major Peruvian projects and transactions in the last five decades, as well as in high caliber legal matters in areas such as antitrust, aviation, banking and finance, bankruptcy and restructuring, corporate and M&A, employment, energy, environmental, infrastructure, insurance, intelectual property, litigation and arbitration, natural resources, privatizations and concessions, project development and finance, real estate, tax and telecommunications, among others. The firm is member of Interlaw, World Services Group and Employment Law Alliance.
Recent accolades: The firm was awarded 'Latin America Law Firm of the Year 2018' and 'Law Firm of the Year in Peru in 2019' in Peru by Chambers & Partners (repeating the awards also won in 2017, 2016, 2015, 2014, 2012 and 2010); 'Law Firm of the Year 2019' in Peru by Who's Who Legal (repeating the awards also won since 2006); 'Law Firm of the Year 2020" in Peru by IFLR, and 'Law Firm of the Year 2019' (repeating the awards also won in 2019) in Peru by International Tax Review.

Main areas of practice:
Banking, Corporate Finance & Capital Markets: The firm covers bank finance, debt and equity capital markets, structured finance, trade finance, acquisition finance, derivatives and regulatory matters. Recent highlights include advising the Goldman Sachs, J.P. Morgan Securities and Santander Investment in the US$563 MM 144A/Reg S bond issuance by Metro de Lima Linea 2; Impala in its US$250 MM financing granted by ING, Banco de Crédito del Perú, Citibank and The Bank of Nova Scotia; Kallpa Generación in its US$148 MM leasing granted by Banco de Crédito del Perú; Solgas in its PEN303 MM financing granted by Scotiabank Perú; IFC in the US$75 MM financing to Banco Bolivariano; The Central America Bottling Corporation in its US$35 MM financing granted by Banco de Crédito del Perú; Asterion Capital Partners in its EUR285 MM financing granted by BBVA and Santander; and Banco de Crédito del Perú in the US$100 MM granted to Sierra Metals.
Corporate & M&A: The firm regularly participates in the largest, most complex and sophisticated M&A transactions. It also provides regular corporate counseling to a significant number of the most important companies operating in Peru. Recent highlights include advising Sempra in its US$3.59Bn sale of Luz del Sur; Warburg Pincus in its US$500MM acquisition of Cambridge and Altair schools; GyM in its US$130MM equity issuance; Pan American Silver in its US$1.07Bn corporate reorganization; Fidelidade in its PEN44MM public tender offer in La Positiva; Solarpack in its US$51MM acquisition of Tacna Solar and Panamericana Solar; Latin American Power in the acquisition of two hydropower projects; Trafigura in its assets sale to Sierra Poli; Entel in the US$772MM sale of telecom towers; AJ Gallagher in the acquisition of JLT's aerospace division.
Energy: The firm has been involved in the development and financing of some of the most important energy projects in Peru, including hydropower and other renewable projects. Celeo Redes in the public bidding for three transmission lines; Red Eléctrica group on the development of transmission projects; counsel to conventional and renewable energy ventures; Tahoe Resources, Antamina, Cerro Verde, Marcobre and Southern Peru Copper on the energy requirements for their mines and the development of power plants and transmission lines.
Infrastructure: The firm has extensive experience in the development, financing and regulatory aspects involving ports, airports, toll roads, railways, transmission lines and sanitation, among other areas. It provides regular advice to Mizuho Securities in the US$273MM bond issuance by Metro de Lima Línea2; BBVA, Mizuho Bank, SMBC, Sabadell, Santander and Citibank in the US$355MM financing to Contugas; Santander, Sadabell and BBVA in the US$150MM facility to Metro de Lima Línea2; Credicorp Capital in the US$61MM financing to Transportadora Callao; Latin American Power in its US$127MM refinancing; and Natixis in its US$173MM financing for the Carhuaquero- Cajamarca-Norte transmission line; Marcobre in the US$900 million financing of Mina Justa project.
Intellectual Property: The firm provides a full range of services, including consultancy, protection and enforcement of rights involving patents, trademarks, trade names, copyright, domain names and related rights. The firm's portfolio includes some of the most valuable brands worldwide.
Litigation & Arbitration: The firm's litigation and arbitration practice group is also recognised as the clear market leader by clients and peers alike. It covers disputes in all areas of law, including civil, commercial, insurance, insolvency, antitrust, labour, energy and regulatory litigation and tax, as well as white collar crime in high-profile leading cases. The firm's lawyers have acted as counsel, arbitrators, legal experts and consultants in proceedings before local and international arbitration institutions. Representation an US energy subsidiary in an arbitration proceeding against local Generation Company. Successful representation of a mining company in a procedure to release a letter of guarantee in the legal process against Tax Authority.
Natural Resources & Environmental: Premier mining and oil and gas companies with largescale projects in Peru have entrusted the firm with their regulatory, social, environmental, contentious and transactional matters in the last three decades. The firm's main clients include: Gases Del Norte on the awarding of a US$230MM concession for distribution of natural gas. Gases Del Pacífico on its 250$MM LNG transport and distribution natural gas concession. Shell on matters relating to LNG exports and local LNG sales.
Projects: The firm's reputation in project development and finance is unmatched. Over the last four decades, the firm has represented all sides of a deal, whether commercial lenders, multilaterals, export-credit agencies, debtors, underwriters, issuers and others. Recent highlights include advising Southern Peru Copper in successful bid to acquire Michiquillay with an expected investment of US$2.5Bn; Tahoe Resources in its integration with Pan American Silver for US$1.1Bn. Marcobre on the development of the Mina Justa project for US$ 1.5Bn; Antamina on US$1.5Bn expansion; Freeport McMoRan on US$4.7Bn additional expansion of Cerro Verde; Barrick in its strategic plans to expand Laguna Norte.
Tax: The firm is recognised as the leading tax practice in the country for its advice on tax planning, tax litigation and transfer pricing, as well as for its experience in tax matters in domestic and cross-border M&A, financial and reorganisation transactions. Recent highlights include representation on tax matters and proceedings of Rimac Compañía de Seguros (US$30MM) and Minsur (US$100MM); Hudbay on challenging US$3.5MM in tax credits by the tax authority.
Main Contacts
| Department | Name | Email | Telephone |
| --- | --- | --- | --- |
| Banking and finance/M&A/projects | Jean Paul Chabaneix | | |
| Bankruptcy/restructuring | Guillermo Puelles | | |
| Corporate | Ramón Vidurrizaga | | |
| Dispute resolution | José Tam | | |
| Environment | Francisco Tong | | |
| Insurance and reinsurance | Jorge Velarde | | |
| Intellectual property | Héctor Álvarez | | |
| International trade | Julio Guadalupe | | |
| Labor and employment | José Balta | | |
| Mining | Luis Carlos Rodrigo Prado | | |
| Energy | Verónica Sattler | | |
| Public law | Carlos Carpio | | |
| Regulatory | Verónica Sattler | | |
| Tax | Alex Córdova | | |
Lawyer Profiles
| Photo | Name | Position | Profile |
| --- | --- | --- | --- |
| | Mr Héctor Álvarez | Partner Héctor Alvarez leads our Intellectual Property area, and specializes in brands,… | View Profile |
| | Ms María del Carmen Alvarado | Partner María del Carmen Alvarado specializes in intellectual property with emphasis on… | View Profile |
| | Mr Arturo Aza | Partner Arturo Aza specializes in solving civil conflicts, and in administrative-contested, and… | View Profile |
| | Mr José Balta | Partner José Balta leads our Labor area, and specializes in advising national… | View Profile |
| | Mr Francisco Barrios | Partner Francisco Barrios specializes in mining and environmental law, and water resources. | View Profile |
| | Mr Luis Bedoya | Partner Luis Bedoya specializes in arbitration and civil litigation. | View Profile |
| | Mr Oscar Benavides | Partner Oscar Benavides specializes in mining law, mining projects finance, and mergers… | View Profile |
| | Mr Augusto Cáceres | Partners Augusto Cáceres specializes in finance and mergers & acquisitions. | View Profile |
| | Mr Ernesto Cárdenas | Partner Ernesto Cárdenas specializes in labor contracting, migrations and social security matters. | View Profile |
| | Mr Alex Córdova | Partner Alex Córdova leads our Tax practice area. He specializes in fiscal… | View Profile |
| | Ms Jenny Caldas | Partner Jenny Caldas specializes in oil, gas and environmental issues. | View Profile |
| | Mr Carlos Carpio | Partner Carlos Carpio leads our Public Law area. He specializes in public… | View Profile |
| | Mr Italo Carrano | Partner Italo Carrano specializes in arbitration, infrastructure, mergers & acquisitions, and project… | View Profile |
| | Mr Renzo Carrasco | Partner Renzo Carrasco specializes in civil litigation. | View Profile |
| | Mr Fabrizio Castellano | Partner Fabrizio Castellano is a specialist in representing in civil, commercial, criminal… | View Profile |
| | Mr Jean Paul Chabaneix | Partner Jean Paul Chabaneix leads our Banking and Finance, Projects Finance, Mergers… | View Profile |
| | Mr Juan Diego De Vinatea | Partner Juan Diego de Vinatea specializes in banking and finance law, projects… | View Profile |
| | Mr Claudio Ferrero | Partners Claudio Ferrero specializes in transactional mining matters, and mergers & acquisitions. | View Profile |
| | Mr Sandro Fuentes | Partner Sandro Fuentes specializes in new businesses, fiscal strategy and planning, and… | View Profile |
| | Mr Julio Guadalupe | Partner Julio Guadalupe leads our International Trade and Customs area. | View Profile |
| | Ms Nydia Guevara | Partner | View Profile |
| | Mr Raúl Hidalgo | Partner Raúl Hidalgo specializes in tax law with emphasis on consulting, investment… | View Profile |
| | Mr Eduardo López | Partner Eduardo López specializes in banking and finance law, corporate finance, and… | View Profile |
| | Mr Gonzalo La Torre | Partner Gonzalo La Torre specializes in mining and extractive activities taxation, in… | View Profile |
| | Mr Gustavo Lazo | Partner Gustavo Lazo specializes in corporative tax matters and wealth planning. | View Profile |
| | Mr Juan Guillermo Lohmann | Partner Juan Guillermo Lohmann specializes in civil law, local and international arbitrations… | View Profile |
| | Mr Alejandro Manayalle | Partner Alejandro Manayalle specializes in antitrust, energy, infrastructure, public-private partnerships and international… | View Profile |
| | Mr Humberto Medrano | Humberto Medrano is a founding member and counselor of the Tax practice… | View Profile |
| | Mr Fernando Molina | Partner Fernando Molina specializes in mergers & acquisitions, project finance and corporate… | View Profile |
| | Mr Alfonso Montoya | Alfonso Montoya specializes in providing commercial and corporate advisory to companies. | View Profile |
| | Mr Alex Morris | Partner Alex Morris leads our Wealth Planning practice area. He specializes in… | View Profile |
| | Mr Luis Enrique Palacios | Partner Luis Enrique Palacios specializes in mergers & acquisitions, project finance and… | View Profile |
| | Mr Mario Pasco | Mario Pasco specializes in advising companies on labor issues. | View Profile |
| | Mr Guillermo Puelles | Guillermo Puelles specializes in restructuring, insolvency and liquidation of corporations, mergers &… | View Profile |
| | Mr José Reaño | Partner José Reaño leads our Criminal Litigation and Corporate Compliance practice areas. | View Profile |
| | Ms Maritza Reategui | Partner Maritza Reátegui heads our Life Sciences & Healthcare practice area. | View Profile |
| | Mr Luis Carlos Rodrigo Prado | Luis Carlos Rodrigo Prado is managing partner of Rodrigo, Elías & Medrano… | View Profile |
| | Mr Gino Sangalli | Partner Gino Sangalli specializes in banking-regulatory issues and international financing. | View Profile |
| | Ms Verónica Sattler | Partner Verónica Sattler leads our Public Services Regulation, Antitrust, Energy and Infrastructure… | View Profile |
| | Mr Hugo Silva | Hugo Silva specializes in public law, public procurement, construction contracts, company restructuring,… | View Profile |
| | Mr José Talledo | Partner José Talledo specializes in tax issues related to investment and financial… | View Profile |
| | Mr José Tam | Partner José Tam leads our Civil Litigation & Arbitration, and Asian Investment… | View Profile |
| | Mr Tulio Tartarini | Partner Tulio Tartarini specializes in tax law, with emphasis on fiscal planning,… | View Profile |
| | Mr Francisco Tong | Partner Francisco Tong is co-head of our Environment practice area. He specializes… | View Profile |
| | Mr Efraín Vassallo | Partner Efraín Vassallo specializes in criminal law and criminal litigations. | View Profile |
| | Mr Jorge Velarde | Partner Jorge Velarde leads our Aviation and Insurance and Reinsurance areas. Also,… | View Profile |
| | Mr Ramón Vidurrizaga | Partner Ramón Vidurrizaga leads our Corporate and Commercial, and Litigation & Arbitration… | View Profile |
| | Ms Mariella de la Torre | Partner Mariella de la Torre specializes in tax consulting and fiscal planning… | View Profile |
Languages
Chinese (Mandarin) French English German Italian Portuguese Spanish
Memberships
ABA (American Bar Association) IBA (International Bar Association) Employment Law Alliance INTA - International Trademark Association Inter-Pacific Bar Association INTERLAW World Services Group (WSG)
Top Tier Firm Rankings
Firm Rankings