Firm Profile > Rodrigo, Elías & Medrano – Abogados > Lima, Peru
Rodrigo, Elías & Medrano – Abogados
Offices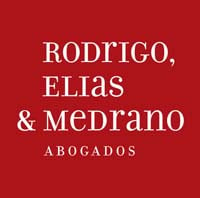 Rodrigo, Elías & Medrano – Abogados
AVENIDA SAN FELIPE 758
LIMA 15072
Peru
Rodrigo, Elías & Medrano – Abogados > The Legal 500
Rankings
Rodrigo, Elías & Medrano – Abogados >
Firm Profile
The firm: Rodrigo, Elías & Medrano Abogados is a full-service firm with over 30 practice groups, covering all areas of law. All of its teams are recognised as leading practitioners in the market and regularly participate in the most complex and sophisticated matters, including cross-border deals and international arbitration claims. The firm has represented clients in most major Peruvian projects and transactions in the last five decades, as well as in high caliber legal matters in areas such as antitrust, aviation, banking and finance, bankruptcy and restructuring, corporate and M&A, employment, energy, environmental, infrastructure, insurance, intellectual property, litigation and arbitration, natural resources, privatisations and concessions, project development and finance, real estate, tax and telecommunications, among others.
The firm is an active member of the prestigious international legal networks Interlaw, World Services Group, Employment Law Alliance and the International Bar Association, and it has close ties with outstanding firms all over the world.
Recent accolades: The firm was named'Latin America Law Firm of the Year 2018' and 'Law Firm of the Year in Peru in 2017' in Peru by Chambers and Partners (repeating the awards also won in 2016, 2015, 2014, 2012 and 2010);'Law Firm of the Year 2019' in Peru by Who's Who Legal (repeating the awards also won since 2006);'Law Firm of the Year 2018' in Peru by IFLR, and'Law Firm of the Year 2018' in Peru by International Tax Review.
Main areas of practice
Aviation: Foreign financiers and aircraft lessors on financial structures design and execution in terms of financing for wide-body aircrafts purchase; aircraft leasing to important local and international airlines; main carriers on permitting for their operations and the establishment of off-line carrier representations; claim settlement related to major aviation loss, including the largest aviation loss in Peru in the last 25 years.
Banking, finance and capital markets: VM Holding on its US$700m bond issuance under Rule 144A and Reg S.; CBC on its US$500m international issuance; Credicorp on the US$600m securitization of CRPAOs for Aeropuertos del Peru; I Squared Capital on a US$450m financing; Nexa Resources on its US$570m IPO in the New York and the Toronto Stock Exchanges; The Central America Bottling Corporation on a S/97MM financing; Mizuho Securities USA on its US$273m bond issuance for projects; Banco de Crédito del Perú on a US$100m financing granted to Sierra Metals; Pan American Silver on a US$500m credit granted; Latin American Power on a US$130m financing.
Bankruptcy: Trafigura on the ongoing US$660m bankruptcy of Doe Run Perú; HSBC on the US$1.5bn cross-border insolvency of China Fishery Group / Copeinca; Trafigura on a US$7.7m purchase of assets in bankruptcy and extra-bankruptcy proceedings.
Dispute Resolution: Successful representation of an international client in an arbitration proceeding against a local energy developer. The award included the termination of a joint venture agreement and ordered the payment of compensation. Although the dispute was governed by the Peruvian Law, the court included a well-known international arbitrator and the proceeding was conducted considering international standards; successful representation of a US power subsidiary in an arbitration proceeding against a local power company. The dispute was settled upon conducting hearings before an international court. Successful representation of a mining company in a procedure to release a letter of guarantee in the legal process against SUNAT Tax Authorit.
Energy: Luz del Sur on their tariff fixing process, power purchase agreements with various generators, general counsel and development of power projects; successful representation of worldwide companies in public bidding and development of multiple transmission lines and project implementation; general counsel to various power companies, both of conventional and renewable energy, during their project implementations; Tahoe Resources, Antamina, Cerro Verde, Marcobre and Southern Peru Copper on their energy demands for their mining operations and on the development of their own power plants.
Environment: Cerro Verde on its US$4.7bn  mining project expansion; Consorcio Terminales, Marcobre and Luz del Sur on ongoing project developments; Graña y Montero Petrolera on environmental matters related to Blocks I, III, IV and V; Minera Chinalco, Minsur, Repsol Exploración, Compañía Minera Raura, Minera Antares, La Arena, Shahuindo, among others on sanctioning proceedings before the Environmental Authority; CD Capital Natural Resources on the environmental legal assessment of "Los Calatos" mining project; Cofaco Industries in its environmental adjusting process which set a favorable precedent for the whole industrial sector; ADEX on forest policy initiatives development; IMK Maderas on forest administrative procedures against the Customs; AGROKASA on the first wastewater auction performed in Peru.
Insurance: International insurance company on the incorporation and permitting of a local subsidiary; international reinsurers on claims involving loss coverage; local insurer on regulatory aspects in relation to collective insurance policies; acquisition of the Positiva Seguros majority stake; leading insurance companies on compliance with Peruvian Laws by innovative potential products to be launched in the country; registry of foreign reinsurers from different jurisdictions for their activities in the local market; leading insurance company on the design of a health insurance portfolio transfer strategy.
International trade and customs: Goodyear on its customs valuation claim concerning an alleged increase of the declared customs value; Arcos Dorados (McDonald's franchisee) on a claim before Customs in connection with its imports; Nokia on its customs valuation claim concerning alleged increase of the declared customs value derived from software import; Southern Peru Copper Corporation on a successful audit procedure carried out by Customs in connection with its imports; Volvo on its claim concerning the correct assessment of the import value of goods purchased from its foreign suppliers.
Labor: Support to two of the three most important mining groups in the country in a collective bargaining with seven unions being comprised of more than 3000 workers; advice to two economic groups that, after a corporate restructuring, required adjusting their corporate schedules and intra-group services; advice to an exporting group on its labor force restructuring and progressive reduction ; advice to mining companies on matters regarding the technological development impact in terms of safety at work; advice to a business group in the education sector on reducing their labor force.
M&A: I Squared Capital on its acquisition of Duke Energy International Latin America division for US$1.2bn; Quicorp takeover for US$583m; I Squared Capital on the acquisition of the whole IC Power Latin American power portfolio for US$1.2bn; United Health on the acquisition of Banmedica regional business via public offering for US$2.8bn; China Southern Power on its acquisition of Brookfield stake in Transelec for US$1.3bn; Tahoe Resources on its successful takeover by Pan American Silver including "Escobal" silver mine for US$1.1 bn; Warburg Pincus Private Equity Global Growth L.P. on its share acquisition of Cambridge and Altair schools for US$500m; Asterion Capital Partners on its acquisition of 11 Telefonica data centersfor EUR550m; Belmond on its takeover by LMVH Moët Hennessy Louis Vuitton for US$3.2bn; Graña y Montero on its US$130m capital increase.
Mining: Marcobre on the US$900m financing of Mina Justa project; MMG on "Las Bambas" project development for US$5.85bn; Chinalco on "Toromocho" copper project development of US$4.8bn; Antamina on its US$1.5bn expansion; HudBay on "Constancia" copper project for US$1.79bn; Freeport McMoRan on the US$4.7bn additional expansion of its "Cerro Verde" mine; Tahoe Resources on its "Rio Alto" and "Shahuindo" mining operations; Southern Peru Copper on its successful bid to acquire "Michiquillay" by an expected investment of US$2.5bn; Tahoe Resources on their successful takeover by Pan American Silver including "Escobal" silver mine for US$1.1 bn; successful representation of Chinalco, Pan American Silver, Bechtel, Minsur and Barrick in the defense against alleged breaches of mining, security and environmental regulations, as well as in their different activities and strategies related to their operations in Peru.
Oil and gas: Exxon Mobil on its lubricants and fuels sales for US$747m; Gases del Norte on the ongoing bid of the US$230m concession for natural gas distribution; Gases del Pacífico on the LNG transport and subsequent commercial distribution throughout northern Peru for US$250m; Shell on LNG export matters; Karoon Gas on permitting for the first deep water exploration in Peru.
Project finance: Marcobre S.A.C. and Minsur S.A. on the US$900m financing of Mina Justa project; Mizuho Bank, Mizuho Securities and Sumitomo Mitsui Banking Corporation on the US$396m financing of the expansion of Metro Line 1; Natixis on the US$173m financing of the Carhuaquero-Cajamarca-Norte-Caclic-Moyobamba transmission-line; Banco de Crédito del Perú on the US$61m financing to Transportadora Callao S.A. to refinance the ore conveyor belt project; Banco Santander on the US$25m financing to Metro de Lima Línea 2 S.A.
Tax: Successful representation before the Tax Court concerning income tax refund of Rimac Compañía de Seguros (US$30m) and Minsur (US$100mm); Hudbay on a tax audit for the amount of US$3.5m and subsequent challenge of General Sales Tax (IGV) credit.
Main Contacts
| Department | Name | Email | Telephone |
| --- | --- | --- | --- |
| Banking and finance/M&A/projects | Jean Paul Chabaneix | | |
| Bankruptcy/restructuring | Guillermo Puelles | | |
| Corporate | Ramón Vidurrizaga | | |
| Dispute resolution | José Tam | | |
| Environment | Francisco Tong | | |
| Insurance and reinsurance | Jorge Velarde | | |
| Intellectual property | Héctor Álvarez | | |
| International trade | Julio Guadalupe | | |
| Labor and employment | José Balta | | |
| Mining | Luis Carlos Rodrigo Prado | | |
| Energy | Verónica Sattler | | |
| Public law | Carlos Carpio | | |
| Regulatory | Verónica Sattler | | |
| Tax | Alex Córdova | | |
Lawyer Profiles
| Photo | Name | Position | Profile |
| --- | --- | --- | --- |
| | Mr Héctor Álvarez | Partner Héctor Alvarez leads our Intellectual Property area, and specializes in brands,… | View Profile |
| | Ms María del Carmen Alvarado | Partner María del Carmen Alvarado specializes in intellectual property with emphasis on… | View Profile |
| | Mr Arturo Aza | Partner Arturo Aza specializes in solving civil conflicts, and in administrative-contested, and… | View Profile |
| | Mr José Balta | Partner José Balta leads our Labor area, and specializes in advising national… | View Profile |
| | Mr Francisco Barrios | Partner Francisco Barrios specializes in mining and environmental law, and water resources. | View Profile |
| | Mr Luis Bedoya | Partner Luis Bedoya specializes in arbitration and civil litigation. | View Profile |
| | Mr Oscar Benavides | Partner Oscar Benavides specializes in mining law, mining projects finance, and mergers… | View Profile |
| | Mr Augusto Cáceres | Partners Augusto Cáceres specializes in finance and mergers & acquisitions. | View Profile |
| | Mr Ernesto Cárdenas | Partner Ernesto Cárdenas specializes in labor contracting, migrations and social security matters. | View Profile |
| | Mr Alex Córdova | Partner Alex Córdova leads our Tax practice area. He specializes in fiscal… | View Profile |
| | Ms Jenny Caldas | Partner Jenny Caldas specializes in oil, gas and environmental issues. | View Profile |
| | Mr Carlos Carpio | Partner Carlos Carpio leads our Public Law area. He specializes in public… | View Profile |
| | Mr Italo Carrano | Partner Italo Carrano specializes in arbitration, infrastructure, mergers & acquisitions, and project… | View Profile |
| | Mr Renzo Carrasco | Partner Renzo Carrasco specializes in civil litigation. | View Profile |
| | Mr Fabrizio Castellano | Partner Fabrizio Castellano is a specialist in representing in civil, commercial, criminal… | View Profile |
| | Mr Jean Paul Chabaneix | Partner Jean Paul Chabaneix leads our Banking and Finance, Projects Finance, Mergers… | View Profile |
| | Mr Juan Diego De Vinatea | Partner Juan Diego de Vinatea specializes in banking and finance law, projects… | View Profile |
| | Claudio Ferrero | Partners Claudio Ferrero specializes in transactional mining matters, and mergers & acquisitions. | View Profile |
| | Mr Sandro Fuentes | Partner Sandro Fuentes specializes in new businesses, fiscal strategy and planning, and… | View Profile |
| | Mr Julio Guadalupe | Partner Julio Guadalupe leads our International Trade and Customs area. | View Profile |
| | Mr Raúl Hidalgo | Partner Raúl Hidalgo specializes in tax law with emphasis on consulting, investment… | View Profile |
| | Mr Eduardo López | Partner Eduardo López specializes in banking and finance law, corporate finance, and… | View Profile |
| | Mr Gonzalo La Torre | Partner Gonzalo La Torre specializes in mining and extractive activities taxation, in… | View Profile |
| | Mr Gustavo Lazo | Partner Gustavo Lazo specializes in corporative tax matters and wealth planning. | View Profile |
| | Mr Juan Guillermo Lohmann | Partner Juan Guillermo Lohmann specializes in civil law, local and international arbitrations… | View Profile |
| | Alejandro Manayalle | Partner Alejandro Manayalle specializes in antitrust, energy, infrastructure, public-private partnerships and international… | View Profile |
| | Mr Humberto Medrano | Humberto Medrano is a founding member and counselor of the Tax practice… | View Profile |
| | Mr Fernando Molina | Partner Fernando Molina specializes in mergers & acquisitions, project finance and corporate… | View Profile |
| | Mr Alfonso Montoya | Alfonso Montoya specializes in providing commercial and corporate advisory to companies. | View Profile |
| | Mr Alex Morris | Partner Alex Morris leads our Wealth Planning practice area. He specializes in… | View Profile |
| | Mr Luis Enrique Palacios | Partner Luis Enrique Palacios specializes in mergers & acquisitions, project finance and… | View Profile |
| | Mr Mario Pasco | Mario Pasco specializes in advising companies on labor issues. | View Profile |
| | Mr Guillermo Puelles | Guillermo Puelles specializes in restructuring, insolvency and liquidation of corporations, mergers &… | View Profile |
| | Mr José Reaño | Partner José Reaño leads our Criminal Litigation and Corporate Compliance practice areas. | View Profile |
| | Ms Maritza Reategui | Partner Maritza Reátegui heads our Life Sciences & Healthcare practice area. | View Profile |
| | Mr Luis Carlos Rodrigo Prado | Luis Carlos Rodrigo Prado is managing partner of Rodrigo, Elías & Medrano… | View Profile |
| | Mr Gino Sangalli | Partner Gino Sangalli specializes in banking-regulatory issues and international financing. | View Profile |
| | Ms Verónica Sattler | Partner Verónica Sattler leads our Public Services Regulation, Antitrust, Energy and Infrastructure… | View Profile |
| | Mr Hugo Silva | Hugo Silva specializes in public law, public procurement, construction contracts, company restructuring,… | View Profile |
| | Mr José Talledo | Partner José Talledo specializes in tax issues related to investment and financial… | View Profile |
| | Mr José Tam | Partner José Tam leads our Civil Litigation & Arbitration, and Asian Investment… | View Profile |
| | Mr Tulio Tartarini | Partner Tulio Tartarini specializes in tax law, with emphasis on fiscal planning,… | View Profile |
| | Mr Francisco Tong | Partner Francisco Tong is co-head of our Environment practice area. He specializes… | View Profile |
| | Mr Efraín Vassallo | Partner Efraín Vassallo specializes in criminal law and criminal litigations. | View Profile |
| | Mr Jorge Velarde | Partner Jorge Velarde leads our Aviation and Insurance and Reinsurance areas. Also,… | View Profile |
| | Mr Ramón Vidurrizaga | Partner Ramón Vidurrizaga leads our Corporate and Commercial, and Litigation & Arbitration… | View Profile |
| | Ms Mariella de la Torre | Partner Mariella de la Torre specializes in tax consulting and fiscal planning… | View Profile |
Languages
Chinese (Mandarin) French English German Italian Portuguese Spanish
Memberships
ABA (American Bar Association) IBA (International Bar Association) Employment Law Alliance INTA - International Trademark Association Inter-Pacific Bar Association INTERLAW World Services Group (WSG)
Top Tier Firm Rankings
Top Tier Firm Rankings
Firm Rankings
Firm Rankings