Firm Profile > Orrick, Herrington & Sutcliffe LLP > Dusseldorf, Germany
Orrick, Herrington & Sutcliffe LLP
Offices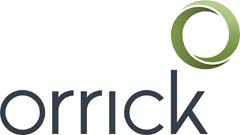 Orrick, Herrington & Sutcliffe LLP
ORRICK-HAUS
HEINRICH-HEINE-ALLEE 12
40213 DÜSSELDORF
Germany
Orrick, Herrington & Sutcliffe LLP > The Legal 500
Rankings
The team at
Orrick, Herrington & Sutcliffe LLP
impresses with expertise in contentious post-M&A, energy, plant engineering, infrastructure and insolvency-related matters. The group represents large companies from various sectors as well as states. With more than 30 years of experience, practice head
Siegfried Elsing
is known as an expert in the field; he acts as arbitrator as well as party representative.
Karsten Faulhaber
and
Nicholas Kessler
are two more key figures who also act as arbitrators.
Practice head(s):
Other key lawyers:
Key clients
Federal Republic of Germany
KAO (Kraftanlagen ARGE Olkiluoto 3)
Republic of North Macedonia
Dr. Andreas Ringstmeier (insolvency administrator of AgfaPhoto)
STEAG
Christian Schröder and the Düsseldorf-based data protection, IP and IT team around him are the German arm of Orrick, Herrington & Sutcliffe LLP's international practice in this field. The group acts within the firm's global context and often cooperates with the London and Boston offices on matters related to compliance, data transfer and due diligence as well as representing clients before regulatory authorities. Due to its technology-oriented focus, which is appreciated by clients, the team advises on exciting and innovative technology projects such as Europe's first connected office building in Berlin, where the team advised on negotiations with the data protection authorities.
Practice head(s):
Testimonials
'The data protection team is extremely up-to-date and well networked with one another. Everyone in the team knows the latest developments and is prepared to answer questions with practical suggestions for implementation. The international connection can always be felt and, especially in data protection, offers enormous advantages for globally operating companies. '
'Christian Schröder: The problem management is clear and always up to date.'
'Dennis Schmitt (Associate) has learned a lot from the responsible partner Christian Schröder and is putting his skills into practice perfectly. He shows particular problem awareness and practical solutions. The processing is discussed and any open questions are clearly explained. The international connection is far more extensive than with many other law firms. '
'Excellent qualifications and customer orientation'
'Christian Schröder is one of the best in the field and communicates the subject in a very understandable way, even for laypeople. Amelie von Alten is extremely precise and always has an overview '.
Key clients
CA Immobilien
Carnival Corporation
ebay
Flexera Software
NVIDIA
W.W. Grainger/Zoro Tools
Orrick, Herrington & Sutcliffe LLP's broad venture capital practice advises on financings rounds, investments, venture debt and add-on acquisitions which often take place in the US or Europe while its client portfolio is composed of both VC investors and corporates as well as startups. The group is led by Jörg Ritter in Munich and Sven Greulich in Dusseldorf and also has considerable expertise in the technology, fintech and health care industries. Christoph Rödter  impresses with 'incomparable commitment and legal competence'.
Practice head(s):
Other key lawyers:
Testimonials
' Very close to the Berlin scene; very quick and efficient; Working together is fun. '
' Great distribution of tasks within the team. Daily absences can be seamlessly absorbed. Very good process management, 0% error rate in details. '
' Sven Greulich: top partner, extremely high commitment, good stakeholder management, high level of expertise in the VC area .'
' Orrick's commitment is extraordinary. If necessary, extremely fast response times and very good advice . '
' Very broad competence, so that a large part of the topics can be mapped seamlessly via one contact person .'
' Good global network in order to be able to cover locally specific topics .'
' Christoph Rödter; Accessibility, reaction times and the ability to handle the multitude of topics are extraordinary. In addition, always a critical companion with valuable suggestions and assessments, which helps us in making decisions . '
' The team has strong expertise in VC and PE, a large international network, and offers timely processing and delivery of results. '
' Christoph Rödter: incomparable commitment and expertise in the field of VC and PE, group structuring, corporate and (international) contract law, available at (almost) any time of the day or night. Strongly deal-oriented, the customer and the result come first. '
Key clients
BMW i Ventures
Coatue Management
Contentful
creditshelf
Getaround
Giroxx
Goodwater Capital
Greybird
Gruppe Deutsche Börse
Haniel Gruppe
Kinnevik
Lilium
M12 (vormals Microsoft Ventures)
PHW Gruppe
RSBG SE (RAG-Stiftung Beteiligungsgesellschaft)
TVM Capital
In the mid-cap segment,
Orrick, Herrington & Sutcliffe LLP
mainly assists listed companies in Germany as well as abroad. The team regularly works alongside the private equity and venture capital practices. In the course of cross-border transactions, the team co-operates closely with a global network, but also has its own China, India and Middle East desks.
Sven Greulich
frequently handles cross-border transactions with a technology focus and
Thomas Schmid
, who has profound expertise in life sciences, healthcare and technology, heads the team from the Munich office.
Practice head(s):
Other key lawyers:
Key clients
ACG Pharma Technologies
Beijing Aeonmed Co. Ltd.
Crane Co. (Mandant seit über 5 Jahren)
creditshelf Aktiengesellschaft
Flexera Software (Mandant seit über 5 Jahren)
Giroxx
Nanjing Estun Automation
Neway Valve (Suzhou)
Persico S.p.A.
PHW Group (Mandant seit über 5 Jahren)
ProLeiT AG
STEAG (Mandant seit über 5 Jahren)
Xometry Inc.
Orrick, Herrington & Sutcliffe LLP impresses with an international client roster which the team assists with private equity transactions and transactions for portfolio companies on both buyer and seller side. Thomas Schmid is well versed in private equity as well as M&A and venture capital transactions and Christoph Brenner, who jointly heads the German offices with Oliver Duys, has longstanding experience in management buy-outs and minority interests. Fabian von Samson-Himmelstjerna joined Simmons & Simmons in October 2020.
Practice head(s):
Other key lawyers:
Testimonials
' Sven Greulich: great person and competent partner. Fast, reliable and always on the topic . '
Key clients
Ardian
CRCI China Renaissance Capital Investment
DBAG
EQT
Findos Investor
Genui
Gimv NV
Jolt Capital
Luxempart
RSBG
State Street Global Advisors
VR Equitypartner
Orrick, Herrington & Sutcliffe LLP >
Firm Profile
The firm: Founded in San Francisco 150 years ago, Orrick is a leading global law firm with a particular focus on serving companies in the technology, energy, infrastructure and financial sectors. The firm is recognized worldwide for delivering the highest quality, commercially oriented legal advice and has more than 25 offices in the United States, Europe and Asia.
In Germany, Orrick has more than 50 lawyers in Düsseldorf and Munich, advising on all major areas of commercial law.
One focus is on M&A and private equity transactions as well as growth, expansion and venture financing. In this area, Orrick advises on the entire relevant spectrum of complex acquisitions and disposals, often with an international element, LBOs and MBOs, minority shareholdings, joint ventures and strategic cooperations, as well as capital market transactions such as public takeovers.
Another strength of the German offices is the International Arbitration & Litigation Team, which conducts litigation before state courts and arbitration tribunals in all areas of business law, in particular in the fields of energy & infrastructure, post-M&A and corporate law.
In addition, Orrick covers other (transaction-related) areas in Germany, such as tax law, data protection law IT/IP, employment law, antitrust and competition law, investment law and real estate law, with a high caliber of independent specialists.
For Germany, Orrick is ranked #3 in Bloomberg's M&A Ranking by number of transactions in 2019. For (corporate) venture capital, Orrick has been ranked by PitchBook as the firm with the most transactions in Europe for 18 consecutive quarters (Q2 2020). Orrick also enjoys an excellent reputation as an employer in Germany, as confirmed by the azur 100 2020 employer ranking, which gave Orrick one of the top three employee satisfaction scores of all major firms in the azur Top50.
Other offices: Austin, Beijing, Boston, Brussels, Geneva, Houston, London, Los Angeles, Milan, New York, Orange County, Paris, Portland, Rome, Sacramento, San Francisco, Santa Monica, Seattle, Shanghai, Silicon Valley, Taipei, Tokyo, Washington DC, Wheeling.
Top Tier Firm Rankings
Firm Rankings