Pérez Bustamante & Ponce > Guayaquil, Ecuador > Firm Profile
Pérez Bustamante & Ponce
Offices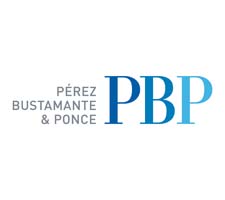 Pérez Bustamante & Ponce
AV FRANCISCO DE ORELLANA Y MIGUEL H ALCÍVAR
CENTRO EMPRESARIAL LAS CÁMARAS, TORRE B, OFICINA 904
GUAYAQUIL
Ecuador
Pérez Bustamante & Ponce > The Legal 500
Rankings
Pérez Bustamante & Ponce
asserts its standing as a leader with regard to banking and finance work, with an international and domestic client roster featuring major financial banks and foreign investors. The team, which is led by
Bruno Pineda
, works out of Quito and Guayaquil, and has experience dealing with the full spectrum of financing modes, including complex loans, multilateral lending agreements and sovereign debt deals. Recent matters saw the team advise Banco Pichincha on the first securitization issued by an Ecuadorian bank to be purchased by a foreign segregated portfolio company (SPC). In a cross-border context, the firm also acted for Dutch investment agency FMO in a transaction with Produbanco, handling the drafting of a subordinated facility agreement. Associate support is provided by
Ricardo Pérez
and
David Noel
. Moreover, the team was significantly strengthened with the arrival of
Pablo Ortiz
(who undertakes banking, finance and insurance matters as part of his wider practice), formerly Ecuador's ambassador in Belgium and the European Union; and of senior associate
Juan Francisco Simone
(financial law, fintech, payment systems, 'insurtech' and capital markets), who joined from his role as Advisor to the National Assembly of Ecuador in November 2021.
Key clients
FMO
Banco Pichincha
Avianca
Work highlights
Acted for Banco Pichincha on the local securitisation of a mortgage portfolio to be bought by a foreign trust by reviewing documents, assisting in negotiations and providing legal opinions.
Acted for Avianca on its exit from Chapter 11 by reviewing documentation, preparing the release of the debtor-in-possession loan, terminating local securities and issuing new securities.    
Acted for FMO in connection with the preparation of a senior facility agreement and a subordinated facility agreement with Produbanco.
Pérez Bustamante & Ponce
remains an undoubted leader for competition and antitrust matters, with an offering that extends to litigation, abuse of dominance, cartels, state aid, merger control, and unfair competition. Demonstrating '
extensive technical knowledge
', the team acts for an impressive roster of regional and multinational clients, particularly as regards international merger clearances, with recent highlights including advice to ARCA Continental in connection with its acquisition of Carli Snacks. '
Talented
' practice head
Diego Pérez
led on the matter; he has over 25 years' experience handling cross-border and antitrust matters. Pérez is flanked by two experienced associates:
Mario Navarrete Serrano
(who was promoted to practice director in October 2022), focuses on complex antitrust cases and is '
the star of the team
'; and senior
Andrés Rubio Puente
, who -while he has a broader practice that encompasses competition, foreign trade and dispute resolution- nevertheless has considerable experience of both investigations' work and complex merger filings.
Testimonials
'The team has some of the best technical knowledge of competition law in Ecuador. They are always at the forefront of case law, new trends and criteria applied by the authority. The lawyers that work in this team are some of the best and due to their size, it seems to me that they are the only ones in the market with the capacity to handle complex issues with the best service. In general, I think they are the best firm on the market.'
'This team stands out in terms of technical knowledge, working closely with in-house teams and always being able to think outside the box without being too risk averse. Diego Pérez stands out for his customer service. In my opinion, Mario Navarrete is the star of the team, he sets the pace and I think he is the best competition lawyer that I have met in almost 20 years of work in various markets in the region as an in-house lawyer.'
'Excellent quality of service. Multidisciplinary team that is very committed to the causes.'
'They are very concerned about detail and are always ready to help in whatever is necessary.'
'The team has a lot of experience and got us excellent results on research topics.'
'Diego Pérez leads his team with a lot of experience and gives very good legal advice. Mario Navarrete is extremely responsive and capable.'
'The organization is impeccable. They are quick and precise in their responses.'
'Diego Pérez is an exceptional outside attorney. He is very talented when it comes to understanding the needs of the client and the market in which he operates. A true strategist.'
Key clients
Veolia Environment
Synlab International
Repsol
Anheuser-Busch InBev
Arca Continental
LG Corp
Gómez Group
Work highlights
Advised Anheuser-Busch InBev on compliance with conditions set forth after the acquisition of SABMiller's local business.
Advised Arca Continental on its acquisition of Carli Snacks and on the associated notification filing with the competition agency.  
Defended Maersk in connection with a complaint that all shipping companies working in Ecuador act parallelly when charging ancillary fees to clients.
Full-service market powerhouse
Pérez Bustamante & Ponce
fields a 40 strong corporate practice (including 15 corporate tax advisers) and can comfortably undertake sizeable transactions and mandates. Recent highlights saw the team advise Procesadora Nacional de Alimentos on the purchase and lease of all poultry-company Avesca Avicola Ecuatoriana's productive assets – a transaction that also involved employment matters, service agreements, trade mark licensing and a purchase option agreement as well as the contractual framework to implement the deal. Handling this matter and leading the wider corporate practice is
Diego Pérez
, who has profound experience in transactions involving both domestic and foreign companies. Fellow partner
Juan Manuel Marchán
heads up the firm's growing Guayaquil presence and frequently handles M&A work related to infrastructure and projects. On the corporate side, the team has benefitted from
Esteban Ortiz Mena
's July-2021 return (as a partner) from the Superintendencia de Compañias, Valor y Seguros; his practice focuses on company law, corporate affairs and corporate governance matters. At associate level, senior
Andrés Brown
is an up-and-coming figure of note; admitted to practice in Spain, New York and Ecuador, he regularly advises clients on local and international transactions in relation to acquisitions, joint ventures, asset purchases and share purchase agreements.
Testimonials
'Simply our firm in Ecuador! Its team is of excellent level, available and delivers on time. Its team is spectacular, Juan Manuel Marchán and Diego Pérez, they are the people I have a working relationship of approximately 20 years.'
'PBP has accompanied us since the beginning of our project in Ecuador, they have been a law firm that has understood the complexities of the business and has been an invaluable support for our operation. We believe that the attention provided by Juan Manuel Marchán and the PBP team is first class and we recommend it.'
'The plus that we consider makes them stand out is in-depth work and with a lot of knowledge of the client's business. In particular, we want to highlight the hands-on work that Juan Manuel Marchán does in the corporate and transactional areas, we fully trust his criteria and consider him a strategic business ally.'
'Juan Manuel Marchán is a pro-client and service-oriented lawyer. He is commercially driven and always willing to hear and accept a practical approach over technical and sometimes unnecessary discussions.'
'PBP is the most complete firm in Ecuador. It has lawyers with the technical capacity, disposition and speed that are usually required in M&A operations, regardless of the industry in question. It has work standards equal to what one would expect to receive from a top-tier international firm.'
'Diego Pérez is an excellent team leader. He not only has vast legal knowledge but also an ideal personality to be able to carry out complex negotiations. It is always a pleasure to be able to work with Diego. Juan Manuel Marchán is a very complete lawyer, with in-depth knowledge of corporate matters and M&A. His capacity for response and organization is admirable, as well as his commitment to work. He is a partner that you can certainly trust for any M&A transaction in Ecuador, both from the point of view of quality of work and speed.'
'Undoubtedly, the novelty of PBP compared to other firms is the internal synergies of the team. All team members are always willing to help the client, which makes their service fantastic and at the level of the best firms we have worked with in the region. PBP is truly a multidisciplinary team in which all the lawyers work towards a single goal, the well-being and comfort of the client.'
'Knowledge of the M&A practice and attention to detail is outstanding. Clearly, PBP is the key player in the transactional M&A practice, due to its professionalism and the internal synergies of the global PBP team. Knowledge of the practice and professional background of each of the team members is the factor that differentiates PBP from its competitors. Juan Manuel Marchán has an excellent ability to communicate his ideas and a spectacular ability to handle complex situations. Andrés Brown is an excellent lawyer who not only has a deep knowledge of M&A, but also has the virtue of making everything easier. Andrés' commercial sense places him as a key player in the practice of the region.'
Key clients
San Miguel Industrias PET
DP World
Continental Grain
Seaboard Corporation
Procesadora Nacional de Alimentos
Arca Continental
Inchcape
Autolider
Metropolitan Touring
Visa International
Conjunto Nacional Clínico
Hospital Metropolitano
Corporación Maresa Holding (CMH)
Work highlights
Acted for Procesadora Nacional de Alimentos in the purchase and lease of all productive assets of Ecuadorian poultry company Avesca Avicola Ecuatoriana.
Advised Arca Continental Alimentos y Botanas on the acquisition of Carlita Snacks Carlisnacks CIA.
Acted as local counsel (in conjunction with Morrison Foerster) to Visa International on its purchase of telecommunications and technology multinational, Yellow Pepper Corporation.
With a '
broad and holistic vision
',
Pérez Bustamante & Ponce
offers a full range of dispute resolution avenues for its clients -particularly those in the energy, infrastructure and oil and gas sectors- handling post-M&A litigation and cases concerning procurement, tort, and constitutional law. Active in litigation, the practice recently represented Corporación Quiport in four court proceedings to challenge resolutions of civil liability ordered by the Comptroller General's Office. On the arbitration front, the team also acted for Cardno, obtaining favourable results in two domestic proceedings. Firm president
Rodrigo Jijón
, who has over 40 years' experience in litigation and arbitration in both local and international contexts, is also the overall head of the firm's contentious department; he co-leads the practice alongside
Juan Manuel Marchán
, who heads-up the arbitration unit and handles investment treaty cases; and head of litigation
Edgar Ulloa
, who was promoted to the partnership after seven years as practice director, and who is noted for his expertise in constitutional law and Supreme Court litigation. Notable figures from the associate ranks include
Javier Jaramillo-Troya
(who was promoted to practice director in October 2022) and senior
Alegría Jijón-Andrade
, both of whom are highly regarded for domestic and international arbitration; and associates
José David Ortiz
(a key contact for litigation) and
Patricio Quevedo
(who supports the team in arbitration). The team was further strengthened at senior associate level with the arrivals of
Maria Teresa Borja
,
Juan Carlos Darquea
and
Esteban Baquero
from
Robalino
in October 2022.
Practice head(s):
Rodrigo Jijón Letort; Juan Manuel Marchán; Edgar Ulloa Balladares
Testimonials
'It has a team of lawyers that complement each other very well and this allows them to have a broad and holistic vision, necessary to establish the strategy and execute the required litigation actions. There are very few firms that can offer these qualities that help win cases.'
'It offers collaboration alternatives to achieve better empathy among professionals who participate, organizing very well-achieved and valued training sessions. This stands out, because I don't know of any other firm that does it.'
'Rodrigo Jijon, Javier Jaramillo, Edgar Ulloa, and Patricio Quevedo are among the trial lawyers that I find very outstanding for their professional excellence. They have a very suitable profile for the management that I have entrusted to them, they are very balanced.'
'They manage their practice applying the ethics and values that stand out for us, which is an important feature.'
'PBP compares favorably to other firms for its knowledge and closeness to us, and for an excellent analysis of the context, which allows it to be very assertive when advising on a dispute.'
'It pays attention to whether litigation is appropriate or not based on the probabilities of obtaining favorable results, and about the impacts (economic and other) that a dispute may have for us.'
'PBP's advice is comprehensive and knowledgeable about the client.'
'The knowledge of the client and the availability to review the issues always in depth. The advice they provide exceeds expectations and adds value to us in decision making.'
Key clients
Corporación Quiport
Consorcio Cggc Fopeca
Cardno
ACS Group
Cervecería Nacional
Petrex
Banco Pichincha
EKN
ABBOTT Laboratories
Adelca
Work highlights
Represented Quiport in four litigation proceedings to challenge resolutions of civil liability ordered by the Comptroller General's Office against the company for approximately $150m.
Represented Maessa in two lawsuits filed by an insurance company seeking payment of counter indemnities issued in relation to insurance bonds for two public contracts.
Represented two subsidiaries of Cervecería Nacional in lawsuit over the death of a worker within the first two weeks of the initial lockdown in April 2020, due to Covid-19.
Pérez Bustamante & Ponce
remains an undoubted leader in the energy and natural resources sector, with an offering that caters towards clients in the mining, renewables, electricity and oil and gas segments. As a team that features specialists from the firm's other practice areas, its advice extends to tax, labour, environmental, financing and corporate matters, with a further focus on contentious administrative issues relating to national authorities. With deep experience in contract negotiation for the oil and gas industry,
Francisco Roldán
co-leads the team alongside managing partner
Sebastián Pérez
, a transactional expert;
Jaime Zaldumbide
, who has expertise on environmental issues; natural resources and regulatory specialist
Sebastián Cortez
(who joined the firm from
Noboa, Peña & Torres, Abogados
in January 2021); and senior associate
María Isabel Aillón
, who is well-regarded for handling disputes in the mining sector. The team was further strengthened in June 2022 with the return of
Patricio Albuja
(as a senior associate), after a period in house - most recently at ENAP.
Practice head(s):
Sebastián Pérez Arteta; Jaime Zaldumbide; Francisco Roldán Cobo; Sebastián Cortez; María Isabel Aillón
Testimonials
'PBP has provided advice on electrical matters to us since 2021, being a satisfactory experience due to the level of understanding and practical solutions that they have presented to us. Additionally, being a diversified study, it has been able to share experiences from other subjects in a transversal way so that the advice is comprehensive.'
'The personalized attention of the team and the clarity of the answers/solutions make them stand out. Sebastián Cortez has been a key point of contact. Sebastián Pérez's accompaniment before high-level authorities has been fabulous.'
'We have had the constant support of Sebastiân Cortez. We have also felt supported by Sebastiân Perez, Francisco Roldan and Jaime Zaldumbide. Their best qualities are their positioning in the industry and on arrival with the different Stakeholders.'
'They have an excellent team, probably the largest in Ecuador, and they have very good lawyers. They are present in the largest transactions and projects that are carried out in Ecuador, so they know well how things work in practice, which is important in a country like Ecuador, since its regulatory framework and institutional framework on energy issues and natural resources is relatively new and constantly evolving.'
'The lawyers understand very well the needs of the client, and they know how to explain the complexities that the natural resources sector presents in Ecuador. I highlight Jaime Zaldumbide, a lawyer with a long career, with whom it is always a pleasure to work. In addition to being an excellent lawyer, has worked and knows Chile very well, so he can make comparisons that are very useful for Chilean clients, helping them understand what is at stake and make better decisions.'
'Extensive knowledge in energy matters in Ecuador and a team very attentive to resolving our concerns.'
'Reliability, professionalism, diversity, collaboration, punctuality, good communication with clients, keeping us up to date on developments.'
'We have a good commercial relationship with María Isabel Aillón, she is a truly professional lawyer, she is always available, ready to listen, give information to clients on a continuous basis, very polite, understands the mining industry very well.'
Key clients
Gente Oil Ecuador
Cuyabenopetro
Grupo Cobra
Consorcio Gransolar
Total Eren
BHP
Agroazucar
Grupo Gloria
Altius
Curimining
Schlumberger
Codelco
Work highlights
Acted on behalf of Gente Oil in connection with an arbitration against the Republic of Ecuador arising from several alleged breaches of a service contract for the exploration and exploitation of crude oil in Ecuador.  
Acted for Gransolar Total Eren Association in achieving the awarding by the Ministry of Energy and Non-Renewable Natural Resources (MERNNR) of the Galapagos Islands Conolophus Renewable Energy Microgrid Project concession.
Advised BHP on the joint venture process and further acquisition of Luminex's mining project Tarqui, including an earn-in agreement allowing BHP to step in to the mining concessionaire's rights.
Pérez Bustamante & Ponce
stands out for its broad labour offering for clients in both domestic and international contexts, handling collective bargaining, social security, immigration, and litigation for high-profile actors in the oil, gas and mining, retail and pharmaceuticals sectors, among others. Recently, the team represented Techint in the filing of an administrative claim in connection with a collective bargaining agreement negotiated with the company's workers union. Acting on this matter and leading the team is expert litigator
Javier Salvador
; he works alongside '
extraordinary
' associate practice director
Belén Jaramillo
, whose focus is on labour-relations management. Also noted, associate
Victor Cabezas
specialises in complex labour litigation and constitutional claims.
Testimonials
'Belén Jaramillo is an extraordinary lawyer. She is intelligent, analytical and strategic, she knows the company in depth and always takes into account the interests of the company and its capacities when proposing solutions to the different cases and problems that arise. Also, she responds very quickly. More than an external advisor, she is a member of our team.'
'Belén Jaramillo is very strategic, her advice always takes into account the capabilities of the business. She explains the risks and proposes management options assuming controlled risks. Belén is excellent.'
'PBP generally stands out in its practice for the professionals that make up its study. I would say that this is their greatest added value, since they, in addition to being excellent lawyers, understand that the work, in addition to being legal, cannot ignore the business of a company.'
'Important knowledge of labour regulations and an ability to ground legal and regulatory concepts to a practical reality of monitoring and implementing actions.'
'Belén Jaramillo has knowledge of the regulations and the business, greatly facilitating the execution of the measures and actions that lead to compliance with the regulations.'
'The provision of services has always been very professional, clear, complete and focused on finding solutions for the company. They have handled judicial processes in which we have been successful so far, so we are very happy with their work.'
'Javier Salvador is a very talented professional focused on providing us with clear and effective solutions. He focuses a lot on personalized attention, which distinguishes them in their management. Additionally, he is always very up-to-date on labor matters and invites us to many training sessions that are very helpful.'
Key clients
Yobel
Visa-Yellow Pepper
Techint
Telefonica
Organon
Whirlpool
Basf
Hitachi Power Grids
Moderna Alimentos
BHP
Work highlights
Advised Techint regarding the filing of an administrative claim against the company's Workers Union to declare the Collective Bargaining Agreement (CBA) as fully negotiated.
Represented Telefónica in a labour lawsuit for wrongful dismissal of a former executive who claims a special and additional severance payment due to his wife's disability.
Represented Tow to Top Textiles and Odatex on the termination of contracts due to the closure of the business group, caused by force majeure.
Pérez Bustamante & Ponce
 maintains its standing as one of the leading firms for real estate work, advising several high-profile clients in the transport, tourism and pharmaceutical sectors on a range of regional projects. With public-private partnerships representing a key area of work for the firm, the team recently advised Duranports in relation to an investment contract with the Ecuadorian government, regarding the design, construction and operation of a private barge port terminal. Leadership of the team is divided between
Sandra Reed
, who is recommended for project financing and joint venture work; and
Diego Perez
, who focuses on the negotiation and implementation of leases and concession agreements. Other key figures include
Juan Manuel Marchán
, and senior associates
Nicolás Maldonado
and
Estefanía López
. The team also welcomed the arrival of associate
Sebastián Cortez
from
Noboa, Peña & Torres, Abogados
 in January 2021, strengthening the practice's offering with regard to energy-and-natural-resource infrastructure projects.
Practice head(s):
Sandra Reed; Diego Pérez Ordóñez
Testimonials
'Excellent willingness to work and face the challenges of work.'
'Commitment.'
Key clients
IBT Group
Gransolar
Total Eren
JC Decaux
Omer Decugis & Cie
Duranports
DP World Posorja
Unicomer
Doppelmayr Seilbahnen
Quiport
Life for Tyres
Work highlights
Advised Quiport on all legal matters related to the construction and operation of the new Quito International Airport, a greenfield investment on 1,500 hectares on the outskirts of the city.
Advised Sixstar Group on the process to change the brand of its major hotel in Guayaquil, including handling opposition from minority shareholders.
Acted for Duragas in connection with its acquiring of new facilities for an operation in Guayaquil.
Pérez Bustamante & Ponce
 remains one of the leading practices in the Ecuadorian tax space, with a client list that features a range of prominent multinational companies including Sony, Unilever, and General Motors. The department is led by
Juan Gabriel Reyes
who is recommended for his expertise in tax planning and structuring matters, and also handles tax controversies. Recent highlights saw Reyes working in conjunction with
Juan Francisco Carrasco
to secure Quiport's right to seek an income tax exemption despite the SRI's objections; the case was won in a series of district and national court decisions. Carrasco also has a particular niche in telecoms-related tax matters which saw the pair team up to successfully represent Otecel in a judicial action challenging a $9.2m income tax assessment for fiscal year 2016. Rounding out the partner-level team is tax, customs and international trade specialist
Carmen Simone-Lasso
; she has particular expertise in both tax and customs litigation and a focus on investments and international trade matters relating to the automotive sector; her recent mandates include advising Cervecería Nacional in the largest investment project by a company in Ecuador's food and beverage industry. Key associate support comes from practice directors
Nicolás Maldonado-Zambrano
and
Alejandro Páez-Vallejo
(an October 2022 promotion), and senior
Jeannette Jarrin-Sevilla
.
Testimonials
'PBP is a firm with extensive experience in Ecuador, it has a multidisciplinary team specialized in various legal, accounting and tax issues that allow it to provide advice to companies with a global vision that allows identifying risks and opportunities in business decisions. Communication with it is open and allows for an ongoing relationship.'
'The plus is the experience of the lawyers and the relationship with the client, there is continuous support regarding the company's requirements.'
'Very good team. Always available to solve customer concerns and with great technical knowledge.'
'The lawyers know the needs of the client and maintain a close relationship with them. They are always available and give quick and accurate answers.'
'PBP is a benchmark in the region in tax matters. Extensive management of local regulations contributes to the agility that the business requires to implement commercial initiatives and projects.'
'Knowledge and immediate and direct collaboration.'
'PBP has a broad and deep knowledge in tax, which makes us feel peaceful in all issues under its management. They are collaborators and apply themselves to the case to be solved.'
Key clients
Corporación Quiport
Consorcio Petrolero Bloque Tivacuno
Otecel
Liberty Seguros
Sika Ecuatoriana
Naporte
Unicomer
Unilever Ecuador
AC Bebidas
Cerveceria Nacional
Work highlights
Represented Quiport in connection with the right to apply for an income tax exemption as provided by the Free Trade Zone and guaranteed by the Investment Protection Agreement executed by the company and its shareholders.
Negotiated and executed an investment protection agreement for Cerveceria Nacional for a new project to invest $100m in five years to increase the capacity of its production plant in the city of Guayaquil.
Represented Sika Ecuatoriana in relation to an assessment order by the Ecuadorian Tax Authority regarding its compliance with income tax obligations corresponding to 2015.
Pérez Bustamante & Ponce
's IP practice focuses on the handling of trade mark issues for a roster of high-profile international clients, undertaking registrations, oppositions and cancellation orders, among other matters. In addition, the firm regularly acts on disputes concerning copyright, trade name and patent matters.
Francisco Pérez
leads the team and has  over 25 years' experience in portfolio management and IP litigation. Other key practice figures include, associate
Rafael González
, who specialises on infringement litigation regarding copyright and trade marks; and
Alysa Arcos
(promoted to senior in April 2022) who is noted for her counselling and management of portfolios in both national and international contexts. Futher reinforcing the practice's portfolio management capabilities is associate
Adriana Campaña
, who joined from the Ecuadorian Institute of Intellectual Property in September 2021.
Practice head(s):
Francisco Pérez Gangotena
Testimonials
'The team gives practical, swift, and good advice.'
'We have mainly worked with Alysa Arcos as our contact. She is very responsive and we feel confident to rely upon her advice. The same applies to the rest of the team.'
'The practice is good, it is within the quality standards expected in a high-level law firm in Ecuador. They are agile, dedicated and pay good attention to their clients' matters. They have a good clientele that has large volumes of brands that are processed in our country.'
'I highlight Francisco Perez, for his human quality, his responsibility and for his leadership and decision-making capacity.'
' They offer responsibility in quick and concise responses, as well as the ability to resolve and get involved with the client in making decisions.'
'Francisco Pérez provides an excellent service to his clients, he has knowledge of the operation of the law and is well versed in IP litigation issues.'
'They provide a very good service.'
'They are close and very friendly.'
Key clients
Amazon Technologies
Ford Motor Company
Bonapharm
Cerveceria Nacional
Corporativo Int. Mexicano
Rappi
Jaguar Land Rover Limited
Anheuser-Busch
Jafer Enterprises R&D
Yanbal
American Airlines
Work highlights
Acted on behalf of Munich SL with respect to the filing of an opposition against an imitation trade mark application in International Class 25.  
Advised Cratel in relation to the third season of MasterChef, speaking with each of the 23 final participants about the implications of their agreements regarding the reality show, including their performances and duties.    
Acted for Beverage Brand & Patents Company BBPC in connection with two trade mark applications and a cancellation action relating to a Colombian trade mark in International Class 32.
Pérez Bustamante & Ponce >
Firm Profile
PBP is the largest full-service law firm in Ecuador, consistently considered a leader in the legal market and a trusted advisor for national and international clients. It has offices in Quito and Guayaquil and outreach throughout Ecuador.
PBP endeavors to understand clients' challenges and needs. Its multi-practice teams and has an in-depth understanding of the specific challenges of each sector. This has been evidenced by PBP`s track record as a reliable legal advisor for most of the important projects that have taken place in Ecuador, as well as the most significant transactions.
PBP's team has both local and international experience. Several members have attended renowned local and international universities and have worked at first-rate law firms around the world. Furthermore, a number of its attorneys have been admitted to practice in the State of New York, District of Columbia, Spain, Chile, Colombia and other jurisdictions.
PBP has steadily been honored as Ecuadorian Firm of the Year by several rankings and publications in the last decade.
PBP believes that pro bono work is inseparable from the practice of law. In 1987, it founded Fundación Fabián Ponce Ordóñez to coordinate and optimise the firm's pro bono resources and maximise its scope.
PBP strives to be an increasingly inclusive firm and endeavors to promote the leadership and professional development of women.
Main areas of practice
PBP offers a comprehensive portfolio of international services:
International arbitration: the highly specialized team has extensive experience in ICSID and ICC cases.
Tax: PBP's tax unit is one of its core practice areas. With a multidisciplinary focus it provides private and corporate clients with tax advice, planning and representation in litigation and claims.
Banking, finance and insurance: the firm assists foreign and local banks and multilaterals and insurers and reinsurers in their activities in Ecuador.
Energy and natural resources: PBP has led the negotiation, signing and implementation of major projects in Ecuador's oil, gas, mining, hydroelectric and alternative energy industries.
Mergers and acquisitions: the firm is at the forefront of structuring and executing mergers and acquisitions. It actively participates in multinational teams and work closely with international law firms.
Infrastructure and project finance: infrastructure has been a very active area for PBP during recent years, especially regarding greenfield and public-private partnership projects.
Competition and antitrust: the team specializes in merger control authorizations and in non-transactional work, including investigations, due diligence and litigation before the local antitrust authority.
Compliance and anti-corruption: PBP is a pioneer in the region in this area. It advises local and foreign clients in all compliance matters, including design and implementation of compliance programs, pre-acquisition corruption risk assessments, compliance due diligence, internal investigations, remediation and litigation.
Labor and immigration: PBP advises clients on how to face and adapt to the growing demands of recently enacted regulations in this area, including employment, social security and immigration issues.
Intellectual property: PBP's IP practice combines a long track record with a dynamic and up-to-date team of experts. It is best known for handling local and/or foreign trademark portfolios, dispute resolution and IP due diligence processes.
Staff Figures
Partners : 21 Other fee-earners : 65
Languages
English Spanish
Other
: