Philippi Prietocarrizosa Ferrero DU & Uría > Santiago, Chile > Firm Profile
Philippi Prietocarrizosa Ferrero DU & Uría
Offices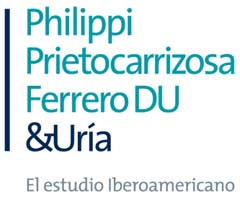 Philippi Prietocarrizosa Ferrero DU & Uría
EL GOLF 40, 20TH FLOOR
LAS CONDES, CP 7550107
SANTIAGO
Chile
Philippi Prietocarrizosa Ferrero DU & Uría > The Legal 500
Rankings
Punching above its weight, the nine-member banking and finance team at full-service firm
Philippi Prietocarrizosa Ferrero DU & Uría
is consistently sought out by foreign and local banks and financial institutions, as well as by borrowers and sponsors. Core areas for the '
best finance team in Chile'
include project finance (in the energy, mining and infrastructure sectors), syndicated finance aircraft leasing and financing operations; and offshore bonds and shares issuances. The practice is co-led by highly-reputed banking, finance and capital markets specialist
Marcelo Armas
; and
Marcela Silva
, whose track record includes the financing of mining, infrastructure and energy projects (from hydroelectric, solar and wind energy facilities to desalination plants). Banking, finance and infrastructure projects expert
Andrés Sanfuentes
is also a key senior practitioner; while at associate level, principal,
Daniel Parodi
, whose experience includes working as a foreign law associate in
White & Case LLP
's Miami office; and the '
very good
' senior,
Pedro Pablo Valenzuela
, who is active in banking, finance, infrastructure and capital markets matters, are both up-and-coming practitioners of note.
Since publication
, Armas has left the firm with effect from January 2023.
The '
very effective M&A team'
at the Chilean office of multijurisdictional, full-service law player
Philippi Prietocarrizosa Ferrero DU & Uría
focuses on corporate advisory and investment matters including M&A, divestitures, joint ventures, spin-offs, and other strategic and financial transactions. The M&A and corporate practice is particularly specialised in deals involving the energy, finance, infrastructure, healthcare, pharmaceutical and technology sectors. Among the department's highly-rated partners:
Alberto Pulido A
is a senior figure of note across corporate, M&A and finance matters; particularly active,
Federico Grebe
is a leading M&A, private equity and corporate law expert;
Andrés Sanfuentes
has broad M&A-transactions experience;
Carlos Alberto Reyes
advises on major energy transactions; and
Juan Pablo Wilhelmy
is a commercial deal specialist. The second line of key advisers includes principal associate
Constanza Rodríguez
, whose transactional practice includes public offers; and senior associate
Guillermo Vial
, an increasingly integral corporate and M&A team member, particularly as regards venture capital and fintech. In 2021, the firm merged absorbed the energy and natural resources-focused
Carcelén, Desmadryl, Guzmán & Tapia
, while experienced partner
Tomás Acosta
 returned to the Madrid office of allied firm
Uría Menéndez
after two years in Santiago. Since research concluded, the firm has hired Chile's former ambassador to China,
Luis Schmidt Montes
, to lead its China Desk (effective July 2022), an initiative in which mining partner
Juan Paulo Bambach
is also involved.
Philippi Prietocarrizosa Ferrero DU & Uría
fields a go-to mining practice for M&A and project finance-related due diligence, negotiating transactions involving mining issues, and drafting mining contracts. It also assists with mining disputes and compliance audits; and the sizeable 13-strong practice is able to leverage the firm's widely respected environmental, water and energy credentials for mining matters. Heading the firm's mining and natural resources group,
Juan Paulo Bambach
has longstanding experience in natural resources and corporate law; and mining and energy law specialist
Jerónimo Carcelén
joined in May 2021, following the firm's merger with Carcelén, Desmadryl, Guzmán & Tapia (CDGT). Key associate-level support is provided by senior
Natalia Czwiklitzer
, who focuses on M&A mining and energy transactions; 
Felipe Ossa P
, who handles mining-related regulatory issues and advises mining companies on their corporate, M&A and financing matters; and
María José Sotomayor
(at CDGT (until 2021), an expert in mining properties, contracts and litigation. Former senior principal Cristina Olavarría left the firm in January 2022 for an in-house role.
The '
first-class
' environmental law team at
Philippi Prietocarrizosa Ferrero DU & Uría
routinely advises on environmental matters and procedures, including project development and permitting, and is also sought out for the environmental legal issues associated with the development of technically and politically complex projects. Other areas of strength range from M&A and finance deals involving environmental matters, to administrative and judicial environmental litigation. Environmental and energy group leader in Chile,
Juan José Eyzaguirre
, has enviable experience in major environmental projects and conflicts; and principal associate
Mario Mozó
has a broad environmental law practice. The firm considerably expanded its environmental law credentials in May 2021 when it merged with former Carcelén, Desmadryl, Guzmán & Tapia firm, adding water resources head
Matías Desmadryl
to the bench; and internally, the team grew through the promotion of administrative and judicial environmental litigator
Felipe Arévalo
to the partnership in January 2022.
Working '
tirelessly to exceed expectations
', the real estate department at full-service law firm
Philippi Prietocarrizosa Ferrero DU & Uría
has extensive experience in real estate project developments and transactions - particularly in relation to residential condominiums, apartment and office buildings, shopping centres and hotels - as well as all types of developments involving urban and rural real estate. Heading the group, real estate transactions expert
José Tagle
has broad experience in real estate investment funds, urban law and corporate real estate law. Key support is provided at associate level by principal
María Eugenia Badilla Lepe
, an active adviser on residential, office, commercial, mixed-use, investment and rental real estate projects; and senior
Cristóbal Uriarte
, who focuses on real estate project development and real estate-related M&A.
The eight-member team at full-service firm
Philippi Prietocarrizosa Ferrero DU & Uría
routinely leads bankruptcy law-related matters involving risk analysis, liquidation and reorganisation proceedings, cross-border insolvencies, and creditor defence work. In recent highlights, the group acted for creditors during LATAM Airlines' reorganisation process; and advised AD Retail on its debt restructuring. The practice co-leads are
Andrés Sanfuentes
, who has longstanding experience in assisting both domestic and international companies with insolvency issues, in addition to M&A, financing and capital markets transactions; and
Jorge Vial
, whose track record includes major, cross-border insolvency matters, as well as reorganisations. Additional partner-level support is provided by
Ignacio Larraín
, an expert in litigation, arbitration, competition law and insolvency, while
Guillermo Vial
is the team's senior associate to note.
Philippi Prietocarrizosa Ferrero DU & Uría
's '
team guarantees that its advice and responses to enquiries are timely, accurate and reliable'
. The seven-strong practice routinely participates in major, global merger-control transactions that impact upon Chile; and its recent track record also includes acting in major cartel investigations and proceedings before the TDLC. Heading up the department,
Ignacio Larraín
has '
very broad and in-depth knowledge of both Chilean and European competition law'
and is an expert in potential cartels, abuse of dominance issues, merger control matters, TDLC procedures, investigations and compliance programmes. At associate level,
Catalina Montero
'
demonstrates excellent communication skills
'. However, former senior
Álvaro Espinosa
moved in house at Mercado Libre in June 2021, and
Gabriel Budnik
is currently undertaking an LLM at UC Berkeley.
With '
deep knowledge of the applicable legal framework
', full-service firm
Philippi Prietocarrizosa Ferrero DU & Uría
fields a 10-strong labour and employment practice that is expert in hirings, terminations, unfair dismissals, HR company policies, internal investigations, due diligence and internal employment audits. Other notable areas include restrictive covenants, subcontracting, labour taxes, compensation packages, collective bargaining, union relations, labour litigation, expatriate issues, social security and M&A-related labour matters. The practice is co-led by
Paulina Miranda
  (the first female partner in the firm's Santiago office), an international employment law specialist, who also focuses on growing areas such as #MeToo, gender pay gaps, gig economy issues, AI, diversity, data privacy, internal investigations and compliance; and '
great litigator
'
Sergio Montes
 , who was elevated to the partnership in January 2022. The practice of key associate
Aref Cosma
  covers labour, social security and immigration law.
Philippi Prietocarrizosa Ferrero DU & Uría
's nine-strong public law practice acts for a broad range of clients on a range of work, but it particularly stands out for its expertise in administrative law-related dispute resolution, including major litigation before the Supreme Court, Courts of Appeals and Public Procurement Tribunal. Other recent work includes successfully advising on a bid for a concession over land on which a wind farm will be constructed; and the team is increasingly active in public procurement matters. Practice leader
José Luis Lara
  focuses primarily on advising both public and private entities on administrative and constitutional law and public procurement issues; public law is also the main practice area of highly experienced senior counsel
Guillermo Zavala
 . Dispute resolution director and counsel
Jorge Femenías
 , a 2021 hire from ICFF Abogados; and experienced senior associates
Matías Larroulet
  and 
Florencia Portales
 , are the other team members to note.
The specialised tax practice at full-service firm
Philippi Prietocarrizosa Ferrero DU & Uría
focuses on domestic and international tax planning and structuring, along with complex corporate and private wealth matters. It is also sought out for tax litigation, and administrative procedures before the Chilean tax authorities; additionally, a significant part of the group's work includes tax consulting, legal opinions, and the tax aspects of M&A deals. The practice is co-led by
Mario Silva
, an expert in corporate and personal taxation, tax planning, and corporate restructuring; and M&A transactions specialist
Guillermo Infante
, who has finance, energy and natural resources sector expertise. Principal associate and tax disputes leader
Arturo Selman
 '
helps resolve issues quickly
', but in February 2022, fellow principal Magdalena Munita Irarrázaval departed the firm.
'
An excellent team with impeccable knowledge
',
Philippi Prietocarrizosa Ferrero DU & Uría
's data privacy group is part of the firm's broad TMT practice. Acting for high-profile clients such as Diageo Chile, The Walt Disney Company and Banco Santander-Chile, the team's wide expertise includes data privacy and data processing matters, and it has additional specialisms in big data, blockchain, cryptocurrencies and analytics. The firm's digital desk initiative is co-led by TMT and energy sector expert,
Eduardo Escalona
, and competition law leader
Ignacio Larraín
. Former senior associate
Álvaro Espinosa
moved to Mercado Libre in mid-2021.
The broad arbitration expertise housed at full-service firm
Philippi Prietocarrizosa Ferrero DU & Uría
covers significant disputes involving construction, energy, entertainment, insurance, real estate, and concessions and infrastructure, along with civil and commercial claims. The '
high-level
' 14-member group is led by '
prestigious and trustworthy lawyer
'
Jorge Vial
(a former founding partner of Vial Larraín Abogados), who routinely acts in major domestic and international arbitrations. Within the associate pool,
Catalina Amenabar
acts in commercial and investment arbitrations, and is a Young Arbitrator at CAM Santiago; and
Josefa Larraín
'
manages the arbitration rules and their practices with outstanding wisdom
'.
Key disputes areas for full-service firm
Philippi Prietocarrizosa Ferrero DU & Uría
include energy contracts, entertainment-sector matters, insurance claims, and construction arbitration disputes. Other areas of strength include controversies related to concessions, infrastructure, real estate, and general civil and commercial issues. The '
excellent
' 14-strong practice is led by former founding partner of Vial Larraín Abogados,
Jorge Vial
, who has '
a well-known track record in litigation
'. He is backed by a strong line of senior associates includes
Isidora Gutiérrez
, 
Josefa Larrain
and
Manuela Cross
, who all handle civil and commercial litigation, along with
Catalina Amenabar
(particularly on arbitral matters). Former partner
Germán Subercaseaux
, senior associate
Sophie Hellmich
and principal associate
Senda Villalobos
all left the firm during 2021, the latter taking up an in-house role at Banco Santander.
Philippi Prietocarrizosa Ferrero DU & Uría
's energy and projects department fuses its electricity-related regulatory expertise with experience in structuring major energy deals, including M&A and energy project finance transactions, off-take agreements, PPAs, and EPC and O&M contracts. In recent highlights, the team advised Anglo American on the development and execution of an electromobility project for its mining operations, and assisted CBRE Chile with a private tender process to supply energy to 55 buildings. The practice is jointly led by
Carlos Alberto Reyes
, who has longstanding experience in high-profile natural resources, energy, and oil-and-gas transactions and developments; and regulatory energy specialist
Eduardo Escalona
, an experienced adviser on tariff processes, PPA-related tenders and project development whose '
knowledge and experience instil confidence
'.
Acting for major clients such as The Walt Disney Company, ViacomCBS and Discovery,
Philippi Prietocarrizosa Ferrero DU & Uría
fields an 11-member group with vast TMT, corporate law and regulated markets expertise. Clients additionally appreciate the group's ability to leverage the experience of its banking, competition law and data privacy colleagues. Jointly in charge of the firm's recently established digital desk initiative are
Eduardo Escalona
, who is an expert in the economic regulation of public services; and
Ignacio Larraín
, the firm's Chile competition law leader. Former senior associate
Álvaro Espinosa
departed the firm in 2021 to join Mercado Libre Chile.
Housing a nine-member team, international law firm Philippi Prietocarrizosa Ferrero DU & Uría is well known for its expertise in the incorporation, registration, operation, transfer and liquidation of capital markets-related entities. Other areas of notable strength include the issuance, registration, placement, trading and offering of securities. The firm also has robust corporate governance and compliance practices. The practice is co-led by Marcelo Armas , whose track record includes complex financings involving several jurisdictions; Marcela Silva, an expert in advising underwriters and issuers of shares and bonds; and Andrés Sanfuentes, who has over 30 years' experience in capital markets transactions. Experienced partner Federico Grebe is also active in capital markets deals; while principal associates Constanza Rodríguez  (IPOs and debt issues) and Daniel Parodi (bond issuances) are also key figures in the practice. Since publication, Armas has left the firm with effect from January 2023.
The 13-strong projects group at Philippi Prietocarrizosa Ferrero DU & Uría is particularly active in the renewable energy and mining sectors. Representative expertise includes transportation infrastructure (such as toll roads, ports, airports and railways), along with social infrastructure projects involving hospitals, jails and schools. Other notable areas range from public utilities infrastructure (telecoms and water and sewerage systems) to real estate developments (hotels, buildings and urban renovation). The principal figures are natural resources and energy projects specialist Carlos Alberto Reyes; Marcelo Armas, whose practice focuses on banking, finance and capital markets; Andrés Sanfuentes, an expert in banking, finance and infrastructure projects; and Marcela Silva, whose experience includes advising on the financing of mining, infrastructure and energy projects (hydroelectric, solar and wind), as well as desalination plants. The senior associates to note are corporate, asset and project financing expert Daniel Parodi; Guillermo Vial, a former international associate in Corrs Chambers Westgarth's construction group in Sydney; and Mario Fava, who routinely negotiates project contracts. Since publication, Armas has left the firm with effect from January 2023.
Philippi Prietocarrizosa Ferrero DU & Uría >
Firm Profile
Philippi Prietocarrizosa Ferrero DU & Uria is the first major Ibero-American law firm, with offices in Chile, Colombia and Peru. Uria Menendez also brings to the firm its network of offices.
Areas of practice
Banking, finance and capital markets: advises banks on syndicated financing, asset financing and project financing and the development of the innovative financial structures and products, represents underwriters and issuers in the placement of bond and securities in Chile and abroad.
Competition: antitrust, including investigations by authorities, litigation concerning cartels and abuse of dominance, consultations on M&A operations, settlements, audits on level of compliance and legal reports.
Corporate and M&A: all aspects of corporate law, including business integrations, tax matters, structuring and implementing public tender offers and the acquisition and sale of listed companies, restructurings, national and cross-border mergers and acquisitions, spin-offs and business reorganization proceedings.
Dispute resolution: prevention and resolution of civil and criminal disputes involving complex legal and technical issues for national and international clients spanning a wide range of industries.
Energy, mining and natural resources: highly specialized lawyers provide comprehensive advice on legal matters for the development of projects in different areas such as mining, industrial, energy, corporate, infrastructure and real estate, among others.
Infrastructure and projects: advising companies involved in toll roads and ports and purchasers and sellers; participated as counsel in financing; and on the privatization of public utilities and ports.
Intellectual property/life sciences: all aspects of intellectual property, patents, trademarks, industrial designs, utility models, copyrights, sports and entertainment matters, litigation, unfair competition, pharmaceutical licensing and health registrations.
Labor: litigation, collective bargaining, employee benefits, due diligence and audits, corporate restructuring, immigration, pensions, internal policies, wages and benefits, taxation, health and safety.
Private clients and family: long-term all inclusive legal advice, in accordance with the highest international standards, for business families on the development of estate planning structures.
Public law: long-standing public law department advising a wide range of clients from the private and public sectors, such as governmental entities.
Real estate: shopping mall planning and construction, superstore construction, real estate trusts and leasing, long term lease agreements, due diligence, real estate guarantees, regulatory issues and local permits.
Tax and international trade: structuring domestic and international operations and transactions involving foreign trade, customs and foreign exchange, tax planning, customs consulting and tax litigation.
TMT (technology, media and telecommunications): advising multinational media and technology companies in all their regional legal matters, from software licenses and TV formats to customs matters.
Main Contacts
| Department | Name | Email | Telephone |
| --- | --- | --- | --- |
| Co-chairs | M Armas | | |
| Co-chairs | M Acero | | |
| Banking, finance and capital markets | M Armas | | |
| Competition | I Larraín | | |
| Corporate/M&A | JF Gutiérrez | | |
| Corporate/M&A | F Grebe | | |
| Corporate/M&A | A Pulido | | |
| Corporate/M&A | JP Wilhelmy | | |
| Corporate/M&A | CA Reyes | | |
| Dispute resolution | E Alcalde | | |
| Dispute resolution | C Conejero | | |
| Dispute resolution | G Subercaseaux | | |
| Energy, mining and natural resources | JJ Eyzaguirre | | |
| Energy, mining and natural resources | JP Bambach | | |
| Energy, mining and natural resources | CA Reyes | | |
| Infrastructure and projects | A Sanfuentes | | |
| Infrastructure and projects | CA Reyes | | |
| IP/life sciences | A Pulido | | |
| Labor | P Miranda | | |
| Private client and family | JF Gutiérrez | | |
| Public law | JL Lara | | |
| Real estate | J Tagle | | |
| Tax and international trade | M Silva | | |
| Tax and international trade | G Infante | | |
| TMT | A Pulido | | |
| TMT | E Escalona | | |
Staff Figures
Other fee-earners : 367 Total staff : 615
Other
Partners : 52