Firm Profile > Hughes Hubbard & Reed LLP > New York, United States
Hughes Hubbard & Reed LLP
Offices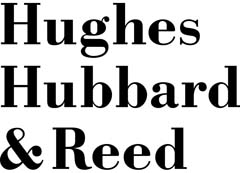 Hughes Hubbard & Reed LLP
ONE BATTERY PARK PLAZA
NEW YORK, NEW YORK 10004-1482
United States
Hughes Hubbard & Reed LLP > The Legal 500
Rankings
Hughes Hubbard & Reed LLP >
Firm Profile
Hughes Hubbard & Reed LLP is a New York-based international law firm, founded in 1888 by the renowned jurist and statesman Charles Evans Hughes. The firm consistently earns top rankings for its pro bono work and for diversity. It was the first major New York firm to make an African-American woman a partner and to be chaired by a woman.
Main areas of practice
Anti-corruption and internal investigations: conducting investigations in more than 60 countries and six continents over the past two years, Hughes Hubbard lawyers have served as corporate compliance counsel; served as government decision-makers responsible for bringing civil and criminal enforcement actions; served as the first World Bank integrity compliance officer; and represented parties involved in criminal and administrative enforcement actions.
Antitrust and competition: counseling clients on all aspects of antitrust law, including in cartel-related criminal grand jury investigations, class action litigation, and representing parties before government enforcement agencies (both US and EU) in conduct-related investigations, the firm provides antitrust advice to clients in connection with M&A and compliance issues including on pricing, distribution, and standard-setting and other IP-related issues.
Aviation: representing leading airlines, investment banks, leasing companies, hedge funds, and other financial institutions in both domestic and cross-border transactions, the firm possesses a deep understanding of all manner of aviation finance structures and has been involved in many 'first-in-kind' transactions.
Corporate reorganization and bankruptcy: representing clients in judicial and out-of-court restructurings, insolvency matters and related litigation, the breadth of the practice is reflected in the significant matters on which the group has advised, including the bankruptcy liquidations of Lehman Brothers Inc. and MF Global Inc., the largest and eighth-largest bankruptcies respectively in US history, and its landmark victories before the UK Supreme Court.
Corporate: Hughes Hubbard has a strong M&A practice that represents public and private companies in stock and asset acquisitions and dispositions, including the full range of public company matters such as hostile takeovers and proxy fights. Lawyers in the M&A practice also represent special committees of boards of directors in connection with exploration of strategic alternatives and review of going private and related party transactions. The firm's private client services group helps clients manage their wealth with comprehensive and convenient solutions. The team provides personalized and sophisticated advice on, among other things, business succession planning, charitable planning and foundations, estate planning/trust and estate administration, and fiduciary litigation. Hughes Hubbard's Private Funds practice represents institutional investors in all stages of their business, including fund formation, domestic and cross-border structuring, compliance program development and day-to-day trading and operations advice. The team also represents corporate boards and executives on various complex matters, including responses to government examinations and investigations, investor litigation and fiduciary and auditor independence issues.
Intellectual property: providing global experience in patent, trade secret, copyright, trademark and related competition law matters, Hughes Hubbard's intellectual property practice has successfully argued patent and trademark cases in numerous federal courts including the US Supreme Court, the US ITC, and the US PTO.
International arbitration: recognized globally by the world's leading legal publications, the firm's arbitration lawyers often become involved with clients well before a dispute has arisen, working to draft appropriate arbitration or mediation clauses for contracts. Once a dispute arises, the lawyers act as advocates and as arbitrators in commercial and investment treaty arbitration and other dispute resolution proceedings throughout the world.
International trade: advising on matters involving the entire spectrum of trade and investment issues faced by governments, multinational corporations and trade associations, the group's practice includes: export controls and economic sanctions, trade remedies, market access, customs counseling, antidumping and countervailing duty proceedings, WTO and NAFTA dispute avoidance and resolution, investment arbitration and state-to-state arbitration.
Litigation: litigation is a cornerstone of Hughes Hubbard's practice. The firm has the resources to play virtually any role in major litigation including trials, appeals and class actions. Hughes Hubbard brings national coordinating experience in many complex cases. Much of the firm's litigation involves cross-border elements.
Media, technology and commercial transactions: combining the resources and experience of a traditional law firm with an understanding and passion for today's cutting-edge technologies, the practice assists clients on matters in the areas of digital media and the internet, entertainment and technology and information security.
Tax and employee benefits: lawyers are involved in complex cross-border transactions, including M&A, multinational joint ventures, and financings. The firm's employee benefits lawyers handle all aspects of employee pensions, executive compensation and ERISA work.
Main Contacts
| Department | Name | Email | Telephone |
| --- | --- | --- | --- |
| Anti-corruption/FCPA | Kevin Abikoff | | |
| Anti-corruption/FCPA | Laura Perkins | | |
| Antitrust | William Kolasky | | |
| Arbitration | John Townsend | | |
| Arbitration | John Fellas | | |
| Arbitration | Hagit M. Elul | | |
| Aviation | John Hoyns | | |
| Aviation | Steven Chung | | |
| Bankruptcy and corporate reorganization | Christopher Kiplok | | |
| Corporate | Ken Lefkowitz | | |
| Corporate | Steven Chung | | |
| Corporate | Charles Samuelson | | |
| Intellectual property | James Dabney | | |
| International trade | Ryan Fayhee | | |
| Litigation | Derek Adler | | |
| Media, technology & commercial transactions | Matthew Syrkin | | |
| Product liability | Robb Patryk | | |
| Product liability | James Fitzpatrick | | |
| Tax | Andrew Braiterman | | |
Lawyer Profiles
| Photo | Name | Position | Profile |
| --- | --- | --- | --- |
| | Mr Derek Adler | Partner at Hughes, Hubbard & Reed LLP. | View Profile |
| | Alexander Anderson | | View Profile |
| | Mr William Beausoleil | Litigation and arbitration, including products liability, insurance coverage, and general commercial litigation… | View Profile |
| | Ms Candace Beinecke | Corporate transactions, governance and internal investigations. | View Profile |
| | Mr James H. Boykin | | View Profile |
| | Mr Andrew H. Braiterman | | View Profile |
| | Andrew Braiterman | | View Profile |
| | Mr Charles W. Cohen | Partner; Co-Chair eDiscovery Practice Group. Practice focuses on: (1) complex, multi-jurisdictional domestic… | View Profile |
| | Ms Kathryn A. Coleman | | View Profile |
| | Mr James W. Dabney | | View Profile |
| | Ms Hagit M. Elul | | View Profile |
| | Mr James C. Fitzpatrick | General litigation and trial practice, with extensive experience in pharmaceutical products litigation… | View Profile |
| | Mr James Giddens | Trustee for the liquidation of MF Global, Inc. Trustee for the liquidation… | View Profile |
| | Ms Meaghan Gragg | | View Profile |
| | Mr Spencer L. Harrison | | View Profile |
| | Mr John Hoyns | Co-Chair, Corporate Department; Chair, Aviation Practice; and Chair, Equipment Finance Group. Practice… | View Profile |
| | Ms Patrice Jean | | View Profile |
| | Mr Christopher K. Kiplok | Corporate Reorganization and Bankruptcy, with a particular expertise in the liquidation of… | View Profile |
| | James Kobak | | View Profile |
| | Mr Kenneth Lefkowitz | Concentrates on mergers and acquisitions, joint ventures, public and private financings, corporate… | View Profile |
| | Mr Edward Little | Partner at Hughes, Hubbard & Reed LLP. Chair, White Collar Group; Co-Chair,… | View Profile |
| | Ethan Litwin | | View Profile |
| | Mr William Maguire | Partner, New York since 1993. Chair of the Litigation Department, Co-Chair of… | View Profile |
| | Mr Ted Mayer | Products liability defense and counseling; complex litigation of all kinds. | View Profile |
| | Theodore Mayer | | View Profile |
| | Mr Robb Patryk | Co-Chair of Hughes Hubbard's Product Liability & Toxic Tort Group – focuses… | View Profile |
| | Mr Charles Samuelson | Corporate and securities practice focused on public and private mergers and acquisitions… | View Profile |
| | David Schwartz | | View Profile |
| | Mr Matthew Syrkin | Matt provides strategic business counsel and commercial/corporate transactional support for clients in… | View Profile |
| | Mr Michael Traube | | View Profile |
| | Mr Daniel Weiner | Commercial Litigation International and Domestic Arbitration Intellectual Property Disputes Art and Non-Profit… | View Profile |
| | Mr Marc Weinstein | Specializes in defense and internal investigations of complex white-collar criminal and regulatory… | View Profile |
| | Alexander Yanos | | View Profile |
Other
Chair : Theodore VH Mayer Other Offices : Rio de Janeiro* (*in cooperation with Saud Advogados)
Diversity and Inclusion
Diversity & Inclusion
Hughes Hubbard has long held that diversity and inclusion make us stronger, more creative lawyers for our clients because we approach challenges from a variety of perspectives born of different life experiences.
The firm offers an uncompromising commitment to diversity and inclusion, with a strong policy to articulate it and a comprehensive program to implement it. We foster an inclusive work environment where individuals can flourish and perform at the highest level.
This commitment continues to be recognized by organizations. These include a perfect score on the 2018 Corporate Equality Index, a national benchmarking survey and report on policies and practices related to LGBTQ workplace equality, administered by the Human Rights Campaign (HRC) Foundation. We have also been awarded the Gold Standard Certification by the Women in Law Empowerment Forum (WILEF) for the seventh consecutive year, one of only 15 firms nationally to have consistently achieved this recognition since the program's inception in 2011. The award certifies and recognizes law firms that have integrated women into their highest leadership positions.
Our efforts focus on recruiting, retaining and promoting attorneys of diverse backgrounds. Our diverse attorneys are included in all aspects of firm growth: in developing new and existing client relationships, serving in leadership roles and participating in our mentoring programs. We are also involved in various pipeline initiatives to increase the diversity of the legal profession. These efforts include one-on-one mentoring by our lawyers that prepare exceptional college students from historically underrepresented populations to have success in college and the legal profession. We also partner with interested clients in further supporting these programs.
For more about our diversity program, please click here.
Meaghan Gragg Selected as a Leadership Council on
Legal Diversity Fellow
Meaghan Gragg, a litigation partner in the firm's New York office, has been selected as a Leadership Council on Legal Diversity (LCLD) Fellow for 2018.
The LCLD Fellows Program is an intensive, year-long professional training program designed to develop the next generation of diversity leaders in the legal industry. The program connects high-potential attorneys with leading general counsel and managing partners.
Throughout Meaghan's career, she has been deeply involved in significant and high-profile matters, both in court and before arbitral tribunals. She also has demonstrated a commitment to social responsibility through her pro bono work and substantial contributions to the firm's diversity initiatives.
Hughes Hubbard is a New York City-based international law firm with a relentless focus on providing quality service to our clients and delivering successful results in the most complex matters. With a powerful combination of scale and agility, we offer clients innovative and effective solutions, while remaining flexible to adapt to their needs and market developments.
Firm Maintains Perfect Score on LGBTQ Equality Report
For the third year in a row, Hughes Hubbard earned a perfect score of 100 percent on the Corporate Equality Index (CEI), a national benchmarking survey and report on corporate policies and practices related to lesbian, gay, bisexual, transgender and queer (LGBTQ) workplace equality, administered by the Human Rights Campaign (HRC) Foundation.
Of the 947 major U.S. businesses rated from 0 to 100 this year, HHR is among a record 609 to receive a perfect score. The firm has been participating in the CEI since 2013 and has scored the top mark each year since enhancing its diversity efforts in 2015.
"We are very pleased to be recognized for our support of LGBTQ equality and inclusion in our workplace," said Diane Lifton, co-chair of the firm's Committee on Diversity and Inclusion. "This achievement shows our firm's continuing commitment to having a diverse workforce and a work environment that is inclusive and respectful."
The 2018 CEI rated more than 1,000 businesses in the report, which evaluates LGBTQ-related policies and practices, including non-discrimination workplace protections, domestic partner benefits, transgender-inclusive health care benefits, competency programs and public engagement with the LGBTQ community. HHR's achievement in satisfying all of the CEI's criteria results in a 100 percent ranking and the designation as a Best Place to Work for LGBTQ Equality.
"We are proud of our commitment to ensuring that each and every attorney, regardless of sexual orientation or identity, feels welcome in our law firm community," said Meaghan Gragg, co-founder of the firm's LGBTQ affinity group. "We will remain diligent in our efforts."
Diversity Q&A Series With Our Affinity Group Leaders
Hughes Hubbard's Diversity Committee, which helps the firm recruit, retain and promote attorneys of diverse backgrounds, is comprised of five affinity groups aligned by race, gender and sexual orientation. This series of Q&A articles introduces the leaders of those groups.
Latino Attorney Affinity Group Leader Seeks to Bridge Differences
Sara E. Echenique, head of the firm's Latino Attorney Affinity Group, has been a member of the Diversity Committee since May 2015. Born in Philadelphia to Puerto Rican parents and raised in Puerto Rico, she joined the firm in October 2010 as an associate in the New York office.
Click here to read the full Q&A.
Black Attorney Affinity Group Leader Brings Life Experience to Role
Ashley Hodges, head of the firm's Black Attorney Affinity Group, has been a member of the Diversity Committee since spring 2016. Born and raised in the San Francisco Bay Area, she joined the firm as a summer associate in 2013 and returned to the New York office as an associate in October 2014.
Click here to read the full Q&A.
LGBT Affinity Group Leader Strives to Further Tolerance
Meaghan Gragg co-founded the firm's LGBT Affinity Group with former associate Danny Grossman in 2013; she joined the Diversity Committee in spring 2015. Born and raised in Miami, she began her tenure at the firm in 2008 as an associate; she was promoted to partner this month.
Click here to read the full Q&A.
Asian Affinity Group Leader Aims to Strengthen Inclusiveness
Mei Li Zhen, head of the firm's Asian Affinity Group, has been a member of the Diversity Committee since spring 2015. Born in China and raised in Brooklyn, Zhen joined the firm as a summer associate in 2009 and as a full-time associate in the fall of 2010.
Click here to read the full Q&A.
Hughes Hubbard Receives Diversity Award From Eaton
Hughes Hubbard was selected to receive the Eaton Law Department Supplier Inclusion and Diversity Excellence Award for its 2015 performance.
The award is presented to Eaton's Law Department suppliers who exhibit a commitment to the company's diversity effort. Eaton Corp. employs more than 100,000 people worldwide and is a global leader in power management and electrical systems.
Amanda DeBusk, chair of the firm's International Trade department, accepted the award on Oct. 19, 2016 in front of more than 70 Eaton team members from around the world at a global legal meeting in Cleveland. Tim Boyle, vice president and chief counsel for competition and trade regulation at Eaton, highlighted the firm's historic commitment to diversity, from Charles Evans Hughes' early support for women's suffrage to Amalya Kearse becoming the first black partner at a major Wall Street law firm in the 1960s to Candace Beinecke becoming the first female chair of a major New York law firm in 1999.
Patrice Jean, a partner in HHR's Intellectual Property practice, spoke about the firm's diversity committee, providing heartfelt remarks on diversity and discussing the great work that the committee does. Finally, Ravi Soopramanien, an associate in the firm's D.C. office, spoke about his personal experience at HHR, describing how the firm's reputation for diversity was important for him in deciding to join HHR.
"Diversity is a strong part of Hughes Hubbard's identity, and I was truly honored to receive this award on behalf of the firm," DeBusk said.
Hughes Hubbard Awarded WILEF's Gold Standard Certification
Hughes Hubbard has been awarded the Gold Standard Certification by the Women in Law Empowerment Forum (WILEF) for the seventh year in a row, one of only 15 firms nationally to have consistently achieved this recognition since the program's inception in 2011.
The award certifies and recognizes law firms that have integrated women into their highest leadership positions. The certification emphasizes leadership roles achieved by women equity partners, rather than the policies or practices of the firm or the number or percentage of women in partnership.
To receive gold status, firms with at least 300 lawyers in the U.S. had to meet at least four of seven criteria involving women in key positions. HHR qualified in the following five categories, with women constituting a minimum of:
20 percent of equity partners
15 percent of firm chairs and managing partners
20 percent of the firm's compensation committee
15 percent of the top half of the most highly compensated partners (up from 10 percent)
7 percent of women equity partners are women of color or 3.5 percent of women equity partners are LGBT
Hughes Hubbard Sponsors Council of Urban
Professionals Gala 2016
Hughes Hubbard was among the sponsors of the Council of Urban Professionals' 9th Annual Leadership Gala, held at Cipriani 42nd Street in Manhattan.
The gala honored extraordinary leaders whose strides in diversity and inclusion, public service, entrepreneurship and philanthropy have a made a tremendous difference in the U.S.
Founded in 2007, CUP focuses on preparing high-performing professionals of color and women for the rise to senior leadership roles within financial services, legal, media and entertainment, non-profit and public sectors. Through the CUP Fellows Program, 24 participants complete a 10-month leadership development experience that includes skill-based training and networking opportunities that prepare participants for civic involvement.
Hughes Hubbard Recipient of St. John University's
Ron Brown Trailblazer Award
Hughes Hubbard's New York office hosted the Ninth Annual Kickoff Reception for the Ronald H. Brown Law School Prep Program at St. John's University School of Law.
The program's mission is to increase the diversity of the legal profession by preparing exceptional college students from disadvantaged and historically underrepresented groups for success in law school and the legal profession. The kickoff reception introduced students in this year's junior class of the program to their attorney mentors from HHR, clients Merck and AXA Equitable, and other law firms and government agencies.
More than 80 friends and supporters of the program attended. Ted Mayer delivered welcome remarks on behalf of the firm, alongside Tracey Brown, daughter of the program's namesake Ron Brown, a former chair of the Democratic National Committee and the Secretary of Commerce in the Clinton Administration, who was the first African-American to hold this position. Summer intern Andres Santamaria, an alumnus of the program, also spoke about the positive impact that mentors have on the professional development of students in the program. Professor Elaine Chiu, the director of the program, and Darryl Gibbs, associate general counsel at AXA, praised the firm's contributions to the program's continued success.
Diane Lifton, Charles Huberty and Julie Amadeo lead the firm's partnership with the prep program. In addition to Lifton, Huberty and Amadeo, Jason Benton, Jim Kobak, Bill Maguire, Brett Collings, Ashley Hodges, Ileana Loudarou, Caroline Parker-Beaudrias and Laura Escalona Trumbull volunteered to serve as mentors.
Key principles
Committed
Diversity and inclusion matters.
Leadership
We have strategically placed lawyers with varied backgrounds in positions of influence throughout the firm, including office and practice leaders.
Mentoring
We have developed both formal and informal mentoring for diverse associates as well as all associates at large. In the case of diverse associates we offer additional mentoring from members of the diversity committee and affinity groups.
Oversight
To maintain accountability, our Diversity Committee, comprised of partners, counsel, associates and staff, oversees our efforts, including mentoring, recruiting, retention, outreach and affinity groups.
Outreach
We actively recruit law students of diverse backgrounds and offer a select group the opportunity to participate in our summer program, where they can learn more about life at our firm and develop their career goals.
Support
Hughes Hubbard currently supports affinity groups for African-American lawyers, Asian lawyers, Hispanic lawyers, working mothers, LGBT lawyers and our women's roundtable. The latter group offers firmwide video-conference sessions involving featured speakers and interactive workshops.
Long Standing Commitment to Diversity and Inclusion
In keeping with our strong commitment to diversity, Hughes Hubbard is proud to be one of the initial signatories to The Association of the Bar of the City of New York's "Statement of Diversity Principles" and The New York County Lawyers' Association "Statement in Support of Diversity in the Legal Profession."
"When we lose the right to be different, we lose the privilege to be free." -Charles Evans Hughes
Our firm's commitment to diversity can be traced back to our founder, Charles Evans Hughes, campaigning for women's suffrage in his near-victory over Woodrow Wilson in the 1916 presidential race. In 1942, we broke ranks with other Wall Street firms in hiring the first female associate at a time when most of those firms did not even interview women. In 1969, we named as partner Amalya Kearse, the first African-American female partner of any major New York firm. Kearse went on to become the second African-American to sit on the Second Circuit U.S. Court of Appeals. In 1999, Candace Beinecke became chair of Hughes Hubbard, making her the first woman to chair a major New York law firm.
Top Tier Firm Rankings
Firm Rankings