Firm Profile > Guyer & Regules > Montevideo, Uruguay
Guyer & Regules
Offices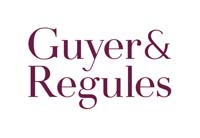 Guyer & Regules
PLAZA INDEPENDENCIA 811
11100 MONTEVIDEO
Uruguay
Guyer & Regules > The Legal 500
Rankings
Guyer & Regules >
Firm Profile
Guyer & Regules is considered Uruguay's blue-chip firm and the first choice for international and domestic complex legal, accounting and tax work. Such reputation is grounded on the largest group of the most experienced partners in the country, who lead a solid team of internationally trained professionals with experts in every field of business law, and promote a culture of innovation within the firm.
Guyer & Regules is proud to have been consistently recognized as 'Uruguayan Law Firm of the Year' for eight years and the first and only Uruguayan firm recognized as 'Latin America Law firm of the Year' by Chambers & Partners.
The firm has also been recognised as "Uruguay Tax Firm of the Year" by International Tax Review – Euromoney in 2018, as "Uruguay Firm of the Year" by International Financial Law Review – Euromoney on four occasions and as "Firm of the Year – Uruguay" by Who's Who Legal for six consecutive years.
Performing with excellence, expertise, value, responsiveness, creativity and consistency is not enough. At Guyer & Regules we strive to grow our capacity to develop strong and mutually rewarding personal working relationships with the people who work at the institutions we serve. We help them serve their institutions -our clients- better. And those special personal working relationships are what enables us to leverage all those other qualities they expect from a top firm.
As Latin Lawyer states, 'Guyer & Regules has long sat comfortably at the top of Uruguay's legal market: the breadth and high quality of its service offering, its extensive and loyal client base, and its transactional clout mean that this prestigious firm is always highly sought after'.
Main international areas of practice
Banking and finance: Guyer & Regules' leadership is undisputed, advising 66% of the private banks active in Uruguay and two out of three large private pension fund managers. It has also been the only Uruguayan firm in the past 30 years in Uruguayan sovereign debt deals. Recent deals include: acting as deal counsel in the second issuance of the record breaking USD450 million notes programme on behalf of toll road operator Corporación Vial del Uruguay, in what is thought to be the country's largest corporate offering on the local market; helping Uruguay's central bank adopt an electronic version of its own currency, becoming the first country in history to do so, which was recognized as "Deal of the Year" by Latin Lawyer in 2018; assisting the joint book – runners BBVA Securities Inc., Citigroup Global Markets Inc., HSBC Securities (USA) Inc. for Uruguay's longest global debt bond issued in its history made by the Government.
Corporate, M&A: as Chambers & Partners states, Guyer & Regules 'continues to set the pace in the corporate sphere' having participated in 63% of major M&A deals made public in Uruguay over the past years and representing 8 of the top 12 Uruguayan leading exporting companies in 2018. As a few highlights, the firm participated in the most important Uruguayan M&A transaction of the year to date assisting COCA-COLA FEMSA in its takeover of Montevideo Refrescos SRL, the local subsidiary of The Coca-Cola Company. Advised an affiliate of Merk Animal Health in the acquisition of Prondil S.A., an Uruguayan corporation that produces and commercializes animal vaccines for export being this transaction, one of the most important acquisition in Uruguay during 2017. And Chile's Enjoy in the purchase of 55% shares held by US based Caesars in the Uruguayan casino Conrad Punta del Este.
Tax and accounting: the team is recognized for its 'heavyweight practice at the forefront of the market with a respected bench of practitioners' by Chambers and Partners. It is by far the most senior team on the market, formed by lawyers and CPAs which allows for greater depth and breadth on tax matters. Recent work highlights include advising the banks in the tax planning for the first global bond in nominal pesos issued by the Republic of Uruguay in the international market, assisting Agropecuaria del Litoral S.A. to structure the creation of a financial trust that issued US$50.000.000 (fifty million USD dollars) of "mixed" securities ("títulos mixtos") in Uruguay and advising Goldman Sachs in its first investment in Uruguay with the US$140 million acquisition of approximately 60% stake in Tienda Inglesa, an Uruguayan supermarket chain.
Real Estate: by far the largest and most experienced team in the country, delivering 'innovative solutions, commercial thinking and a personalised service on every single detail' as Chambers Latin America reviews. Has a very strong presence in tourism and residential developments (especially in Punta del Este and its surroundings), industrial sites, agribusiness and forestry investments. Recent deals include: advising METLIFE which acquired approximately 120,000 hectares of real estate properties in a transaction that is deemed as the largest and most important sale of this nature in the history of the country; assisting on acquisition of real estate for the installation of new Homecenter Sodimac chains in Uruguay and assisting TGLT in the development and sale of a high-value project of apartments in an exclusive waterfront of 11,000 square meters.
Litigation: Guyer & Regules has a dedicated, strong and successful litigation team with a 'solid reputation' as Chambers Latin America states. It specializes in complex civil and commercial litigation and arbitration, domestic and international, generally involving high-profile cases. Recent matters include the representation of GNLS (defendant) in a Uruguayan civil judicial procedure initiated by the Uruguayan branch of Brazil-based Construtora OAS seeking damages amounting to US$310 million; representing the affiliate of Brazilian state owned oil company Petrobras (PUDSA) and Axion Energy in two separate judicial enforcements of arbitration agreements against Administración Nacional de Combustibles Alcoholes y Portland – ANCAP, Uruguayan state owned company that holds the monopoly over petroleoum importation and refining; and representing Banque Heritage in criminal and civil actions brought against a former account manager.
Labour: the team excels for its services both in advisory and litigious labor matters. 'The lawyers have deep technical knowledge, are committed to the client and stay up to date regarding changes in the law' as Chambers Latin America reviews. They represented all of the Uruguayan financial entities in the salary collective bargaining agreement negotiations with the banking union and the government, as well as the Chamber of Insurance Companies. Other recent work highlights include advising Sherwin Williams in all labor aspects regarding the closing of an industrial plant, and assisting Petrobras and Eurofarma in labor disputes.
Projects & Energy: our Projects & Energy team is the largest of its kind in Uruguay. Guyer & Regules is 'highly sought after to advise on the full range of energy and natural resources matters', as Chambers and Partners states, with an impressive market share of renewable and oil and gas transactions. Partners and associates are dedicated to the energy and infrastructure sector in consulting, contracting, financing and in the day to day business. Our excellent and reputable team has advised clients spanning the entire industry, from the developers behind Uruguay's first solar project to the major oil and gas companies involved in the country's nascent offshore sector. In the infrastructure field our professionals have assisted sponsors and also financial entities. Guyer & Regules is leading the market. The pioneering role we play means clients regularly demand our counsel for power purchase agreements, PPPs, Concession agreements, project financing and engineering procurement and construction agreements and EPC and OyM agreements. Our compact,  top-notch team is a solid pick for even the most complex of deals. Clients highlight the breadth of the team's expertise, whose recent achievements include advising Total on a 35% farm-out agreement with ExxonMobil and a 15% farm-out agreement with Statoil, assisting Acciona (Spain) in a legal aspects of the Central Railroad Project (a USD 1000 million project) including the bid process, permits and authorizations, corporate and tax structure, bankability issues and other related aspects. And also advising Inter-American Investment Corporation in the financing of two Uruguayan companies owned by Atlas Energy Group which have developed two solar plants in Salto, Uruguay for the production and sale of energy to the Administración Nacional de Usinas y Transmisiones Eléctricas – UTE (National Administration of Power Stations & Power Transmitions). The firm counts with the greatest and experienced Energy & Infrastructure team in Uruguay.
Main Contacts
| Department | Name | Email | Telephone |
| --- | --- | --- | --- |
| Banking & Finance | Nicolás Herrera | | |
| Banking & Finance | Nicolás Piaggio | | |
| Corporate and M&A | Nicolás Herrera | | |
| Corporate and M&A | Álvaro Tarabal | | |
| Accounting & Tax | Juan Manuel Albacete | | |
| Real Estate | John S. Leaman | | |
| Real Estate | Federico Susena | | |
| Litigation | Carlos Brandes | | |
| Labour | Leonardo Slinger | | |
| Labour | Eduardo Ameglio | | |
| Telecommunications | Diego Baldomir | | |
| Energy | Federico Susena | | |
| Energy | Juan Manuel Mercant | | |
| Aviation | Federico Susena | | |
| Real Estate | Beatriz Spiess | | |
| Intellectual Property | Javier Berdaguer | | |
| Banking & Finance | Marcos Payssé | | |
Staff Figures
Other fee-earners : 160 Total staff : 380
Languages
Spanish English Portuguese German French
Other
Partners : 24
Top Tier Firm Rankings
Top Tier Firm Rankings
Firm Rankings
Firm Rankings