Firm Profile > Guyer & Regules > Montevideo, Uruguay
Guyer & Regules
Offices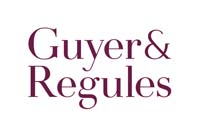 Guyer & Regules
PLAZA INDEPENDENCIA 811
11100 MONTEVIDEO
Uruguay
Guyer & Regules > The Legal 500
Rankings
Guyer & Regules >
Firm Profile
FIRM PROFILE:
Guyer & Regules is considered Uruguay's blue chip firm and the first choice for international and domestic complex legal, accounting and tax work. Such reputation is grounded on the largest group of the most experienced partners in the country, who lead a solid team of internationally trained professionals with experts in every field of business law, and promote a culture of innovation within the firm.
Guyer & Regules is proud to have been consistently recognized as "Uruguayan Law Firm of the Year" for eight years and the first and only Uruguayan firm recognized as "Latin America Law firm of the Year" by Chambers & Partners.
The firm has also been recognized for the fifth time as "Uruguay Tax Firm of the Year" by International Tax Review – Euromoney , as "Uruguay Firm of the Year" by International Financial Law Review – Euromoney on five occasions and as "Firm of the Year – Uruguay" by Who's Who Legal for eight consecutive years.
Most firms define their value proposition in terms of the companies and institutions they serve.  At Guyer & Regules we challenge this, believing that while our duty is to the client, that is, the institutions, at the same time the work is delivered to our client´s people. Performing with excellence, expertise, value, responsiveness, creativity and consistency, is not enough. Trust is a personal feeling. You trust people. So we strive to grow our capacity to develop strong and mutually rewarding personal working relationships. It´s by developing a rich, challenging, personal working relationship with the people within the institutions, that we truly differentiate ourselves. Those special personal working relationships enable us to leverage all those other qualities you expect from a top firm.
MAIN INTERNATIONAL AREAS OF PRACTICE:
Banking and finance: Guyer & Regules' leadership is undisputed advising 66% of the private banks active in Uruguay and two out of three large private pension fund managers. It has also been the only Uruguayan firm in the past 30 years in Uruguayan sovereign debt deals.
Recent highlights include:
Advising CAFAM in structuring a financial trust worth approximately US$350 million on the Uruguayan stock exchange and market (Bolsa Electrónica de Valores).
Providing legal advice to the private banks in relation to the Republic of Uruguay issuance of new sovereign bonds worth a combined total of USD 2 billion and, at the same time, a repurchase of existing global bonds for USD 1.5 billion.
Assisting the Joint Venture comprised of Berkes, SACEEM and Stiler in a project structured under a PPP scheme to the design, construction, operation and financing of educational infrastructure. 
Corporate, M&A: As Chambers & Partners states, Guyer & Regules "continues to set the pace in the corporate sphere", having participated in 63% of major M&A deals made public in Uruguay over the past years and representing 10 of the top 15 Uruguayan leading  exporting companies in 2019.
Recent highlights include:
Advising the Danish multinational DLF Seeds in the acquisition of PGG Wrightson as part of a global transaction that impacted the seed market worldwide.
Helping British car retailer and distributor Inchcape, acquire Uruguay and Ecuador's Mercedes-Benz trader, Autolider.
Assisted Tripadvisor, the largest social travel website in the world, in the acquisition of Uruguay's Restorando.
Tax & Accounting:. It is by far the most senior team on the market, formed by lawyers and CPAs, which allows for greater depth and breadth on tax matters. As Chambers & Partners states, "Guyer lawyers are sensible, commercial, switched-on and thorough in their approach" "The firm is always excellent in providing the services from a technical and practical perspective. They are very practical tax advisers."
Recent highlights include:
Advising the banks in the tax planning for the first global bond in nominal pesos issued by the Republic of Uruguay in the international market.
Assisting Agropecuaria del Litoral SA to structure the creation of a financial trust that issued US$50 million of "mixed" securities in Uruguay
Advising Goldman Sachs in its first investment in Uruguay with the US$140 million acquisition of approximately 60 per cent stake in Tienda Inglesa, one of Uruguay's main supermarket chain.
Real Estate:  With 32 real estate lawyers, it is by far the largest and most experienced team in the country, recognized by Chambers Latin America as a "market-leading department with a deep bench of seasoned professionals offering long-standing expertise in this practice area". This practice, which includes 3 partners and 2 counsels,  has a very strong presence in REITs, housing, tourism and residential developments, industrial sites,  agribusiness and forestry investments.
Recent highlights include:
Advising METLIFE, in the financing and structuring of collaterals of approximately 120,000 hectares real estate and forests of in a transaction that is deemed as the largest in recent years.
Advising Montes del Plata (JV between Stora Enso and Arauco) in its day to day business and in all the real estate aspects.
Assisting trusts Fideicomiso Financiero Tierras Irrigadas I and II, which raised a capital investment of USD 300 million with the objective of acquiring agricultural land.
Litigation and Arbitration: Guyer & Regules has a dedicated, strong and successful litigation team with a "solid reputation" as Chambers Latin America states. It specializes in complex civil and commercial litigation and arbitration, domestic and international.
Guyer & Regules´ litigation and arbitration professionals have broad experience dealing with all types of disputes, ranging from banking litigation, corporate disputes, breaches of contract actions, to domestic and international arbitration disputes.
Recent highlights include:
Represents GNLS (defendant) in a Uruguayan civil judicial procedure initiated by the Uruguayan branch of Brazil-based Construtora OAS seeking damages amounting to US$ 310 million and in an ICC arbitration in Spain initiated by GNLS (claimant) against Construtora OAS seeking damages for more than USD 400 million.
Successfully represented the affiliate of the Brazilian state owned oil company Petrobras (PUDSA) and Axion Energy in highly complex domestic arbitrations filed against ANCAP (Uruguayan state-owned company that holds the monopoly over petroleum importation and refining), that resulted in two arbitral awards which ordered ANCAP to pay damages to both plaintiffs due to its breach of negotiating in good faith.
Representing Banque Heritage in criminal and civil actions brought against a former account manager that committed a fraud against the Bank.
Representing AIRBUS (world´s largest airline manufacturer) in two complex litigation processes, and in a request of precautionary measure (seeking to assure enforcement of an ICC international arbitration award issued in France).
Representing the "Mutual Uruguaya de futbolistas profesionales" in a civil action claiming right of image of the professional football players of Uruguay. 
Labour: The team excels for its services both in advisory and litigious labour matters. "The lawyers have deep technical knowledge, are committed to the client and stay up to date regarding changes in the law" as Chambers Latin America reviews. Its lawyers have represented all of the Uruguayan financial entities in the salary collective bargaining agreement negotiations with the banking union and the government, as well as the Chamber of Insurance Companies. Other recent work highlights include advising Sherwin Williams in all labour aspects regarding the closing of an industrial plant, and assisting Petrobras and Eurofarma in labour disputes.
Projects and Energy: The projects and energy team is the largest of its kind in Uruguay and the market leader. The firm's compact, top-notch team is a solid pick for even the most complex of deals.  Guyer & Regules is "highly sought after to advise on the full range of energy and natural resources matters", as Chambers & Partners states, with an impressive market share of infrastructure, renewable and oil and gas transactions. The firm has the greatest and most experienced team in Uruguay. The firm's excellent and reputable team has advised clients spanning the entire industry, from  the developers behind Uruguay's first solar and wind projects to the major oil and gas companies. In the infrastructure field, the firm's professionals have assisted sponsors and also financial entities in several projects.
Recent highlights include:
Assisting several sponsors, construction companies, agents, senior lenders and mezzanine creditors in the design, development and financing of almost 75% of the Private Public Projects.
The team assisted its long standing clients in the renewables sector, including Grupo Otegui, Fortuny, Hudson, among others.
Incomparable experience in the upstream oil sector, representing 3 out of the 4 companies that carried out off shore explorations in the last years.
Also clear leadership in the oil & gas downstream sector, representing the two private companies (Petrobras and Axion) that operates in the country.
The team was recognized in 2019 with the award "Deal of the Year" for its assistance les to DP Posorja and its deep sea port project in Ecuador. Helped was provided to the giant port operator in obtaining financing for USD 377 million in the first major infrastructure project in Ecuador after the enactment of public private partnership (PPP) legislation in late 2015.
 International Experience:
Internationally renowned Lex Mundi, World Services Group, World Law Group, Interlex, Multilaw, Club de Abogados and Interlaw, selected the firm as their sole Uruguayan member, thus ensuring immediate access to the best lawyers worldwide and enabling the firm to reach and provide global services.
Clients:
Guyer & Regules' clientele includes many market leaders in every sector of the economy. Some representative clients are: ADT, Avon, Bank of America, Banco Itaú, BBVA, Banque Heritage, Baxter International, Boskalis International, BG, Cargill, Chevron Texaco, Citibank, DEG, Deutsche Bank, EDC, Emirates, FMO, General Motors, Gol, Hilton, HSBC, IDB, Jazz Air, Johnson & Johnson, JP Morgan Chase, L'Oreal, Louis Dreyfus, Louis Vuitton, Metropolitan Life, Minerva, Morgan Stanley, Nissan, Petrobras, Philip Morris, Renault, Roche, Royal & Sun Alliance, Sabre, Scotiabank, Stora Enso, Techint, Telefónica, Telesat Canada, Total, Tullow, Unilever, Volvo.
Main Contacts
| Department | Name | Email | Telephone |
| --- | --- | --- | --- |
| Banking & Finance | Nicolás Herrera | | |
| Banking & Finance | Nicolás Piaggio | | |
| Corporate and M&A | Nicolás Herrera | | |
| Corporate and M&A | Álvaro Tarabal | | |
| Accounting & Tax | Juan Manuel Albacete | | |
| Real Estate | John S. Leaman | | |
| Real Estate | Federico Susena | | |
| Litigation | Carlos Brandes | | |
| Labour | Leonardo Slinger | | |
| Labour | Eduardo Ameglio | | |
| Telecommunications | Diego Baldomir | | |
| Energy | Federico Susena | | |
| Energy | Juan Manuel Mercant | | |
| Aviation | Federico Susena | | |
| Real Estate | Beatriz Spiess | | |
| Intellectual Property | Javier Berdaguer | | |
| Banking & Finance | Marcos Payssé | | |
Lawyer Profiles
| Photo | Name | Position | Profile |
| --- | --- | --- | --- |
| | Mr Juan Manuel Albacete | Juan Manuel Albacete, lawyer, mainly works in the Banking and Corporate Department… | View Profile |
| | Mr Diego Baldomir | Diego Baldomir, lawyer, mainly works in the Banking and Corporate Department. His… | View Profile |
| | Mr Javier Berdaguer | Javier Berdaguer, lawyer, mainly works in Intellectual Property Department and Corporate &… | View Profile |
| | Ms Corina Bove | Corina Bove, lawyer, specializes in corporate and banking matters. Her practice includes… | View Profile |
| | Mr Carlos Brandes | Carlos Brandes, lawyer and notary. Head of Dispute Resolution Team. His vast… | View Profile |
| | Ms Florencia Castagnola | Florencia Castagnola, lawyer and notary. Her practice includes advising financial institutions in… | View Profile |
| | Mr Nicolás Herrera | Nicolás Herrera, , lawyer, with more than 35 years of experience in… | View Profile |
| | Mr John Leaman | John Stuart Leaman, notary, co-heads the Real Estate Department, the largest of… | View Profile |
| | Ms Juan Manuel Mercant | Juan Manuel Mercant, lawyer. Expert in Banking & Finance, Energy & Infrastructure… | View Profile |
| | Mr Alejandro Miller | Alejandro Miller, lawyer, mainly works in the Banking & Corporate Department, specialising… | View Profile |
| | Mr Marcos Payssé | Marcos Payssé, lawyer, mainly works in Banking, Corporate and M&A Department. Partner… | View Profile |
| | Mr Nicolás Piaggio | Nicolás Piaggio, lawyer, mainly works in the Banking and Corporate Department. His… | View Profile |
| | Mr Gerardo Porteiro | Gerardo Porteiro, lawyer, mainly develops his activities in the Banking and Corporate… | View Profile |
| | Mr Leonardo Slinger | Leonardo Slinger, lawyer, mainly concentrates his activities in the Labour and Litigation… | View Profile |
| | Ms Beatriz Spiess | Beatriz Spiess, notary. Specializes in structuring, financing and promotion of real estate… | View Profile |
| | Mr Federico Susena | Federico Susena, notary. Real Estate: mainly in structuring of real estate investments,… | View Profile |
| | Mr Álvaro Tarabal | Álvaro Tarabal, lawyer. His vast practice includes financing in the public and… | View Profile |
Staff Figures
Other fee-earners : 160 Total staff : 380
Languages
Spanish English Portuguese German French
Other
Partners : 24
Top Tier Firm Rankings
Firm Rankings