Guyer & Regules > Montevideo, Uruguay > Firm Profile
Guyer & Regules
Offices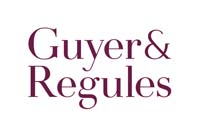 Guyer & Regules
PLAZA INDEPENDENCIA 811
11100 MONTEVIDEO
Uruguay
Guyer & Regules > The Legal 500
Rankings
Forming part of its leading corporate and banking team, Guyer & Regules' sizeable banking and finance team is one of the market leaders in project financing. The practice is also regularly seen acting in the jurisdiction's most innovative projects and has a history of acting in first-of-their-kind matters. A host of private banks operating in Uruguay count on the firm for their standout matters as well as day-to-day guidance, and on the borrower side the team is instructed by leading companies in the projects sphere. Spearheading the department are three experienced professionals: senior partner Nicolás Herrera is especially strong on the transactional side; Nicolás Piaggio is a go-to lawyer for multinational financial institutions, acting in sovereign debt issuances and liability management transactions performed by the Republic of Uruguay; and Álvaro Tarabal, who works on banking and corporate matters as well as litigation. Florencia Castagnola is the head of the compliance department and is the name to note for fintech matters. Up-and-coming lawyer Marcos Payssé (banking, capital markets and project finance) and Federico Piano (public-private transactions, banking and project finance) are further key contacts to note, while Juan Manuel Mercant is a regular advisor to lenders, multilaterals and local financial institutions.
Practice head(s):
Nicolás Herrera; Álvaro Tarabal; Nicolás Piaggio
Testimonials
'The banking and finance group of the firm is excellent. They have helped us negotiate the most complex contracts from that perspective.'
'Negotiation capacity, serenity, commercial capacity and excellent strategy.'
'Federico Piano is an excellent advisor with a lot of commercial vision. He protects client's interest at all times.'
'They are all excellent professionals. Efficient in managing the time and resources of clients and counterparts. They adapt to the needs of clients and are experts in their field.'
'All of them gave us a service of the highest excellence. I think dedication and commitment differentiate them. Both to find solutions and to think out of the box, innovate and push other market players.'
'It is a market leader in Uruguay in banking and financing matters. They have an excellent handling of legal and commercial matters. They know how to reach constructive agreements.'
'Clearly Guyer's team has a lot of positive relationships with regulators, which together with their deep knowledge and very good service, sets them apart.'
'Juan Manuel Mercant has been very attentive to our requirements and has been at all times pending our investment projects and legal aspects of the new hires and projects that we are working on.'
Key clients
Citibank
Banco Itaú
HSBC
BBVA
Bank Hapoalim
Banque Heritage
Banco Comercial – Scotiabank
Union Capital
UBS Uruguay
Merrill Lynch – Julius Baer
Winterbothan
Puente HNOS Sociedad de bolsa
Work highlights
Acted for ACI Airport Sudamérica in the launch of an offer to exchange the existing notes for newly issued 6.875% cash/7.875% PIK senior secured guaranteed notes due 2032.
Advised the Republic of Uruguay on the issuance of its global bonds in US dollars.
Advised Puerta del Sur on the restructuring of its $87m notes due 2021 issued under Uruguayan law.
Guyer & Regules fields an 'outstanding' corporate law practice that is regularly involved in the country's most significant transactions. The firm has an impressive domestic client list that covers many of Uruguay's key industries, particularly when it comes to the export market, and a number of multinationals and foreign companies also count on the team's assistance. A recent highlight indicative of this saw Álvaro Tarabal and Corina Bove exercise their expertise in cross-border transactions, acting for Colombian company Almacenes Éxito (a subsidiary of French retail group Grupe Casino) in the potential sale of the Uruguayan supermarket retail chains Disco, Devoto and Geant. Tarabal co-leads the department alongside Nicolás Piaggio, one of the country's most prolific M&A lawyers and a go-to contact for multinationals including Petrobras and Sodimac. Javier Berdaguer is another important practitioner in the team and has developed a niche in advising entrepreneurs and start-ups. Senior partner Nicolás Herrera has longstanding corporate, commercial and capital markets expertise, and senior associate Guzmán Rodríguez regularly supports the partners on significant transactions.
Practice head(s):
Álvaro Tarabal; Nicolás Piaggio
Testimonials
'The Guyer & Regules team is highly qualified and experienced in M&A matters, also with international companies. The cooperation with all team members was always pleasant and goal driven.'
'They were a hard-working team and we appreciated their advice.'
'Guzmán Rodríguez was instrumental in coordinating the team and communicating findings with our US client.'
Key clients
Montes del Plata
Philip Morris
Puerta del Sur – Airport Concessionaire
Minerva
Unilever
Almacenes Éxito
Merial
Casino Guichard Perrachon
Sodimac
Petrobras
Goldman Sachs
Bacardi Martini
Merck
Hilton
Eurofarma
Sura
Oracle
Saam
Femsa
CVC
Acciona (Spain)
Tesla
BASF
Perez Companc
DLF Seeds
The Rohatyn Group
Auxly Cannabis Group
Amazon
Samsonite
Tripadvisor
Upostal
Inchape
General Atlantic
Aquila Software
Work highlights
Advised Almacenes Éxito as majority stakeholder in the potential sale of the Uruguayan supermarket retail chains Disco, Devoto and Geant.
Assisted Aquila Software with its acquisition of the shares of Icorp and Tenbisur.
Assisted automotive distributor Inchcape in its acquisition of Autolider.
'Respected, recognised and experienced in litigation and arbitration', Guyer & Regules continues to have a presence in the market's most complex cases. The department is led by 'excellent professional' Carlos Brandes, and handles all types of disputes that arise in the market, from civil, commercial and criminal litigation to landmark international arbitration. Among its specific strengths are defending banks, with BBVA, Itaú Bank and Citibank among its key clients, and cases in the construction sector, with Brandes leading a team representing GNLS in an arbitration it initiated against Construtora OAS regarding construction of an LNG regasification terminal. Mariana Santo specialises in administrative disputes and was promoted to the partnership in January 2021, and senior associate Macarena Fariña assists with civil and commercial litigation and arbitration, with a particular specialism in international private law. Fellow senior associate Ana Paula González regularly acts for the firm's most prestigious multinational and foreign clients; Cecilia Orlando and highly regarded construction law expert Federico Carbajales are also senior associates to note.
Testimonials
'Respected, recognised and experienced in litigation and arbitration. The team has special expertise in energy-related issues. Additionally, they have experience in commercial, contractual and labour litigation.'
'Carlos Brandes – Experience in arbitration. Legally and commercially he shows excellence. Very proactive.'
'Mariana Santo – Excellent business and legal administrative knowledge. She knows the energy market deeply and is always attentive to the client's requirements.'
'The litigation team works all areas of law in an excellent way, with a great team of specialised lawyers.'
'Their exhaustive analysis in each situation, their technical capacity and knowledge of the market make them stand out. Macarena Fariña is excellent. I also highlight the work of Federico Carbajales.'
'The plus of this practice is the suitability and solidity that they transmit on the knowledge of the procedures. A great advantage is that they are agile in their dealings, with an easy and quick response and a good disposition. The professionals who deserve to be highlighted are Mariana Santo and Federico Carbajales.'
'We worked with Ana Paula Gonzalez in several litigations. She has great analytic skills to properly evaluate situation, as well as litigation skills and negotiation skills, which allows her to procure what's best for her client.'
'Cecilia Orlando – Very professional and constant in her work. I am very grateful for her and for her work, which have undoubtedly benefited my company in many areas.'
Key clients
Citibank
Philip Morris
Telefónica
Moody's
Montes del Plata
GNLS
BBVA
Petrobras
Itaú Bank
HSBC
Unilever
Tienda Inglesa
BASF
Bunge
Airbus
Homecenter Sodimac
Nicoll Uruguay
Total Chile
Rouar
Axion Energy
Codere
Banque Heritage
Acciona
Enjoy – Conrad
Petroleum Geo-Services (PGS)
GX Technology (GXT)
Medtronic
Spefar
TGS-Nopec Geophysical Company
Curtiembre Paris
Verifone
Hudson Clean Energy
Work highlights
Representing GNLS in an arbitral procedure it has inititated against Construtora OAS, whose branch in Uruguay was its EPC contractor for the construction of the LNG regasification terminal.
Acting for Baluma in an action filed by high-end car importer company Julio Cesar Lestido, which filed a complaint claiming damages against Baluma based on a financial manoeuvre.
Defending Airbus against a $1m damages claim alleging the unlawful termination of an agency contract which existed between Andermar and Airbus.
Guyer & Regules fields 'a very solid team with extensive knowledge in the field and a lot of practical experience'. It assists its corporate clients with all issues involving labour and employment law, acting in some of the market's most complex disputes, as well as providing day-to-day counsel, something that was crucial in 2020's landscape of frequent regulation changes. One of the team's recent highlight cases saw practice head Leonardo Slinger acting for Iguanafix in a dispute concerning whether a worker using its app could be deemed an employee; an example of the complex cases that Slinger has made become renowned for. Santiago Madalena stands out at the senior associate level and is particularly strong on labour aspects of corporate transactions, while counsel María José Poey is a further key contact for labour law consultancy and litigation.
Testimonials
'Professionalism, dedication, level of response, prestige of the professional staff.'
'They are super accessible and quick to answer. they are super professionals they are super friendly.'
'It is a very solid team with extensive knowledge in the field and a lot of practical experience, which in this area is fundamental and very valuable.'
'Santiago Madalena is a young lawyer with a lot of experience and great knowledge in labour matters that makes him always provide an adequate and accurate answer to the issues that are presented to him. He is a true benchmark and is always ready to give us the necessary advice to be able to make decisions and carry out our activities. In addition, the clarity of his concepts and his treatment with clients is remarkable.'
'Leonardo Slinger is an excellent professional, a reference in the matter, it is a pleasure to have his advice.'
'Guyer, in labor matters, differs from other firms, for the quality, warmth, relevance and timeliness of the information and especially for the trust they generate.'
'Leonardo Slinger – knowledge, relationships, the opportunity to respond, the ability to give alternatives and openness.'
'The greatest strengths of the team are the reliability in the answers, the availability and the speed with which they deal with the issues. They have a very extensive knowledge, perhaps for so much time working together, that makes them know the realities and particularities of our company.'
Key clients
Citibank
Itau
Sura
Unilever
Divino
Roche
Trafigura
E D F Man Braux
Oracle Coporation
Grupo Schandy
Goldman Sachs
Tienda Inglesa
Julius Baer
Danone
UPM
Rio Estiba
Baliarda
Met Life Uruguay
Citi Asesores
Cabify
Target
Du Pont
Ventus
Tata Consultancy Services
DL Local
Wapipay
Spark Digital
Work highlights
Advised Citibank in a complex labour claim for $1,180,000 filed by an ex investment advisor of the company.
Acted for Iguanafix in a claim for employment benefits filed by an individual who rendered services by means of an electronic application.
Advised KAR Global in the acquisition of the operations of BacklotCars in Uruguay, an online platform for vehicle sales.
Guyer & Regules balances an impressively broad practice in the area of projects and energy. Among its areas of expertise are projects in the gas and solar energy sectors, PPP infrastructure projects and railway financing, among other areas. In a standout matter in 2020, the firm demonstrated its strength in cross-border regional matters through its advice to Boskalis-Dredging International Consortium on all aspects of the dredging of the Martín García Channel between Uruguay and Argentina, a project crucial to the country's export industry. Practice co-head Federico Susena helped lead on the advice; alongside him in coordinating the department is Juan Manuel Mercant, who is noted as a 'benchmark' in the energy sector. Federico Piano is highly praised by clients for finance and energy matters, while Marcos Payssé is a key contact for project finance and development, and Beatriz Spiess has vast experience advising both sponsors and lenders on the purchase, sale and financing of renewable energy projects. Associate Javier Napoleone assists partners on the full breadth of financing matters.
Practice head(s):
Juan Manuel Mercant; Federico Susena
Testimonials
'They are highly qualified professionals, experts in the issues that each one deals with. They also have a multidisciplinary team, so that each area or subject in which we have a need, they have a leading expert in the market.'
'We work with Federico Piano on financial and energy issues. We feel very comfortable working with him, he is a very intelligent and dynamic lawyer, always looking for solutions and unlocking complex issues.'
'Marcos Payssé and Javier Napoleone are both great professionals, who perfectly know the market and the client's needs, giving a very good service.'
'The humane treatment, customer orientation, flexibility and creativity in negotiations make G&R always my recommendation to third parties who ask me for a recommendation for Uruguayan lawyers.'
'Juan Manuel Mercant for me is a benchmark in corporate practice and in particular in the energy sector. His work capacity and technical capacity, customer service, empathy, resilience, kindness, make him one of the best lawyers in the country for me.'
'G&R lawyers are very accessible at any time that they are needed, they always have the best predisposition to meet our requirements and their advice is of very high quality.'
'As strengths, the specific knowledge in the disciplines related to the structuring of project finance stands out. The ability and flexibility to have a constructive discussion and negotiation strategy in the design of contracts. The ability to provide practical solutions to unlock the complexities encountered during the process. They definitely stand out for their professionalism and expertise.'
'I must highlight the role of Federico Piano, who led the project in all its stages and knew how to form a team of professionals who rose to the challenges posed. The rest of the team made up of Javier Naploene and Juan Manuel Mercan, were supporting Piano at all times.'
Key clients
Acciona
Total
Shell
Engie
Tesla Energy
Terna
Axion Energy
Hudson Clean Energy Partners
Aldesa Construcciones
Consorcio PPP Circuito Vial I
Gasoducto Cruz del Sur
Axion and Petrobras
Consorcio PPP Centros Educativos 2
Corporación Andina de Fomento
Power Systems
Cafam Administradora de Activos de Uruguay
Techint
Giacote
GX Technology
Celeo Redes
Interamerican Development Bank
Consorcio PPP Circuito Vial I
Boskalis
Ontur
Montelencor
Engraw Export & Import
DNV GL Services Spain
YNEL
Work highlights
Advising Boskalis-Dredging International Consortium on everything related to the execution of the dredging project of the binational Martín García Channel between Uruguay and Argentina.
Acted for Astidey in the sale of its entire paid-in share capital to renewable energy infrastructure company Cubico.
Advising Ontur International on the review, drafting and legal analysis of several documents, such as: minutes, commercial contracts and distribution of dividends to shareholders.
Guyer & Regules has one of the largest real estate departments in the country and a wealth of experience across the full spectrum of matters, be it major residential or tourist developments, industrial plants, commercial centres or agribusiness land transactions. Its varied client roster includes domestic agribusiness giant UAG, as well as several of the country's largest REITs. A recent highlight saw practice co-head Federico Susena leading advice to Peninsula Rentals on its acquisition of 200 apartments and 50 houses in residential buildings and developments located in Montevideo and Canelones. Beatriz Spiess co-leads the department and is praised for 'her knowledge and mastery of regulations'. She specialises in the structuring, financing and promotion of real estate investments, and has particular expertise in agribusiness. Counsel Carolina Suárez has 16 years of real estate transaction experience, and fellow counsel María Fernanda González is focused on the forestry and agribusiness sectors.
Practice head(s):
Federico Susena; Beatriz Spiess
Testimonials
'We feel very satisfied with the advice and service that they offer us.'
'Professionalism and technical soundness.'
'Beatriz Spiess stands out especially for her knowledge and mastery of regulations.'
Key clients
Inchape
Goldman Sachs
Grupo Éxito
Camposol
REIT Tierras Irrigadas I and II
Mercura Capital
Fideicomiso Tierras del Litoral
Pires Benlian Desarrollos Inmobiliarios
Montes del Plata
Union Agriculture Group (UAG)
TGLT
JHSF Fasano
Sodimac
Vik
REIT Fondo Montes del Este
Ingleby Farms
REIT Peninsula Rentals
Work highlights
Assisting REIT Peninsula Rentals with the acquisition of more than 200 apartments and of 50 houses in different residential buildings and developments in Montevideo and Canelones.
Advised Fideicomiso Financiero Tierras Irrigadas I and Fideicomiso Financiero Tierras Irrigadas II on raising a capital investment of up to $150m with the objective of acquiring rural land for agriculture exploitation.
Advised Almacenes Exito on the potential sale of a major supermarket chain in Uruguay, including the real estate aspects.
Guyer & Regules
' sizeable tax team is comprised of both lawyers and accountants and acts for a plethora of significant companies with interests in Uruguay, as well as government bodies.
Juan Manuel Albacete
, lauded by one client as '
a benchmark in the field and an excellent professional
', leads the practice and assists with both consultancy and litigation. He is a go-to tax professional for major banks and financial institutions, including BBVA, Goldman Sachs and Citibank, as well as other industry heavyweights. Associate
Gastón Lapaz
is a tax disputes specialist and assists Albacete with all major tax matters, with the finance and food sectors being particularly active in 2020. Noted associate
Marcelo Marchetti
further strengthened the team's bench when he arrived from
Ferrere
in January 2021.
Testimonials
'Professionalism and availability. Juan Manuel Albacete stands out.'
'I'd highlight the professionalism in which they work. Also, the training they have is very important.'
'It is worth highlighting the joint work that this area does with specialists from other areas, which allows for an excellent final result. The area has excellent professionals.'
'It is a team of excellent professional level. They always provide comprehensive advice covering all aspects. They also stand out for their great availability.'
'Juan Manuel Albacete is a benchmark in the field and an excellent professional. He has extensive knowledge of the subject and a great deal of experience, which is evident in the extremely valuable advice he gives us. He offers his experience and knowledge to provide practical and appropriate solutions to the problems that arise and having his support is of great value to his clients.'
'Gastón Lapaz is an excellent professional with extensive knowledge and a lot of practical experience as well as a great availability to provide advice and assistance in time to collaborate with the client's needs. He is always ready to give answers to the questions raised and gives us very valuable advice for the interests of the company.'
'I mainly highlight the knowledge of the business and the fact of being permanently updated, which allows identifying risks and opportunities.'
'A very professional and dedicated team. We especially value the contributions of Juan Manuel Albacete.'
Key clients
Citibank
Itaú Bank
Goldman Sachs
Barclays Capital
BNP Paribas Securities
JP Morgan Securities
BBVA
Julius Baer
Heritage
Montes del Plata
Petrobras
Mercado Libre
Total
Emirates
Corporación América
Louis Dreyfus Company
Bunge Agritrade
Cargill
Unilever
Philip Morris
VRG Linhas Aéreas
Tyco
Corporación Vial
Asociación de Bancos
Cabify
Work highlights
Advised Citigroup Global Markets, HSBC Securities and Itau BBA USA Securities as the underwriters in every tax matter regarding the Republic of Uruguay's global bond and UPI bond issuances.
Acted for Upostal Group in all tax matters related to its acquisition of three companies of the UES Group.
Assisted Citibank with a full tax analysis of a $12m loan to Lumin, consisting of a $7m loan agreement and a $5m credit line facility agreement, to finance the activities of Lumin in Uruguay.
Guyer & Regules >
Firm Profile
Guyer & Regules is considered Uruguay's blue-chip firm and the first choice for international and domestic complex legal, accounting and tax work. Such reputation is grounded on the largest group of the most experienced partners in the country, who lead a solid team of internationally trained professionals with experts in every field of business law, and promote a culture of innovation within the firm.
Guyer & Regules is proud to have been consistently recognised as "Uruguayan Law Firm of the Year" for nine years and the first and only Uruguayan firm recognised as "Latin America Law firm of the Year" by Chambers and Partners.
Performing with excellence, expertise, value, responsiveness, creativity and consistency, is not enough. At Guyer & Regules we strive to grow our capacity to develop strong and mutually rewarding personal working relationships with the people who work at the institutions we serve. We help them serve their institutions – our clients – better. And those special personal working relationships are what enable us to leverage all those other qualities they expect from a top firm.
Main international areas of practice:
Banking and finance: Guyer & Regules' leadership is undisputed advising 66% of the private banks active in Uruguay and two out of three large private pension fund managers. It has also been the only Uruguayan firm in the past 30 years in Uruguayan sovereign debt deals.
Corporate, M&A: As Chambers and Partners states, Guyer & Regules "continues to set the pace in the corporate sphere", having participated in 67% of the most important M&A operations in Uruguay in 2020 and representing 69% of the main exporting companies in Uruguay.
Tax and accounting: The team is recognised for its "heavyweight practice at the forefront of the market with a respected bench of practitioners" by Chambers and Partners. It is by far the most senior team on the market, formed by lawyers and CPAs, which allows for greater depth and breadth on tax matters.
Real estate: By far the largest and most experienced team in the country, recognised by Chambers Latin America as a "market-leading department with a deep bench of seasoned professionals offering long-standing expertise in this practice area".
Litigation: Guyer & Regules has a dedicated, strong and successful litigation team with a "solid reputation" as Chambers Latin America states. It specialises in complex civil and commercial litigation and arbitration, domestic and international, generally involving high-profile cases.
Labour: The team excels for its services both in advisory and litigious labour matters. Its lawyers have represented all of the Uruguayan financial entities in the salary collective bargaining agreement negotiations with the banking union and the government, as well as the Chamber of Insurance Companies.
Projects and energy: Our projects and energy team is the largest of its kind in Uruguay. Guyer & Regules is "highly sought after to advise on the full range of energy and natural resources matters", as Chambers and Partners states, with an impressive market share of renewable and oil and gas transactions.
Plaza Independencia 811
11100 Montevideo
Uruguay
Tel: +598 2902 1515
post@guyer.com.uy
​www.guyer.com.uy
Main Contacts
| Department | Name | Email | Telephone |
| --- | --- | --- | --- |
| Corporate & Banking | Nicolás Herrera | | |
| Corporate & Banking | Nicolás Piaggio | | |
| Corporate & Banking | Álvaro Tarabal | | |
| Corporate & Tax | Juan Manuel Albacete | | |
| Real Estate | Federico Susena | | |
| Litigation | Carlos Brandes | | |
| Labour | Leonardo Slinger | | |
| Corporate &Banking | Diego Baldomir | | |
| Corporate & Banking | Juan Manuel Mercant | | |
| Real Estate | Beatriz Spiess | | |
| Intellectual Property, Corporate | Javier Berdaguer | | |
| Corporate & Baking | Marcos Payssé | | |
| Corporate & Banking | Guzmán Rodriguez | | |
| Corporate & Banking | Federico Piano | | |
| Litigation | Mariana Santo | | |
| Corporate & Banking | Corina Bove | | |
| Corporate & Banking | Florencia Castagnola | | |
| Corporate | Alejandro Miller | | |
Lawyer Profiles
| Photo | Name | Position | Profile |
| --- | --- | --- | --- |
| | Juan Manuel Albacete | Juan Manuel Albacete, lawyer, mainly works in the Banking and Corporate Department… | View Profile |
| | Diego Baldomir | Diego Baldomir, lawyer, mainly works in the Banking and Corporate Department. His… | View Profile |
| | Javier Berdaguer | Javier Berdaguer, lawyer, mainly works in Intellectual Property Department and Corporate &… | View Profile |
| | Corina Bove | Corina Bove, lawyer, specializes in corporate and banking matters. Her practice includes… | View Profile |
| | Carlos Brandes | Carlos Brandes, lawyer and notary. Head of Dispute Resolution Team. His vast… | View Profile |
| | Florencia Castagnola | Florencia Castagnola, lawyer and notary. Her practice includes advising financial institutions in… | View Profile |
| | Nicolás Herrera | Nicolás Herrera, , lawyer, with more than 35 years of experience in… | View Profile |
| | John Leaman | John Stuart Leaman, notary, co-heads the Real Estate Department, the largest of… | View Profile |
| | Juan Manuel Mercant | Juan Manuel Mercant, lawyer. Expert in Banking & Finance, Energy & Infrastructure… | View Profile |
| | Alejandro Miller | Alejandro Miller, lawyer, mainly works in the Banking & Corporate Department, specialising… | View Profile |
| | Marcos Payssé | Marcos Payssé, lawyer, mainly works in Banking, Corporate and M&A Department. Partner… | View Profile |
| | Nicolás Piaggio | Nicolás Piaggio, lawyer, mainly works in the Banking and Corporate Department. His… | View Profile |
| | Gerardo Porteiro | Gerardo Porteiro, lawyer, mainly develops his activities in the Banking and Corporate… | View Profile |
| | Leonardo Slinger | Leonardo Slinger, lawyer, mainly concentrates his activities in the Labour and Litigation… | View Profile |
| | Beatriz Spiess | Beatriz Spiess, notary. Specializes in structuring, financing and promotion of real estate… | View Profile |
| | Federico Susena | Federico Susena, notary. Real Estate: mainly in structuring of real estate investments,… | View Profile |
| | Álvaro Tarabal | Álvaro Tarabal, lawyer. His vast practice includes financing in the public and… | View Profile |
Staff Figures
Other fee-earners : 87 Total staff : 380
Languages
Spanish English Portuguese German French
Other
Partners : 18