Firm Profile > Goodwin > Boston, United States
Goodwin
Offices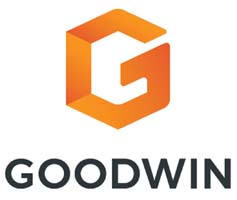 Goodwin
100 NORTHERN AVENUE
BOSTON MA 02210
United States
Goodwin > The Legal 500
Rankings
The technology team at Goodwin garners praise for its excellent reputation and established strength in complex M&A-related deals; recent highlights include advising Twilio, a cloud communications platform-as-a-service company, on its $3bn acquisition of SendGrid, an email marketing company. John Egan, Kenneth Gordon and Silicon Valley-based Anthony McCusker jointly head the practice. Alessandra Simons is a key name in San Francisco. Stephen Charkoudian is also highly regarded. Apart from McCusker and Simons, all named lawyers are based in Boston.
Headed by two pre-eminent partners, Gil Menna and Ettore Santucci, Goodwin represents both public and private REITs in a variety of transactions, examples of which include equity and debt offerings for existing clients, IPOs, joint venture investments and REIT-related M&A. Splitting their time between Boston and New York, Menna is also a go-to name for capital markets and corporate governance matters, while Santucci is a name to note for securities offerings, cross-border transactions and executive compensation. In a recent market leading highlight, the department acted for TIER REIT in relation to its merger agreement with Cousins Properties, a transaction which created a Class A office REIT with a combined portfolio totaling over 21m square feet located across the Sun Belt. New York-based Yoel Kranz is another key figure in the team; he has expertise in derivatives matters and acts as securities counsel to various REITs.
Goodwin, with 'a team that has an exceptional work ethic matched by their knowledge of the law' , has developed a strong reputation for handling criminal defense matters for corporations and their executives, in enforcement and investigatory matters. It has particular experience representing educational establishments in sensitive investigations arising from staff misconduct, corporates and individuals in FCA matters, and issues arising out of emerging technologies – including in relation to cryptocurrencies. Other areas of expertise for the group include matters concerning securities fraud and insider trading allegations. The team is led from New York by Richard Strassberg whose expertise spans FCPA issues and the education sector. Boston's Joseph Savage has experience in parallel civil and criminal cases, while Silicon Valley's Grant Fondo is noted for his knowledge in digital currencies and blockchain.
Nationwide mass tort expert Goodwin is active in a broad range of industries, with a focus on high-stakes litigation, particularly for companies specializing in innovation technology within the pharmaceutical, medical device, and consumer products sectors. The multi-disciplinary team of medical, scientific and regulatory experts is led by Glenn Kerner, who has expertise in complex mass torts and multi-district litigation. Other key fiugres include Nilda Isidro, who focuses on products liability law; Joanne Gray, who is known for acting in product liability and mass tort claims, as well as compliance and recall issues relating to FDA regulated companies; and counsel Carla Karp, who has experience acting for pharmaceutical manufacturers in state and federal courts, including appeals. All named lawyers are based in New York.
Strong across the board in all types of traditional securities litigation, investigations and enforcement matters, Goodwin has developed a prominent position in niche areas of the market. It is a leading firm for the defense of financial institutions in excessive fees cases and as underwriters of initial public offerings and capital markets transactions in class action and mortgage-backed securities-related litigation. It is also much sought after by corporates and individuals in the blockchain and digital currency industry to handle SEC investigations and enforcement actions, and class action litigation. It is also highly regarded for its work in cases involving companies in the life sciences, biotechnology and pharmaceuticals industries. It also has extensive expertise in the technology, real estate and financial services sectors. Anthony Fiotto in Boston and Brian Pastuszenski in New York lead the firm's litigation department in which Boston-based Deborah Birnbach is a standout practitioner in class action defense and regulatory investigations. In New York Douglas Flaum, who joined from Paul Hastings LLP, and Marshall Fishman are experts in financial services litigation.
'Extraordinarily strong on emerging trends', Goodwin's specialist expertise in the technology and life sciences spheres continue to pay dividends in the current market and its share of US equity offerings has grown accordingly. Traditionally weighted towards issuer mandates, the firm's increasing profile in the equity space has seen its underwriter practice flourish in recent years and it is becoming  a regular fixture on high-profile bank-side mandates. Among its recent headlines, the firm advised Slack on its direct listing, becoming only the second firm to advise on a direct listing for a large technology company. Silicon Valley-based technology specialist Richard Kline led the Slack deal and is highlighted by sources as a 'rock star'. Boston-based Daniel Adams co-heads the group alongside Kline and has a strong emphasis on real estate and REIT-related transactions. Boston-based life sciences chair Mitchell Bloom is 'respected across the entire industry' and specializes in representing emerging life science companies, venture capital firms and investment banks. The group also includes the 'committed, hard-working and driven' Siavosh Salimi in New York and An-Yen Hu, who splits his time between Silicon Valley and San Francisco.
Goodwin
's life sciences group excels in a number of areas, notably: venture capital and early stage financing, capital markets, M&A, collaborations and licensing transactions. Among its recent standout work, the team advised Ipsen on its $1.31bn acquisition of Clementia Pharmaceuticals, handled BlueRock Therapeutics's $1bn acquisition by Bayer, and acted for Relay Therapeutics in the completion of its $400m Series C financing. The team also has significant IP litigation and counseling, commercial litigation and regulatory expertise. The practice group is jointly led by Boston-based 
Mitchell Bloom
, who has a strong reputation advising clients from their launch, through multiple rounds of venture financings, to their initial public offerings, and through corporate and other strategic matters. Also recommended is 
Kingsley Taft
, who counts Semma Therapeutics, Foundation Medicine, Teva Pharmaceuticals, and Moderna Therapeutics as clients. Other names to note include 
Sam Zucker
 who joined the Silicon Valley office from 
Sidley Austin LLP
, San Francisco-based 
Maggie Wong
, and 
Duncan Greenhalgh
, who represents venture capital firms in intellectual property matters relating to their portfolio company investments, and also acts for investment banks in connection with capital market transactions.
Alexander Varond
 is a standout senior associate in the team; he focuses on FDA matters.
Goodwin assists domestic and international clients with all licensing matters arising along their business life cycle, from the structuring and evaluation of patent portfolios at the growth stage to the design and implementation of licensing structures to enable and facilitate commercialization, including research and development agreements and collaboration agreements. The practice is particularly active for venture-backed companies and the patent procurement services of academic institutions whom it regularly assists with the licensing aspects of financings, including public offerings, and M&A transactions. The life sciences and technology sectors account for the bulk of cases taken on by the team of practice heads Christopher Denn in Boston and James Riley in the Silicon Valley office. The firm's adjacent teams in regulatory and compliance, tax, employent, data privacy and litigation allow clients to entrust complex cases to the firm in their entirety. Life sciences experts Michael Shuster and Kevin Kabler, based in Boston and San Francisco, joined from Fenwick & West LLP in February and March 2019 respectively. Sanjeet Dutta, whose experience includes blockchain and cybersecurity-related matters, joined from Steptoe & Johnson LLP the following April, with new arrival Lily Wound, a pharma and biotechnology specialist formerly at WilmerHale, strengthening the New York office.
Goodwin's Boston-based ERISA litigation practice is currently engaged in significant class actions for plan sponsors, which concern the usage of proprietary funds in their investment strategies – a rapidly developing trend in ERISA litigation. Typical clients for practice head James Fleckner and Alison Douglass in this space are sourced from the asset management, healthcare and financial services sectors. High-profile insurance entities are counted on the client roster, which retain the team for disputes concerning loan practices and the pay out of lifetime insurance benefits. Fleckner and Jack Cleary are also handling a suite of stock-drop cases, including unique allegations concerning the mismanagement of failed ESOP plans. The team also enjoys a steady stream of mandates involving excessive fee charges and challenges to the denial of retirement health benefits.
Goodwin has been particularly active in handling mandates from the life sciences space; recent highlights for the team include advising health and wellness company Before Brands on its collaboration with Nestlé Health Science, involving licensing agreements for the client's products outside the United States. Lisa Haddad, John Haggerty and Deborah Birnbach jointly head the public M&A practice out of the Boston office.
Goodwin's corporate practice has a strong focus on the life sciences, technology and real estate industries, where it handles a range of public and private M&A, LBOs, spinoffs, divestitures and going-private transactions. The firms-wide corporate group is led by seven partners, all of whom bring unique specializations to provide clients with end-to-end service. Stuart Cable leads the global M&A practice, and counsels boards of directors and management teams on corporate governance, M&A, and disclosure and securities law. The public M&A group is jointly led by Lisa Haddad, John Haggerty, and securities and M&A litigator Deborah Birnbach. Key figures in the tech-focused M&A group include Kenneth Gordon, Anthony McCusker in Silicon Valley, and John Egan III. Egan and McCusker specialize in acting for emerging technology companies, while Gordon focuses on M&A and corporate finance for established corporates and venture capital funds. Alessandra Simons in San Francisco is recommended on the more junior end of the partnership. Named attorneys are in Boston unless otherwise stated.
Led by Joseph Johnson III in Boston, Goodwin's shareholder activism defense practice advises boards on responding to activist campaigns from some of the most prominent activists in the market, such as Elliot Management and Starboard Value. In the past year, the firm was particularly active in representing clients in hostile and unsolicited bids from activist investors, and was praised by one client as a 'proven strategic advisor' in 'bet-the-company' matters such as these. A number of the team's cases were in the healthcare and life sciences sectors, which are growing areas for activism more generally. Other names to note are Lisa Haddad, Deborah Birnbach and John Haggerty, who jointly chair the public M&A and corporate governance practice.
Goodwin's bicoastal practice has established capabilities in handling work from the life sciences sector, however the firm is also adept at tech and cybersecurity matters. The team acted for biopharmaceutical company AlloVir in its $120m Series B financing led by Fidelity Management and Research Company. Mitchell Bloom leads the life sciences practice; Silicon Valley's Anthony McCusker, Kenneth Gordon and John Egan co-lead the technology team. Bill Schnoor and Kingsley Taft are also noted. Named attorneys are based in Boston unless otherwise stated.
Goodwin
's privacy and cybersecurity team advises its impressive client roster on data breaches and incident response, regulatory investigations, litigation, data due diligence in transactions and strategic compliance. The group counts healthcare and life sciences among its particular sector specialities. Boston-based litigator
Brenda Sharton
 and counsel
David Kantrowitz
 are highlighted for their experience in a range of privacy and data security incidents. Sharton leads the practice group, which also includes Washington DC-based
Karen Neuman
, a name to note for strategic regulatory and compliance advice, and 
Brooks Brown
, who splits his time between the DC and LA offices and has experience defending consumer class actions, government investigations and enforcement actions alleging violations of the TCPA.
Goodwin's multi-disciplinary fintech team handles a range of regulatory, transactional and litigious matters across the sector, with a particular focus on consumer-focused financial services. Scott Joachim, who splits his time between the Sillicon Valley and New York offices, jointly leads the practice alongside Mike Whalen and Amber Dolman in Washington DC and Boston, respectively. Joachim focuses on private equity and venture capital transactions; Whalen has experience of regulatory and transactional matters in the digital currency and blockchain sectors; and Dolman is rated for her breadth of experience in corporate and private equity transactions, and securities law. Other names to note include Silicon Valley-based litigator Grant Fondo, Mitzi Chang in San Francisco, and Kimberly Monty Holzel in Boston, a key contact for advice on consumer financial services regulatory compliance. John Servidio recently joined the New York office from Winston & Strawn LLP; he brings expertise in capital markets, digital currency and blockchain technology, and financial products.
Goodwin's zoning and land use group is an integral part of a cross-disciplinary nationwide team of lawyers, all making up the firm's wider real estate industry group. Martin Healy leads the development and permitting team, which advises on issues across the entire spectrum planning and zoning, such as project permitting, due diligence, subdivision control, historic preservation, environmental liabilities, and specialized tax treatment. Of counsel Lawrence Kaplan has extensive experience of permitting and transactional matters relating to large-scale development projects, and Robert Fitzgerald has expertise both in permitting and environmental review issues for residential, commercial and industrial projects. Jennifer Schultz is also recommended. All named attorneys are based in the Boston office.
Goodwin navigates mergers, acquisitions and private equity investments alike through FTC and DOJ merger processes including second requests. Located in Washington DC, Andrea Murino is in joint charge of the 'tight-knit and highly functioning' department together with Boston-based Christopher Holding. Murino counts healthcare, technology and life sciences businesses across the country among her clients. Assessment of transaction-related antitrust risks and applicability of merger clearance filing requirement in the US and abroad are strong suits of Paul Jin in Washington DC. Operating out of the same office, associate Matthew Wheatley advises clients on HSR filings and in-depth merger review investigations.
The 'highly efficient and enthusiastic' team at Goodwin consistently finds itself at the forefront of appellate law issues arising in the field of IP. This core strength was evidenced in a recent case led by practice co-chair William Jay, who helped to win a 9-0 judgment in favor of the respondent in the US Supreme Court case of Helsinn Healthcare S.A. v Teva Pharmaceuticals USA Inc. The dispute called for interpretation of the Patent Act's provisions barring an inventor from obtaining patent rights following a commercial exploitation of the invention. Clients also praise the group for its IP litigation work at the Federal Circuit, where it successfully argued for Dr. Reddy's Laboratories in relation to the drug Suboxone; Boston-based practice co-head Kevin Martin led the appellate effort on that matter. Further, the practice is noted for its successful track record in representing financial institutions at the First and Second Circuits; Brian Burgess is a key contact for financial services litigation. David Zimmer (Boston) and Jaime Santos are also key figures in the team.
Goodwin's financial services team focuses primarily on defending consumer class actions, but also has experience in RMBS litigation, disputes arising from M&A and SEC matters relating to public offerings. Washington DC partner Thomas Hefferon is a leading consumer financial services litigator, boasting a track record of success in complex consumer class actions, multi-district disputes and government investigations. Hefferon has also built a strong reputation as an appellate lawyer in the consumer financial services industry, having tried dozens of cases for defendants. New York partner Richard Strassberg acts for defendants in white-collar cases, as well as SEC enforcement proceedings and FCPA investigations; he is currently acting for John Stumpf, former chairman and CEO of Wells Fargo, in litigation arising from payments allegedly offered to regulators for the settlement of certain other allegations against the bank. Also recommended are Anthony Fiotto, who specializes in representing private equity firms and venture capital funds in securities litigation, and James McGarry, a name to note for multi-district class actions in the banking space. All named attorneys are based in Boston unless otherwise stated.
Life sciences, real estate and technology are the key sectors on which 
Goodwin
 focuses, handling transactional work and consequent litigation for large corporates. It acts for buyers and sellers of life sciences, pharmaceutical, and healthcare-related businesses, drawing on specialist sector expertise in biotechnology, pharmaceuticals, medical devices, medical technology, diagnostics, healthcare IT and healthcare services. It also acts in matters arising from the sale and merger of real estate investment trusts. The firm has been active in federal courts around the country with proxy contest cases under Section 14a, as well as handling post-closure cases in the Delaware courts. The '
stellar
'
Deborah Birnbach
in Boston leads the M&A litigation practice. Partner
Michael Jones
, who works between the Boston and Silicon Valley offices, is a growing talent in white-collar and business litigation who frequently acts in shareholder derivative suits.
From offices in Massachusetts, New York, Washington DC and California, Goodwin provides litigation support to clients across a range of industries, including pharmaceuticals, food, medical devices, asbestos and building materials. Practice head Glenn Kerner is based in New York and has experience in products liability litigation nationwide, with particular skills in complex mass torts and multi-district litigation. Also recommended is Sarah Frederick in Boston, who represents clients in product liability mass torts, antitrust-related MDLs and putative class actions, as well as in challenges to agency actions at the trial and appellate levels.
The multi-disciplinary team of medical, scientific, and regulatory experts at Goodwin has experience in pharmaceuticals, medical devices, asbestos, building materials, manufacturing processes, and chemical exposures. The firm is recongnized for its trial experience, thought it also routinely advises clients on regulatory compliance, litigation avoidance, and risk reduction measures. New York-based Glenn Kerner leads the practice and is known for product liability litigation on a national scale, including cases involving drugs, medical devices, products with new technologies and food. He has particular expertise in complex mass torts and multi-district litigation.
Goodwin leverages its Boston headquarters to position itself as a key player in life sciences and technology-related debt issuances. Other strings to its bow include its ability to lean on its top-tier REITs practice to advise issuers and underwriters on major offerings in the REIT space. The broad group handles the full scope of private and public, debt and convertible notes offerings, with significant capability in cross-border transactions. Group co-chair James Barri splits his time between Boston and New York and is recommended for his expertise in life sciences, technology and convertible note transactions. Department co-chair Ettore Santucci also operates from Boston and New York and his practice has a strong real estate dimension. Silicon Valley-based Richard Kline is recommended for technology offerings.
Especially renowned for its powerful life sciences and pharmaceutical practice, Goodwin is one of the most active Hatch-Waxman litigation firms in the US, offering in-depth experience in biosimilar litigation and is well-versed in medical device disputes. A string of technology clients attests the practice's strength in litigation regarding technology patents. With its high performance appellate team and versatile PTAB group that has experience in representing patent owners and petitioners in IPR and covered business method review proceedings, the firm remains an excellent choice for high-stakes patent litigation. ITC investigations are also included in the portfolio of skills offered by Boston-based practice head Daryl Wiesen's team. Other key offices are in Silicon Valley, New York and Washington DC. In 2019, Jennifer Albert retired and Cynthia Lambert Hardman became an Administrative Patent Judge.
Goodwin advises fund complexes, independent directors, and boards of trustees, as well as service providers such as custodian banks, retirement plan service organizations, and securities lending agencies. The team is particularly active in transactional work, with experience in advising asset management firms on acquisitions and mergers both on the buy and sell sides. The practice is jointly led by Marco Adelfio, Paul Delligatti, and Christopher Palmer: Adelfio and Palmer are based in Washington DC, and advise on transactions, SEC regulation, and governance, while Delligatti, also in DC, is noted for his experience of ESG funds. Recently promoted partner Jason Monfort is also recommended.
Heavily focused on West Coast venture capital and tech investment, the team at 
Goodwin
advises a combination of established private equity houses, venture capital firms, and first-time managers on the formation of traditional buyout funds, and targeted tech and innovation funds, ranging from the middle-market to multibillion-dollar mega-funds. Clients include US, European, and East Asia-based investors and sponsors, reflecting a notable capability in cross-border work, with recent fundraisings for Advent and Macquarie involving investors from all three jurisdictions. The practice is led by DC-based 
Paul Verbesey
, who focuses on a variety of fund formation and structuring matters for private equity and targeted industry funds. Also recommended is
Anthony McCusker
 and 
Mitchell Bloom
in Silicon Valley and Boston respectively, as well as venture capital-focused
Thomas Beaudoin
 in Boston, who works with funds in key technology centers in the US and abroad, 
David Watson
, a former investment funds chair, also in the Boston office.
A proactive expansion strategy has brought a number of key additions to Goodwin's employee benefits and executive compensation practice. Previously of Stroock & Stroock & Lavan LLP, Silicone Valley-based Patrick Menasco has reinforced the team's ERISA fiduciary and prohibited transaction knowledge, while New York-based Andrew Barton – recently acquired from Kirkland & Ellis LLP – adds strength to cash and equity-based compensation negotiations in mid-cap private equity transactions. Silicone Valley-based practice head Lynda Galligan and associate Monica Patel have a strong portfolio of technology and life sciences clients, having recently advised on high-profile IPOs in the biotechnology and ride-hailing sectors. Practice head Scott Webster, Natascha George and James Mattus are leading names in the Boston office, with particular strength in advising REITs, financial services companies and clients in the software sector.
Goodwin's corporate governance team has experience advising public company clients on a full range of governance issues, from compliance, succession planning and compensation issues, to securities litigation and shareholder engagement. Contacts include Joseph Johnson III, Stuart Cable and Lisa Haddad in Boston, and Gilbert Menna in New York.
Goodwin's real estate team has experience of a huge variety of corporate real estate matters, and is particularly well known for its work in the hospitality and leisure sector where it handles acquisitions, management and franchise agreements, work-outs and restructurings as well as labor, employment and regulatory matters. The real estate industry group is headed by Minta Kay from the Boston office. The team supports a client base of owners and operators, tax-exempt organizations, real estate funds and institutional investors at all stages of their real estate investments. Other key names are Diana Brummer and Dean Pappas, based in New York and Los Angeles, repsectively.
Goodwin is extremely active in the crypto space, having advised on a number of fund launches, spin-outs, and token issuances for closed and open-ended funds investing in cryptocurrencies and digital assets. The firm has a particularly strong regulatory practice, advising on SEC examinations, helping to conduct internal compliance reviews, and designing internal procedures to ensure compliance. Washington DC-based counsel David Solander leads the team, which has recently emphasized its work assisting start-up funds transition into maturity, a notable example being MultiCoin Capital Partners, which now has $50m of assets under management. The team counts Electric Capital Partners and Discovery Capital Management among its key clients.
Goodwin's benefits practice focuses on executive compensation matters, with clients in the technology, life sciences, financial services and private equity companies counted on the client roster. Advisory services encompass the implementation and operation of equity-based plans, 409(a) and 457(b) deferred compensation plans, and other non-qualified arrangements. Additionally, Washington DC-based Patrick Menasco and Boston-based practice head Scott Webster's solid Title 1 knowledge sees them advising a suite of financial institutions on pension plan investments, prohibited transaction exemptions and dealings with the DOL.
With key offices in New York, Boston, and Santa Monica, Goodwin focuses on tech and innovation-industry investors, advising mid-market clients on strategic investments, buyouts, and exits. The firm has strengths both in early and late-stage investments, and is rated for its representation of clients in the healthcare, technology, and software industries, both on the fund and target side. The practice is jointly led by Andrew Weidhaas in the Santa Monica office, alongside the Boston-based duo of Michael Kendall and John LeClaire. As well as expanding the firm's reach to Silicon Valley with the Santa Monica office, the private equity team has seen a number of lateral hires in the last year, welcoming Joshua Soszynski and Matthew Mauney from Kirkland & Ellis LLP, Timothy Clark from Sidley Austin LLP, Lauren King from Gibson, Dunn & Crutcher LLP, and Kristopher Ring from Katten.
Goodwin's tax team has experience advising corporates and private investment funds on a range of corporate transactions. The team is also noted for its 'in-depth knowledge and experience' in REIT taxation, where names to note include practice head Neal Sandford and, San Francisco-based Kelsey LeMaster, 'one of the most outstanding REIT tax law attorneys in the United States'. Also recommended are Karen Turk, who has experience structuring real estate and venture capital transactions, and Howard Cubell, who specializes in acting for private equity sponsors. All other named attorneys are based in Boston unless stated otherwise.
In the field of restructuring and bankruptcy, Goodwin is mainly involved in debt restructuring, lessor claims, and Chapter 11 cases. The New York-based team, led by Michael Goldstein and William Weintraub, is described as 'supportive and patient, as well as aggressive as necessary', and it excels at handling insolvency-related disputes, liability claims, and mass tort bankruptcies. In April and May 2019, the team grew twice, with the additions of Howard Steel and Nathan Schultz from Fox Rothschild LLP and Brown Rudnick LLP respectively.
Goodwin >
Firm Profile
Firm overview: Goodwin's 1,000 plus lawyers across the United States, Europe, and Asia excel at complex transactions, high-stakes litigation, and world-class advisory services in the financial, life sciences, private equity, real estate, and technology industries. The firm's unique combination of deep experience serving both the innovators and the investors in a rapidly-changing, technology-driven economy sets Goodwin apart. To learn more, visit www.goodwinlaw.com and follow Goodwin on Twitter (@goodwinlaw), LinkedIn (@goodwinlaw), Facebook (@join_goodwin), and Instagram (@join_goodwin).
Main areas of practice: Complex transactions, high-stakes litigation and world class advisory services in the financial, private equity, real estate, technology and life sciences industries.
Complex transactions: A sophisticated, versatile team of transactional lawyers provides broad market perspective, serves as a business partner on strategic transactions, and advises clients on structuring and developing new and innovative products and services. Areas of expertise include buyouts and acquisitions, capital markets, debt finance, financial restructuring, growth equity, impact and responsible investing, mergers and acquisitions, new company formation, private investment funds, REITs and real estate mergers and acquisitions, search funds, tax, and venture capital.
World-class advisory services: Experienced regulatory lawyers, including many former high-ranking government officials and regulators, guide clients through the complex conundrum of government regulations with insight and ingenuity – always with an eye toward maximizing business opportunities while minimizing risk. Areas of expertise include antitrust and competition, banking, environmental, ERISA and executive compensation, FDA, FinTech, global trade, investment management, labor and employment, and privacy and cybersecurity.
High-stakes litigation: Goodwin litigators provide cost-effective, results-oriented representation in high-profile matters across the United States. The firm employs a holistic, cross-disciplinary approach, helping clients settle disputes, mitigate risk, defend their interests, and, in most cases, avoid trial altogether. Areas of expertise include appellate, business and commercial, government investigations and enforcement, environmental, financial industry, intellectual property, labor and employ-ment, privacy and cybersecurity, products liability and mass torts, securities, trade secrets and restrictive covenants, and white collar defense.
Top Tier Firm Rankings
Firm Rankings