Goodwin > Boston, United States > Firm Profile
Goodwin
Offices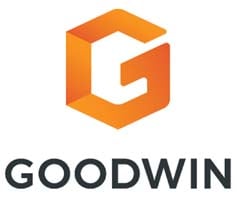 Goodwin
100 NORTHERN AVENUE
BOSTON MA 02210
MASSACHUSETTS
United States
Goodwin > The Legal 500
Rankings
Recommended for '
great service, knowledgeable staff
',
Goodwin
's experienced team is co-led by Boston-based
David Apfel
,
Bill Growney
in Silicon Valley,
Brett Schuman
 and
Jennifer Fisher
, who are both in San Francisco. The core pillars of the firm's cannabis practice are litigation, transactions and regulatory advice to industry players. Intellectual property is another stand out discipline for the team, with one client praising the firm's
'unique perspective as they have executed some of the only multi-state IP licensing deals for infused product manufacturers'.
Another name to note in the space is San Francisco-based associate
Nicholas Costanza
, who works across the area on litigation, regulatory and IP matters.
Goodwin
's practice continues to attract attention in the market, especially for its prowess in complex licensing agreements for a solid technology and life sciences client base. Its bench of skilled attorneys, which was further reinforced in November 2021 with the arrival of a new California-based partner
Beni Surpin
, who joined from
Foley & Lardner LLP
, is led by technology expert
James Riley
, and
Catherine McCarty
, whose main expertise falls within the life sciences sector. They co-steer the team from Silicon Valley and Boston respectively. The group assists clients through all stages of growth, by evaluating, structuring, drafting and negotiating licenses, collaborations and other strategic technology transfer transactions across a variety of technologies. It is also well known for handling the licensing aspects of financings, including public offerings, and M&A transactions. Additional expertise in the biotechnology market is brought in by
Kingsley Taft
, who operates from the Boston office, where technology, data and IP expert
Stephen Charkoudian
is also based. Washington DC's
Noelle Dubiansky
, who represents biotechnology, pharmaceutical, medical device, and other life science companies in a wide range of mandates, is another name to note.
Goodwin
has an excellent track record for representing companies and investors throughout all stages of the venture life cycle. The firm's Boston team is especially noted for its support to clients in the life sciences sector, where it is '
one of the most respected, most experienced, best staffed, and best equipped
' firms in the market. This is complemented by good credentials in the technology space which has seen growth in mobility tech, robotics, edtech and blockchain-related work, and where partners such as
John Egan
and
Kenneth Gordon
in Boston, and
Anthony McCusker
in Silicon Valley hold sway. Boston-based partners
Mitchell Bloom
 and
Kingsley Taft
co-chair the life sciences side of the practice, which benefits from the expertise of partners such as
William Collins
and the versatile and
'highly
knowledgeable
'
William Schnoor
, who is '
one of the most experienced venture/ biotech lawyers in the industry
' and also handles technology-related matters.
Goodwin
 has a '
phenomenal
' technology transactions practice, noted for its '
exceptionally talented lawyers
' and for being '
extremely helpful across the board
'. The firm offers an impressive platform that supports clients through all stages of the lifecycle, including strategic and corporate finance issues as well as domestic and cross-border licensing, collaboration and joint venture agreements. The cross-practice group also advises on related data privacy and cyber-security issues. At the top end of the scale, it has an extremely good track record on major M&As, SPAC mergers and equity and debt capital markets listings. The team boasts an deep bench of lawyers and is co-chaired by '
stand out
' corporate partner
Anthony McCusker 
in Silicon Valley, and Boston-based partners
Kenneth Gordon
and
John Egan
. Other key individuals include IP transactional expert
Stephen Charkoudian
, corporate finance partner
Joseph Theis
,  Silicon Valley's '
exceptional
' capital markets partner
Bradley Weber
, and the '
invaluable
'
Jacob Osborn
in Washington DC, who is experienced in digital currency and blockchain. All partners based in Boston unless otherwise stated.
Goodwin
maintains an active REITS practice and is considered the '
go-to
' for many public and private REITS and investment banks in top-end transactional mandates. Jointly managed by
Gil Menna
 and 
Ettore Santucci
, who also co-chair the firm's real estate M&A practice, the group handles equity and debt offerings, IPO's and joint venture investments. Key contacts include
Scott Chase
who is active in securities matters, and transactional lawyer 
Mark Opper
who advises private real estate investment funds. In a representative matter, the team represented a syndicate of three multinational investment banks as lead underwriters in an IPO of Philips Edison & Company. Another key name is counsel
Christopher Versfelt
who is recommended for SEC compliance and corporate governance matters. In New York,
Yoel Kranz
has over two decades of experience advising corporate clients in M&A, as well as REITS. Lawyers are in Boston unless otherwise stated.
Goodwin
is heavily involved in engage in deal-related litigation in state and federal courts across the US, as well as having a strong record of success in heavyweight matters in the Delaware Court of Chancery. The firm also arbitrates M&A disputes domestically and in international arbitration tribunals. It has a unique focus on key industry verticals, notably life sciences, technology and real estate, in which it frequently handles high-stakes matters.
Deborah Birnbach
leads the practice from Boston and specialises in M&A and securities litigation.
Michael Jones
, who splits his time between Boston and Silicon Valley, is a key adviser to technology, life sciences and REIT clients. He successfully obtained dismissals of lawsuits in four federal courts for Myokardia, in which plaintiffs alleged violations of Sections 14(a) and 20(a) of the Securities Exchange Act of 1934 in connection with the company's $13.1bn sale to BMS. Boston's
Caroline Bullerjahn
is also recommended for M&A matters and post-closing disputes.
At
Goodwin
, the lawyers are praised by clients as '
top-flight, responsive and knowledgable
', demonstrating '
extensive knowledge, responsiveness and profound understanding of the material
' in its standout work on securities class actions for companies in the life sciences, biotechnology and pharmaceutical industries, as well as the defense of financial institutions. It has also developed a strong presence in SEC investigations and enforcement actions, and securities class action litigation for companies and individuals in the blockchain and digital currency industry.
Deborah Birnbach
and
James McGarry
in Boston lead the practice. Birnbach secured the dismissal of a securities class action against biopharmaceutical company Alkermes plc, in which plaintiffs alleged misstatements and omissions regarding the development program for a clinical stage drug for major depressive disorder.
Brian Pastuszenski
is a highly respected litigator who continued his impressive track record working with fellow New York partner
Daniel Roeser
 in defending two syndicates of investment banks that underwrote over $158m in secondary offerings of common stock of Axogen, Inc. alleging that that the company misrepresented the size of the market for its products.
Goodwin
's longstanding status as one of the leading equity capital markets practices in the US has afforded it consistently active practice in IPOs, PIPEs, private placements and other equity offerings. The firm has benefitted from its commitment to buoyant sectors such as tech, life sciences, healthcare and real estate, and achieved substantial growth in 2021 by deal count. Its market-leading life sciences practice provides the basis for a steady pipeline of IPO and other equity offering engagements. The capital markets team also has a dedicated SPAC group, committed to SPAC offerings and de-SPAC transactions.
Edwin O'Connor
 has an outstanding record in life sciences sector offerings, while
Siavosh Salimi
is rated for both tech and life sciences transactions. Silicon Valley partner
Bradley Weber
has played a pivotal role in booting the firm's standing in the tech space, as has Boston partner
Joseph Theis
in tech and healthcare.
Well known for the strength of its global  life sciences practice,
Goodwin
offers US clients advice on financing transactions and regulatory approvals. The team has been strongly involved in capital markets advising on multimillion-dollar IPOs and a number of follow-on financings. Its M&A capacity is also strong with Boston-based
Stuart Cable
and co-head
Mitchell Bloom
 advising Myokardia on its $13.1bn sale to Bristol Meyers Squibb. The FDA team, meanwhile, advises on pre and post-market matters,  with a recently established late-stage drug division established. It also has expanded its patent litigation offering with the hiring of Los Angeles-based
Kristin Havranek
from
Wilson Sonsini Goodrich & Rosati
in August 2021. San Francisco-based
Can Cui
joined from
Morrison Foerster
in March 2021, with a practice advising on regulatory and transactional matters in the Chinese market.
Kingsley Taft
co-leads the team from Boston, advising on licensing and collaborations with
Robert Puopolo
. Also noteworthy are Washington DC-based Hatch-Waxman expert
Alexander Varond
, and Boston-based emerging companies expert
Danielle Lauzon
.
Based in Boston, the multidisciplinary higher education practice at
Goodwin
is frequently instructed by leading schools and colleges on the full range of matters, with strength in investigations. The team is noted for its strong litigation background and includes key names such as
Jennifer Chunias
who holds various education instructions and private healthcare companies as key clients. On the white-collar defense side, 
Joseph Savage
 is the main contact, specializing in complex civil litigation for individuals. The team has sector strength across IP and has bolstered its cyber security and privacy offering with the arrival of partner
Boris Segalis
 from 
Cooley LLP
in early 2021.
Goodwin
's '
practitioners have high profiles in the industry
', making the firm a leading choice for a broad range of service providers in the funds space, including major custodian banks, transfer agents, retirement plan service organizations and securities lending agents, as well as fund complexes and independent directors. The practice is distinguished by its standout strength in the contentious space, and its proven track record of successfully handling litigation, investigations, and enforcement actions involving participants in the registered fund industry. Another area of expertise for the group is the representation of companies which issue and sell variable life and variable annuity insurance products, and the mutual funds which serve as the funding vehicles for those insurance products. The core team comprises Washington DC-based attorneys
Christopher Palmer
,
Marco Adelfio
and
Paul Delligatti
– they are praised by one client for their ability to '
nurture associates and get them engaged with the client, providing comfort of continuity and growth
'.
Goodwin
continues to demonstrate its expertise through work with clients such as the New York Life Insurance Company and Natixis Investment Managers. The firm pursues a client partnership model, working in close collaboration with clients across contentious proceedings and broader strategy. The firm includes Boston-based practice head
James Fleckner
and
Alison Douglass
, as well as Boston-based partner
Dave Rosenberg
and Washington DC-based partners
Matthew Riffee
and
DeMario Carswell
.
A team which combines regulatory and transactional expertise,
Goodwin
advises on a wide range of corporate deals, calling upon the firm's antitrust and competition knowhow to provide early regulatory planning advice. The practice is chaired from Boston by
Lisa Haddad
,
Deborah Birnbach
,
John Haggerty
 and
Stuart Cable
, a specialist in the life sciences sector. Over on the West Coast,
Alessandra Simons
serves as co-chair of the technology practice and is carving out a prominent reputation for deals within the sector.
Goodwin
's data, privacy and cybersecurity team is known for assisting clients in the design and implementation of data-driven products and the protection of privacy rights, and during transactions and related agreements. Incident preparedness and response are also at the center of the offering, as are litigation and investigation matters. In October 2021, former vice president and chief knowledge officer at the IAPP
Omer Tene
joined the firm as partner and is now the firm's Boston-based practice head alongside his New York counterpart
Boris Segalis
. In the same locations are, respectively,
David Kantrowitz
and
Jacqueline Klosek
, former counsels both promoted to partner in October 2021. Kantowitz received praise for being
'patient and effective at delivering both good and bad news'
and was described as
 'a top-notch strategic thinker.' 
Goodwin
has one of the leading technology practices in the market, and this expertise extends to the fintech market where it represents a wide range of start-ups and established providers. These include leading companies in the payments, wealth management, alternative lending, insurtech, and digital currencies and blockchain space. In addition to corporate finance and high-end transactional matters, the firm provides strong support on partnership agreements with banks and financial services companies, as well as contentious and non-contentious regulatory, privacy and cybersecurity advice. Fintech co-chairs
Mitzi Chang
and
Scott Joachim
, who respectively lead the team out of San Francisco and Silicon Valley, are both highly active on the corporate transactional side, representing investment funds and public and emerging companies. Key partners in the financial services regulatory practice, which is praised for its '
amazing bench and great practitioners with years of experience in government service and advising clients
' include
Mike Whalen
in Washington DC and the '
fantastic expert
'
Kimberly Monty Holzel
in Boston.
Goodwin
updated its practice with the April 2021 arrival of practice co-heads
Andrew Lacy
and
Arman Oruc
from
Simpson Thacher & Bartlett LLP
and an in-house position respectively, based out of the firm's Washington DC and Los Angeles offices. This bolsters a team that combines a prolific record in HSR filings and merger review processes for M&A and private equity investments with a strong record in more contentious merger clearances, including DOJ challenges and most notably FTC Second Requests. The firm retains a strong specialism in tech and life sciences deals, with standout involvements during 2021 including its role as a co-counsel to Slack in its $27.7bn sale to Salesforce, and its representation of Nimbus Therapeutics in Second Request proceedings. DC's
Paul Jin
 is another key name in the team, handling a wide range of transactions, alongside risk advisory work and support in contentious merger proceedings. Also in DC,
Kara Kuritz
specialized in HSR filings in a previous role at the DOJ, and continues to advise clients on notifications, both pre-merger and throughout the process.
Goodwin
's appellate practice is active across the US, making routine appearances before the US Supreme Court, federal courts of appeals and state appellate courts. The wider firm's weight in the IP, technology and life sciences spheres translates into a prominent record in IP and pharmaceutical-related cases. The team also brings to bear strong expertise in regulatory litigation and ERISA class actions, where Washington DC-based
Jaime Santos
recently defended the dismissal of an ERISA class action in the Second Circuit against General Electric. In a high-profile Supreme Court victory, Boston-based 
David Zimmer
successfully cleared the way for Augusto Niz-Chavez to apply for immigration relief that would allow him to remain in the US with his family. Department co-chair
William Jay
, based in Washington DC, has argued 17 cases in the Supreme Court, as well as handling cases in every US Court of Appeals.
Brian Burgess
, an '
excellent written and verbal communicator
', is also noted in Washington DC. In Boston, group co-chair
Kevin Martin
is recommended for his strength in appellate matters and civil and administrative litigation. Boston-based
Gerard Cedrone
is a talented associate.
Goodwin
is headed out of Boston by
Deborah Birnbach
 and
James McGarry
. It acts for large multinational companies and senior executives in relation to white-collar crime, enforcement and investigation matters with a focus on the financial services, technology, life sciences and healthcare industries. New York's
Richard Strassberg
is a key white-collar defence practitioner and is well versed in FCPA matters, SEC enforcement proceedings and internal investigations. Silicon Valley-based
Grant Fondo
 has notable expertise in digital currencies and blockchain-related matters.
Andrew Lacy
and
Arman Oruc
both recently joined from
Simpson Thacher & Bartlett LLP
 in Washington DC and Los Angeles, respectively.
Goodwin
 '
leverages great technology and platforms to execute great results for its clients',
using its expertise in e-discovery technologies and data analytics to drive cost savings by developing workflows that can be applied to litigation. An example of this is the firm's work for Teva Pharmaceuticals USA, which involved developing a discovery strategy for a manufacturing dispute. Litigation partner
Michelle Treadwell Briggs
, promoted to partner in October 2021, is
'truly elite in her detailed understanding of e-discovery tools' , 
and leads the team from Boston, which is also home to '
standout star'
Danielle Panetta
.
Goodwin
's financial services litigation team handles a range of disputes in the consumer lending space, including acting in investigations by federal and state regulators. The team is particularly active in the mortgage space, where it represents clients facing allegations of violating the Fair Housing Act, the False Claims Act and CFPB regulations. Key figures in the practice include
Thomas Hefferon
, who has deep experience in this space, and
Brooks Brown
, who works on a wide variety of consumer finance matters including alleged breaches of the Telephone Consumer Protection Act. The team was bolstered in January 2021 by the addition of
Allison Schoenthal
from
Hogan Lovells US LLP
. Schoenthal now leads the consumer finance practice in New York and acts for a number of prominent banks in this space, with a focus on mortgage-related cases. Schoenthal and Hefferon co-lead the team alongside
James McGarry
and
Matthew Sheldon
, who has a sizeable client base of mortgage lenders. Hefferon, Brown and Sheldon are based in Washington DC, while Schoenthal and McGarry are based in New York and Boston, respectively.
Goodwin
has a notable understanding of the underlying technology, science, and law associated with product liability claims deriving from alleged damage caused by consumer products, manufacturing processes, asbestos and hi-tech products. The products litigation and counselling team, which spans both the East and West Coast, has experience acting as national counsel and trial counsel in major litigation, as well as providing an effective risk management service to prevent future litigation. New York-based team head
Joanne Gray 
is particularly well-known for her expertise at handling recall issues and litigation impacting food and supplement companies.
Nilda Isidro
and 
Glenn Kerner
 left the firm in November 2021.
Goodwin
's geographically diverse product liability offering, which includes strong coverage on both coasts, regularly handles disputes for pharma and medical devices manufacturers. As well as acting as trial counsel in a multitude of individual actions, the firm often acts as national counsel, responsible for formulating nationwide defense strategies and developing large stables of medical, scientific and regulatory experts. New York-based team head
Joanne Gray 
has niche expertise advising food and supplement companies on compliance, recall and litigation; she continues to represent Herbalife International in all product liability cases pending in state and federal courts throughout the US.
Richard Oetheimer 
in Boston has a strong track record litigating product liability cases in the sector including before juries in federal and state courts, as well as at appellate level, where notably he served as lead counsel in the Supreme Court case that established federal pre-emption of generic drug failure to warn lawsuits.
Glenn Kerner
 and
Nilda Isidro
left the firm in November 2021.  
Goodwin
is at the forefront of convertible debt offerings in the life sciences and tech sectors; this includes for US clients and non-US clients that are listed on Nasdaq. This flourishing side of the practice is complemented by an impressive flow of broader investment grade and high-yield debt engagements. REITs and financial services are also important sectors for the team. Boston partners
James Barri
and
Ettore Santucci
co-head the debt capital markets practice, with the former noted for life sciences and tech deals, and the latter recognised for his experience in REIT transactions. New York's
John Servidio
provides additional support with his background in derivatives and structured products, and his experience in the digital currency and blockchain field.
Though active on both sides of transactions, it is borrower representation that is
Goodwin
's specialty. The firm client base spans private companies and private equity sponsors, which it advises on acquisition financing, subscription-secured financing and asset-based transactions. The group has a presence in many of the firm's network of US offices, and recently expanded into California in a bit to develop the team's profile.
Kristopher Ring
now operates from the Santa Monica office, and represents public, family-owned, and private equity-backed companies.
Jennifer Bralower
 continues to lead the team from New York and counts syndicated credit facilities and junior capital among her specialisms. In September 2021,
Milena Tantcheva
departed the firm to take up an in-house role.
Bringing to bear his expertise as a life sciences patent litigator with particular experience in acting for plaintiffs and defendants in Hatch-Waxman litigation, the Boston-based
Daryl Wiesen
 heads the IP litigation practice at
Goodwin
. The practice also enjoys a solid reputation handling technology-related disputes and has a well-known IP appellate team which has recently secured victories in significant Federal Circuit and Supreme Court cases. ITC investigations are another area of strength. Key contacts include
Mark Abate
,
Naomi Birbach
 and
Calvin Wingfield
in New York; Boston's
Elaine Blais
,
Srikanth Reddy
,
Douglas Kline
, and
Robert Frederickson
; and
Patrick McCarthy
in Washington DC.
Goodwin
's trade secret, employee mobility, and non-competes group represents a broad cross-section of employers and employees in high-stakes litigious actions. In addition to its wide-ranging tech sector practice, the team is also capable in proceedings related to education, health, financial services, and consumer goods. In San Francisco,
Koray Bulut
is an experienced litigator at both the state and federal courts representing both startups and established companies, while trial counsel
Brett Schuman
's recent engagements include bet-the-company cases for major software developers. In Silicon Valley,
Neel Chatterjee
is reputed for his focus on entrepreneurs and disruptive tech companies, handling litigations in a number of court settings, while
Andrew Ong
's broad experience in tech matters encompasses network devices and semiconductors.
2021 was a year marked by significant growth for Goodwin, with a multitude of specialized partners arriving in a number of key locations. The New York office – which also fields practice co-head Mandee Gruen – welcomed Runjhun Kudalsya from Paul Hastings LLP, Adam Sussman from Proskauer Rose LLP, David Wagner from Simpson Thacher & Bartlett LLP, Michael Aluko from Greenberg Traurig, LLP and Karen Chao from Sidley Austin LLP. Gruen's counterpart in Washington DC, Paul Verbesey, was joined by Greg Larkin, formerly of Debevoise & Plimpton LLP. Finally, Zee Ahmedani, formerly of Morrison Foerster was a new addition to the Los Angeles office, cementing the firm's funds presence there. The group continues to provide expert advice across the range of matters in this space, including venture capital, real estate, infrastructure, debt, responsible investing and emerging market funds; large-scale GP led liquidity events; restructurings; separate managed accounts; secondaries; and complex incentive arrangements.
Counting IPOs, M&A and fund structuring mandates in its workload, Goodwin acts for public and private clients across the technology, life sciences, private equity and food and beverages sectors. In Washington DC, Patrick Menasco jointly leads the team alongside Boston-based James Mattus, both of whom have experience in ERISA Title 1 matters. In the firm's Silicon Valley office, Lynda Galligan's expertise is demonstrated by her advice to Slack on the executive compensation aspects of its $27.7bn sale to Salesforce. The team welcomed Silicon Valley-based Cisco Palao-Ricketts in May 2021, who previously led the employee benefits and executive compensation practice at DLA Piper LLP (US), and San Fransisco-based Heather Brookfield from Morgan, Lewis & Bockius LLP in June 2021.
Goodwin
maintains a broad and active employment counseling practice, advising on hiring and disciplinary actions, union-related work, and internal workplace investigations. Employment litigation is another strength. The practice is led by
Robert Hale
in Boston; he deals with matters concerning non-competition, discrimination and Fair Labor Standards Act (FLSA) litigation, among other areas. San Francisco-based
Koray Bulut
leads the California branch of the employment practice, working primarily with technology companies.
Goodwin
excels in devising defense strategies against activists of all sizes and from industries such as life sciences, technology and real estate. The '
solid, highly responsive and extremely hard-working
' team has extensive experience of proxy contests and conducts annual board self-assessments and education sessions for clients. Practising from both Boston and New York,
Andrew Goodman
contributes to the team's corporate governance offering in the life sciences and technology sectors.
Joseph Johnson III
 and
Sean Donohue
are also recommended.
Goodwin
's real estate department has a strong focus on representation of institutional investors, REITs and private equity funds in acquisitions, leasing and developments, as well as in complex financings and joint venture formation. Based in Los Angeles, practice chair
Dean Pappas
is highly regarded in the local market for his acquisition and disposition work.
Jennifer Sung
, acting in the same office, is invested in the firms' emerging PropTech Initiative, a practice at the intersection of real estate and technology, led by co-head
Minta Kay
in Boston. Also on the east coast,
Andy Sucoff
in Boston focuses on UPREIT and downREIT contribution transactions, distressed and recapitalization on retail, office, multifamily and life sciences real estate.  
Goodwin
has demonstrable capability in handling a range of executive compensation mandates, and also advises its roster of clients on employee benefits issues. In the firm's Washington DC and Boston office, respectively, practice co-leader
Patrick Menasco
, who focuses on ERISA Title 1 matters, and
Rachel Faye Smith
, who handles qualified plans, are praised for providing '
correct and timely answers to the most complicated matters
'. In Silicon Valley,
Lynda Galligan
acts for public and private companies in the technology and life sciences sectors on equity-based arrangements, and Boston-based practice co-leader
James Mattus
 is another key member of the team.
Goodwin
is active in the mid-market, with coverage on both coasts, and advises a wide range of funds, target companies, and other investors, with a particular specialism in tech and early-stage transactions. The team handles buyouts, investments, re-financings, and exits, and also offers in-house tax, antitrust, and regulatory expertise, as well as being able to service cross-border deals in key jurisdictions across Europe and Asia. The team is led by Boston-based
John LeClaire
, whose expertise includes advising funds with healthcare portfolio companies, as well as working on growth company investments in tech, and consumer products, alongside the San Francisco-based duo of
Andrew Weidhaas
and
Michael Kendall
, who both handle private equity and venture capital investments in a wide range of industries, and represent clients in both small-scale and bulge bracket deals. New York's
Stuart Rosenthal
 takes the lead on healthcare verticals, while Boston's
Jon Herzog
focuses on private equity and technology transactions, encompassing growth investments and investor-side M&A.
Goodwin
 is well regarded for its capabilities in life sciences representation, working with both fast-growth companies and market stalwarts on acquisitions, sales, and equity structuring matters. Private investment fund formations are also a core competency for the team. Practice chair
Neal Sandford
advises on the full scope of REIT work, while the highly experienced
Howard Cubell
focuses on the recapitalizing of portfolio assets by private equity sponsors.
Edward Glazer
leverages his expertise in real estate capital markets, handling securitization and collective investment vehicle structuring.
Karen Turk
focuses on REITs, while San Francisco-based
Kelsey LeMaster
is recommended for experience with private equity and venture capital funds. All named lawyers are based in Boston unless stated otherwise.
Richard Strassberg
-
Goodwin
Goodwin
's service providers team acts alongside its well-regarded life sciences team to offer excellent transactional services to health providers and systems. That connection leaves the team '
uniquely suited' 
to offer services to health tech providers. It can also provide dedicated health regulatory support, with a particular emphasis on womens' healthcare providers. The team is co-led by
Chris Wilson
and
David Cappillo
in Boston and
James Gatta
in New York. Also New York-based,
Delphine Park O'Rourke
 is known for her women's health provider expertise.  
Goodwin
provides clients with a one-stop-shop, advising on the full spectrum of restructuring matters including insolvency litigation, creditors' right litigation, out-of-court restructurings, bankruptcy proceedings and intercreditor disputes. It advises borrowers, lenders, acquirers and committees of creditors across the globe. The practice is led from New York by
Michael Goldstein
, who has a breadth of restructuring expertise spanning across sectors such as chemicals, consumer goods, healthcare, retail and technology. The practice saw the departure of
Nathan Schultz
 and
Gregory Fox
, in addition to the retirement of
William Weintraub 
during 2021.
Goodwin >
Firm Profile
The firm: Goodwin's 1,900 plus lawyers across the United States, Europe, and Asia excel at complex transactions, high-stakes litigation, and world-class advisory services in the financial, life sciences, private equity, real estate, and technology industries. The firm's unique combination of deep experience serving both the innovators and the investors in a rapidly-changing, technology-driven economy sets Goodwin apart. To learn more, visit www.goodwinlaw.com and follow Goodwin on Twitter (@goodwinlaw), LinkedIn (@goodwinlaw), Facebook (@join_goodwin), and Instagram (@join_goodwin).
Main areas of practice: Complex transactions, high-stakes litigation and world class advisory services in the financial, private equity, real estate, technology and life sciences industries.
Complex transactions: A sophisticated, versatile team of transactional lawyers provides broad market perspective, serves as a business partner on strategic transactions, and advises clients on structuring and developing new and innovative products and services. Areas of expertise include buyouts and acquisitions, capital markets, debt finance, financial restructuring, growth equity, impact and responsible investing, mergers and acquisitions, new company formation, private investment funds, REITs and real estate mergers and acquisitions, search funds, tax, and venture capital.
World-class advisory services: Experienced regulatory lawyers, including many former high-ranking government officials and regulators, guide clients through the complex conundrum of government regulations with insight and ingenuity – always with an eye toward maximizing business opportunities while minimizing risk. Areas of expertise include antitrust and competition, banking, environmental, ERISA and executive compensation, FDA, FinTech, global trade, investment management, labor and employment, and privacy and cybersecurity.
High-stakes litigation: Goodwin litigators provide cost-effective, results-oriented representation in high-profile matters across the United States. The firm employs a holistic, cross-disciplinary approach, helping clients settle disputes, mitigate risk, defend their interests, and, in most cases, avoid trial altogether. Areas of expertise include appellate, business and commercial, government investigations and enforcement, environmental, financial industry, intellectual property, labor and employment, privacy and cybersecurity, products liability and mass torts, securities, trade secrets and restrictive covenants, and white-collar defense.