Goodwin > New York, United States > Firm Profile
Goodwin
Offices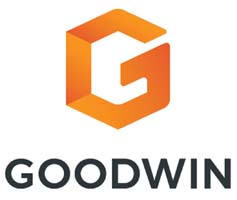 Goodwin
THE NEW YORK TIMES BUILDING
620 EIGHTH AVENUE
NEW YORK NY 10018
United States
Goodwin > The Legal 500
Rankings
Goodwin 'gives a new meaning to full-service', providing an impressive breadth of service to companies and investors in the technology and life sciences arenas. This includes an increasing amount of work for private equity funds investing further down the value chain. The firm's experience includes early stage financings, general corporate mandates, M&A, and high-value capital markets exits. The 'incredibly knowledgeable' group is jointly led by Anthony McCusker in Silicon Valley, together with Boston life sciences experts Kingsley Taft and Mitchell Bloom, and technology and emerging companies specialists Kenneth Gordon and John Egan. William Schnoor is also singled out for making 'the best introductions to co-investors, LPs and angel investors', and William Collins is very strong in life sciences-related VC work.
Goodwin has deep roots in the technology industry, and is commended for its 'great business insight and advice - not just legal advice'. The transactional practice handles a broad sweep of matters, from debt and equity capital markets through to M&A. The team is especially strong in IP transactional work, including licensing, collaborations, and joint ventures. This expertise extends to clients in medtech, healthcare, life sciences fintech, proptech, Saas, enterprise software and e-commerce. John Egan and 'trusted partner' Kenneth Gordon ('business advice and big picture thinking is a key attribute of his') jointly lead the team with Anthony McCusker in Silicon Valley. Stephen Charkoudian has an eminent reputation in the market, while Joseph Theis is recommended on the IT health side. All partners in Boston unless otherwise stated.
Goodwin
's REITs practice has maintained its leading position, representing public and private REITs in a variety of transactions. Jointly headed by 
Gil Menna
 and
Ettore Santucci
 (both of whom divide time between Boston and New York), the team handles a full range of transactional matters, including debt and equity financing, M&A and investment transactions, and the negotiation of large-scale joint ventures. Highlights over the review period included representing Two Harbors in the non-renewal of its management agreement with PCRM, and advising Boston Properties on its $1.25bn IPO. Contacts in the Boston office include 
Daniel Adams
 and
Scott Chase
, who have significant experience working with private equity houses and investment banks, respectively. 
Christopher Versfelt
 is a standout associate in the team, with a growing focus on prop-tech. In New York, 
Yoel Kranz
 is recommended for his expertise in derivatives and structured products.
Goodwin's focus on the key industry sectors of life sciences and technology—two areas in which there is a rising tide of M&A activity—has led to significant growth in its M&A litigation activity, hence its promotion in this year's ranking. 'Good advice on the front end allowed us to set expectations with the board and calm reactions to expected deal litigation, which helped us move the deal to closing', remarks one client of the practice, led by Deborah Birnbach in Boston. Birnbach, who is co-chair of the firm's public M&A and corporate governance practice, led the defense of former directors of software company Lionbridge Technologies against claims that they made misleading statements of material fact in Lionbridge's proxy statement merger disclosures. Michael Jones, who works in both Boston and Silicon Valley, is currently handling the defense of pharmaceutical company MyoKardia in cases challenging the company's acquisition by Bristol Meyer Squibb for $13.1bn.
Goodwin has a stellar list of corporate issuer clients, particularly in the technology and life sciences sectors that account for a large proportion of the securities litigation cases filed in the US. The firm's main focus is on the life sciences, biotechnology and pharmaceutical industries, though it is also called upon to defend financial institutions in securities cases. More recently, it has also represented corporates and individuals in the blockchain and digital currency industry in SEC investigations and enforcement actions, as well as in securities class actions. Anthony Fiotto in Boston and Brian Pastuszenski in New York lead the practice, in which Boston-based co-head of complex litigation Deborah Birnbach plays a central role. Birnbach and Adam Slutsky secured the dismissal with prejudice of a derivative action against drug company Esperion Therapeutics which alleged false and misleading statements concerning its communications with the FDA. Douglas Flaum in New York is also recommended.
Goodwin
 had yet another impressive 2020 with a sizeable market share of life sciences, healthcare, technology and real estate deals. Given its recent performance trend, the team has become a highly regarded player in both issuer- and underwriter-side mandates. Beyond its core sectors, the team has also gained ground in industries such as renewables, cleantech and natural resources, thanks in part to relationships built by its solid private equity group. Life sciences remains its primary forte with the firm advising on major equity offerings for BeiGene, CRISPR Therapeutics, Black Diamond Therapeutics and many other notable businesses in 2020. Although 
Richard Kline
 joined 
Latham & Watkins LLP
 towards the end of 2020 and up-and-coming name 
An-Yen Hu
 left to become general counsel at Benchmark, the firm retains a sizeable team including New York-based life sciences specialist 
Edwin O'Connor
, New York tech and life sciences expert 
Siavosh Salimi
, Silicon Valley partner 
Bradley Weber
 and Boston-based 
Mitchell Bloom
, who stands out for transactions in the biotech sector.
Goodwin
 continues to grow its life sciences practice with a number of lateral hires over the review period. Patent litigators 
Kristina Bieker-Brady
 and
Sabrina Poulos
 joined from
Morgan, Lewis & Bockius LLP
 and
Wilson Sonsini Goodrich & Rosati
 in Boston and San Francisco, respectively; healthcare regulatory partner
Delphine O'Rourke
 joined the New York office from
Duane Morris LLP
; and Washington DC-based transactions partner 
Adam Walter Bellack
 joined from
Hogan Lovells US LLP
. The firm has also established a Late Stage Drug Development consulting service focusing on IP commercialization and patent protection. In Boston, 
Kingsley Taft
 and
Robert Puopolo
 represent life sciences clients at every stage of operation, with particular focus on licensing, collaborations and venture financings.
Danielle Lauzon
 is sought after for corporate counsel for start-up and later stage companies. Washington DC is the hub of the FDA regulatory team, where names to note include 
Alexander Varond
 and senior associate
Steven Tjoe
.
The ERISA litigation team at Goodwin is one of the foremost names in excessive fee litigation, having obtained landmark and precedent-setting judgements for investment management and life insurance clients, with proceedings led by practice head James Fleckner. In novel litigation concerning fiduciary breach allegations, Alison Douglass and counsel Jack Cleary are representing numerous financial services clients in disputes concerning the improper use of participant data. Further ongoing cases involve the use of active funds over collective investment trusts. The group also handles employer stock-drop litigation including proprietary challenges into company 401(k) stock, recently acting for a number of multinational conglomerates. All noted practitioners are based in Boston.
Spread across Santa Monica, Silicon Valley and Boston, and bringing together attorneys from a variety of practice areas,
Goodwin
's M&A service group has strong expertise in the middle market, where it focuses on sectors such as private equity, technology, life sciences, and real estate. Global head of M&A
Stuart Cable
acts for buyers, sellers and investment banks, as well as private equity and venture investors.
Alessandra Simons
 often works with boards and executives through M&A exits, both domestically and cross-border.
Kenneth Gordon
is also a key practitioner and recently stood out for his work on Carbon Black's sale to VMWare for $2.1bn.
Goodwin has a long history representing clients that straddle the technology and financial services sectors. Alternative lending, digital currencies and blockchain, insurtech, payment processing and wealth management are all core areas of expertise. The firm also has a good track record advising on online banking platforms and related collaboration agreements. Clients include major investors, as well as emerging and established fintech service providers. The well-regarded team is jointly led by Scott Joachim in Silicon Valley and Amber Dolman in Boston. Mike Whalen in Washington DC is noted for his regulatory and transactional advice, while Kimberly Monty Holzel in Boston regularly represents clients in regulatory investigations and inquiries.
Goodwin
has an active merger control practice, which has secured clearance for major transactions in the technology, software, and life sciences sectors during 2020. Notable mandates include representing the Transactions Committee of Sprint during its merger with T-Mobile, and acting for MyoKardia in its $13.1bn acquisition by Bristol Myers Squibb. Of particular note is the firm's record in second request investigations, regularly securing clearances for high-profile deals in challenging circumstances. 
Paul Jin
is a key team member, and is a prolific filer for commercial transactions across a broad range of industries, with particular expertise in Hart-Scott-Rodino provisions. Counsel 
Kara Kuritz
previously worked in the DOJ's Antitrust Division, and specializes in risk advice and HSR issues.
Christopher Holding
 chairs the firm's antitrust group.
Goodwin's 'exceptionally strong' appellate work encompasses ERISA and regulatory litigation; high-profile client representations in sectors such as financial services, pharmaceuticals, and life sciences; and cases at their certiorari and merits stage brought before the US Supreme Court. In a recent standout appearance before the US Supreme Court, a team led by Brian Burgess assumed pro bono representation for Texas prisoner Gregory Banister and persuaded the Justices to reiterate the distinction between a prisoner's first and second petition for a writ of habeas corpus; the victory comes with significant implications for the appellate rights of convicts. Moreover, the group does not cease to chart high-profile wins in IP appeals at the Federal Circuit. In this regard, clients single out practice co-head William Jay for being able to 'address difficult questions from the judges that were not part of the briefing'. Multiple highly regarded appellate specialists are also based in Boston, where Kevin Martin leads a group including David Zimmer and associate Gerard Cedrone.
Goodwin
is well known for its work defending clients in litigation, enforcement, and investigations related to consumer finance. Washington DC-based
Thomas Hefferon
is a leading figure in this area, and is involved in matters including RICO-related class actions, and lawsuits brought by federal and state regulators. In particular, the practice group has a wealth of experience handling matters related to the housing market. Hefferon is currently representing Bank of America against lawsuits brought by some of the largest municipalities in the US, alleging discriminatory lending practices, and is also handling a dispute with the National Fair Housing Alliance related to alleged discrimination in the maintenance and marketing of foreclosed properties. 
Brooks Brown
co-chairs the banking and consumer finance team and divides time between Washington DC and Los Angeles.
James McGarry
in Boston is a key figure in the complex litigation group and
Christopher Palmer
in Washington DC chairs the financial industry team.
Goodwin's products litigation & counselling group, recently renamed to reflect an increased focus on pre-litigation matters, has the ability to handle cases across the country as mass torts and MDLs. With its global operations team the firm can assist clients not only with legal but also with operational issues. Glenn Kerner leads the group and represents several high-profile clients from the pharmaceutical and medical device industry. Joanne Gray, an acclaimed lawyer in the food and healthy living sector, continues to be a key figure. Up-and-comer Nilda Isidro has expanded her focus on matters involving innovative and emerging technologies. All named lawyers are based in New York.
Goodwin's products litigation & counselling group, recently renamed to reflect an increased focus on pre-litigation, has a national presence and expertise in complex mass torts. Glenn Kerner in New York, who serves as national counsel for high-profile pharmaceutical and medical device companies, leads the practice. Recent successes include obtaining a dismissal of 433 plaintiffs for lack of personal jurisdiction in California for the amiodarone dispute. Boston-based Sarah Frederick continues to be a lawyer to watch.
Goodwin's renowned life sciences practice unites Hatch-Waxman specialists, inter partes review experts and experienced appellate litigators under one roof. In addition to its strength in pharmaceutical, biotechnology and biosimilar matters, the group is also among the finest addresses for technology-related disputes. With the firm's wide geographical footprint, the cross-border nature of many of its patent matters comes as no surprise and makes the group's ITC litigators, among the few in the market with experience in pharmaceutical-related investigations, a particularly valuable asset. Clients also benefit from the firm's global operations team which focuses on advising clients on legal operations issues and has won the firm a number of accolades. Boston-based Daryl Wiesen is the head of the team.
Christopher Palmer and Marco Adelfio jointly head the registered funds practice at Goodwin, which  counts several of the market's most prominent names among its client list including Prudential Insurance Funds and Wells Fargo Funds. The firm is also notable for its advice to independent trustees of large funds complexes, having recently worked for the independent trustees of Invesco Funds, Eaton Vance Funds, and Federated Hermes Funds among others. Paul Delligatti is another key figure within the team, handling several of the firm's most interesting mandates, such as the registration of Fundrise's closed-end interval fund. Delligatti is also highly recommended for asset management M&A, having recently led the team which handled C-III Capital Partners' sale of the Resource Real Estate Diversified Income Fund to Goldman Sachs Asset Management.
Goodwin
is highly active in the field of venture capital funds, with San Francisco-based
Ian O'Donnell
and Boston-based
Thomas Beaudoin
, who advises venture capital and private equity funds, venture capitalists and institutional investors in the US and around the world. The firm has a strong formation practice that spans all levels of the market.
Paul Verbesey
and
John Ferguson
head the team, from the Washington D.C and New York offices, respectively; both have a strong track record in the formation of a variety of funds. Verbesey is particularly recommended for clients which require shariah compliance advice, while Feguson is also active in the field of investment manager M&A. Former practice head
David Watson
, who operates out of the Boston office, is highly experienced in fund formation and regulatory work, with a client list that includes InTandem Capital Partners, Blue Vista Capital Management, and Turner Impact Capital, among others.
Robert Fore
is another key figure on the West Coast, particularly for venture capital fund formation.
Key names for Goodwin's employee benefits and executive compensation practice are practice co-heads Lynda Galligan and Patrick Menasco, based in Silicon Valley and Washington DC, respectively. The duo assist a client roster of life sciences, technology, and private equity entities with ERISA Title 1 issues, fiduciary matters, big-ticket M&A transactions, IPOs, and fund structuring. Scott Webster retired in October 2020.
Goodwin handles a wide range of strategic corporate governance matters for public and private companies, with standout strengths in the technology and life sciences sectors. The practice is led out of Boston by Lisa Haddad and John Haggerty. Other key contacts include Joseph Johnson III in Boston, and global M&A practice chair Stuart Cable, who splits his time between New York, Boston and San Francisco.
Goodwin's Boston-based group provides a broad range of activist defense services, with a recent successful track record of advising multiple technology companies. The team has extensive experience in proxy contests and has been highlighted by clients for its ability to 'craft the strategy to maximize the chances of the client winning a proxy contest'. The department is led by 'fierce advocate' Joseph Johnson III, who is 'excellent at reading the room'. Splitting time between Boston and New York, Andrew Goodman contributes to the team's corporate governance offering in the life sciences and technology sectors.
The '
deal-oriented
' lawyers at
Goodwin
 impress with their capability to manage '
the most complicated of transactions
'. A high degree of their focus is targeted towards the representation of clients throughout the entire life span of their investments. Specifically, the team assists with the formation of fund investment vehicles, including open-ended, close-end, opt-out and commingled funds, thereafter supporting them on a range of transactions such as joint ventures, direct single asset and portfolio acquisitions, ground-up development projects, financing, construction contracting and leasing mandates. Chaired by Boston-based
Minta Kay
, the group also regularly represents development and hospitality companies, investment managers, REITs and pension plans on the full array of real estate matters. Elsewhere, Los Angeles-based
Dean Pappas
is noted for its real estate-related M&A and ground lease expertise, while
Jim Broderick
is a specialist in the structuring and implementation of equity joint venture and complex debt investments.
The technology-focused trade secret and employee mobility practice of Goodwin has expertise in IP, employment, cybersecurity, criminal conduct and commercial litigation. The firm prosecutes and defends trade secrets and misappropriation claims, as well as advising on non-contentious matters including drafting confidentiality and non-disclosure agreements and developing processes to mitigate risks of trade secret litigation. San Francisco-based Koray Bulut specializes in trade secrets work and employee mobility issues. He co-leads the team with experienced litigator Mark Tully in Boston.
Washington DC-based counsel David Solander heads the team at Goodwin, and advises clients on a wide range of fund formation and regulatory issues. In addition, the team is particularly notable for its prominence in the cryptocurrency space, handling a range of mandates for notable crypto asset managers such as Electric Capital Partners and Multicoin Capital Management. The firm also maintains an active investor-side practice that frequently works for VCs with an interest in the digital asset funds space. It is also active in fund acquisitions, handling a wide range of regulatory and business integration matters following such deals.
Executive compensation matters form the backbone of Goodwin's practice. In Silicon Valley, Lynda Galligan advises a solid client roster of emerging companies in the life sciences and technology sectors on all aspects of executive compensation issues, including equity-incentive plans. Galligan shares leadership of the practice with Washington DC-based Patrick Menasco, who is recognized here for his advice to international financial institutions on Title 1 issues, including DOL investigations and prohibited transaction exemptions. Scott Webster retired in October 2020.
Goodwin's focus on mid-market technology and healthcare sector deals has brought a steady flow of activity throughout 2020, with industry fund clients continuing to make investments in Covid-safe targets in these sectors. The team has been prolific in buyouts and exits, recording significant deal numbers despite challenging economic conditions. Andrew Weidhaas is the key name in Silicon Valley, and has continued his strong record in growth capital and private equity transactions in the tech sector, working on early-growth deals all the way up to acquisitions of Fortune 50 companies. Michael Kendall and John LeClaire are contacts in Boston. LeClaire is a highly experienced practitioner specializing in the healthcare sector, who recently advised Cano Health on its $4.4bn merger of Jaws Acquisition Corp, a healthcare-focused SPAC. Kendall is also an active dealmaker, particularly in the areas of technology, biotech, telecoms, and retail, with notable clients including TA Associates and JMC Management. New York-based Stuart Rosenthal leads the firm's healthcare verticals group.
Goodwin
 represents every type of major stakeholder in troubled companies and investment funds in out-of-court restructurings, formal bankruptcy proceedings and complex insolvency-related matters such as fraudulent transfer cases. The group is largely based in New York, where contacts include practice co-chairs
Michael Goldstein
 and
William Weintraub
, as well as recommended practitioner
Howard Steel
, who has extensive experience in Securities Investor Protection Act proceedings, mass tort cases and distressed debt trading issues.
Goodwin >
Firm Profile
The firm: Goodwin's 1,000 plus lawyers across the United States, Europe, and Asia excel at complex transactions, high-stakes litigation, and world-class advisory services in the financial, life sciences, private equity, real estate, and technology industries. The firm's unique combination of deep experience serving both the innovators and the investors in a rapidly-changing, technology-driven economy sets Goodwin apart. To learn more, visit www.goodwinlaw.com and follow Goodwin on Twitter (@goodwinlaw), LinkedIn (@goodwinlaw), Facebook (@join_goodwin), and Instagram (@join_goodwin).
Main areas of practice: Complex transactions, high-stakes litigation and world class advisory services in the financial, private equity, real estate, technology and life sciences industries.
Complex transactions: A sophisticated, versatile team of transactional lawyers provides broad market perspective, serves as a business partner on strategic transactions, and advises clients on structuring and developing new and innovative products and services. Areas of expertise include buyouts and acquisitions, capital markets, debt finance, financial restructuring, growth equity, impact and responsible investing, mergers and acquisitions, new company formation, private investment funds, REITs and real estate mergers and acquisitions, search funds, tax, and venture capital.
World-class advisory services: Experienced regulatory lawyers, including many former high-ranking government officials and regulators, guide clients through the complex conundrum of government regulations with insight and ingenuity – always with an eye toward maximizing business opportunities while minimizing risk. Areas of expertise include antitrust and competition, banking, environmental, ERISA and executive compensation, FDA, FinTech, global trade, investment management, labor and employment, and privacy and cybersecurity.
High-stakes litigation: Goodwin litigators provide cost-effective, results-oriented representation in high-profile matters across the United States. The firm employs a holistic, cross-disciplinary approach, helping clients settle disputes, mitigate risk, defend their interests, and, in most cases, avoid trial altogether. Areas of expertise include appellate, business and commercial, government investigations and enforcement, environmental, financial industry, intellectual property, labor and employment, privacy and cybersecurity, products liability and mass torts, securities, trade secrets and restrictive covenants, and white-collar defense.