Goodwin > Cambridge, England > Firm Profile
Goodwin
Offices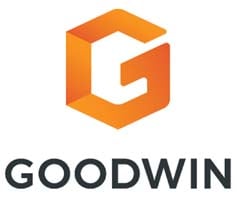 Goodwin
50-60 Station Road
Cambridge
Cambridgeshire
CB1 2JH
England
Goodwin > The Legal 500
Rankings
Goodwin
's Cambridge office plays a key role in the firm's globally recognised technology and life sciences practice, which frequently assists private and public companies, venture capital funds and investment firms with early-stage financings, capital markets issuance, M&A, strategic collaborations and licensing transactions.
David Mardle
,
Malcolm Bates
 and
Tim Worden
are the lead partners. Mardle acted for fast-growing start-up Hopin in its $450m funding round and in the acquisitions of Streamable, Jamm, Boomset and Attendify. Worden assisted spin-out life sciences company In4Derm Limited with a licence agreement for a new oncology treatment. Newly promoted partner
Elizabeth Rhodes
 and associate
Adam Thatcher
, who both focus on VC and M&A transactions, are also recommended.
Goodwin
 has '
an
understanding of the biotech landscape, the pressures on biotech companies and the experience in biotech licensing deals globally
'. Clients remark that one of its key strengths is its '
experienced associates who work autonomously, closely in communication with partners
', resulting in a practice that is '
very responsive and able to provide creative proposals to address potential problems
'. Among its clients are pharmaceutical company Teva and gene and cell therapy company Oxford Biomedica. The practice is led by life sciences and technology M&A and finance partner 
David Mardle
, commercial IP specialist 
Malcolm Bates
 and licensing and contracts expert 
Tim Worden
, who all work in both the Cambridge and London offices. Newly promoted counsel
Talitha Shkopiak
specializes in commercial agreements forthe creation and commercialisation of IP rights, notably for biotechnology companies.
Goodwin
's Cambridge office has '
unique experience in life sciences and excellent knowledge of and extensive experience in IP contracting enables the team to provide relevant advice in relation to complex IP arrangements
'. The firm is frequently involved in helping companies to develop emerging life sciences and technologies, including Covid-19 vaccines, and it counts Oxford Biomedica, Teva and Avacta among its high-profile clients.
Malcolm Bates
 (who has '
a commercial and pragmatic approach to contract negotiations
') and
Tim Worden
 (who '
cuts through the underbrush and pushes transactions forward
') work from both Cambridge and London and lead the technology and life sciences practice. Counsel
Talitha Shkopiak
 and associates
Georgia Powell
 and
Samantha Deacon
also play pivotal roles in the practice. Worden and Powell assisted University of Dundee spinout In4Derm to licence a new treatment for immunology and oncology conditions.
Goodwin
's real estate funds team is co-led by
'exceptional partner'
Justin Cornelius
and the
'simply outstanding'
Samantha Lake Coghlan
, and is known for its expertise in real estate funds topics affecting the market and industry.  The team regularly collaborates with its Luxembourg office on cross-border matters, with its recent work also seeing significant demand from a diverse set of investors from Europe, the Americas, Asia and the Middle East. The broad range of asset classes the funds team covers includes office, retail, residential, multifamily, industrial, hospitality, senior housing and assisted living, student housing, logistics and infrastructure, it also represents a broad range of investor types, being public pensions, sovereign wealth funds, insurance companies, foundations, family offices and private banks. Partner
David Evans
 has particular expertise dealing with complex tax and real estate issues for both UK and pan-European funds.
Noted for its transatlantic capabilities and technical knowledge,
Goodwin
is widely lauded for its capabilities advising on big-ticket, cross-border transactions across the tech, life sciences, and real estate sectors. The London office is jointly headed up by several partners: European chair
David Evans
, a specialist in REIT M&A;
James Spence
, whose real estate capabilities are concentrated in European investment transactions; UK life sciences co-chair
Graham Defries
, a regular advisor to a host of biotech and pharmaceutical entities; and
David Mardle
, a key contact for the firm's emerging tech company clientele. Recent highlights for the '
outstanding
'
Andrew Harrow
include high-value transatlantic disposals, while
Ali Ramadan
is reputed for his fintech, proptech, and digital media focus.
Eric Lim
, an experienced advisor in cross-border real estate transactions, joined the team from
Baker McKenzie
in March 2022.
Goodwin
's work in the private equity space includes acting for a broad and growing client base of mid-market funds on acquisitions, exits and portfolio company M&A. The practice is sector-agnostic, with experience handling deals involving technology, financial services, consumer goods and life sciences companies. In addition to its work in mainstream PE, the practice also handles infrastructure and growth capital deals. Practice head
Richard Lever
 is '
focused on finding ways to help get the transaction over the line', 
with
Carl Bradshaw
,
Gemma Roberts
and
James Grimwood
 all highly active in the mid-market PE space. The private equity partners work closely with the firm's tax and finance partners to provide a comprehensive service to clients.
Goodwin
's strategy several years ago of hiring some of the best names in the industry from numerous leading law firms is continuing to pay off. This, coupled with the firm's strong corporate finance/funds heritage and US platform, has ensured that in spite of its relative nascence it is already a major presence in the market. Led by
David Mardle
out of London, but also drawing upon a strong presence in Cambridge, the team has '
an impressive breadth of expertise and experience'
and is able to
'handle the most complex transactions with calm authority'. 
Benefitting from a '
very commercial mindset',
tech sector expert
Ali Ramadan
exemplifies the firm's versatility in the sector, being equally at home handling early stage work for start-ups, as he is in a later stage scenario for investors. As well as conventional technology and life sciences venture mandates,
Sophie McGrath
also has a core focus on impact investing and '
is simply stellar when it comes to healthtech deals'. 
Other recommended practitioners include '
technical, commercial, cool headed and strategic' 
Cambridge-based partner
Elizabeth Rhodes
; the '
phenomenal'
Andrew Davis
, whose workload includes a considerable amount of transactions in the proptech space; and associate
Adam Thatcher
, who divides his time between the firm's Cambridge and London offices.
Goodwin
 has a broad practice, ranging from advising established fund managers on mega-cap fundraisings to acting for first-time managers on establishing smaller, more specialised funds. The team acts across a range of asset types, including private equity, infrastructure, real estate and credit and is also increasingly active in the secondaries space. It also stands out for the cross-jurisdictional nature of its work, with the London team frequently acting alongside the firm's offices in the US as well as its growing Luxembourg team.
Michael Halford
 leads the team and is praised as '
one of the most intelligent and bright lawyers in the space', 
with experience handling the structuring and fundraising of both bulge-bracket and mid-market funds.
Ed Hall
 focuses on the private equity sector, including infrastructure PE, offering clients
'intellect, experience and market knowledge'
.
Ravi Chopra
,
Ajay Pathak
and
Shawn D'Aguiar
are other names to note in the team, winning instructions across fundraisings and secondary transactions. Hall and Chopra are
'commercial, highly creative and totally unflappable', 
while Pathak
'strikes the right balance between technical excellence and finding the right fit for the client'
. Counsel
Benjamin Yeoh
is another name to note with broad expertise across a range of asset classes.
Goodwin
's team is well equipped to advise hospitality and leisure clients on the full gamut of issues that arise within the sector such as tax, privacy, employment, food and beverage and regulatory matters. The team advises clients on both the brand and operator side, as well as on both the debt and equity side of hotel and resort residential matters. The team is led by
Matthew Pohlman
. His focus lies within advising various industry stakeholders on the development, operation, management and financing of hotels, resorts and branded residential hospitality assets. Personal changes include the arrival of transactional real estate specialist
Eric Lim
from
Baker McKenzie
.
Leveraging the firm's US strength,
Goodwin
's practice handles a notable volume of cross-border mandates with particular expertise in corporate and financing transactions; the group recently advised Biocon Biologics on its acquisition of Viatris' global biosimilars business for $3bn.
Graham Defries
,
Malcolm Bates
and
David Mardle
jointly lead the practice; Mardle and Defries are key names for corporate and finance work and Bates excels in IP, commercial and regulatory matters. The group was also bolstered with additional IP expertise in August 2022 with the recruitment of
Morag Peberdy
from
Covington & Burling LLP
.
The London commercial property investment team at US firm
Goodwin
is known for handling complex real estate transactions and cross-border investment work. The team collaborates with the firm's finance, funds, tax, and regulatory practices to advise clients on the full life-cycle of a deal.
James Spence
and
Martin Smith
co-head the practice; Spence specialises in advising stakeholders on high value real estate investments and M&A transactions, while Smith's expertise is acting on asset and corporate SPV transactions. Chair of Goodwin's European offices
David Evans
specialises in fund restructuring and represents investment banks, hedge funds, and other investors.
Justin Cornelius
' expertise lies in the establishment and operation of real estate funds and joint ventures.  
Goodwin
's team is particularly active on funds and transactional tax matters.
Laura Charkin
leads the team, and is experienced in the full range of funds.
Rob Young
, who joined the department in 2019 from Taylor Wessing, advises on tax structurings and financings.
David Irvine
and
Dulcie Daly
both joined from Kirkland Ellis in 2021, and cumulatively bring over 35 years' experience to the team.
Katie Leah
and
Charlotte Haywood
 are also noted.
'Responsive, commercially minded and  with good, broad experience',
Goodwin
handled a steady stream of PE deals in 2021, acting for both the buy-side and sell-side. Alongside its work for an expanding client base of sponsors, the group is regularly engaged by management teams to handle sales to private equity and also acts for portfolio companies. Much of the rapidly growing team's work is focused on the healthcare and technology sectors, and it also stands out for its ability to draw on its US links to handle transatlantic deals.
Richard Lever
heads the team and is
'knowledgable, responsive and focused on getting the deal done'; 
other key names include
James Grimwood
,
Gemma Roberts
and
Carl Bradshaw
.
Goodwin
 '
demonstrates strength in depth
' and has particular experience in debt-related transactions, mezzanine financing and CMBS loans both. Practice head
Paul Lyons
 advises borrowers and lenders, and the '
strong hire
' 
Richard Semple
 and 
Geoff O'Dea
are also notable team members.
Under the expert guidance of Simon Fulbrook, Goodwin's 'very pragmatic and commercial' three-partner leveraged finance team continues to gain momentum in the market on behalf of its growing sponsor client base. Unsurprisingly, given the firm's overarching sector expertise and venture capital credentials, a sizeable volume of financing work relates to tech-related M&A. Geoff O'Dea 'has excellent technical knowledge', particularly on behalf of funds clients in the distressed space.
Goodwin
is particularly known for its strong expertise in emerging technologies and the life sciences sector, and is rated for its 
'solid advice and guidance'
. Co-practice head
Gretchen Scott
 draws on more than 20 years of experience in advising tech and data driven businesses on global compliance projects, investigations and incident response. Co-practice head
Lore Leitner
 is highly regarded as
'truly excellent, super pragmatic, commercial and thorough'
, and is a key contact for GDPR work and the privacy and data protection matters related to corporate transactions. Also noted is counsel
Curtis McCluskey
.
Drawing on a 'combination of deep legal and sector knowledge, while remaining commercial and practical', Goodwin continues to gain traction in the London restructuring market, both on standalone domestic mandates, as well  cross-border matters - where it often works alongside practitioners in the firm's more well-established New York office. Simon Thomas 'displays a great mix of technical skill and a commercial approach' and has strong ties with the IP community, in particular. The team has also effectively exploited the firm's broader private equity/funds expertise, and has begun to pick up a considerable amount of work on their stressed/distressed investments. This side of the practice was also recently enhanced by the arrival of counsel Tony Horspool  from Brown Rudnick LLP. The 'creative, responsive and focused' Geoff O'Dea co-heads the team alongside Thomas and is a double threat by dint not only of his core restructuring prowess (which includes great knowledge on schemes and restructuring plans) but also on leveraged finance transactions.
Goodwin >
Firm Profile
With the breakneck pace of technology disrupting industries around the world, our London-based team of 100+ lawyers is embracing change to help clients make a lasting and meaningful impact. As part of what is widely recognised as one of the fastest growing international firms in London, our lawyers are deeply experienced in the life sciences, technology, real estate and private equity sectors and are supported by significant on-the-ground capabilities in debt financing, intellectual property, privacy and cybersecurity, regulatory, restructuring, tax and litigation and dispute resolution.
In 2019 we also launched our Cambridge office in the heart of the high-technology Silicon Fen, and home to one of the world's largest and most innovative life sciences clusters, as well as some of the most disruptive technology and life sciences companies. The firm's on-the-ground presence in Cambridge further expands our lawyers' ability to support clients in these sectors through our unique capital-meets-innovation platform in Europe, and solidifies Goodwin's position as the leading firm in the UK and European life sciences and technology markets.
Real estate: Our real estate lawyers provide a genuinely integrated offering from structuring funds, products and vehicles, to the acquisition, financing, development, restructuring and disposal of real estate assets through direct and indirect investments, as well as complex international hospitality + leisure transactions.
Private equity: Our private equity lawyers counsel on all areas of private equity and mergers and acquisitions, with a special emphasis on middle market private equity and growth investments, alongside our renowned private funds team, which provides counsel at every stage of the fund life cycle.
Technology and life sciences: Our technology and life sciences lawyers help high growth businesses, public companies, investors and investment banks capitalise on opportunities and minimise risks in rapidly evolving markets. We offer clients industry-leading technology, life sciences and healthcare practices recognized for serving clients along the corporate life cycle globally.
Private investment funds: Goodwin's London funds team uniquely covers the full range of private investment funds including private equity funds, venture capital funds, real estate funds, infrastructure funds, debt funds, impact and responsible investing funds, emerging market funds, hedge funds and listed funds as well as various large-scale GP led structures.
Tax: Our tax team have extensive experience of the tax issues affecting the private equity, infrastructure and real estate industries. This sector focus means that our tax team can save you time and money by delivering pragmatic and commercially relevant advice grounded not only in technical expertise and experience but also in a deep understanding of the issues affecting the markets in which you operate. By working as integral parts of our transaction and fund formation teams to ensure that tax advice is robustly implemented, our tax lawyers minimise the risk of challenge by a tax authority and the cost and possible reputational damage that can result from such a challenge.
Restructuring: Our London financial restructuring lawyers represent every type of major stakeholder in distressed situations. The restructuring and insolvency advice provided by our team complements the other services provided by Goodwin during the full life cycle of each company and investment to achieve the optimum outcome for stakeholders
Litigation: Our London team has over 20 years' experience advising investment and retail banks, funds, issuers, bondholders and other financial counter-parties in the resolution of complex corporate disputes, often with a cross-border element. The team has litigated across many different fields of finance, with a particular focus on investment banking, structured finance and funds litigation.
Regulatory: Our regulatory team is uniquely positioned to address the cutting-edge issues that can maximize business opportunities as well as better manage and mitigate risk. Our team of specialists represent investment managers on the formation, offering and operation of investment products including real estate, private equity, infrastructure + energy, private debt, hedge, venture funds, fund of funds, and joint ventures.  We have experience advising clients on matters under the EU AIFMD, EU MIFID, UK Financial Services and Markets Act 2000 and the UK Financial Conduct Authority's Rules and are currently helping clients navigate their way through the post-Brexit landscape. We also advise clients on issues relating to the US Investment Advisers Act of 1940 and the US Investment Company Act of 1940 including registration and compliance matters.