Fried, Frank, Harris, Shriver & Jacobson LLP > New York, United States > Firm Profile
Fried, Frank, Harris, Shriver & Jacobson LLP
Offices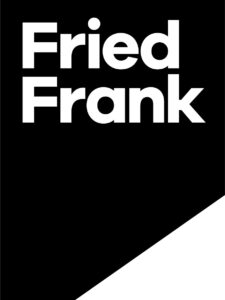 Fried, Frank, Harris, Shriver & Jacobson LLP
ONE NEW YORK PLAZA
NEW YORK, NY 10004
United States
Fried, Frank, Harris, Shriver & Jacobson LLP > The Legal 500
Rankings
Fried, Frank, Harris, Shriver & Jacobson LLP
's practice runs across transactional and regulatory issues associated with derivatives and futures, including over-the-counter, exchange-traded and cleared products, in addition to repurchase agreements and matters such as equity and foreign exchange prime brokerage agreements. The group is led from New York by seasoned derivatives lawyer
Robert McLaughlin
, who has noted expertise in over-the-counter derivatives and cleared swaps. Also in New York,
David Mitchell

takes the lead for commodities, futures and derivatives deals; while
Darren Littlejohn
is most known for advising on regulatory reforms impacting the derivatives and financial markets. In Washington DC,
William Breslin
sits in the asset management department and is an expert in commodities work. New York-based
Ray Shirazi
, who has a broad practice and is increasing active in relation to digital assets, joined from
Cadwalader, Wickersham & Taft LLP
in March 2022, as did
Steven Lofchie
.
Fried, Frank, Harris, Shriver & Jacobson LLP
 's highly regarded alternative investments offering, which works in close conjunction with the firm's much lauded wider asset management department, is known for advising the largest and most sophisticated participants in the hedge fund and alternative investments industry; the team is no stranger to running as many as 50 projects at a time for clients such as Goldman Sachs and BlackRock. In addition to remaining highly active in core fund formation work, the group is also continually growing its hedge fund-related transactional capabilities, and its fund-of-funds expertise. Recommended attorneys in the New York office include practice founder and head
Lawrence Barshay

, securities regulation specialist
Jessica Forbes
 and new arrival
Russel Perkins
, who joined from
Dechert LLP
in March 2021, and brings significant corporate know-how the role. Washington DC is another key location in terms of funds capabilities –
Walid Khuri
 and
Bradford Lucas
 are the names to note there. In March 2022 the New York team also gained
Dorothy Mehta
, previously practice head at
Cadwalader, Wickersham & Taft LLP
.
Fried, Frank, Harris, Shriver & Jacobson LLP
continues to stand out as a legal powerhouse in the US and global private equity and closed-end funds market; the offering is noted both for its extensive technical structuring expertise and its '
deep industry knowledge
' across a breadth of asset classes. The firm is also active in the funds-related transactional space, where it advises on acquisitions of asset management companies, seed and stake transactions, funds-of funds, spin-outs, restructurings, and GP-led secondaries.
Kenneth Rosh

 – who is singled out by one client as the '
consummate leader in this market
' – heads up the private equity funds group, while
Lawrence Barshay

, the founder and head of the asset management practice, '
continues to innovate and serve as a thought partner for clients working through complex solutions
'. These leading team members, both based in New York, welcomed a number of recognized senior practitioners throughout 2021 –
Rami Turayhi
and
Russel Perkins
arrived from
McDermott Will & Emery LLP
and
Dechert LLP
, respectively, with
Jeffrey Schatz
re-joining from
Kirkland & Ellis LLP
. This office also fields recommended junior partner
Jeremy Berry
. Over in Washington DC,
Rebecca Neuschatz Zelenka
and '
brilliant negotiator
'
Richard Ansbacher
 are the key contacts.
Fried, Frank, Harris, Shriver & Jacobson LLP
has a renowned presence in New York City land use and zoning law, currently advising on major projects in the city from the acquisition phase through obtaining permits and navigating the development process, as well as managing the city's complex regulatory landscape. Development expert
Melanie Meyers

leads the practice with support from head of the wider real estate department,
Jonathan Mechanic

. '
By far one of the best and most qualified zoning lawyers in New York
',
Carol Rosenthal
is a go-to attorney for planning involving thorny political and regulatory issues, and of counsel
Stephen Lefkowitz

is another senior figure focused on large-scale projects.
Zachary Bernstein
's practice is land use focused and he represents clients including private developers, not-for-profits, and religious organizations, while
David Karnovsky
is another name to note, drawing on professional experience at the New York City Department of City Planning prior to joining the firm. Special counsel
Wesley O'Brien
advises leading real estate owners and developers, lenders and cultural institutions, and
Ellen Lehman
is one of a strong pool of associates assisting with the development potential of sites, negotiating rights transfers and obtaining land use approvals.
Industry powerhouse
Fried, Frank, Harris, Shriver & Jacobson LLP
has a wealth of experience advising on acquisition and disposition of single assets and portfolios, mortgage, REITs, leasing on behalf of landlords and tenants, environmental issues and land use and development. Department chair
Jonathan Mechanic

is sought after by developers, owners, investors, REITs, and lenders in all aspects of commercial real estate transactions. For commercial leasing and development mandates,
Michael Werner
,
Laurinda Martins
and '
exceptional
' Washington DC based
Valerie Kelly
, are all recommended partners. '
Talented and multifaceted'
Fiona Kelly
and associate
Alexander Sutherland
are likewise recommended for clients investing in overseas markets. All lawyers are based in New York.
Instructed by numerous leading corporations and financial institutions,
Fried, Frank, Harris, Shriver & Jacobson LLP
is highly capable in the full gamut of tax matters, including real estate transaction structuring, capital markets deals, and multi-billion dollar fund formations in both the private equity and hedge fund arenas. The team is jointly led by the Washington DC-based
Alan Kaden

, a renowned corporate transactional tax expert, and New York-based
David Shapiro

, who routinely assists both private equity and mezzanine funds in both financing and deal-based matters. DC-based
Michael Alter
's broad federal income tax practice spans acquisitions, reorganizations, as well as debt and equity securities offerings, while
Michelle Gold
concentrates on fund sponsors in private equity and hedge fund formations.
Christopher Roman
is recommended for his knowledge of alternative investment funds and funds-related M&A, including REITs.
Joseph Fox
routinely advises on capital markets, financings, and derivatives transactions, while
Libin Zhang
largely focuses on REITs and sovereign wealth funds. DC-based
Shane Hoffmann
has a wide-ranging practice that notably includes partnership taxation and international tax planning. All named lawyers are based in New York unless stated otherwise. Washington DC-based
Jason Schwartz
, who routinely advises various financial services players, including banks and insurers, on the tax considerations regarding CLOs, REMICs, and private equity funds, joined from
Cadwalader, Wickersham & Taft LLP
 in March 2022.
Fried, Frank, Harris, Shriver & Jacobson LLP
's white-collar defense, regulatory enforcement and investigations team was bolstered in the winter of 2020 with the arrival of
Geoffrey Berman
from the US Attorney's Office for the Southern District of New York; he now heads the team alongside Washington DC's
James Wareham
. The practice is well known for its representation of individuals and also acts for large corporations on investigations brought by the government and various regulatory authorities, as well as on compliance matters and risk management. Berman is a former federal prosecutor with experience in sanctions, white-collar crime, securities and commodities fraud, and money laundering cases. Wareham and
Stephen Juris
 are both names to note for litigation and investigations.
Ilan Graff
joined and senior counsel
Audrey Strauss
re-joined from the US Attorney's Office for the Southern District of New York in January 2022. All named partners are based in New York unless otherwise stated.
The M&A litigation practice at
Fried, Frank, Harris, Shriver & Jacobson LLP
 is '
highly insightful, thorough, collaborative, communicative and strategic
', noted for its strategy of bringing litigators into the deal structure process early to work with the transactional team, and also defends actions relating to M&A in which the firm was did not act as deal counsel. Global chair of litigation
James Wareham
in Washington DC and New York-based co-chairs of securities & shareholder litigation
Scott Luftglass
and
Peter Simmons
are the lead partners. Also in New York,
Geoffrey Berman
, formerly of the US Attorney's Office, has '
extensive history in public service and private matters and great insight
'. For Apollo Global Management, Luftglass successfully secured the dismissal defense of a case challenging the $2.1bn acquisition of Presidio by BC Partners.
Fried, Frank, Harris, Shriver & Jacobson LLP
is praised as '
strategic, insightful, knowledgeable, collaborative, communicative and proactive
', and acts for represents companies, financial institutions, special committees, special litigation committees, and officers and directors in cases filed in state and federal courts throughout the country. A standout case from 2021 saw the firm represent Under Armour and members of its board in a consolidated securities class action alleging that the company concealed that it was experiencing a host of sales problems.
James Wareham
in Washington DC, who led that matter, is global chair of litigation, while
Scott Luftglass
, who is '
strong and extremely capable in his field
' and
Peter Simmons
in New York are co-chairs of securities and shareholder litigation. Simmons and Luftglass recently settled a claim against Evoqua Water Technologies in a class action and derivative actions alleging misrepresentations in the company's IPO registration statement and subsequent announcements concerning its earnings and growth strategy. Also in New York, former US Attorney 
Geoffrey Berman
 '
has deep industry experience
' and key partner
Israel David
is '
a top-notch litigator, knowledgeable, patient and clear
'.
Fried, Frank, Harris, Shriver & Jacobson LLP
's lean but formidable practice has an outstanding record in big-ticket equity offerings, including IPOs and follow-on offerings, for major issuers and underwriters. It has strong connections to a range of corporate issuers, private equity funds and their portfolio companies and has been appointed as designated underwriters' counsel to a range of new clients. Department head
Daniel Bursky
has earned accolades for his leadership on high-value IPOs and other equity offerings, and for his part in expanding the firm's issuer and underwriter client base.
Andrew Barkan
and
Mark Hayek
 are also versatile capital markets specialists with fine records in equity offerings.
Fried, Frank, Harris, Shriver & Jacobson LLP
acts for private equity firms, as well as public and private companies across the healthcare, logistics, technology and financial services sectors, on a range of high-end transactions. The practice group counts AEA Investors, Onex Corporation and RedBall Acquisition among its key roster of clients. The New York-based team is led by
Jeffrey Ross
, who advises standalone and institutional hedge funds, and alternative asset managers, on structuring and compliance matters.
Jason Ertel
handles 409A and 457A deferred compensation mandates, while
Amy Blackman
advises clients on the employee benefits aspects of M&A transactions, and
Donald Carleen
is another key member of the team.
Fried, Frank, Harris, Shriver & Jacobson LLP
's New York-based team, led by 
Michael Barker
, maintains solid activity in first mortgage loans, construction financing, portfolio loans, mezzanine financings and loan restructuring. Having built up its real estate practice, Barker has established himself as a top advisor to the firms' major clients, such as Blackstone, Starwood Property Trust and JPMorgan on all their lending transactions.
Michael Vines
specializes in advising syndicate and balance sheet lenders on development, construction, and transitional loans.
Suzanne Decker
,
Nathaniel Lifschitz
 and
Kabaye Liku
 are the other key partners for borrowers and lenders in mortgage, mezzanine, and preferred equity financings. Associate
Matthew Bettinger
also regularly counsels insurance companies and banks in construction financings.
The team at
Fried, Frank, Harris, Shriver & Jacobson LLP
focuses on securing clearance for business-critical, often global deals facing significant regulatory scrutiny, including FTC Second Requests, DOJ oversight, and formal legal challenges, with a successful record in successfully closing deals without facing litigation. Led by former Deputy Assistant Attorney General
Barry Nigro
, who divides his time between New York and Washington DC, the team is adept in handling the rapidly shifting regulatory landscape, including changes to both horizontal and vertical merger guidelines, best reflected in its ongoing representation of ProQuest in the FTC Second Request to its acquisition by Clarivate, issued following the change in leadership at the FTC under the Biden administration.
Nathaniel Asker
is another key name within the team, handling FTC and DOJ oversight of high-value deals for clients such as CVC Capital Partners, for whom he secured clearance for their $640m sale of Kount to Equifax, and Blackrock. Senior counsel
Aleksandr Livshits
continues to bolster his growing reputation within the space, handling complex cross-border merger investigations and representing a diverse range of corporate clients before antitrust authorities. Lawyers are in Washington DC unless otherwise stated.
Fried, Frank, Harris, Shriver & Jacobson LLP
has a major presence in the capital markets field, noted for its record in big-ticket investment grade debt transactions, but with a more than credible reputation in high-yield debt. The firm is frequently engaged on high-value offerings by both issuers and underwriters. It has continued to expand its client base with appointments as designated underwriters' counsel for a number of issuers such as Authentic Brands Group, Blue Owl and Brighthouse Financial. Aside from its close links to corporate issuers and underwriters, the firm also sources engagements from its well-developed private equity client base.
Daniel Bursky
has an outstanding reputation, often leading headline deals for the likes of Merck, T-Mobile and bulge-bracket underwriters.
Andrew Barkan
and
Mark Hayek
are also pivotal team members.
Fried, Frank, Harris, Shriver & Jacobson LLP
has consistently elevated its position in high-yield debt with it now cementing its position amongst the top firms as issuer's counsel. It is prominent as underwriters' counsel. It has advised on a series of headline and high-value high-yield deals for the likes of T-Mobile and Novelis, and has represented the underwriters in offerings by Clarivate and Sonic Automotive. Along with its connections to corporates and investment banks, the firm is also frequently advised by private equity clients and their portfolio companies. Head of the capital markets team
Daniel Bursky
 leads many of the group's headline deals, operating across the equity and debt space.
Andrew Barkan
,
Mark Hayek
and
Joshua Coleman
are also key names in the department.
Fried, Frank, Harris, Shriver & Jacobson LLP
, which operates out of New York, is one of the most respected names in the debt finance middle market. Equally capable of advising lending banks, corporate borrowers and private equity sponsors, the firm assists with both investment grade and leveraged transactions.
J. Christian Nahr
leads the team and advises on syndicated secured facilities, second lien loans, mezzanine financings and private placements, while departmental stalwart
F. William Reindel
continues to represent private equity sponsors, hedge funds and investment  banks. 
Daniel Bursky
 and
Mark Hayek
frequently collaborate to advise the firm's corporate borrower clients; in 2021, this included representing Merck, Under Armour and T-Mobile. Beyond the senior partners,
Adam Summers
 is '
absolutely fantastic'
when it comes to negotiating commitment letters in relation to acquisition financings.
Fried, Frank, Harris, Shriver & Jacobson LLP
is notable for its strength in supporting M&A in the aerospace and defense sector. Alongside this, the team is active in all stages of the procurement process, handling bid protest litigation and counselling companies and private equity clients in the aircraft and satellite, electronics, IT, and healthcare industries. Washington DC-based
James McCullough

spearheads the practice, an expert in pre-award litigation and counselling on contract formation issues, as well as post-award disputes and litigation. Also in DC,
Michael Anstett
is also notable in the team, focusing on contractor representation in the aerospace defense and IT spheres.
Alexander B. Ginsberg
joined the DC office from
Pillsbury Winthrop Shaw Pittman LLP
in February 2022, strengthening the team's bid protest practice in particular.
The practice at
Fried, Frank, Harris, Shriver & Jacobson LLP
, hailed as '
collaborative, insightful and business-savvy
', is equipped to support on the full array of corporate transactions, regularly working on major matters which intersect multiple jurisdictions.
Steve Epstein
's practice covers M&A, divestitures, corporate governance and takeover preparedness affairs, – he serves as practice co-head alongside
Philip Richter
, a specialist in minority investments, proxy fights, joint ventures and minority investments.
Fried, Frank, Harris, Shriver & Jacobson LLP
maintains productive relationships with a range of big-name bulge bracket and middle market private equity funds, handling big-ticket work for the likes of Permira, Redbird, and AEA Investors. A standout representation for the firm was advising Permira as part of a consortium purchasing MacAfee for $14bn. Alongside its work on PE-backed buyouts, the firm is also noted for its key role in GP stake and asset manager-led transactions, advising the likes of Goldman Sachs and Wafra on these innovative deals. The practice is led by
Steven Steinman
, who leads the firm's AEA relationship among those with other key clients, having led on AEA's sale of 1 800 Contacts to KKR, alongside
Christopher Ewan
, also an active transactional counsel to funds.
Andrew Colosimo
has played a key role in the firm's asset manager M&A work, while
Randi Lally
 stands out for her advice on GP-led transactions alongside seed-and-stake deals, another area of strength for the firm. In Washington DC.,
Brian Mangino
has seen a prolific 2021 on behalf of relationship client Permira alongside
Andrea Gede-Lange
, with Mangino leading on the McAfee deal and Gede-Lange advising on several other key transactions.
Mark Lucas
has led notable transactions for Redbird and Goldman Sachs across a wide range of sectors. Senior figure
Robert Schwenkel

is now of counsel at the firm, and is known for his continued work on club deals.
Fielding an experienced team with '
top-notch lawyers
',
Fried, Frank, Harris, Shriver & Jacobson LLP
has strength in depth in public M&A and capital markets transactions, particularly representing issuers and underwriters in high-value IPOs. The group holds several global investment banks and real estate companies as key clients. In Washington DC, practice head
Stuart Barr
has a robust background in corporate governance matters and securities laws and works closely with tax partner
Cameron Cosby
, who has extensive experience in REIT tax structuring and transactions. Other key players include New York based co-chair of the M&A group
Philip Richter
and 
Libin Zhang
.
Fried, Frank, Harris, Shriver & Jacobson LLP
has a standout presence in global offerings for healthcare, telecoms, shipping and insurance businesses; this includes a mixture of IPOs and other equity offerings, along with investment grade, high-yield, and convertible debt issuances. The firm's expertise in high-yield debt is frequently applied in acquisition financings for global private equity clients. It has also continued to be appointed as underwriters' counsel to a range of global issuers and is making a further impression in green bonds and sustainable financings.
Daniel Bursky
 leads the highly rated New York-based team, which frequently works alongside colleagues in London.
Fried, Frank, Harris, Shriver & Jacobson LLP
has a multidisciplinary practice, advising clients on complex corporate transactions, insolvencies and out-of-court restructurings. Its US and London based offices allow seamless representation on cross-border matters, particularly upon bankruptcies. Notable mention is given to the representation of Seritage Growth Properties in relation to the Chapter 11 cases of Sears Holdings Corporation, where the team acts as restructuring counsel. The practice is led by
Brad Eric Scheler
 in New York, who is well versed in corporate finance and strategic planning and has advised clients of a corporate, institutional and governmental capacity.
Fried, Frank, Harris, Shriver & Jacobson LLP >
Firm Profile
Fried Frank is a leading international law firm with approximately 650 lawyers who advise the world's leading corporations, investment funds and financial institutions on their most critical legal needs and business opportunities.
Types of work undertaken
Aerospace and defense: combines expertise in transactional, litigation, regulatory and advisory work to provide clients with counsel on operational performance, compliance profile, policy and regulatory acuity.
Antitrust and competition: works with the firm's corporate, litigation and IP practices to provide counsel on core areas, including the global regulation of M&A, government and criminal investigations and risk management and compliance.
Asset management: is often called upon by financial institutions and private investment funds to advise on hedge funds, private equity/buyout funds, credit funds, real estate funds, infrastructure funds, hybrid funds and also mezzanine funds and related products. The practice also handles compliance and regulatory issues and covers the full spectrum of derivatives products.
Capital markets: represents issuers, underwriters, private equity sponsors, investors, selling stockholders, initial purchasers and dealer-managers in private and US SEC registered debt and equity securities offerings, and related acquisition finance and private equity transactions.
Environmental: provides a reasoned evaluation of the environmental risks attendant to every transaction and works closely with the firm's corporate, litigation, real estate and bankruptcy and restructuring practices.
Executive compensation and ERISA: offers counsel on the structuring and implementation of a range of compensation and benefit plans and programs for privately and publicly held corporations, their boards of directors and compensation committees, investment banking firms, leveraged buyout and other investment partnerships, investment managers and senior executives.
False claims act: represents clients in civil fraud enforcement, including internal investigations, subpoena and Civil Investigative Demand (CID) compliance, and litigation.
Finance: represents private equity sponsors and corporations in acquisition financings and recapitalizations; investment banks in arranging leveraged transactions; alternative capital providers in making direct investments; investment vehicles and lenders in fund-level financings; and borrowers, issuers, bondholders and other lenders in debt restructurings.
Financial services: represents financial organizations including US and international commercial and investment banks and other lenders, asset management and private equity firms, broker-dealers, hedge funds and institutional investors, and providers of payment services.
Government contracts: counsels clients on complex statutes and regulations at each stage of the government contracting process, from solicitation, award, bid protests, performance and termination to cost-performance liabilities and regularly supports merger and acquisition activity in the aerospace and defense and information technology arenas.
International arbitration: handles international arbitrations ranging from the highest-profile cases to medium-sized and smaller disputes, marshaling resources from different legal systems and the expanding body of international commercial law.
Intellectual property and technology: offers services related to IP litigation, counseling and transactions designed to assist in the acquisition, commercialization, management, enforcement and defense of patents, trademarks, copyrights, trade secrets, software, IT systems and other IP and technology assets.
Intellectual property litigation: develops and executes comprehensive IP strategies to help clients realize greater value from their assets and to manage risks across a broad range of technologies and all aspects of intellectual property, including patents, trade secrets, copyrights, trademarks, and unfair competition issues.
International trade and investment: counsels a broad range of clients on international trade controls and other related regulatory matters, including matters involving OFAC, EAR, ITAR, FCPA, CFIUS, UK Bribery Act, anti-boycott requirements and anti-money laundering.
Litigation: represents clients on complex domestic and cross-border matters, including securities class actions, shareholder litigation, corporate conduct, business tort litigation, real estate, M&A, financial services, insurance, antitrust and competition-related controversies. Clients include corporations, financial institutions, special litigation committees, boards of directors, issuers and underwriters.
Mergers and acquisitions: advises acquirers and targets, special committees, audit committees, and boards of directors in complex negotiated and contested situations, including negotiated mergers, hostile takeovers and takeover defense, proxy contests and financial adviser representations, and restructuring transactions.
Private equity: is active in various aspects of private equity transactions and regularly provides counsel to prominent fund sponsors and investors on the full range of their investment-related activities, including fund formations, leveraged buyouts, consortium bids, syndications and exit strategies.
Real estate: counsels clients on the acquisition and disposition of single assets and portfolios, distressed real estate and workouts, mortgage and mezzanine financing and restructuring, development and construction, leasing, joint ventures, real estate investment trusts, and real estate litigation.
Restructuring and insolvency: represents clients in formal bankruptcies/ insolvencies and out-of-court restructurings. Representing both debtors and creditors, the firm counsels and formulates strategies on insolvency, creditors' rights and commercial law issues that arise in complex corporate and real estate acquisitions, divestitures and financings.
Tax: encompasses all principal forms of corporate transactions, including M&A and dispositions, spin-offs, and joint ventures. It includes hedge fund and private equity fund formations, tax issues associated with financings, including borrower, lender and capital markets representations, real estate transactions, restructurings, and international tax planning matters.
Trusts and estates: advises clients, who are generally domestic or foreign individuals and families with substantial wealth in a wide variety of personal planning matters.
White-collar defense, regulatory enforcement and investigations: guides clients through a wide range of enforcement matters, government investigations and internal investigations. The team regularly defends corporations and individuals under nationwide and global criminal and regulatory investigations, including matters related to securities, commodities, and other financial frauds, insider trading, market manipulation, anti-corruption violations, money laundering, RICO violations, cybersecurity.
Main Contacts
| Department | Name | Email | Telephone |
| --- | --- | --- | --- |
| Aerospace and defense | Brian T Mangino | | |
| Antitrust and competition | Bernard (Barry) A Nigro Jr | | |
| Asset management | Lawrence N Barshay | | |
| Asset management | Kenneth I Rosh | | |
| Capital markets | Daniel J Bursky | | |
| Environmental | Donna Mussio | | |
| Executive compensation and ERISA | Jeffrey Ross | | |
| False claims act | Michael J Anstett | | |
| Finance | J Christian Nahr | | |
| Government contracts | James J McCullough | | |
| Intellectual property and technology | Amir Ghavi | | |
| Intellectual property litigation | Nicole M Jantzi | | |
| International arbitration | James Kitching | | |
| International trade and investment | Michael T Gershberg | | |
| Litigation | James D Wareham | | |
| Mergers and acquisitions | Steven Epstein | | |
| Mergers and acquisitions | Philip Richter | | |
| Mergers and acquisitions | Robert C Schwenkel | | |
| Private acquisitions and private equity | Christopher Ewan | | |
| Private acquisitions and private equity | Robert C Schwenkel | | |
| Private acquisitions and private equity | Steven Steinman | | |
| Real estate/corporate real estate transactions | Jonathan L Mechanic | | |
| Real estate/corporate real estate transactions | Fiona J Kelly | | |
| Restructuring and insolvency | Brad Eric Scheler | | |
| Tax | David I Shapiro | | |
| Tax | Alan S Kaden | | |
| Technology transactions | Amir Ghavi | | |
| Trusts and estates | Brad J Richter | | |
| White-collar defense, regulatory enforcement & investigations | Geoffrey S Berman | | |
| White-collar defense, regulatory enforcement & investigations | Steven Witzel | | |
| Chairman | David J Greenwald | | |
Lawyer Profiles
| Photo | Name | Position | Profile |
| --- | --- | --- | --- |
| | Jonathan Adler | Jonathan Adler is a corporate partner and focuses primarily on representing financial… | View Profile |
| | Nathaniel Asker | Antitrust Partner. Mr. Asker is an antitrust and competition partner. His practice… | View Profile |
| | Amber Banks | Ms. Banks is a partner in Fried Frank's Corporate Department and member… | View Profile |
| | Andrew Barkan | Mr. Barkan is a corporate partner and concentrates his practice on corporate… | View Profile |
| | Michael Barker | Michael Barker, a real estate partner, has a broad range of experience… | View Profile |
| | Mr Evan Barr | A former federal prosecutor, Mr. Barr has represented individuals and companies in… | View Profile |
| | Stuart Barr | Mr. Barr is a corporate partner in the Capital Markets Practice and… | View Profile |
| | Lawrence Barshay | Mr. Barshay is a corporate partner and the founder and head of… | View Profile |
| | Geoffrey Berman | Geoffrey Berman is a litigation partner and head of Fried Frank's White… | View Profile |
| | Mr Zachary Bernstein | Zachary Bernstein, a real estate partner, specializes in land use practice. He… | View Profile |
| | Jeremy Berry | Jeremy Berry is a corporate partner resident in Fried Frank's New York… | View Profile |
| | Matthew Bettinger | Mr. Bettinger advises clients in connection with a broad range of commercial… | View Profile |
| | Amy Blackman | Amy Blackman is an executive compensation & ERISA partner resident in Fried Frank's New… | View Profile |
| | Emil Buchman | Mr. Buchman is a corporate partner. He advises financial institutions and corporations… | View Profile |
| | Daniel Bursky | Mr. Bursky is head of the Firm's Capital Markets Practice and a… | View Profile |
| | Mr Donald Carleen | Mr. Carleen is an executive compensation & ERISA partner and regularly advises… | View Profile |
| | Joshua Coleman | Mr. Coleman is a corporate partner and concentrates his practice in corporate… | View Profile |
| | Andrew Colosimo | Andrew J. Colosimo is a corporate partner resident in the Firm's New York… | View Profile |
| | Mr Israel David | Mr. David is a partner and primarily focuses on the litigation of… | View Profile |
| | Suzanne Decker | Suzanne deVries Decker, real estate partner, represents developers, private equity firms, investment… | View Profile |
| | Mr Steve Epstein | Mr. Epstein is a partner in the corporate department and co-head of… | View Profile |
| | Jason Ertel | Mr. Ertel is a partner in the Executive Compensation & ERISA department,… | View Profile |
| | Mr Christopher Ewan | Mr. Ewan is a partner and concentrates his practice in private equity… | View Profile |
| | Jessica Forbes | Jessica Forbes is a corporate partner resident in Fried Frank's New York… | View Profile |
| | Joseph Fox | Tax Partner. Mr. Fox focuses on domestic and cross-border tax issues relating… | View Profile |
| | Andrea Gede-Lange | Ms. Gede-Lange represents private equity firms, investors and public and private companies… | View Profile |
| | Mark Hayek | Mr. Hayek is a partner in the Corporate Department and the Capital… | View Profile |
| | Robin Henry | Robin Henry is a litigation partner resident in the New York office.… | View Profile |
| | Erica Jaffe | Erica Jaffe is a corporate partner in the Mergers and Acquisitions and… | View Profile |
| | Mr Stephen Juris | Mr. Juris has extensive experience litigating complex commercial disputes and representing corporate… | View Profile |
| | David Karnovsky | David Karnovsky, a real estate partner, focuses on land use, zoning, real… | View Profile |
| | Fiona Kelly | Fiona J. Kelly is a corporate partner resident in Fried Frank's New… | View Profile |
| | Randi Lally | Ms. Lally has significant experience in private equity transactions and mergers and… | View Profile |
| | Stephen Lefkowitz | Stephen Lefkowitz, a real estate of counsel, focuses his practice on real… | View Profile |
| | Nathaniel Lifschitz | Mr. Lifschitz counsels financial institutions, owners, developers, REITs, and domestic and offshore… | View Profile |
| | Kabaye Liku | Ms. Liku's practice focuses primarily on commercial real estate finance and development.… | View Profile |
| | Darren Littlejohn | Darren A. Littlejohn is a corporate partner and a member of the… | View Profile |
| | Aleksandr Livshits | Antitrust Special Counsel. Mr. Livshits focuses on mergers and acquisitions, including complex… | View Profile |
| | Mark Lucas | Mr. Lucas regularly acts for industry leading private equity firms and public… | View Profile |
| | Scott Luftglass | Mr. Luftglass is a litigation partner and focuses on representing corporations, boards… | View Profile |
| | Laurinda Martins | Ms. Martins has extensive experience with sophisticated commercial real estate transactions, including… | View Profile |
| | Robert McLaughlin | Mr. McLaughlin is a corporate partner and head of the Firm's Derivatives… | View Profile |
| | Jonathan Mechanic | Jonathan Mechanic, a real estate partner and chairman of the Firm's Real… | View Profile |
| | Dorothy Mehta | Dorothy D. Mehta is a corporate partner and member of the firm's… | View Profile |
| | Melanie Meyers | Melanie Meyers, a real estate partner, focuses on real estate development, with… | View Profile |
| | David Mitchell | Corporate partner. He is a leading practitioner in commodities, futures and derivatives.… | View Profile |
| | Brian Murphy | Mr. Murphy is a corporate partner resident in the New York office.… | View Profile |
| | J. Christian Nahr | Mr. Nahr is a corporate partner and head of the Firm's global… | View Profile |
| | Wesley O'Brien | Mr. O'Brien regularly advises leading real estate owners and developers as well… | View Profile |
| | Wesley O'Brien | Mr. O'Brien regularly advises leading real estate owners and developers as well… | View Profile |
| | Rachel Perez | Rachel Perez is a special counsel and focuses on representing investment fund… | View Profile |
| | Russel Perkins | Russel G. Perkins is a partner in the Corporate Department and Asset… | View Profile |
| | F. William Reindel | Mr. Reindel is a corporate partner, resident in the Firm's New York… | View Profile |
| | Mr Philip Richter | Corporate partner; co-head of M&A practice. Represents clients in M&A transactions involving… | View Profile |
| | Jennifer Rodburg | Jennifer L. Rodburg is a restructuring and insolvency partner resident in Fried… | View Profile |
| | Christopher Roman | Tax Partner. Mr. Roman's practice focuses on tax aspects of alternative investment… | View Profile |
| | Carol Rosenthal | Carol E. Rosenthal, a real estate partner, has over 30 years of… | View Profile |
| | Mr Kenneth Rosh | Kenneth Rosh is a corporate partner and head of the Firm's private… | View Profile |
| | Mr Jeffrey Ross | Mr. Ross is an Executive Compensation & ERISA partner, chair of the… | View Profile |
| | Jeffrey Schatz | Jeffrey Schatz is a corporate partner resident in the Firm's New York… | View Profile |
| | Brad Eric Scheler | Mr. Scheler is a senior partner of the Restructuring and Insolvency Department.… | View Profile |
| | Lisa Schneider | Lisa Schneider is a corporate partner resident in Fried Frank's New York… | View Profile |
| | Mr Robert Schwenkel | Partner, global head of M&A and private equity practice. Diverse transactional practice… | View Profile |
| | David Shapiro | Tax Partner. Mr. Shapiro is a tax partner and co-chair of the… | View Profile |
| | Adam Shiff | Adam L. Shiff is a restructuring and insolvency partner resident in Fried… | View Profile |
| | Peter Simmons | Mr. Simmons is a litigation partner with 30 years of experience handling… | View Profile |
| | Peter Siroka | Peter B. Siroka is a restructuring and insolvency partner resident in Fried… | View Profile |
| | Mr Steven Steinman | Mr. Steinman is a partner and co-head of Fried Frank's private equity… | View Profile |
| | Adam Summers | Mr. Summers is a partner in the Corporate Department and the Finance… | View Profile |
| | Alexander Sutherland | Alexander Sutherland is a partner in the Real Estate Department resident in… | View Profile |
| | Rami Turayhi | Rami Turayhi is a corporate partner, resident in the Firm's New York… | View Profile |
| | Michael Vines | Mr. Vines focuses his practice on commercial real estate finance, including the… | View Profile |
| | Joshua Wechsler | Mr. Wechsler is a corporate partner and concentrates his practice in corporate… | View Profile |
| | Michael Werner | Mr. Werner represents clients in the acquisition, disposition and development of office,… | View Profile |
| | Nicholas Williams | Nicholas Williams is a real estate associate in Fried Frank's New York… | View Profile |
| | Mr Steven Witzel | Global Head of White Collar Defense, Regulatory Enforcement & Investigations Practice. Represents… | View Profile |
| | Libin Zhang | Tax partner. Extensive experience advising on a diverse range of real estate,… | View Profile |
Other
Other Offices : Frankfurt Other Offices : London