Dorsey & Whitney > Hong Kong, Hong Kong > Firm Profile
Dorsey & Whitney
Offices

Dorsey & Whitney
Room 2802, 28th Floor, Alexandra House
18 Chater Road
HONG KONG
Hong Kong
Dorsey & Whitney > The Legal 500
Rankings
Dorsey & Whitney
 handles brand formulation, maintenance, management and protection work across Greater China. The team draws on the strength of its international network to advise on a range of IP matters, with a focus on trade mark work. Practice head 
Janet Wong
 is recommended for trade mark portfolio matters and IP transactions.
Practice head(s):
Other key lawyers:
Testimonials
'Professional and not only have unique opinions on legal viewpoints, but also make various different suggestions and guidance according to our actual needs and the actual situation of the market.'
Key clients
Chow Tai Fook Jewellery Co., Ltd, Hearts on Fire Company
Mayo Clinic
Janchor Partners Limited
World Trade Centers Association
Two Sigma Investment, LP
Feel the World, Inc. DBA Xero Shoes
Pattern, Inc.
Microsaic Systems Plc
Wisemen International Limited
Pu Tien Holdings Pte Ltd
Mayo Clinic
Perry Street Software, Inc.
Narciso Rodriguez Corporation and NR Class 3, LLC
Tecovas, Inc.
OrbusNeich Medical Company Limited
Work highlights
Assisted Mayo Clinic with successfully opposing a number of objectionable PRC trade mark applications and conducting raid actions in multiple cities in China against a notorious group of infringers manufacturing and distributing MAYO NUTRITION branded healthy drinks
Assisted World Trade Centers Association with successfully obtaining a favourable first instance court decision in Ningbo and an even more favourable court appeal decision in Zhejiang High Court against Taizhou World Trade Center Co. Ltd and others on the basis of unfair competition. The defendants were jointly liable for damages of RMB 3 million, which is the maximum amount of statutory damages available under the current Chinese Trademark Law.
Assisted CHOW TAI FOOK with monitoring and taking down a vast number of infringing CHOW TAI FOOK branded jewellery items from a popular online shopping platform in Southeast Asia, including Indonesia, Taiwan, Vietnam, Thailand, Philippines, Malaysia and Singapore.
Dorsey & Whitney >
Firm Profile
Our dorsey Hong Kong office has served as a crucial connector both into Asia and from Asia to the United States and the rest of the world since 1995.
Since opening in 1995, Dorsey's Hong Kong office has provided a wide range of services to clients with business interests in Asia, as well as Asia clients conducting cross-border business throughout the world.
Our Hong Kong office is comprised of qualified, multi-lingual lawyers and legal professionals who have worked in multiple jurisdictions including, PRC, Hong Kong, England & Wales, and the United States. Admitted to full practice in Hong Kong, our Hong Kong office advises on local, regional and international corporate and commercial transactions across the Asia-Pacific region, the United States, Europe and Canada.
Attorneys in the Hong Kong office practice in the areas of corporate advice and transactional matters, dispute resolution and intellectual property. Our practice groups in Hong Kong offer a multi-disciplinary and industry-focused approach to handle client legal matters in the areas of arbitration, capital markets, corporate governance, dispute resolution, mergers and acquisitions, intellectual property and restructuring.
Our clients include Fortune 500 companies, financial institutions, blue chip conglomerates, PRC real estate developers, technology companies, well-known consumer brands, private equity firms and family offices.
Beyond the Asia-Pacific region, the Hong Kong office team works seamlessly with colleagues in the United States, Europe and Canada to provide a "one-stop" international legal service solution for Asia/China-based clients.
The Dorsey Hong Kong corporate team has advised on large award-winning M&A, capital markets, corporate finance and private equity transactions. The lead corporate partners, Simon Chan and Hilda Chan, have decades of experience handling complicated cross border transactions for clients around the world. Clients include Fortune 500 companies, Hong Kong and China's top real estate companies and HKEX listed conglomerates. With decades of experience in international capital markets, the team covers both ECM and DCM work. With the team's multi-lingual skills, it is well suited to handle the needs of international and Asia/China-based clients. The team is best known for advising founders' boards and senior management of international businesses to find practical legal and business solutions in a complex and uncertain world. Our Hong Kong team works seamlessly with Dorsey's legal experts in the United States, mainland China, Canada and London to provide a one stop solution for our clients' international legal needs.
Dorsey's Greater China intellectual property team is best known for its comprehensive and holistic approach of brand formulation, management and protection in Greater China. With over 20 trademark attorneys globally, the Greater China intellectual property team is part of an extensive network of internationally recognized intellectual property practitioners around the world. The team handles a broad range of intellectual property matters in Asia, with a particular focus on trademark in Greater China. Equipped with industry knowledge, our lawyers provide tailored solutions to multinational corporations in a broad range of industries in relation to building up and maintaining intellectual property rights and to implementing brand protection and licensing strategies in China and Hong Kong. To further maximize value for our clients, many of our lawyers speak multiple languages that are needed for cross-border transactions, including structuring and negotiating licensing agreements, IP commercialization, and distribution and franchising agreements.
Dorsey & Whitney has a strong reputation for handling cross-border disputes. With offices in most of the principal legal and financial centres of the world, the firm's lawyers have acted for individuals, corporates and governments in the resolution of disputes governed by the laws of civil and common law jurisdictions as well as international law and treaties such as those affecting foreign direct investments. The Hong Kong- and mainland China-based members of this firm-wide practice have in recent years been instructed in litigation and arbitration proceedings involving corporate acquisitions, shareholder disputes, contentious insolvencies and a wide variety of commercial matters, preponderant among them cases relating to investments or transactions in China or offshore investments or businesses of Chinese clients. Financial institutions, including banks, investment funds, private equity firms and high-net-worth individuals, are prominent in the client base of the firm's contentious practice in Asia, but our experience in that field spans a wide range of industries including biotechnology, agriculture, manufacturing, mining and mineral processing, petroleum refining, specialized chemical and automotive components. Our disputes lawyers have native fluency in Cantonese and Mandarin as well as English.
Our Hong Kong office works closely with our two other offices in China in Shanghai and Beijing to provide a one stop solution for our clients. Our partners in charge, Peter Corne, Ray Liu and Karen Fan in mainland China lead a full-service team counselling international clients on their market entry, investment, business operations, compliance and dispute resolution in mainland China. The team in China also work seamlessly with our US, Canada and London offices to provide multi-jurisdictional international legal services for our Asia/China-based clients.
Languages
English (fluent) Chinese (including Cantonese and Mandarin)
Interviews
Simon M. Y. Chan, Esq., Hong Kong Office Head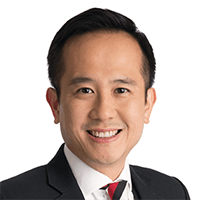 Hong Kong Office Head, Simon Chan explains how the Dorsey is helping our clients succeed in changing times since the pandemic.
What do you see as the main points that differentiate Dorsey & Whitney from your competitors?
We focus on our core values and the practice areas and match them with our industry knowledge. Our Firm's core values are clients, colleagues and communities. They may sound like corporate slogans for others but we hold them true to our hearts on a daily legal practice and management basis to do the best for our clients, colleagues and communities. As such, we have a unique 'Dorsey DNA' about how we help out clients succeed in changing times. We are very proud of our Dorsey DNA!  Our Dorsey DNA allows our Firms' colleagues to be the best that they can be. They achieve greatness for our clients and for their professional careers.
Which practices do you see growing in the next 12 months? What are the drivers behind that?
From a Hong Kong perspective, we see growth in our four areas of focus. They are IP, cross border disputes resolution, corporate and wealth management. The drivers seem to be local China and Hong Kong based clients seeking us out for sophisticated international legal work. Clients know that they will be able to obtain multi-disciplinary solutions to resolve VUCA situations. With Hong Kong being a legal hub, financial and wealth management center, our clients demand one firm solutions for their legal needs in China, Hong Kong and where Dorsey have offices such as in the USA, London and Canada.
What's the main change you've made in the firm that will benefit clients?
Since the beginning of 2021, I have designed and run a program each week to build communities for our lawyers across our global platform. The program has led to clients benefiting from our worldwide legal knowledge, innovation and opportunities from all corners of the globe. We have a lot to offer across the 19 offices, and I have put a lot of effort into connecting those dots. It results in better client outcomes.
Is technology changing the way you interact with your clients, and the services you can provide them?
Yes, technology is definitely changing how we interact with clients especially during the pandemic.  The use of telecommunications technology are bringing us closer than ever before with our clients regardless of location. For example, a cross border M&A closing can be happening in one location while principals, counterparts and lawyers are scattered in various locations. Technology brings everyone in different parts of the world to this single place and one single moment to make the deal happen.
We are very proud of DorseyLegalMine. We have state of the art solutions and technologies (including AI) to help review high volume of documents at increased speed, increased relevance and cost efficiency.
Also, we have a Legal Lab based out of Hong Kong. The Lab is similar to an experiment lab in a Silicon Valley campus in letting our lawyers test drive the latest legal tech and to create innovative solutions to tackle real life legal problems for our clients before they happen. The Lab has been a strong momentum propelling our thinking on legal trends, our legal offerings development and services delivery to our clients. The Lab helps find innovative ways to let clients access our services more efficiently. The Legal Lab is an essential part of our process to solve VUCA legal and business problems in a changing world.
The pandemic has caused all of the legal industry to embrace technologies like video conferencing. The increased use of that technology has really allowed Dorsey to close the distance between offices. I think we are more truly full-service than ever before, in part because of the need to make technological adjustments to face the pandemic crisis.
Can you give us a practical example of how you have helped a client to add value to their business?
One example that I can give is when a longstanding client asked us to advise on their viability to go public. And if so, in which markets, among USA, London, China and Hong Kong. We came up with a decision tree for the client to guide them with the decision making process. After which, we were involved with the selection of investment banks, their additional law firm, auditor, industry advisor, internal control consultant and etc. As a result, we are working very closely with the client in the IPO process.
Are clients looking for stability and strategic direction from their law firms – where do you see the firm in three years' time?
Our clients are relying on their trusted legal advisors to guide them through changes that are happening in the business and regulatory environments. The changes are happening at an unprecedented rate and scale whereby industries are created and forever transformed with latest government policies changes. I like to think that corporate structures and strategies should stand the test of time. As such, we work with our clients to build strategies to future proof their business in changing uncertain times. .
We expect our Firm to continue to grow in number of lawyers and practice areas that we offer in our locations in China, Canada, London and USA.  I have mentioned VUCA issues that our clients face, and our growth is aimed at continually becoming more sophisticated to help our clients with those issues.