Firm Profile > Rajah & Tann Singapore LLP > Singapore, Singapore
Rajah & Tann Singapore LLP
Offices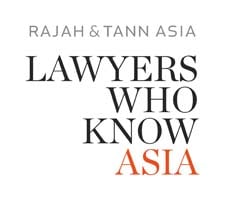 Rajah & Tann Singapore LLP
9 STRAITS VIEW
MARINE ONE WEST TOWER #06-07
SINGAPORE 018937
Singapore
Rajah & Tann Singapore LLP > The Legal 500
Rankings
Rajah & Tann Singapore LLP >
Firm Profile
The firm: Rajah & Tann Singapore is one of the largest full-service law firms in Singapore and South East Asia. The firm has been at the leading edge of law in Asia, having worked on many of the biggest and highest profile matters in the region.
Rajah & Tann Singapore is a member firm of Rajah & Tann Asia. Launched in 2014, it is one of the largest regional networks that brings together leading law firms and over 700 fee earners in Cambodia, China, Indonesia, Lao PDR, Malaysia, Myanmar, Philippines, Thailand and Vietnam, with each offering the highest standards of service to locally based clients while collectively having the capability to handle the most complex regional and cross-border transactions and to provide excellent legal counsel seamlessly across the region. The firm's geographical reach also includes Singapore-based regional desks focusing on Japan and South Asia. Further, as the Singapore member firm of the Lex Mundi Network, it is able to offer clients access to legal support in over 100 countries around the globe.
Rajah & Tann Singapore understands the legal, cultural and business environment in Asia. Its leading practices are highly attuned to market developments and the firm has strong expertise to advise on all aspects of a transaction or matter. The firm's cross-border expertise is augmented by Rajah & Tann Asia, where it works closely with member firms to deliver complete solutions to complex multi-jurisdictional deals. Rajah & Tann Singapore has the largest litigation practice in Singapore and South East Asia with outstanding expertise in dispute resolution and it is the only Singapore law firm with the capability to seamlessly support multi-jurisdictional dispute resolution, as lawyers in the network are qualified to practise local law and appear in local courts in the region.
As a reflection of the pursuit for excellence, the firm has been named Singapore National Law Firm of the Year' at Chambers Asia Awards 2013,
2015 and 2017. It has also been consecutively ranked as a top FT25 Asia-Pacific headquartered firm, having been named at Financial Times' FT
Asia Pacific Innovative Lawyers awards for its work in legal expertise and business of law in the region. In 2016, the firm clinched the 'Most Innovative Law Firm in ASEAN' award. In 2018, it was recognised as an innovative law firm for launching Rajah & Tann Technologies, a new business and service delivery model.
Main Contacts
| Department | Name | Email | Telephone |
| --- | --- | --- | --- |
| Banking and finance | Angela Lim | | |
| Capital markets | Evelyn Wee | | |
| Competition, antitrust and trade | Kala Anandarajah | | |
| Construction and projects/energy | Soh Lip San | | |
| Corporate, mergers and acquisitions | Abdul Jabbar | | |
| Dispute resolution | Leong Kah Wah | | |
| Employment and benefits | Desmond Wee | | |
| Financial services regulatory | Regina Liew | | |
| Intellectual property, gaming and sports | Lau Kok Keng | | |
| International arbitration | Andre Yeap SC | | |
| Investment funds | Arnold Tan | | |
| Private wealth | Vikna Rajah | | |
| Real estate | Elsa Chai | | |
| Restructuring and insolvency | Sim Kwan Kiat | | |
| Shipping and international trade | Toh Kian Sing SC | | |
| Tax | Vikna Rajah | | |
| Technology, media and telecommunications | Rajesh Sreenivasan | | |
Lawyer Profiles
| Photo | Name | Position | Profile |
| --- | --- | --- | --- |
| | Kala Anandarajah, PBM | Head, Competition & Antitrust and TradePartner, Competition & Antitrust and Trade, Employment… | View Profile |
| | Patrick Ang | Deputy Managing Partner, Restructuring & Insolvency | View Profile |
| | Abdul Jabbar Bin Karam Din | Head, Corporate and Transactional PracticePartner, Banking & Finance, General Corporate Commercial, Employment & Benefits, Mergers… | View Profile |
| | Yoke Ping Cheng | Partner | View Profile |
| | Kim Huat Chia | Regional Head, Corporate & Transactional PracticePartner, Capital Markets, Mergers & Acquisitions, Hospitality | View Profile |
| | Lee Fong Chia | Partner (Foreign Lawyer), Capital Markets, Mergers & Acquisitions | View Profile |
| | Terence Choo | Partner, Banking & Finance, Project Finance | View Profile |
| | Beng Chye Chua | Partner, Restructuring & Insolvency | View Profile |
| | Sandy Foo | Partner, Mergers & Acquisitions; Capital Markets; Banking & Finance | View Profile |
| | Cynthia Goh | Partner | View Profile |
| | Chi Tern Hoon | Partner, Capital Markets, Mergers & Acquisitions | View Profile |
| | Winston Kwek | Partner, Shipping & International Trade | View Profile |
| | Weilin Lee | Partner, Banking & Finance | View Profile |
| | Eng Beng Lee, SC, PBM | Managing Partner, Restructuring & Insolvency, Appeals & Issues | View Profile |
| | Kah Wah Leong | Head, Dispute ResolutionPartner, Shipping & International Trade | View Profile |
| | Benjamin Liew | Partner, Financial Institutions Group | View Profile |
| | Angela Lim | Head, Banking & FinancePartner, Project Finance | View Profile |
| | Larry Lim | Deputy Head, Financial Institutions GroupPartner, Energy & Resources Practice | View Profile |
| | Danny Lim | Partner, Capital Markets, Mergers & Acquisitions | View Profile |
| | Wee Hann Lim | Co-Head, Mergers & Acquisitions | View Profile |
| | Dominique Lombardi | Deputy Head, Competition & Antitrust and Trade | View Profile |
| | Danny Ong | Partner, Commercial Litigation, Restructuring & Insolvency, International Arbitration, Fraud, Asset Recovery and… | View Profile |
| | Murali Pillai | Partner, Commercial Litigation, Employment & Benefits | View Profile |
| | Terence Quek | Partner | View Profile |
| | Vikna Rajah | Head, Tax, Private Client | View Profile |
| | Kwan Kiat Sim | Head, Restructuring & Insolvency Practice | View Profile |
| | Arnold Tan | Head, Funds and Investment Management | View Profile |
| | Lawrence Tan | Co-Head, Mergers & Acquisitions | View Profile |
| | Chuan Thye Tan, SC | Partner, Appeals & Issues | View Profile |
| | Ian Teo | Partner, Shipping & International Trade | View Profile |
| | Kian Sing Toh, SC | Senior Partner and Head, Shipping & International TradePartner, International Arbitration | View Profile |
| | Evelyn Wee | Deputy Head, Corporate and Transactional PracticeHead, Capital MarketsSenior Partner, Mergers & Acquisitions | View Profile |
| | Desmond Wee | Head, General Corporate CommercialHead, Employment & Benefits | View Profile |
| | Francis Xavier, SC, PBM | Regional Head, Dispute ResolutionPartner, International Arbitration, Treaty Arbitration, Commercial Litigation, Banking &… | View Profile |
| | Jonathan Yuen | Head, Employment & Benefits (Disputes) | View Profile |
Staff Figures
Number of lawyers in regional office : 600+ in this country : 300+
Languages
Burmese English French German Hindi Indonesian Japanese Khmer Laotian Malay Malayalam Mandarin Punjabi Tagalog Tamil Thai Urdu Vietnamese various Chinese dialects
Memberships
Rajah & Tann Asia Lex Mundi Network
Other
Contacts : Lee Eng Beng SC (managing partner)
Top Tier Firm Rankings
Top Tier Firm Rankings
Firm Rankings
Firm Rankings