Firm Profile > Deacons > Hong Kong, Hong Kong
Deacons
Offices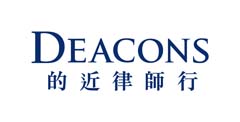 Deacons
5TH FLOOR, ALEXANDRA HOUSE
18 CHATER ROAD, CENTRAL
HONG KONG
Hong Kong
Deacons > The Legal 500
Rankings
Deacons >
Firm Profile
As Hong Kong's own world-class law firm, Deacons advises some of the world's leading companies, financial institutions and individuals in Hong Kong and Mainland China, on their most significant and complex matters. We combine a strong tradition of client service with a pioneering, cosmopolitan outlook and offer the wide range of advice that you would expect from Hong Kong's leading independent law firm.
We are also Hong Kong's longest-established legal practice, established in 1851. Deacons' culture blends traditional client care with modern technology and working practices. Our lawyers stay on top of market developments and regulatory changes across the region, in order to provide relevant, practical and tailored advice.
Operating from our Hong Kong headquarters and three representative offices in Mainland China, we offer clients the benefit of our close relationships with Hong Kong's business community. Our contacts across the region mean that we can manage multijurisdictional work throughout South East Asia and even further afield.
Deacons' impressive track record has been noted by a host of international publications and research agencies. What really matters to us, however, is what our clients think. And they tell us that what they appreciate most is our ability to understand their businesses and to act as 'trusted advisors' in helping them to take crucial business decisions.
With 18 key service areas and three representative offices in Beijing, Shanghai and Guangzhou, Deacons is the largest independent local law firm in Hong Kong. Our principal service areas include: Banking and Finance, Capital Markets, China Trade and Investment, Competition, Construction, Corporate and M&A, Corporate Services, Employment and Pensions, Investment Funds, Insolvency and Restructuring, Insurance, Intellectual Property, Litigation and Dispute Resolution, Private Clients, Real Estate, Regulatory and Tax.
Lawyer Profiles
| Photo | Name | Position | Profile |
| --- | --- | --- | --- |
| | Elsie Chan | Partner | View Profile |
| | Eugina Chan | Partner, co-head of Corporate Finance practice group | View Profile |
| | Karen Chan | Partner | View Profile |
| | Peter Cheng | Partner | View Profile |
| | Kwok Kit Cheung | Partner, head of Construction practice group | View Profile |
| | Kelvan Cheung | Partner | View Profile |
| | Lilian Chiang | Senior Partner, head of Property practice group | View Profile |
| | Ronny Chow | Partner, co-head of Corporate Finance practice group | View Profile |
| | Machiuanna Chu | Partner | View Profile |
| | Su Cheen Chuah | Partner | View Profile |
| | Cynthia Chung | Partner, head of Corporate Commercial practice group | View Profile |
| | Joseph Chung | Partner | View Profile |
| | Robert Clark | Partner | View Profile |
| | Fiona Fong | Partner | View Profile |
| | Sabrina Fung | Partner | View Profile |
| | Philip Gilligan | Partner, head of Finance and Insolvency practice group | View Profile |
| | Richard Hudson | Partner | View Profile |
| | Taylor Hui | Partner | View Profile |
| | Charmaine Koo | Partner, co-head of Intellectual Property practice group | View Profile |
| | Joseph Kwan | Partner, head of Commercial Litigation practice group | View Profile |
| | Paul Kwan | Partner | View Profile |
| | Jeremy Lam | Partner, head of Financial Services practice group | View Profile |
| | Canny Lau | Partner | View Profile |
| | Patsy Lau | Partner | View Profile |
| | Teresa Lau | Partner | View Profile |
| | Linda Lee | Partner | View Profile |
| | Maynard Leung | Partner | View Profile |
| | Alwyn Li | Partner | View Profile |
| | Ming Chiu Li | Partner | View Profile |
| | Helen Liao | Partner | View Profile |
| | Ian Liu | Partner | View Profile |
| | Kelley Loo | Partner | View Profile |
| | Gary Lui | Partner | View Profile |
| | Stefano Mariani | Partner | View Profile |
| | Jeffrey McLean | Partner | View Profile |
| | Carmen NG | Partner | View Profile |
| | Alexander Que | Partner | View Profile |
| | Myles Seto | Partner | View Profile |
| | Dora Si | Partner | View Profile |
| | Gere Sit | Partner | View Profile |
| | Pinky Siu | Partner | View Profile |
| | Peter So | Partner | View Profile |
| | Alfred Tam | Partner, head of Insurance Litigiation practice group | View Profile |
| | Kevin Tong | Partner | View Profile |
| | Annie Tsoi | Partner, co-head of Intellectual Prorperty practice group | View Profile |
| | Edwarde Webre | Partner | View Profile |
| | Gary Wong | Partner | View Profile |
| | Wallace Wong | Partner | View Profile |
| | Wai Tung Yu | Partner | View Profile |
| | Justin Yuen | Partner | View Profile |
| | Icarus Yuen | Partner | View Profile |
| | Rhoda Yung | Partner | View Profile |
| | Catherine Zheng | Partner | View Profile |
Staff Figures
Partners : 52
Languages
Korean Spanish Malay French Dutch German Japanese Italian Hokkien English Cantonese Chinese (Cantonese and Mandarin) Swedish Hindi Norwegian Portugese Chinese (including Cantonese and Shanghainese dialects)
Top Tier Firm Rankings
Top Tier Firm Rankings
Firm Rankings
Firm Rankings