Deacons > Hong Kong, Hong Kong > Firm Profile
Deacons
Offices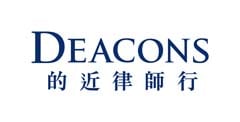 Deacons
5TH FLOOR, ALEXANDRA HOUSE
18 CHATER ROAD, CENTRAL
HONG KONG
Hong Kong
Deacons > The Legal 500
Rankings
Deacons
has a long track record of handling complex, high-value corporate transactions, including acting on inbound and outbound M&A, take-privates and business reorganisations. In addition to its work for multinationals entering the PRC market, the group also acts for public and private HK companies across sectors including financial services, real estate, consumer goods and technology. The group is jointly headed by
Ronny Chow
, who leads the corporate finance team, and
Machiuanna Chu
, who is also head of the corporate and commercial sub-team; and it was bolstered with the hire of
Mark Stevens
who joined from
Bryan Cave Leighton Paisner
in September 2022.
Alexander Que
is another name to note and takes the lead on privatisation.
Long-established Hong Kong law firm
Deacons
works for several of the world's best-known brands on both their trade mark portfolios and complex prosecutions. It also houses a dedicated patent team, comprising patent attorneys who are qualified in Australia, China, Europe and UK. Another strength is IP litigation, while sector strengths for the group include consumer goods, financial services, TMT, life sciences, luxury goods, hospitality, entertainment, and electrical, electronic and mechanical manufacturing. The IP department is co-led by court litigation specialist
Charmaine Koo

, and
Annie Tsoi
, who also heads the China IP practice group. Also integral to the team are trade mark portfolio protection expert
Patsy Lau
;
Jeffrey McLean
, who is experienced in the technical and patent aspects of contentious matters; and Hong Kong and New Zealand-qualified
Kelley Loo
.
Emmy Chow
is a partner as of January 2022, while
Theresa Luk
and
Eliza Siew
are the senior associates to note.
Drawing upon significant market intel and also benefitting from strong ties with Hong Kong's Securities and Futures Commission (SFC),
Deacons
'understands the Hong Kong fund market very well', 
particularly in the context of retail funds. In this segment of the market,
Jeremy Lam
spearheads a '
cost-effective' 
team that '
handles the majority of authorised funds in Hong Kong',
for Chinese and international fund managers. The '
very dependable' 
Su Cheen Chuah
and
Pinky Siu
, who is able to draw from an '
abundance of experience', 
both excel in the ETF space, and are able to guide many leading sponsors through the fund life cycle, from structuring advice and stock exchange listing guidance, through to advice on marketing and distribution, as well as on post-authorisation and regulatory developments.
Taylor Hui
has excellent traction among Chinese stakeholders across both retail and private funds; he excels at advising PRC fund managers on fund establishment in Hong Kong and on bringing RMB investment products to the Hong Kong market.
Deacons
is a market leader in the employment sphere, which as well as an extensive advisory practice tackling such employment issues as those presented by the Covid-19 pandemic, also boasts an impressive contentious offering which benefits enormously from one of the largest and long-established litigation practices in Hong Kong. Leading the employment team and bringing almost three decades of experience is
Cynthia Chung

, who in recent years has served as a seasoned advisor to both local and international clients on contemporary issues such as remote working and vaccination requirements.
Elsie Chan
is widely renowned and respected for her handling of contentious matters, regularly called upon by some of the largest employers in Hong Kong to act in high profile cases, often involving statutory bodies and appearing before the most senior courts.
Helen Liao
has developed a significant practice guiding employers through the complex and sensitive area of discrimination law.
A firm founded in Hong Kong,
Deacons
 offers a thorough knowledge of the market and local regulations, as well as the capability to advise on large developments and cross border transactions. The real estate practice is led by the '
outstanding
'
Lilian Chiang

, who advises on major development projects and is recommended for her '
technically sound advice
'.
Wallace Wong
 has over two decades of experience and has handled many large real estate M&A deals in that period. Consequently, Wong has developed strong and lasting relationships with several major developers in Hong Kong, including the Urban Renewal Authority.
Karen Chan
 and
Wai Tung Yu
 are also key names to note. They assist on property transactions involving mergers and acquisitions, joint ventures and property investment.
'
Approachable, helpful and responsive at all times
', the construction team at
Deacons
is well known in the market for handling disputes, transactional and advisory matters. On the disputes front, the practice advises on litigation, arbitration and mediation and handles both domestic and cross-border matters. Key clients include major developers, employers, contractors, sub-contractors, suppliers and consultants, and part of the firm's non-contentious offering includes competition and compliance advice. Seasoned litigator
Kwok Kit (KK) Cheung
 heads the team and acts for clients on construction and commercial disputes.
Joseph Chung
 is an arbitrator and is admitted to appear in the Singapore International Commercial Court (SICC).
Deacons
has a large financial services regulatory team based in Hong Kong, utilising specific experience of senior partners across banking and finance to offer comprehensive advice on both contentious and non-contentious matters. The firm focuses its attention on the Hong Kong regulatory terrain, building connections with statutory regulators such as the SFC, and sitting on government-facing committees to offer recommendations on incoming legislation. The firm offers tailored advice for finance clients entering the region, such as institutional asset managers, securities houses and investment banks, and is particularly well-regarded for its fund management regulatory services. The expertise of contentious and non-contentious practice heads respectively,
Joseph Kwan

and
Jeremy Lam
, are valued highly in this practice area.
Deacons
is a long-established firm with sizeable expertise in competition and international M&A advice, due in large part to the knowledge of practice head
Machiuanna Chu
. The team is also experienced at handling high-profile Competition Tribunal cases. Clients praise the firm's in-house competition economist
Sharon Pang
, whose
'deep insight of the local market
' has been vital when assisting lawyers with antitrust litigation cases.
Peter So
is another name to note, with experience in a number of high-profile competition and investigation matters.
Led by
Kevin Tong
, the
'professional and responsive'
 team at
Deacons
is particularly effective at advising Greater China-based issuers, including SOEs, sovereigns and corporates, on a range of offshore bond issuances. Tong is '
very knowledgeable' 
of the regulatory strictures emanating from the HKSE, and has been at the vanguard of the offshore bond market since it was established in 2007. Consequently, he is a popular choice to advise clients across the life-cycle of deals, including providing standalone regulatory advice, handling transactional matters, and assisting with liability management exercises.
At
Deacons
, the '
knowledgeable and well-respected'
Ronny Chow
(who is also a member of HKEX's Listing Review Committee) leads a team of '
talented and dedicated practitioners who are well versed with the nuances of corporate finance transactions'.
Underwriters, sponsors and issuers are appreciative of the practice's ability to '
provide useful and practical analysis on related legal issues',
including as it pertains to regulatory analysis, ensuring that clients receive a holistic service that is fully compliant from a risk management perspective. The scope of the work is broad and includes advice on IPOs and listings on both the Main Board and Growth Enterprise Market of the HKSE, as well as a range of other related matters, including block trades, private placements, rights issuances and other secondary offerings.
Maynard Leung
is also recommended.
As one of the oldest law firms in Hong Kong,
Deacons
has a long-standing reputation for corporate transactions, including cross-border deals. The team's clients include companies based in Hong Kong and Mainland China as well as multinationals, and it leverages its expertise across capital markets, competition and regulatory issues to provide input on complex transactions. The group is co-led by corporate finance specialist
Ronny Chow
and
Machiuanna Chu
, who has deep expertise across both corporate and commercial dealmaking.
Independent Hong Kong-based heavyweight
Deacons
provides
'practical advice'
to clients from a range of sectors engaged in arbitration proceedings before the HKIAC, in particular, and is also adept at enforcement of court work around arbitrations, such as enforcement and setting aside. As well as their advocacy work, a number of the team also regularly sit as arbitrators themselves, ensuring that the firm has an excellent perspective on matters, as well as strong ties with the relevant arbitration bodies. The '
very personable and commercial'
Joseph Chung
 is one such team member, particularly in relation to the wealth of experience he has built up handling construction and engineering-related arbitrations.
KK Cheung
also acts as an arbitrator, as well as providing '
practical advice'
to clients engaged in construction and broader commercial disputes.
Justin Yuen
is '
efficient and client-friendly', 
particularly in the context of construction disputes.
Independent Hong Kong-based heavyweight
Deacons
provides '
exceptional value and quality advice' 
to local and regional companies, public sector entities and private clients, across a wide variety of disputes.
'Extremely innovative and hardworking'
team head
Joseph Kwan

's eclectic practice – which includes advice on shareholder disputes, financial services regulatory mandates and trusts matters – is emblematic of the diversity of the firm's offering, ensuring that clients are well-served irrespective of the nature of the dispute. Other key practitioners include the '
innovative and approachable'
Peter So
, who excels at advising financial institutions on contentious regulatory and securities law-related issues, the '
very experienced
'
KK Cheung
, and associate
Michelle Li
.
Although it does handle some tax planning and advisory work for corporate clients,
Deacons
has gained most acclaim in the market for its skilled litigation offering on behalf of private clients and corporates across a range of disputes, including as it relates to direct and indirect taxes and stamp duties. Central to the firm's success in this area has been the work of team head
Stefano Mariani
 who takes the lead on all the cases, frequently handling the advocacy himself; including in a recent successful Court of Appeal case relating to the chargeability of certain post-employment payments to salaries tax in Hong Kong.
A renowned firm in Hong Kong,
Deacons
draws on its multidisciplinary nature to construct a skilled private client and family practice; covering a wide scope of areas such as matrimonial law, vulnerable clients, contentious probate and tax and trusts. The addition of
Sherlynn Chan
 and senior associate
Hazel Wong
 from
Stevenson, Wong & Co
was a boost to the family offering, the former advising on complex matrimonial disputes including divorce, cohabitation and child custody.
Cecilia Lau
 is also skilled regarding family matters and on the private client side and
Stefano Mariani
brings extensive tax and trusts experience when handling private wealth disputes, such as estate planning and trust restructuring.
Housing practitioners with technology and science backgrounds,
Deacons
' TMT practice is particularly active in relation to digital assets. Its experience covers cryptocurrencies and the tokenisation of assets, blockchains, smart contracts and the metaverse. The team can also draw upon the expertise of the firm's experienced IP, corporate and commercial practices.
Charmaine Koo

's practice covers IP litigation, data privacy and entertainment; and
Machiuanna Chu
 regularly advises new economy clients and emerging businesses, including technology companies, cryptocurrency issuers and fintech companies (among others). On the IP side,
Ian Liu
,
Kelley Loo
 and
Amy Chung
 are also active partners.
Headed by
Ronny Chow
, the '
client-friendly'
three-partner team at
Deacons
provides a solid service to borrowers and lenders engaged in a wide spectrum of transactional work, including on domestic and cross-border syndicated/bilateral loans, acquisition finance and real estate finance matters.
Erica Wong
 is '
technically very strong'
and has brought more firepower to the firm's ability to service clients on corporate finance transactions since she joined from
Ogier
in June 2021. As well as his transactional expertise, consultant
Simon Deane
has an excellent grounding in relation to financial services regulatory matters, including as it relates to fintech and traditional banking.
With practitioners qualified in Kong Hong, England and Australia,
Deacons
has
'vast experience in a wide range of contentious matters, including casualty claims such as employees' compensation, public liability and third party motor claims, as well as general claims'
. The team typically acts for international and domestic insurers, intermediaries and government organisations, and is led by
Alfred Tam
, who is specialised in arbitration and litigation.
Linda Lee
 is recommended for policy disputes and personal injury and professional indemnity matters. Road traffic accident and property-related claims is the area of expertise of
Gere Sit
.
Advising regularly on sensitive employment-related matters,
Deacons
is adept at assisting its clients with navigating the complexities of PRC labour law. PRC Bar qualified
Helen Liao
advises both Chinese state-funded enterprises and multinational companies across a range of industries including shipping, telecoms and tourism. Liao's key areas of expertise include cross-border employment arrangements, income tax compliance, immigration and more generally, the multi-jurisdictional labour issues arising from global talent mobility. Notably, the firm counts other law firms among its client roster which it advises on high-level terminations.
Deacons
' Hong Kong-based IP team, which also leverages support from representative offices in Beijing, Shanghai and Guangzhou, acts for some of the world's best-known brands. The firm houses patent attorneys, who are  qualified in Australia, China, Europe and the UK, and has a longstanding track record  in handling large trade mark portfolios and prosecution matters. The IP department is co-led by IP expert
Charmaine Koo

, and 
Annie Tsoi
, who consistently acts for leading companies from the luxury goods, cosmetics, pharmaceutical, entertainment, fashion and electronics sectors. Also integral to the group are patents and designs practice leader,
Catherine Zheng
, a specialist in China IP protection strategy and contentious matters;
Dora Si
, who provides '
quick responses
' and '
firm and concise advice
', and advises on China-related data privacy and cybersecurity issues; and China-focused technology specialist
Ian Liu
, who is particularly active in IP litigation and enforcement work, along with commercial IP matters.
Deacons >
Firm Profile
Firm overview: Deacons is Hong Kong's premier independent law firm and advises some of the world's leading companies, financial institutions and individuals in Hong Kong and mainland China on their most significant and complex matters. With over 170 years of experience providing legal services, 18 key service areas and three representative offices in mainland China, Deacons offers clients the benefit of its close relationships with Hong Kong's business community.
Key service areas
Banking and finance: Deacons has built a leading position in the sector over many years of working for some of the world's largest banks, financial institutions and trading companies within financing across the region. The firm's experience spans syndicated lending, acquisition, project and structured trade finance, and banking regulatory work.
Capital markets: The firm's extensive experience spans all areas of corporate finance, capital markets, structured products and regulatory work — ranging from IPOs, secondary issues, debt financing and bond issues to public takeovers — making Deacons well-equipped to advise on fundraising solutions to suit any organisation.
China trade and investment: With its Mandarin-speaking team, and the support of offices in Beijing, Shanghai and Guangzhou, Deacons can assist with everything from gaining approval for investment projects, cross-border M&A, joint ventures with Chinese companies, and putting in place supply and distribution agreements, to setting up offices and operations in China.
Corporate and M&A: The firm's highly regarded corporate team serves an extensive client base spanning a variety of sectors, advising on all aspects of transactional work, including private mergers, acquisitions and disposals, private equity and venture capital investments and exits, and local and cross-border joint ventures.
Corporate services: Deacons' experienced team can help lessen the burden of complying with regulatory formalities allowing clients to focus on their core business. The firm's highly ranked team offers cost-effective professional corporate services, including helping with company formation, company secretarial services, registered office provision, and the preparation and custody of statutory records to ensure that everything is fully compliant and up to date.
Competition:  The firm's practice combines solid antitrust legal and economics experience with unparalleled in-depth knowledge of business practices in Hong Kong. Its lawyers and in-house economist have extensive experience advising companies and senior executives in a wide range of competition matters.
Construction: Deacons has considerable experience of advising on major projects across the region. The firm's non-contentious work encompasses the full range of contractual and risk management advice, and spans both public and private sector projects, as well as resolving disputes through traditional and alternative dispute resolution techniques.
Employment and pensions: Deacons assists a wide range of clients with a variety of issues, including employment documentation, employee benefits and incentives, day-to-day HR issues, labour and employment disputes, pension regulations, work and residence visas, and the employment aspects of M&A and restructurings.
Family law: The Deacons' team understands the importance of protecting clients' interests and resolving matrimonial disputes quickly and effectively, to minimise emotional distress and preserve family harmony where possible, especially with the increase in marriages involving international elements, global residences and complex worldwide family assets and businesses. Our team is experienced in handling a wide range of family related matters in both contentious and non-contentious settings.
Intellectual property (IP): The firm's award-winning IP practice offers a seamless service across Hong Kong and mainland China covering all areas of IP law, including the protection, exploitation and enforcement of copyright, designs, patents and trademarks (including the direct filing of Chinese trade marks through its Beijing trade mark agency).
Investment funds: The largest investment funds team in Hong Kong, Deacons acts for a high proportion of international and local asset managers on matters ranging from  authorised funds and products to alternative investment funds and all related regulatory work.
Private client: Deacons' experienced private client team can help with everything from local and international tax planning, wealth management and succession planning using wills, trusts and other structures, to philanthropy, real estate, probate and administration of estates, trust disputes and the running and restructuring of family businesses.
Data protection and privacy: Deacons offers a seamless service across Hong Kong and mainland China, advising on the full range of issues including data privacy policies and compliance, exploitation of data, cybersecurity and handling data breaches, data transfer, privacy issues in advertising and marketing, as well as investigations and appeals before the Privacy Commissioner and other enforcement authorities.
Insurance: With Hong Kong's largest specialist insurance practice, Deacons advises international and domestic insurers, intermediaries, regulators and others on a variety of matters, including large international insurance and reinsurance coverage disputes, regulatory issues, professional indemnity claims, insurance insolvencies and corporate deals in the regional insurance market.
Litigation and dispute resolution: Deacons' reputation is founded on efficiently handling a wide range of work, from large scale, complex, multijurisdictional litigation to more routine matters, in every area from general commercial and contractual cases, insurance and partnership disputes, to highly technical banking, IP, trusts, real estate, employment and tax litigation.
Real estate: With a team of over 50 experienced staff, Deacons provides high-quality, integrated real estate advice on everything from the sale and purchase of real estate, property management and landlord/tenant issues, real estate finance, planning and zoning, real estate tax and dispute resolution.
Regulatory: Deacons' regulatory team is highly experienced in dealings with the HKMA, SFC, OCI and MPFA, and in handling wider issues concerning fund authorisation and insurance, as well as insider dealing and market misconduct. Its commercial regulatory work ranges from regulatory investigations and data protection to bribery and corruption, discrimination and competition.
Tax: Deacons assists with all areas of tax law, from advising on tax-efficient business or investment structures, exemptions, reliefs and concessions, to representing clients in tax investigations or disputes. The firm also has considerable experience of advising on China's Enterprise Income Tax and its various turnover taxes.
Lawyer Profiles
Staff Figures
Partners : 54
Languages
Korean Spanish Malay French Dutch German Japanese Italian Hokkien English Cantonese Hindi Portugese Chinese (Mandarin and dialects) Chinese (Hokkien) Shanghainese
Client Testimonials
"Deacons is able to demonstrate deep market experience and knowledge."
---
"The lawyers are also able to provide useful advice on our specific business needs, exploring different options to address the risks and needs."
---
"The team members are professional, efficient and can be trusted to carry out their work well."