Deacons > Hong Kong, Hong Kong > Firm Profile
Deacons
Offices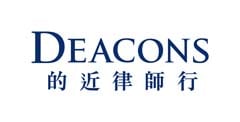 Deacons
5TH FLOOR, ALEXANDRA HOUSE
18 CHATER ROAD, CENTRAL
HONG KONG
Hong Kong
Deacons > The Legal 500
Rankings
Hong Kong firm Deacons has a well-established track record in the local market and it handles contentious and non-contentious IP work for large international corporates, as well as domestic clients. Its in-house patent prosecution team includes patent attorneys who are qualified in Europe, the UK, Australia and China; they work closely with IP litigation lawyers to provide advice on cross-border infringement and enforcement matters. Annie Tsoi, who is dual-qualified in Hong Kong and England & Wales, jointly leads the team with Charmaine Koo, who has recently acted as lead partner in a number of litigated disputes. Koo also handles commercial IP work, including cybersecurity and data privacy. Patsy Lau is recommended for advice on the protection of large international trade mark portfolios. Jeffrey McLean utilises his technical background to assist with the technical and patent aspects of contentious matters. In October 2020, Benjamin Choi left for Oldham, Li & Nie.
A mainstay of the local market, independent heavyweight firm
Deacons
is a popular choice among regional and international asset managers across a range of structuring, regulatory and ongoing operational work. Although it does handle some alternative funds matters, the team's undoubted sweet-spot lies in the retail space and in this context it is '
unmatched in its ability
' to achieve the necessary regulatory authorisation, including in relation to Securities and Futures Commission (SFC) authorised Environmental, Social and Corporate Governance (ESG) funds.
'Helpful and client-friendly'
team head
Jeremy Lam
oversees a vast array of retail funds offered in the Hong Kong market and is also appreciated for his ability to coalesce his legal and regulatory knowledge to good effect.
Taylor Hui
leads the China team and benefits from many years' experience advising PRC fund managers on fund establishment in Hong Kong and on bringing RMB investment products into the Hong Kong market. '
Familiar with all the latest trends',
Ming Chiu Li
is also focused on China-related mandates particularly on bringing innovative fund products to the market.
Deacons
 has recently seen a large number of instructions relating to the COVID-19 pandemic, including those concerning health and safety, data privacy, restructuring and redundancy, and other cost-saving matters. In addition to advising on non-contentious matters, the team continues to represent clients in litigation at all court levels, ranging from labour tribunals to the High Court. The practice is led by
Cynthia Chung

, who has considerable experience of advising local and international clients on employment and HR matters, and is appointed as the vice president of the Employment Law Alliance (ELA) network.
Elsie Chan
is recommended for contentious matters and often acts for employers in disputes with former employees. In recent developments, 
Helen Liao
made partner, while 
Vickie Leung
 was promoted to counsel.
Deacons
' real estate team, which is '
well-established as a market-leader',
 is experienced in the gamut of transactional work relating to residential, commercial and industrial matters
.
It also handles landlord and tenant work and corporate real estate mandates. Elsewhere, much of the firm's development work is led by practice head
Lilian Chiang

, who '
possesses unrivalled knowledge, experience and insight in the every aspect of real estate law'. 
In addition to being noted for her transactional expertise, Chiang
is also at the vanguard of legislative changes in the sector, as was demonstrated by her recent appointment to sit on the steering committee representing the legal sector to help to change/simplify the land system. The roster of clients includes a raft of major domestic developers, including MTR Corporation, which the group is advising on several major residential development projects.
Deacons
is noted for its deep knowledge of financial services and banking regulation – a field in which it is increasingly assisting corporate entities setting up in Mainland China. Another primary area of focus is SFC licensing and compliance for financial firms and a wide variety of other financial sector clients. Singled out for his '
good logical thinking in assessing each situation
', litigation and dispute resolution practice head
Joseph Kwan

leads the group alongside financial services department lead
Jeremy Lam
and finance and insolvency practice head
Philip Gilligan
.
Jane McBride
retired at the end of 2020.
With a strong focus on the domestic market,
Deacons
leverages considerable expertise in the form of practice head
Machiuanna Chu
, who handles competition advisory and cross-border M&A matters, and its in-house competition economist
Sharon Pang
.
Peter So
is a name to note for contentious matters and is experienced in investigations brought by the Hong Kong Competition Commission. The team regularly handles high-profile Competition Tribunal cases.
The '
outstanding
' team at
Deacons
advises issuers and underwriters across a range of debt capital markets matters and is '
very knowledgeable and experienced in helping Chinese clients raising offshore debts'. 'Client-centric and experienced
' team head
Kevin Tong
has been at the vanguard of the development of the offshore bond market and '
is able to suggest practical solutions to resolve the complex legal and regulatory issues as well as to fulfill the regulatory requirements of the Hong Kong Monetary Authority (HKMA)'. 
Deeply embedded into the fabric of the Hong Kong legal and business environment, by virtue its longstanding presence in the country,
Deacons
is a popular choice among regional banks as underwriters, as well as issuers for their listing work on the Hong Kong Stock Exchange. Praised for his '
acute and professional judgement in analyzing complex legal issues',
practice head
Ronny Chow
has vast experience in the market and leads a 13-partner corporate finance team that has the strength-in-depth to handle  IPO work, as well as secondary listings and ongoing regulatory compliance matters. Other recommended practitioners include consultant
Eugina Chan
, 
Maynard Leung
and senior associate
Samantha Chau
, whose broad expertise also includes compliance advice on securities-related legislation and the listing rules.
Led by the 'highly focused and efficient' Kwok Kit Cheung, Deacons' team has a particularly strong reputation for successfully resolving construction disputes for private sector entities through the use of ADR. Its work includes matters concerning defects and delays, late/non-payments and extensions of time. Joseph Chung is 'not only a very knowledgeable lawyer, but also a highly experienced construction disputes litigator'. The firm also advises on competition law issues impacting the industry, and is able to provide particularly effective and commercial advice by leveraging the expertise of in-house economist Sharon Pang.
2021 marked the 170th anniversary since the founding of
Deacons
, a Hong Kong-headquartered firm that has since expanded to Shanghai, Guangzhou and Beijing; the team excels in all transaction types including M&A, private equity and venture capital investments and exits, public takeovers, privatisations and joint ventures, both local and cross-border. A defining trait of the practice is its proficiency in fund matters, from formation and investment through to exist strategies, as well as its track record in assisting Chinese state and privately-enterprises on their outbound investments to Hong Kong. The practice, which also notably acts for several Japanese clients, is jointly headed by
Ronny Chow
 and 
Machiuanna Chu
who directs a level of emphasis towards the new economies tech sector. Consultant
Eugina Chan
 focuses on corporate finance mandates.
Longstanding local firm
Deacons
has a broad dispute resolution practice with expertise in international commercial, construction and energy arbitration. It is particularly active in disputes arising from the belt and road projects, for which construction disputes experts
Kwok Kit Cheung
, the 'outstanding' Joseph Chung and Justin Yuen are all names to note.
Litigator
Joseph Kwan

leads the disputes practice which
 benefits from the ability to work closely with colleagues based in Beijing, Shanghai and Guangzhou. Robert Clark retired.
Clients appreciate the 'attention-to-detail' and 'strategic thinking' on offer at Deacons, which handles shareholder or matrimonial disputes, as well as others relating to professional indemnity and, in one instance, the management rights of professional snooker player Marco Fu. Practice head Joseph Kwan and Paul Kwan regularly act in high-profile litigation for listed companies and government entities; KK Cheung is praised for his 'skilful execution' on construction-related mandates, while Carmen Ng and associate Michelle Li are also highly active. Sherlynn Gaye Chan arrived from Stevenson, Wong & Co following Robert Clark's departure in March 2021.
Deacons
 handles a mix of tax planning work and dispute resolution for its clients, which include corporates, family trusts, charitable foundations and individuals.
Cynthia Chung

 leads the team, whose non-contentious work includes advice on the tax aspects of M&A, reconstructions, joint ventures and the structuring of new businesses. Another key individual is 
Stefano Mariani
, who was promoted to partner in January 2021.
Deacons
 is highly reputed for M&A, IPOs and investments in the TMT space. In addition, the firm is a go-to for advice on a wide ambit of commercial matters, including those relating to advertising, sponsorship agreements, licensing and distribution. With numerous qualified patent attorneys among its ranks, the team is conversant with a range of new technologies, including blockchain and digital non-fungible tokens (NFTs).
Machiuanna Chu
, who focuses on the new economies tech sector, co-heads the practice with
Charmaine Koo
.
Independent Hong Kong Firm
Deacons
has a longstanding history in the city and acts for national and international banks, and as local counsel for international law firms.
Philip Gilligan
heads the finance and insolvency team, with notable experience in advising lenders and borrowers on syndicated and single bank facilities across Asia. Consultant
Simon Deane
 has over 30 years' experience in lending and security work, including debt financing,
Deacons
' team advises clients on a wide range of contentious matters, including those involving statutory insurance (employees' compensation and compulsory third party motor claims) and general claims. It also has expertise in commercial insurance issues, such as policy, life assurance and regulatory matters. In addition, insurance-related restructurings and insolvencies are another cornerstone of the practice, which is led by 
Alfred Tam
. The firm attracts work from domestic and international insurance companies, policy holders, intermediaries and regulators, among other clients.
Advising regularly on sensitive employment-related matters,
Deacons
is adept at assisting its clients with navigating the complexities of PRC labour law. PRC Bar qualified
Helen Liao
advises both Chinese state-funded enterprises and multinational companies across a range of industries including shipping, telecoms and tourism. Liao's key areas of expertise include cross-border employment arrangements, income tax compliance, immigration and more generally, the multi-jurisdictional labour issues arising from global talent mobility. Notably, the firm counts other law firms among its client roster which it advises on high-level terminations.
Deacons
' Hong Kong-based IP team, which also leverages support from representative offices in Beijing, Shanghai and Guangzhou, acts for some of the world's best-known brands. The firm houses patent attorneys, who are  qualified in Australia, China, Europe and the UK, and has a longstanding track record  in handling large trade mark portfolios and prosecution matters. The IP department is co-led by IP expert
Charmaine Koo
, and 
Annie Tsoi
, who consistently acts for leading companies from the luxury goods, cosmetics, pharmaceutical, entertainment, fashion and electronics sectors. Also integral to the group are patents and designs practice leader,
Catherine Zheng
, a specialist in China IP protection strategy and contentious matters;
Dora Si
, who provides '
quick responses
' and '
firm and concise advice
', and advises on China-related data privacy and cybersecurity issues; and China-focused technology specialist
Ian Liu
, who is particularly active in IP litigation and enforcement work, along with commercial IP matters.
Deacons >
Firm Profile
Firm overview: Deacons is Hong Kong's premier independent law firm and advises some of the world's leading companies, financial institutions and individuals in Hong Kong and mainland China on their most significant and complex matters. With over 170 years of experience providing legal services, 18 key service areas and three representative offices in mainland China, Deacons offers clients the benefit of its close relationships with Hong Kong's business community.
Key service areas
Banking and finance: Deacons has built a leading position in the sector over many years of working for some of the world's largest banks, financial institutions and trading companies within financing across the region. The firm's experience spans syndicated lending, acquisition, project and structured trade finance, and banking regulatory work.
Capital markets: The firm's extensive experience spans all areas of corporate finance, capital markets, structured products and regulatory work — ranging from IPOs, secondary issues, debt financing and bond issues to public takeovers — making Deacons well-equipped to advise on fundraising solutions to suit any organisation.
China trade and investment: With its Mandarin-speaking team, and the support of offices in Beijing, Shanghai and Guangzhou, Deacons can assist with everything from gaining approval for investment projects, cross-border M&A, joint ventures with Chinese companies, and putting in place supply and distribution agreements, to setting up offices and operations in China.
Corporate and M&A: The firm's highly regarded corporate team serves an extensive client base spanning a variety of sectors, advising on all aspects of transactional work, including private mergers, acquisitions and disposals, private equity and venture capital investments and exits, and local and cross-border joint ventures.
Corporate services: Deacons' experienced team can help lessen the burden of complying with regulatory formalities allowing clients to focus on their core business. The firm's highly ranked team offers cost-effective professional corporate services, including helping with company formation, company secretarial services, registered office provision, and the preparation and custody of statutory records to ensure that everything is fully compliant and up to date.
Competition:  The firm's practice combines solid antitrust legal and economics experience with unparalleled in-depth knowledge of business practices in Hong Kong. Its lawyers and in-house economist have extensive experience advising companies and senior executives in a wide range of competition matters.
Construction: Deacons has considerable experience of advising on major projects across the region. The firm's non-contentious work encompasses the full range of contractual and risk management advice, and spans both public and private sector projects, as well as resolving disputes through traditional and alternative dispute resolution techniques.
Employment and pensions: Deacons assists a wide range of clients with a variety of issues, including employment documentation, employee benefits and incentives, day-to-day HR issues, labour and employment disputes, pension regulations, work and residence visas, and the employment aspects of M&A and restructurings.
Family law: The Deacons' team understands the importance of protecting clients' interests and resolving matrimonial disputes quickly and effectively, to minimise emotional distress and preserve family harmony where possible, especially with the increase in marriages involving international elements, global residences and complex worldwide family assets and businesses. Our team is experienced in handling a wide range of family related matters in both contentious and non-contentious settings.
Intellectual property (IP): The firm's award-winning IP practice offers a seamless service across Hong Kong and mainland China covering all areas of IP law, including the protection, exploitation and enforcement of copyright, designs, patents and trademarks (including the direct filing of Chinese trade marks through its Beijing trade mark agency).
Investment funds: The largest investment funds team in Hong Kong, Deacons acts for a high proportion of international and local asset managers on matters ranging from  authorised funds and products to alternative investment funds and all related regulatory work.
Private client: Deacons' experienced private client team can help with everything from local and international tax planning, wealth management and succession planning using wills, trusts and other structures, to philanthropy, real estate, probate and administration of estates, trust disputes and the running and restructuring of family businesses.
Data protection and privacy: Deacons offers a seamless service across Hong Kong and mainland China, advising on the full range of issues including data privacy policies and compliance, exploitation of data, cybersecurity and handling data breaches, data transfer, privacy issues in advertising and marketing, as well as investigations and appeals before the Privacy Commissioner and other enforcement authorities.
Insurance: With Hong Kong's largest specialist insurance practice, Deacons advises international and domestic insurers, intermediaries, regulators and others on a variety of matters, including large international insurance and reinsurance coverage disputes, regulatory issues, professional indemnity claims, insurance insolvencies and corporate deals in the regional insurance market.
Litigation and dispute resolution: Deacons' reputation is founded on efficiently handling a wide range of work, from large scale, complex, multijurisdictional litigation to more routine matters, in every area from general commercial and contractual cases, insurance and partnership disputes, to highly technical banking, IP, trusts, real estate, employment and tax litigation.
Real estate: With a team of over 50 experienced staff, Deacons provides high-quality, integrated real estate advice on everything from the sale and purchase of real estate, property management and landlord/tenant issues, real estate finance, planning and zoning, real estate tax and dispute resolution.
Regulatory: Deacons' regulatory team is highly experienced in dealings with the HKMA, SFC, OCI and MPFA, and in handling wider issues concerning fund authorisation and insurance, as well as insider dealing and market misconduct. Its commercial regulatory work ranges from regulatory investigations and data protection to bribery and corruption, discrimination and competition.
Tax: Deacons assists with all areas of tax law, from advising on tax-efficient business or investment structures, exemptions, reliefs and concessions, to representing clients in tax investigations or disputes. The firm also has considerable experience of advising on China's Enterprise Income Tax and its various turnover taxes.
Staff Figures
Partners : 54
Languages
Korean Spanish Malay French Dutch German Japanese Italian Hokkien English Cantonese Hindi Portugese Chinese (Mandarin and dialects) Chinese (Hokkien) Shanghainese