Etihad Law Firm > Baghdad, Iraq > Firm Profile
Etihad Law Firm
Offices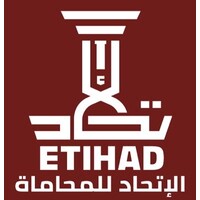 Etihad Law Firm
Dawoody, Mansour
Iraq
Etihad Law Firm >
Firm Profile
The rapidity of our firm expansion, starting from two lawyers up to 25 lawyers, in three years only demonstrate the professional challenging effort by our associates to deliver trustworthy and instant services to our clients. We achieved this through practical and innovative legal solutions that help our clients succeed.
We provide our services  to a wide range of clients starting with major corporations to small family businesses. Clients rely on us to analyze, interpret intricate information, identify, and address the relevant legal issues in any given transaction in order to develop solution-oriented strategies that protect their interests and ensure their long-term success.
Etihad is a firm that is founded on a strong group of advocates and legal consultants possessing vast experience in various legal areas. Our team is willing to provide innovative and prompt consultation in our four offices; our headquarter in Baghdad, Erbil, Mosul, and Basra. We embrace the time-honored virtues of integrity and hard work; these standards earned the firm a reputation that makes us and our clients proud.
Mahmoud Fadhil – Associate- Litigation
Mohammed Rafea – Associate – Litigation
Younis Ahmed – Associate – Litigation
Zahraa Dhiyaa- Associate – Corporate structure
Saja Qusay – Associate – Corporate structure
Hussam Hasan – Taxes and social security expert
Aya Ali – Trainee lawyer – Corporate structure
Hatem Kareem – Intern – Corporate commercial
Staff Figures
Linkedin : https://www.linkedin.com/company/76974502/admin/ Facebook : https://www.facebook.com/etihad.law
Languages
Arabic English
Memberships
Iraq Britain Business Council Iraqi Canadian Chamber of Commerce Iraqi Bar Association