Firm Profile > Mills & Reeve LLP > Birmingham, England
Mills & Reeve LLP
Offices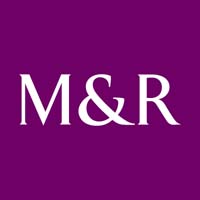 Mills & Reeve LLP
78-84 COLMORE ROW
BIRMINGHAM
B3 2AB
England
Mills & Reeve LLP > The Legal 500
Rankings
Mills & Reeve LLP >
Firm Profile
Mills & Reeve is a top UK law firm with offices in six key UK cities; London, Birmingham, Cambridge, Leeds, Manchester and Norwich. The firm's experience speaks volumes but it's an ambitious, collaborative culture that drives the business.
The firm: Mills & Reeve's staff thrive on developing great relationships and love helping clients find solutions to their legal challenges with a combination of smart advice, outstanding service and a passion for hard work. A talented workforce and proactive approach is complemented by a commitment to always offering value for money.
The firm's lawyers work with household names in the UK and internationally. They count companies like Barclays, the University of Cambridge and AIG among their clients – as well as a unique mix of high-net-worth individuals, multinational corporations, start-ups and public sector organisations.
Clients have access to a worldwide network of trusted partners for international advice. Lawyers are used to working on and managing projects spanning international boundaries.
Types of work undertaken: The firm is proud to have created an innovative legal environment, with expertise spanning ten key sectors: health, private wealth, education, insurance, charities, agriculture, real estate investment, food and beverage, sport and technology.
Health and care: Mills & Reeve acts for more than 100 NHS providers and commissioners, as well as some of the biggest independent health providers in the UK. Its lawyers are recognised experts in health law and work with major organisations such as the Department of Health.
Private wealth: Mills & Reeve works closely with clients to offer smart advice for complex trusts and tax issues. Its family lawyers offer mediation, collaborative law and arbitration, or if court is unavoidable, complex litigation.
Education: Mills & Reeve is a nationwide leader in education law. Its team of 140 education specialists helps over 120 organisations with a broad range of legal challenges, covering issues like international collaborations, campus developments and regulatory issues.
Insurance: Mills & Reeve works with some of the UK's leading insurance companies, offering a broad experience base to tackle a wide range of legal challenges – including market disputes and reinsurance claims, and issues relating to counter-fraud and employment.
Charities: Mills & Reeve's 140-strong team of specialists include some of the UK's most renowned authorities on charity law. Clients include Macmillan Cancer Support, the Wellcome Trust and the British Council.
Food and agribusiness: from farm to fork, those involved in the food and agribusiness sector face a range of challenges. Mills & Reeve understands the issues involved with experience of advising businesses from farmers and landed estates to major food processors and retailers.
Real estate investment: Mills & Reeve has extensive experience in handling issues ranging from significant transactions to day-to-day asset management. Its team of more than 100 lawyers has helped clients like Trinity College Cambridge and Lend Lease.
Sport: Mills & Reeve's lawyers have more than 50 years of experience in advising clients across a wide variety of sports. The team is headed up by Mark Hovell, who is a well-respected industry spokesman and is one of a select few arbitrators appointed to the Court of Arbitration for Sport.
Technology: Mills & Reeve's technology and life sciences team has a strong reputation for providing clear and proactive advice. They regularly offer guidance on issues like information technology and intellectual property.
Main Contacts
| Department | Name | Email | Telephone |
| --- | --- | --- | --- |
| Managing partner | Claire Clarke | | |
| Senior partner | Justin Ripman | | |
| Food and agribusiness | Michael Aubrey | | |
| Charities | Neil Burton | | |
| Corporate | Kevin Lowe | | |
| Commercial | Greg Gibson | | |
| Disputes | Jamie Wheatley | | |
| Education | Gary Attle | | |
| Employment | David Mills | | |
| Family | Nick Stone | | |
| Food and agribusiness | Craig Hodgson | | |
| Health and care | Jill Mason | | |
| Insurance disputes | Stephen King | | |
| Insurance | Neil Davis | | |
| Private tax | Chris Belcher | | |
| Private wealth | Andrew Playle | | |
| Projects and construction | Raith Pickup | | |
| Real estate investment | Charles Staveley | | |
| Real estate | Beverley Firth | | |
| Sport | Mark Hovell | | |
| Technology | Kevin Calder | | |
Lawyer Profiles
| Photo | Name | Position | Profile |
| --- | --- | --- | --- |
| | Nick Abbott | Nick has specialised in employment law since qualifying as a solicitor and… | View Profile |
| | Steve Allen | Steve heads the Birmingham office of Mills & Reeve LLP. He has… | View Profile |
| | Christian Bull | The Birmingham office's lead real estate-education lawyer helping with the property needs… | View Profile |
| | David Faulkner | Principal Associate working with employers of all sizes in a variety of… | View Profile |
| | Neil Frankland | Neil has a wide experience of acting for insurers, both in the… | View Profile |
| | Martino Giaquinto | Martino has a wealth of experience in litigation, arbitration, adjudication, mediation, early… | View Profile |
| | David Gooding | David is a professional indemnity and policy coverage specialist. His practice is… | View Profile |
| | John Grundy | Personal tax and estate planning including wills, trusts, family investment companies, powers… | View Profile |
| | Matthew Hansell | Head of private client group at Mills & Reeve, specialising in undertaking… | View Profile |
| | Jog Hundle | Has over 25 years' experience in employment law and leads the firm's… | View Profile |
| | Kevin Lowe | Kevin leads the corporate tax team at Mills & Reeve and advises… | View Profile |
| | Jill Mason | Jill is Head of our Health and Care Sector – a growing… | View Profile |
| | Peter McLintock | Corporate finance partner in Birmingham office of national firm Mills & Reeve.… | View Profile |
| | Stuart Pemble | Stuart leads the Birmingham construction team, helping clients with the drafting and… | View Profile |
| | Richard Santy | Richard is a partner in the employment team based in Birmingham. Whilst… | View Profile |
| | Marc Saunderson | Currently head of the family law team in Birmingham. Marc deals in… | View Profile |
| | Jagvinder Singh Kang | Jagvinder is a Partner and the International & UK Head of IT… | View Profile |
| | Julian Smith | Julian is a corporate partner who concentrates on general corporate work, including… | View Profile |
| | Richard Sykes | Richard is a barrister who has specialised in education law since 2001.… | View Profile |
| | Robbie Turner | Principal associate in a team of lawyers who help clients with the… | View Profile |
| | Angus Turner | Angus has been a partner since 2000, having qualified with Mills &… | View Profile |
| | David Varnham | Banking lawyer specialising in international and UK syndicated and bilateral lending, acquisition… | View Profile |
| | Jill Weston | Principal Associate advising commissioners and providers on a range of health-related matters… | View Profile |
| | Michael Whatley | Partner specialising in development work. Recent notable cases include acting for Millngate… | View Profile |
| | Tim Winn | Head of corporate and public law at Mills & Reeve in Birmingham.… | View Profile |
| | Sarah Wood | Principal Associate, advising clients on a range of private clients, from entrepreneurs… | View Profile |
Staff Figures
Number of UK partners : 131 Number of other UK fee-earners : 500
The Lex 100 Verdict
An 'excellent regional firm with an international reach', Mills & Reeve offers training contracts in Cambridge, Birmingham, Manchester and Norwich. Many were drawn to the firm's 'sector strengths in education, tech, not-for-profit and government', as well as to the 'wide range of seats, including family law'. Others were 'most impressed with the quality and organisation of the vacation scheme', for which Mills & Reeve has earned a Lex 100 Winner award. Two further gongs have been awarded for job satisfaction and social life. Trainees are 'not used as cheap labour' and are 'actually allowed to go home and have a life', something which they do not take for granted. The workload can vary, though, and conflicting worst moments included 'lulls when not given enough work' and 'late evenings when I have stayed to complete urgent work'. Responsibility and supervision go hand in hand at Mills & Reeve – 'it isn't an either/or here!' and senior team members 'are not afraid to let you loose on a first draft'. There was no avoiding complaints about the salary which some recruits feel is a little low in comparison with certain other firms. This was raised in relation to Cambridge in particular, where the cost of living is perceived to be higher than in other regions outside of London. Others feel that the remuneration doesn't 'match up to the quality of work/intellectual demand'. At least the work is exciting: 'a week in the Royal Courts of Justice' and 'attending the Court of Appeal' stood out as clear highlights, as did 'being invited to various dinners with partners and being able to socialise with key clients at these events'. For a firm where trainees are 'treated like a valuable member of the team from day one', consider Mills & Reeve.
Top Tier Firm Rankings
Firm Rankings