Francisco Sintura Varela Abogados Asociados SA > BOGOTA, Colombia > Firm Profile
Francisco Sintura Varela Abogados Asociados SA
Offices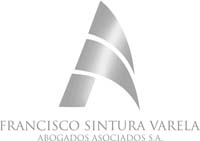 Francisco Sintura Varela Abogados Asociados SA
CARRERA 11b No 96-17 (Of 401)
BOGOTA
Colombia
Francisco Sintura Varela Abogados Asociados SA > The Legal 500
Rankings
Francisco Sintura Varela Abogados Asociados SA
is a longstanding white-collar crime boutique with a strong focus on the financial sector (particularly securities and exchange matters), insurance, tax, real estate, ennvironmental matters, telecom and copyright, along with criminial and administrative defence of directors, boards and officers. The firm's sibling consultancy -Sintura Martínez- provides anti-money laundering consultancy and auditing servces. Director of the the Penal law department at the Universidad del Rosario for over 30 years,
Francisco Sintura
is a former head of the Control Division at the Banco de la Republica and of the foreign trade section of the Banking Superintendence, as well as an associate judge (conjuez) of the Supreme Court and Attoreny General. Fellow partner and litigant
Pilar Astrid Sánchez
is also specialised in finance matters, having formerly acted as a legal advisor to the Superintendence for Foreign Exchange Control, the Banking Superintendence, the Bogotá Stock Exchange (CNV) and as head of the legal office of the Ministry of Justice, among other positions.
Key clients
Grupo Aval
Banco de Bogotá
Banco de Occidente
Banco AV Villas
Banco Popular
Corficolombiana
Alianza
Coomeva
Porvenir
Acción Fiduciaria
Siemens
Manufacturas Elliot
Jorge Cortés y Cia
Ingenio Mayagüez
Chevron Petroleum
Federación Colombiana de Cafeteros
Incauca
Postobón
Francisco Sintura Varela Abogados Asociados SA >
Firm Profile
Francisco Sintura Varela Abogados Asociados SAS, is a leading boutique law firm based in Colombia specialized in economic and corporate criminal law. We offer consulting, advisory and litigation services in criminal matters related to the private corporate sector as well as the public sector and in matters of disciplinary and fiscal responsibility.
We focus on the prevention of criminal risks in the business world and the corporate activity, particularly in anti-corruption practices and prevention of money laundering and environmental crime prevention, as well as advising  boards of directors, administrators, legal representatives, tax auditors and compliance officers.
We provide advisory and consulting services on issues related to crimes against the environment, tax related crimes, contractual liability in the public sector, financial crimes, against the stock market, against the economic and social order and against labor rights.
We act as defense in cases mainly related to corporate criminal law and economic crimes. We serve clients from the financial sector, stock and exchange markets, real estate and insurance sector. We intervene in domain extinction processes to prove the condition of third parties in good faith and defend their rights. We represent victims of major financial fraud and other crimes against the economic order pursuing the corresponding economic compensation.
Staff Figures
FRANCISCO JOSÉ SINTURA : Founding & Managing Partner PILAR ASTRID SÁNCHEZ : Founding Partner & CFO ANDRES FRANCISCO SINTURA : Associate FABIO ORLANDO BALLESTEROS : Senior Associate LUIS FELIPE CAMACHO : Associate AMIR ABUSHIHAB : Associate
Languages
Spanish English (fluent)
Memberships
Association of Certified Anti-Money Laundering Specialists (ACAMS)