Akbal Law Firm > Istanbul, Turkey > Firm Profile
Akbal Law Firm
Offices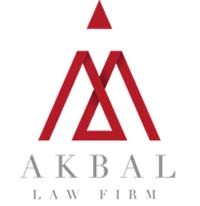 Akbal Law Firm
Ihlamurdere cad. No:92 Engin Apt K:3 D:6
Besiktas –Istanbul
Turkey
Akbal Law Firm >
Firm Profile
The firm: Founded by Ayşegül Akbal, Akbal Law Firm is a full-service Turkish law firm based in Istanbul providing legal consultancy and litigation in a wide range of legal issues to both national and international clients. Although Akbal Law Firm is a boutique law firm, it offers extensive legal services to its clients, with a young and dynamic team alongside  its experienced founding partner.
In addition, Akbal Law Firm obtains legal advice from Prof. Dr. Saibe Oktay Özdemir in the field of civil law, obligation law and commercial law.
Akbal Law Firm is known for being highly committed to the ethical standards of the profession. We work as trusted advisers with our clients and provide legal advice on Turkish law issues.
Practice areas: Akbal Law Firm represents clients from various industries with the highest quality and in a wide range of practice areas. These areas of specialization include tax law, tax litigation, dispute resolution, commercial, corporate and M&A, employment, restructuring and insolvency.
As well as providing legal consultancy and litigation to its clients for the above mentioned and other practice areas, Akbal Law Firm also represents clients in all respects in the General Assemblies of the Companies.
Tax: Akbal law firm is a specialized law firm in tax litigation. The team is headed by founder Ayşegül Akbal, who has extensive experience in this area acting for both national and multinational clients. The team handles tax issues for the corporate client including VAT, customs, income and corporate taxation, transfer pricing alongside cross-border matters. Akbal Law Firm carries out all stages of tax litigation, attends conciliation meetings and follows up on objection procedures before administrative authorities.
Commercial, corporate and M&A: Akbal Law Firm provides a full-service corporate consultancy to both domestic and multinational clients from diverse sectors including energy, textile, retail, logistics, financial services and automotive. Having a dedicated team, it handles commercial disputes, joint venture and cross-border transactions. The firm is experienced in large-scale commercial contracts and leasing as well as corporate governance. It also provides legal consultancy in relation to M&A and equity investment.
Dispute resolution: Akbal Law Firm assists its national and international clients through litigation and mediation processes regarding employment proceedings, tax arrangements, commercial disputes alongside administrative disputes and criminal matters. The firm also conducts arbitration for a number of international clients.
Employment: The team deals with Turkish labor law issues including drafting and termination of employment agreements, compensation regarding work accidents and redundancies. Akbal Law Firm also has extensive experience in day-to-day recommendations for corporate clients.
Restructuring and insolvency: Akbal Law Firm is involved in debt restructurings, recovery and bankruptcy proceedings. The team also advises its clients on concordatum procedures.
Main Contacts
| Department | Name | Email | Telephone |
| --- | --- | --- | --- |
| Head of Office - Leading Partner | Ayşegül Akbal | aakbal@akbalhukuk.com | +90 532 405 17 90 |
Staff Figures
Number of Lawyer : 4 Of Counsel : 2 Paralegal : 1
Languages
Turkish English
Client Testimonials
CLIENT: Mr. Pekmezci (CEO)
COMPANY/FIRM: One of the biggest company in Turkey producing vehicle spare parts.
TESTIMONIAL: In a word, perfect law firm
If we want to explain with a single sentence, not a single word, I would like to let you know we have the impression that you have a structure that is highly professional, close, principled, hardworking, meticulously following and finalizing the bilateral relations, making the necessary notifications in these processes, and inspiring confidence in legal consultancy.
---
CLIENT: Mr. Sayım, (Local Manager Turkey & Business Manager West Asia)
COMPANY/FIRM: Chemical Company
TESTIMONIAL: We are satisfied that timely and detailed information was provided at every stage of the process. We quickly received satisfactory answers to all of our questions.
---
CLIENT: Mr. Aksan (Legal Affairs Manager)
COMPANY/FIRM: Company in tourism industry
TESTIMONIAL: We are very pleased.
We would like to thank you for your work in which you provide fast and effective solutions by making evaluations from a professional and versatile point of view.