KLAR Advokater > Copenhagen, Denmark > Firm Profile
KLAR Advokater
Offices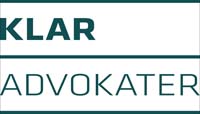 KLAR Advokater
Indiakaj 12
DK-2100 Copenhagen
Denmark
KLAR Advokater > The Legal 500
Rankings
KLAR Advokater
's '
well rounded
' and '
innovative
' team primarily handles commercial real estate transactions, leasing issues, and development projects for hotel, development and real estate investment companies. The practice also has notable experience in advising public companies on project developments, contract negotiations and disputes, and
Erik Mølenberg
is proficient in assisting international corporations in the shopping centre industry on commercial lease agreements.
Leif Djurhuus

is also a key name in the practice. Former practice head
Søren Plomgaard
is now at
Punct Advokater
.
Other key lawyers:
Testimonials
'KLAR Law Firm has a well rounded team who provide high-level support on projects from cradle to grave. Especially within development projects, the team performs to a very high standard.'
'KLAR Advokater is innovative. You get full attention from a competent partner in any case.'
Key clients
Carlsberg A/S
CPH City & Port Development
DLG a.m.b.a.
Unibail-Rodamco-Westfield (URW Fisketorvet A/S)
Freja Ejendomme A/S
Adapteo A/S
Velliv
Andel Holding A/S
Holberg Fenger Invest A/S
Danica Ejendomsselskab ApS
Hotels Holding ApS (subsidiary to Hansen & Langeland ApS)
Citycon Oyj
Algeco Denmark A/S (part of Modulaire Group)
Absalon & Co. P/S
Work highlights
Advising Unibail-Rodamco-Westfield on the drafting of contracts and other documents related to the tender of a large construction project at Fisketorvet Copenhagen Mall, which involves a complete rebuild and extension of a section of the mall that overviews the Copenhagen harbour and inner city.
Advising on contract negotiations with the development company KPC, concerning two large commercial building plots situated at Nordhavn, in all 8,150 sqm. KPC will establish a sustainable multi-user office property on the building plot.
Advising Unibail-Rodamco-Westfield on its development and extension plans related to extending Fisketorvet Copenhagen Mall towards an upcoming Havneholmen Metro Station, which will open in Q1 2024.
The '
highly competent, professional, and passionate
' team at
KLAR Advokater
focuses on handling contentious matters concerning real estate, insurance and tort law, and corporate commercial issues; the team frequently represents major corporates and insurance companies. 
Jeppe Holt
has in-depth knowledge of commercial leasing matters and real estate litigation.
Other key lawyers:
Testimonials
'The team is efficient, strong in their fields, approachable, always available or will contact you the same day. They are highly competent, professional, and passionate about everything they do. It's a combination of highly skilled partners with extensive experience who are thorough, and committed with excellent strategic foresight.'
'KLAR Law Firm has a smaller but highly competent team within dispute resolution. The partner involvement is unparalleled. Very dedicated, hands-on and bright partners that take the effort in understanding well the context and details of the dispute.'
Key clients
Carlsberg A/S
DLG a.m.b.a.
Stark Danmark A/S
Intrum A/S
Hansen & Langeland ApS
SEAS-NVE Holding ApS
Bach Gruppen København A/S
ISS Facility Services A/S
Chubb Insurance
Copa Copenhagen Patents K/S
Work highlights
Representing 314 investors against Danske Bank in a case regarding a secondary market claim following the discovery of the banks AML scandal in Estonia in 2018.
Representing a private landowner in a matter before the Supreme Court against The Greater Copenhagen Light Rail which in October 2018 (partially) expropriated the land. The legal matter in question is the legality of the expropriation.
Representing a private client against the Danish Ministry of Tax before the Supreme Court in a matter of principal nature regarding the Danish Tax Authorities' unjustified tax increase of a deceased taxpayer's share income.
KLAR Advokater >
Firm Profile
KLAR Law Firm is a medium size law firm in Copenhagen, Denmark with approximately 25 fee-earners (10 partners). KLAR was founded in 2009 by current partners Peter Christian Kierkegaard and Søren Plomgaard.
Main practice areas include commercial real estate, corporate anc commercial, dispute resolution and insurance.
KLAR exclusively acts within business law and does not advise on private law matters. KLAR's specialty is acting on small to medium size matters for larger clients, however, the firm also services small to medium size businesses.
The partners at KLAR Law Firm have all been trained with tier-1 law firms in Denmark and have a broad range of experience both as external and in-house counsels and some have also served in commercial/managerial roles.
Real estate and construction: Within real estate and construction law, the partners Søren Plomgaard, Erik Mølenberg and Jeppe Holt all have 15+ years' experience. On 1 January 2021 Leif Djurhuus joined the firm. Leif is ranked as a senior statesman as regards real estate and with more than 40 years of experience, he has built an extensive reputation within commercial real estate.
The partners are backed up by a team of eight attorneys, assistant attorneys, and legal interns. Today, KLAR is a real estate firm with extensive experience within the Copenhagen area. The dedicated team provides a full range of advisory services, including development projects, transactions, leaseholds, dispute resolution etc.
All with backgrounds from Tier 1 firms (Bruun & Hjejle and Plesner), Søren, Erik, Leif and Jeppe provide service of high quality from KLAR Law Firm's cost-efficient set-up.
The strategy of the commercial real estate department is to attract large clients with medium to large sized matters offering them a time efficient, partner-present experience with legal advice of the highest quality. Most of the commercial real estate department's clients are served on a day-to-day basis for a wide range of different legal matters within real estate and construction Law. KLAR is by many of its clients perceived as the number one choice for day-to-day legal counselling concerning different real estate matters.
Dispute resolution practice: Within dispute resolution, the partners Peter C. Kierkegaard, Lotte Noer, Jeppe Holt, Leif Djurhuus, Daniel J. Pedersen, Lisbet Vedel Thomsen and Casper H. Grønnegaard all have +10 years' experience. They are backed up by a team of five attorneys and associate attorneys.
KLAR Law Firm strives to provide solution-oriented and straightforward legal advice. A cornerstone of the practice is the high degree of partner attention to clients' matters. Clients include both domestic and multinational corporations, financial institutions, organizations and associations.
When hired, we establish a strategy for the handling of the case, including a risk analysis, as well as an analysis of alternatives to court proceedings, i.e. possibilities of settlement, mediation, and other options related to dispute resolution. We assess the financial complications of initiating a lawsuit in relation to alternative solutions.
The team focuses on litigation regarding corporate/commercial, real estate and insurance/torts, fronted by Peter Kierkegaard and Lotte Noer, who handle some of the biggest and most complex claims in Denmark (the Danske Bank case and the EIK Bank case). Litigation within real estate and construction is fronted by Leif Djurhuus, Jeppe Holt and Casper Hauberg Grønnegaard. Litigation within public law matters is fronted by Lisbet Vedel Thomsen.  Daniel James Pedersen is in charge of global debt collector Intrum's litigation portfolio. The team conduct cases at all levels of the judicial system, including the Supreme Court.
The team is experienced in the specific procedural rules for various types of arbitration, including the rules for evidence admission, written witness statements and unilaterally commissioned expert statements. The team's arbitration experience includes cases brought before the Danish Institute of Arbitration, the Danish Building and Construction Arbitration Board, ICC and ad hoc arbitration tribunals.
Languages
Danish and other Scandinavian languages English German