Firm Profile > Chevez Ruiz Zamarripa > Mexico City, Mexico
Chevez Ruiz Zamarripa
Offices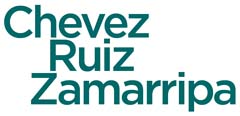 Chevez Ruiz Zamarripa
Vasco de Quiroga No. 2121, 4th Floor
Col. Peña Blanca Santa Fe
01210
Mexico
Chevez Ruiz Zamarripa > The Legal 500
Rankings
Chevez Ruiz Zamarripa strikes the right note with its top tier, 13-strong practice, which perfectly combines its strong expertise in international trade and customs work with the firm's exceptional tax offering, particularly for contentious matters. The department, which has recently seen an increase in supply chain-related work, handles primarily tariff classification and customs valuations, non-tariff restrictions and international contracting regulations, along with tax and customs authorities' audits. It is co-led by customs litigation experts Guillermo Sánchez and Ricardo Romero, with further partner-level support from Eduardo Díaz (who has a close focus on anti-dumping matters), and Gerardo Canseco (whose practice takes in import and export -and IMMEX- procedures, VAT and excise tax certification, FTAs, rules of origin, compliance and all trade and customs-related disputes).
Practice head(s):
Guillermo Sánchez Chao; Ricardo Romero
According to peers,
Chevez Ruiz Zamarripa
is truly "the 800-pound gorilla" in the Mexican tax sphere. The firm is a market authority with a first-class tax department, which houses a large team of lawyers and accountants and demonstrates impressive capability in both tax litigation and tax consulting matters. Operating from offices in Mexico City, Monterrey and Querétaro (along with a representative presence in Houston, New York and Madrid) the firm boasts a robust tax litigation practice, housing experienced and skilled litigators including stand out figure
Manuel Sáinz
, who heads the area;
Ricardo Cervantes
, who has high level expertise in tax matters relating to the mining sector;
César G Meraz
, who heads the Monterrey office;
Ramón Orendain
, who handles multinationals operating in Mexico's northern, border region;
Eudenio Franzoni
in Querétaro;
César De la Parra
and
Daniel De la Parra
, who lead the anti-money laundering practice; and younger partners
Valentín Ibarra
, who has a particular focus on fintech and technology companies, and
Alfonso García
. On the consultancy front, the firm includes notable transfer pricing specialist
Ricardo Rendon
;
César Fares
, who has a focus on audits, especially for clients from the mining sector;
Carlos Naime
, who covers banking and finance tax; and
Pablo Corvera
, who is especially known for handling financial matters. Former partner
Alejandro Torres
left to found his own, eponymous firm in January 2021.
Since publication
, the firm has raised tax advisory director
Elías Kamhagi
and Monterrey-based associate
Rodrigo Troncoso
to the partnership - effective December 2021.
Practice head(s):
Manuel Sáinz; César Meraz; Eugenio Franzoni; Pere Pons
Testimonials
'A responsible, committed team that goes above and beyond customer expectations. The quality of their work is extraordinary.'
'Daniel de la Parra is very committed. The whole team that supports us is excellent, Manuel Sainz, Ricardo Rendón, Guillermo Sanchez Chao and Valentín Ibarra are highly appreciated.'
Jump-started in 2019, Chevez Ruiz Zamarripa's young practice is rapidly becoming better known in labour circles, regularly acting for domestic and international companies and individuals on all aspects of labour, employment, social security and benefits laws, as well as litigation. The team is headed by Rafael Vallejo, who focuses on corporate labour consulting, structures, employee transfers and other related issues such as global mobility matters. Mayeli Cabral – a partner since January 2021 – is more focused on the litigation side of the practice and also has experience regarding the new remote-working regulations. The practice's second line features senior associates Miguel Ángel Cantú, who heads the Monterrey office's advisory-focused labour practice; and Juan José Soto Arias, area director in Querétaro, who splits his practice between consulting and litigation. Given the firm's enormous standing in the tax sector, the team is also particularly well-placed to advise regarding the tax implications of any labour issue.
Testimonials
'Great out-of-the-box thinking, long term vision, and always updated.'
'Rafael Vallejo excellent lawyer with a great ability to understand business needs, not only labour, and to ensure the continuity of the business even in such difficult times as the pandemic and its restrictions.'
Key clients
3M
Ikea
Inditex
FEMSA
Gilbane
Siemens Mexico and Siemens Healthcare
Vanguard
Panduit
ClubMed
Corteva
Coca Cola Company
Mexican tax powerhouse
Chevez Ruiz Zamarripa
houses a fast-growing transactional practice which, combined with the firm's first-class tax department, makes it a reliable option to handle domestic and cross-border transactions such as M&A, joint ventures, strategic alliances, shareholders controversies and corporate restructurings. The practice, which is lauded for its '
excellent knowledge of the subject',
is led by
Miguel Valle
and
Ana Sofía Ríos
, and was notably reinforced in May 2021 with the arrival of partner
Jimena González de Cossío
, formerly the head of legal at EY Mexico. Key support comes from senior associate
Fernando González
who,
since publication
, has been raised to the partnership - effective December 2021.
Practice head(s):
Miguel Valle; Ana Sofía Rios
Testimonials
'They have excellent knowledge of the subject and experience. The practice fields prepared and specialised lawyers (both women and men) and has technological tools that other firms in Mexico do not have.'
'Their individuals stand out for their capability, experience, criteria, response times, availability, engagement, efficiency, pro-business mindset and the way the treat clients, they're hard working team players, especially Miguel Valle, Fernando Gonzalez and Laura Hernandez.'
Key clients
DuPont
Circus Marketing
Denso Mexico
Cloud Kitchens
Lala
MediaMonks
Airbnb
Uber
Bio Products Laboratory
Envista Forensics
Grupo Expansión
Grupo Industrial Saltillo
Macquarie
Grupo INFRA
Siemens
Corporación del Fuerte
Chemours
Mabe
Gilbane
Kaluz
Operadora Lakahn / Sancus Capital
Grupo Flexi
Grupo Servicios de Transporte
Greyhounhd
Liverpool
El Palacio de Hierro
Concord
Designer Perfumes
Gimbel
Gympass
Honda
Katayama
Viant
Mezcal El Silencio
3M
Quala
Superior Industries
Tassos
FEMSA
Chevez Ruiz Zamarripa >
Firm Profile
Chevez Ruiz Zamarripa is a leading tax and legal firm in Mexico, known worldwide for its expertise in high-level tax advisory and litigation services basing its quality on constant updating and innovation. According to the needs of its clients, the firm has incorporated other practices evolving to a multidisciplinary firm by offering an integral solution service with the highest level of technical specialisation, total satisfaction for its clients, and compliance with all applicable laws and regulations. The firm comprises a staff of over 450 professionals (mainly lawyers, accountants, and economists).
Main areas of practice
Tax consulting: The firm has a leading and solid team of experts that continuously improve to always offer an adequate interpretation and in-depth analysis of tax laws and regulations that affect the daily operation of their clients. They identify tax scenarios and develop recommendations to create the optimal restructuring model for each unique situation to comply with tax provisions.
Individual estate and asset protection: The firm offers ex­clusive services aimed at individuals residing in Mexico regarding the fulfilment of their tax obligations, as well as in the implementation of investment and legal struc­tures in Mexico and abroad, in accordance with the provisions of the applicable tax and legal regulations.
Tax litigation: The tax litigation area offers advice and files the appli­cable means of defense against the actions of tax au­thorities, when they are in violation of taxpayer rights or when the tax laws fail to respect taxation guarantees, considering each client's needs. CRZ lawyers sup­port clients with the filling and processing of different alternative dispute resolution procedures, both under domestic law as well as under the various international agreements signed by Mexico, which include, among others, mutual agreement procedures (MAP`s), advanced pricing agreements, as well as representation before the Mexican Tax Ombudsman.
Banking and finance and capital markets: The firm advises clients with the design and implementation of structures and efficient strategies for financing operations, obtaining resources, and raising capital. It advises clients in the incorporation of vehicles and implementation of investment and financing projects, as well as securitization procedures, compliance with regulations applicable to the stock market and the Mexican Stock Exchange, as well as operations in international markets.
Compliance and corporate integrity: The practice assists corporations and individuals, from different sectors and industries, designing tailor-made compliance programs to comply with legal obligations and sector or industry requirements at Federal or State level, including AML or anticorruption obligations. This allows clients to reduce their exposure to administrative penalties or even criminal sanctions.
Consulting in economics and transfer pricing: The team consists of experts with an interdisciplinary profile that combines tax and legal expertise with financial and economic analysis techniques, with international experience and knowledge of the businesses. Offering added value, including transfer pricing analysis, APAs, negotiation and alternative dispute resolutions, valuation of companies, shares and intangibles, audit support, dumping and antitrust analyses.
Corporate, commercial and real estate: This practice has a commitment to technical excellence, continuous updating and control of projects and legislative reforms, together with monitoring the main developments in different operating sectors from a practical and business perspective that benefits the clients.
Fintech law: The firm supports its clients with the planning and implementation of the optimal corporate and regulatory structure which would allow them to venture into the Fintech sector and to develop their business in a fiscally efficient manner. The team offers advice on the design, analysis, and determination of tax effects of financial technology operations and those carried out with virtual assets.
Intellectual property: The firm advises brand owners in securing registration and achieving strategic goals relating to their trademarks and copyright. The practice includes counseling on the creation, adoption, maintenance, and protection of intellectual and industrial property rights.
International trade: CRZ's experts leverage opportunities and utilize the best possible tools to focus on minimizing risk, reducing production/operational costs, and boosting ROI via high-profit transactions, always with the enforcement policies of all the local and international regulations that must be fulfilled. They also offer guidance regarding operations governed by free trade agreements, optimal import/export mechanisms, international traffic cost and tax/customs risk management.
Labour and social security: The labour practice blends traditional labour law with cutting edge strategy consulting in every aspect of labour, employment, social security, as well as litigation. With this practice, the firm integrated tax and labour expertise which is a perfect match and enhancement of its advice for the correct fulfilment of the law.
Local Contributions: The firm has specialised experience in advising its clients to design strategic projects in real estate and payroll matters throughout the country. It also advises on specific proposals for tax compliance with contributions such as: environmental, special on the final sale of certain goods, public entertainments, games, sweepstakes and contests, supply and discharge of water and registration rights, among others.
Mergers and acquisitions: The services have been distinguished by the firm's innovative vision of risk prevention and solution of complex aspects, including detailed clinical analysis of each of the legal implications of operations in which it participates.
Private equity: Advice in relation to fundraising and capital raising operations, fund formation, asset management, structuring of offers and investment projects.
Regulatory: The firm advises its clients that participate in highly regulated markets, such as healthcare, transportation, telecommunications, finance, among others, with special focus on developing legal strategies that add value, beyond compliance with the regulatory obligations.
Strategic administrative litigation: The administrative litigation team specializes in a wise knowledgeable response to the challenges generated by the enforcement of constantly changing laws and regulations, to defend its clients from any legal actions carried out by the federal or local authorities and their relevant consequences related to concessions, public services, certification, registration, authorization, permit, licensing as well as closing, suspension, recalling, fines, and other penalties.
Languages
Spanish English Swiss German