Firm Profile > Aiyon Abogados SLP > Bilbao, Spain
Aiyon Abogados SLP
Offices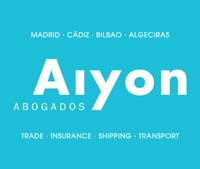 Aiyon Abogados SLP
PLAZA DE VENEZUELA NO 1
PPAL DCHA DCHA
BILBAO 48001
Spain
Aiyon Abogados SLP > The Legal 500
Rankings
In addition to its expertise in shipping law, Aiyon Abogados SLP advises on national and international aviation and land transportation issues, including insurance claims for damages to cargo, aircraft leases and air charter contracts, and competition issues in the transport sector. With offices in Madrid, Cádiz, Bilbao and Algeciras, the team is able to advise clients across Spain. Key contacts include Enrique Ortiz, Mikel Garteizgoxeaskoa and Zuberoa Elorriaga.
Testimonials
'They are aware of all current needs regarding legal issues that may exist in the transport and foreign trade business. They have full availability over 24 hours, and their answers are fast and adjusted to our needs.'
'The team is highly motivated, having the opportunity to manage the office the way they believe is best, after years spent by each of the partners in their areas of experience. A major strength is the fact that each partner knows very well each other's strong points which allows them to give the case to the most suitable partner.'
With offices in key ports across Spain, Aiyon Abogados SLP specialises in claims over vessel groundings and accidents, damages claims, and issues related to oil spills. The team has been advising the 1992 International Oil Pollution Compensation Fund on the aftermath of the oil spill from the Prestige tanker since 2002. Veronica Meana is a key name to note, with clients including P&I clubs, shipping companies, insurers, shipping agents, freight forwarders and logistics companies. Mikel Garteizgoxeaskoa is also recommended.
Testimonials
'Good communication between the team members. Good knowledge of English.'
'Very good knowledge about the legal subjects, very quick responses.'
Aiyon Abogados SLP >
Firm Profile
The firm: The firm was established in 2015. Aiyon Abogados was initially formed by six first-class lawyers highly experienced in negotiation, arbitration, litigation and contract drafting.
Aiyon Abogados' lawyers have intervened in most of the major shipping, trade, insurance and transport matters in Spain with excellent results.
Aiyon Abogados' added value lies in the extensive experience of its individual members (an average of 17 years), their professionalism and a long-standing culture of successful team work. The firm's lawyers have been working together as a team for most of their careers. This enables the firm to select the best team for each particular matter and client with a clear goal in mind: to protect and promote clients' businesses. Clients can rely on Aiyon Abogados for the best and most cost-effective solutions in various matters.
The firm also relies on the close collaboration of six other lawyers that are experts in corporate, tax, civil, labour and criminal law and collaborates with an extensive network of experts and surveyors.
The firm offers assistance in any port and venue in Spain through its four offices in Bilbao, Madrid, Algeciras and Cadiz.
Areas of practice: The firm's main areas of practice are shipping, transport, trade and insurance law. In these areas the firm's lawyers are proficient litigators and negotiators. The firm is also expert in contract drafting.
Shipping: Aiyon Abogados has advised on marine casualties such as collisions, strikings, salvage or wreck removal matters. Aiyon Abogados has also acted in major pollution matters. Other areas of expertise in this field are: marine insurance (for example, P&I, H&M, and cargo and passenger cover), cargo claims, passenger and baggage claims, freight claims (cargo liens and public sale), stowaways, Paris MoU and sanctioning proceedings, stevedoring contracts, ship arrest and maritime liens, piracy, labour matters, ship registration, drafting of charter party contracts, shipbuilding and ship repair contracts. The firm's lawyers have also provided advice in agency and freight forwarding matters. Aiyon Abogados also has an experienced yachting department that has advised on matters of Spanish regulations and taxes, casualties, contract disputes, arrest and other issues.
Land transportation: Aiyon Abogados has advised in national and international (CMR) carriage matters, cargo claims, theft of cargoes, contracts of bailment, and in matters of logistic and multimodal transportation contracts.
Aviation: the firm's lawyers are experienced in aircraft registry, cargo, passenger and baggage claims, casualties, sale and purchase, chartering and leasing contracts, and aircraft arrests.
Insurance matters: Aiyon Abogados has handled different kinds of insurance claims, including claims by the assured against the insurance company. It has also provided advice on claims handling and policy drafting.
International trade: the firm has handled and given advice in sale and purchase contracts, Incoterms, letters of credit (UCP), contracts of bailment, custom procedures, insurance, etc.
The firm has also intervened in corporate, tax, civil, labour and criminal matters with the assistance of its collaborators.
Main Contacts
| Department | Name | Email | Telephone |
| --- | --- | --- | --- |
| Shipping | | | |
| Land transportation | | | |
| Aviation | | | |
| International trade | | | |
| Insurance | | | |
| Arbitration | | | |
| Yachting | | | |
| Recognition and enforcement of foreign judgments and awards | | | |
| Litigation and ADR | | | |
Staff Figures
Number of lawyers : 12 at this office : 3 :
Languages
Basque English French German Spanish
Memberships
The Propeller Club WISTA EALA Spanish Bar Association Comport Bahia de Algeciras AEDM National Yachting Industry Association ANEN
Other
Contacts : Veronica Meana Contacts : Mikel Garteiz-Goxeaskoa Contacts : Zuberoa Elorriaga (Bilbao office) Contacts : Enrique Ortiz (Cadiz office) Contacts : Jose Dominguez (Algeciras office) Other offices : Cadiz Other offices : Madrid Other offices : Algeciras
Top Tier Firm Rankings
Firm Rankings