Firm Profile > Dunovská & Partners > Prague, Czech Republic
Dunovská & Partners
Offices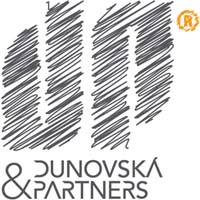 Dunovská & Partners
ARCHA PALACE
NA PORÍCÍ 24
110 00 PRAHA
Czech Republic
Dunovská & Partners > The Legal 500
Rankings
Dunovská & Partners is described as 'extremely experienced and focused' and is led by the highly rated David Urbanec. The practice is known for its financial restructuring work and has an extensive roster of clients which includes all the major domestic banks. Barbora Simon Dunovská advises on high-value financing projects and banking regulatory matters. 
Practice head(s):
Testimonials
'Unlike large law firms, this company has a very individual, almost family-like approach to its clients and their cases. They have excellent knowledge in the area of banking law and the issues related to it.'
'Barbora Dunovska and David Urbanec are top Czech lawyers in the area of banking and finance.'
'David Urbanec is a great professional with exceptional knowledge of legal matters ranging from credit transactions to insolvency proceedings.'
'Barbora Dunovska excels with her in-depth, innovative and analytical thinking, always proposing well-thought-out and workable solutions. David Urbanec is an excellent lawyer and a very good negotiator. They are both real professionals who are able to advise us on the most complex structures, delivering high-quality legal opinions.'
Key clients
Československá obchodní banka, a.s.
Česká spořitelna, a.s.
HSBC France – Prague branch
ČSOB Factoring, a.s.
Odyssey 44, a.s.
Sberbank CZ, a.s.
Banka Creditas a.s.
Wüstenrot – stavební spořitelna a.s.
Trinity Bank a.s.
Penta Investment Limited
Raiffeisenbank a.s.
Moravia Systems a.s.
Wüstenrot hypoteční banka a.s.
Dunovská & Partners >
Firm Profile
The firm:
DUNOVSKÁ & PARTNERS is ranked as a recommended firm in all editions of The Legal 500 since 2012. The firm has been described as a "banking and finance boutique, though its expertise covers many areas and disciplines".
DUNOVSKÁ & PARTNERS provide complex legal services encompassing the main branches of law with a special focus on Commercial law especially Corporate, Banking and Financial law. The firm has long term working relationships (over 15 years) with most of the important banks and financial institutions and a prime reputation in Finance, Work-out, Restructuring, Insolvency and Bank litigation.
The firm's extensive expertise, combined with a deep knowledge of the law, enable solutions to be found for the client's business practice as well as enforcing these solutions in front of local courts. Experience with resolving problematic and complicated cases and the ability to grasp the core of the problem enables the most effective solution to be achieved.
The firms highly specialised and experienced lawyers offer an individual, active and innovative approach, resulting in a distinctive quality of work which, when coupled with the close involvement of a partner for each case, distinguishes DUNOVSKÁ & PARTNERS from its competitors.
Areas of practice: Banking and finance:
Long-term practical experience in all types of banking operations, financial transactions and legal relations between a bank and clients. Model and tailor-made documentation for financing needs (operational, acquisition, structured) as well as products such as factoring, forfeiting and leasing including providing model and tailor-made factoring documentation. Due diligence reports and capacity opinions for bank acquisition finance. Main long-term clients are Československá obchodní banka of KBC Group (ČSOB), ČSOB Factoring, HSBC France – Prague branch (HSBC), Sberbank CZ, Česká spořitelna of Erste Group (ČS), Raiffeisenbank. Cases include financing and security documentation for a leading global producer of heavy machine tools (HSBC), advisory and representation in a complex case involving advance payment and performance guarantees in value over CZK500mm (ČSOB), drafting complete model factoring documentation for ČSOB Factoring and HSBC. Since 2016 we act as main legal advisor to ČSOB in acquisition finance projects in the SME sector and participate in projects for the corporate sector. Last year we were successful in a tender to be the main supplier of legal services to Euler Hermes Services Czech Republic since when we provide intensive on-going legal advice. Last year we started to cooperate with both Wustenrot – stavební spořitelna and Wustenrot hypoteční banka.
Restructuring and insolvency:
Long term experience in cases of large and complex financial and corporate restructuring in both stand-alone and multi-creditor situations applying non-standard and innovative solutions. Experience in high-profile insolvency proceedings where the firm represents large creditors including ČSOB, Sberbank CZ, ČS, HSBC and other banks. Recent advice to and representation of ČS in recovery of loan receivables in an amount of CZK hundreds of millions from a debtor in insolvency proceedings, advice to HSBC in restructuring a credit facility exceeding CZK1bn to a global producer of heavy machine tools, organizing and providing full legal support to ČSOB in a tender for sale of a non-performing loan portfolio. Expertise in insolvency proceedings is assured since the partners are licensed insolvency receivers. Representing Sberbank CZ in restructuring and insolvency of CZK1.4bn exposure to a real estate development company.
Banking and financial regulation:
Support of banks and financial institutions in banking regulations and in negotiation with the Central Bank in respect of banking supervision, payment systems and electronic money.
M&A:
Advice on acquisitions, corporate restructuring, mergers, sale of corporations, and relationships among holding companies and between shareholders. Odyssey 44 is our long term client whom we recently assisted in the acquisition of both SPORTISIMO and Direct Pojištovna, we advise and represent AUTOCONT a.s. in M&A projects. Regular legal advisory to CSOB for acquisition finance in the SME and corporate sectors and real estate finance transactions.
Litigation:
Advice and representation in litigation, tax and customs proceedings, dispute resolution, local and international arbitration. Litigation includes representation at courts of all levels. The firm has a 100% success rate in all international arbitrations at ICC Paris for CSOB against the Czech State, the largest amounting to almost CZK26.7bn. Recent legal representation of CSOB in a complex lawsuit in respect of its client, a major electricity producer.
Corporate law, business contracts, labour law:
Advice and support in corporate issues and all aspects of everyday business relationships (all business contracts) together with support of management. Advice to foreign companies in their start-up of business in the Czech Republic.
Real estate:
Advice in large real estate transactions financed by banks, development and construction projects (providing construction and engineering contracts) and lease agreements. Transaction documentation and also due diligence of the real estate. The most important project was complex legal representation in multibillion acquisition of real estate portfolio by Odyssey 44, Advice to ČSOB in real-estate acquisition project in value of hundreds of millions CZK in a case of financing an important logistic holding group, advice to Raiffeisenbank in an important agricultural land acquisition project.
Lawyer Profiles
| Photo | Name | Position | Profile |
| --- | --- | --- | --- |
| | Mgr Jindřich Buša | Jindřich Buša works for DUNOVSKÁ & PARTNERS from 2015 as an attorney.… | View Profile |
| | Barbora Simon Dunovská | Managing Partner: Specializes in Banking & Finance and M&A. Advisor in transactions… | View Profile |
| | JUDr Aleš Hradil | Aleš Hradil works for DUNOVSKÁ & PARTNERS since 2017 and became an… | View Profile |
| | JUDr Michal Koňuch | Michal Koňuch works for DUNOVSKÁ & PARTNERS since 2008, and became an… | View Profile |
| | Mgr David Urbanec | Partner: Specializes in Banking & Financial Law with focus on restructuring, Insolvency.… | View Profile |
| | Mgr Jan Vavřina | Partner: Specializes in Dispute/Litigation, Media and Bankruptcy. Jan provides legal advisory to… | View Profile |
Staff Figures
Number of lawyers : 6
Languages
Czech English German Russian Slovak
Other
Contact : Barbora Simon Dunovská (managing partner)
Diversity/Community
Social Responsibility
Despite our demanding work we decline to forget our world is not a place where everyone is happy and we are strongly aware of our social repsonsibility towards people in need, community in general as well as nature.
Pro bono
We consider free legal counsel an important part of our practice and we are glad that we are able to participate in helping other companies and individuals who have difficulties obtaining quality legal service.
As of January 1, 2013 as a part of our pro bono activities we have assumed free legal representation of Safety Line Association and became an exclusive legal advisor for all its activities. As advertised in the name of this organization, the Association was founded with the purpose of helping the children and young people in their difficult life situations as well as with their everyday problems and concerns. The association is an integral part of the children social and legal protection system in the Czech Republic and is a member of a global association of children helplines Child Helpline International.
"We are very grateful that Safety Line Association has chosen our law office as their legal advisors and that we shall be able to use our expertise and experience in assisting the Safety Line, thus participating on helping the children in difficult life situations who are in desperate need for help. The attorney practice is rarely regarded as being compassionate and understanding therefore the chance to indirectly convey these emotions in this manner is very important to us. We strongly believe that our cooperation shall be beneficial to Safety Line Association and a real joy for the team of our law office," says JUDr. Barbora Simon Dunovska, a managing partner of the law office DUNOVSKÁ & PARTNERS s.r.o.
Charity
Partners of the firm on a regular basis contribute to foundations, charity and other entities to support orphanages, and people with health difficulties and make donation to mitigate adverse effects of natural catastrophes.
We provide financial gifts to such entities as People in Need (e.g. we have supported people affected by floods and earthquake in Haiti, we financed a water well in Afghanistan), SOS Children's Villages, The Fund for Children in Need, Foundation Our Child, Cloundoctor and Association Assisting Autistic People.
Thanks to our help children in Romanian villages can use computers within their school education and develop their capabilities.
Sponsoring of a sports club
Law firm provided financial support to both small and large sportsmen of the successful sports club Floorball Chodov which has a long tradition and renown and from whose ranks came several Czech representatives.
Client Testimonials
CLIENT: Ing. Petr Knapp, Member of the Board of Directors; Senior Executive Officer Relationship Services
COMPANY/FIRM: Československá obchodní banka, a.s.
TESTIMONIAL: DUNOVSKÁ & PARTNERS are external legal counsel to ČSOB a.s. and I personally have worked with a partner since 1993. Their strength is definitely their long term expertize and practical experience in banking and finance, and their ability to deal with complex and challenging situations proposing clear and workable solutions.
Given the small size of the firm and high quality of the attorneys they are very focused and the quality of service is in many cases above the level of service provided by leading international law firms.
---
CLIENT: Mgr. Jiří Zeman, General Counsel, Head of Legal
COMPANY/FIRM: HSBC France – pobočka Praha
TESTIMONIAL: DUNOVSKÁ & PARTNERS have great team of experienced, efficient and results oriented lawyers. I like their down-to-earth and user-friendly style combined with stellar quality. I appreciate their world-class client service – essentially the same level of service you would get from a top global legal firm, but delivered by lawyers based in Prague who understand our business. Good value for money.
---
CLIENT: Ing. Jiří Hofta, Member of the Board, CFO
COMPANY/FIRM: ČSOB Factoring, a.s.
TESTIMONIAL: Professional approach, helpful communication, creativity and reliability – these are the attributes we value the most about DUNOVSKÁ & PARTNERS, our long-term companion through the maze of Czech legislation. We are thankful and look forward to our future cooperation!
---
CLIENT: JUDr. Martin Kúšik, Owner, Partner
COMPANY/FIRM: Odyssey 44, a.s.
TESTIMONIAL: I'm very satisfied with the work of DUNOVSKÁ & PARTNERS, it is my favourite law office, I recommend them
---
CLIENT: Mgr. Jiří Markvart, Head of Legal and Compliance Department
COMPANY/FIRM: Wüstenrot
TESTIMONIAL: DUNOVSKÁ & PARTNERS is definitely a preferred option – they always provide promt, legally precise and at the same commercially usable advice.
---
CLIENT: Doc. Ing. Jiří Schwarz, CS. c., Director
COMPANY/FIRM: CETA – Centrum ekonomických a tržních analýz, z.ú.
TESTIMONIAL: I heard about the great reputation of attorneys-at-law DUNOVSKÁ & PARTNERS a long time ago. Unfortunatelly, I found myself in a complicated commercial dispute later which could not be resolved without an expert attorney's assisstance. Thanks to attorneys DUNOVSKÁ & PARTNERS my long-term business nightmare seems to finish with a happy-end.
---
CLIENT: Eldar Dudo, Head of Board Affairs & Legal
COMPANY/FIRM: Sberbank CZ, a.s.
TESTIMONIAL: Based on many years of successful cooperation with DUNOVSKÁ & PARTNERS, we can say without any doubt that this is a law office that, day by day, raises the quality of its services in order to meet the needs of its clients. As a bank with high demands for swift and quality legal services, we can emphasise the exceptional expertise of DUNOVSKÁ & PARTNERS employees who were available to us at all times.
---
CLIENT: Ing. Tomáš Morávek, Chairman of the Board and CEO
COMPANY/FIRM: ČSOB Factoring, a.s.
TESTIMONIAL: ČSOB Factoring is provider of financial services and one of the market leaders in factoring in Czech Republic for nearly 30 years. DUNOVSKÁ & PARTNERS are supporting our specific business in very reliable way for more than 25 years as our exclusive legal adviser.
---
CLIENT: Ing. Lenka Kostrounová, Head of Real-Estate Financing
COMPANY/FIRM: Československá obchodní banka, a.s.
TESTIMONIAL: Real Estate department of ČSOB has been in regular contact with DUNOVSKÁ & PARTNERS since 2004. We jointly successfully concluded dozens of transactions . DUNOVSKÁ & PARTNERS belongs to the best (= effective, reliable, problem identifying and consequently solving) law firms active in Real Estate in the Czech Republic.
Diversity
DUNOVSKÁ & PARTNERS creates an inclusive workplace that promotes and values diverse backgrounds and experience, whether by age, nationality, ethnicity, gender, physical ability, socio-economic status, family and marital status.
We believe that our diverse and inclusive environment contributes to both the quality of our client service and the personal satisfaction of our staff. The result of our approach is a team who are diverse as individuals but unified in providing a high quality client service.
We have learned that different ideas, perspectives and backgrounds create a stronger and more creative work environment, which delivers better results.
Top Tier Firm Rankings
Firm Rankings