DUNOVSKÁ & PARTNERS > Prague, Czech Republic > Firm Profile
DUNOVSKÁ & PARTNERS
Offices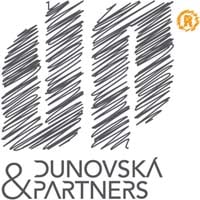 DUNOVSKÁ & PARTNERS
ARCHA PALACE
NA PORÍCÍ 24
110 00 PRAHA
Czech Republic
DUNOVSKÁ & PARTNERS > The Legal 500
Rankings
The banking and finance team at
DUNOVSKÁ & PARTNERS
specialises in investment and project finance, alternative financing, security instruments, risk credits, debt collection, and banking regulation, amongst others. The team has longstanding relationships with high-profile banking institutions, including HSBC Continental Europe and Raiffeisenbank. Founding partner
David Urbanec
leads the team, and represents major banks in both court and arbitration proceedings in financing-related disputes.
Barbora Dunovská
, also a founding partner, is another key figure in the team.
Other key lawyers:
Barbora Dunovská; Aleš Hradil
Testimonials
'Their strength is definitely their long-term expertise and experience in banking and finance and their ability to deal with complex and challenging situations. They are very focused on providing top quality service often still at a higher level than large international law firms.'
'Barbora Dunovská and David Urbanec are both absolutely reliable, hardworking and trustworthy. Their innovative and analytical thinking leads to well-thought-out and workable solutions. David is also an excellent representative in court proceedings. Their legal opinions in the most complex cases are always of very high quality.'
'The team at Dunovská & Partners is very experienced, and well diversified, with good substitutability and flexibility in its reactions to our requirements. We have long-term cooperation with the team and that is why there is continuity and very high success ratio in defending our court cases.'
'David Urbanec and Barbora Dunovská are both very innovative, flexible, and business-oriented lawyers with strong negotiating skills, whom we recommend strongly.'
'Aleš Hradil is an experienced lawyer and a very good speaker before the court. David Urbanec is an experienced lawyer, and thinks innovatively.'
'We have been working with Dunovská & Partners for over the past several years in banking and finance-related law. We are very happy with the performance and knowledge not only of the local law and practice, but also of what is going on in the market, which is very important for our firm.'
'We mostly deal with David Urbanec, who is very capable as well as accessible and flexible. It is always a joy to meet with him and discuss the matters that concern us.'
'David Urbanec is a leading advisor for factoring in issues and an excellent negotiator.'
Key clients
Československá obchodní banka, a.s.
HSBC Continental Europe
Česká spořitelna, a.s. of ERSTE Group
ČSOB Factoring, a.s.
Euler Hermes SA, organizational unit
Raiffeisenbank a.s.
Sberbank CZ, a.s.
Odyssey 44, a.s.
Expobank CZ a.s.
PENTA INVESTMENTS LIMITED, organizational unit
Komerční banka, a.s.
UCB, s.r.o.
Work highlights
Advising the SPORTISIMO Group on the negotiation of new loan and security documentation.
Advising Česká spořitelna on the recovery of loan receivables of £1.72m from a company operating in the fashion sector.
Advising on the transfer of factoring agreements, including security, from the HSBC Prague branch to another (foreign) entity within the HSBC group.
DUNOVSKÁ & PARTNERS >
Firm Profile
The firm: DUNOVSKÁ & PARTNERS LLC is ranked as a recommended firm in all editions of The Legal 500 since 2012. The firm is described as a "banking and finance boutique, though its expertise covers many areas and disciplines ".
DUNOVSKÁ & PARTNERS LLC provide complex legal services encompassing the main branches of law with a special focus on commercial law especially M&A, corporate, banking financial law and insolvency law. The firm has long-term working relationships (over 25 years) with most of the important banks and financial institutions and a prime reputation in finance, work-out, restructuring, insolvency and bank litigation.
The firm's extensive expertise, combined with a deep knowledge of the law, enable solutions to be found for the client's business practice as well as enforcing these solutions in front of local courts. Experience with resolving problematic and complicated cases and the ability to grasp the core of the problem enables the most effective solution to be achieved.
The firm's highly specialised and experienced lawyers offer an individual, active and innovative approach, resulting in a distinctive quality of work which, when coupled with the close involvement of a partner for each case, distinguishes Dunovská & Partners from its competitors.
Areas of practice
Banking and finance: Long-term practical experience in all types of banking operations, financial transactions and legal relations between a bank and clients. Model and tailor-made documentation for financing needs (operational, acquisition, structured) as well as products such as factoring, forfeiting and leasing including providing model and tailor-made factoring documentation. Due diligence reports and capacity opinions for bank acquisition finance. Main long-term clients are Československá obchodní banka of KBC Group (ČSOB), ČSOB Factoring (ČSOBF), HSBC Continental Europe, Czech Republic (HSBC), Česká spořitelna of Erste Group (ČS), Raiffeisenbank, EULER HERMES Czech Republic (EULER HERMES), Max Banka a.s. (previously, Expobank CZ). Recent cases include complex legal assistance to HSBC UK in agreement on multicurrency term and revolving loans mounted over CZK 1 billion  provided to the bank's client, representing the leading retailer of sporting goods in new loan amounting to CZK 3 billion provided by club of 5 banks, assistance and representation of the investment company Odyssey 44 in their provision of finance for purpose of increase of equity interest in the leading logistic and technological  company,, redrafting complete model factoring documentation for ČSOB Factoring. Since 2016 we act as main legal advisor to ČSOB in acquisition finance projects in the SME sector and participate in projects for the corporate sector. We were successful in a tender to be the main supplier of legal services to EULER HERMES and since January 2020 we provide intensive on-going legal advice.
Restructuring and insolvency: long term experience in cases of large and complex financial and corporate restructuring in both stand-alone and multi-creditor situations applying non-standard and innovative solutions. Experience in high-profile insolvency proceedings where the firm represents large creditors including ČSOB, ČS, HSBC and other banks. Recent advice to and representation of ČS on the recovery of loan receivables in excess of CZK 170 million from traditional manufacture of textile, the bank´s claims were fully satisfied, representing a group of important local banks (ČS, ČSOB, KB, CZ, UCB) in restructuring of loan receivables including preparation and negotiation of the Standstill Agreement, comprehensive legal services for ČSOB regarding the sector of corporate and SME non-performing loas. Expertise in insolvency proceedings is assured since the partners are licensed insolvency receivers.
Banking and financial regulation: Support of banks and financial institutions in banking regulations and in negotiation with the Central Bank in respect of banking supervision, payment systems and electronic money.
M&A: Advice on acquisitions and sales of businesses, corporate restructuring, mergers, Odyssey 44 a.s. is our long-term client whom we assisted in the acquisition and later sale of Direct Pojištovna, we advise and represent AUTOCONT a.s. and its subsidiary ARICOMA Group a.s. in M&A projects (recent representation in the acquisition of SABRIS Group, an innovative IT company, certified SAP partner). We advise ČSOB on continuing bases in acquisition finance in SME and corporate sectors transactions.
Litigation: Advice and representation in litigation, tax and customs proceedings, dispute resolution, local and international arbitration. Litigation includes representation at courts of all levels. We were successful in representation of ČSOB in a long-term dispute against Ministry of Finance in the value over CZK 480 million. We have a 100% success rate in all international arbitrations at ICC Paris for CSOB against the Czech State, the largest amounting to almost CZK 26.7bn. We represent ČSOB in a complex lawsuit in respect of its client, a major electricity producer.
Corporate law, business contracts, labour law: Advice and support in corporate issues and all aspects of everyday business relationships (all business contracts) together with support of management. Advice to foreign companies in their start-up of business in the Czech Republic.
Real estate: Advice in large real estate transactions financed by banks, development and construction projects (providing construction and engineering contracts) and lease agreements, transaction documentation and also due diligence of real estate. The most important project was complex legal representation in multibillion acquisition of a real estate portfolio by Odyssey 44 a.s., Advice to ČSOB in a real-estate acquisition project in value of hundreds of millions CZK in a case of financing for an important logistic holding group, advice to Raiffeisenbank in an important agricultural land acquisition project.
Staff Figures
Number of lawyers : 9
Languages
Czech English German Russian Slovak French Spanish
Memberships
Czech Bar Association
Client Testimonials
CLIENT: Mgr. Jiří Zeman, General Counsel, Head of Legal
COMPANY/FIRM: HSBC Continental Europe, Czech Republic
TESTIMONIAL: DUNOVSKÁ & PARTNERS have great team of experienced, efficient and results oriented lawyers. I like their down-to-earth and user-friendly style combined with stellar quality. I appreciate their world-class client service – essentially the same level of service you would get from a top global legal firm, but delivered by lawyers based in Prague who understand our business. Good value for money.
---
CLIENT: Ing. Barbara Řimánková, previously CEO
COMPANY/FIRM: ČSOB Factoring, a.s.
Currently Member of the Board of Directors, ČSOB Leasing, a.s.
TESTIMONIAL: DUNOVSKÁ & PARTNERS has been a legal partner of ČSOB Factoring for more than two decades and during my tenure at the company, it has clearly been the main legal partner with whom we have dealt with the most complex legal situations. I have personally worked with several of their lawyers and managing partners. Their strength lies in their combination of long-standing financial services expertise, client-focused approach, and ability to handle non-routine, challenging situations and complex assignments. I hold DUNOVSKÁ & PARTNERS´ services in very high regard, and in my personal experience they exceed the quality of service of major international law firms.
---
CLIENT: Ing. Petr Knapp, previously Member of the Board of Directors; Senior Executive Officer Relationship Services
COMPANY/FIRM: Československá obchodní banka, a.s.
Currently chairman of the Supervisory Board, Česká exportní banka, a.s.
TESTIMONIAL: DUNOVSKÁ & PARTNERS are external legal counsel to ČSOB a.s. and I personally have worked with Barbora Simon Dunovská since 1993. Their strength is definitely their long term expertise and practical experience in banking and finance, and their ability to deal with complex and challenging situations proposing clear and workable solutions. Given the size of the firm and high quality of the attorneys they are very focused and the quality of service is in many cases above the level of service provided by leading international law firms.
---
CLIENT: JUDr. Martin Synek, CEE
COMPANY: Euler Hermes SA, organizační složka
TESTIMONIAL: I am linked to DUNOVSKA AND PARTNERS for many years, working with them on different positions in different companies. And it is not just by matter of luck or chance. Throughout the many years of my experience it was repeatedly proven to me that there is added value in their service compared to competition. And it maybe not only the high level of expertise (common to many law firms) but namely the way application of this expertise in a creative, informal and useful manner. Simply you do not receive legal review but a solution.
---
CLIENT: Doc. Ing. Jiří Schwarz, CS. c., Director
COMPANY/FIRM: CETA – Centrum ekonomických a tržních analýz, z.ú.
TESTIMONIAL: I heard about the great reputation of attorneys-at-law DUNOVSKÁ & PARTNERS a long time ago. Unfortunately, I found myself in a complicated commercial dispute later which could not be resolved without an expert attorney's assistance. Thanks to attorneys DUNOVSKÁ & PARTNERS my long-term business nightmare seems to finish with a happy-end.
---
CLIENT: JUDr. Martin Kúšik, Owner, Partner
COMPANY/FIRM: Odyssey 44, a.s., private investment company
TESTIMONIAL: I'm very satisfied with the work of DUNOVSKÁ & PARTNERS, it is my favorite law office, I recommend them.
---
CLIENT: Ing. Ondřej Jůzl, Team Leader, Restructuring and recovery of corporate clients
COMPANY/FIRM: Česká spořitelna, a.s.
TESTIMONIAL: We have been cooperating with DUNOVSKÁ & PARTNERS for a long time. We appreciate that we can rely on their knowledge and solution targeted approach, combined with a profound understanding of banking, insolvency, and restructuring. They have proven to possess excellent knowledge and are qualified to handle both routine and sophisticated cases that require full concentration and creative solutions. I personally greatly appreciate the personal attitude and on-time delivery under all circumstances. DUNOVSKÁ & PARTNERS is a reputable, medium-sized local law firm that can be favorably compared to larger providers.