Firm Profile > Reff & Associates SCA > Bucharest, Romania
Reff & Associates SCA
Offices
Reff & Associates SCA
THE MARK TOWER,
82-98 CALEA GRIVITEI,
DISTRICT 1, 010735
Romania
Reff & Associates SCA > The Legal 500
Rankings
Reff & Associates SCA >
Firm Profile
The firm
Reff & Associates is one of the largest Romanian law firms by headcount with over 70 lawyers, and is a member of the Deloitte Legal network, which counts more than 2,500 lawyers, in more than 83 countries. A full-scope business law firm, Reff & Associates assists large local and multinational investors, through high-quality legal services powered by a commercial and pragmatic approach to legal matters, leveraging the multidisciplinary expertise of Deloitte colleagues in areas such as tax, finance or business consulting. From assisting some of the largest transactions in Romania and CE region, to managing risk and compliance, to litigation, Reff & Associates handles projects in the range of hundreds of millions EUR every year.
Areas of practice
Corporate and commercial:
The team advises on the structuring and restructuring of investments, transfers of activity, mergers, de-mergers, joint ventures, including formation, corporate governance, minority rights and exit. In addition, the firm advices clients on various consumer and data protection aspects (including GDPR readiness), as well as other regulatory matters, such as environmental, food safety and IP.
Mergers and acquisitions:
The firm's lawyers assist either the buy-side or the sell-side during the entire M&A cycle: MoU, due diligence and transaction structuring, drafting, negotiation and execution of the transaction documentation, transaction implementation and post-acquisition work.
Banking and finance:
The firm assists clients in loan finance, debt restructuring, securitization, workouts, NPL deals and transfers of performing loans portfolios. Having acted for both lenders and borrowers/ sponsors, the firm regularly works on structuring complex finance transactions, drafting and negotiating finance documents.
Capital markets:
The firm provides assistance to publicly traded companies, securities firms and investors, covering securities compliance (market manipulation and insider dealing issues included), listing requirements, corporate governance, shares/ rights prospectuses and assistance on stock option plans.
Real estate:
The firm assists with structuring of real estate transactions, transaction support, title verifications, title insurance, zoning and urban planning advice, compliance review, construction (including FIDIC based) assistance, acquisition, disposals and divestments, and has advised in most of the largest real estate deals in the country over the last five years).
Insolvency:
The firm advises both creditors and debtors in various insolvency matters, during pre-insolvency and actual insolvency procedure, from entitlement to opening the procedure, to structuring deals in insolvency procedure, to possibilities to close the insolvency, assessments of existing options, preservation of rights, defending against other parties' claims or challenging their rights.
Competition:
Reff & Associates advises on a wide range of competition issues, including competition and antitrust compliance, investigations by the competition authority, analysis of distribution agreements, etc. the firm has a detailed understanding of law matters related to economic concentrations and provides representation in front of the Competition Council.
Employment:
The practice helps companies deal efficiently with labor law matters by providing customized contractual solutions, clear and effective internal regulations and compliant procedures in restructuring, compliance and litigation.
Energy:
The firm has acquired vast experience in providing legal services for large national and international projects in the energy sector, dealing both with all regulatory aspects and the related legal and commercial aspects of the respective contracts.
PPP and public procurement:
The team provides legal assistance to both public and private entities on a wide variety of public procurement, concession, PPP and EU funded projects. The firm has a vast experience gained through various complex assignments, including drafting the toolkit for applying the concession legislation in Romania, as well as preparation of a model concession agreement for InterModal Terminals under an European Investment Bank assignment.
Litigation:
The firm represents clients in general commercial, civil and employment litigation, including corporate disputes, recovery of debts, real estate litigation, settlements and forced execution. In tax litigations, the firm leverages the cooperation with Deloitte tax team, ensuring that all tax and legal issues are successfully covered.
Business criminal law:
The firm offers specialized services ranging from general consultancy, prevention and compliance in criminal law matters, to assistance during the criminal investigation or in front of courts of law.
Main Contacts
| Department | Name | Email | Telephone |
| --- | --- | --- | --- |
| Banking and finance | Andrei Burz-Pinzaru | | |
| Banking and finance | Andreea Serban | | |
| Business integrity | Andrei Burz-Pinzaru | | |
| Business integrity | Catalina Stroe | | |
| Capital markets | Andrei Burz-Pinzaru | | |
| Competition | Florentina Munteanu | | |
| Competition | Andrea Grigoras | | |
| Consumer, data protection and intellectual property | Georgiana Singurel | | |
| Consumer, data protection and intellectual property | Silvia Axinescu | | |
| Corporate, commercial and M&A | Alexandru Reff | | |
| Corporate, commercial and M&A | Georgiana Singurel | | |
| Corporate, commercial and M&A | Diana Fejer | | |
| Employment | Florentina Munteanu | | |
| Energy and environment | Georgiana Singurel | | |
| Energy and environment | Anca Melinte | | |
| Energy and environment | Ovidiu Balaceanu | | |
| Insolvency | Florentina Munteanu | | |
| Litigation | Mihnea Galgoțiu-Săraru | | |
| Public sector | Georgiana Singurel | | |
| Public sector | Adrian Coman | | |
| Real estate | Alexandru Reff | | |
| Real estate | Irina Dimitriu | | |
| TMT | Georgiana Singurel | | |
| TMT | Silvia Axinescu | | |
| Intellectual property | Georgiana Singurel | | |
| Intellectual property | Silvia Axinescu | | |
Client Testimonials
BANKING & FINANCE
CLIENT: MIHAI ROTARU (Deputy Head of Legal)
COMPANY/FIRM: BANCA TRANSILVANIA S.A. (the largest bank in Romania)
TESTIMONIAL: Throughout our journey of becoming the largest bank in Romania, for the last couple of years, we collaborated with Reff & Associates – Deloitte Legal Romania on various important matters, from transactions to expansion, innovation and regulatory projects. Their Banking & Finance practice is extremely mature, knowledgeable and reliable and my key contacts, which I would definitely recommend, are Andrei Burz-Pînzaru, Andreea Șerban and Lorena Roșia. I value a lot their responsiveness, pragmatic approach, deep and thorough legal reasoning, as well as the out of the box manner in which they connect the dots every time and manage to accommodate our business constraints.
Andrei Burz-Pînzaru, Managing Partner, is a well-known voice and a trendsetter in the Romanian legal market, with a vast and long-standing expertise in classical fields such as banking, finance, M&A and capital markets. He is also a researcher and a pioneer in fringe eclectic areas such as emerging fintech market, where he proved to be a great navigator and aggregator in the slalom among regulatory constraints, innovation drivers and opportunities and digital revolution disruptive factors. Leading by example, besides legal expertise, Andrei has nurtured and imprinted in his team essential qualities that make the difference when facing complex legal issues, such as sharp business acumen, fairness in relation to all stakeholders and diplomacy when approaching sensitive subjects.
Andreea Șerban is a dynamic and business-oriented banking & finance transaction lawyer who dialectically explores the commercial side of each deal, in order to anticipate what solutions fit best the client's objectives and how can be put in practice in a way that takes into account and satisfies the strategic needs of all the stakeholders involved. Each time Andreea brought value in our projects and we benefited of her broad experience and in-depth knowledge of the financial services industry, in particular of the non-performing loans market, gained upon coordinating over years many high-profile transactions in this sector. Once you started a project with Andreea by your side, be sure that she will always be there for you, very proactive, insightful and available for additional brainstorming that will upscale the initially desired outcome of the project.
Lorena Roșia is an early adopter in the transformative projects that she is involved and has a deep understanding of the overall innovation process which helps her spot legal issues early on and make the overall process much smoother. She provided my team with strategic and innovative legal insights in our ongoing transformative projects and we have appreciated her pragmatic and hands on approach and also her inclination to share good practices in the interest of the common good. One of the rarest qualities that Lorena poses is the ability to speak the language of both IT and legal, being permanently very well connected to latest technology trends which proved essential for a successful innovation project.
---
CLIENT: DANIEL SZEKELY (Head of SME Banking)
COMPANY/FIRM: BANCA TRANSILVANIA S.A. (the largest bank in Romania)
TESTIMONIAL: Reff & Associates – Deloitte Legal Romania supported us on a strategic innovation project and provided pragmatic advice on complex international matters. They were committed to the success of the project, had a very good understanding of the business complexities, worked seamless with the Deloitte Legal international network and conveyed the legal implications in a straightforward and practical way. Lorena Roșia showed excellent expertise, provided prompt hands-on advice and was proactive, demonstrating commitment to the project.
---
CLIENT: CLAUDIU BUD (Strategic Transactions and Client Relations Area Director)
COMPANY/FIRM: KRUK ROMANIA S.A. (leader of the debt management market)
TESTIMONIAL: In 2019, I had the chance to continue the excellent collaboration started many years ago with Andrei Burz-Pînzaru and Andreea Șerban from Reff & Associates – Deloitte Legal Romania. Their extensive financial legal knowledge represents for me a priceless resource. Apart from this, one technical aspect that I have always appreciated is Andreea's amazing ability of assimilating all the intricate legal clauses of a contract, as part of herself. I am simply amazed by how she gets to know all the interconnections between the clauses of a very lengthy and complex contract. Thus, I regard this skill of Andreea as a vital guiding lantern in the darkness of the contractual maze.
Beyond their legal acumen, what I treasure the most is their human quality which is quite rare in nowadays business environment. Their warmth, accessibility, the time they invest in keeping the relationship active throughout the year, make me regard them as a business life long-term companion.
---
CLIENT: NICOLETA IONESCU (Head of Legal)
COMPANY/FIRM: ORANGE MONEY IFN S.A. (E-money institution)
TESTIMONIAL: The excellent professionals at Reff & Associates – Deloitte Legal Romania are very innovative and solution oriented for clients. With a strong background on banking field, Andrei Burz-Pînzaru and Andreea Șerban are the professionals to trust in finding a solution, even when international practice is needed, as they will be always up to date with market practice on commercial and banking transactions implemented in EU, EBA practice and more.
---
CLIENT: MIRELA METEA (Head of Legal)
COMPANY/FIRM: PLATFORMA ROCA
TESTIMONIAL: Trust, communication, business-oriented approach and outstanding knowledge. Andrei Burz-Pînzaru is a prominent business attorney and a great team leader. From our perspective, he has done an outstanding job on all our projects. We could not be more pleased with the manner in which he, and the rest of the Banking & Finance team, have handled the matters.
---
CORPORATE M&A
CLIENT: Heiko Wehrhahn (Vestas Head of Financial Solutions NCE)
COMPANY/FIRM: Vestas Wind Systems (the largest wind turbine company in the world)
TESTIMONIAL: We are very pleased with the collaboration with Reff & Associates – Deloitte Legal Romania and their role in our transaction, which marks another step in our strong relationship with IKEA. Our last deal is a good example of how we work with our many partners to help create a world powered by renewable energies.
---
REAL ESTATE
CLIENT: MICHAEL UHLER (Managing Director of East Balkan Properties plc, owner of Forum Serdika)
COMPANY/FIRM: EAST BALKAN PROPERTIES PLC (investment company focused on commercial, retail and industrial property in the Balkan region)
TESTIMONIAL: Irina Dimitriu and Larisa Popoviciu are an incredible team and their effective understanding of the legal matters was critical in our successful completion of this transaction. They were instrumental in resolving various issues arising in price negotiations, during the performance of the due diligence as well as in preparing all project related documentation, and consistently provided excellent legal advice that blended risk and commercial considerations in the context of local market practice. The expertise within the Reff & Associates – Deloitte Legal Romania platform was also invaluable, as they quickly and effectively defined and dispatched several issues which arose during the transaction. Despite the rapidly changing market conditions due to the COVID-19 pandemic crisis, the team administered the closing mechanics and related documentation without any disruption of service or communication.

---
CLIENT: ADRIAN CAZAN (Head of Legal)
COMPANY/FIRM: PRIME KAPITAL (integrated real estate developer, investor and operator)
TESTIMONIAL: We have been collaborating with the Reff & Associates – Deloitte Legal Romania team for several years, both on acquisition projects, as well as in the development phase. We especially value their pragmatic approach and their availability to go above and beyond in view of moving the projects forward. We appreciate their thorough legal reasoning, combined with a deep understanding on the market and trends.

---
TMT
CLIENT: ANDREI HANGANU (Country DPO)
COMPANY/FIRM: ENEL GROUP (multinational energy company and one of the world's leading integrated electricity and gas operators)
TESTIMONIAL: We received data protection assistance from Reff & Associates – Deloitte Legal Romania, working closely with Deloitte team in risk advisory on various assessments (such as DPIAs or LIAs on various data processing activities, prioritizing risk areas) and trainings conducted in relation to GDPR implementation to ENEL group of companies in Romania. We are very pleased with the support provided by entire team including Silvia Axinescu, Catalina Stroe, Cristina Iacobescu and Andreea Bira, their solid knowledge and experience in projects dealing with privacy and data protection compliance facilitated the successful finalizing within the group. We would definitely recommend their team and look forward to working with them in the future.
---
CLIENT: ANTOANETA VACAROIU (Legal Director)
COMPANY/FIRM: AVON COSMETICS Romania (global beauty company)
TESTIMONIAL: I have been working with Reff & Associates – Deloitte Legal Romania for the last 10 years or more on various legal topics, including compliance, data protection, consumer protection and regulatory aspects. Trust, communication, warmth and availability are key words for the team including, among others, Silvia Axinescu and Ovidiu Balaceanu. I am pleased with their work and I would definitely recommend them to other companies.
---
CLIENT: MARIA IOSIF (Legal Counsel)
COMPANY/FIRM: NORIEL GROUP (the biggest toys and games retailer company in Romania)
TESTIMONIAL: Reff & Associates – Deloitte Legal Romania provided us with various legal support regarding data protection. We are very happy with the support provided by the team, including Silvia Axinescu and Andreea Bira, their dedicated knowledge and experience when it comes to privacy and data protection compliance. We will definitely stay in touch and look forward to cooperating with them again in the future.
---
CLIENT: CRISTIAN STROE (Legal Director)
COMPANY/FIRM: IKEA Romania (a Swedish multinational group that designs and sells ready-to-assemble furniture)
TESTIMONIAL: We work with Reff & Associates – Deloitte Legal Romania on various legal topics including consumer protection, online contracts, data protection or other regulatory and compliance matters. I am very pleased with their work, they are very familiar with IKEA business model and it helps a lot in identifying practical legal solutions to our requests. We built up a solid and trustful relationship and we look forward to working together with them in the future as well.
Diversity/Community
At Deloitte, we understand that our diversity is a key driver of our effectiveness in the market. That's why, in FY2018, we re-committed to progressing our already strong culture of inclusion and increasing gender representation at all levels across Deloitte.

Our deeply embedded, ongoing initiatives to promote diversity and inclusion at Deloitte have proven effective.
Deloitte member firms have adopted progressively advanced talent initiatives—including workplace flexibility, and family leave and return-to-work policies—that attract women, parents and employees of all generations.
Many Deloitte member firms offer their people opportunities through global business resource groups (BRGs) to connect and build networks with others who share affinity indicators such as gender, race, religion and sexual orientation. Some member firms have also established councils that bridge gaps between single-identity workplace groups.
Deloitte leaders in Australia, Canada, UK, US and other countries have been recognized externally for inclusion efforts and/or serve on boards of organizations that promote inclusion.
Globally, Deloitte creates a safe work environment for all people through its strong policies against misconduct, inappropriate behavior or sexual harassment.
These are some of the significant reasons why Deloitte is recognized as a desirable workplace by organizations that include 
Great Place to Work, LinkedIn, National Association of Female Executives (US), The Times (UK), Glassdoor.
While we are proud of the accolades we have earned and the policies and programs we have implemented, we understand that we must change as the market and world around us change. To lead in the areas of inclusion and diversity, we must achieve more. That is why we are focusing many of our current efforts on gender representation and why we will continue to seek and hire qualified women, provide ample developmental and promotional and leadership opportunities, and remain committed to fair pay for all.
Interviews
Burz Pinzaru Andrei, Managing Partner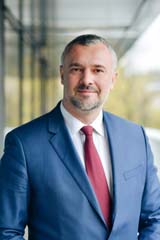 What do you see as the main points that differentiate Reff & Associates SCA from your competitors?
We are different from our competitors in several ways:
For the last 5 years we have consistently been the fastest growing law firm in the Romanian market;
With more than 70 lawyers, we are one of the top 5 largest firms in Romania, which allows us to achieve high levels of specialisation per each area of practice, gives us resources to invest in developing our people and permits us to handle in the same time multiple complex projects without making any compromise on quality.
We are global, yet grounded. Being part of Deloitte Legal (over 2,500 lawyers in 85 countries) and the broader "Deloitte family", we not only have access to legal international best practices but we are distinctive in our ability to combine legal expertise with financial, tax and accounting expertise, handling multidisciplinary projects at a uniquely superior level, to the benefit of our clients. Given the consistent cooperation with other professionals in Deloitte, our lawyers have tax, financial or accounting knowledge superior to other law firms, allowing them to better understand the business needs and issues of the clients and come up with innovative solutions. This combination is appreciated by the clients as being particularly powerful in areas like M&A, Tax Controversy, NPL and finance transactions.
While we are a mature and leading legal practice in all areas of business law, we are also at the forefront of transformation of the legal profession. For example, we have launched a new service offering, Legal Management Consulting (LMC), a service dedicated to helping General Counsels overcome the challenges that legal departments are facing today. In developing this approach, we brought together leading experts in law, operating model transformation, business and technology to focus on how business could modernize the way legal needs are addressed. As of now, we are the only law firm delivering such services in Romania.
Which practices do you see growing in the next 12 months? What are the drivers behind that?
We contemplate growth across all practice areas of the firm, with Corporate M&A and Litigations as key drivers, followed by Real Estate, Banking and Competition Law. In addition to our long standing track record in transaction work which is fueled by the economic environment, we see a growth in demand for legal risk management services in various areas of practice (e.g., white collar crime, GDPR, personal liability of top management, tax evasion and money laundering risks). Companies are navigating an increasingly risky legal environment, triggering both risks of material fines as well as reputational risks, and we are ideally positioned to assist in these areas given the ability to combine our legal expertise with the broader risk management capabilities in Deloitte.
What's the main change you've made in the firm that will benefit clients?
There are four pillars on which we focus to the ultimate benefit of our clients: attracting, developing and retaining top talents, dedication of our senior people to addressing our clients' demands, incorporation of technology in our day to day work so that we can deliver more effectively to our clients and working closely with the global Deloitte Legal network to serve our clients across geographies and put international best practices at work for the benefit our clients.
Is technology changing the way you interact with your clients, and the services you can provide them?
We are embracing technology in various ways, from implementing contract automation tools to embedding A.I. and robotics in the way we deliver our work to the clients. Our approach is not limited to only embracing technology, but also tried-and-tested ways of improving processes, which allows us not only to deliver our legal services in a more effective way to our clients, but also help legal departments improve efficiencies and increase the value they deliver back to their business.
Can you give us a practical example of how you have helped a client to add value to their business?
Reff & Associates assisted a real estate fund recently in the acquisition of a portfolio, which, at EUR113 mln deal value, is one the largest executed in Romania in 2019. The project was not only highly complex, involving multiple teams (real estate and banking), but also a cross-border project and had to be executed under extremely tight deadlines. Besides the complexity of the transaction per se, has tested our strength, endurance and capacity to work under harsh time constraints which proved once again our ability to deliver at the highest standards.
Are clients looking for stability and strategic direction from their law firms – where do you see the firm in three years' time?
We have been growing fast for the last six years and are now one of the largest five law firms in Romania (by headcount). We have a strong foundation based on well-structured service lines, a broad client portfolio and a strong reputation.
We see growth continuing on a platform which was never stronger: the well-structured service lines, the client portfolio and reputation, the close integration with Deloitte fiscal, risk, financial advisory and consulting practices, and the global network. We see ourselves as a progressive firm responding to present-day talent aspirations and to market expectations that law is part of integrated business solutions. In three years' time, we should be not one of the largest in the country but also a leader of innovation in the legal profession, driving efficiency and profitability through automation of processes and leveraging multidisciplinary and global integration as part of Deloitte Legal.
Top Tier Firm Rankings
Firm Rankings