Reff & Associates SCA > Bucharest, Romania > Firm Profile
Reff & Associates SCA
Offices

Reff & Associates SCA
THE MARK TOWER,
82-98 CALEA GRIVITEI,
DISTRICT 1, 010735
Romania
Reff & Associates SCA > The Legal 500
Rankings
Reff & Associates SCA
brings an array of '
top-notch skills
' to the table for commercial property and development matters. The firm has established a longstanding track record for assisting on some of the market's largest buy-side and sell-side mandates, and is also noted for its expert support on the tax structuring side. In addition, the team has extensive infrastructure in place for assistance with related regulatory issues, including environmental and planning law. Clients include major real estate investment funds, international corporates and strategic investors operating across several key industries, including agribusiness, manufacturing and natural resources.
Irina Dimitriu
 heads a team of 'v
ery dynamic professionals
'. Founding partner
Alexandru Reff
 retains a strong footprint in the market, while
Simona Iacob
 and
Larisa Popoviciu
are strong on transactional matters and development agreements, respectively.
Other key lawyers:
Testimonials
'Very dynamic professionals.'
'Top-notch skills.'
Key clients
Speedwell (Wellman BV)
MAS Real Estate
Alinso Group / Allianso Park Management
Studium Green
Knauf Insulation
Zen Global DMCC
African Industries Group
Prime Kapital
Expo Market Doraly
NEPI Rockcastle
IKEA Romania
Metav Business Park
adidas Romania SRL
Arcade Property
UE Furniture
Demetra Group
Atlas Corporation
Work highlights
Advising real estate developer Speedwell, a Belgian-based fund, on the purchase of a nine-hectare land plot located on the Griro platform in Bucharest.
Advising MAS Real Estate pn the €320m acquisition of six shopping centres from Prime Kapital.
Advising the Belgian real estate group Alinso on the acquisition of the Metav Business Park in Bucharest.
The practitioners at
Reff & Associates SCA
 are '
exceptional business partners
' with '
skills that are very well used for any kind of tax issues
'. The firm is instructed by a notable portfolio of domestic and international clients. Advisory issues are a key area of competence for the firm, which assists with the full range of transactional and operational tax matters. Tax disputes are the domain of litigation head
Mihnea Galgoţiu-Săraru
, who is backed by an experienced team of senior managing associates, including 
Emanuel Bondalici
 and
Bogdan Marculet
. The arrival of
Alex Slujitoru
from
Băncilă, Diaconu și Asociații SPRL
in February 2023 further strengthened the contentious offering.
Other key lawyers:
Testimonials
'We have a very good collaboration. They have high professional skills that are very well used for any kind of tax issues.'
'A young team – eager to help and very open minded.'
'Mihnea Galgoțiu-Săraru is always involved in our strategy decisions and focused on our end goals.'
'They have very strong technical knowledge, very good understanding of our specific industry, they are very focused on results, strictly monitoring the deadlines and being very empathetic and thinking out of the box.'
'Exceptional business partners. Experienced, highly skilled and don't compromise on quality while delivering with speed and flexibility. I highly appreciate their advisory proactive offering to help us be always compliant but also best practices to apply in our internal processes to prevent any future exposure.'
'During the past six years of our collaboration with Reff & Associates we have had the chance of an excellent collaboration with Bogdan Marculet who is serving our company's interests by demonstrating a high level of expertise and professionalism and delivering work of excellent quality. He has a good sense of the business environment, well informed and up to date with current developments, client-oriented and always willing to respond to our requirements in the best possible way by delivering exceptional results.'
Key clients
BCR Bank and BCR Banca pentru Locuințe
Caten
Enel Romania Group
Banca Transilvania
Deutsche Leasing Romania IFN
Berlin Chemie A. Menarini
Leroy Merlin
Kautex Craiova
Fepra International
Agrisol International
Agroexpert/Izamar group
Work highlights
Representing BCR in a major dispute against the Ministry of Development concerning a €80m public debt reduction linked to the interplay between the tax amnesty legislation and the liabilities towards non-tax authorities.
Successfully represented Berlin Chemie before the European Court of Justice in a pan-European issue regarding the fiscal treatment of fixed establishments.
Representing ENEL Group in various tax disputes challenging decisions issued by the Romanian Tax Authorities to multiple entities within the group.
Reff & Associates SCA
is praised for its '
deep body of knowledge coupled with fast reaction times
'. Loan portfolio deals have been a core area of focus for the team over the past decade, with the firm advising a mix of banks, investment funds and debt collection entities on such matters. Acquisition, real estate and project finance also feature prominently on the roster. On the fintech side, the firm is considered '
one of the market leaders in terms of digitisation and new technologies'
.
Andrei Burz-Pînzaru
brings '
a
solution-driven mindset
' to his role as practice head. Managing associate
Andreea Șerban
is praised as '
an intelligent fighter
'.
Other key lawyers:
Testimonials
'Andrei Burz-Pînzaru: his engineering background translates superbly into strategic legal thinking, a solution-driven mindset and high efficiency.'
'Andreea Șerban: top banking lawyer, very experienced and knowledgeable leading a very strong team, personally involved in each project. Extreme attention to details. An intelligent fighter.'
'The team is one of the few local law and advisory firms that truly work as "one-stop shop", meaning they can cover the whole range of complex topics implied by financial transactions.'
'The most important traits are their availability, deep commitment to the project at hand, high professionalism, deep body of knowledge coupled with fast reaction times.'
'Besides the highly professional approach on any relevant subject matter, they are one of the market leaders in terms of digitisation and new technologies.'
'Very attentive to details – for me this is very important and as a client I feel safe and sound that no important aspects of the issues we need help with are being missed. Also the firm is oriented towards the client and takes enough time to really understand the client's needs and how they can assist the client. In addition, I find them easy to access and connect and we always get timely responses.'
Key clients
CEC Bank
Garanti Bank
TBI Bank
Banca Comerciala Intesa Sanpaolo Romania
Bank of Cyprus Public Company Limited
Roca Investments
B2Kapital Portfolio Management
Capital Financial Services S.A. (Twispay)
Elrond Network
NH Hotel Group
Chimcomplex
ARGO Development
European Digital Exchange
Dante International
Work highlights
Advised the shareholders of fintech company Capital Financial Services on its potential takeover by Elrond Network, a Romanian blockchain developer.
Advised  Chimcomplex on the €56.7m  refinancing of its loans from VTB and Credit Suisse/Argentum Netherlands.
The corporate team at
Reff & Associates SCA
advises major domestic and international corporates, as well as several active investment funds. The recent period has been characterised by a high level of activity, including a large volume of complex M&A transactions and group reorganisations. Further support is provided on corporate governance and regulatory issues, as well as broader day-to-day issues and contractual agreements. Practice head
Georgiana Singurel
brings almost 25 years' market experience to her role.
Diana Fejer
's importance to the team was recognised with her recent promotion to partner.
Other key lawyers:
Testimonials
'Very good professionals, offering the full package.'
Key clients
ROCA Investments
Gympass
Knauf Insulation Holding
Capital Financial Services
ELKOTech Romania
Uzina Termoelectrica Midia
RDF
Qfort
Sarcom
HS Timber Group (former Holzindustrie Schweighofer)
Agro-Est Muntenia
Drager Group
Bluehouse Investitii
Work highlights
Assisted the seller, Roca Investments, with the sale of Frigotehnica to Vinci Energies.
Advised Gympass on the acquisition of the health and fitness company Benefit Seven from Sodexo Group.
Advised Knauf Insulation on the transfer of business operations for the acquisition of a glass mineral wool production line.
Reff & Associates SCA
's employment team comprises experienced and specialised practitioners who produce '
great results
'. The comprehensive practice covers all contentious and non-contentious areas of employment law, and has developed a niche focus on issues with a heavy tax component, such as global mobility, employee benefits and off-payroll employment collaborations. Practice head
Florentina Munteanu
 has 20 years' experience across a range of issues, including executive dismissals and transactional support. Managing associate
Gabriela Ilie
and senior associate
Ana-Maria Vlasceanu
are also key team members.
Other key lawyers:
Testimonials
'Very professional, able to understand our needs, and when I did not understand anything they were able to explain it, very thorough process.'
'The team is very responsive and to the point, they have been assisting us with cases where we needed not just the legal advice, but also recommendations from practice, in order to make sure we are doing the right thing. They have been prompt and proactive, not letting us do any mistakes. We have learnt a lot by their side, things we could not have learnt from just reading the law.'
'So far, the law firm has been able to help me with all my questions and the co-operation has worked extremely well in all areas.'
'I'm always happy to rely on these practitioners and have the feeling that my questions are in good hands.'
'Very comprehensive as well as proactive analysis about legal matters. Quick reaction times. Competent answers.'
'All members of the team I have worked with have equally produced great results.'
Key clients
IKEA Romania
AVON Cosmetics Romania
Stanley Black & Decker Romania
SES Services Romania
Logicom Information Technology Distribution
Team Montage
Betfair Development
Motorola Solutions Romania
HP Inc.
Embassy of the Republic of South Africa to Romania
Qualicaps Romania
Work highlights
Advised Elrond Network and Capital Financial Services on the employment aspects of Elrond's acquisition of Capital Financial Services.
Reff & Associates SCA
fields a well regarded multidisciplinary team; the '
young and dedicated
' practice has established a strong track record in tax and administrative disputes, including competition, consumer protection, data protection and contentious environmental matters. Practitioners also have strong experience in broader commercial claims involving the real estate and construction sectors, as well as shareholder disputes. Practice head
Mihnea Galgoţiu-Săraru
 '
perfectly balances a commercial approach with litigation strategy and profound legal expertise
'.
Testimonials
'A very united team that knows how to value the vast experience of some senior members as well as the enthusiasm of younger members to the benefit of the client.'
'Young and dedicated team, good experience, focused on problem solving, good knowledge of the market.'
'The dispute resolution team is part of a bigger practice which offers multidisciplinary solutions to complex cases. The seniority of the staff and the experience, help them deliver out-of-the-box solutions.'
'Mihnea Galgoțiu-Săraru is a practitioner with very practical and solution-oriented thinking, who has a comprehensive knowledge of the dispute resolution practice in Romania. He is a very capable and intelligent lawyer who always provides us with a personalised service and timely advice.'
'I would characterise the team I am working with at Reff & Associates with the following attributes: smooth communication, fast reaction on the topics, professionalism on the specific option and suggestions for approaching the matters.'
'On contentious matters, we work with Mihnea Galgoțiu-Săraru. He has a wealth of experience in so many fields, from general litigation, to very specialised fields (tax, pharma, audiovisual etc). Mihnea is very hands-on and he is personally involved in our cases – we are very confident and feel comfortable when he is representing us, because he perfectly balances a commercial approach with litigation strategy and profound legal expertise. That is why we trust him with our top priorities.'
'I really apreciate the support from this law firm. Their advice is concise and to the point which is really valuable when you are coordinating matters from a different country.'
Key clients
BCR and BCR
Catena (part of Fildas / Catena Group)
Enel Group (E-Distributie Muntenia, E-Distributie Banat, Enel Green Power Romania)
Ikea Romania
Banca Transilvania
Pirelli Tyres Romania
Speedwell Group
Alexandrion Grup Romania
Nepi Rockcastle Group
Berlin Chemie A. Menarini
Deutsche Leasing România IFN
Lidl Discount
Prime Kapital Group
Caterpillar Financial Services Poland
Gránit Polus (former TriGránit Group)
BT Leasing Transilvania IFN
LikeIt
Transport Urban Sinaia
Roserv Green Energy
B2Kapital Portfolio Management SRL/Ultimo Portfolio Investment (Luxembourg)
Arcade Group/Estrada Management
Mulberry Group
Kim Johansen Transport
adidas Romania
Frasinul
Inform Lykos
Anil Mantra Group of Companies
Chemfor Balkan
Independent Oil Tools
Emergy Striborg (part of Emergy Group)
Studium Green
Auchan Romania
Fepra International
Work highlights
Representing pharmaceutical company Catena in a series of proceedings initiated by the Romanian Health and Social Security Authorities following an audit performed by the Romanian Court of Accounts.
Representing several major real estate developers – including Nepi Rockcastle Group, Speedwell Group and Demetra Investment Public – in proceedings relating to controversial measures taken by Bucharest local authorities to block the building permitting process.
Representing IKEA in a case involving over 300 private and public parties concerning the ownership of a 200 hectare land plot, and the site of Romania's inaugural IKEA store, in Northern Bucharest.
Reff & Associates SCA
's competition team '
demonstrates great experience, knowledge and skill in handling complex situations
'. Core expertise includes handling of antitrust investigations and dawn raids, implementation of compliance programs, and assistance with merger control and state aid issues. The '
very calm and attentive
'
Florentina Munteanu
 heads the team, which also includes senior managing associate
Andrea Grigoras
.
Other key lawyers:
Testimonials
'We put our trust in Andrea Grigoras and Florentina Munteanu due to their significant competition expertise, professional client attitude and nice personal interaction.'
'I like that Florentina Munteanu is involved in each mandate, this ensures that they send good quality work in a very short time. She is very calm and attentive to the client's needs. We consult Andrea Grigoras with respect to activities impacting from the competition perspective, she accommodates very openly our opinions, she offers guidance and tailored advice and shows availability in tight deadline situations. I enjoy very much working with her.'
'We often consult them for EU-related, cross-border matters, and we are satisfied with their services. They also help us to get consultation from lawyers in other jurisdictions. They are very knowledgable in EU regulations, and able to provide customised legal opinions after understanding our needs and targets.'
'The team is highly qualified, demonstrates great experience, knowledge and skill in handling complex situations. We appreciate the great communication we have with them, as well as their efforts to make sure that every client feels like they are the most important.'
'We appreciate their responsiveness and pragmatic approach, as well as their innovative solutions to complex situations. Andrea Grigoras is an excellent professional with in-depth knowledge and extensive practical experience in the competition field. She understands the clients' business needs and always does everything within her power to ensure the best results possible, in a timely manner.'
'Dedicated, committed people, masters of the branches of law they manage, exceptional team.'
Key clients
Fildas Trading
Catena
UP Romania
Otter
Banca Transilvania Group
Frasinul
Elrond Network
Roca Investments
DTL Medical
Ciprian Bara
Work highlights
Assisted the Romanian branch of Bank of Cyprus Group with its exit from the local market, including the sale of a large proportion of its NPL portfolio.
Assisting Fildas Trading, a major Romanian pharmaceuticals distributor, with the full range of antitrust matters, including negotiating distribution agreements.
Advising UP Romania on an in-depth competition law analysis of its online consumer platform.
Reff & Associates SCA
has a strong focus on the TMT sector, advising clients across a broad spread of technology and telecoms issues. The team has a strong track record in the privacy, digital content, e-commerce, consumer protection and IP spaces. Recently, the firm has also advised on several high-profile software agreements and business digitisation projects, including some significant mandates in the financial services sector. Corporate head
Georgiana Singurel
leads the team, with support from managing associate
Andreea Zaharia
.
Other key lawyers:
Key clients
ING
Intesa Sanpaolo Romania
CEC Bank
Apa Nova Bucuresti – Veolia Group,
B2Kapital part of B2 holding
NEPI Rockcastle
LC Waikiki
HP
Zebrapay
adidas Romania
Untold
Up Romania
Deloitte Consultancy Czech Republic
Andreas Stihl Motounelte
IKEA Romania
Lendrise Marketplace
Work highlights
Advised ING on the establishment of a new application developed as part of a technology innovation initiative.
Assisting Intesa Sanpaolo Romania, the Romanian branch of the Italian international banking group, with the cloud outsourcing of certain key activities to Microsoft.
Advised CEC Bank on the digital transformation of the bank and related systems including assistance with the privacy and data protection aspects.
Reff & Associates SCA >
Firm Profile
The firm: Reff & Associates is one of the largest Romanian law firms by headcount with over 70 lawyers, and is a member of the Deloitte Legal network, which counts more than 2,500 lawyers, in more than 75 countries. A full-scope business law firm, Reff & Associates assists large local and multinational investors, through high-quality legal services powered by a commercial and pragmatic approach to legal matters, leveraging the multidisciplinary expertise of Deloitte colleagues in areas such as tax, finance or business consulting. From assisting some of the largest transactions in Romania and CE region, to managing risk and compliance, to litigation, Reff & Associates handles projects in the range of hundreds of millions EUR every year.
Areas of practice
Corporate and commercial:  The team advises on the structuring and restructuring of investments, transfers of activity, mergers, demergers, joint ventures, including formation, corporate governance, minority rights and exit. In addition, the firm advises clients on various consumer and data protection aspects (including GDPR readiness), as well as other regulatory matters, such as environmental, food safety and IP.
Mergers and acquisitions: The firm's lawyers assist either the buy-side or the sell-side during the entire M&A cycle: MoU, due diligence and transaction structuring, drafting, negotiation and execution of the transaction documentation, transaction implementation and post-acquisition work.
Banking and finance: The firm assists clients in loan finance, debt restructuring, securitization, workouts, NPL deals and transfers of performing loans portfolios. Having acted for both lenders and borrowers/ sponsors, the firm regularly works on structuring complex finance transactions, drafting and negotiating finance documents.
Capital markets: The firm provides assistance to publicly traded companies, securities firms and investors, covering securities compliance (market manipulation and insider dealing issues included), listing requirements, corporate governance, shares/ rights prospectuses and assistance on stock option plans.
Real estate: The firm assists with structuring of real estate transactions, transaction support, title verifications, title insurance, zoning and urban planning advice, compliance review, construction (including FIDIC based) assistance, acquisition, disposals and divestments, and has advised in most of the largest real estate deals in the country over the last five years).
Insolvency: The firm advises both creditors and debtors in various insolvency matters, during pre-insolvency and actual insolvency procedure, from entitlement to opening the procedure, to structuring deals in insolvency procedure, to possibilities to close the insolvency, assessments of existing options, preservation of rights, defending against other parties' claims or challenging their rights.
Competition: Reff & Associates advises on a wide range of competition issues, including competition and antitrust compliance, investigations by the competition authority, analysis of distribution agreements, etc the firm has a detailed understanding of law matters related to economic concentrations and provides representation in front of the Competition Council.
Employment: The practice helps companies deal efficiently with labor law matters by providing customized contractual solutions, clear and effective internal regulations and compliant procedures in restructuring, compliance and litigation.
Energy:The firm has acquired vast experience in providing legal services for large national and international projects in the energy sector, dealing both with all regulatory aspects and the related legal and commercial aspects of the respective contracts.
PPP and public procurement: The team provides legal assistance to both public and private entities on a wide variety of public procurement, concession, PPP and EU funded projects. The firm has a vast experience gained through various complex assignments, including drafting the toolkit for applying the concession legislation in Romania, as well as preparation of a model concession agreement for InterModal Terminals under a European Investment Bank assignment.
Dispute resolution: The firm represents clients in general commercial, civil and employment litigation, including corporate disputes, recovery of debts, real estate litigation, settlements and forced execution. In tax litigations, the firm leverages the cooperation with Deloitte tax team, ensuring that all tax and legal issues are successfully covered.
Business criminal law: The firm offers specialized services ranging from general consultancy, prevention and compliance in criminal law matters, to assistance during the criminal investigation or in front of courts of law.
Main Contacts
| Department | Name | Email | Telephone |
| --- | --- | --- | --- |
| Banking and finance | Andrei Burz-Pinzaru | | |
| Banking and finance | Andreea Serban | | |
| Business integrity | Andrei Burz-Pinzaru | | |
| Capital markets | Andrei Burz-Pinzaru | | |
| Competition | Florentina Munteanu | | |
| Competition | Andrea Grigoras | | |
| Consumer, data protection and intellectual property | Georgiana Singurel | | |
| Consumer, data protection and intellectual property | Silvia Axinescu | | |
| Corporate, commercial and M&A | Alexandru Reff | | |
| Corporate, commercial and M&A | Georgiana Singurel | | |
| Corporate, commercial and M&A | Diana Fejer | | |
| Employment | Florentina Munteanu | | |
| Energy and environment | Georgiana Singurel | | |
| Energy and environment | Ovidiu Balaceanu | | |
| Insolvency | Florentina Munteanu | | |
| Dispute Resolution | Mihnea Galgoțiu-Săraru | | |
| Public sector | Georgiana Singurel | | |
| Public sector | Adrian Coman | | |
| Real estate | Alexandru Reff | | |
| Real estate | Irina Dimitriu | | |
| Tax Litigation | Alex Slujitoru | | |
| TMT | Georgiana Singurel | | |
| TMT | Silvia Axinescu | | |
| Intellectual property | Georgiana Singurel | | |
| Intellectual property | Silvia Axinescu | | |
Interviews
Burz Pinzaru Andrei, Managing Partner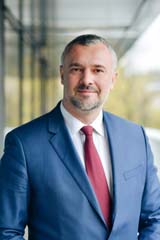 What do you see as the main points that differentiate Reff & Associates SCA from your competitors?
We are different from our competitors in several ways:
For the last 5 years we have consistently been the fastest growing law firm in the Romanian market;
With more than 70 lawyers, we are one of the top 5 largest firms in Romania, which allows us to achieve high levels of specialisation per each area of practice, gives us resources to invest in developing our people and permits us to handle in the same time multiple complex projects without making any compromise on quality.
We are global, yet grounded. Being part of Deloitte Legal (over 2,500 lawyers in 85 countries) and the broader "Deloitte family", we not only have access to legal international best practices but we are distinctive in our ability to combine legal expertise with financial, tax and accounting expertise, handling multidisciplinary projects at a uniquely superior level, to the benefit of our clients. Given the consistent cooperation with other professionals in Deloitte, our lawyers have tax, financial or accounting knowledge superior to other law firms, allowing them to better understand the business needs and issues of the clients and come up with innovative solutions. This combination is appreciated by the clients as being particularly powerful in areas like M&A, Tax Controversy, NPL and finance transactions.
While we are a mature and leading legal practice in all areas of business law, we are also at the forefront of transformation of the legal profession. For example, we have launched a new service offering, Legal Management Consulting (LMC), a service dedicated to helping General Counsels overcome the challenges that legal departments are facing today. In developing this approach, we brought together leading experts in law, operating model transformation, business and technology to focus on how business could modernize the way legal needs are addressed. As of now, we are the only law firm delivering such services in Romania.
Which practices do you see growing in the next 12 months? What are the drivers behind that?
We contemplate growth across all practice areas of the firm, with Corporate M&A and Litigations as key drivers, followed by Real Estate, Banking and Competition Law. In addition to our long standing track record in transaction work which is fueled by the economic environment, we see a growth in demand for legal risk management services in various areas of practice (e.g., white collar crime, GDPR, personal liability of top management, tax evasion and money laundering risks). Companies are navigating an increasingly risky legal environment, triggering both risks of material fines as well as reputational risks, and we are ideally positioned to assist in these areas given the ability to combine our legal expertise with the broader risk management capabilities in Deloitte.
What's the main change you've made in the firm that will benefit clients?
There are four pillars on which we focus to the ultimate benefit of our clients: attracting, developing and retaining top talents, dedication of our senior people to addressing our clients' demands, incorporation of technology in our day to day work so that we can deliver more effectively to our clients and working closely with the global Deloitte Legal network to serve our clients across geographies and put international best practices at work for the benefit our clients.
Is technology changing the way you interact with your clients, and the services you can provide them?
We are embracing technology in various ways, from implementing contract automation tools to embedding A.I. and robotics in the way we deliver our work to the clients. Our approach is not limited to only embracing technology, but also tried-and-tested ways of improving processes, which allows us not only to deliver our legal services in a more effective way to our clients, but also help legal departments improve efficiencies and increase the value they deliver back to their business.
Can you give us a practical example of how you have helped a client to add value to their business?
Reff & Associates assisted a real estate fund recently in the acquisition of a portfolio, which, at EUR113 mln deal value, is one the largest executed in Romania in 2019. The project was not only highly complex, involving multiple teams (real estate and banking), but also a cross-border project and had to be executed under extremely tight deadlines. Besides the complexity of the transaction per se, has tested our strength, endurance and capacity to work under harsh time constraints which proved once again our ability to deliver at the highest standards.
Are clients looking for stability and strategic direction from their law firms – where do you see the firm in three years' time?
We have been growing fast for the last six years and are now one of the largest five law firms in Romania (by headcount). We have a strong foundation based on well-structured service lines, a broad client portfolio and a strong reputation.
We see growth continuing on a platform which was never stronger: the well-structured service lines, the client portfolio and reputation, the close integration with Deloitte fiscal, risk, financial advisory and consulting practices, and the global network. We see ourselves as a progressive firm responding to present-day talent aspirations and to market expectations that law is part of integrated business solutions. In three years' time, we should be not one of the largest in the country but also a leader of innovation in the legal profession, driving efficiency and profitability through automation of processes and leveraging multidisciplinary and global integration as part of Deloitte Legal.
Legal Briefings
Corporate governance in Mexico: overview and trends 2021

Adapting Mexican corporate governance policy related to new market realities would need corporate law reform with the backing of enforcement. Nevertheless, certain local instruments – which lack binding force and which may, at best, fit in the category of 'soft law' – attempt to direct corporate practices through a voluntary approach. This is the case …

Employment law in Cyprus

1. Can you provide guidance on the process for terminating an employment contract in Cyprus, including any legal requirements and potential risks? For a dismissal to be considered lawful without the employee being entitled to compensation for unfair dismissal, one of the following reasons of dismissal must apply: