Reff & Associates SCA > Bucharest, Romania > Firm Profile
Reff & Associates SCA
Offices

Reff & Associates SCA
THE MARK TOWER,
82-98 CALEA GRIVITEI,
DISTRICT 1, 010735
Romania
Reff & Associates SCA > The Legal 500
Rankings
Reff & Associates SCA
offers domestic and international clients a '
one-stop
' service for real estate law. The 'v
ery professional team
' is extremely active on the transactional side, including advice on related share deals and joint venture agreements. Clients seeking support on development projects have access to a diverse array of skill sets, including a large bench of lawyers with environmental, planning and contentious experience. Practice head
Irina Dimitriu
is '
a top notch lawyer with great negotiating and technical skills
'. Managing associate
Simona Iacob
has a 'g
ood understanding of client's needs
', while
Larisa Popoviciu
is '
a great professional with incredible analytical skills'.
Managing partner
Alexandru Reff
is a leading figure in the market.
Other key lawyers:
Testimonials
'Larisa Popoviciu is an excellent professional, an expert in commercial law and dispute law, she has in depth understanding of our company business and and needs, is always responsive and hands on.'
'They are seriously involved in the smallest details, very structured and logical thinking, hardworking dedicated team, they are commercially oriented and have solutions for legal aspects, they also make sure that the counterparty's lawyers follow closely the commercial agreement between the parties.'
'Ioana Georgescu: she is hard working, skilled, fine lawyer. She has a bright future ahead, she deserves it. Irina Dimitriu:  she brings "peace" during rough negotiations with her examples from similar experiences.'
'Proactive availability, fast response, business orientated, good professionals, large area of expertise.'
'Very good: communication, open, good professional , good recommendation, attention to details – Diana Stan, Irina Dumitriu.'
'Dedication and constant contact with the client, explaining the practicalities of all legal issues at hand or findings in a Due Diligence process, rather than theoretical risks. Pursuing independent investigations for clarifying the findings in a DD. Quick, reliable and prompt support.'
'Dedication and prompt support at all times – Maria Nitulescu. Good understanding of clients needs and request – Simona Iacob.'
'Very flexible and client oriented. Vast array of competences within the same firm. One stop legal firm.'
Key clients
NEPI Rockcastle
Prime Kapital
Haier Tech / Candy Hoover (owner of Haier Tech)
Expo Market Doraly
Banca Comerciala Romana
IKEA Romania
Speedwell Romania
Zen Global DMCC
Mulberry group (Ovidiu Sandor)
Metav
Baneasa group
Studium Green
Atlas Corporation
Roca Investments, holding company
Andreas Stihl Motounelte
Bank of Cyprus
Arcade Property
UE Furniture
Demetra group
Work highlights
Romanian law advice to the investment fund NEPI Rockcastle on the sale of an office buildings portfolio to AFI Europe.
Advising Prime Kapital on acquisitions, development and permitting matters in relation to various Romanian development projects.
Advising Haier Tech / Candy Hoover on the acquisition of a several plots of land in the Allianso Business Park for the development of a refrigerator production unit.
Reff & Associates SCA
has a well regarded banking team that is praised for its '
very good industry and market knowledge (both in Romania as well as at EU level) and can easily scale the team for a project
'. The group has good experience across a range of financings, as well as loan portfolio deals, financial sector M&A, regulatory matters, fintech, and payments services. On the fintech front the firm represents a range of clients, including startups and financial institutions. Practice head
Andrei Burz-Pinzaru
is an '
excellent professional'
and
'always available and very flexible offering solutions even to the most complicated issues'.
Senior managing associate
Andreea Serban
has also developed a good name.
Testimonials
'They have very good industry and market knowledge (both in Romania as well as at EU level) and can easily scale the team for a project. They are also in-tune with the advancement of technologies. They are flexible and willing to adapt.'
'Andrei Burz Pinzaru – excellent professional, excellent knowledge, always available and very flexible offering solutions even to the most complicated issues.'
Key clients
Bank of China (Central and Eastern Europe) Limited Sucursala București
Banca Comerciala Intesa Sanpaolo Romania
Credit Europe Bank Romania
CEC Bank
ING Bank
Innova Capital
Balbec Capital
Prime Kapital
Capital Financial Services
CATERPILLAR FINANCIAL SERVICES POLAND
NH HOTEL GROUP
Speedwell Group
B2Kapital Portfolio Management
Lendrise Marketplace
Elrond Romania
Zebrapay
Netpay Europe
Societatea de Asigurare-Reasigurare City Insurance
Work highlights
Advising NH Hotel Group on several financing transactions with an aggregate value of €900 million.
Advised a large international investment firm focusing on mid-market buyouts in CE on the acquisition of the Romanian subsidiaries of the payment services company, Wirecard Sales International Holding.
Legal due diligence to a regional investor in seven Central European jurisdictions (including Romania), over a package of distressed banking assets with an aggregate par value of around €2.5 billion.
Reff & Associates SCA
provides a '
great experience
' for clients across all corporate and M&A issues. The firm represents a broad spread of companies and private equity funds, and led on several major deals in the transportation, manufacturing, retail and IT industries. The team's offering goes beyond M&A to include major group reorganisations and corporate governance programs. Clients also benefit from the firm being part of the broader Deloitte empire, and access to the wide variety of services that brings. Practice head
Georgiana Singurel
is praised for her personalised service, with strong input from managing partner
Alexandru Reff
and managing associate
Diana Fejer
.
Practice head(s):
Georgiana Singurel; Alexandru Reff
Other key lawyers:
Testimonials
'When thinking about Reff & Associates, first and foremost I think about ethics. Their work ethic, the ethic they display when interacting with clients, with counterparts, all these make the interaction with them a great experience.'
'They are a team and they act as being a part of the client's team. We are very happy on how Andrei Burz Panzaru or Georgiana Singurel seem to be not our external counselors, but our colleagues for years.'
Key clients
International Alexander
Platforma Roca
Vestas Wind Systems
Trans Expedition Feroviar S.R.L., part of Grampet Group
Leroy Merlin Romania
ELKOTech Romania
Siemens Gamesa
Euralis Seminte SRL (part of Lidea group)
Grupo Antolin
Work highlights
Advising International Alexander on the acquisition of a Romanian transport and freight company.
Assisted the private equity fund Platforma Roca on the sale of its stake in refrigeration company, Frigotehnica, to VINCI Energies.
Advised ELKOTech Romania, a major IT equipment distributor, on its acquisition of IT Smart Distribution, a local distributor of IT equipment.
Reff & Associates SCA
is well positioned to provide strong support on domestic and cross-border employment issues. The '
proactive
' lawyers are '
always coming up with solutions
' and bring a '
high standard of professional knowledge and reliability'.
The team is well versed in collective bargaining negotiations with unions, as well as collective and individual redundancy procedures. On the advisory side, it also has good experience assisting with international employment strategies and transactional related integrations and reorganisations. Practice head
Florentina Munteanu
has over 18 years' experience in the market. Managing associate
Gabriela Ilie
is another key team member.
Other key lawyers:
Testimonials
'Personally I find working with Reff Team very easy and productive. What I mean by that is that they manage to translate the laws and regulation into an understandable language for people who are not accustomed with the legal terms. This makes our meetings and calls very efficient. Other aspects of our collaboration are in regards to the close contact that they keep with us, proactive behaviors when it comes to new rules and regulations and very good knowledge of our business. I can't name a call in which I have felt that the Reff Team was distracted or it wasn't 100% there to listen to what we are saying. Their advice on different matters was well thought and articulated often bringing us perspectives or impacts that we haven't foreseen. Finally, collaborating with other legal partners as well, I can say that the prices are lower and often the advice received is more carefully drafted. Not to say that from the legal stand point other companies has advised otherwise but the answers were more easy to follow and broader.'
'I will name two people with whom I've been working closely from Reff. I am referring in here to Ana Maria Vlasceanu and Ilie Anca Gabriela. We've looked for advice from their behalf on the following topics: Updating Internal Regulation, disciplinary actions (harassments, discriminations or work conflicts), Covid-19, GDPR, as well as for regulations in regards to external work force. I'll describe the work relation as very candid with swift replies and elaborated answers. Rarely, if for some reasons they couldn't answer due to unavailability, they quickly redirect us to another colleague keeping us in the loop. Last but not least I will describe the collaboration with them as being very close, fast and suited to our needs.'
'Our overall impression is that they are the ones to work it. We are very pleased about how prompt they reply to all our requests, providing us a detailed and well documented answer.'
'Pro-active, always coming up with solutions and build strategy together with us. Florentina Munteanu and Gabriela Ilie are the lawyers worked together with us.'
'It is extremely complicated to keep track of the various regulations and changes in every country. Our legal team from Reff & Associates however is the perfect partner in this situation, because with everything they do, they think ahead and consider context. Thus they always approach me proactively if they see any kind of potential problem coming my way. Add that to their high standard of professional knowledge and reliability and you have the perfect legal partner.'
'I have worked with the entire team and appreciate all of them equally.'
Key clients
IKEA Romania
AVON Cosmetics Romania
H&M Hennes & Mauritz
Stanley Black & Decker Romania
Sisecam Automotive Romania
SES Services Romania
Roquet Eastern Europe
Logicom Information Technology Distribution
Team Montage
Betfair Development
Green Tree Marketing
Work highlights
Assisted a multinational manufacturer in negotiating a benefits package with the trade union.
Assisted a major multinational in a major restructuring process involving mostly white-collar employees.
Assisted a major international company with a group restructuring for a particular business stream, including related employee transfers.
Reff & Associates SCA
is recommended for its ability to find '
a feasible commercial approach
' to high-stakes cases. The disputes side of the practice handles a broad array of direct and indirect tax claims, including challenges to audits and decisions that reach the highest level. This includes experience of transfer pricing, customs, environmental and claw-back taxes. Recently the firm was involved in several high-profile cases for major energy and financial services companies. The firm's international credentials are enhanced by its membership of Deloitte, which handles the non-contentious side.
Mihnea Galgoţiu-Săraru
leads the team, which includes senior managing associate
Bogdan Marculet
who has '
vast experience
'.
Other key lawyers:
Testimonials
'Reff & Associates has a strong Tax practice. Their lawyers know very well the industries they serve and this is a key ingredient of our successful partnership. We are used to working with them in high-stake cases on which they always find a feasible commercial approach.'
'Bogdan Marculet and Laura Spiridon are key lawyers with vast experience that brought us the finest results in our high-stake cases. Besides that, they are continuously preoccupied to modernize their profession and improve and innovate the relation between business environment and legal professionals.'
'Very high quality prepared team.'
'Up-to-date answers and flexible timing.'
'In-tune with technology, great knowledge of their field, ability to scale the teams as needed.'
'Apart from the above I would also say flexibility and engagement.'
Key clients
Enel Romania Group
Kuweit Petroleum Romania
Banca Transilvania
Deutsche Leasing Romania
Halliburton Energy Services Romania
Faurecia Romania
Aedificium
Berlin Chemie A. Menarini
ILF Consulting Engineers
Sammarina Imobiliare,
Kautex Craiova
Sisecam Automotive (Glasscorp Romania)
Work highlights
Representing ENEL Group in various tax disputes challenging the decisions issued by the Romanian Tax Authorities to multiple entities within the group.
Advice to Aedificium following an audit performed by the Romanian Court of Accounts concerning the restitution of unlawful granted state premiums.
Advising Deutsche Leasing Romania in a cross-border tax controversy arising from an additional withholding tax imposed by the Romanian tax authorities in relation to the interest revenues from the financing of a Romanian company.
Reff & Associates SCA
is noted for its '
clear multidisciplinary
approach
' and capacity to handle a diverse range of dispute types and disciplines, including international arbitration and administrative litigation. As a member of the Deloitte Legal network, tax litigation for international clients is an obvious sweet spot. The team's capabilities also include competition litigation and broader commercial claims such as joint venture disagreements and shareholder disputes. Practice head
Mihnea Galgoţiu-Săraru
's '
input is always focused on the long term strategy and our commercial objectives'.
Together with managing associates
Alina Stan
and
Ana Galgoţiu-Săraru
he offers '
vast experience that brought us the finest results in our high-stake cases'.
Testimonials
'The team is absolutely fully involved when the company's request is urgent and needs the expertise of this lawyer team. They respect the deadline that is requested and always make the necessary follow-up.'
'Every member of this team stands out in different scenarios that we request help for. Their best quality is delivering within the deadline, giving advice on how to make the final and best decision.'
'Reff & Associates (part of Deloitte Legal) has a clear multidisciplinary approach. They have a large and experienced litigation practice, that benefits from the support and close collaboration of other departments from their law firm or Deloitte. Despite their size (that allows for very diverse expertise being dedicated to one project), their approach is very personal – there is a single point of contact for each project – that interacts very closely and swiftly with our team, the partner involvement is considerable and the billing approach flexible (we could always discuss the fees and obtain adjustments). They seemed to be more focused on flexibility and on a commercial approach (they always tried to understand and discuss our business objectives and agree the legal services that are required in view of obtaining them). I would also note that they focus on the bigger picture and long-term strategy, rather than on details that are unlikely to make a difference.'
'Mihnea Galgotiu-Sararu is the litigation partner in charge with our projects. He is experienced in both litigation aspects and settlement negotiations techniques, and his input is always focused on the long term strategy and our commercial objectives. He always tries to understand our needs and view, in order to select the legal options that helps us get where we want. Alina Stan, Managing Associate, is our main contact for the litigation department. We work with her almost on a daily basis and we trust her advice. She is very well prepared and experienced in litigation, responsive, diligent, hard-working and has a keen eye for details and a client – oriented approach. Andrei Burz-Pinzaru, the partner in charge with the financial department of the law firm, is also involved to design the high level strategy and approach.'
'Reff & Associates has a strong Dispute Resolution practice. Their lawyers know very well the industries they serve and this is a key ingredient of our successful partnership. We are used to work with them in high-stake cases on which they always find a feasible commercial approach.'
'Mihnea Glagotiu-Sararu, Alina Stan and Ana Glagotiu-Sararu are key lawyers with vast experience that brought us the finest results in our high-stake cases. Besides that, they are continuously preoccupied to modernize their profession and improve and innovate the relation between business environment and legal professionals.'
'Young and experienced team, professionally prepared.'
'Flexible and enthusiastic team.'
Key clients
Ikea Romania
Enel Group
Deutsche Leasing România
Lidl Discount
H&M Hennes & Mauritz
Prime Kapital Group
Nepi Rockcastle Group
Caterpillar Financial Services Poland
Gránit Polus
LikeIT Solution
SSIF Tradeville
BT Leasing Transilvania
Banca Transilvania
Transport Urban Sinaia
Roserv Green Energy SRL (former TEF Infrastructura SRL)
B2Kapital Portfolio Management SRL/Ultimo Portfolio Investment
HS Timber Productions
Arcade Group/Estrada Management (Smart Property, Metropolitan Leasing, Estrada Management SRL, Rolast Pitești SA)
Forte Partners
Mulberry Group (Take Project and MTInv Holding)
Kim Johansen Transport
adidas Romania
Frasinul
Banca Comercială Intesa Sanpaolo Romania
Inform Lykos
Viales y Obras Publicas
Transport Urban Sinaia
Work highlights
Advising Gránit Polus in a complex dispute, involving dozens of different lawsuits, to recover a multi-million joint venture investment with the Cluj-Napoca local authorities for the construction of a 203 hectare residential project.
Advising Like IT Solution in two separate multi-million Euro arbitration proceedings initiated under the rules of Vienna International Arbitral Centre against a Czech IT supplier and its Romanian subsidiary.
Assisting BT Leasing (part of the Banca Transilvania financial Group) in relation to a suspension and annulment claim against a cartel sanction issued by the Romanian Competition Council.
Reff & Associates SCA
has a good reputation for representing clients in heavily regulated industries such as life sciences and financial services. The firm, praised for its '
highly professional attitude
',  has achieved some notable successes in the past year for clients such as the Bank of Cyprus following lengthy cartel investigations. The team also provides strong support on strategic measures, including merger clearance procedures for corporate transactions, or advising on internal compliance and distribution agreements. Practice head
Florentina Munteanu
has almost 20 years' experience in competition, antitrust and state aid matters.
Testimonials
'Highly professional attitude and great collaboration skills.'
Key clients
Proinvest
Bank of Cyprus
Fildas Trading & Catena
UP Romania
NEPI Rockastle
ELKOTech Romania
Otter
Banca Transilvania Group
International Alexander Group
Work highlights
Advising Proinvest throughout a a three-year Competition Council investigation into a cartel allegation.
Successfully assisted the Bank of Cyprus group in closing a three-year investigation by the Competition Council into an alleged cartel on the exchange of information that resulted in no fine for the client.
Assisted Fildas Trading, a major Romanian pharmaceuticals distributor, on the full range of antitrust matters, including negotiating distribution agreements.
Reff & Associates SCA
has a diverse spread of experience in public projects and procurement procedures. In addition to traditional private sector sponsors and construction companies, the firm also represents multilateral agencies, such as the World Bank, as well as NGOs, including Dăruiește Viață Association. The firm was recently involved in several key healthcare development projects, and also has experience of oil and gas and other utilities. Corporate partner
Georgiana Singurel
leads the team, which also advises on related regulatory matters.
Key clients
OMV Petrom
DTL Medical
Dăruiește Viață Association
Hidro Top Construct
The World Bank Group
RO-Verde Landscaping
Mureș County Council
Frasinul S.R.L., local construction company
Work highlights
Advising the NGO, Dăruiește Viață Association, in a privately funded hospital project to develop oncology healthcare services for children.
Advising the World Bank on permissible land development business models and transaction structures in Romania.
Assisting Hidro Top Construct, a construction company, on the extension of the intensive care section of the Marie Curie Hospital.
Reff & Associates SCA
has recently provided considerable support to several banks and financial institutions on digitization projects. This has included regulatory advice and assistance on e-commerce, compliance and data privacy. Clients particularly appreciate the broader offering that goes beyond legal and comes with being part of the Deloitte network. Corporate partner
Georgiana Singurel
leads the team, which also advises several high profile retailers, telecoms and energy companies on related issues. Senior associate
Silvia Axinescu
is singled out for '
her calm, her proactive attitude and ability to interact and transmit the key legal messages'.
Testimonials
' I was impressed by their excellent knowledge and expertise on IT & IP matters and their support. As Reff & Associates is part of Deloitte Group, we were also happy to receive a combined approach of solutions, not just legal expertise. The team proved to be very talented, dedicated and focused to provide us the best solution in our case. Our overall impression was a very good one. We were impressed by their knowledge, their professional approach, their continuous feedback and support.'
'I worked with Silvia Axinescu (Senior Managing Associate) and I was very pleased by her calm, her proactive attitude and ability to interact and transmit the key legal messages. Highly regulated or digitalized industries, as is the case for banking industry specialized assistance. Her expertise on niche domains (such as IP & privacy matters) was very important for the overall project.'
'Our overall impression was a very good one. We were impressed by their knowledge, their professional approach, their continuous feedback and support.'
'The entire Reff & Associates team provided us the necessary support in order for us to complete our project, but we had a great collaboration especially with Maria-Silvia Axinescu. We can only appreciate their strengths (the prompt response, very well prepared answers to our questions, full legal assistance, a good distribution of their human resources for the project) because we could not find any weaknesses in our collaboration.'
Key clients
ING
TechVentures Bank
CEC Bank
Apa Nova Bucuresti – Veolia Group
B2Kapital part of B2 holding
HP Inc
NEPI Rockcastle
Arcelic Group
Lendrise Marketplace
IKEA Romania
adidas Romania
Forte Partners
Work highlights
Advised ING on the establishment of a new application developed as part of a technology innovation initiative.
Advised TechVentures Bank on the establishment of a new online client onboarding stream.
Advised CEC Bank on the digital transformation of the bank and related systems, including assistance on the privacy and data protection aspects.
Reff & Associates SCA >
Firm Profile
The firm: Reff & Associates is one of the largest Romanian law firms by headcount with over 65 lawyers, and is a member of the Deloitte Legal network, which counts more than 2,500 lawyers, in more than 83 countries. A full-scope business law firm, Reff & Associates assists large local and multinational investors, through high-quality legal services powered by a commercial and pragmatic approach to legal matters, leveraging the multidisciplinary expertise of Deloitte colleagues in areas such as tax, finance or business consulting. From assisting some of the largest transactions in Romania and CE region, to managing risk and compliance, to litigation, Reff & Associates handles projects in the range of hundreds of millions EUR every year.
Areas of practice
Corporate and commercial:  The team advises on the structuring and restructuring of investments, transfers of activity, mergers, de-mergers, joint ventures, including formation, corporate governance, minority rights and exit. In addition, the firm advises clients on various consumer and data protection aspects (including GDPR readiness), as well as other regulatory matters, such as environmental, food safety and IP.
Mergers and acquisitions: The firm's lawyers assist either the buy-side or the sell-side during the entire M&A cycle: MoU, due diligence and transaction structuring, drafting, negotiation and execution of the transaction documentation, transaction implementation and post-acquisition work.
Banking and finance: The firm assists clients in loan finance, debt restructuring, securitization, workouts, NPL deals and transfers of performing loans portfolios. Having acted for both lenders and borrowers/ sponsors, the firm regularly works on structuring complex finance transactions, drafting and negotiating finance documents.
Capital markets: The firm provides assistance to publicly traded companies, securities firms and investors, covering securities compliance (market manipulation and insider dealing issues included), listing requirements, corporate governance, shares/ rights prospectuses and assistance on stock option plans.
Real estate: The firm assists with structuring of real estate transactions, transaction support, title verifications, title insurance, zoning and urban planning advice, compliance review, construction (including FIDIC based) assistance, acquisition, disposals and divestments, and has advised in most of the largest real estate deals in the country over the last five years).
Insolvency: The firm advises both creditors and debtors in various insolvency matters, during pre-insolvency and actual insolvency procedure, from entitlement to opening the procedure, to structuring deals in insolvency procedure, to possibilities to close the insolvency, assessments of existing options, preservation of rights, defending against other parties' claims or challenging their rights.
Competition: Reff & Associates advises on a wide range of competition issues, including competition and antitrust compliance, investigations by the competition authority, analysis of distribution agreements, etc the firm has a detailed understanding of law matters related to economic concentrations and provides representation in front of the Competition Council.
Employment: The practice helps companies deal efficiently with labor law matters by providing customized contractual solutions, clear and effective internal regulations and compliant procedures in restructuring, compliance and litigation.
Energy:The firm has acquired vast experience in providing legal services for large national and international projects in the energy sector, dealing both with all regulatory aspects and the related legal and commercial aspects of the respective contracts.
PPP and public procurement: The team provides legal assistance to both public and private entities on a wide variety of public procurement, concession, PPP and EU funded projects. The firm has a vast experience gained through various complex assignments, including drafting the toolkit for applying the concession legislation in Romania, as well as preparation of a model concession agreement for InterModal Terminals under a European Investment Bank assignment.
Dispute resolution: The firm represents clients in general commercial, civil and employment litigation, including corporate disputes, recovery of debts, real estate litigation, settlements and forced execution. In tax litigations, the firm leverages the cooperation with Deloitte tax team, ensuring that all tax and legal issues are successfully covered.
Business criminal law: The firm offers specialized services ranging from general consultancy, prevention and compliance in criminal law matters, to assistance during the criminal investigation or in front of courts of law.
Main Contacts
| Department | Name | Email | Telephone |
| --- | --- | --- | --- |
| Banking and finance | Andrei Burz-Pinzaru | | |
| Banking and finance | Andreea Serban | | |
| Business integrity | Andrei Burz-Pinzaru | | |
| Capital markets | Andrei Burz-Pinzaru | | |
| Competition | Florentina Munteanu | | |
| Competition | Andrea Grigoras | | |
| Consumer, data protection and intellectual property | Georgiana Singurel | | |
| Consumer, data protection and intellectual property | Silvia Axinescu | | |
| Corporate, commercial and M&A | Alexandru Reff | | |
| Corporate, commercial and M&A | Georgiana Singurel | | |
| Corporate, commercial and M&A | Diana Fejer | | |
| Employment | Florentina Munteanu | | |
| Energy and environment | Georgiana Singurel | | |
| Energy and environment | Anca Melinte | | |
| Energy and environment | Ovidiu Balaceanu | | |
| Insolvency | Florentina Munteanu | | |
| Dispute Resolution | Mihnea Galgoțiu-Săraru | | |
| Public sector | Georgiana Singurel | | |
| Public sector | Adrian Coman | | |
| Real estate | Alexandru Reff | | |
| Real estate | Irina Dimitriu | | |
| TMT | Georgiana Singurel | | |
| TMT | Silvia Axinescu | | |
| Intellectual property | Georgiana Singurel | | |
| Intellectual property | Silvia Axinescu | | |
Diversity/Community
At Deloitte, we understand that our diversity is a key driver of our effectiveness in the market. That's why, in FY2018, we re-committed to progressing our already strong culture of inclusion and increasing gender representation at all levels across Deloitte.

Our deeply embedded, ongoing initiatives to promote diversity and inclusion at Deloitte have proven effective.
Deloitte member firms have adopted progressively advanced talent initiatives—including workplace flexibility, and family leave and return-to-work policies—that attract women, parents and employees of all generations.
Many Deloitte member firms offer their people opportunities through global business resource groups (BRGs) to connect and build networks with others who share affinity indicators such as gender, race, religion and sexual orientation. Some member firms have also established councils that bridge gaps between single-identity workplace groups.
Deloitte leaders in Australia, Canada, UK, US and other countries have been recognized externally for inclusion efforts and/or serve on boards of organizations that promote inclusion.
Globally, Deloitte creates a safe work environment for all people through its strong policies against misconduct, inappropriate behavior or sexual harassment.
These are some of the significant reasons why Deloitte is recognized as a desirable workplace by organizations that include 
Great Place to Work, LinkedIn, National Association of Female Executives (US), The Times (UK), Glassdoor.
While we are proud of the accolades we have earned and the policies and programs we have implemented, we understand that we must change as the market and world around us change. To lead in the areas of inclusion and diversity, we must achieve more. That is why we are focusing many of our current efforts on gender representation and why we will continue to seek and hire qualified women, provide ample developmental and promotional and leadership opportunities, and remain committed to fair pay for all.
Client Testimonials
BANKING & FINANCE
CLIENT: MIHAI ROTARU (Deputy Head of Legal)
COMPANY/FIRM: BANCA TRANSILVANIA S.A. (the largest bank in Romania)
TESTIMONIAL: Throughout our journey of becoming the largest bank in Romania, for the
last couple of years, we collaborated with Reff & Associates – Deloitte Legal Romania on various important matters, from transactions to expansion, innovation and regulatory projects. Their Banking & Finance practice is extremely mature, knowledgeable and reliable and my key contacts, which I would definitely recommend, are Andrei Burz-Pînzaru, Andreea Șerban and Lorena Roșia. I value a lot their responsiveness, pragmatic approach, deep and thorough legal reasoning, as well as the out of the box manner in which they connect the dots every time and manage to accommodate our business constraints.
Andrei Burz-Pînzaru, Managing Partner, is a well-known voice and a trendsetter in the Romanian legal market, with a vast and long-standing expertise in classical fields such as banking, finance, M&A and capital markets. He is also a researcher and a pioneer in fringe eclectic areas such as emerging fintech market, where he proved to be a great navigator and aggregator in the slalom among regulatory constraints, innovation drivers and opportunities and digital revolution disruptive factors. Leading by example, besides legal expertise, Andrei has nurtured and imprinted in his team essential qualities that make the difference when facing complex legal issues, such as sharp business acumen, fairness in relation to all stakeholders and diplomacy when approaching sensitive subjects.
Andreea Șerban is a dynamic and business-oriented banking & finance transaction lawyer who dialectically explores the commercial side of each deal, in order to anticipate what solutions fit best the client's objectives and how can be put in practice in a way that takes into account and satisfies the strategic needs of all the stakeholders involved. Each time Andreea brought value in our projects and we benefited of her broad experience and in-depth knowledge of the financial services industry, in particular of the non-performing loans market, gained upon coordinating over years many high-profile transactions in this sector. Once you started a project with Andreea by your side, be sure that she will always be there for you, very proactive, insightful and available for additional brainstorming that will upscale the initially desired outcome of the project.
---
CLIENT: IOANA VOINESCU (Head of Construction Large Corporate Department) and IULIAN CEZAR CRET (Legal Department)
COMPANY/FIRM: BANCA COMERCIALĂ ROMÂNĂ (BCR), member of Erste Group, one of the most important financial groups of Romania
TESTIMONIAL: Reff & Associates – Deloitte Legal Romania supported us on several specialized finance transactions and provided our teams with reliable and unparalleled advice needed in structuring the deals, understanding the complexities and identifying viable solutions. They are an innovative law firm, determined in focusing on their clients' needs. They have involved highly knowledgeable people from Deloitte Legal Romania and Deloitte Audit international network and brought into discussions different perspectives which enabled us to design & fulfil our objectives.
Andrei Burz-Pînzaru and Irina Dimitriu proved excellent expertise, very good leadership of the projects in which they were involved, provided prompt and specialized advice and showed due care in organizing the projects.
---
CLIENT: RALUCA GALCHIS (Chief Legal Officer)
COMPANY/FIRM: CREDIT EUROPE BANK (ROMANIA) SA
TESTIMONIAL: Being proficient in regulated areas of business is like cooking. Anybody can read a cookbook, yet not everybody can bake the delicious macaroons. Understanding the sense, the needs, the challenges, capturing the perspectives and growing the potential in a business area requires that deep know-how built in years of experience consolidated by the questions, doubts, researches, surprises, frustrations and victories earned with each and every assignment.
Andrei Burz-Pînzaru is definitely one of the most adroit banking experts who very naturally brings together the best mix of specialists in order to easily meet your expectations of getting the same professional grasp on identifying the challenges, setting the priorities and designing the roadmap of a project that an equivalent team of experienced in-house specialists conveys you. Beyond these, you also feel the confidence of a wider perspective solutions' validation and of a sophisticated approach brought on by an inclusive and passionate team of professionals.
The sound knowledge of the regulatory environment as well as the deep understanding of the business reveals the most pragmatical yet founded approach which takes further the premises of beneficial and reliable synergies when interacting with other industries and players on the market.
---
CLIENT: CIPRIAN CHIOREAN (Coordinating Director Legal Support)
COMPANY/FIRM: VISTA BANK (ROMANIA) SA
TESTIMONIAL: I started my collaboration with Reff & Associates – Deloitte Legal Romania more than 15 years ago and I can say that throughout all this period they remained the same excellent professionals and kind humans. I had the chance to meet and work with many members of the team and a constant characteristic of all is the proactive attitude combined with very good technical skills. They provided always excellent legal services and they assisted in complex cases, including assistance and legal representation in very sensitive litigations with very good results, taking into consideration that the Banking & Finance industry is a permanent source of very interesting situations.
Alex Reff and Andrei Burz-Pînzaru are among the best professionals in the market with an outstanding capacity to understand client needs and always focused in giving, with diplomacy and accuracy, the best advises even in extremely challenging situations. The actual very good image of Reff & Associates – Deloitte Legal Romania is due to their permanent efforts and contributions, many times exceeding the borders of their organization and "contaminating" the whole industry.
Especially in these difficult period generated by the pandemic, Reff & Associates – Deloitte Legal Romania team demonstrated to be very altruistic and stayed very close to the legal professionals in the financial services industry, including by organizing a series of very interesting events. It was always a pleasure for me to participate in such events perfectly organized, representing a very good source of information and ideas to think of.
I consider that Reff & Associates – Deloitte Legal Romania has all the necessary ingredients to continue to remain one of the most reputable law office in the market, offering the best legal services to their clients.
---
CLIENT: DUTU FLORIN (Head of Legal)
COMPANY: B2KAPITAL PORTFOLIO MANAGEMENT (distressed bank loans investor and leader of the debt management market)
TESTIMONIAL: I have collaborated with Reff & Associates – Deloitte Legal Romania in the last 15 years, as a peer in my previous legal practices, in some of the most complex banking, real estate, capital markets, white-collar investigation projects in the local market. In the last 2 years I had the opportunity to experience working with Reff & Associates team as a client while coordinating the legal department with a multi-national recovery and collection agency.
The Banking & Finance team continues to hold a very special place in the top tier of the industry. Highly respected by both clients and peers, the team is recognized for being sharp, responsive and resourceful. A special thank you to Andreea Șerban, the banking-lioness, and to Andrei Burz-Pînzaru, for being a role model of balance and diplomacy in what is maybe one of the most competitive areas of practice.
Finally, I would like to emphasize a quite unique feature to Reff & Associates – Deloitte Legal Romania and the law firms part of the Deloitte Legal network: the multi-jurisdictional presence at the highest professional standards. B2Kapital Portfolio Management has been involved in projects covering several European jurisdictions, where Reff & Associates provided a safe harbor for the entire project by coordinating the complex feed-back on the banking and the real estate due diligence process executed by the legal teams associated with Deloitte Legal in the relevant jurisdictions.
---
CAPITAL MARKETS
CLIENT: AUREL BERNAT (CEO)
COMPANY/FIRM: BT ASSET MANAGEMENT SAI, an investment management company licensed by the Romanian FSA and managing 14 funds, part of Banca Transilvania financial group
TESTIMONIAL: Partners in every step. Business and product development is a long process, with questions and answers arising from both sides. Andrei Burz-Pînzaru has the excellent quality of making things look easy and the entire journey seems to be a perfect partnership. Excellent business understanding, along with his global view and experience made our new product development an easy task. Human approach, positive thinking, meanwhile performant risk assessment led us to a successful outcome.
---
COMMERCIAL, CORPORATE AND M&A
CLIENT: BOGDAN DOICESCU (Director of Development)
COMPANY/FIRM: BOG'ART Holding Management
TESTIMONIAL: Our company has been working with Reff & Associates through the Corporate M&A team led by Georgiana Singurel for 2 years on a complex project with the scope of implementing corporate governance and cross-border mergers in our group of more than 10 companies with a total turnover of approximately EUR150M. Bog'Art Holding Management required an inter-disciplinary approach that Reff & Associates and Deloitte could provide, comprising HR-driven KPI's for management alignment, transfer pricing, fiscal considerations, as well as drafting of corporate governance and legal documents for implementation. The team effort of Reff & Associates is held together by Mrs. Singurel who oversees the legal aspects but covers full-spectrum requirements adapted to suit our holding's optimal corporate governance systems. We highly value the coordinated inter-disciplinary activity and find Reff & Associates to be a unique provider of this service for Corporate M&A.
---
CLIENT: FLORIN ZECA (CFO)
COMPANY/FIRM: Siemens Energy SRL
TESTIMONIAL: The collaboration with Reff was connected to a very complex project we initiated under a re-organisation plan. They showed flexibility in finding the right set-up, understood our needs and were always able to gather the full competences required for a complete and in-depth review of the topics.
As for individuals, Diana Fejer is a complete professional, the type of lawyer which finds solutions vs identify problems. I was impressed by the variety of business know-how, and the quality of the deliverables under discussion.
I was very pleased with the outcome of our project and look forward to the next one.
---
CLIENT: MIHAELA STRATILA
COMPANY/FIRM: HS TIMBER PRODUCTIONS SRL
TESTIMONIAL: We have been working with Reff & Associates – Deloitte Legal Romania since 2019. Their know-how is really sharp and their engagement is going an extra mile to make sure that all the client's needs are successfully answered. We have always found the expected support in Reff & Associates – Deloitte Legal Romania and received top quality tailor-made solutions. We are very pleased with the support provided by entire team, especially by Georgiana Singurel (Partner) and Diana Fejer (Senior Managing Associate), their solid knowledge and experience in projects dealing with corporate M&A aspects.
---
CLIENT: MIRELA METEA (Head of Legal)
COMPANY/FIRM: PLATFORMA ROCA SA, private equity
TESTIMONIAL: We take the opportunity of this testimonial to thank you once more for the support you have provided and continue providing to our business. Reff & Associates is our first choice when it comes to M&A transactions for a long list of excellent qualities. Just to name a few, besides the high standards and professionalism, we highly appreciate the goal oriented and client friendly approach, and last but not least, we see in Reff & Associates not only a law firm, but a long-term partner that is a key success factor in any M&A project.
---
CLIENT: Pablo Martínez
COMPANY/FIRM: GRUPO ANTOLIN, global supplier of technological solutions for car interiors with the most complete and wide range of solutions on the market
TESTIMONIAL: We are very pleased with the quality of the legal advice we have received from Reff & Associates – Deloitte Legal Romania so far over the last six years. We have collaborated with different lawyers all way through on different fields such as real estate, corporate, and recently in a complex M&A transaction led by Diana Fejer. The entire Deloitte team has been really dedicated and focused, with a remarkable understanding of the internal needs of our business. They have proven to be very flexible, with an in-depth knowledge of technicalities, and I would point out with a great personal commitment with the success of the transaction.
---
CLIENT: VALENTIN HEREA, Owner
COMPANY/FIRM: Enigma Trading 2000 S.R.L., one of the most appreciated suppliers for polyethylene and polypropylene household products in Romania
TESTIMONIAL: Ms. Singurel and Mr. Balaceanu proved to be very professional, always there for us, helping us in every step of the way. We've been more than happy in our collaboration with Reff & Associates. We built up a solid and trustful relationship and we look forward to working together with them in the future as well.
---
DISPUTE RESOLUTION
CLIENT: CRISTIAN STROE (Legal Manager IKEA Southeast Europe)
COMPANY/FIRM: IKEA ROMANIA, Scandinavian chain selling ready-to-assemble furniture
Testimonial: We work with Reff & Associates – Deloitte Legal Romania on various legal topics including Dispute Resolution, on a variety of maters (real estate, consumer and data protection etc). I am very pleased with their work, as we built up a solid and trustful relationship. The litigation partner working for us, Mihnea Galgoţiu-Săraru, has a business approach and a strategic vision, that helps us resolve the matter in line with our commercial interest and with as little disruption as possible.
---
CLIENT: LAURENȚIU ZAHARIA (General Manager)
COMPANY/FIRM: DEUTSCHE LEASING ROMANIA IFN S.A, part of Deutsche Leasing Group, one of the largest and strongest financial organisations in the world
TESTIMONIAL: In 2020, I had the chance to start a collaboration with Reff & Associates – Deloitte Legal Romania in an intricate cross-border taxation issue. Our collaboration was later extended to several other tax related projects and disputes in which their prompt and knowledgeable help was instrumental in finding early solutions, which were later endorsed by the tax authority. Emanuel Bondalici is a dynamic and proactive lawyer, whose client-oriented approach has proven to be essential in anticipating the best available legal solutions. I strongly recommend Reff & Associates' team, for their deep expertise in tax litigation, insightful advice, their willingness to explore solutions and their commitment to the success of our projects.
---
CLIENT: LAJOS CSISZER (General Manager)
COMPANY/FIRM: GRÁNIT PÓLUS ROMANIA
TESTIMONIAL: I have been working for many years on various and very complex litigation matters with Mihnea Galgotiu-Sararu and Ana Galgotiu-Sararu, from Reff & Associates, that helped our company in many challenging projects. They proved excellent litigation know-how, strategic vision and a commercial approach, that made them one of our trusted advisors.
---
CLIENT: Steluta Olaru (CFO)
COMPANY/FIRM: Berlin Chemie
TESTIMONIAL The Reff & Associates' team working on our tax disputes has been hands-on in dealing with litigations which were both intricate and requiring a high degree of specialisation. I would like to mention Emanuel Bondalici, who is an up-and-coming attorney with a pragmatic approach in the disputes his team is handling for us. As mentioned above, Emanuel makes a great team with his Deloitte colleagues. They have become our go-to people whenever we are dealing with any tax related issues and disputes.
---
CLIENT: Valentin Timis (Legal Manager)
COMPANY/FIRM: BT Leasing, member of Banca Transilvania Group
TESTIMONIAL: I have been working with the Reff & Associates litigation team run by Mihnea Galgotiu-Sararu for the past two years and their legal services are exceptional, combining thorough legal expertise with business approach and industry insight based on their integration in the Deloitte network. They are in contact with our most senior management and deliver clear and strategic directions in very delicate disputes. Ana Galgotiu Sararu is the manager of the litigation project and she is efficiency-driven, pragmatic and very responsive.
---
EMPLOYMENT
CLIENT: SEBASTIAN CHOMIAKOW (HR Generalist GTS CZ/SK/HU/RO/BG/SR/SL)
COMPANY/FIRM: STANLEYBLACK & DECKER ROMANIA S.R.L.
TESTIMONIAL: I like to work with Reff & Associates because of their comprehensive approach to the work. I can always be sure that every angle of a legal topic is covered and they point out topics to take into consideration even not directly connected with situations we discuss. This makes me feel secure when I make decisions for my company.
---
CLIENT: ANTOANETA VACAROIU (Legal Consultant Romania & Moldova)
COMPANY/FIRM: AVON COSMETICS (Romania), the fifth-largest beauty company and the second largest direct-selling enterprise in the world
TESTIMONIAL: The employment team of Reff & Associates, led by Florentina Munteanu and having Gabriela Ilie coordinating the day-to-day assistance, is very professional and responsible. The team is highly dedicated, committed to find the right answers for our needs. We are very satisfied with the professionalism the team constantly displays, their understanding of our business and their capability to adapt. We truly value the timely, sound and objective advice and the day-to-day involvement provided in every step of our activity. We would definitely recommend and look forward to continue working with them.
---
EU AND COMPETITION
CLIENT: VALENTIN TIMIS (Head of Legal)
COMPANY/FIRM: BT LEASING TRANSILVANIA IFN S.A., part of the largest Romanian banking group
TESTIMONIAL: We have been assisted by the competition team during the investigation of the Romanian Competition Council on the market for financial leasing and consumer credit, whereby three of the companies from our group (Banca Transilvania group) were investigated for an alleged cartel on exchange of sensitive information. They managed very professionally the defense, the team was fully involved in understanding the industry/activities and to find creative explanations. We praise Florentina for being very pragmatic, she adapts the theoretical advice to our business needs. We appreciate very much Andrea's commitment and dedication to our project; she is also a very nice person to work with.
---
REAL ESTATE AND CONSTRUCTION
CLIENT: OVIDIU SANDOR
COMPANY/FIRM: Mulberry Group, real estate development firm
TESTIMONIAL: Reff & Associates team has been our "go-to" legal advisor in the past years and we have counted on the real estate team for assistance on our most complex projects. In particular, Irina Dimitriu and her team offered their support on a variety of legal situations and provided sound legal reasoning and substantiation to the unexpected developments occurring on our project. Their significant contribution on the matters entrusted to them always indicated a thorough understanding of the real estate industry and it has proven to be an invaluable support to us over the past years.
---
CLIENT: VIVIANA PAVEL (Real Estate and Development Manager)
COMPANY/FIRM: IKEA ROMANIA, Scandinavian chain selling ready-to-assemble furniture
TESTIMONIAL: Reff & Associates team has been our trustworthy legal advisor for almost a decade now. Irina and her team assisted us with a wide range of legal services during our expansion on the Romanian market, starting with due diligence analysis, continuing with the acquisition phases and last, but not least, with complex construction and operational matters.
They are our "go-to" consultant. Irina and her team gained our confidence with their in-depth legal and technical knowledge as well as their commercial oriented approach while providing us with innovative solutions on complex aspects of law.
Working with Irina and her team all along these years was an outstanding experience I truly enjoyed because beyond their focus on high professionalism, instilling a culture of perfectionism in all their deliverables and a top-notch work, the empathetic approach and invaluable in depth risks overlooking and analysis, Irina and her team helped IKEA to have a 360 degrees coverage of all possible situations encountered into the IKEA complex projects life span.
I trust continuing being assisted by Irina and her team in our IKEA ambitious expansion plans for upcoming years, will strengthen even more the successful contribution of Irina and her team to IKEA projects.
---
CLIENT: VOICHITA LEFTER (Policy & Changemaking Partner)
COMPANY/FIRM: Matei – Borbely + Partners, Public Affairs
TESTIMONIAL: Ms. Irina Dimitriu is an outstanding legal professional, with a very strong record of successfully closed transactions. Ms. Dimitriu excels in her ability to navigate intricate legal matters and due to her vast experience in real estate law, acquisitions, financing, business environment regulation, she enjoys a very solid profile in delivering large-scale projects. With her tenacity and indisputable competence, she is actively engaged in the most relevant and impactful public policy initiatives, contributing with her expertise and presenting the business perspective, thus enabling to advance the voice of the industry across a wide spectrum of stakeholders, ranging from the Prime Minister office to regional cities mayors. I strongly recommend Ms. Dimitriu as being a truly gifted strategist and one of the top legal and real estate professionals in Romania.
Interviews
Burz Pinzaru Andrei, Managing Partner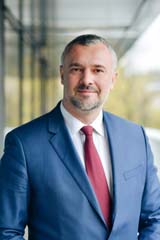 What do you see as the main points that differentiate Reff & Associates SCA from your competitors?
We are different from our competitors in several ways:
For the last 5 years we have consistently been the fastest growing law firm in the Romanian market;
With more than 70 lawyers, we are one of the top 5 largest firms in Romania, which allows us to achieve high levels of specialisation per each area of practice, gives us resources to invest in developing our people and permits us to handle in the same time multiple complex projects without making any compromise on quality.
We are global, yet grounded. Being part of Deloitte Legal (over 2,500 lawyers in 85 countries) and the broader "Deloitte family", we not only have access to legal international best practices but we are distinctive in our ability to combine legal expertise with financial, tax and accounting expertise, handling multidisciplinary projects at a uniquely superior level, to the benefit of our clients. Given the consistent cooperation with other professionals in Deloitte, our lawyers have tax, financial or accounting knowledge superior to other law firms, allowing them to better understand the business needs and issues of the clients and come up with innovative solutions. This combination is appreciated by the clients as being particularly powerful in areas like M&A, Tax Controversy, NPL and finance transactions.
While we are a mature and leading legal practice in all areas of business law, we are also at the forefront of transformation of the legal profession. For example, we have launched a new service offering, Legal Management Consulting (LMC), a service dedicated to helping General Counsels overcome the challenges that legal departments are facing today. In developing this approach, we brought together leading experts in law, operating model transformation, business and technology to focus on how business could modernize the way legal needs are addressed. As of now, we are the only law firm delivering such services in Romania.
Which practices do you see growing in the next 12 months? What are the drivers behind that?
We contemplate growth across all practice areas of the firm, with Corporate M&A and Litigations as key drivers, followed by Real Estate, Banking and Competition Law. In addition to our long standing track record in transaction work which is fueled by the economic environment, we see a growth in demand for legal risk management services in various areas of practice (e.g., white collar crime, GDPR, personal liability of top management, tax evasion and money laundering risks). Companies are navigating an increasingly risky legal environment, triggering both risks of material fines as well as reputational risks, and we are ideally positioned to assist in these areas given the ability to combine our legal expertise with the broader risk management capabilities in Deloitte.
What's the main change you've made in the firm that will benefit clients?
There are four pillars on which we focus to the ultimate benefit of our clients: attracting, developing and retaining top talents, dedication of our senior people to addressing our clients' demands, incorporation of technology in our day to day work so that we can deliver more effectively to our clients and working closely with the global Deloitte Legal network to serve our clients across geographies and put international best practices at work for the benefit our clients.
Is technology changing the way you interact with your clients, and the services you can provide them?
We are embracing technology in various ways, from implementing contract automation tools to embedding A.I. and robotics in the way we deliver our work to the clients. Our approach is not limited to only embracing technology, but also tried-and-tested ways of improving processes, which allows us not only to deliver our legal services in a more effective way to our clients, but also help legal departments improve efficiencies and increase the value they deliver back to their business.
Can you give us a practical example of how you have helped a client to add value to their business?
Reff & Associates assisted a real estate fund recently in the acquisition of a portfolio, which, at EUR113 mln deal value, is one the largest executed in Romania in 2019. The project was not only highly complex, involving multiple teams (real estate and banking), but also a cross-border project and had to be executed under extremely tight deadlines. Besides the complexity of the transaction per se, has tested our strength, endurance and capacity to work under harsh time constraints which proved once again our ability to deliver at the highest standards.
Are clients looking for stability and strategic direction from their law firms – where do you see the firm in three years' time?
We have been growing fast for the last six years and are now one of the largest five law firms in Romania (by headcount). We have a strong foundation based on well-structured service lines, a broad client portfolio and a strong reputation.
We see growth continuing on a platform which was never stronger: the well-structured service lines, the client portfolio and reputation, the close integration with Deloitte fiscal, risk, financial advisory and consulting practices, and the global network. We see ourselves as a progressive firm responding to present-day talent aspirations and to market expectations that law is part of integrated business solutions. In three years' time, we should be not one of the largest in the country but also a leader of innovation in the legal profession, driving efficiency and profitability through automation of processes and leveraging multidisciplinary and global integration as part of Deloitte Legal.
Legal Briefings
Corporate governance in Mexico: overview and trends 2021

Adapting Mexican corporate governance policy related to new market realities would need corporate law reform with the backing of enforcement. Nevertheless, certain local instruments – which lack binding force and which may, at best, fit in the category of 'soft law' – attempt to direct corporate practices through a voluntary approach. This is the case …