Lenz & Staehelin > Zurich, Switzerland > Firm Profile
Lenz & Staehelin
Offices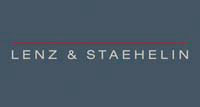 Lenz & Staehelin
BRANDSCHENKESTRASSE 24
8027 ZURICH
Switzerland
Lenz & Staehelin > The Legal 500
Rankings
Lenz & Staehelin
covers the full range of transactional and regulatory matters, with areas of expertise including leveraged and project finance work, financial restructurings, and asset management issues.
Shelby du Pasquier
leads the department, and acts for financial institutions, private equity houses, hedge funds and fund managers on a diverse set of matters. Core team members include asset management expert
François Rayroux

, regulatory specialist
Olivier Stahler
, and
David Ledermann
, who is highly experienced in financing transactions.
Fedor Poskriakov
 and
Valérie Menoud
are also key names, with Poskriakov covering regulatory, contractual and corporate matters, while Menoud has additional experience in financial services and insurance work. Counsel
Laurence Vogt Scholler
is also noted.
Lenz & Staehelin
's '
efficient and solution-oriented
' team covers the full range of banking and finance work, with expertise in both transactional and regulatory matters. The department has a strong international focus, with multinational clients such as Citibank, Deutsche Bank and HSBC. Team lead
Marcel Tranchet
has a broad practice which includes handling syndicated financings, acquisition finance work and project finance issues, in addition to regulatory matters.
Patrick Hünerwadel

covers structured and lease financings, asset securitisations and derivatives work, while
Stefan Breitenstein
handles financial regulatory matters.
Patrick Schleiffer
, who has expertise in capital markets, is also noted.
Lenz & Staehelin
acts on all aspects of capital markets law at a national and international level, with a diverse client list which includes domestic and foreign banks and issuers, as well as ETC and ETF promoters. The department has significant expertise in equity offerings including IPOs, share buybacks, and rights offerings. Securities regulations expert
Jacques Iffland
 leads the Geneva office, working alongside Zurich-based co-heads
Patrick Schleiffer
 and
Hans-Jakob Diem
. Other core team members include the highly experienced
François Rayroux

, and financing expert
Marcel Tranchet
. Senior associate
Patrick Schärli
is also key practitioner.
Lenz & Staehelin
fields a '
very efficient and very deal focused' 
team, with a strong reputation in public takeovers, private transactions, private equity and venture capital as well as corporate governance. The department has broad sector coverage, with areas of expertise including financial services, chemical, life sciences, and TMT. The Zurich based
Tino Gaberthüel
 co-leads the department with
Andreas Rötheli
, who heads the Geneva office.
Matthias Wolf
specialises in private equity transactions and the banking and financial sector, while
Jacques Iffland
 is a key contact for capital markets. Also key are
Hans-Jakob Diem
, whose focus is public and cross-border M&A transactions, and
Simone Ehrsam
, who made partner in January 2022.
Lenz & Staehelin
fields a well-established and highly reputed competition team with experience in all areas of competition law and involvement in most high-profile cases. The firm has unique expertise in abuse of dominance, dawn raids and multi-jurisdictional filings. The multidisciplinary team is headed by
Marcel Meinhardt

 and
Benoît Merkt

who work across multiple industries+ including banking and finance, fintech, energy and pharmaceuticals. The team is strengthened by key partner
Astrid Waser 
who has vast experience with regulatory investigations and compliance matters.
Lenz & Staehelin
provides data protection and privacy advice to clients active in a range of industry sectors, with professional and banking secrecy, and related areas of confidentiality obligations particular areas of strength. The team has a solid track record of advising Swiss and foreign companies on domestic, international, and cross-border data privacy issues. Head of practice
Guy Vermeil
is routinely instructed to handle IT and outsourcing matters related to international and domestic transactions, while co-heads
Lukas Morscher
and
Jürg Simon

are leading experts in technology, financial services and business sourcing, and IP law and competition law, respectively.
Praised as '
one of the best law firms in Europe for international arbitration',
Lenz & Staehelin
 handles disputes under the rules of all major institutions, as well as ad-hoc arbitration proceedings. The group fields practitioners qualified in a range of foreign jurisdictions, and has experience in a diverse range of sectors, including the pharmaceuticals industry, state contracts, and construction and engineering projects. Construction and M&A dispute specialist
Harold Frey

co-leads the practice alongside
'fabulous arbitrator'
and president of the Arbitration Court of the Swiss Arbitration Centre
Xavier Favre-Bulle
. Other key team members include commercial dispute expert
Martin Burkhardt
, IP specialist
Thierry Calame

, and counsel
Martin Aebi
. Counsel
Hanno Wehland
 has expertise in commercial and investment treaty arbitration proceedings.
The '
large, very experienced and first-class
' team at
Lenz & Staehelin
has notable strength in banking and financial litigation, corporate disputes, private client matters, employment issues and contentious real estate work. The practice acts in key economic sectors, including the construction and trusts and estates spaces, and has expertise in money laundering and white-collar crime issues.
Daniel Tunik
handles all forms of commercial disputes and leads the team in Geneva.
Harold Frey

heads up the litigation and arbitration practice in Zurich, and acts for a range of multinational companies and financial institutions.
Martin Burkhardt
has a diverse commercial litigation practice, which includes disputes relating to complex family fortunes, while
Dominique Müller
leads the investigations practice and has expertise in matters related to white-collar crime.
Hikmat Maleh
 and
Xavier Favre-Bulle
 are key names in Geneva.
Leadership of the employment team at Lenz & Staehelin is divided between Dominique Müller and Matthias Oertle in Zurich, and Daniel Tunik and Sara Rousselle-Ruffieux in Geneva. Covering all aspects of employment law, the 'creative' and 'talented' team handles both contentious and non-contentious labour matters for employers and senior employees, including issues such as employment litigation, cross-border employee transfers, discrimination and investigations, social security, employment agreements, and non-compete covenants, among others. Client sectors include education, hospitality, transport, and energy. Former partner Rayan Houdrouge moved to Walder Wyss Ltd. in mid-2022.
Lenz & Staehelin
provides a full service intellectual property offering and has been praised by clients as '
without doubt one of the leading – if not the leading – IP teams
'. The practice acts for major household-name companies in fields such as food, technology and broadcasting.
Thierry Calame

and
Jürg Simon

, both highly experienced IP experts, co-head the practice alongside
Sevan Antreasyan
, whose promotion to partner in January 2022 has bolstered the group's senior strength.
Peter Ling
is also recommended for his experience in patent and trade mark litigation.
Lenz & Staehelin
's full service offering includes work in the intellectual property field, employment matters, arbitration, and banking and finance both in Geneva and Zurich. Key names to note for Geneva are managing partner
Benoît Merkt

,
Sevan Antreasyan
,
Cécile Berger Meyer
,
Frédéric Neukomm
, and
Valérie Menoud
.
Lenz & Staehelin
's full service offering includes work in the intellectual property field, employment matters, arbitration, and banking and finance. Key names to note are managing partner
Thierry Calame

, banking and finance experts 
Marcel Tranchet 
and 
Patrick Hünerwadel

, capital markets-focused 
Patrick Schleiffer
, corporate M&A specialists
Lukas Morscher
and
Simone Ehrsam
, dispute resolution expert
Harold Frey

,
Astrid Waser
, who advises on competition law, and
Tanja Luginbühl
, an expert in insolvency and restructuring matters.
Lenz & Staehelin
's private client team is headed up by the '
very experienced
'
Heini Rüdisühli
and
Lucien Masmejan
. Recent work spans wealth and estate planning issues, establishing new estate planning projects for HNWI, assisting clients with both national and international inheritance law matters, and acting in various re-domiciliation projects. Other team members include
Frédéric Neukomm
 and
Daniel Schafer
, who are both certified tax experts, and
Mark Barmes
, who advises on all aspects of wealth planning.
Alexandra Hirt
, described by clients as a '
future star
', was promoted to partner in January 2022, and
Géraldine Auberson
 is the key name at senior associate level.
Lenz & Staehelin
's public law team in Geneva and Zurich is jointly headed up by
Benoît Merkt

,
Marcel Meinhardt

 and
Astrid Waser
. The firm's public sector experience includes advising on public procurement law, price surveillance regulations, environmental law, zoning issues, building mandates, energy law, and telecoms and media work. Clients range from state-owned entities and local authorities to private companies.
Rayan Houdrouge
departed the firm in the first half of 2022 for
Walder Wyss Ltd.
Lenz & Staehelin
advises a diverse range of high profile clients on real estate transactions and construction, with expertise at all stages of project development. The department also has strength in the infrastructure sector, with specialists across a range of industries including energy, water, transportation and communication.
Beat Kühni

, whose practice includes transactional work, construction and zoning projects, and real estate securitisations, co-leads the team alongside the Geneva-based
Cécile Berger Meyer
, who advises private and institutional clients in both civil and administrative matters, and
Fabiano Menghini
, who made partner in January 2022.
Lenz & Staehelin
's well-established tax department is highly active in tax planning work, particularly in finance and corporate transactions. The department provides comprehensive guidance to clients on inter-cantonal and cross-border tax matters, and has expertise in restructurings, relocations, and pension plans, as well as VAT and customs issues.
Jean-Blaise Eckert
, who advises both multinational companies and high-net-worth individuals, leads the Geneva team, while
Pascal Hinny
, whose specialism is handling national and international tax planning work for major companies, leads in Zurich.
Daniel Schafer
 covers corporate tax, Swiss VAT and real estate taxation, while
Heini Rüdisühli
 and
Frédéric Neukomm
specialise in private client work.
Floran Ponce
 advises banks, investment funds and corporations on domestic and international tax matters.
Lenz & Staehelin
provides a range of services to clients operating in the fintech sector, including guidance on regulatory and compliance matters, corporate and M&A advice, IP creation and protection, and issues related to tax. The department also has expertise in crypto finance, digital assets, and insurtech. Co-leading the team are
Lukas Morscher
,
Marcel Tranchet
 and
Fedor Poskriakov
. Morscher's expertise covers digitalisation, blockchain, and data privacy, while Tranchet has experience across regulatory and financing matters, and securities transactions. Poskriakov, who is based in Geneva, handles cybersecurity, data protection, crowdfinancing, and cryptocurrencies.
Lenz & Staehelin
's practice and experience covers a full spectrum of legal support, ranging from complex patent litigations, with a particular emphasis on pharmaceutical patent litigation, through to projects and M&A. Notable names include
Xavier Favre-Bulle
,
Andreas Rötheli
,
Guy Vermeil
,
Thierry Calame

,
Harold Frey

and
Stephan Erni
.
Lenz & Staehelin
boasts significant expertise in complex national and cross-border corporate and debt restructurings. The department is highly active in distressed M&A deals, as well as both enforcement of and challenges to security in insolvency scenarios.
Tanja Luginbühl
 and
Roman Graf
 co-lead the department. Luginbühl has significant experience representing companies in financial distress, in addition to banks and creditors. Graf, who made partner in 2022, focuses on distressed M&A, and has a practice which includes both in-court and out-of-court restructurings. Litigators
Dominique Müller
 and
Daniel Tunik
 are also key names within the department.
Lenz & Staehelin
is active in areas such as market entry, capital investment, outsourcing and insurance policies law. The team's clients include major Swiss and foreign insurance and reinsurance companies, banks and other industry participants.
Olivier Stahler
specialises in banking and finance law; his work also includes regulatory advice on the context of the granting of licences for banks.
Lukas Morscher
's expertise is in relation to corporate M&A and financial services, especially technology, telecoms, fintech and business sourcing in Switzerland.
Lenz & Staehelin
has capabilities in matters related to white collar and investigations, particularly within the banking sector.
Dominique Müller
often leads investigations in the banking and finance industry, while
Marcel Meinhardt

is the go-to lawyer for antitrust investigations.
Valérie Menoud
regularly advises Swiss and international clients from the insurance and wealth management industry on regulatory and compliance matters.
Hikmat Maleh
is a criminal and commercial litigator with vast experience in white-collar crime and asset recovery, as well as representing financial clients in complex multi-jurisdictional litigation.
Astrid Waser
 is a key figure in the team with a wealth of experience in workplace misconduct and environmental investigations.
Lenz & Staehelin
's practice caters to athletes and sports organisations, in addition to a range of private client services. The team specialises in the resolution of sport disputes, alongside its vast experience of structuring events and providing legal advice to international and national bodies, as well as athletes, agents, event organisers, sponsors, and the media.
Xavier Favre-Bulle
has expertise on sports law, arbitration, international litigation and ADR, whereas
Stephan Erni
specialises in real estate transactions, domestic and international M&A transactions.
Lucien Masmejan
 advises his clients from a tax, contractual and sport's law perspective.
Technology transactions and outsourcing arrangements are particular areas of strengths for
Lenz & Staehelin
's TMT practice. Additionally, the team fields in-depth experience in media and entertainment law and is regularly sought after for its know-how in telecoms regulatory and transactional matters.
Lukas Morscher
and
Guy Vermeil
, who are frequently involved in transactions and outsourcing projects in the TMT sector, jointly head the practice.
Lenz & Staehelin >
Firm Profile
Firm Overview:
With over 200 lawyers and offices in three major economic centres, Lenz & Staehelin is one of the largest law firms in Switzerland. Known for its high professional standards, the firm provides its domestic and international clients with a full range of services in the main areas of law. It is ranked amongst the leading practitioners in business law.
Main Areas of Practice:
Asset Management
Due to Lenz & Staehelin's pioneering role in this area and our strong commitment to both regulatory and self-regulatory organizations, our team is a recognized market leader. Our long-standing expertise allows us to deliver highly specialized advice on all aspects of institutional asset management, investment services and products.
Arbitration
Lenz & Staehelin has enjoyed a leading position in international arbitration for a number of decades. Its attorneys have been involved in several hundred international arbitrations, either as counsel for a party or sitting as arbitrators. The firm has been handling disputes under the rules of all major institutions (including ICC, Swiss Chambers of Commerce, LCIA, AAA, VIAC, CAS, WIPO, ICSID) as well as ad hoc arbitration.
Banking and Finance
Advising on regulatory issues, capital market transactions, investment products and services are part of Lenz & Staehelin's core areas of expertise. Its clients are major Swiss and international banking/financial institutions. They benefit from the firm's experience in matters of banking/securities dealers licences, asset securitisation, securities offerings, project and structured finance, investment funds, private equity, derivatives and other financial products.
Capital Markets
Lenz & Staehelin counts a number of accredited experts for the listing of securities on the SIX Swiss Exchange. Our team delivers advisory and support services for all types of capital markets offerings, including IPOs and rights offerings, bonds, convertible bonds, covered bonds, hybrid bonds and other securities transactions.
 Competition
The firm advises in all areas of competition and antitrust law, such as merger control notifications, abuse of dominance, restrictive practices, cartel investigations, dawn raids, leniency procedures and public procurement. It regularly acts in co-ordination with leading foreign law firms in complex multi-jurisdictional merger flings. Its practice also includes proceedings before the Swiss Competition Commission and competition litigation before the Swiss cantonal and federal courts.
Corporate and M&A
The firm has a leading position in domestic and cross-border private and public M&A transactions. As such it has been involved in many of Switzerland's most important corporate deals. The firm advises, amongst others, on corporate takeovers, mergers, joint ventures, takeovers of listed companies, private equity and venture capital. Its services in corporate law include incorporation and administration of companies, corporate governance and compliance.
Employment, Pensions and Immigration
The firm advises both employers and senior employees. It draws on a long experience in all areas of private employment and public labour law, including employment agreements, bonus and stock option schemes, non-compete covenants, social security benefits, labour litigation and arbitration. It assists foreign nationals in obtaining Swiss work permits, a service underpinned by the firm's tradition of good contacts with cantonal and federal immigration authorities.
Insolvency and Restructuring
The firm offers a leading full-service insolvency practice encompassing the complete range of issues typically encountered in complex insolvencies. It advises and represents creditors (some of which are banks or other financial institutions), liquidators, receivers in insolvency proceedings. It also provides advice to companies in need of financial restructuring.
Intellectual Property
The firm provides first-class services in all sectors of intellectual property, such as copyright law, designs and models law, licensing, geographical indications, Swiss and European patent law, trademark law, and related fields such as unfair competition. It has extensive experience in advising clients (e.g. in IP due diligence in mergers and acquisitions process) and in representing them in intellectual property-related litigation either before cantonal and federal courts or before arbitral tribunals.
Investigations
Lenz & Staehelin assists clients in efficiently conducting complex internal investigations, both on their own initiative or in response to inquiries or investigations by governmental authorities, whistle-blower claims or shareholder demands. The firm's practice covers a broad range of industries and issues (including antitrust, anticorruption, violation of banking or capital market rules, disclosure and accounting issues, tax and civil or criminal misconduct).
Litigation
The firm's litigators advise and represent clients in administrative, civil and criminal proceedings. They deal with antitrust and unfair competition litigation, banking/finance/commercial litigation, bankruptcy and debt collection, coordination of international litigation, employment disputes, enforcement of foreign judgments and awards, international legal assistance, intellectual property litigation, money laundering and white-collar crimes, real estate and construction disputes, trust and estate-related litigation.
Private Clients
This team of specialists provides corporate and individual clients with comprehensive expert advice on wealth planning and succession issues. The team includes lawyers with particular expertise in international estate planning and structuring and who are qualified under both civil law and common law systems. They offer creative advice on trust and company administration services in Switzerland and Guernsey.
Real Estate
The firm provides advice and support to commercial users, institutional investors, real estate investment funds, financial institutions, rating agencies and private clients. The practice group's capabilities encompass all legal aspects of real estate financing, sale and lease back transactions, commercial lease and real estate development projects.
Tax
The firm's tax department is one of the largest of any Swiss law firm with more than 25 tax attorneys most of whom are also certified tax experts. In addition to all aspects of tax planning, its services also include the representation of clients in front of tax authorities or in tax litigation, arbitration and mutual agreement procedures. It has particular expertise in tax issues related to financial products, real estate, private equity, M&A/restructurings/buyouts/relocations, in tax planning for private clients, executives and transferees at international companies, and in VAT matters.
Technology and Outsourcing
The firm offers a wide range of transactional and regulatory services in technology, media and telecom matters, with a leading position also in outsourcing (both infrastructure and BPO transactions). Services include advice on complex IT projects, hosting and ASP, data protection, eCommerce, convergence issues, public procurement, FinTech, ICT contracts and sofware licensing, strategic business alliances and joint ventures. It regularly advises important media companies and TV, radio and cinema operators on licensing, advertising and sponsorship issues.
Lawyer Profiles
| Photo | Name | Position | Profile |
| --- | --- | --- | --- |
| | Dr Martin Aebi | Counsel | View Profile |
| | Mr Stephan Brandner | Counsel | View Profile |
| | Dr Stefan Breitenstein | Senior Counsel | View Profile |
| | Dr Thierry Calame | Managing Partner, Co-Head of Intellectual Property | View Profile |
| | Mr Hans-Jakob Diem | Partner, Head of Corporate and M&A, Co-Head of Capital Markets | View Profile |
| | Mrs Simone Ehrsam | Partner | View Profile |
| | Mr Stephan Erni | Partner | View Profile |
| | Dr Roland Fischer | Counsel | View Profile |
| | Mr Harold Frey | Partner, Head of Litigation and Arbitration | View Profile |
| | Mr Tino Gaberthüel | Partner | View Profile |
| | Mr Alexander Greter | Partner | View Profile |
| | Dr Robert Heberlein | Senior Counsel | View Profile |
| | Prof Dr Pascal Hinny | Partner, Head of Tax | View Profile |
| | Mrs Alexandra Hirt | Counsel | View Profile |
| | Dr Patrick Hünerwadel | Partner | View Profile |
| | Mr Beat Kühni | Partner | View Profile |
| | Mr Fadri Lenggenhager | Counsel | View Profile |
| | Mr Peter Ling | Partner | View Profile |
| | Mrs Tanja Luginbühl | Partner, Head of Insolvency and Restructuring | View Profile |
| | Dr Marcel Meinhardt | Partner, Head of Competition | View Profile |
| | Mr Fabiano Menghini | Partner, Co-Head of Real Estate | View Profile |
| | Dr Lukas Morscher | Partner, Head of Technology and Outsourcing | View Profile |
| | Mr Dominique Müller | Partner, Head of Investigations and Co-Head of Employment (Litigation) | View Profile |
| | Dr Matthias Oertle | Partner, Co-Head of Employment and Pensions | View Profile |
| | Dr Christoph Reinhardt | Senior Counsel | View Profile |
| | Mr Heini Rüdisühli | Tax Partner, Head of Private Clients | View Profile |
| | Dr Patrick Schleiffer | Partner, Co-Head of Capital Markets | View Profile |
| | Prof Dr Jurg Simon | Partner, Co-Head of Intellectual Property | View Profile |
| | Mrs Franziska Stadtherr-Glättli | Counsel | View Profile |
| | Mr Marcel Tranchet | Partner, Head of Banking and Finance | View Profile |
| | Dr Rudolf Tschäni | Senior Counsel | View Profile |
| | Dr Astrid Waser | Partner | View Profile |
| | Mr Matthias Wolf | Partner | View Profile |
Staff Figures
Number of lawyers : 224 at this office : 104
Languages
German English French Italian Russian Spanish
Other
Contact : Stefan Breitenstein (managing partner, stefan.breitenstein@lenzstaehelin.com) Other offices : Geneva Other offices : Lausanne
Doing Business In
Bi-lateral agreement Switzerland/Germany increases risk of dawn raids
New Cooperation Agreement between Swiss and German competition authorities
Switzerland and Germany signed the Agreement on November 1, 2022. It is expected to enter into force in September 2023 at the earliest, as the Swiss Federal Assembly still has to approve the Agreement. The ratifying German Federal Ministry of Economics and Climate Protection, on the other hand, was authorized in advance in §187 (10) of the German Act against Restraints on Competition1 to conclude the Agreement without consent of the German Federal Council.
The Agreement aims to ensure efficient enforcement of competition law in cross-border situations. For this purpose, the Agreement will enable future cooperation between the Swiss Competition Commission and the German Federal Cartel Office (together the "Authorities").
The Agreement is modelled after the agreement between the European Union and the Swiss Confederation concerning cooperation on the application of their competition laws2, which entered into force in 2014. In terms of content, there are strong parallels between both agreements. The Agreement does, however, allow for greater cooperation with the German Federal Cartel Office.
In the future, the two Authorities will be able to take coordinated enforcement actions as set forth in Art. 8 to10 of the Agreement. They may exchange views and information on the application of their respective competition laws, including information obtained in an investigation. Under certain conditions, either authority may transmit information it already possesses to the other for use as evidence.
In addition to the service of the broadly defined sovereign acts, the Agreement also allows for the direct service of notices, requests for information and other letters that do not constitute sovereign acts in the respective other contracting state.
Furthermore, the German Federal Cartel Office is entitled to disclose information obtained under Art. 8 of the Agreement to the EU Commission. The disclosure of such information to the competition authorities of other EU states, on the other hand, requires the prior consent of the Competition Commission.
After the Agreement will have entered into force, an increase in parallel proceedings in cross-border cases in Switzerland and Germany is to be expected, e.g. through coordinated dawn raids or the exchange of confidential information and evidence.
Increased risk of coordinated dawn raids
Dawn raids are a typical start of complex antitrust proceedings. They do harbor the chain risk of problematic bycatch, which can lead to further proceedings. After a short Corona-related time-out, the competition authorities have gone back to performing dawn raids on companies in the last year both in Switzerland and the European Union (the European Commission as well as the national Competition Authorities in the European Union). The German Federal Cartel Office is particularly active among the European competition authorities. In 2022, it conducted 18 dawn raids, of which 2/3 were on its own initiative and 1/3 by way of administrative assistance3. It is precisely with this authority, the Swiss competition authority can cooperate more intensively in the future. This is expected to increase the risk of simultaneous dawn raids in both countries.
Cross-border proceedings require a uniform and coordinated procedural strategy for both countries in order to protect the interests of the concerned company and to ensure that the investigations can be carried out with the least possible internal and external impact. This starts with the preparation of corporate guidelines for a potential dawn raid. Therefore, the authors provide recommendations on what to consider for companies that want to revise their dawn raid guidelines accordingly or to draw up such guidelines for the first time.
Dawn raid Guidelines
General Remarks
Dawn raids are usually conducted without warning as a coercive measure which are, by analogy, subject to the Federal Act on Administrative Criminal Law. House searches in companies may be triggered for various reasons. Given the widespread home-office practice, the term "house" also encompasses home-offices of employees. This will increase the need for cooperation and discipline further. In ignorance of the concrete inducement and the party rights, mistakes can happen already at the beginning of the house search, which can have considerable effects on the later proceedings, the sanctioning (e.g. as aggravating circumstance) and the reputation of the companies concerned.
For many employees, a dawn raid is their first contact with law enforcement. Investigating authorities can therefore cause uncertainty and concern among employees. During on-site investigations, the seizure of evidence and any interrogations, everyone involved is required to maintain the necessary objective distance and restraint vis-à-vis the investigators. An emergency number to call in case of a dawn raid and guidelines on the most important rules of conduct are essential and can provide em-ployees with basic comfort. Specific dawn raid apps, like the one of Lenz & Staehelin help accessing this information.

As long as the company has not decided to cooperate, statements on the matter in the sense of anticipatory obedience should be avoided and discussions with the investigators should be limited to the technical details of the search, if possible.
Dawn raid stages and responsibilities
In general, a dawn raid can be divided into three stages that require the actions of different groups of personnel: (i) the arrival of the investigative agency representatives, (ii) the raid itself, and (iii) the follow-up to the raid.
Internal guidelines and the targeted organizational involvement of legally qualified employees (legal department, compliance management and external attorneys) can prevent mistakes when investigators arrive, during investigative activities and their follow-up, thus protecting employees and the company. It is crucial, that such guidelines also cover home-offices. By the same token, in case of parallel dawn raids of several enforcers, cross-border information and coordination is essential.
The following rules of organization and conduct are intended to help employees properly handle investigative activities even before consulting internal or external legal counsel They should therefore take into account all of the five phases listed below: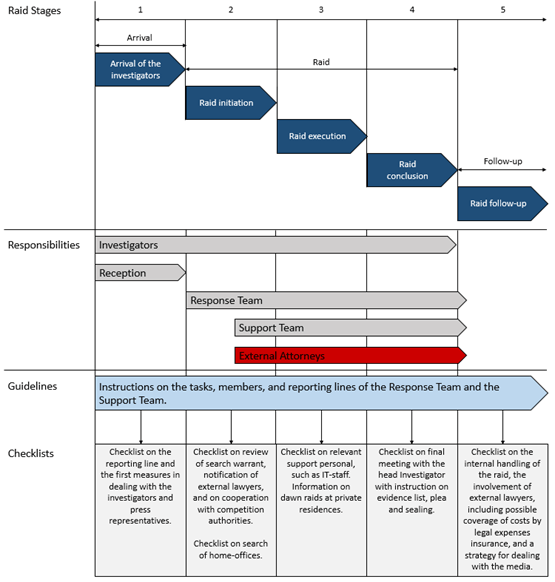 i) Responsibilities
Response Team
The company's management is responsible for staffing an internal group of persons to accompany the investigation (the "Response Team"). The implementation of this task can be delegated to the competent compliance officer on account of its interdisciplinary function or to the general counsel (the "Head Response Team"). The exact organization of the Response Team is based on the circumstances on site and the fact whether home offices are raided and/or cross-border raids are conducted. At smaller or purely production units, this role can also be performed by experienced managers. The Head Response Team stays in constant contact with the head of the investigation authorities as well as with (internal/external) attorneys involved, and with premises raided abroad. He informs higher level offices of the companies (General Counsel, Chief Compliance Officer and the relevant competent corporate management) on the progress of the investigation.
Support Team
The Response Team is accompanied by a Support Team, depending on the extent of and reason for the search. The members of the Support Team accompany the investigators during the search.
External attorney
The company affected by a search has the right to call in an attorney, but not the right to delay the search until the attorney arrives. The involvement of an external attorney shall ensure that the rights of the company are respected by preventing mistakes during and after the raid. Also during the dawn raid, the exchange of information between the company and the external attorney is subject to attorney-client privilege, unlike correspondence with an in-house counsel.
ii) Arrival of the Investigators

Employees of the reception or plant security (or at the home-office) are usually the first to be confronted by the investigating authorities.
Members of the authorities may enter the premises and occupy the (home-)offices without waiting for the company concerned to consult an attorney. Generally, the authority grants the company a short delay to consult with legal counsel prior to the actual search. However, the search may routinely begin before external legal counsel has arrived. Still, no substantive questions should be answered without an attorney present. Therefore, it is important that agency personnel are properly received and that the chain of custody is set in motion when they arrive. For this reason, reception staff should be trained in how to handle such investigations and given a clear checklist to follow.
The reception/plant security checklist should include a list of the Response Team members, including their telephone numbers, information about the chain of command and a template for recording information about the Investigators. Reception / plant security should first clarify which agency is conducting the investigation and inform the Response Team. Then, reception / plant security accommodates the Investigators in separate rooms for the initial and final meeting with the Response Team and their subsequent accommodation during the investigation. A copier/scanner should be available in these rooms to prevent the seizure of original documents. If necessary, appropriate rooms for the investigation must be cleared immediately.
The Response Team should immediately move to the defined location upon information and should verify whether home-offices are also raided and/or premises abroad are also affected by a parallel raid.
iii) Raid
Initiation
The officer conducting the search (the "Head Investigator") must identify himself at the beginning of the investigation to the owner of the premises and inform him of the reason for the search. In the case of legal entities to the person in charge of the company, i.e. the CEO or the person present holding the highest hierarchical position in the company. To this person, the Head Investigator hands a duplicate of the search warrant, the notification of the initiation of the investigation, the instructions on the right of appeal, the information sheet and the form on the bonus scheme against acknowledgement of receipt. However, it may be in the best interest of the company to have the Head Response Team receive these documents. If these documents are not clear on parallel home-office raids and/or raids abroad the Head Response Team must raise this question.
Based on this information, the Head Response Team performs the following tasks:
Decision whether to expand the Response Team according to the situation and taking into account the allegations;
Decision whether the responsibility of the Response Team can or must be transferred to other business divisions;
Decision whether to reach out to the foreign premises raided;
Appointing the members of the Support Team to accompany the Investigators in the business divisions covered by the search warrant (these may or may not be members of the Response Team). When selecting the members of the Support Team, it must be insured that no one who is or could be a defendant is involved in the subsequent organizational procedure;
Decision on waiving the presence of the cantonal official whose task is to supervise that the measure does not stray too far from its purpose (Art. 49 Abs. 2 VStR4). Its presence can be waived by the investigated company at any time; and
Keep constant contact with the CEO and the GC and, if applicable, with the external attorney. They decide whether to cooperate with the Secretariat of the Competition Commission under the bonus scheme.
The Response Team should obtain an overview of the pending investigation activities by examining the search warrant as well as the allegations, initiate personnel and organizational measures, and inform other offices in the company or group. All Response Team members should have access to an action statement on the Response Team's tasks and on the review of search warrants.
During the dawn raid, the means of communication of the company are limited, e.g. because the telephone connections are cut off during the dawn raid. That is why it is often easier if the external attorney maintains the contact with the parallel investigations abroad. Comparing the scope and the allegations of the two authorities is crucial at this stage.
Execution

Accompanying the Search
The investigators have comprehensive investigative powers. In principle, they may search all business premises and, if necessary, also private residences (home-offices) of the persons to be investigated and of third parties, as well as vehicles (Art. 48 para. 1 VStrR). In addition, the containers located in these premises and data, which can be accessed in the searched premises (access principle). Furthermore, records of any kind, whether on paper or on another data carrier, i.e. written documents, photographs, video or audio recordings (Art. 50 para. 3 VStR). Rooms that cannot be searched immediately are usually sealed for evidence preservation reasons until the search.
The investigated company has the right, but not the obligation, to participate in the search (Art. 49 para. 2 VStR). In exercising this right, Support Team members may accompany the Investigators in order to ensure that the activity can be carried out in accordance with the law while protecting the interests of the company and with the least possible impact internally and externally. The improper fulfilment of the duty to provide information as well as tampering with or breaking seals may be sanctioned. Sanctions may be imposed on the company for an amount of up to CHF 100'000 (Art. 52 KG) and on natural persons who intentionally fail to comply with up to CHF 20'000 (Art. 55 KG). The Support Team should be able to contact the Head Response Team by telephone at all times during the raid in order to inform him about the course of the search, if necessary.
In order to prevent the breaking of a seal by employees, which is punishable by imprisonment (Art. 290 StGB5), the Support Team should visibly sign the sealed room immediately, as employees may not intuitively understand the meaning of the official seal.
Due to the use of electronic communications equipment and storage media, the IT experts (in-house or service providers) should be available during the dawn raid at locations with appropriate staffing so that they can provide guidance on how their IT systems work as well as administrator rights. Usually, electronic data is only secured but not searched on site. The owner of the data is further entitled to participate in the subsequent search of the electronic data at the premises of the Secretariat of the Competition Commission through its own representation and/or an attorney (Art. 50 para. 3 VStR). It is not recommended to waive this right, especially to designate business secrets. The search of electronic data can also be objected to and sealing can be requested (Art. 50 para. 3 VStrR).
The Investigators will usually copy the data collected by the search warrant, save and index them for the subsequent search.
Interrogations:
The Investigators may interrogate representatives of the company as witnesses (Art. 42 para. 1 KG) on the day of the raid or in the following days. The company is entitled to have its external lawyer present. No substantive questions should be answered without an attorney present. The individual interrogated must be instructed about its rights, especially the right to remain silent. The authority will try to interrogate as many individuals as possible during the day of the raid and the following days. Interrogations typically take place in the offices of the authority or at the next police station.
Final meeting

After the raid itself has been executed, the Head Response Team and the external attorney should discuss the next steps with the Head Investigator. In this final meeting, they may inspect the evidence found during the raid, comment on its contents and, if necessary, request that it be sealed. As papers, electronic communication and other records seized are very likely to include private and privileged information, it is strongly recommended to seal all documents and data seized. Especially in cases of parallel raids abroad this is crucial, as otherwise documents and date seized in both raids may not any longer be protected.
A signed list of all copies and extracts that have been produced during the search must be requested. The objection to the seizure and removal of documents and data will be formally noted on file. It must be checked whether all items seized are covered by the scope of the search warrant and whether they are listed in the search and seizure protocol (cf. Art. 47 para. 2 VStrR).
At the end of the final meeting, the principles of the future cooperation should be discussed. Outstanding points, such as the submission of additional documents and data, are to be clarified. The date and time of the end of the search is to be recorded on the search warrant. Efforts are to be made to ensure that the Investigators refrain from making a press release.
iv) Follow-up to the search

The formal follow-up on the dawn raid serves to record the dawn raid process as well as to record and prepare all seized documents and data for internal assessment. The members of the Support Team provide their records of the investigation activities and produce a detailed chronology. For this purpose, all handwritten notes, reports, and transcripts drawn up by the persons involved are sorted and compiled into records.
On the substance, the follow-on activity focuses on assessing the legal risk. If it turns out that employees have caused potential anti-competitive behavior, the companies concerned regularly feel compelled to start an internal investigation. Part of this defense strategy is the assessment of cooperating with the authority (i.e. application for immunity, for leniency, for leniency plus). This strategy needs to be coordinated with parallel investigations abroad.
Footnotes
1. §187 of the German Act against Restraints on Competition (GWB) is available on the following website: https://www.gesetze-im-internet.de/gwb/__187.html.
2. The agreement is available on the following website: https://eur-lex.europa.eu/legal-content/EN/TXT/?uri=CELEX%3A22014A1203%2801%29.
3. https://www.bundeskartellamt.de/SharedDocs/Meldung/DE/Pressemitteilungen/2022/22_12_2022_Jahresrueckblick.html.
4. Federal Act on Administrative Criminal Law.
5. Swiss Criminal Code.
Authors
Dr. Marcel Meinhardt
Dr. Astrid Waser
Dr. Benoît Merkt
Claudia Walz
Spotlights
SWITZERLAND
While Lenz & Staehelin is acknowledged by most as Switzerland's leading law firm, its connections and expertise span the globe.
With over 200 lawyers, its ability to innovate and adapt to the ever-changing complexities of legal and regulatory environments in Switzerland and beyond, has attracted many of the world's top corporations as well as private individuals.