Doing Business in...
Sweden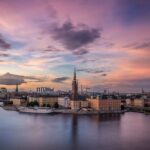 1. 5 REASONS TO DO BUSINESS IN SWEDEN Below we have listed five main advantages of doing business in Sweden: 1. Sweden is an impressive supplier of innovative solutions and products in a broad range of business areas particularly in the tech sector. Sweden is being regarded as an incubator for high-tech start-ups. The Swedish …
Contributed by Hammarskiöld
Read More...
Legal Market Overview
Sweden's economy is continuing to recover from the impact of the Covid-19 pandemic, bolstered by a successful vaccination programme. Despite Sweden imposing fewer restrictions than other EU countries in 2020 and an initial GDP decline, the economy has since returned to its pre-pandemic level, with growth projected at 4.3% in 2021 and 3.4% in 2022.
The Swedish economy continues to be noted for its openness, with the country ranked 10th by the OECD for ease of doing business; key sectors include the automotive, pharmaceuticals, and technology industries. In 2021, law firms particularly noted increased activity in the country's M&A market, which is seeing interest from overseas investment funds, including private equity clients, as well as domestic investors. The Swedish real estate market also continues to see high levels of activity, with housing prices reaching record highs. Despite this growth, the country's construction sector has been impacted by supply chain issues, with fluctuations in the price of materials adding uncertainty. The impact of Covid-19 has also been driven growth in sectors such as the logistics and technology arenas, mirroring trends seen across Europe.
The Swedish legal market is home to a range of large and mid-market domestic firms, with major firms including Mannheimer Swartling, Advokatfirman Vinge, Setterwalls, Roschier, Gernandt & Danielsson Advokatbyrå and Advokatfirman Cederquist KB, while key names to note in the Swedish mid-market include Hammarskiöld, Törngren Magnell & Partners Advokatfirma KB, Magnusson Advokatbyrå and Hannes Snellman. A number of prominent international firms are also present in Sweden, including Bird & Bird, Baker McKenzie, Advokatfirma DLA Piper Sweden KB, Eversheds Sutherland, Linklaters and White & Case Advokat AB. Boutiques are also a considerable presence in the Swedish market.