Doing Business in...
Qatar | Sharq Law Firm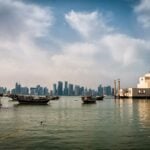 Economy Qatar is one of the wealthiest and most prosperous country in the Gulf Cooperation Council (GCC).  With one of the strongest GDPs in the world, Qatar also has the fastest growing economy in the GCC. The economy of Qatar is largely dominated by oil and natural gas revenues, such that it has the world's …
Contributed by Sharq Law Firm
Read More...
Practice Areas