Doing Business in...Mexico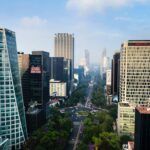 Arising mostly out of the COVID-19 pandemic and a continuation of governmental policies aimed primarily to shift away from structural reforms approved by previous administrations, the economic and business landscape in Mexico has continued under stress for the most part of 2021. Summer of 2021 culminated with midterm elections which balanced the political party majorities …
Contributed by González Calvillo, SC
Read More...
Legal Market Overview
If the Bolsonaro administration, to the south, is a warning of the excesses of right-wing populism, so Andrés Manuel López Obrador -better known as AMLO (a term he is seeking to copyright!)- is equally an alert as to the dangers of its supposedly left-wing equivalent. While his popularity remains remarkably high -around 60%- largely due to daily morning press conferences lauding his administration's decisions and advances, and aimed at the largely illiterate and poor proportion of the population that forms the backbone of his constituency, his government like that of so many populists in Latin America and beyond, is by any measure an unmitigated disaster.
Economically, even before the impact of the Covid pandemic, indicators were deeply preoccupying. From the mid-July 2019 resignation of finance minister Carlos Urzúa (whose working relations with AMLO dated back to the latter's Mexico City mayoralty in the early 2000s) to his reversal of 2013's energy reforms, with the consequent suspension of oil and gas auctions and electricity contracts, all signals concerning management of the economy appear negative. The decision to eliminate fuel regulations and subsidies for private power generators is something akin to "back to the future", rendering renewable sectors unviable, increasing dependence on hydrocarbons (AMLO's nostalgic concept of 'national energy security') and tacking back towards the state monopolies of PEMEX and the CFE.
Taken in combination with another of AMLO's largely symbolic gestures -the reduction of state officials' salaries, the result has been a huge exodus of the most qualified experts and technicians working in the public sector – indeed, the arrival of experienced lawyers from the public sector (and particularly the energy segments) is one of the more discernible currents in the legal market over the last 12 months. Unfortunately, much like his disavowal of the presidential plane, such steps have had negligible economic upside, and remain dwarfed by the impact on -and losses suffered by- the energy sector, particularly renewables.
The environmental impact, too (in a country heading more rapidly than most towards a serious water crisis) is inestimable. Both the president's pet projects, one, the Dos Bocas refinery in Tabasco (a "gift" to his home state), the other his "Tren Maya" project (all too reminiscent of Christina Kirchner's BA-Cordoba "bullet train" in Argentina – although far more likely to be built) will have a devastating environmental impact, especially the latter in the ecologically sensitive Yucatan peninsula.
Perhaps some elements of López Obrador's increasingly "caudillo" style of political operation would be a little more palatable to civil society if they were accompanied by the traditional quid pro quo offered by "strong" rulers: security. But while he explicitly promised to address in his campaign for the presidency, and fiercely critiqued his predecessors for what he called their inaction, Mexico reached unprecedented levels of violence and homicides in late 2019 and into 2020. Nor has his creation of a new 'National Guard' body shown any sign of slowing the bloodletting. Instead, last October the country was treated to the remarkable spectacle of the son of el Chapo Guzmán being released almost immediately after his capture, so as to bring an hours-long fire-fight on the streets of Culiacán, Sinaloa, to an end.
Such violence always has its social -and beyond that- domestic consequences. Tragically, in the country that brought the term femicide into common usage in the 1990s, the situation for women has gone from bad to worse; the first six months of 2020 saw the murder of women rise 7.7% compared to the same period the previous year, with the United Nations now declaring the country the second most violent for women in the western hemisphere.
The OECD's mid-2020 projections for the country see growth picking up, not as a result of increased productivity or efficiency, but from "robust remittances", with increases in the minimum wage driving consumption. So, in the face of a covid-impacted annual economic contraction of between 10 and 11.2%, the administration has now launched an economic program centred squarely on infrastructure development, although even this remains austere, with the government's recently announced plan valued at an estimated 1% of GDP. Despite the private sector's profound lack of confidence in the administration since its cancellation of México's new international airport (NAIM) project just days into AMLO's presidency, it is presumed that some 50% of the expected $13.8bn costs will come from private investment.
On the judicial front, there are equally preoccupying signals. Back in 2014, still in opposition, the Supreme Court's rejection of a popular consultation on the country's energy reforms saw López Obrador decrying that 'the Court is a political instrument and not an organ of justice'. Six years later and now in power, he appears more amenable to this state of affairs; his growing influence -having now overseen the replacement of three of the court's 11 justices (most recently accepting the resignation of Eduardo Medina Mora for reasons never clarified, but following investigation of his financial affairs)- is all too obvious. At the beginning of October 2020, the court voted 6-5 in favour of approving the constitutionality of a public consultation to decide whether the countries previous five presidents should be tried in court.
In the interim, the legal market remains uncannily steady. The largest, leading corporate firms, particularly Creel, García-Cuéllar, Aiza y Enríquez, S.C., Ritch, Mueller, Heather y Nicolau, S.C., and Galicia Abogados S.C., along with the slightly smaller, Mijares, Angoitia, Cortés y Fuentes S.C. and Nader, Hayaux y Goebel, SC, retain their status as the Mexican legal market's "magic circle" and remain at the forefront of the core practice areas such as corporate/M&A and financings, as well as more sophisticated and cutting-edge matters.
A step behind these market leaders the market's second tier has shifted notably over the last decade, with local firm's ceding market position to an array of international firms -some more recently arrived, others longstanding Mexico-market players. Among the latter stand White & Case S.C. and -albeit with a totally distinct institutional model- Baker McKenzie Abogados, S.C.; while more recent arrivals include the increasing prominent Greenberg Traurig, S.C., Jones Day and Hogan Lovells. Among local firms it is arguably only the increasingly relevant González Calvillo, SC -and perhaps to a lesser degree, Von Wobeser y Sierra, SC– that have really managed to keep pace with this colonization of the country's corporate, finance and energy markets, in particular; although venerable firms such as Basham, Ringe y Correa, S.C.  and Santamarina y Steta would argue their right to be included here.
Specialist firm's undoubtedly retain their role in specific market sectors and disciplines, however. notably: intellectual property (Arochi & Lindner, SC; OLIVARES; Uhthoff, Gómez Vega & Uhthoff, SC); litigation (Malpica, Iturbe, Buj y Paredes, S.C.; Martínez, Algaba, de Haro y Curiel; Quijano, Cortina y de la Torre Abogados), international trade (SAI Derecho & Economía S.C ; Vázquez Tercero & Zepeda), and tax (Turanzas, Bravo & Ambrosi and Chévez, Ruiz, Zamarripa y Cía SC). Interestingly, the latter firm, long a dominant player dedicated almost exclusively to tax and trade matters, has opted to broaden its practice offering in response to shifts in the legal market -particularly in the tax sector- with the November 2020 hire of Gloria Niembro Castro as IP practice director, and appointment of labour litigator Mayeli Cabral as partner,  following on from the September 2019 hire of Rafael Vallejo Gil to lead a new labour practice. The labour sector itself, dominated by majors Marván, González Graf y González Larrazolo, S.C. (MGGL) ; Natividad Abogados SC and De la Vega & Martínez Rojas, S.C. is also undergoing change. NAFTA's renegotiation and the resultant USMCA agreement has already impacted profoundly upon the sector, where various of its requirements were enacted in the country's May 1st (2019) labour reform, which among other measures, enshrined the legal right to unionise and negotiate pay. Notably, it is also in the labour segment that witnessed one of the few major market moves of the last 12 months, with the former Mowat, Rechtlich & Gentan's May-2020 tie-up with one of the "big four" to become Mowat – Deloitte.
Nor, in this volatile and highly competitive mix should either the (currently) smaller offices of other international firms -such as Norton Rose Fulbright, Cuatrecasas and Thompson & Knight LLP – or increasingly ambitious local firms –Chávez Vargas Minutti Abogados and Bello, Gallardo, Bonequi y García, S.C. come to mind– be overlooked. Indeed, since publication, the latter firm ('BGBG') has boldly promoted new partners in its corporate, litigation, IP and TMT practices (as of February 2021).
To reflect the increasing sophistication of the market's offering, three new sections have been added this year: Compliance (where the role of boutiques is once again borne out, with firms such as LCA, the re-established OCA Law Firm and the incipient LEC, Litigio Estratégico y Compliance, S.C.); Lifesciences, arguably a sector brought into far sharper focus amidst a pandemic, and certainly a sphere of activity that plays to the strengths of the full-service firms; and wealth management, an increasing preoccupation for many in the current political climate.
---
The Legal 500 Client Service Survey
Data extracted from The Legal 500 Client Service Survey. Hover over data points to reveal number of Legal 500 firm rankings for this jurisdiction. All firm scores on display are above the Global Benchmark score for this criteria.