Set Profile > One Pump Court > London, England
One Pump Court
Offices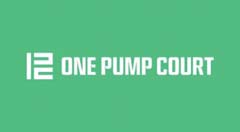 One Pump Court
ELM COURT
LONDON
EC4Y 7AH
England
One Pump Court > The Legal 500
Rankings
One Pump Court >
Set Profile
One Pump Court was established in 1978 by a group of lawyers with a commitment to providing a first-class service to all, particularly the legal aid clients and those facing tribunals where legal aid is not available. Since its founding, One Pump Court has been a democratic collective and does not have a head of chambers. It is run by a management committee, which has responsibility for the efficient and effective operation of chambers.
The set: Members of chambers chair tribunals and lecture and conduct training courses in their specialist areas. They also contribute to legal journals and other publications. Chambers works closely with law centres and other agencies who are addressing unmet legal needs.
Having established quality assurance systems Barmark and Quality Mark, chambers is committed to rigorous monitoring to ensure that its high standards are maintained and improved so that there is a sound basis for the delivery of the highest quality legal services to all its clients.
Members belong to various practice associations and organisations, such as HLPA, ILPA, ALBA, LAG and Liberty.
One Pump Court is committed to social responsibility and to the continuing improvement of all its activities so that it can reduce its collective impact on the environment.
Types of work undertaken: Chambers undertakes civil and public law, family, immigration and criminal work nationwide and at all levels, from the county court, magistrates courts, Crown Courts, inquests and tribunals, to the Administrative Courts, Courts of Appeal, the Supreme Court, European Courts (European Court of Human Rights and Court of Justice of the European Union) and the Privy Council.
The civil and public law group provides notable expertise in immigration, housing, human rights, asylum support, community care, travellers' rights, actions against the police, discrimination, prison law, social welfare law and fuel rights. Judicial review is an expanding area within chambers and the civil and public law team has been involved in a number of important test cases with an immigration/social welfare context in recent years.
The Crime group consists of an experienced team practising exclusively in criminal defence work, providing representation to persons accused of the whole range of criminal offences, from minor road traffic offences to murder, at every stage of proceedings. The team is committed to ensuring that all persons accused of crime are properly represented and is well known for its pro bono work.
The specialist Family team includes members who specialise in all areas of family work, both nationally and internationally. The team can provide expert cover for all types of public and private law work relating to children as well as national and international child abduction cases under the Hague Convention and domestic violence, forced marriage and financial relief. The family group at One Pump Court is particularly well known and respected for its professionalism and compassion when representing parents, grandparents and children's guardians.
Main Contacts
| Department | Name | Email | Telephone |
| --- | --- | --- | --- |
| Administrator | Jeannine Lewis | | |
| Senior Clerk | Ian Burrow | | |
| Clerk | Mycal Thomas | | |
| Clerk | Scott Haley | | |
| Clerk | James Rourke | | |
| Clerk | Sam Walker | | |
| Clerk | Daniel Coombs | | |
| Clerk | Toby Brewster | | |
| Fees clerk | Lewis Harrison-Lee | | |
| Fees clerk | Bradley Baker | | |
| Receptionist | Abby Greensmith | | |
| Member of Chambers | ADAMS, Lindsay (1987) | | |
| Member of Chambers | ADEDEJI, Yinka (1997) | | |
| Member of Chambers | ADLER, Jonathan (1999) | | |
| Member of Chambers | ALLISON, Mark (2016) | | |
| Member of Chambers | BARKER, Jennifer (2000) | | |
| Member of Chambers | BARTLET-JONES, Stephen (2004) | | |
| Member of Chambers | BREESE-LAUGHRAN, Delphine (1991) | | |
| Member of Chambers | BRIDDOCK, Allan (2000) | | |
| Member of Chambers | BUNDOCK, Benjamin (2013) | | |
| Member of Chambers | BURRETT, Alex (1999)) | | |
| Member of Chambers | CHANDRAN, Parosha (1997) | | |
| Member of Chambers | CHIRICO, David (2002) | | |
| Member of Chambers | CORBETT-BATSON, Sarah(2017) | | |
| Member of Chambers | CSENGERI, Natalie (2011) | | |
| Member of Chambers | DESHPANDE, Chandrika (2014) | | |
| Member of Chambers | DINGISWAYO, Zani (2001) | | |
| Member of Chambers | DIXON, Annie (1991) | | |
| Member of Chambers | ELDERGILL, Edmund (1991) | | |
| Member of Chambers | ELGHADY, Amean (2008) | | |
| Member of Chambers | ELLIOTT, Sam (2014) | | |
| Member of Chambers | FRANCIS, Rachel (2012) | | |
| Member of Chambers | GARWOOD, Joshua (1992) | | |
| Member of Chambers | GASPARRO, Julia (1999) | | |
| Member of Chambers | GILBERT, Andrew (2009) | | |
| Member of Chambers | GRIFFITHS, Eleri (2014) | | |
| Member of Chambers | HARRIS, Michelle (2000) | | |
| Member of Chambers | HEMERY, Philippa (2009) | | |
| Member of Chambers | HODGSON, Martin (1980) | | |
| Member of Chambers | HOLLOWAY, Sharon (1994) | | |
| Member of Chambers | HUDA, Abida (1989) | | |
| Member of Chambers | HUGHES, Mary (1994) | | |
| Member of Chambers | HUSSEIN, Timur (1993) | | |
| Member of Chambers | JARMAN, Samuel (1989) | | |
| Member of Chambers | JOHNSON, Melanie (1996) | | |
| Member of Chambers | KALER, Manjeet (1993) | | |
| Member of Chambers | KHUBBER, Ranjiv (1994) | | |
| Member of Chambers | KIAI, Gilda (2004) | | |
| Member of Chambers | KNIGHT, Stephen (2011) | | |
| Member of Chambers | KOTAK, Raggi (2000) | | |
| Member of Chambers | LAUGHTON, Victoria (1998) | | |
| Member of Chambers | LITTLEWOOD, Rebecca (1988) | | |
| Member of Chambers | MARSH-HYDE, Michael (2006) | | |
| Member of Chambers | MARTIN, Rebecca (2002) | | |
| Member of Chambers | MASTERS, Alan (1979) | | |
| Member of Chambers | MATTHEWS, Clive (2019) | | |
| Member of Chambers | McLEISH, Philip (2003) | | |
| Member of Chambers | McMORROW, Patrick (1996) | | |
| Member of Chambers | MONAH, Helen (1996) | | |
| Member of Chambers | MUHAMMAD, Tamara (1998) | | |
| Member of Chambers | NICOL, Nicholas (1986) | | |
| Member of Chambers | NICOLAOU, Angelina (2015) | | |
| Member of Chambers | NIZAMI, Asma (2009) | | |
| Member of Chambers | O'LEARY, Michele (1983) | | |
| Member of Chambers | OSMAN, Ahmed (2015) | | |
| Member of Chambers | PEAT, Charlie (2003) | | |
| Member of Chambers | PEDRO, Terry (1996) | | |
| Member if Chambers | PHILPS, Catherine (2018) | | |
| Member of Chambers | PHYSSAS, Claire (2004) | | |
| Member of Chambers | PRESLAND, James (1985) | | |
| Member of Chambers | RADFORD, Althea (2009) | | |
| Member of Chambers | ROBINSON, Catherine (2011) | | |
| Member of Chambers | SANDERS, Eleanor (2014) | | |
| Member of Chambers | SAYED, Ruby (1999) | | |
| Member of Chambers | SHAW, James Anthony (2018) | | |
| Member of Chambers | SHORT, Harriet (2007) | | |
| Member of Chambers | SOLANKI, Priya (2008) | | |
| Member of Chambers | SPURLING, Rudolph (2007) | | |
| Member of Chambers | STAFFORD-MICHAEL, Simon (1982) | | |
| Member of Chambers | STUART-KING, Emma (2005) | | |
| Member of Chambers | THOMAS, Alessia (2011) | | |
| Member of Chambers | TUEJE, Patricia (1999) | | |
| Member of Chambers | WALKER, Sophie (2016) | | |
| Door Tenant | AHMAD, Tayyiba (1998) | | |
| Door Tenant | AKTHER, Ripon (2003) | | |
| Door Tenant | BARNETT, Adrienne (1981) | | |
| Door Tenant | DEL MESE, Francesca (1998) | | |
| Door Tenant | DENT, Sally (1989) | | |
| Door Tenant | GAISFORD, Tom (2013) | | |
| Door Tenant | HUTCHISON, Eleanor (2007) | | |
| Door Tenant | KAZA, Ajanta (1998) | | |
| Door Tenant | RUDSTON, Neville (2000) | | |
| Door Tenant | TAYLOR-GEE, Lucy (2006) | | |
| Door Tenant | TEJI, Usha (19841) | | |
| Door Tenant | VINE, Catriona (2002) | | |
| Door Tenant | WACEY, Nicola (2004) | | |
| Door Tenant | WALDRON, Lorraine (2004) | | |
Barrister Profiles
| Photo | Name | Position | Profile |
| --- | --- | --- | --- |
| | Lindsay Adams | Lindsay is a senior family practitioner, mainly representing children and parents in… | View Profile |
| | Yinka Adedeji | Yinka's practice revolves around social welfare and human rights based areas of… | View Profile |
| | Jonathan Adler | Jonathan is a practicing member of the One Pump Court Family Team,… | View Profile |
| | Mark Allison | Mark's practice is focused primarily on immigration and crime. He regularly appears… | View Profile |
| | Jennifer Barker | All areas of family work including care proceedings, adoption, residence and contact… | View Profile |
| | Stephen Bartlet-Jones | Stephen is an experienced advocate specialising in family and chancery work. He… | View Profile |
| | Delphine Breese-Laughran | Delphine has many years of experience in all areas of Family Law… | View Profile |
| | Allan Briddock | Allan has specialised in immigration and asylum law since becoming a barrister… | View Profile |
| | Benjamin Bundock | Ben specialises in immigration and asylum law. He acts in the full… | View Profile |
| | Alex Burrett | Alex has practiced as a specialist immigration and public law practitioner since… | View Profile |
| | Parosha Chandran | Parosha Chandran is the UK's leading anti-slavery lawyer and she has been… | View Profile |
| | David Chirico | David works for claimants in all areas of immigration and asylum law.… | View Profile |
| | Sarah Corbett-Batson | Sarah is a criminal defence practitioner who has represented clients on the… | View Profile |
| | Natalie Csengeri | Natalie is an advocate who goes above and beyond for her clients.… | View Profile |
| | Ms Emma Daykin | | View Profile |
| | Zani Dingiswayo | Zani regularly defends in many areas of criminal law including serious violent… | View Profile |
| | Annie Dixon | Annie Dixon came to the Bar having had a previous career as… | View Profile |
| | Edmund Eldergill | Edmund's specialism crosses several areas of law: Family, Property, Business, Revenue, Wills,… | View Profile |
| | Amean Elghady | Amean practices in both criminal defence and family law. The majority of his… | View Profile |
| | Sam Elliott | Sam accepts instructions in family law, criminal law, prison law and general… | View Profile |
| | Ms Justine Fisher | | View Profile |
| | Rachel Francis | Rachel is a specialist family and immigration law barrister with particular expertise… | View Profile |
| | Joshua Garwood | Joshua is a member of the family team, but has extensive previous… | View Profile |
| | Julia Gasparro | Julia is a respected practitioner in the fields of family, immigration and… | View Profile |
| | Andrew Gilbert | Andrew is a Public Law, Human Rights and Immigration specialist. He has… | View Profile |
| | Eleri Griffiths | Eleri specialises in immigration and housing law and acts in cases across… | View Profile |
| | Michelle Harris | Michelle has always maintained a mixed practice of Immigration, Criminal Defence and… | View Profile |
| | Philippa Hemery | Philippa is a specialist family mediator. This follows a successful practice at… | View Profile |
| | Martin Hodgson | With over 35 years' experience across several practice areas, popular Social Housing… | View Profile |
| | Sharon Holloway | Sharon is a highly engaging and fearless advocate in the area of… | View Profile |
| | Abida Huda | Abida is an established family practitioner in all areas of public and… | View Profile |
| | Dr Mary Hughes | From Direct Access Client: I would again like to express my thanks… | View Profile |
| | Tim Hussein | Tim has been a member of chambers since 1997 and his background… | View Profile |
| | Sam Jarman | Sam specialises in commercial litigation/arbitration (contracts, banking, insurance & reinsurance, shipping (dry)… | View Profile |
| | Melanie Johnson | Melanie practices in family law, covering all areas of law in respect… | View Profile |
| | Manjeet Kaler | Manjeet has over 21 years experience as a family practitioner specialising in… | View Profile |
| | Ranjiv Khubber | Specialist in Judicial Review (particularly of immigration decisions), Human Rights, EU law,… | View Profile |
| | Gilda Kiai | Gilda Kiai is an experienced specialist in immigration, asylum, human rights and… | View Profile |
| | Stephen Knight | Stephen is a committed criminal defence and public law practitioner. He has… | View Profile |
| | Raggi Kotak | Raggi specialises is all areas of immigration, human rights and asylum law… | View Profile |
| | Victoria Laughton | Victoria has specialised in the area of immigration, human rights and… | View Profile |
| | Rebecca Littlewood | Rebecca covers all areas of Family Law, in particular financial remedy and… | View Profile |
| | Michael Marsh Hyde | Michael practices in housing, community care and general civil and public law. Before… | View Profile |
| | Rebecca Martin | Rebecca practises in criminal defence at all levels. She has a particular… | View Profile |
| | Alan Masters | Specialisms: human rights; equality; judicial review; housing; planning; public inquiries; local government;… | View Profile |
| | Philip McLeish | Philip McLeish has extensive experience across a wide range of fields in… | View Profile |
| | Patrick McMorrow | Patrick is a civil practitioner specialising in housing and homelessness cases, personal injury… | View Profile |
| | Helen Monah | Helen Monah is a specialist family lawyer with over 24 years legal… | View Profile |
| | Tamara Muhammad | After leaving One Pump Court in 2007, Tamara embarked upon an international… | View Profile |
| | Nicholas Nicol | Nicholas Nicol is an experienced barrister, tribunal judge, mediator and legal trainer.… | View Profile |
| | Angelina Nicolaou | Angelina has a busy practice across the immigration, inquest/inquiries and crime/prison teams… | View Profile |
| | Asma Nizari | Asma has a broad and busy practice in the fields of immigration/asylum,… | View Profile |
| | Michele O'Leary | Michele practises in all areas of family law. She was appointed a… | View Profile |
| | Charlie Peat | Charlie is an experienced family barrister who is passionate about access to… | View Profile |
| | Terry Pedro | Terry has established a first class reputation as a defence advocate, his… | View Profile |
| | Claire Physsas | Claire was ranked in Legal 500 2016 as a leading junior immigration… | View Profile |
| | James Presland | Jamie is an experienced member both of One Pump Court's Family Group,… | View Profile |
| | Althea Radford | Althea has wide ranging experience in immigration and asylum law. She regularly… | View Profile |
| | Catherine Robinson | Catherine Robinson is a member of the immigration team. She has a… | View Profile |
| | Eleanor Sanders | Eleanor is a member of the Immigration Team. Her practice covers all… | View Profile |
| | Ruby Sayed | All areas of child law – public and private, child abduction, adoption,… | View Profile |
| | James Anthony Shaw | James became a Tenant in 2018 following a successful early career as… | View Profile |
| | Harriet Short | Harriet is a specialist immigration practitioner who provides advice and representation in… | View Profile |
| | Priya Solanki | Priya is a busy and experienced specialist in immigration and asylum… | View Profile |
| | Simon Stafford-Michael | Mr Stafford-Michael specialises in commercial litigation with particular emphasis on insurance and… | View Profile |
| | Alessia Thomas | Alessia is a family law barrister who is regularly instructed to represent… | View Profile |
| | Patricia Tueje | Patricia is recommended in Chambers & Partners UK as an experienced housing… | View Profile |
| | Sophie Walker | Sophie is an experienced human rights practitioner, having previously spent five years… | View Profile |