Set Profile > Lamb Chambers (Chambers of Richard Power) > London, England
Lamb Chambers (Chambers of Richard Power)
Offices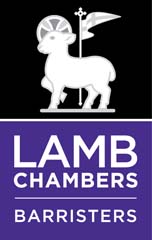 Lamb Chambers (Chambers of Richard Power)
Lamb Chambers
LAMB BUILDING, TEMPLE
LONDON
EC4Y 7AS
England
Lamb Chambers (Chambers of Richard Power) > The Legal 500
Rankings
Lamb Chambers (Chambers of Richard Power) >
Firm Profile
Located in Temple, the heart of London's legal district, Lamb Chambers is a highly respected set with more than 50 barristers who can assist you with specialist advocacy and advice across the whole legal spectrum. We are committed to understanding your needs, offering advice and representation that is aimed at achieving the best possible outcome.
WORK UNDERTAKEN
Commercial Disputes – We have a strong track record of success in major commercial litigation, acting for clients across a broad range of commercial matters. We offer specialist expertise in banking & finance, company law, consumer law, Intellectual property & media, partnerships, professional negligence, sale & carriage of goods and employment.
Construction – We advise in all aspects of domestic and international construction and engineering. The team are highly regarded for their approachability, practicality, high quality advice and excellent advocacy.
Our construction team boast considerable expertise in domestic and international litigation, arbitration, and ADR and are highly experienced in adjudication; advising and acting on issues that can arise during the life cycle of a construction project, from the initial brief and pre-construction phase through to complaints over delay, quality and performance during the construction phase, as well as issues on handover; and cases involving the professional liability of construction consultants and professionals.
Insolvency – We specialise in corporate and personal insolvency, construction and property insolvency; including administrations, liquidations, receiverships, CVLs, directors' disqualification, IVAs, misfeasance claims, cross-border issues as well as civil fraud and asset tracing.
International / Offshore – We have extensive expertise in advising on all types of disputes across a diverse range of industry sectors and geographical regions. We pride ourselves on the breadth of our international group and the experience and quality of our barristers, which means we are well-placed to respond to any dispute resolution issues you may face.
Personal Injury & Clinical Negligence – Our specialist team has the expert knowledge required to represent claimants and defendants in the most complex personal injury and clinical negligence cases. We have particular expertise in industrial disease, civil fraud and product liability.
Property – Our leading  property team undertake both litigation and advisory work, and regularly appear before courts at all levels, and before all tribunals.  We have particularly expertise in handling commercial landlord and tenant; development and planning; housing (social and privately rented); leasehold and leasehold management and real property.
Main Contacts
| Department | Name | Email | Telephone |
| --- | --- | --- | --- |
| Practice Managers | Cliff Alderson, Senior Practice Manager | cliff@lambchambers.co.uk | 020 7797 8303 |
| Commercial | James Stuart | | |
| Construction | Dr Tim Sampson | | |
| Insolvency | Clive Blackwood | | |
| International | Dr Natalia Perova | | |
| Personal Injury & Clinical Negligence | Napier Miles | | |
| Property | James Browne | | |
Languages
Danish French Finnish German Italian Portugese Russian Spanish Swedish Twi
Notable Cases
Case 1
Gosvenor London Ltd. v Aygun Aluminium UK Limited
Lamb Chambers (Dr Tim Sampson and David Sawtell) was involved in one of the most notable construction cases of the year in which it acted in the Court of Appeal in upholding the successful stay of an adjudication enforcement relying, for the first time, on the risk of asset dissipation and allegations fraud that could have been raised in the adjudication.
The definitive Court of Appeal Case divides into two phases:
TCC enforcement: Successfully obtained a stay on enforcement of the adjudication award of £650,000, and Fraser J. made a significant change to the Wimbledon v Vago principles governing enforcement of adjudication awards by adding new principle "g" – dealing with situations where there is the likelihood of the dissipation of the award based on the recipient's financial conduct and that a stay could be granted on evidence of fraud not put forward in the adjudication. [2018] EWHC 227 (TCC); [2018] Bus. L.R. 1439; [2018] 3 WLUK 696; [2018] B.L.R. 353; 177 Con. L.R. 127
Court of Appeal: refused Gosvenor's Appeal. Confirmed the right of Fraser J. to add new principle "g" to the Wimbledon v Vago, for the reasons given by Fraser J. and that the court was also right to draw adverse inferences from the failure by Gosvenor to serve evidence in the Summary Judgment proceedings and the unsatisfactory nature of its statutory accounts. Unconditional stay maintained. [2018] EWCA Civ 2695
The case has been reported in the Business Law Reports. It has been commented on several times in the Practical Law Construction blog and on numerous law firm websites and news feeds.
http://constructionblog.practicallaw.com/fraud-stays-and-adjudication-enforcement-following-gosvenor-v-aygun/
https://www.counselmagazine.co.uk/content/Gosvenor-London-Ltd-v-Aygun-Aluminium-UK-Ltd
Client Testimonials
CLIENT: Ridgemont
COMPANY/FIRM: Law firm
TESTIMONIAL: Mark Rowlands, the Chief Executive at Lamb Chambers is very business savvy. Understands the services levels that law firms need and goes out of his way to help us.
Graeme Sampson is very technical, experienced and great on his feet. We have used Graeme on countless matters and he has the useful habit of getting great results.
We have started to use Ryan Turner this year (2019). Ryan is very bright, extremely helpful and produces terrific work. He's one of the "one's to watch" in the construction junior bar.
---
CLIENT: Trethowans
COMPANY/FIRM: Law Firm
TESTIMONIAL: I have been lucky enough to work with Lamb Chambers on a number occasions over the last two years. I was introduced to Lamb and was immediately impressed with the commercial and collaborative approach taken by their CEO, Mark Rowlands.
Through Mark's introduction our Commercial Litigation department has worked with various barristers, all of whom have proven to be both technically excellent and commercially astute. Particular note goes to Tim Frith (Commercial/International), Matthew Winn-Smith (Commercial), and Ryan Turner (Construction).
---
CLIENT: FTSE 250 Client
COMPANY/FIRM: Company
TESTIMONIAL: Alex Cunliffe has been a pleasure to work and engage with. Whether it be swift response times or a willingness to think outside the box and provide added value.
From a technical perspective, his in-depth knowledge for regulatory consumer credit matters enable him to identify the fundamental issues without delay. He is then able to provide pro-active commercial advice in conjunction with effective practical solutions to meet the needs of his client.
Whilst Chief Executive, Mark Rowlands demonstrates great commercial awareness coupled with the ability to deliver on the service levels our business and clients expect.
---
CLIENT: Royds Withy King
COMPANY/FIRM: Law Firm
TESTIMONIAL: I have been using Lamb Chambers on a number of occasions over the last two years on various matters. I met their CEO, Mark Rowlands at a networking function two years ago and was immediately impressed with his commercial and business savvy approach; he is really forward thinking and looks to go the extra mile for his clients.
Through Mark's introduction I have instructed the brilliant James Stuart and the very technical Clive Blackwood. Lamb Chambers have very strong insolvency juniors including Hannah Laithwaite, Will Skjøtt and Mark O'Grady.
---
CLIENT: Coltman Warner Cranston
COMPANY/FIRM: Law Firm
TESTIMONIAL: As a firm we have used Lamb Chambers for a few years now. Principally John Ditchburn and Hannah Laithwaite. Both of who are very approachable, but commercial and have an eye for detail. They are two of our go to barristers.
We have found Lamb Chambers as a whole very approachable, and Joe Grimmer, John's and Hannah's clerk is always helpful, and happy to be flexible on fees.
Top Tier Set Rankings
Set Rankings