Set Profile > Garden Court North Chambers > Manchester, England
Garden Court North Chambers
Offices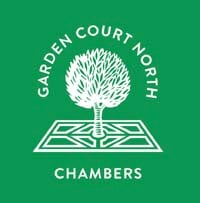 Garden Court North Chambers
Garden Court North Chambers
3RD FLOOR, BLACKFRIARS HOUSE,PARSONAGE
MANCHESTER
M3 2JA
England
Garden Court North Chambers > The Legal 500
Rankings
Garden Court North Chambers >
Firm Profile
Garden Court North Chambers is a progressive set of barristers with a strong commitment to publicly funded work. They offer representation to those disadvantaged by discrimination and inequality or with multiple and complex needs, to challenging the state, to fighting for justice, and to undertaking work pro bono in appropriate cases where funding is unavailable. It is these values which have underpinned their entire ethos since the foundation of Chambers in 1996 by a group of young barristers wanting to provide a radical alternative to the more traditional barristers' chambers.
Since Chambers foundation they have set their stall out to do human rights work, and throughout their history they have advanced the application of human rights law in the regions, taking cases to the Court of Appeal, the Supreme Court and to the European Court of Human Rights. In addition to human rights work, Chambers has built a strong reputation for housing law, immigration law, public law, criminal defence, prison law, inquests, actions against the police, court of protection work, welfare law and expertise in discrimination work. They have been involved in many high profile and landmark cases.
Housing
The Housing Team enjoys an excellent reputation amongst housing practitioners, with the consequence that Garden Court North Chambers is considered to be one of the leading sets for tenants' work outside of London. The vast majority of the work they do is for people who are publicly funded and they are committed to representing the rights of tenants, other occupiers, applicants for housing and the homeless.
Garden Court North Chambers have been involved in some of the most important housing cases in the appellate courts, however, they are just as dedicated to the kind of cases that might not make the law reports but which nonetheless have a real and significant effect on the lives of individuals, and they have a strong commitment to pro bono work where legal aid is unavailable. They are skilled in assisting those who are disadvantaged (whether as a result of disability, addiction, age or homelessness), who speak little or no English, and who have significant mental health issues or learning difficulties.
Immigration
The Immigration Team provides expert advice and representation in all aspects of asylum, immigration, trafficking and nationality cases. There has been a specialist Immigration Team in Garden Court North Chambers since their foundation and it is now one of the largest in the country. Ian Macdonald QC, a founding member of Chambers, is an acknowledged leader in the field and the co-author of the seminal text, Macdonald's 'Immigration Law and Practice', to which other members of the Team also contribute.
The Team are committed to publicly funded work and to assisting the vulnerable; including people who have been trafficked or exploited, subjected to domestic violence, victims of torture and those experiencing mental ill-health or limited capacity. Chambers' make a real effort to understand the concerns of those they represent, trying to ensure that they are fully involved and able to engage in the process.
Civil and social rights
The Civil and Social Rights Team is a multidisciplinary team that covers all aspects of civil work with a particular emphasis on protecting human rights and civil liberties. The Team consists of advocates with experience at all levels, from juniors to Queen's counsel, and is committed to upholding people's rights through justice. It is this commitment to each client's rights that distinguishes Chambers' barristers from others.
The client remains the focus throughout the preparation and presentation of each case. Members of the Team forcefully pursue each case whilst understanding and addressing each client's concerns at every stage, explaining matters clearly and providing realistic and carefully considered advice in language that is easily understood. This approach ensures that the client remains fully involved in the process throughout and is able to take their own fully informed decisions about their case.
Criminal defence and appeals
The Crime Team specialises in criminal defence and appeals work and, whilst working predominately in the Crown Court, also has an outstanding reputation in all courts including the Court of Appeal, the Supreme Court and the European Court of Human Rights. The Team consists of criminal advocates with experience at all levels, from juniors to Queen's counsel, and is committed to ensuring that a defendant's fundamental rights are protected.
Drawing upon the Team's established reputation and coupled with its complimentary expertise in public law, human rights and civil claims for damages and compensation, Chamber's provide comprehensive and specialist advice and advocacy to anyone challenging unsafe convictions and seeking justice following a successful appeal. Several members of the Team are available for direct access work in criminal appeals.
Languages
English (fluent)
Top Tier Set Rankings
Top Tier Set Rankings
Set Rankings
Set Rankings